Sandbox games are nothing new in the gaming world. Limitless open-world games have been fan-favourites for years and only keep getting better. These games put no limits on a gamer's actions which combined with the scope of world exploration factors of these games is what makes them exciting.
One such sandbox game is Terraria. Terraria is an action-adventure based sandbox game developed by Re-Logic that released in 2011 for Microsoft Windows. The game has no objectives but limitless opportunities of exploration, craft, building and combat. The player is given various tools that aid them in doing so.
Players can later craft their own weapons and tools for better mining, farming, combat and other purposes. The game is full of various NPC's and enemies as well. There are various ways of interacting with NPC's while for enemies like zombies, demons, skeletons etc you need special weapons.
Initially meant for just Microsoft Windows, Terraria has released over almost all of the major gaming platforms which includes PlayStation 3, PlayStation Vita, Linux, macOS, Android, iOS, Xbox 360, Nintendo 3DS, Wii U and Nintendo Switch. As of 2020, Terraria has sold over 30 million copies which is a big feat.
There are some more sandbox games that are similar and equally good or even better than Terraria.
Here are the 10 Best Games Like Terraria: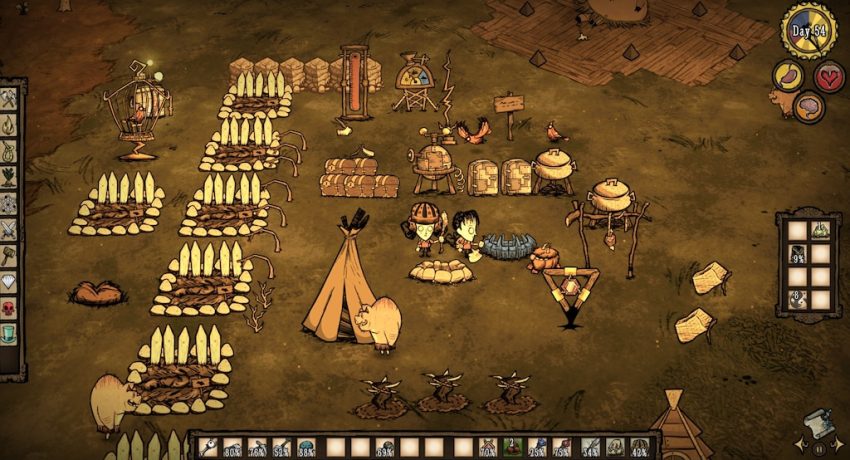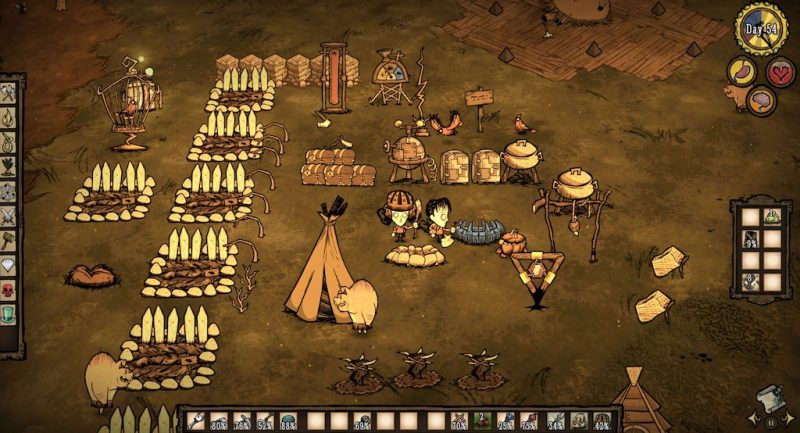 Don't Starve is an uncompromising wilderness survival game filled with science and magic. The genre of the game is Survival and influenced by Minecraft.
Canadian indie game developer Klei Entertainment has developed it. the sport was initially released for Microsoft Windows, OS X, and Linux on April 23, 2013. it's available for mobile operating systems like iPhone and Android too.
The game follows the footsteps of Wilson, the main protagonist, a Scientist who has been trapped by a demon and transported to a mysterious world of embezzlement. The main objective for the player and for Wilson is to flee the wilderness.
the planet which is stuffed with mysterious creatures and dangerous things is the real task to face for the players. Players are expected to collect items, build structures and unravel the mysteries of this strange land.
No instructions are given to the players and there are no guidelines, just an unlimited world. The goal is to survive and to achieve that goal the player needs to craft, hunt, research, farm and most importantly, fight.
The game has managed to maintain a favorable score on the critic score aggregator Metacritic. By the tip of 2013, the game had sold over a million copies which made it a commercial success as well.
Don't Starve was a finalist in the race for "Excellence in Design" subcategory at the 2014 Independent Games Festival awards ceremony. Subcategories like "Excellence in Visual Art" and "Excellence in Audio, too featured Don't Starve as one of the nominees.
---
Imagine you fly away from your planet and find yourself lost in the open space with the damaged ship. Your only aim is to survive. Sounds interesting right. Starbound is an action-adventure video game which is based on this plot. Chucklefish developed and released it on 22 July 2016 for different platforms like Microsoft Windows, Linux, OS X, PlayStation Vita, Xbox One and PlayStation 4.
It is available in both single and multiplayer mode which you can play with your friends.The game begins with the protagonist escaping from the earth after apocalypse. The protagonist is freshly graduated from Terrene Protectorate, the intergalactic peacekeeping organization. With no experience in hand, nothing to guide the shuttle shoots into space.
In the large universe, you are provided with a space shuttle with customizable interior and blocks which can be freely placed within the ship.
This shuttle can be used to explore the universe.
It is provided with a teleport pad the player can use to teleport down to the planets. A locker, a fuel panel and a cockpit for piloting the ship is also provided.
Game is based on both quests and story-driven missions. You get to create your own story with your creative skills, there's no wrong way to play but the vast possibilities.
You get so many options while playing like saving the universe from bad forces which destroyed your home or exploring greater galactic mysteries in the universe, or you simply enjoy colonizing uncharted planets.
---
Minecraft
We all have heard since our childhood that God created this world. What if I tell you can also be a God. At least in a game world. That's basically the premise of Minecraft.
Markus "Notch" Persson created Minecraft in 2009 in java and the development department was given to Jens Bergensten in 2011. Widely regarded as the greatest video game of all time, Minecraft lets the players explore a computer-generated 3D world where they can do whatever they want as there is no specific aim.
You can build villages, plains water bodies, castles and if addiction gets you, building a kingdom too would not be a big deal. First, you have to choose your avatar.
The avatar has to mine the 'blocks', pick it up and arrange in a 3D manner to make your own world. With different modes like survival mode, creative mode, spectator mode, hardcore mode etc.
you can explore various aspects of the game. To play the multiplayer mode gamers can connect through LAN, servers or split-screen. Microsoft in 2014 purchased the Minecraft intellectual property for 2.5 billion US dollars. Windows, OS X, Linux are the different platforms at which the game can be played.
---
Growstopia is a 2D game that was basically designed for Android software system initially in 2012. However, it has been since released for iOS, Android, Microsoft Windows, macOS, Nintendo Switch, PlayStation 4 and Xbox One.
Growstopia is a simulation open world game where the player is given total control over their actions in a limitless world. There are no missions and players can explore the globe, farm, trade, build worlds and chat, all with your friends alongside you.
Growstopia could be a 2D massively multiplayer online game based on sandbox. In Growstopia, almost everything within the game will be grown from seeds of trees. There are no objectives but there is an achievement system, epic quests, and some other quests.
It is a universe of unlimited worlds, all connected to every other. As a result of the game's multiplayer aspect, multiple players can create beautiful worlds playing alongside their friends together. the sport has no limits when it involves world creation because it is capable of making unlimited worlds.
The created games will be made available for other players to play. Worlds created by players within the game stay permanently there, open for anyone to play therein world.
The game also features an in-game chat and messaging to stay friends more connected while playing.
---
RimWorld is one of those indie games you came across and get obsessed with it. It is a construction and management of simulation video game developed by an indie game studio Ludeon Studio based in Montreal.
The game first came in existence as a crowdfunding project on the popular crowdfunding platform Kickstarter in 2013. The full version of the game came to release about 5 complete years later in 2018. Currently, the game is available to be played on only Microsoft Windows, macOS and Linux.
RimWorld is a single-player game based completely around construction in a futuristic world. The game is based on a planet, that is a part of a new outer space called Rim World. It features three protagonists that get stuck on this planet after their spaceship suffers a tragic accident.
The objective of the game is to colonize the planet to ensure survival for everyone. This can be achieved through building and crafting. What makes the game difficult and fun to play is the unpredictable events that can occur to make your survival either easier or harder.
New friends might show up or a solar flare can endanger the whole of the planet. The game is three-dimensional graphics, story and characters-wise. You might even have to engage in combat from time to time.
The characters have mental characteristics and their happiness and sadness make a difference in the gameplay. It is essential in the game to keep your character both mentally and physically healthy.
The game was declared the Indie Game Of The Year by Indie DB in 2016 and often is considered one of the best construction and management-based games.
---
Hollow Knight is a game that belongs to the Metroidvania subgenre. Metroidvania is a combination of Castlevania and Metroid, a name given to video games that are inspired by these two games' design and mechanics.
The subgenre comprises of video games that share the presence of huge, explorable world maps, availability of side quests, unlockability of powers, weapons and levels etc. Most of the games of this genre are in 2D like Terraria and Hollow Knight is no different.
Hollow Knight features beautiful and contrasting dark graphics that is a mainstay in Metroidvania games. The story of the game is set in Hallownest, a kingdom of insects about to be devoured by a curse of Radiance, a godly moth that used to be worshipped by the citizens once.
Radiance was replaced by another mythical creature who dubbed himself The Pale King. Radiance fought back and sent pandemonium into the minds of the citizens of Hallownest.
The Infection devours most of the population, however, the survivors aren't safe either as the infection is supposed to expose its full power and annihilate everything that remains of the Hallownest.
The protagonist is named after Hollow Knight, a measure used by The Pale King to battle the Infection. The objective of the game is to keep yourself alive to make sure others do so too and putting an end to the terror created by Radiance.
On your path, you obtain legendary weapons, learn powerful attacks, find treasures, earn in-game money and whatnot.
---
Craft The World is pretty similar to Terraria in a lot of ways. First of all, the game's whole premise is based around creating. Building, crafting and mining are the pillars of this game. Secondly, it is a 2D side-scrolling game just like Terraria. However, CTG is different and somewhat better in terms of graphics as The game pits you in a vast world inhabited totally by adorable dwarves and makes you one as well.
The characters are customizable in terms of looks, outfits and obviously names. There are no objectives or missions in this game but a lot of tasks to indulge yourself into like crafting weapons, decorative building blocks, cooking foods, creating potions, fighting goblins and mummies etc.
---
Steamworld Dig 1 and Steamworld Dig 2 are a part of the Steamworld video game series developed by Swedish developer studio Image & Form.
The series consists of mostly action-adventure, simulation and Metroidvania video games out of which Dig 1 & 2 stand out the most, considerably similar to Terraria.
The first game was the second-ever game of the Steamworld series and was released in 2013 initially with later releasing for different platforms over the course of years.
The game is set in a town named Tumbletown and revolves around the mining of ores and resources. The objective is to escape a mine by digging through it while solving puzzles.
The second game is a direct sequel to the first one and follows the story of Dorothy, a robot in search of the protagonist from the first game who disappeared. The game features various new abilities and weapons along with a broader gameplay that makes it a superior sequel.
---
Like Terraria and some more of the games featured on this list, Kingdom: Classic is a 2D side-scrolling game. The player plays the role of a monarch, with a goal set in mind to resuscitate ruins he keeps finding by the ways of building and crafting.
Soon, the reason behind the existence of countless ruins is revealed and puts the player in battlegrounds against a dark force of enemies, called Greed. These enemies appear through portals and leave nothing but destruction behind.
The main objective of the game is to create and manage an army to fend off the enemies and destroy the portals before the Greed puts on its full form.
Kingdom: Classic was released in 2015, developed by Noio and Licorice and published by Raw Fury. It also has a sequel named Kingdom: New Lands that was released in 2019.
---
Conclusion
Terraria is a simple and aesthetic game that gives you retro and nostalgic feels while you explore a beautiful 2D world. Out of the games mentioned above, some perfectly match its criteria while some fare even better in different areas.
It is up to the gamers to try whichever one they like before you find out your next gaming obsession.