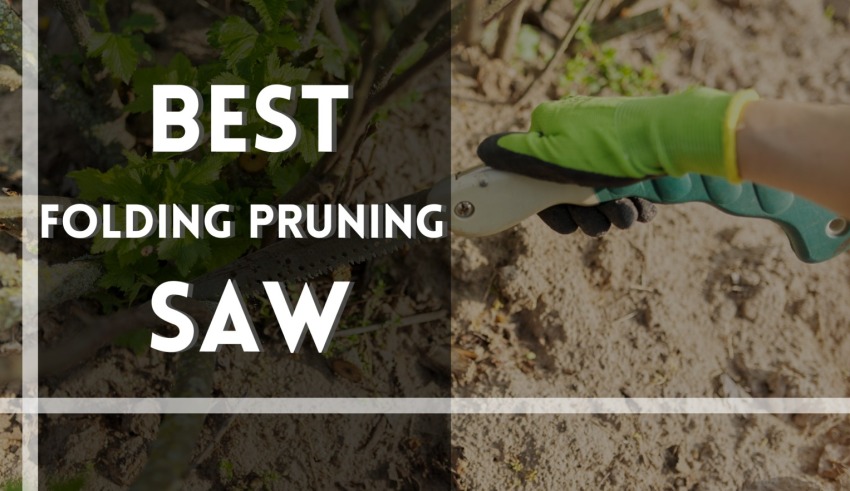 Pruning saw is one of the commonest gardening tools that are useful for removing weeds. The presence of excess branching in trees and shrubs is removed using a folding pruning saw. Folding pruning saws are most suitable because they are easy to carry around.
People find such folding pruning saws suitable for both basic gardening practices at home and even larger orchards. Folded saws have better protection as the sharper part stays hidden. People buy it because of its portability as well. Best pruning saws must be easy to use and cut the weeds and branches faster.
Best Folding Pruning Saw in 2023
Corona Tools 10-Inch RazorTOOTH Folding Saw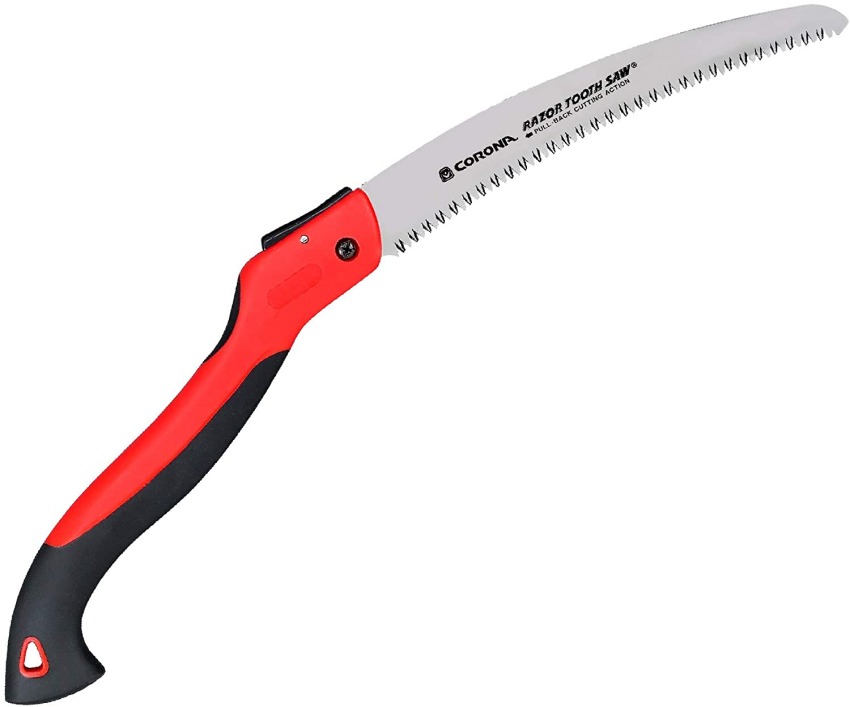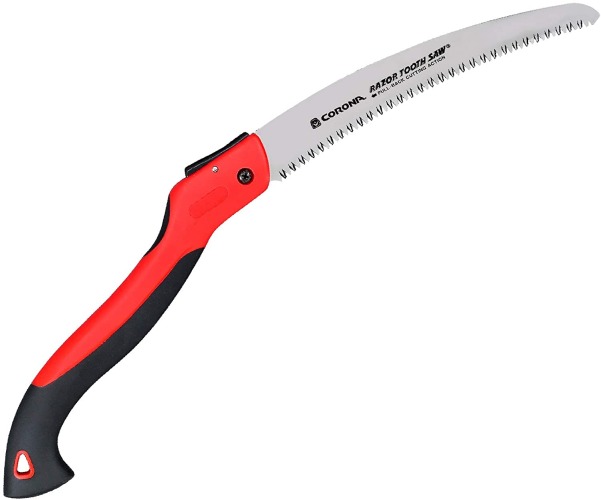 Corona RazorTOOTH is a 10-inch saw that is specially designed for maximum sharpness. With buyers in millions and positive reviews in thousands, it definitely deserves to be on the top list.
The teeth on the sharp side are specially built with the triple ground, making it easier to cut through barks of branches. Hardened teeth and longer structure make it easier to cut through the tough wood.
The body is designed as an ergonomic model that gets handled easily. But the best part is chrome plating on the blade which increases its lasting efficiency.
From medium to larger branches, everything is easy enough to cut for the Corona RazorTOOTH Folding saw making it the best folding pruning saw. The special design of the blade definitely adds to the efficiency as with so many people using it this is the perfect option.
Spending $28.49 this is probably one of the best folding pruning saw that people can get. With the curved blade for faster results and a higher frequency of teeth (6 teeth per inch), this is going to cut easiest.
It is super easy to maintain and the best part is a lifetime warranty on their products. With efficacy, the investment in the product pruning saw remains equally safe.
---
Silky Professional Series BIGBOY 2000 Folding Saw XL Teeth

Silky BIGBOY 2000 offers the finest and most agile pruning saw in the market. The ergonomic design of the saw handle is specially curated with rubber for ease of its use.
The curved blade with a non-slip handle is perfect for camping and landscaping while carrying it in the pocket. This 14.2-inch saw has a larger blade compared to all other portable folding pruning saws available.
Japanese impulse hardening technology stays with the blade to make the saw last three times longer with constant uses. Beyond the longevity, the efficacy of the blade and its lightweight character is top-notch.
Discount prices start from only $74.99 and for a larger saw with a simple design, the product looks worth every penny people spend.
The blade is hardened with 5.5TPI, which means there is a lasting impact of the sharpness. BigBoy2000 with XL teeth cuts the trees and branches faster because of denser and larger teeth with the curved blade.
Exceptional design with an aluminum handle fitted with a non-slip rubber overlay provides the best possible grip. All saws have a manufacturer warranty so that people safely buy this seeing multiple positive reviews from prior users.
---
Home Planet Gear Folding Saw 8 Inch – Foldable Hand Saw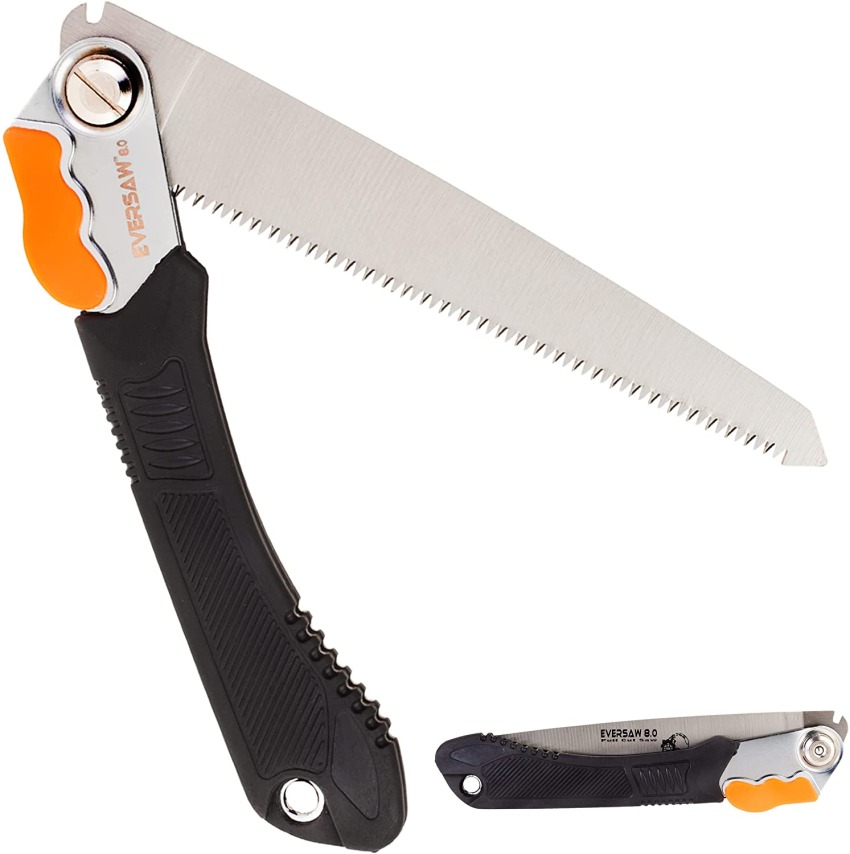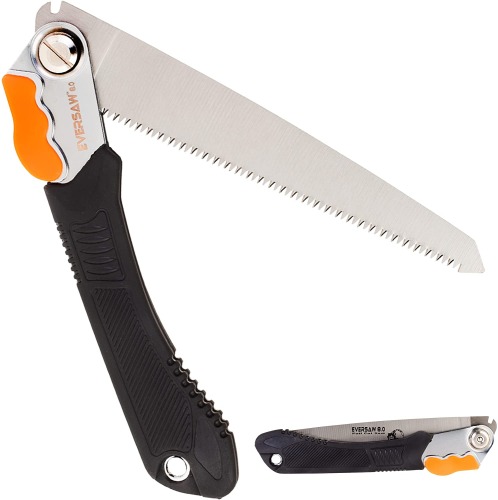 When it comes to home planet gear, EVERSAW 8.0 collection is the best bet for camping. It is not every day that buyers see a 9TPI blade available with a folding pruning saw. The triple cut razor teeth of the blades can smoothly cut through PVC too, proving its efficacy against the wood. An ergonomic non-slip handle just adds to a simple design for anyone to try.
9-inch SK5 carbon steel blade is available for gardening, pruning, camping and multiple uses. But the best part about this foldable saw is the secure blade lock. A stronger gear lock firmly keeps the sharp region closed inside.
Security measure like it makes it safer to carry at every step. A powerful and portable tool like this always goes off the shelf really quickly. Smooth and quick cuts with Home Planet Gear Folding Saw seems perfect even for professionals.
For $15.98 is design is a steal since it can slice through branches like butter. More effectively the ability to protect the blade using safety measures and blade lock is always the perfect choice.
The rugged carbon steel lasts for a lifetime, because of which a lifetime warranty remains. The durability and the easy-to-use character are the specific features of the blade on which people invest.
---
REXBETI Heavy Duty 11 Inch Extra Long Saw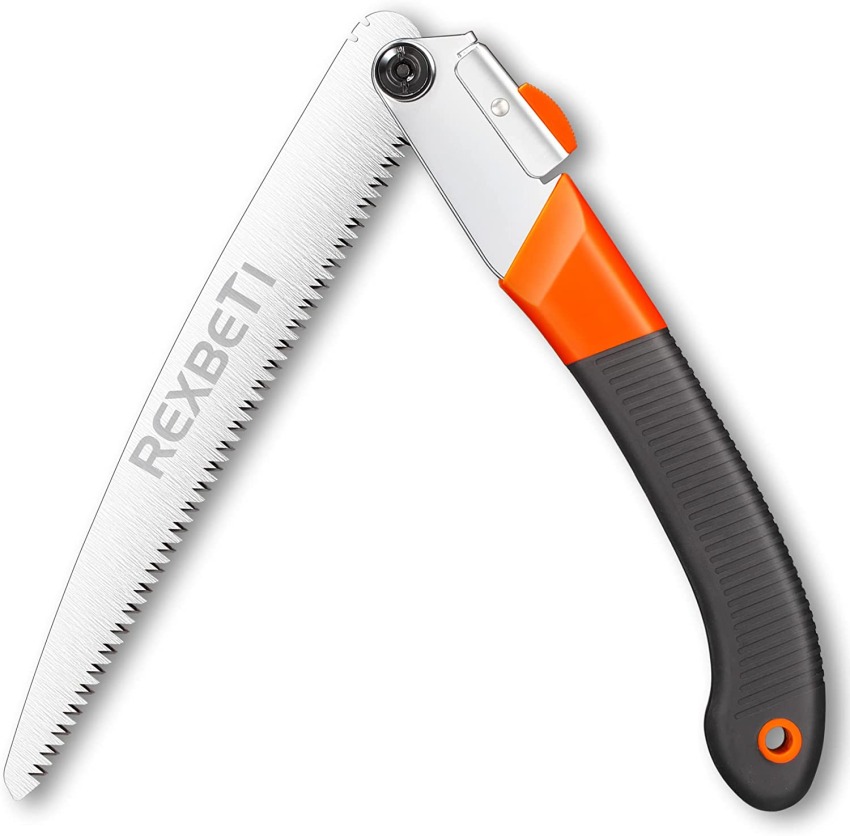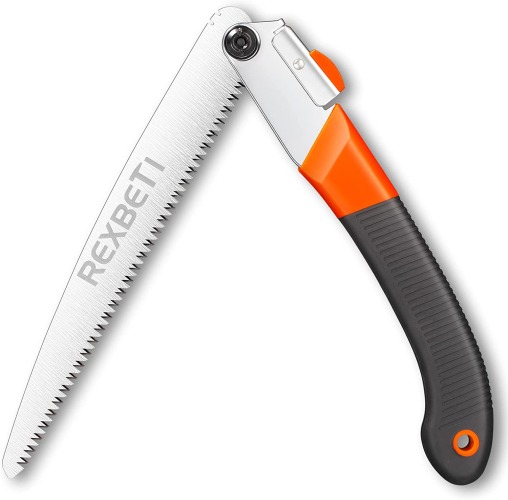 REXBETI is definitely an aggressive choice for pruning saws. SK-5 steel quality maintains the best standard of pruning saw on the market. This lasting impact is the reason people buy it for the longest use. The 11-inch-long blade looks perfect for both gardening and camping. A price of $20.99 is really low when it comes to such a perfect product.
Efficient cutting is possible with 7 TPI blades, which means there is seven teeth frequency in every inch. More teeth make it easier to cut the branches or weeds.
So, it is all about the aggressive teeth available at the cheapest prices ever. This smooth and sharp sawing completely depends on the material with which the pruning saw gets created. The extra-long design is to serve all purposes of work using the saw.
Just like all products from REXBETI even the pruning saw has a warranty for life. Beyond the triple-cut teeth, the exclusive anti-slip rubbery handle is perfection. It makes cutting easier than ever with-it heavy-duty nature built to serve the purpose. Durable, easily portable and easy to accommodate are the main reasons to buy from REXBETI.
---
FELCO Foldable Pruning Saw (F 600)


For effortless clean cutting of branches, FELCO has come up with F600. A cutting-edge small saw with high-quality steel. All effortless clean and precise cuts are possible with this blade even when it is small.
A foldable 6-inch blade is not only easy to carry but effective enough to be rust-resistant or completely devoid of corrosion. The blade of the folding pruning saw maintains its best quality over a long period.
Just spending $28.56 people get the best out of (F 600). Along with a non-slip handle, comfortable use remains over the years as the teeth are specially created to eliminate any chance of clogging.
With high-performance cutting and no extra hassle of cleaning the teeth, this seems ideal for camping and hiking uses. It just weighs 5.5 ounces and is definitely easy to carry. Convenient folding is the reason why people choose F600 over curved pruning saws.
Safety and comfort come first when it comes to traveling. For people going camping, FELCO F600 must be part of their must-have list. Innovative blade geometry comes with durability and higher cutting speed.
70 years of experience is clearly visible with the quality of FELCO F600. More practical design not just for easy gripping but smoothest cutting for such blade length.
---
Samurai Ichiban 13" Curved Pruning Saw with Scabbard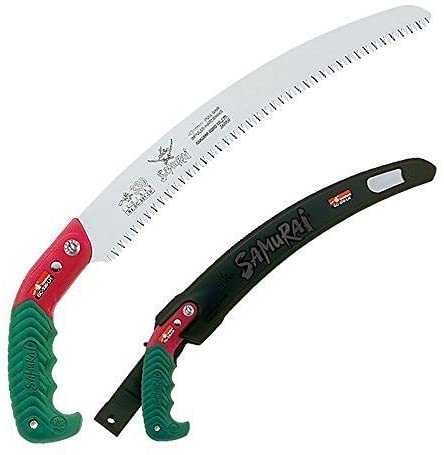 4mm tooth of the curved pruning saw from Samurai Ichiban is perfect for creating straight cuts. Buyers claim they felt it seamless to cut branches and shrubs.
A rubber cushion-like handle makes it simple enough to move through trees and branches. The ergonomic design is special with a curved blade that makes it easier to hack through the woody branches.
Aggressive cutting is easy with such a design of one of the best folding pruning saws. Thousands of buyers and their positive feedback is a written testament that the product maintains the perfect standard.
The tapered grinding of the pruning saw always offers suitable binding. Samurai Ichiban goes beyond the mark of a famous provider of saw for gardening and camping. At prices like $43.50 getting a long blade-like, might look difficult but is genuinely acceptable.
Getting such teeth on the curved blade with so many frequencies and the perfect geometry of the blade makes it the best choice for camping.
It is not just the perfect design and competent functioning but the lifetime warranty that attracts people too. Getting such a product at this range is definitely not easy and with so many positive reviews it genuinely looks worth the money.
---
Gardena 300PP Mechanical Curved Garden Saw

Gardena 300PP offers the first-ever curved blade in a saw of such length. It only takes $44.99 to get a hold of this mechanical curved saw for both gardening and camping. This comes with unique designs of teeth that easily cut through weeds, shrubs and even strong branches. Just one hook from this folding pruning saw can cut down stronger wooden branches.
Using the chrome-plated blades with a rust-proof guarantee makes each product carry its efficiency for years. The integrated system is responsible for easily and safely carry it around. With a high frequency of teeth every square inch there are vast uses of it.
The saw length of the product ranges to 12.4 inches, which is higher compared to most foldable pruning saws. The curved design just makes it easier to cut through branches with ease of movement.
The handle is ergonomically designed for persistent uses. People who travel or hike through rough terrains and jungles are going to find to useful and secure enough to carry.
Non-slip even pulling off the garden saw with triple grinding of the product only adds to efficiency at such a price. Gardena uses a safety clasp that can lock the blade to ensure complete safety while cutting.
---
Silky Professional F180 180mm Folding Saw Large Teeth

Silky Professional has come up with the solution to bring large teeth blades within the range of anyone. As a special offer, Silky Professional F180 is available for only $34.92.
The versatile blade is for multiple jobs including pruning, trimming and a similar level of sharpness can be maintained. With this effective sawing, the folding handsaw is clubbed together to provide an easy-to-use ergonomic design.
SK4 high carbon steel blade is expected to last for decades as the blades are impulse hardened to further induce the cutting abilities. 6.5 teeth per inch does more than just a decent job while chopping through woody branches of the tree. The fiberglass polypropylene handle similarly remains intact with the blade for years offering similar efficiency while usage.
Best folding pruning saw uses the Japanese cutting technology based on which the blade and its teeth get created. All these designs make the sharpness last three times longer than any ordinary pruning saw.
As the name suggests, this folding pruning saw is created by professionals for professionals in different fields. Normal flexibility of the handle remains with perfectly hardened teeth harder than any ordinary filing.
---
FLORA GUARD Folding Hand Saw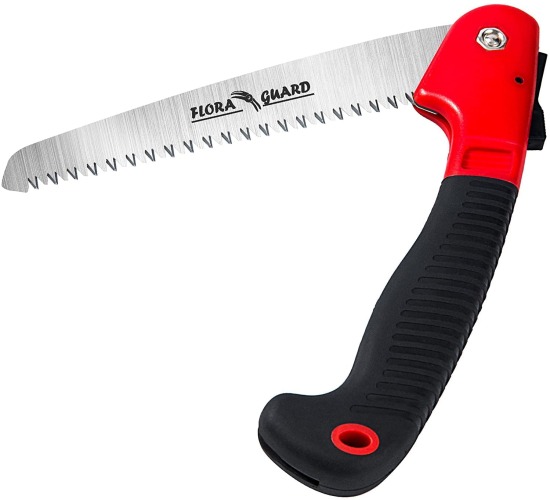 FLORA GUARD brings forth superior quality blades dedicated to excellent performance. Labour intensive process of gardening just gets easier. They take pride in their product which can cut through wood or even bamboo and PVC. This can definitely make it a hiking essential that can fit in the pocket.
Pruning or cutting branches for bonfires during camping gets simple. Durable stainless-steel blades last longer with similar sharpness.
From cutting the larger branches the triple-cut razor teeth works smoother and faster in this folding pruning saw. The design and the lasting effect of the stainless steel make FLORA GUARD saw work with ultimate efficiency.
The hardened blade is designed to easily fold and also cut through woody branches and the small size of the product just acts like a pocket knife for people to carry while camping.
At just $8.88, this is the cheapest possible saw one can get for pruning. The ergonomic and comfortable handle makes it easier to have a better grip to hold perfectly and create perfect cuts. Folded structure remaining fully guarded, there is no chance of accidents due to sharp blades.
This durability and cheap price are the reason for multiple buyers and thousands of positive reviews that just set the product higher among the easy-to-use pruning saws with the best efficacy.
---
Olmsted Forge Hand Saw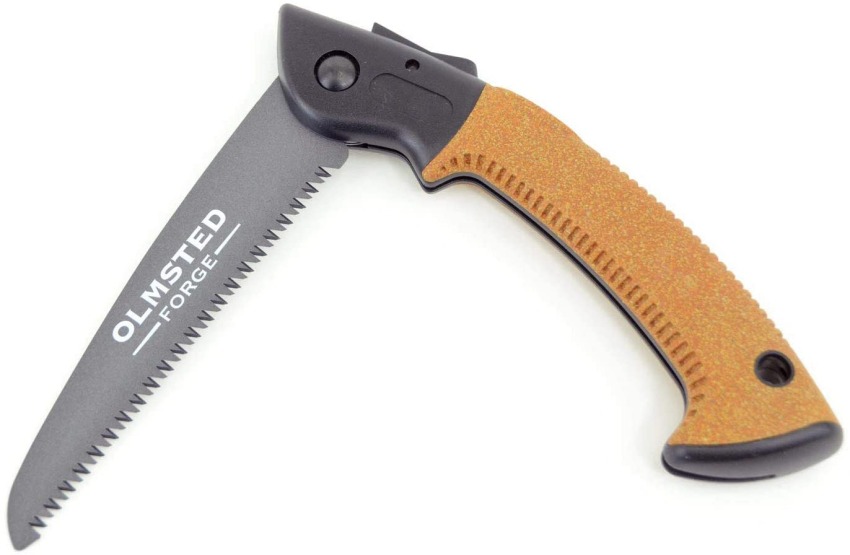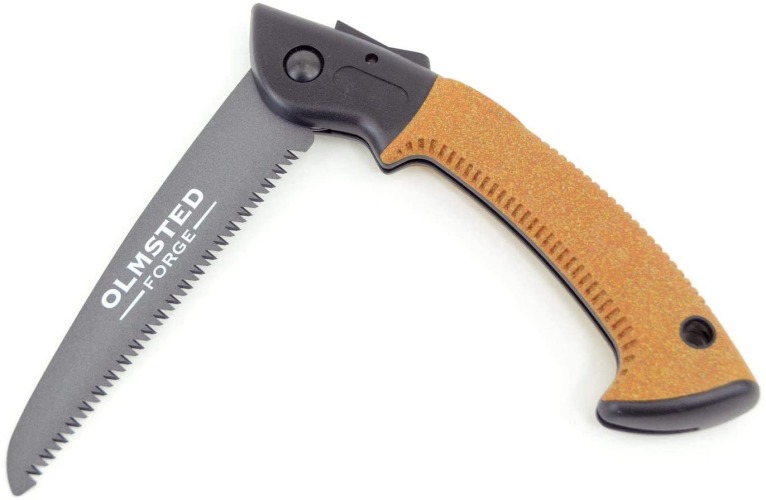 Spending just $17.99 Olmsted Forge saw offers the best product that looks just out of nature. This is one of the newest products which came into being in 2020 that offer simple pruning and cutting.
The first attractive look comes from a carbon steel blade that remains long-lasting. But the 7" saw blade definitely acts best with this design making it the best folding pruning saw.
A unique design of trihedral grinding teeth is something people put complete faith in. From the quality of the blade to the perfect grip of the handle the saw easily.
Cork handle is unique and definitely the most attractive part beyond the efficiency of the blade. With the triple teeth, the cork stays at its best for the longest period. The lock protection guarantee with a closed saw maintains complete protection against sharp teeth.
In a small blade, like 7" having 6 teeth for every inch is definitely a great thing. Olmsted Forge marks the best option out of foldable saws for pruning and camping.
After releasing recently already thousands of people are buying and offering the best rating for the product. People find the unique design extremely attractive and the lifetime warranty trustworthy enough to rely on such a product.
Conclusion
Pruning saws that have a better grip always come up at the top. It is suitable because of the ability to use it easily with a sharper blade. The blades that have sharper teeth and cut through branches like butter get the best ratings. When it comes to gardening, people always look for solutions that make their work easy.
People ordering best folding pruning saws look for these key features and reviews from prior owners and get the best one available that is available on a budget.