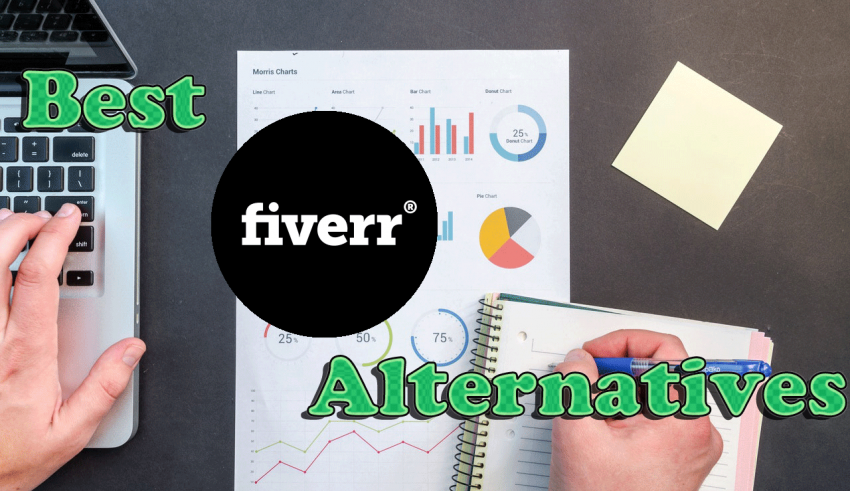 It is said that we live in a sharing economy. This has been proven true by the rise of companies like Uber and Airbnb which merely connect two kinds of people: those offering a service and those looking for one.
Such sharing economy platforms are, therefore, of great help. For millennials especially, these platforms provide a forum to find work, engage with potential clients, and to showcase their work.
These platforms also help entrepreneurs engage talent from all over the world in order to complete projects rather than having to hire full-time staff.
One of the more famous freelancing websites is Fiverr where people can buy or sell different kinds of services starting at $5. However, there are a plethora of websites which not only offer exposure and jobs to freelancers but also offer services to companies and startups at extremely competitive rates.
Are you looking for websites similar to Fiverr? Then you've definitely come to the right place.
Here's a list of some of the top freelance service sites around the world:


The main benefit of Bidvine is that it offers services for customers looking to find local service professionals as well as freelancers. Bidvine.com is based in the UK and some of their most popular services that can be carried out remotely include web and graphic design, copywriting, marketing, accounting, and more.
It is a great option for both freelancers and customers alike because the number of bids is capped at five so there's a real chance of getting hired.
You only pay a small fee to first contact the client and then all repeat business is free of charge to you.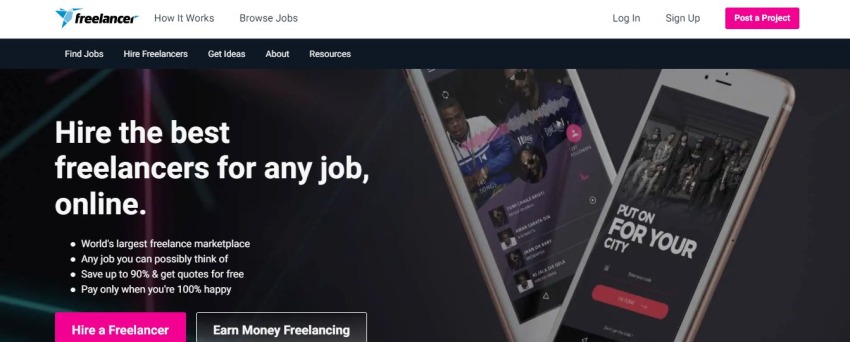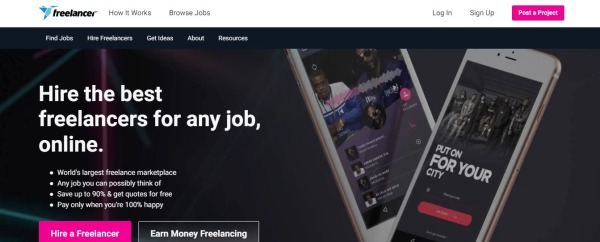 With 17 million users, Freelancer is a great alternative website to Fiverr. The process for creating an account is massively simple. For freelancers, you need to first create a profile, cite some of your previous work, and mention the kind of projects you wish to work on.
It is important that you mention your average charges because that's one big area that prospective clients look at. For employers, you can post a freelance ad for free by listing out the job details, deadline, and the price.
Freelancer follows a bidding process where multiple users can bid on a project and the client can decide whom to hire based on their profiles.

Outsourcely, as the name suggests, is a platform for outsourcing your projects to freelancers. This site has a listing of freelance professionals who are available for hire with different kinds of skills sets.
Depending on your requirements, you can directly reach out to a freelancer and discuss the opportunity with them. The best attraction of Outsourcely is its low service charges which benefits employers as well as freelancers.


A large number of companies need designers and visualizers on a regular basis. While there is ample talent around the world in this area, finding it is a chore. What 99Designs does it connect designers with prospective clients who might have design projects.
Right from product and website designing to making logos and newsletters: all kinds of design work is advertised on this site. The site also has a feature where, for a nominal payment, a prospective employer can launch a talent hunt and recruit the winners to work on a project ensuring that you get the best quality designers possible.
#7
Upwork

Upwork is a platform for writers and editors primarily. You can sign up for a free plan or a paid one depending on how many credits you need. Forbidding for a specific job, there will be a certain number of credits mentioned. You can create your profile by listing out your work history and the amount you'd charge per hour or for a project/milestone.
Employers have the option of dividing a project into milestones with set deadline where a freelancer gets paid every time a milestone is completed. Upwork is currently one of the largest websites for writing and editing freelancers.

Owned by Amazon, this website is meant for finding freelancers for low paying jobs that do not require too many skills. Suppose your company has a task which requires manual work online but not much of skills. You put it up on Mechanical Turks and size a rate for it. Freelancers too can then bid for those jobs for a nominal amount which adds up to the more work you do.
Therefore, if you need any simple work like data entry, form filling, formatting etc., this site is the best and cheapest alternative to Fiverr.

TopTal is a freelancer site that's exclusively dedicated to coders and software developers. On this site, there is an initial screening process to determine the quality of talent and experience of a freelancer. Based on that, freelance developers are matched with projects with clients.
The best part about TopTal is that the companies don't have to pay if the work submitted by a freelancer is not up to the mark. The site manages this with a combination of stringent screening and appropriate matching of freelancers with projects.

With a network of about 2 million freelancers, Guru is a great alternative to Fiverr as a freelancing platform. The website features freelancers who are not only writers but also designers, photographers etc.
A prospective client can browse through several freelancer profiles and portfolios before deciding whom to hire.

Workhoppers is a sort of online-offline platform which companies can use to find temporary workers in their cities.
Considering that a lot of millennials prefer project-based employment, Workhoppers connects such freelancers with corporates that are looking for talent on a temporary basis. Once selected, the process is followed up with a face-to-face meeting and, if all works out, the freelancer gets a contract to start going in to the office for a temporary project.

Codeable is a unique niche platform that's dedicated to freelance web developers. Even there, it's specifically for those who create sites using the WordPress platform. Clients can submit projects with required deadlines and milestones which the freelancers can evaluate. A freelancer is allowed to submit a bid only once they've read through all the terms and agree to it.
This ensures that both the client and the freelancer are on the same page which results in very high satisfaction ratings.

Unlike Upwork and Fiverr, Hubstaff Talent is far more transparent and easy. The aim of the site is to connect freelancers across work areas with commensurate clients who have project needs. A freelancer needs to pay a small amount to sign up on this platform. But once that's done, Hubstaff Talent doesn't charge a penny from the freelancer.
Therefore, when a client commits a certain amount to a project, Hubstaff Talent does not deduct any fees before paying the freelancer. Moreover, this is a global site which means that companies can access some of the best talents which might even be overseas.
Get,
set,
go!
Are you a freelancer looking for assignments? Well, these 10 websites like Fiverr offer a whole lot of exciting opportunities and potential. If you're a company looking to hire a freelancer, you don't need to look beyond these platforms. Good luck with your hunt!