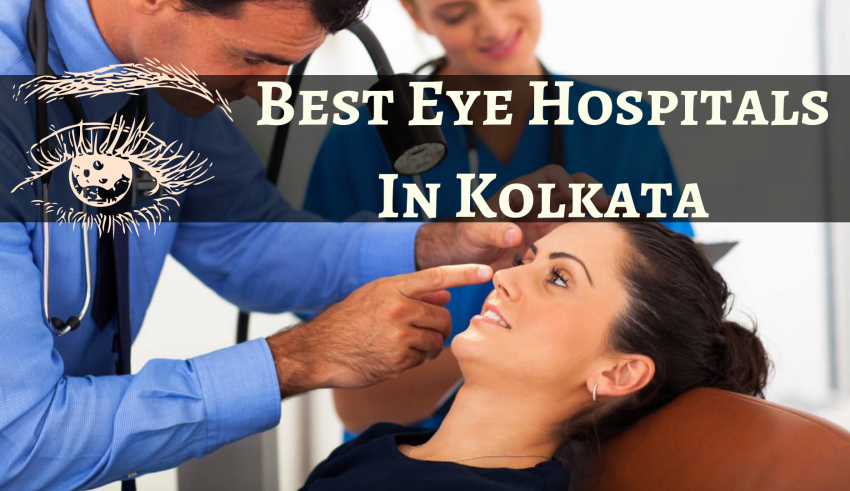 Visualization is the key to the survival of all human beings and to facilitate that we have been gifted with one of the most delicate yet important organs of our body – the eyes. It is the only organ that doesn't have any protective covering like the skull or the rib cage and thus it is very important for us to take care of this fragile organ. Even minor discomfort can sometimes lead to irreplaceable damage and therefore it is suggested to go for regular checkups to keep the problems at bay.
Even with proper eye care, it is not usual to develop diseases and complications. It is important to take care of your eyes and if any problem arises, head to the nearest hospital. To help you with that,
We have compiled a list of hospitals which provide the best treatment and care for different eye-related issues. 
Susrut Eye Foundation & Research Centre was founded in 1998 by Dr Sunil Chandra Bagchi and Dr Ratish Chandra Paul. The research centre was established to eradicate blindness and provide eye care and rehabilitation to all patients. The centre is equipped with the latest technology, state of the art equipment and highly qualified doctors that specialize in almost all eye diseases.
There are treatments offered for Cataract, Cornea and anterior segment, Contact lens, Glaucoma, Laser vision correction centre (refractive), Low vision aid, Oculoplasty, Ocular Oncology and Aesthetics, Pediatric Ophthalmology and Squint, Retina etc. The research centre also organizes community eye examination clinics including pediatric, where check-ups are free of cost.
Address: Kolkata Main Branch HB-36/A/1, Sec.-III, Salt Lake City, Kolkata – 700106 (Get Directions)
Phone number: 913340506500
---
The Sankara Jyoti Eye Research Institute is one of the prestigious as well as internationally acclaimed eye hospital in Kolkata. It is a chosen destination for difficult eye surgeries and draws patients from all over Kolkata as well as the neighbouring states. It is headed by Dr Shivnath Das, a pioneer in microsurgery and intraocular implantation in East India.
The services offered include diagnosis and treatment of cataract, computer vision syndrome, glaucoma, diabetic retinopathy, ocular oncology, orbital disease etc. Besides the speciality treatments, it also offers regular eye checkups. consultations regarding myopia and contact lenses. The institute is also actively involved in clinical trials and research into the causes and treatment of major eye conditions.
Address: 196/5/1, M.S.m Road, Khardah, P.O- B.D. Sopan, Kolkata, 700116, India (Get Directions)
Phone number: 03323581616
---
Disha Eye Hospital at Barrackpore was established in the year 1997 by four enterprising doctors. They aimed to provide eye care while taking into account everybody's ability to pay. The Bararckpore branch is known for its highly qualified doctors and the treatment of a wide range of eye diseases. The building has dedicated floors for super speciality services like Cataract, Retina, Cornea, Glaucoma, Paediatric Ophthalmology, Uvea and Orbit and Oculoplasty.
Patients can choose to get Lasik as well as different types of laser-based surgeries. For the further convenience of the patients, a Contact Lens clinic, Spectacle Manufacturing- Dispensing Unit, a pharmacy as well as The Prova Eye Bank is set within the building. The branch caters to around 1000 patients daily and has a special emergency and trauma ward.
Address: 88 (63A), Ghoshpara Road, Kolkata- 700120. West Bengal (Get Directions)
Phone number: 03325451233
---
Currae Eye Care Hospital in Kolkata is part of the Currae Healthcare Limited. It is a top contender in providing premier healthcare service in India comprising of hospitals, diagnostics and post-surgery facilities. The Kolkata Branch provides a full range of eye care including check-ups, diagnosis, treatment and surgeries. The hospitals aim to provide world medical class facilities with and total emotional support, including complete transparency between the patients and the doctors.
It is known for hiring highly skilled and dedicated doctors and clinical staff as well as using the latest medical equipment. They provide services including Anterior segment, cataract, cornea, glaucoma, keratoconus, Lasik surgery, neuro-ophthalmology, oculoplasty, posterior segment, squint & paediatric ophthalmology. The patients can also opt for daycare retinal procedures which allows them to go home the same day. The surgical instruments used in Currae Eye hospitals are best if the patient wants advanced glaucoma surgery.
Address: 1A, Acharya Jagadish Chandra Bose Rd, Elgin, Kolkata, West Bengal 700020 (Get Directions)
Phone number: 9749269359
---
The Rotary Narayana Eye Hospital is the Kolkata based eye specialist branch of the Narayana Health. It has established a solid reputation in Kolkata due to its more than 7000 eye surgeries of various complexities. It has been handed a position in the reputed Rashtriya Swasthya Bima Yojna due to its unprecedented service for more than a decade.
It is equipped with four operation theatres, a biometric room, a topographic toom and an optometrist room. It provides comprehensive primary & emergency care among other speciality services. The services also include Lasik surgeries, eye bank and emergency unit.
Address: CN Block, Sector V, Salt Lake City Kolkata, West Bengal – 700091 (Get Directions)
Phone number: 033-3011 5000
---
The Salt Lake Eye Foundation is known for being the top hospital in Kolkata for Cataract surgery. The hospital was established by Dr P B. Sarkar in 1995 with the mission to provide total eye care under one roof. The hospital provides the latest technology and highly qualified doctors for the prompt diagnosis and treatment of eye diseases.
The services include Phacosurgery as well as detection and treatment of Diabetic retinopathy, glaucomas and other refractive errors of the eyes. It is known for its effective surgeries, clean and sterile environment as well as the exceptional assistance provided by the staff. It is also known for its low medical fees and the treatment of the economically backward people free of cost.
Address: IA-173, IA Block, Sector-III, Bidhannagar, Kolkata, West Bengal 700097 (Get Directions)
Phone number: 09830606220
---
Micro Point is an Ophthalmologist Clinic located in Dum Dum, Kolkata. It was established with the aim of using the latest technology and research to provide the optimum healthcare facilities to the patients. It houses renowned ophthalmologists like Annayabrata Das, who has over two decades of experience.
The clinic is equipped with the latest state of the art equipment and covers a myriad of different treatments. You can opt for the regular eye checkup or go for specialized treatments including Squint, Cataract Surgery, Laser Treatment, Lasik Surgery Treatment. The staff is known to be cordial and well trained to cater to the patients and provide them with extraordinary care.
Address: 38/B, Micro Point, Opposite Of India Gas, J N Tiwari Road, Dum Dum, Kolkata (Get Directions)
Phone number: 09830873460
---
The ASG hospitals are a chain of super speciality hospitals started by a group of enterprising doctors from AIIMS, Delhi. It was established to provide every individual with the best eye treatment and care regardless of their financial and educational levels. Their services include Advanced Vitreo-Retinal Surgery, Glaucoma Surgery, Advance Corneal Microsurgery, Squint and Oculoplastic Surgery including treatment for different types of eye tumours as well as cosmetic eye surgeries.
It is known for is 24 hours operating eye bank and emergency trauma and care units. The hospital is equipped with world-class doctors as well as the latest equipment including one of the fastest available LASIK Laser machines in the world.
Address:  403/1, Alcove Gloria, Above Big Bazaar, Dakhin Dari Road, VIP Rd, Sreebhumi, Lake Town, Kolkata 700048 (Get Directions)
Phone number: 03325212200
---
Priyamvada Birla Aravind Eye Hospital was established in collaboration with Aravind Eye Care System, Madurai. The Madurai centre is one of the world's largest eye care providers and is associated with the WHO Collaboration Centre for prevention and control of blindness. The hospital was established to provide world-class ophthalmologic services to the east and northeastern regions of India. It provides treatment and surgeries for glaucoma, cataract, Lasik, retina and cornea issues, Orbit and ocuplasty.
It has a specialized emergency as well as pediatric units. The patients can further find accommodation, pharmacy, optical shop as well as eye bank within the compound for a convenient experience.
Address: 10 Loudon Street, Kolkata 700017 (Get Directions)
Phone number: 913322894343
---
10. Apollo Gleneagles Hospital
Apollo Gleneagles Hospital is a multi-specialist hospital known for its national and international popularity. It is accredited by the Joint Commission International or JCI. It houses several departments including Cardiac, Ophthalmology, Neurology & Neurosurgery, Gastroenterology, Robotic Surgery etc. The ophthalmologist department has doctors and surgeons with decades of experience striving to give exceptional care to the patients.
The hospital has a fully equipped Operation theatre with the latest equipment and technologies including microscopes, lasers, advanced computer chip and fluidics to provide total control of the eye during the surgeries. The services offered include Latest management of squint, Management of eye trauma, Pre-school eye check-up, Preventive eye care, Optometry etc.
Address: 58, Canal Circular Road, Kadapara, Phool Bagan, Kankurgachi, Kolkata 700054 (Get Directions)
Phone number: 03323202122
---
The Disha Eye care hospital in Sheoraphuli is a branch of the renowned chain of hospitals, situated all over Kolkata and its surrounding districts. It was established to accommodate the growing number of patients in the outskirts of Kolkata. The hospital was established in 2003and is located within a 5-minute distance from the nearest railway station.
The current management consists of over 17 doctors and 100 supporting staff. The services are separated into three major units, the surgical, the laser and diagnostic & imaging. The surgical services include cataract, glaucoma, Retina / Vitreo Retina, Uvea, squint, cornea and Oculoplasty. The laser treatments offered are YAG Laser for Glaucoma, Laser For Diabetic Retinopathy, Retinal Laser and  Posterior Capsulotomy.
Address: 14, Grand Trunk Rd, Sheoraphuli, West Bengal 712223 (Get Directions)
Phone number: 03325451233
---
Sunetra Family Eye Care Center was established by the husband-wife duo Dr Amitava Biswas and Mrs Neena Biswas, who are both alumni consultants of Sankara Nethralaya, Chennai. They provide treatment for Cataracts, Glaucoma and Retinal Disorders well as Neuro-Ophthalmologic conditions. The hospital is equipped with a vast campus, state of the art equipment for surgeries, well furnished and sterile operation theatre and rooms.
One can also opt for other services like Ophthalmic Ultrasonography, Lasers and Angiography. The institute aims to be a family eye care unit and thus caters to patients of every age. The prices are set in a way as to make it affordable for people belonging to different sections of society.
Address: Unnayan (2nd Floor) 1050/1, Survey Park, Kolkata, West Bengal 700075 (Get Directions)
Phone number: 03324188223
---