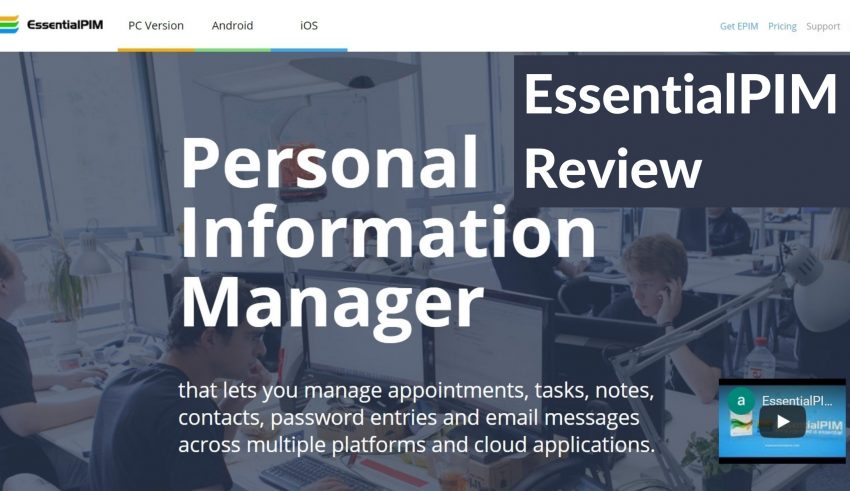 The growing advent of technology is opening up greater possibilities ahead of all users. But it is also adding to the complexities as people are having to deal with numerous information single-handedly.
Think of a scenario where you have five appointments lined up with your clients and amidst all these, you end up forgetting your own anniversary. A personal information management tool can fill in such gaps by updating you of all the scheduled tasks while also sending notifications of upcoming events in a holistic fashion.
A secure database is maintained by the Personal Information Manager which helps with both storage and management of all your personal and professional information under one roof.
If you are someone who likes the look and feel of Microsoft Outlook, then you have come to the right place. Today we are going to talk about EssentialPIM, which can excel your expectations in the department of information management without burning a hole in your wallet.
Let's take a look at its complete pricing details:
| | | |
| --- | --- | --- |
| Plan | Term | Price |
| EssentialPIM Pro | 1 year of free updates | $39.95 |
| EssentialPIM Pro Business | 1 year of free updates | $59.95 |
| EssentialPIM Pro Lifetime | Lifetime updates | $79.95 |
| EssentialPIM Pro Business lifetime | Lifetime updates | $99.95 |
| EPIM Cloud | 1 year subscription | $19.95 |
EssentialPIM is a cross-platform information management tool that can save, organize, and manage all your data for improving the level of overall productivity.
It can synchronize your data across a plethora of services, tools, and devices so that making changes in one field gets updated instantaneously in the other ones.
EssentialPIM comes in three separate versions meant for Windows, iOS, and Android which helps in catering to the specific requirements of a larger segment of end-users. While setting up personal information such as syncing of emails, contacts, etc might seem a bit time-consuming initially, you are bound to benefit from the synchronization in due course.
---
Benefits of using EssentialPIM
Consolidation & Synchronisation
Managing data stored across different platforms can become a very tough task. But EssentialPIM can ease out this whole process by making the services accessible across a variety of cloud services and platforms.
The data is stored in a scalable database for being accessed easily whenever you wish to refer your appointments, email messages, contacts, passwords, notes, and tasks.
Gone are the days when you had to toggle between devices, services, platforms, and applications for accessing your data as EssentialPIM keeps it all neatly collated in one place.
Manual entries are prone to errors and EPIM helps in reducing chances of mistakes by syncing the contacts, calendars, to-dos and similar items with Google, iCloud, and Microsoft Outlook.
EPIM cloud helps in remotely accessing the data even when you are away from your mobile or desktop as this feature on being enabled stores the data as a backup in the cloud.
The local network sync is another ground-breaking attribute of EssentialPIM which can suffice users who do not wish to sync their data over the internet by using a cloud account. However, you need to have a stable Wi-Fi or local network connection which will help in syncing your data to your device locally through the network.
Users have a tendency of developing a greater affinity towards platforms that carry an intuitive visual appeal. EssentialPIM stands true to this general consensus and offers a pleasing interface that helps in garnering confidence even amongst the most novice users.
In spite of its easy look and feel, it houses tremendous potential in terms of high-end configurations which remain sub-divided into numerous sections for helping with the understandability.
Users can even exercise customization by dragging the borders for syncing the final look to their specific liking. The clutter-free interface of EssentialPIM looks similar to a calendar app/ mail client when viewed from a Windows desktop.
It appears similar to a combination of reminder, calendar, and contact app when used over iOS or Android platforms. Since EssentialPIM is compatible with both light and dark mode, you can choose the one which is in accordance with your particular preference.
Storing sensitive information like bank credentials can be very risky if the information management tool doesn't have a robust security system. EssentialPIM brings advanced data protection features to the table which can keep you completely worry-free about your personal and professional data falling into the wrong hands.
Various online security threats and surveillance activities can compromise your data. EssentialPIM can keep you buffered from all such worries as once the data is stored in its database, it doesn't leave the device apart from data synchronization across different devices.
The level of data security gets further enhanced by its AES 256-bit encryption which implements SSL certificates to strengthen the security parameter.
The built-in password generator helps in storing all passwords pertaining to different accounts in a collated manner. It also offers users the option of generating unique passwords whenever they require which consists of a combination of symbols, special characters, numbers, punctuation marks, and letters.
Complete control over data
EssentialPIM allows its users to access and organize their data in a convenient fashion using a variety of techniques and offering much-needed flexibility.
The Daily Agenda feature offers an overview of all the tasks which await us on any particular day by collating information from notes, tasks, and calendars. Users can even plan a single day or week in a meticulous manner by its calendar function.
Tasks can be set and filtered according to priority, location, and percentage of completion. The calendar feature of EssentialPIM comes with an instant search and color-coding option so that you don't end up mixing the appointments.
You can even take notes in the 'New Appointment' window. Once a task is set, users can sub-define the same so that employees can have a clear vision of the steps to follow. Data handling becomes easier with its smartphone sync, export function, and easy printout option.
---
Final Words
EssentialPIM comes in a free and paid version. The Pro version can be used for a lifetime and users can also benefit from free updates for an entire year starting from the date of purchase. Registered customers also receive free priority support for a lifetime.
Irrespective of the variant you choose, EPIM can serve as a worthy piece of software by cratering all your data handling requirements under one roof. The effectiveness of the software gets further enhanced by its improved app functionality and cross-platform nature.