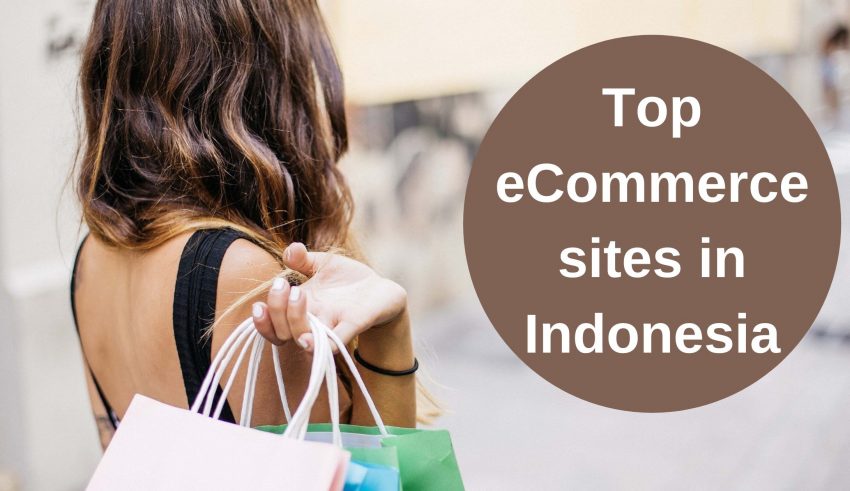 Be it for the bustling young population of the country or the gradual development of economy, Indonesia is one of the most sought-after global markets for e-commerce. A number of large international players compete with local biggies in a market that is eyeing constant growth. No wonder, it is quite difficult to squeeze them into the top 10 e-commerce sites in Indonesia today. 
One of the prime reasons for this escalating market is that, well, Indonesians love to shop. Thanks to the digital explosion that has engulfed the country, more and more people are resorting to online shopping. E-commerce sites in the country cater to every need and wish of the customer. Besides, they span everything from necessities to luxury goods.
Such is the success of the online marketplace in Indonesia, that millions of people are reported to use them regularly for their shopping needs. Compare this to other countries that usually see not more than a couple of established e-commerce sites. Their number in Indonesia is huge. To give you a better idea,
Here is a list of the top 10 e-commerce sites in Indonesia: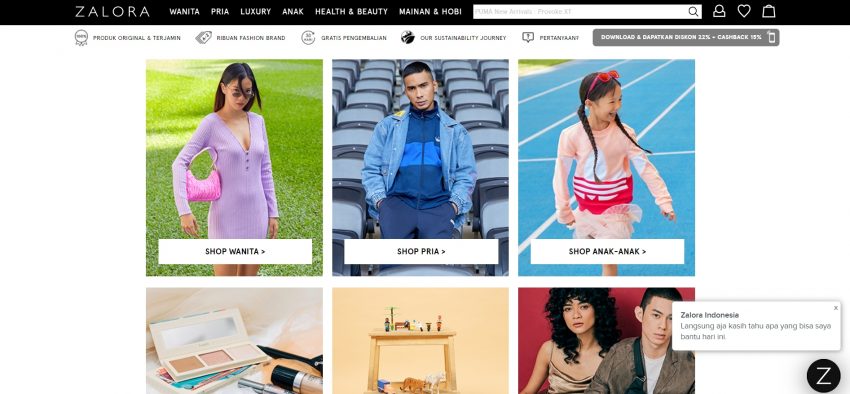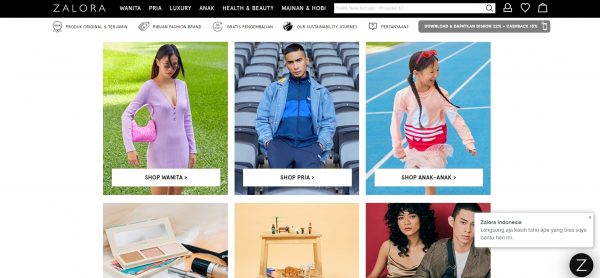 The largest e-commerce site in Indonesia happens to be Zalora Indonesia. The platform specializes in fashion merchandise, spanning everything from clothes to shoes, accessories to glasses, and so on.
The e-commerce giant of the country dates back to 2012 when it was founded by Rocket Internet. The website sees a whopping 3,750,000 monthly visitors. This spans Southeast Asian nations like Brunei, Hong Kong, Malaysia, the Philippines, Singapore, Thailand, and Vietnam apart from Indonesia. It has also been recently launched in Taiwan and is sure to grow manifold there as well.  
---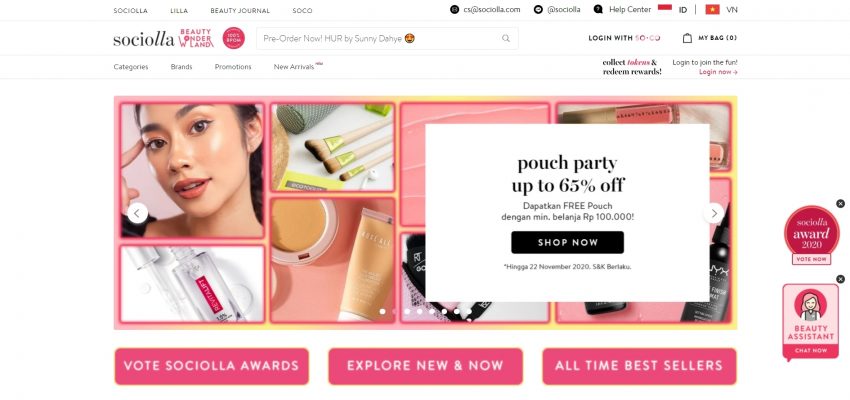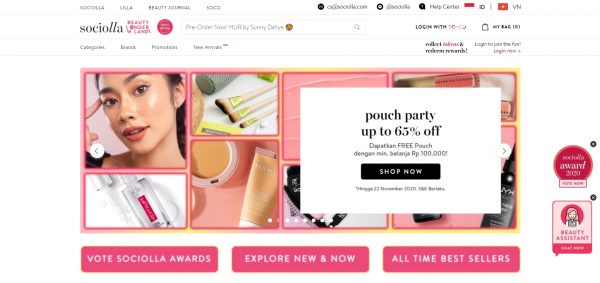 Sociolla is the perfect dream destination for every woman who likes to indulge in beauty and cosmetic products. The online shopping giant is like a one-stop-shop for superior quality products. It covers everything from skin and hair care, makeup, beauty equipment, gadgets, perfumes and so on. This is what makes it one of the top 10 e-commerce sites in Indonesia.
Sociolla sees a humongous monthly visitor stat of 4,400,000. This is proof enough of its huge popularity and success in the world of e-marketing. Sociolla also enjoys the status of being the most sought-after beauty shopping destination of the country.
---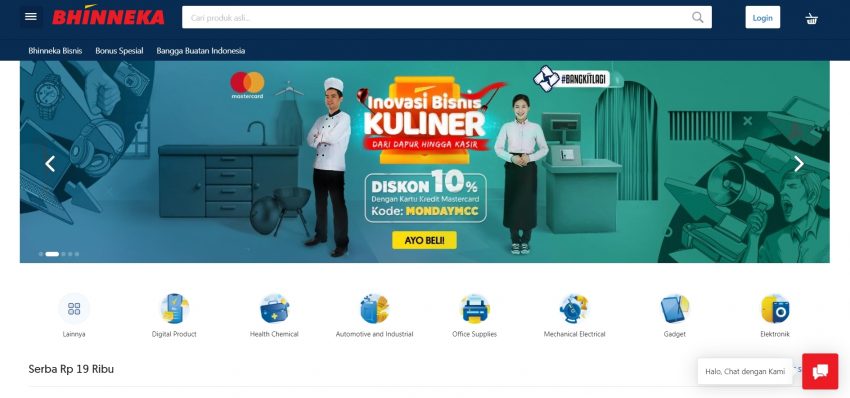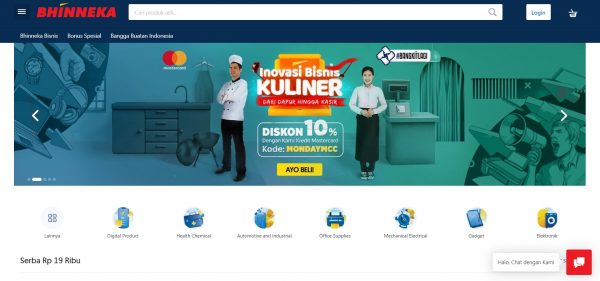 With a huge monthly visitor count of 5,950,000, Bhinneka is another giant when it comes to the top 10 e-commerce sites of Indonesia. The website is best known for being home to some of the latest gadgets and tools across genres of utility, entertainment, and education. In short, when looking for gadgets online in Indonesia, Bhinneka is where you want to stop by.
Bhinneka is more prominently known for its long chain of walk-in departmental stores. They deal with computers, gadgets, home appliances, tools and other electronic accessories in Indonesia. It is also one of the pioneers in the country in the world of e-commerce, where it deals with the same products. No wonder, its long association with the country, repute, trust, and service contribute to its popular usage.
---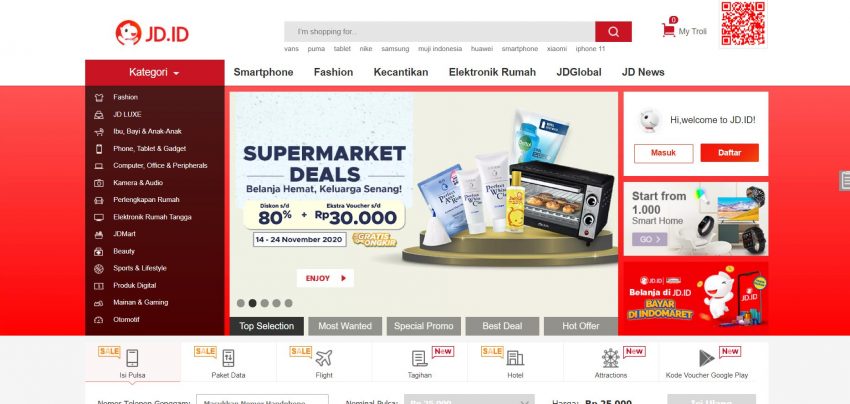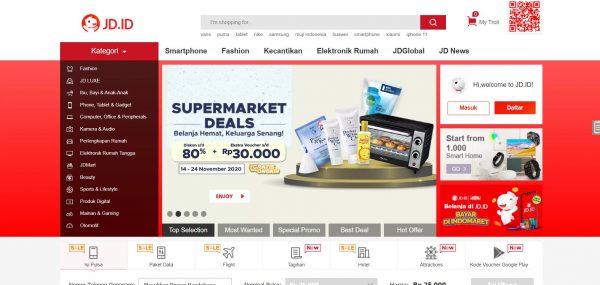 Unlike the online stores mentioned above, which specialize in one category of products alone, JD.Id is a platform that brings diversity into the picture. The online store is the ultimate shopping destination encompassing all your needs – from fashion to gadgets, medicine to accessories, and so on. Despite seeing a pretty recent launch, in November 2015 itself, the platform has managed to soar higher past many previously established websites in terms of visitors, who are estimated to reach around 8,600,000 every month.  
JD.Id is an offset of the parent company and Chinese e-commerce giant JD.com also referred to as Jingdong. Besides, it is not just a variety that JD.Id brings with itself, but also quality and reliability of products and services. These are a few of the many reasons why JD.Id deserves a top spot in this list of the top 10 e-commerce sites of Indonesia.
---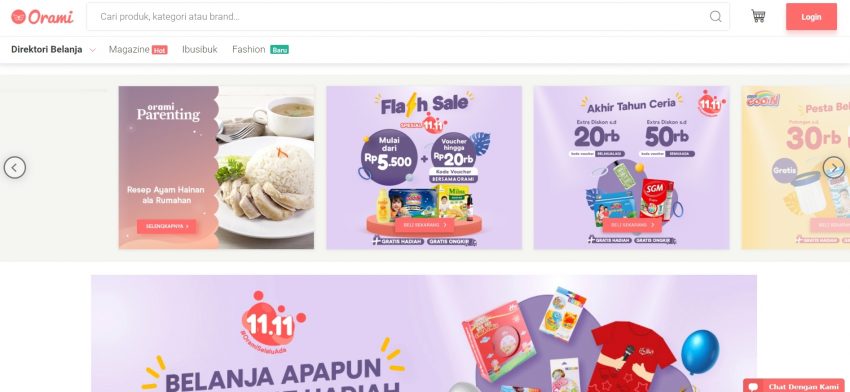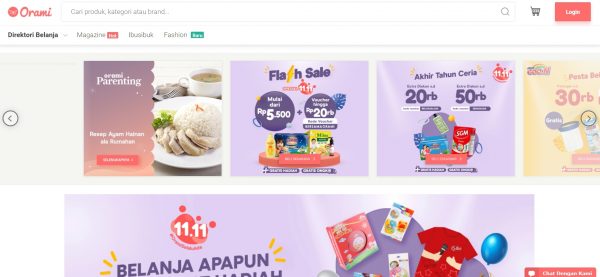 When it comes to the top 10 e-commerce sites in Indonesia, Orami is one name that must be mentioned. The online shopping giant specially caters to baby care, family and home needs. In fact, you are sure to find on this website anything you need for your house – from kitchen essentials to hygiene needs, toys for the kids or accessories for the adults.
Orami is one of the biggest e-commerce giants in the South East Asian region, catering to about 9,050,000 shoppers every month. The website sees the impact on a massive scale, with customers from multiple countries in awe of the e-commerce site. In short, Orami is one of the best e-commerce sites in Indonesia today.
---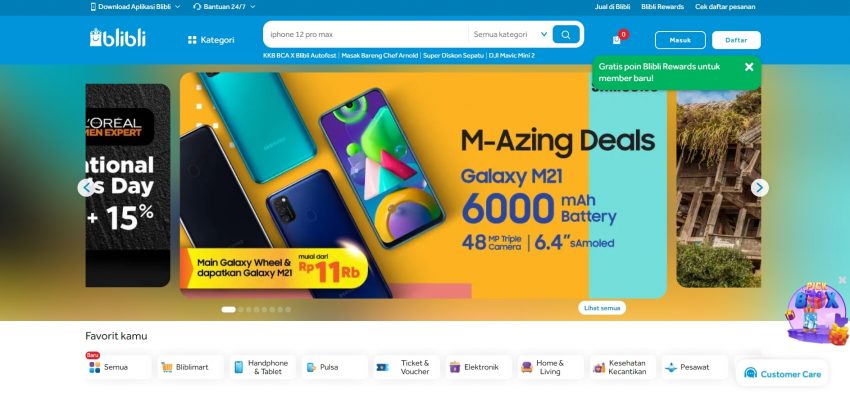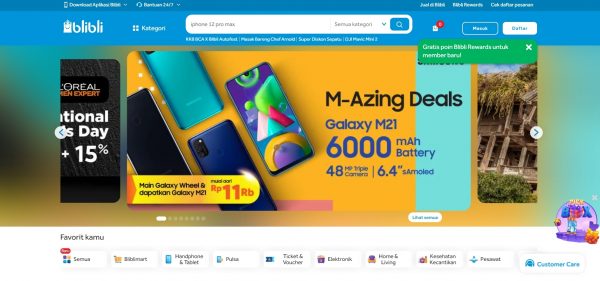 Imagine stepping into a shopping mall, what do you find? Multiple stores housing arrays of products from every walk of life, isn't it? Well, visiting the e-commerce giant Blibli's website feels like the same. The online shopping website feels like a shopping mall in itself, with so many diverse products.
You can use the platform to shop for everything from fashion to health and hygiene needs, gadgets and computers, home and décor needs, mother and child essentials, and even automotive needs!
At the same time, this is one site that offers the best range of promotions, vouchers, coupons, and tickets for customers and visitors alike. Blibli is like a pandora's box of items galore. No wonder, it sees a monthly visitor count of a whopping 34,200,000 people.
---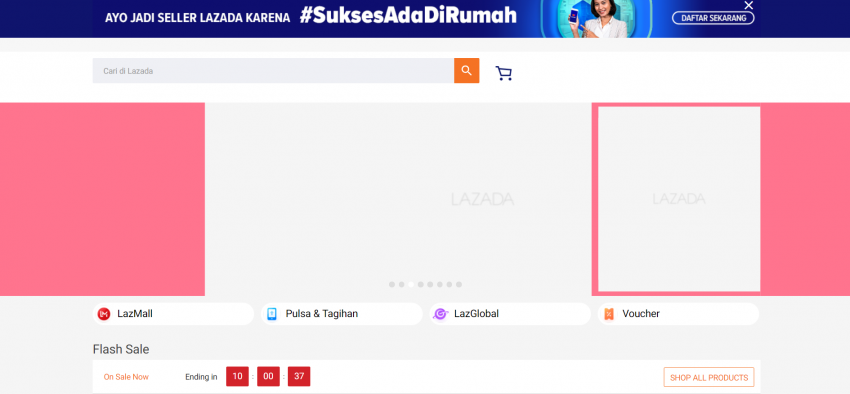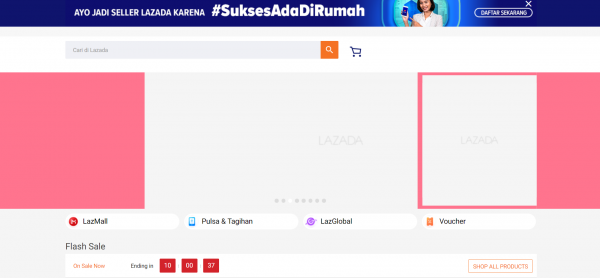 When it comes to the top 10 e-commerce sites in Indonesia, we cannot afford to leave Lazada out of the list. The e-commerce biggie sees a humongous presence across multiple South East Asian nations like Malaysia, the Philippines, Singapore, Thailand, and Vietnam.
Lazada dates back to 2011 when it was founded by Chinese biggie Rocket Internet. Later, the Chinese e-commerce giant Alibaba took over the control of Lazada in 2016. From then on, the e-commerce site's operations in South East Asia are controlled by Alibaba only.
With a monthly traffic estimate soaring to 47,800,000 people, Lazada is not just one of the best but also the biggest e-commerce site in the region. The online shopping destination caters to every product across multiple genres. Besides, it hits big in those of fashion and home needs. Besides, the e-commerce site in Indonesia is a favorite among those who are looking for coupons and vouchers when shopping.
---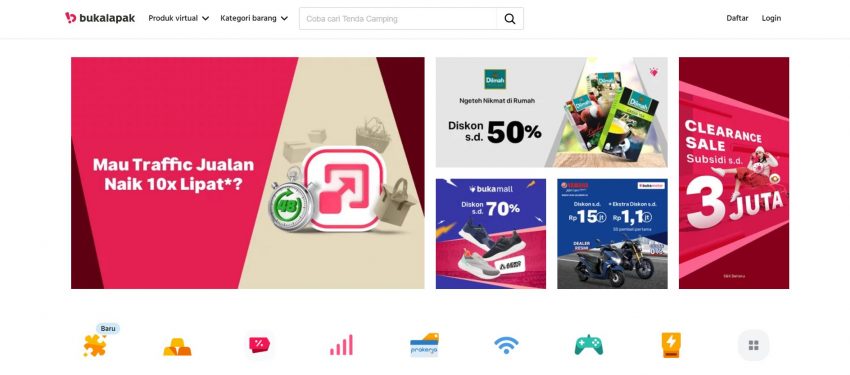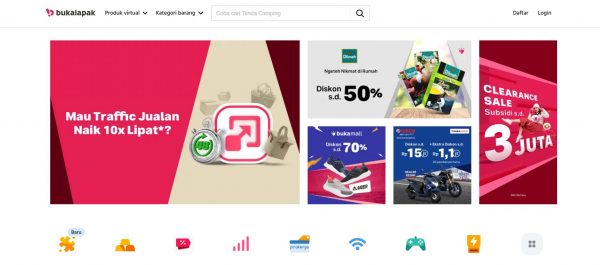 Bukalapak can be easily counted among the top 10 e-commerce sites in Indonesia for good reason. First, it hosts products across genres, while also allotting handsome discounts and offers on most of them. The leading online marketplace is popular for the ease it provides to both buyers and sellers. This is in terms of transactions and the shopping experience.
Bukalapak finds great popularity among many Indonesians, thanks to the seamless experience it provides. The website sees an astonishing monthly visitor estimate of more than 95,100,000, one of the highest by far.
The reasons for its popularity are plenty – first, the diverse range of products. Second, the multiple financial guarantees provided to customers. Third, the site's quality and reliability of service and delivery always manage to leave the user impressed.
---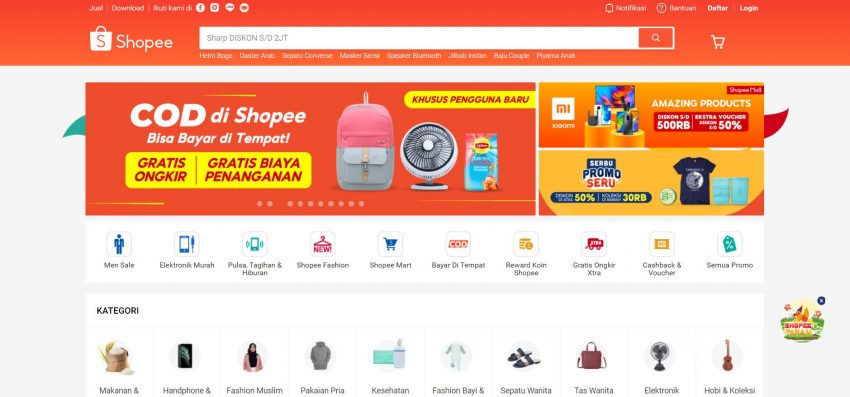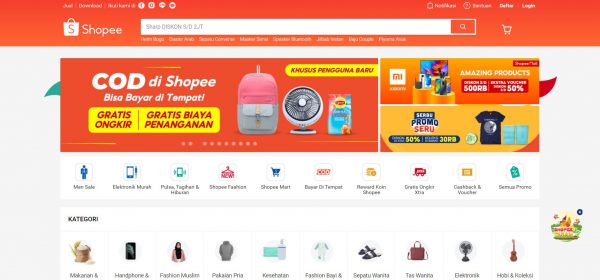 A list of the top 10 e-commerce sites in Indonesia shall remain incomplete without mentioning Shopee Indonesia. The premier site is much sought-after, thanks to its expertise in dealing with mobiles and accessories. In fact, Shopee Indonesia sees immense popularity not just in Indonesia but also in neighboring nations like Malaysia, Singapore, Thailand, Taiwan and Vietnam in Southeast Asia.
Shopee is a global leader when it comes to mobile phones. The site boasts of not just exclusive variety but also the best and reasonable prices. Its popularity becomes simply clearer by taking a look at its monthly visitor estimate – an astonishing 95,300,000. There is really something for everyone, and this is what makes it one of the top 10 e-commerce sites in Indonesia for mobile phones.
---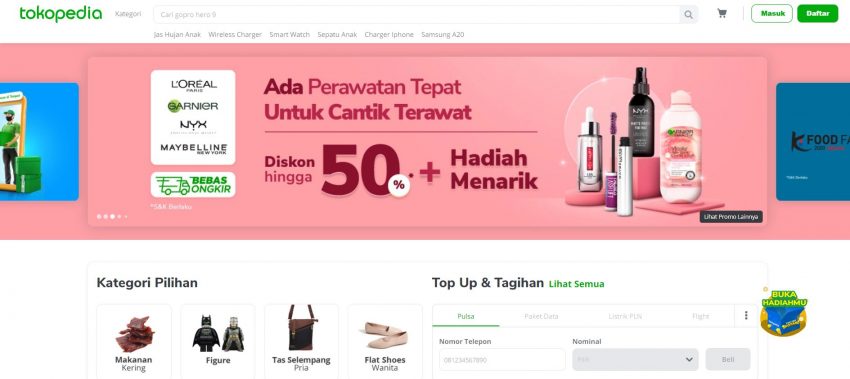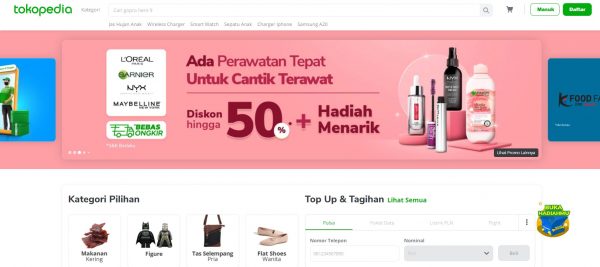 Saving the best for the last, Tokopedia emerged easily as the biggest marketplace on this list of the top 10 e-commerce sites in Indonesia. First things first, the site sees a huge monthly visitor count with 148,500,000 people. The e-commerce site is home to multiple small, medium, and large businesses from the country. At the same time, it sees consumption from an array of customers with all budget ranges.
Tokopedia sees funding from global giants, thanks to its tremendous popularity and success. Japan's Softbank and the famous American tech venture capital firm, Sequoia Capital, have both funded Tokopedia enormously. No wonder, the site is the most successful of its kind in Southeast Asia and is consistently expanding into an international giant.
---
Conclusion:
Global digitization, of not just experiences but also payment methods, has also contributed to the explosion of online e-commerce sites. Indonesia, being the hub of young, fashionable individuals, is eyeing continuous rise in terms of brands, businesses and e-commerce. Suffice it to say that even international labels are looking forward toward establishing e-commerce chains in the country and its surrounding regions. Add to that the pleasure people find these days in online shopping, and the success of these global platforms gets clearer on its own.
Online shopping has become the lifeline of many global economies today. After all, who does not enjoy sitting at home, in the comfort of one's couch or bed, and relish in their favorite products. Such a huge array of products, across categories like fashion, books, home and décor, gadgets, accessories, automotive, tools and so on – just a few clicks away. If you are also someone who loves browsing through online marketplaces and getting luxury sitting at home, this list of the top 10 e-commerce sites must prove quite useful to you.