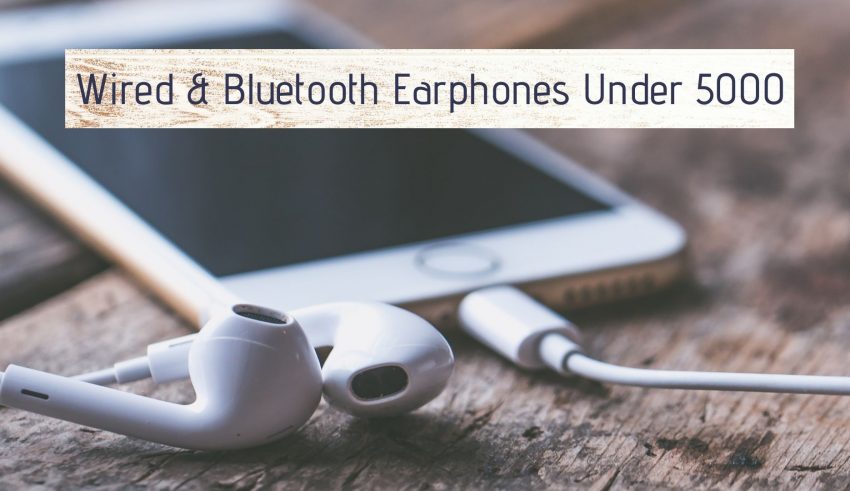 Earphones are a very important accessory for your phone, laptop, or iPod in this age of technology. A good earphone can make all the difference in making your viewing experience tons better. Hence, it is always wise to invest in a good pair of earphones without thinking twice about it.
However, we know you don't want to pay a huge amount for the ultimate experience and comfort. So, we bring to you a list of the best earphones available in the market under 5000 rupees. These earphones are great deals, with state-of-the-art technology and clear, deep sound.
Check out our list of the best earphones under 5000 and let us know your opinion.
Wired Earphones
Listed below are some of the best wired earphones in this budget.
Marshall Mode EQ
Marshall Mode EQ is a top-end earphone available in under 5000 rupees. It has the iconic Marshall logo on it, with their unique in-ear design and rubber coated tangle resistant cords. It also has a microphone and remote to make controls easier and answer calls, play music, etc.
You can play, pause, fast forward, or rewind your music with this remote. Their in-ear fitting is perfect and comes in interchangeable size sleeves. The audio is excellent and gives clear bass and treble sounds to make your music more alive.
---
Sennheiser Momentum
Sennheiser Momentum is one of the best earphones for a complete audio experience. It has a stainless steel acoustic pipe which is custom machined for better sound delivery. It also has a high quality dynamic speaker for ambient noise. And of course, you will get ear canals of different sizes.
Sennheiser Momentum is available in two variants, both of which have a three-button remote with integrated microphone. They work best with Apple iOS or Samsung Galaxy devices, but are equally compatible with your other Android devices. The cable is elliptical and two-toned for less tangles and worry.
---
Soundmagic E50C
Soundmagic E50C is a cool looking and phenomenal sounding pair of earphones available in just under 5000 bucks. It is durable and light, with metal construction. It has a three-button remote and comes in four different variants, combined with black. The colors are blue, gold, gunmetal, and red.
The 60 degree gold-plated plug has protection from tearing or twisting. It gives stable signal output and excellent noise isolation. Your hearing will also not get impaired with these earphones. Eartips come in silicone, double flange silicone, and comply varieties.
---
Betron YSM1000
Betron YSM1000 has a strong stereo and excellent bass. It is a great choice of earphones to listen to music with absolute details. These earphones are best suited with iPhones, iPads, and iPods. Its sound isolation lets you listen to music with any outward disturbance.
These metal earphones have a stylish design with unique cords. Betron gives great value for money and much better service than many more expensive earphones. These are 24K gold plated with a 3.5mm plug for the best performance.
---
Symphonized NRG 3.0
These noise-cancelling earphones are made of real wood for maximum sound absorption and emission. They have a deep bass and powerful treble with the latest design and high-end quality. They work will all Android, tablets, mp3, Apple, and other devices.
These earphones come with custom silicone ear tips and an eco-friendly carrying bag for the earbuds. You can activate voice control, answer calls, change volume, skip and forward music tracks, and do lots more with its controls. The cords come in different colors and are quite cool to look at.
---
Audio Technica ATH-CKS550iS
This high-end earphone model has a microphone and flatwire for a tangle free experience even when it is kept in the pocket or a purse. It has a bass venting system that provides cushioning against outside sounds and great air damping for maximum sound effects.
Its two-positions post gives optimal sound isolation and a great fit for ears so that it doesn't slip off during activities. Its 9.8mm dual magnetic drivers give great bass and clear sound. Its remote also lets you answer calls and control volume.
---
Sony mdr xb75ap
These Sony earphones are apt for active people who love running, jogging, travelling, or just chilling with music in their ears. With these earphones, you can listen to music with noise cancelling features anytime and anywhere. It has great features and offers optimal performance for its price.
The 12mm Neodymium driver units ensure correct and powerful sound transmission, with deep bass. Ear tips come in different sizes and the cord is tangle free. The earpiece is designed to stay in place and provide maximum sound concentration.
---
JVC HAFX1X
JVC HAFX1X Xtreme-Xplosivs earphones come with rubber protectors and sound isolating mechanism for a strong body and sound system. Its eartips are ergonomic contoured and made for perfect anchor and fit. It is made of silicone and comes in different sizes.
The plug is straight and gold plated with a 3.4mm jack. It gives great bass and booming sound to offer you a value for money experience. A hard carrying case comes free with these earphones so that you can carry them everywhere without the fear of losing or tangling them.
---
Bluetooth Earphones
If wired earphones come in the way of your activities, check out these Bluetooth earphones in the same price. 
Panasonic RP-BTS35E-A
The Panasonic RP-BTS35E-A is a great high-end model with cool design and great comfort. It comes in black, blue, yellow, and white variants. Its flat wire lets it remain tangle free wherever you keep it. The look of these earphones is unique and will set you apart from others.
The earphones come with lighting edges and ear hangers for sturdy connectivity. It is water resistant and has a microphone and switch to receive calls. Its Bluetooth connectivity is flawless and lets you enjoy music while working hard and staying fit.
---
Sony XB50
These phenomenal earphones have powerful 12mm drivers with extra bass and excellent audio quality. Its Bluethooth connectivity lets you stream music from your smartphone or other device while doing any activity. It is splash proof and water-resistant, which makes it safe from sweat and light rain.
These earphones take about 2 hours to get fully charged and are long-lasting, for up to 9 hours. It has a built-in microphone for receiving calls and its wrap-around design lets you do strenuous exercise without making them fall off from your ears. These come in black, blue, and red variants.
---
JBL Endurance Dive
JBL Endurance Dive earphones are state-of-the-art with an ear-hook design and great battery backup. They are great to look at and have a 1 GB built-in mp3 player to store music tracks for your workout or journey. It gives an hour of battery backup after 10 minutes of charging.
The ear hook designs have a sensor that turns power on and off automatically when you put on or take off the earphones, thereby saving charge and optimizing usage. These earphones can be used while swimming and all sorts of exercises. 
---
HolyHigh X9
HolyHigh X9 is a touch control Bluetooth earbuds without wires for your active life and habits. It comes with a portable charging case to help you keep connected all the time. You can answer phones, listen to music, and regulate volume with these earbuds. These earbuds have a great bass and treble sound, with a stable connection.
It has noise cancelling properties and can work as a stereo or individually for surround sound. You can use these while running, biking, and gymming. They fit perfectly in your ears and are compatible with most Android and Apple devices. Connecting is easy and simple for this model.
---
Noise Shots X5
Another great wireless earphones model is the Noise Shots X5. It gives noiseless audio and is compatible with any Bluetooth-enabled device. These earbuds are sweat proof and splash proof. They have wireless charging and gives five hours of battery life when fully charged.
It comes with a charging case that can charge the pods up to 10 times. It can also charge your phone in case of emergencies. These earbuds are ergonomically designed and comes with three sizes of tips for a perfect fit. You can access your Android or iOS device and voice assistant with just a tap.
---
All these and more great earphones are available under 5000 rupees, which provide great sound quality and service for your music needs.