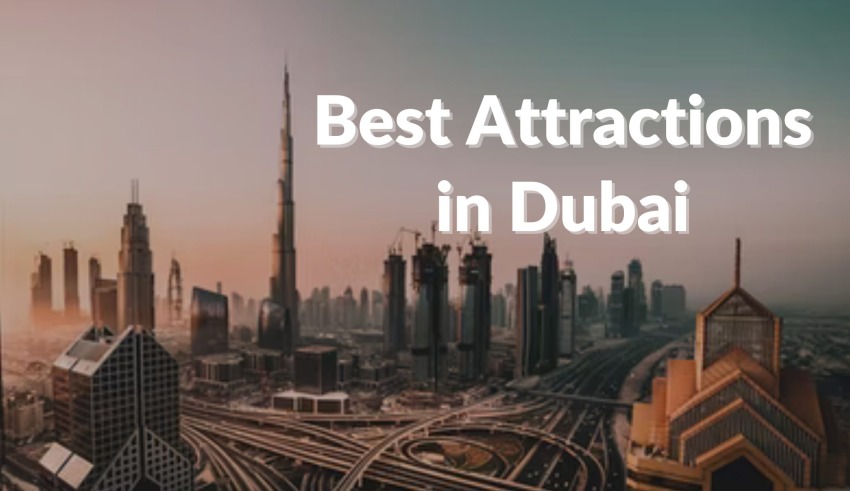 Dubai is a city in the United Arab Emirates that has risen to become one of the world's most striking destinations with fantastic Dubai attractions for people around the world. Thus this fascinating city has won the attention of travellers, investors, and diplomats alike with its unparalleled combination of history, luxury, and safety.
Despite being one of the world's most populated cities, Dubai is without question among the best tourist destinations in the world. However, understandably, this makes it difficult to narrow down a list of all tourist attractions in Dubai. That's why we've put together this article that includes many different and diverse attractions that you can experience during your time spent in Dubai. We hope you enjoy our list!
This article discusses the best way for visitors to experience some of the top attractions in Dubai. All of these must-see places are definitely among the Dubai attractions that you shouldn't miss while visiting this Middle Eastern city.
As one of the most popular tourist destinations on the planet, Dubai has some of the best attractions in its back pocket. You may find yourself walking through a historical area or seeing some spectacular architecture. All these attractions congregate around Dubailand (formerly known as Knowledge Village), which is a large public and private space having an array of monuments and parks.
That's why we've put together this list of the best attractions in Dubai just for you! These highlights showcase everything that sets Dubai apart from other cities around the world – incredible architecture, exciting shopping destinations, and more. Read on for all your tourism needs.
The 7 best attractions in Dubai are: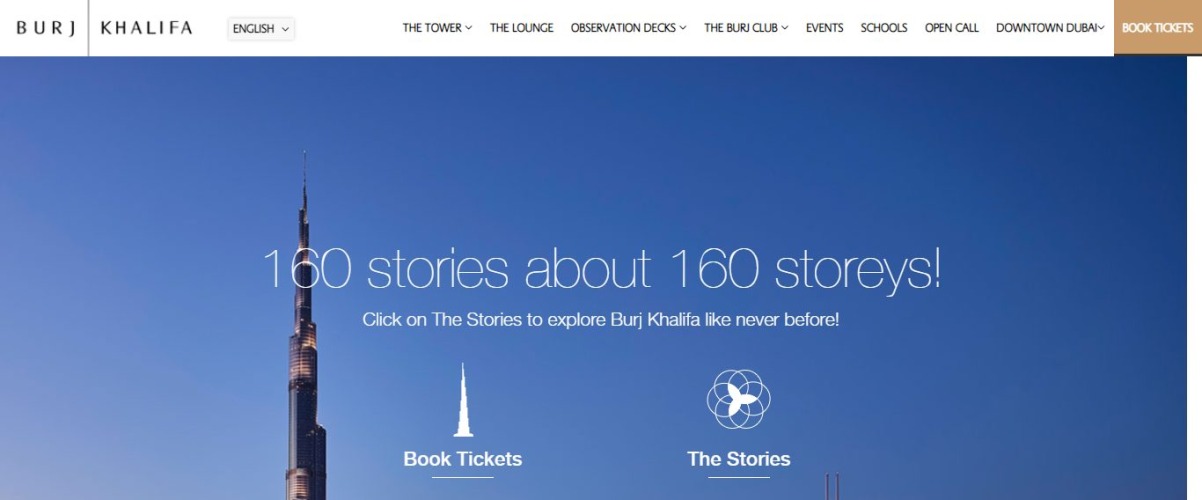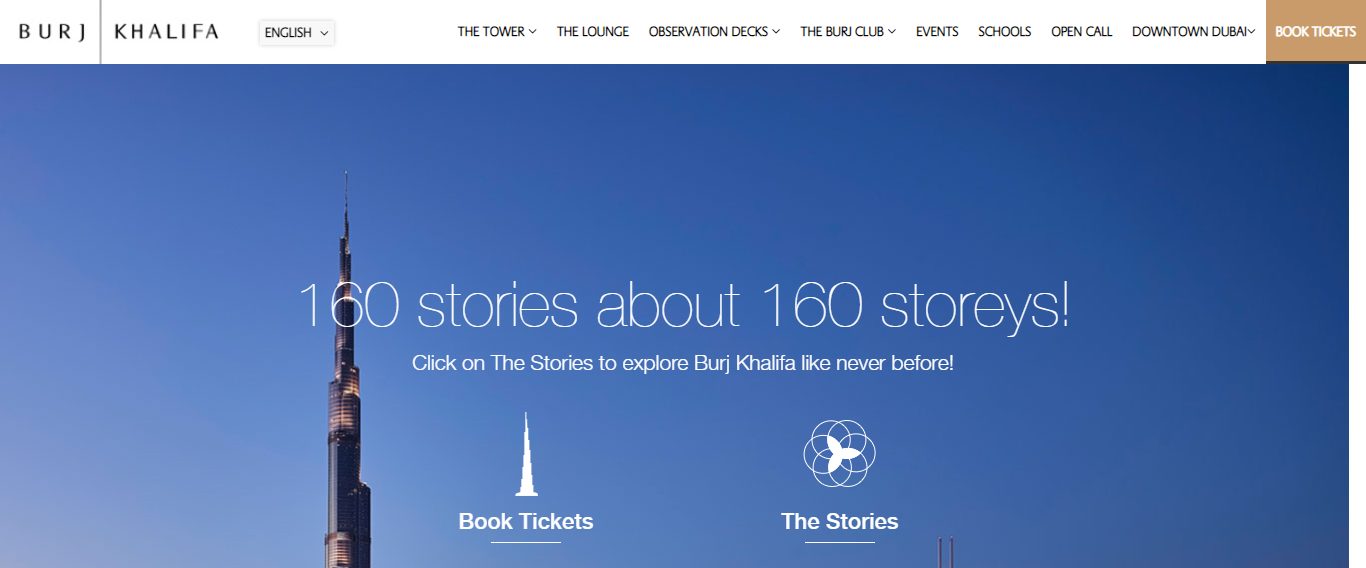 If you're planning a trip to Dubai and are looking for things to do while touring, Dubai is filled with all sorts of attractions. One of the best attractions in all of Dubai is the Burj Khalifa, which can be found in Downtown Dubai.
The Burj Khalifa is an architectural wonder that offers you extensive viewing platforms not only on its four sides but also on its top floors. Going on a trip to Dubai and not seeing what's known as the world's tallest building just wouldn't be right! Measuring in at over 830 metres tall, this magnificent building is a sight to behold! At sunset, visitors can even experience the amazing light show that is known as "The Dubai Fountain".
Dubai's latest addition to world wonders, the Burj Khalifa is a must-see in person. As the tallest building in the world and a testament to man's eternal quest for new heights, it must be seen to be believed. Standing at 829.8 metres (2722 ft) tall, it was a miracle that this impressive skyscraper was built in only 5 years!
The majority of tourist activity takes place at the observation deck on the 124th floor (practically the top) of this awe-inspiring building. The Burj Khalifa has over 160 stories and is the tallest building in the world. It's at least 400 feet taller than any other building in Dubai and is home to the world's highest observation deck. The UAE Ice Skating Rink sports a 120 x 30-metre ice surface and seats up to 1,000 people and has an exclusive VIP lounge.
Location: 1 Sheikh Mohammed bin Rashid Blvd – Downtown Dubai, Dubai, United Arab Emirates.
Timings: Open 24 hours
---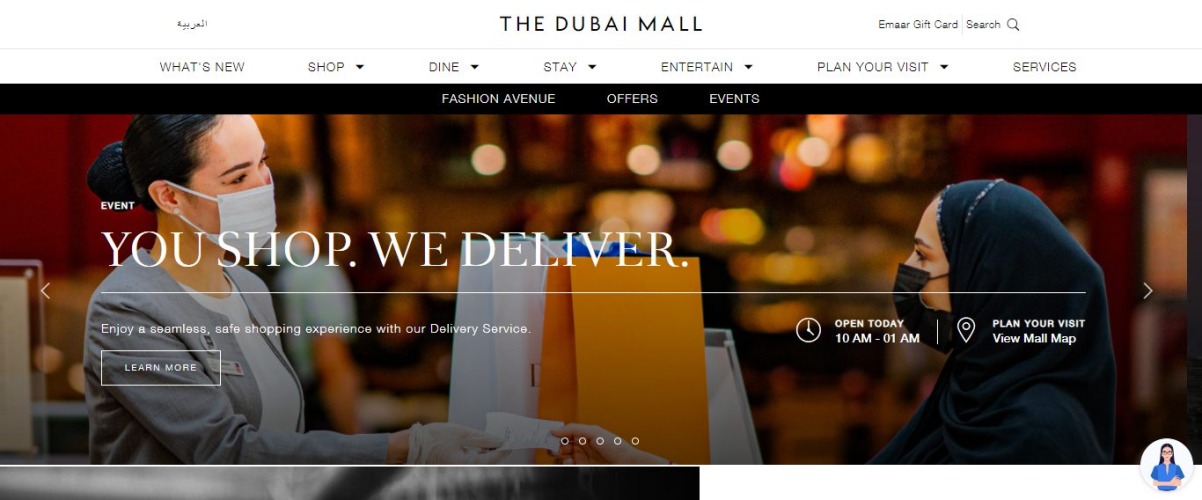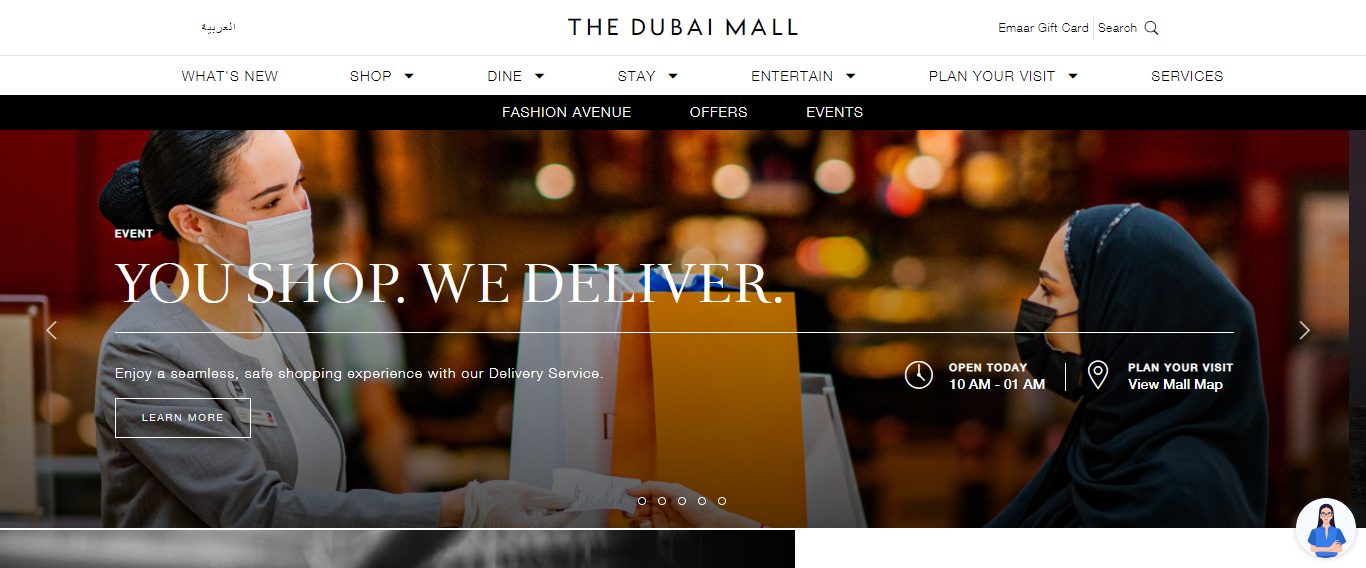 The Dubai Mall is the biggest in the world. It has been visited by more than 40 million people since it was founded in 2009. It is a sprawling, three-level complex and one of the main attractions in Dubai. There are many malls throughout Dubai but The Dubai Mall is probably your best bet for shopping and entertainment in this exciting city.
Dubai offers you amazing food and shopping options to anyone who visits, so you might be tempted to give unnecessary time to places like The Dubai Mall if you're looking for something fun to do.
The Dubai Mall is more than just a shopping mall, it's an entire entertainment complex with the world's largest indoor theme park, an 18-hole golf course, and other features where you and your family can have a great day together. Discover what this attraction has to offer and why you should plan a visit today.
On October 23rd 2007 Dubai's most luxurious and biggest mall — The Dubai Mall — opened its doors to the public. Since then this mega attraction is home to around 1,200 shops as well as an indoor theme park which is housed in the world's largest single-level building. It also boasts the UAE's first ice skating rink, Hollywood cinema theatre and an 18-hole golf course.
Location: Financial Centre Street, Along Sheikh Zayed Road, Next to Burj Khalifa, Dubai, United Arab Emirates.
Timings: 10 am to 12 am
---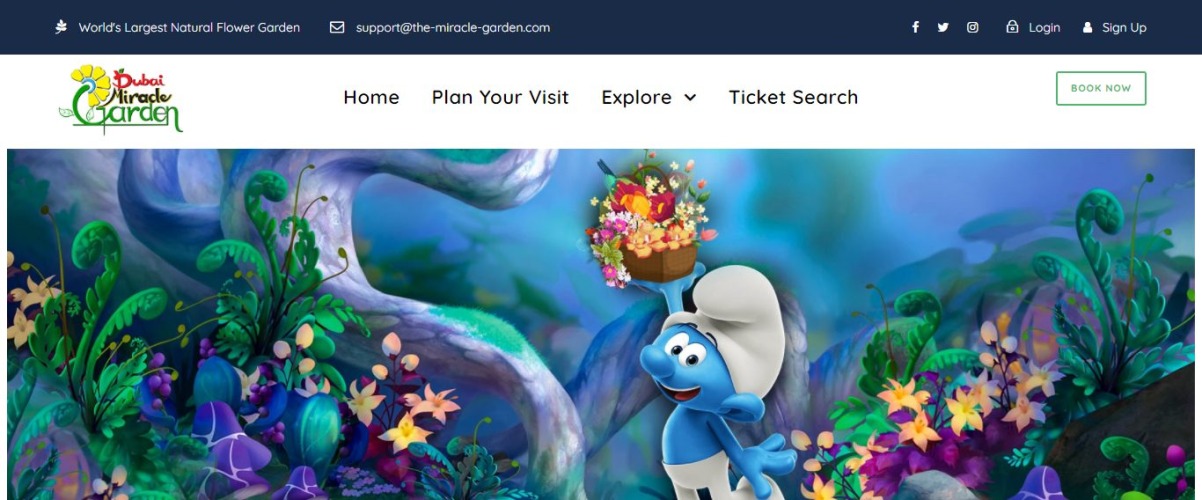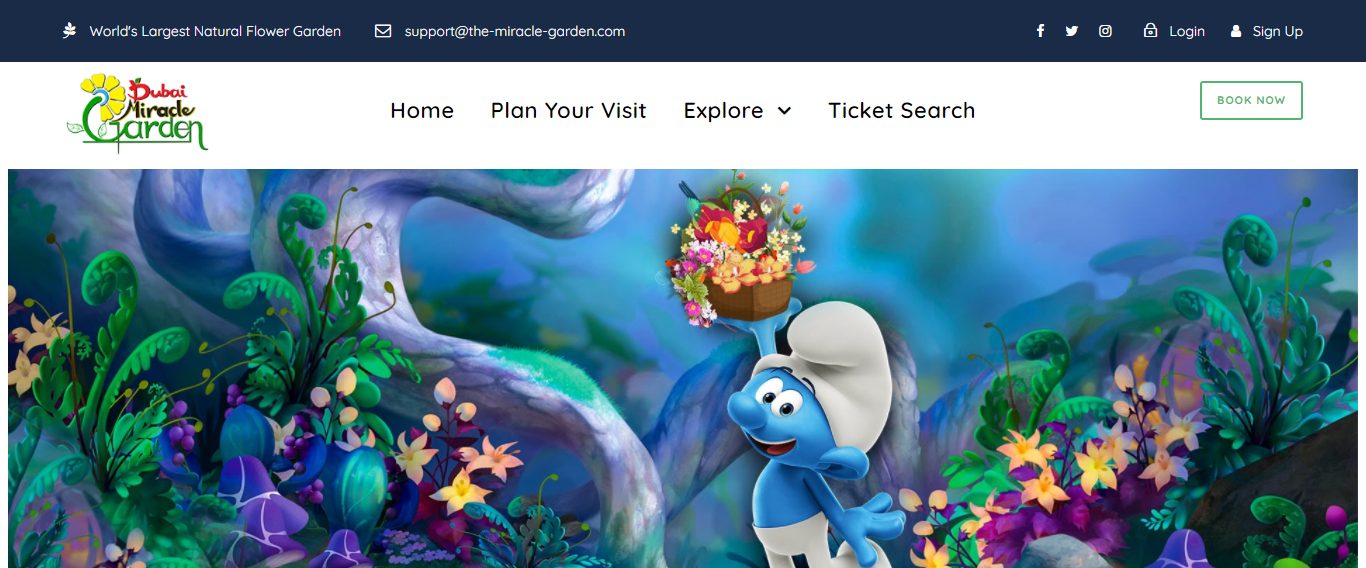 If you've ever been, then you already know that Dubai Miracle Garden is no ordinary garden. You'll see that it's an extravagant garden, filled with palms and bougainvillaea and over 1,200 flowering plants in every possible colour. The park is designed to inspire happiness and peace of mind through gardening.
It's hard to imagine a more beautiful place than this towering glass atrium filled with the scents of tropical flowers from around the world.
The Garden includes a restaurant where not just groceries but lavish dinners are served to visitors as well as a café open for breakfast and lunch for both visitors and employees alike.
The Garden is open from 8.30 am to 6.00 pm, but as you arrive at night, the park will be closed but you are still able to view the beautiful gardens from outside which is a spectacular view to have. You can still however enjoy a delicious picnic dinner outside amongst the flowers and fountains with an amazing view of the Burj Khalifa, which towered over you.
Location: Dubai Miracle Garden is located on Shaikh Zayed Road, alongside Emirates Towers Hotel.
Timings: 8.30 am to 6.00 pm
---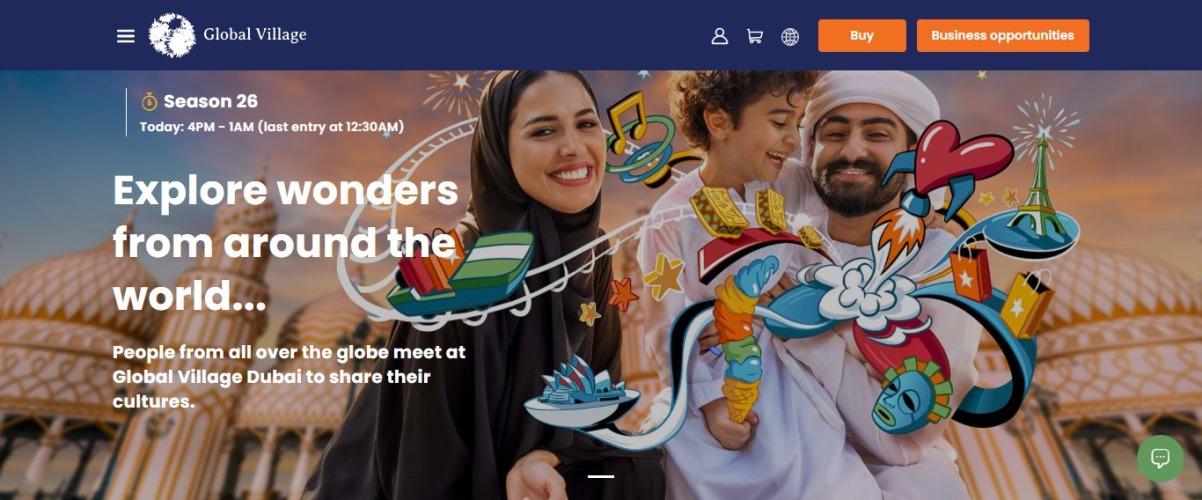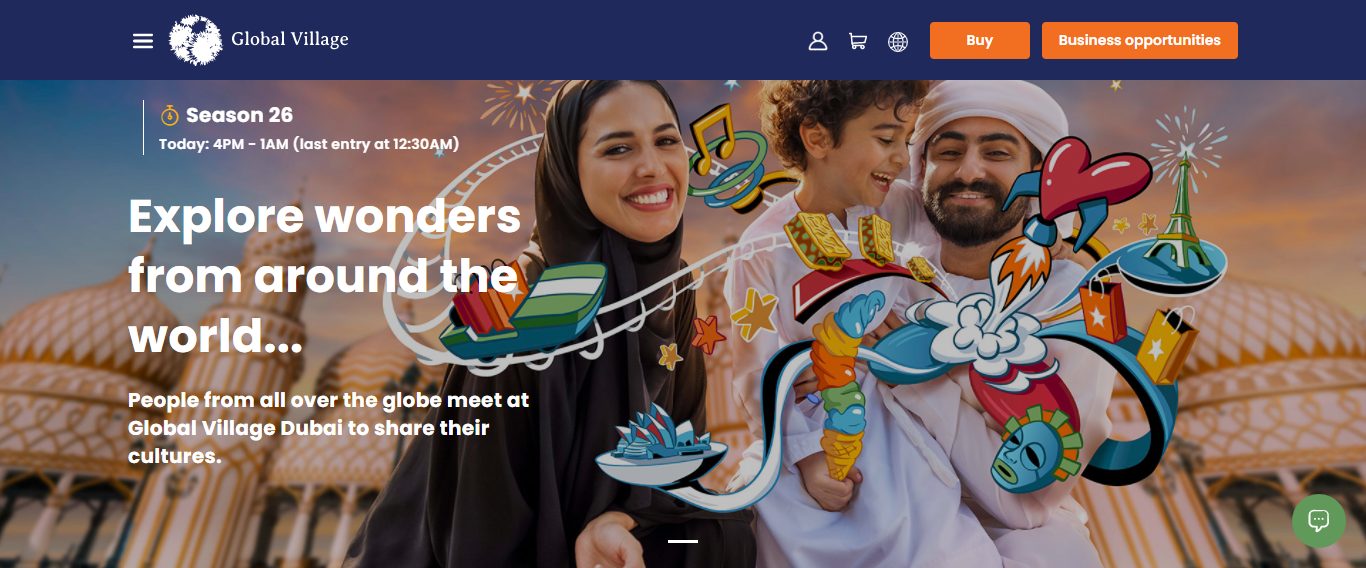 One of the most wanted things that are very hard to find in Dubai is a decent tourist attraction. There are many places where you can go and enjoy a fascinating story or unique experience but one of the rarest is Global Village. There's one place that you must visit at least once during your stay – The Global Village in Dubai Mall.
The Global Village is a 17-acre amusement park made up of activities and attractions for all types of age groups. Upon entering, the first thing you'll notice is the royal family's name inscribed on each pavilion, along with other elaborate decorations in gold and turquoise tones that add some flair to what could have been an otherwise dull place.
The Global Village Best Attraction of Dubai is a medium-size amusement and entertainment centre located in Dubai Mall. It presents over 30 different interactive exhibits and activities featuring cultural, scientific and technological themes.
This includes the popular Burj Khalifa and the Arabian Sea show screens that feature some of Dubai's most breathtaking views. The attractions are best enjoyed during daytime hours when they are less crowded but they still offer something for all age groups to enjoy with regular shows running until sunset.
Location: Exit No.37, Sheikh Mohammed Bin Zayed Road, Dubai, United Arab Emirates.
Timings: 4 pm to 1 am
---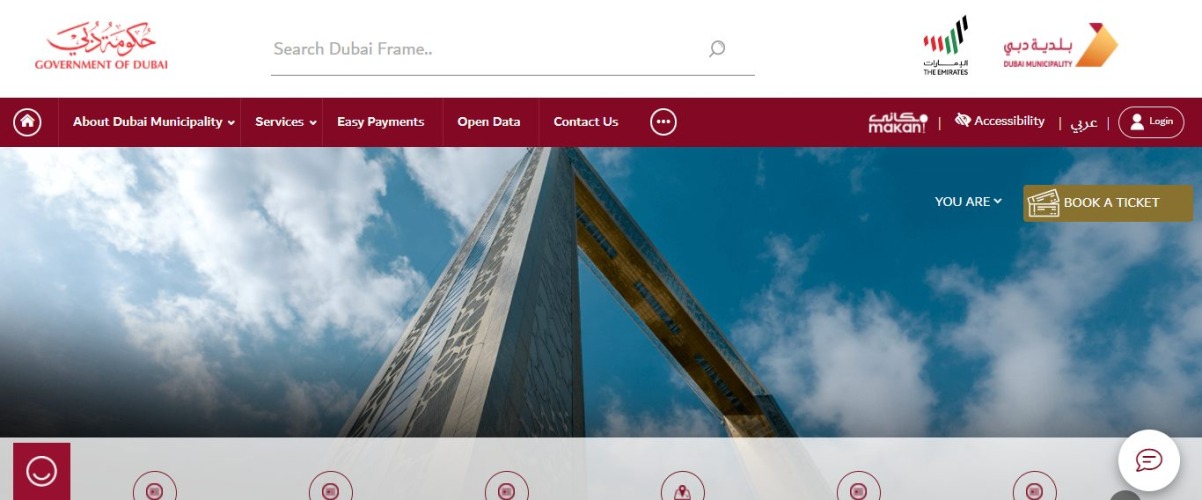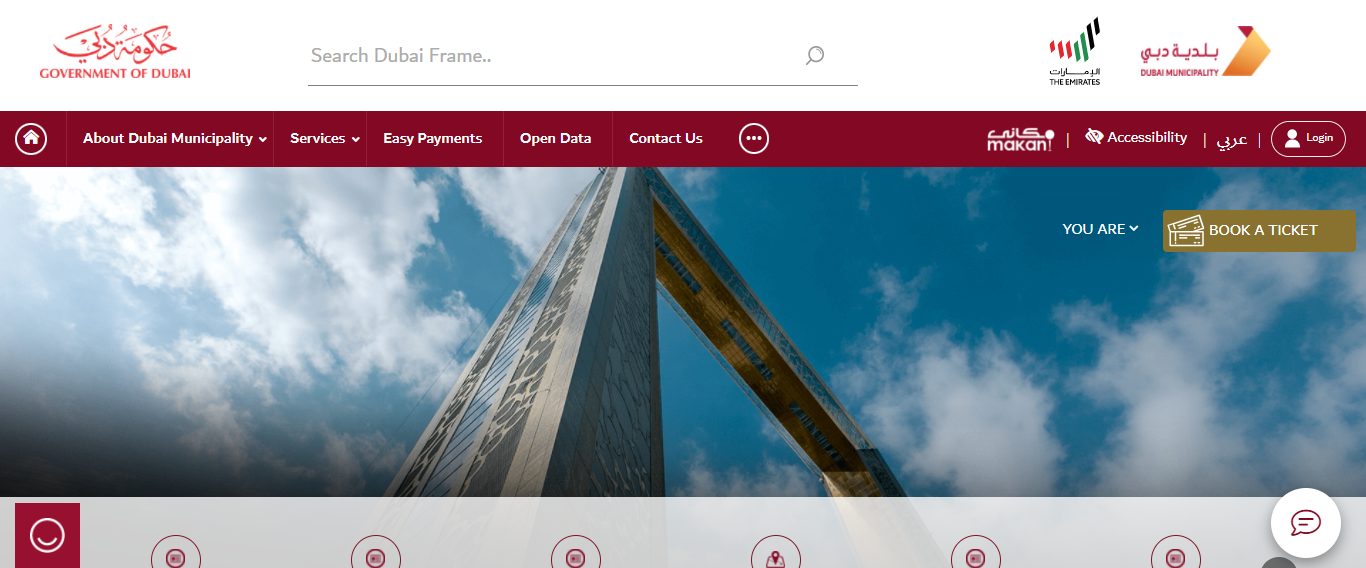 Dubai Frame, amongst the best attractions in Dubai, is a great place to enjoy the weekend and visit Dubai with family and friends. It's an indoor interactive theme park complex where you can have fun, play, learn and learn at your own pace. With the wide range of exciting experiences offered here, there's something for everyone.
You'll see that the Dubai Frame is a spectacular 150 metres tall structure that's a striking landmark in the heart of Dubai Marina. The beautifully designed structure is inspired by a rose-leaf, which has been shaped by four petals. It's a state-of-the-art, world-class attraction with immersive experiences to suit every visitor's tastes and preferences.
As you make your way to the top of the tower, you'll be greeted with sweeping views of the cityscape and all its glittering glory. The best part about this place is that there are many activities taking place on multiple levels so you can enjoy different interactive experiences throughout your visit and explore at your own pace.
Dubai Frame is home to some of the most awe-inspiring and thrilling rides in Dubai. With a variety of activities and attractions, your visit will be an unforgettable one! This makes it the best part about Dubai Frame that it's family-friendly.
Kids can come here with their parents, grandparents and siblings and have fun having a ball playing game, riding rides or watching the shows on offer. The theme park offers you an entertaining variety of attractions, which will keep kids amused throughout their stay. You can enjoy live music concerts, ballet performances and magic shows on a daily basis to name but a few.
Location: Gate 4, Zabeel Park, Dubai, United Arab Emirates.
Timings: 9:00 am till 09:00 pm.
---

Unlike the world's other best waterpark, Dubai's Atlantis Aquaventure Waterpark is designed to simulate a journey across the world in one day. It features five themed areas: The Lost Lagoon, Dolphin Bay, Tropical Rainforest waterfalls and rapids, and the Lost River Delta.
At Atlantis Aquaventure Waterpark you can take a raft ride through the Caribbean and spot dolphins and turtles; pass by statues of King Neptune and Ganesha; relax in a hammock or try your skill at archery, or get splashed by water cannons that emerge from pirate treasure chests.
Atlantis Aquaventure Waterpark is also Dubai's newest and most exciting waterpark. The Atlantis Aquaventure Waterpark is Dubai's first water theme park. Atlantis Aquaventure Waterpark has a total of 72 different attractions spread over four zones: The Lost Chambers, Aquataurs, Caribbean and River Rapids.
The Lost Chambers zone is home to the world's largest indoor waterslide: the AquaLoop. Stretching an impressive 100 metres long and taller than Big Ben's clock tower, the AquaLoop is made of translucent acrylic both inside and out. The magic of the AquaLoop lies in the graceful curve that extends through its transparent wall allowing guests to watch their peers and friends descending seventy-five feet below them.
The River Rapids ride runs for a distance of 100 metres along an ultra-thin fibreglass channel, gently winding around several turns and ending with a steep drop into a pool. During the ride, guests pass through tropical foliage and scenic caves, giving them the feeling of travelling through a real jungle river. The most exciting part of this attraction is a sneaky encounter with an alligator named Al who lurks just below the water's surface near one of many unexpected drops.
Location: Atlantis, Crescent Road,The Palm Jumeirah, Dubai, United Arab Emirates.
Timings: 9:30 am to 5:30 pm.
---
The Dubai Fountain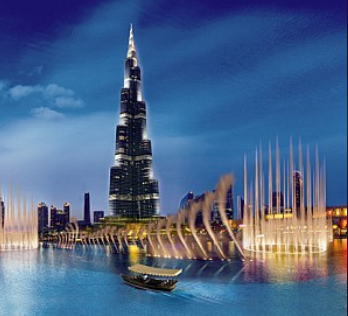 You know you're in for a special treat when you see the Dubai Fountain. Located at the Burj Khalifa Lake, just East of the Dubai Mall, this major attraction has become one of Dubai's most recognizable landmarks, with its awe-inspiring man-made water and lights choreography set to light up nighttime views.
The Dubai Fountain is essentially two water features. The first being the 'jet,' is a continuous musical fountain that jets water up to 250 ft in the air, with different coloured lights timed perfectly to the music and special effects.
In addition, you'll see that there are also smaller fountains situated around the lake that light up after dark, creating a wonderful sightseeing atmosphere for everyone in attendance. All this is situated on a large man-made lake with boats that are available for rent and offer you a different vantage point of the show.
The Dubai Fountain is open from 20:00-02:00 and the show is every 30 minutes.
The Dubai Fountain is a huge water fountain in Dubai, United Arab Emirates. It was built for the opening of the Burj Khalifa Lake and Gardens and has since become a major tourist attraction in Dubai.
The site of the fountain was chosen because its creators wanted it to be easily seen from various parts of Dubai and also because they wanted to mix up the city's skyline with dramatic displays of light, sound, and water making it all the more worthy to pay a visit.
Location: Sheikh Mohammed bin Rashid Blvd – Downtown Dubai, Dubai, United Arab Emirates.
Timings: 20:00 to 02:00
Ultimatum
In conclusion, Dubai is an Emirate in the Middle East, the second-largest city in the United Arab Emirates. It's also one of the most popular tourist destinations on Earth, attracting over 15 million visitors every year. Dubai has been the host to some of the most incredible developments in architecture.
From man-made islands to world-class golf courses, this city is a must-visit for all travellers. In order to make it easier for you, we've created this list of the best attractions in Dubai and we hope that this was helpful to you to plan your exciting trip!
Also, in this post, we shared 7 of the best attractions in Dubai. Whether you're looking for a place to shop, go on holiday, or experience ancient history, there's something for everyone here.