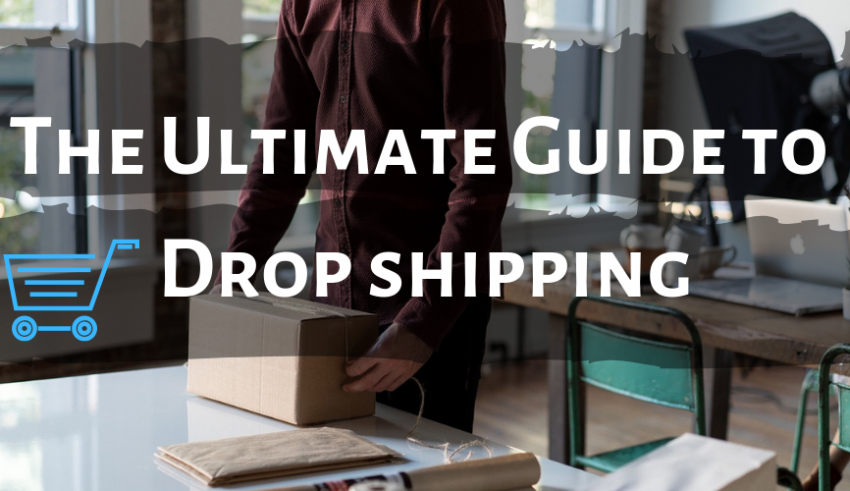 An average businessman only seeks to make some profits from their everyday endeavors. Starting your own retail website or even maintaining a brick-and-mortar shop is both expensive and risky.
Most retailers will have to keep inventory stocked under the assumption that it will be sold.
This is often done on credit with the manufacturer or the wholesaler. Another level of risk is added. Running out of inventory is also another problem that most retailers (regardless of medium) face.
Overstocking is an issue, running out of stock is an issue and maintaining the stock of merchandise is expensive.
Then the question remains, what is a retailer to do in such a scenario?
Dropshipping – Ever heard of this bad boy?
Dropshipping is the process of selling merchandise to the customer, which is then shipped directly from the wholesaler/manufacturer. Sound simple, doesn't it? Well, it is. With this method, the retailer merely works as a medium.
They do not have to overstock, buy merchandise on credit or waste extra money on renting a warehouse, refrigeration, and other storage/stocking add-on costs. You simply connect with a wholesaler/manufacturer and keep the merchandise on display.
This can be done in two ways, have a small brick-and-mortar shop to display the merch or simply put up pictures on your website.
Dropshipping usually is done in two different ways:
Blind Shipping: This is a type of shipping where the merchandise comes with a blind one sided label which doesn't mention the address, name or any other details of the manufacturer/wholesaler who directly ships it to the customer's home address.
Private Label Shipping:  This is the type where custom labels are printed and added to the merch which detail the retailers details instead of the sources.
Private Label Drop Shipping: Custom items such as apparels, designs, etc are ordered by the customer via the retailer and are directly sent to them
Now, you might ask: Why the secrecy in shipping items? Again, this is to ensure that the customer doesn't just return the product to the retailer and buy it directly from the source after acquiring their details. As a retailer, it is necessary for you to guard your source both from customer and competition.
What are its advantages?
Glad you asked.For starters you don't have to manage an inventory of merchandise. You can simply have the source send it to the customer via mail. This will cut out a lot of overhead costs that you may otherwise incur (like rents, refrigeration, maintenance, security, etc).
It saves you a lot of time because now you can have the source deliver the merch to the customer as soon as the make the payment.
The profits go directly into your pockets as now you pay out of what you receive and not credit.
Your risk is also reduced substantially. You don't have to buy a stock of merchandise and keep it in stock for the customer to buy before you can acquire more of it.
Earlier, you would have to sell the returned/overstocked merchandise to a 3rd party liquidation retailer for a fraction of its acquisition cost. Now, you don't need to get involved into all of that hassle.
One of the best things about Dropshipping is that now you can sell more diverse varieties and selection of brands of the same products to the customer.
Your positioning went from a niche to a wider audience who might prefer one variety over the other. You don't have to wait till your stock of a particular brand runs out before you can sell a different one.
With very little risk and investment from your end, Dropshipping is a promising way to sell merchandise to customers. No over-heads, no credit and no add-on charges have to be incurred.
When and how can I start using Dropshipping for my business?
Doing your taxes, getting your ledgers cleared if any financial inconsistencies are there and paying your debts out is a good prerequisite starting stone for such a business venture.
You'll be taking up a loan or the first few consignments might be on credit, so, your partners/investors would like to have a look at your financial records.
Firstly you'll need to set up a business structure on how you want the ownership of the business has to go. This can be done in one of 3 ways:
Sole Proprietorship: You own the business, all you make from the business is directly added to your bank account and taxed as your income. There is risk here if the authorities decide to come for you assets, all of them will be froze.
Limited Liability Company: LLC's establish your business as a separate entity and ensures that in the case of a IRS related issue that your personal assets remain unharmed. A safer way.
C Corporation: This will definitely offer more liability protection to you. However, it is more expensive and time consuming.
With setting the business aside. Now, you need an EIN no. (Employer Identification number) and apply for a local business license.
(Read more about the important points involved and associated with the topics mentioned above. As in cases of important financial decisions such as these, a little research goes a long way.)
Don't forget to also set payment channels – Paypal, EFT, automatic B2V payment gateways, etc.
Closing thoughts…
Most importantly of all, you need a trustworthy business partner through all of this. Most Dropshipping retailers run the risk of being considered unsavoury by customers/other retailers because of the risks involved in the anonymous nature of the transaction.
Ebay, for example, outright calls out all retailers listed for Dropshipping for their risk management policies.
If your source isn't trustworthy they'll cause issues like – delayed delivery, low quality of goods, no delivery of goods at all, bad communication with the customer, etc. All of it will fall upon your name.
If you pick your cards right, take out enough time in the pre-production phase of the operations and spend you capital investment in a more intuitive way, Dropshipping can make you a lot of money.