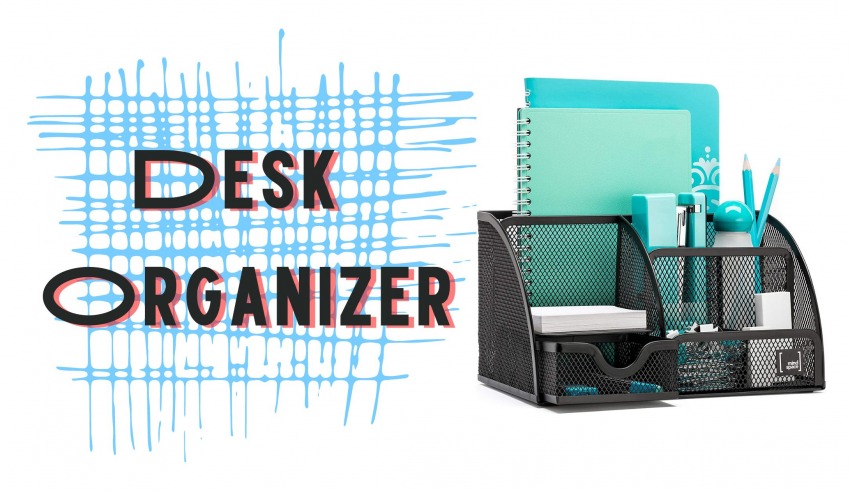 Cluttered workspaces lead to cluttered minds, according to most people. Organizing your desk will not only make it look more inviting but will also motivate you to get to work since you won't have to move paper piles and junk out of the way. Whether you're working in a home office, a corner turned into a makeshift workstation, or in a cubicle at work, these desk drawer organizers will help you organize your workspace easily and effectively. Additionally to reducing stress, an organized desk will make you look more professional and favorably to your boss and clients. The difficulty of getting a desk organized often centers around the fact that most people aren't naturally inclined to pick up after themselves.
Our workspaces can benefit from many attractive products that allow us to add a touch of style as well as make keeping them organized fun. We have gathered 10 of the craziest and coolest desk organizers you'll love having on your desk.
AmazonBasics Black Wire Mesh Pen Cup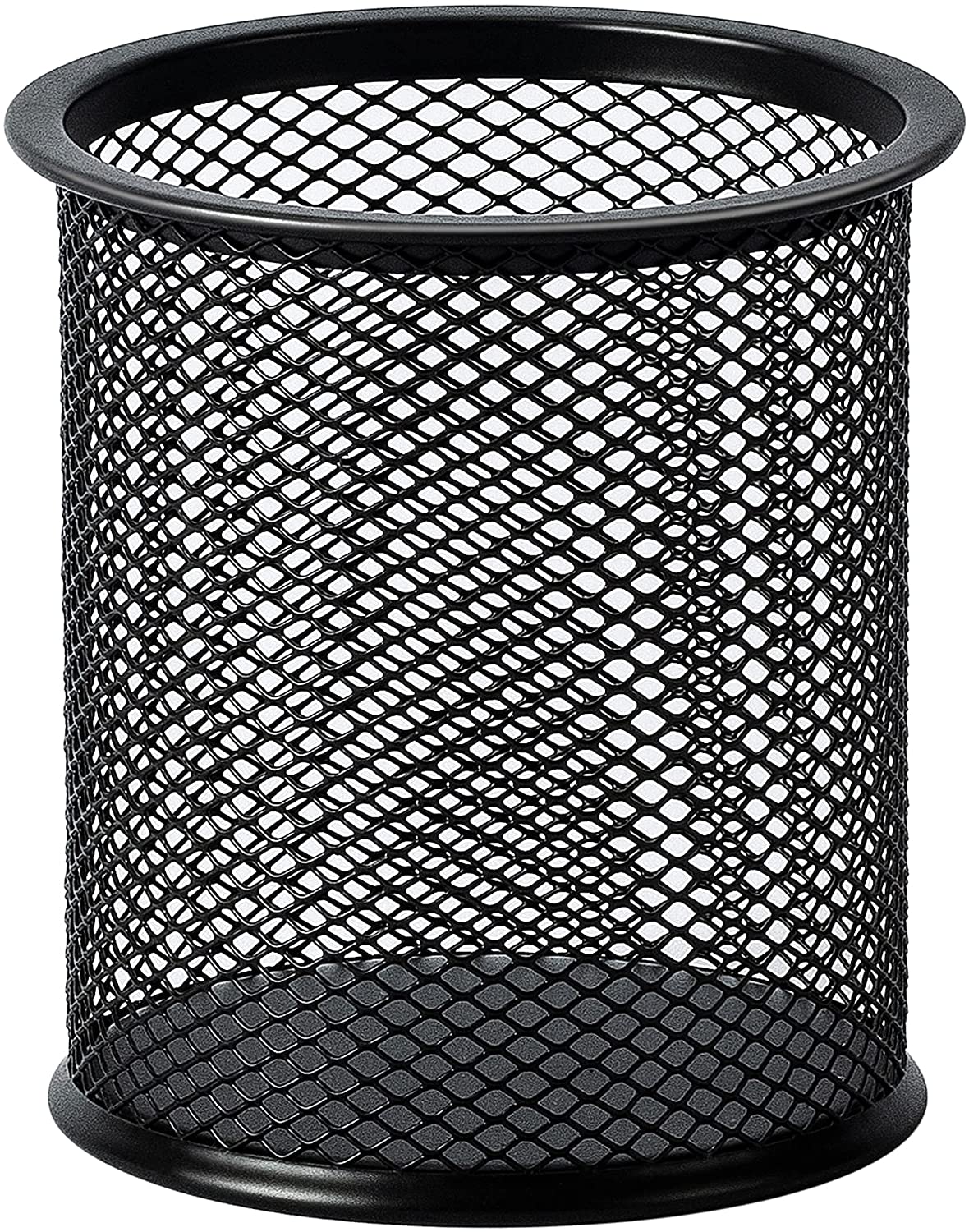 Stationery items don't look good while spilled on the desk and finding them at the right time is also difficult. This AmazonBasic wire mesh pen cup can save you from that hassle. Among the things it can hold are pens, scissors, rulers, brushes, and other office supplies.
Designed with a mesh design and durable steel wire, this pen cup has an industrial look. It has a matte black powder coating that gives it a professional appearance. This cup has a double-rimmed base and smooth edges so that there is no risk of injury. You can use it at the office, at home, at school, etc.
Features:
Made of high-quality steel wire

Powder-coat finish

Double rimmed

Smooth edges

Cone design
Pros:
Affordable

Stylish appearance

Multipurpose

Lightweight

sturdy
Cons:
---
Mindspace Office Desk Organizer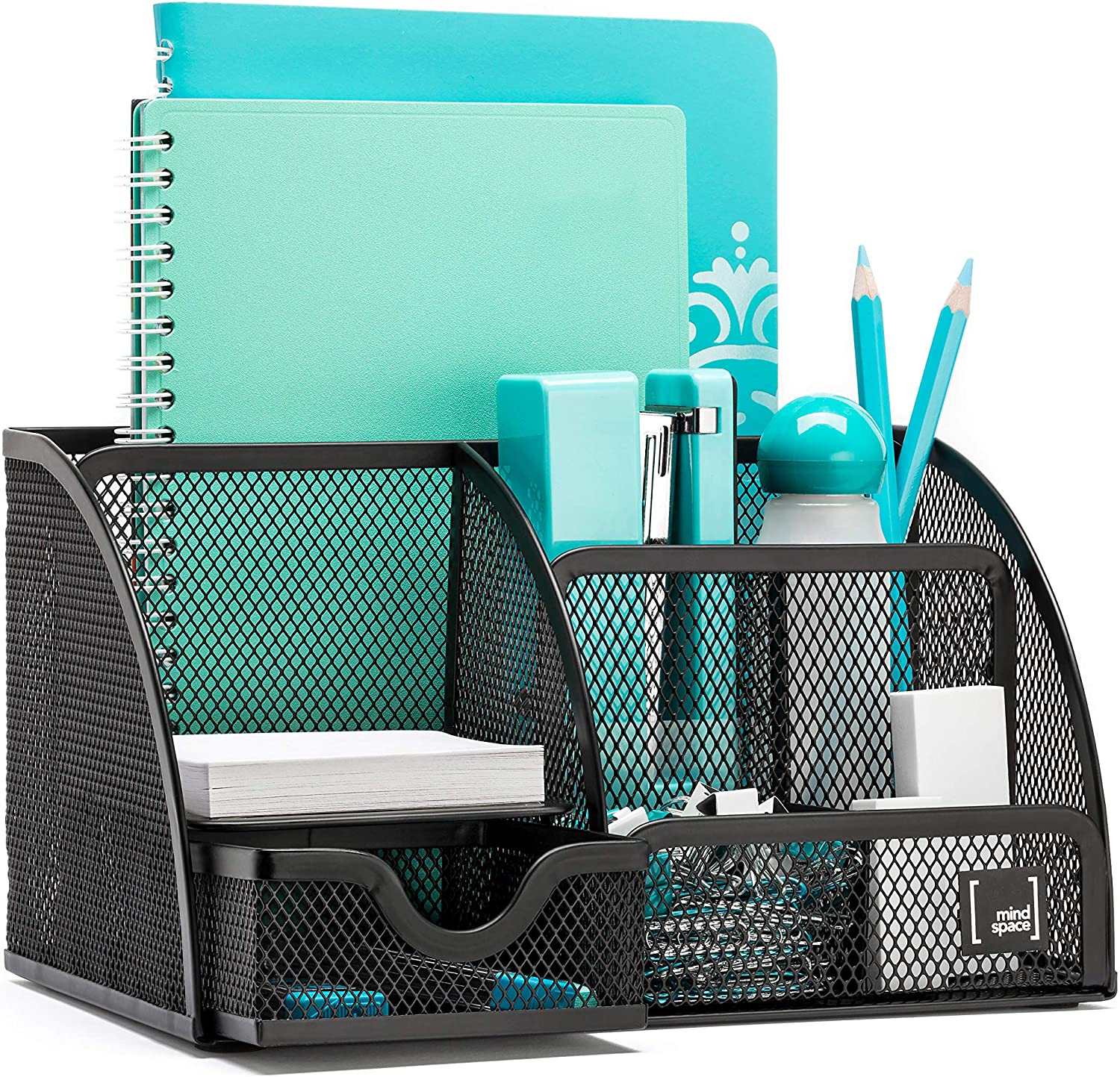 The Mindspace office desk drawer organizer is an extremely handy item to make your workspace look extraordinary. A well-thought-out design with six compartments means it has plenty of space for everything, and it will keep your stuff close at hand while staying out of the way.
A pull-out drawer is also available for expanding storage space. It slides out smoothly and gets back easily too. The built-in quality of this product is amazing. A solid metal base and sturdy mesh metal construction mean you won't have to worry about the organizer wearing out after a while.
With its smooth ABS coating and smooth, rounded edges and trim, the product has a great visual appeal. In addition, it features four rubber grips to protect your desk.
Features:
Durable mesh build

Non-slip protective grip

6+1 compartments

Smooth ABS coating
Pros:
Sturdy

A lot of compartments for storage

Sleek design

Affordable
Cons:
Could be a bit wider

Short back compartment with no dividers
---
SimpleHouseware Desk Organizer Tray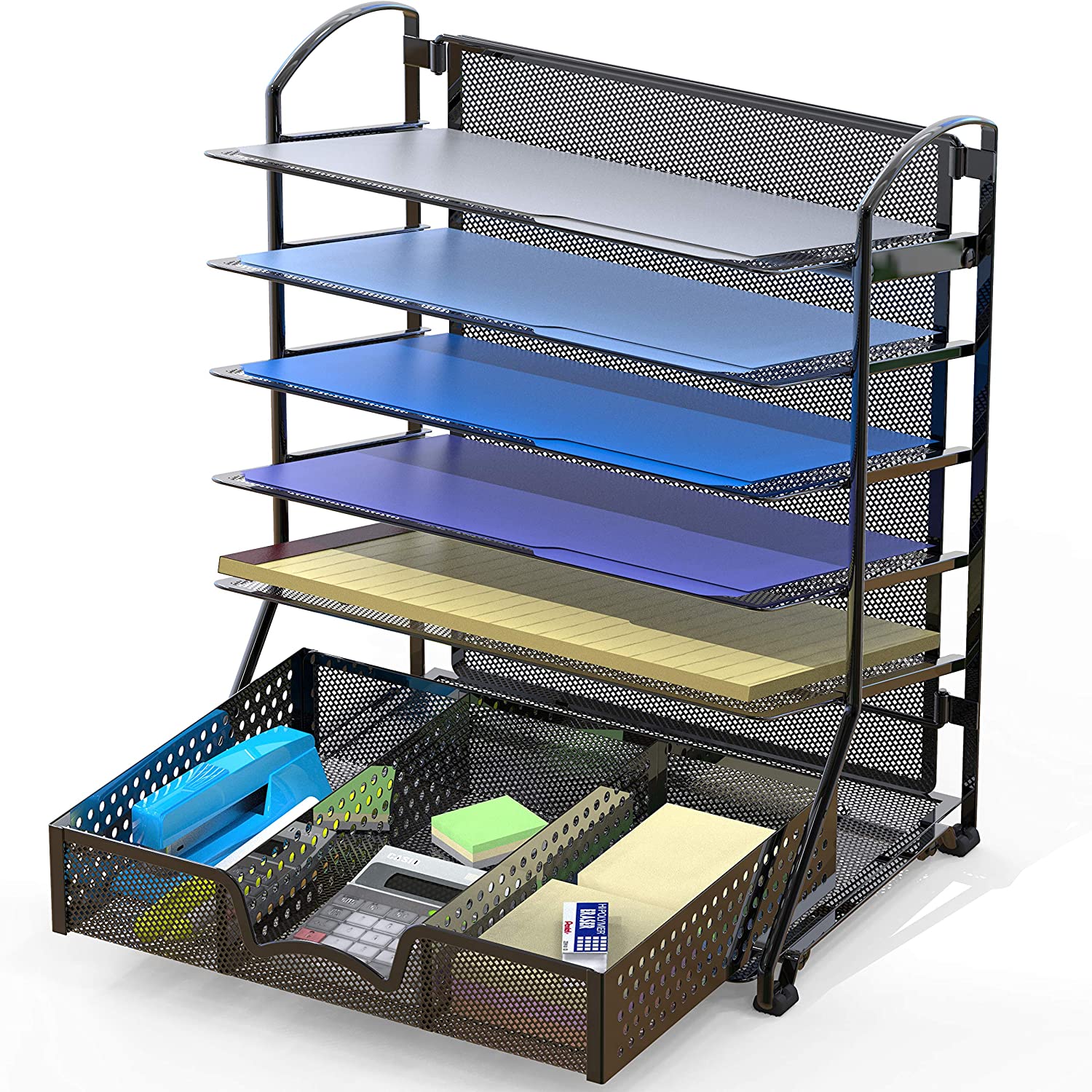 Getting a desk organizer tray and a desk drawer organizer separately can fall out of the budget. That is why we introduce this SimpleHouseware desk organizer that works like both. This item is great for holding letters, A4 size paper, various stationary items, folders, desk accessories, etc.
It has 5 trays that are adjusted in a tilted position to hold your items in position without ladies down. Below it, there is a three-compartment drawer that slides in and out easily. This is a great option for both your office and home desk.
Features:
5 trays

3 compartment drawer

High built-in quality

Multipurpose
Pros:
Stylish design

Easy to assemble

Budget-friendly

Tilted trays

Multipurpose drawers
Cons:
Not so sturdy

No lock on trays
---
Jerry & Maggie Desktop Organizer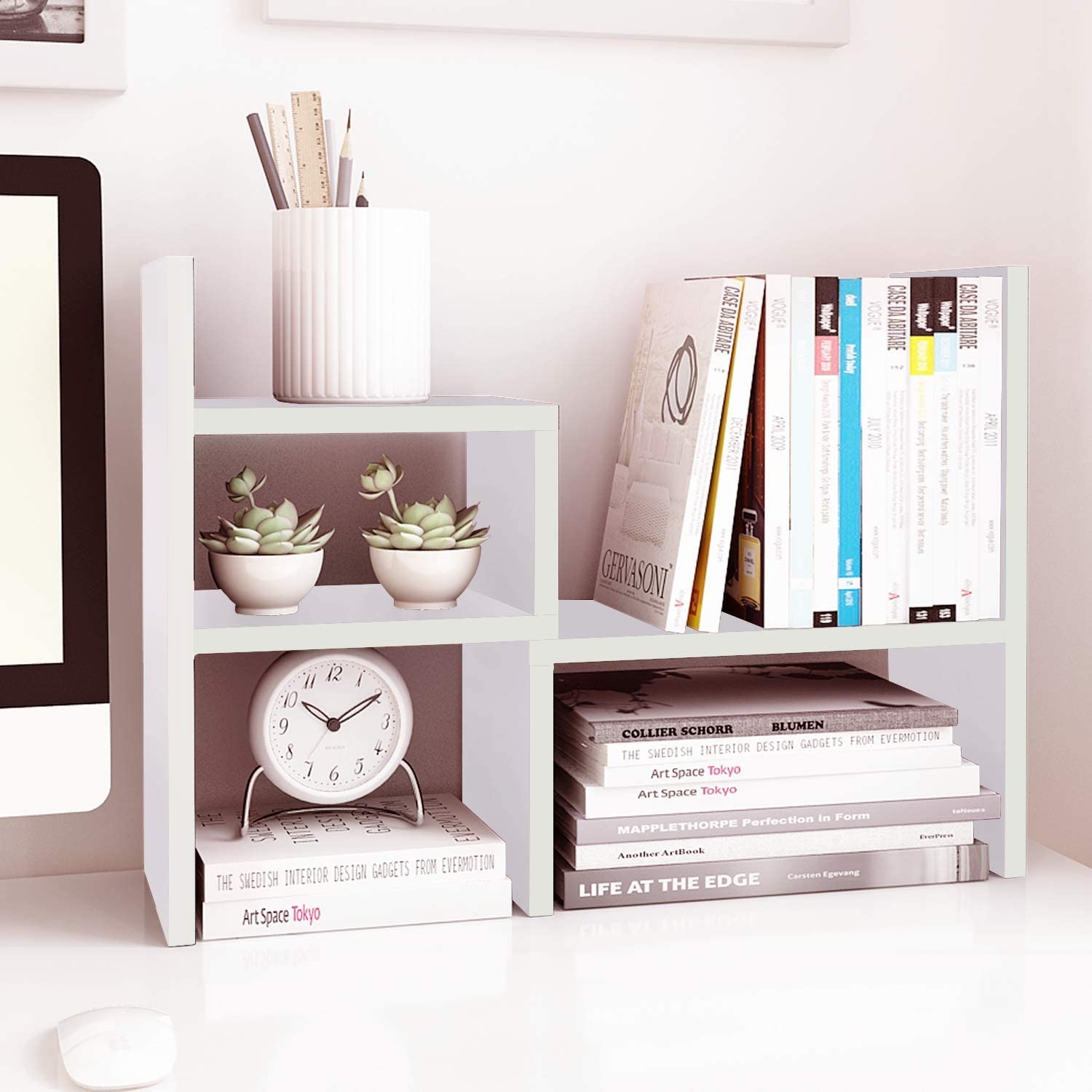 Jerry and Maggie's adjustable storage rack and desk drawer organizer are perfect for organizing your workspace and organizing your desktop. Made with natural wood to provide stability and security. This shelf rack consists of 2 separate parts that can be brought together close to form a small shelf rack, arranged furthest apart to create a long shelf, or angled at any angle to suit your space and style.
Thi rack can help you increase the area of your workstation. Clean up your desktop space by arranging books, supplies, and other items the way you like. This product requires assembly which is extremely easy to do. You can also change its direction by just moving the parts and arranging the way you need.
It has a flat surface and sturdy construct due to its excellent craftsmanship process. The rack is perfect for storing documents, office supplies, books, and houseplants. The rack is big but lightweight, which makes it easier to move from one place to another.
Features:
Made with natural wood

Adjustable

Lightweight

Stylish design
Pros:
Increases workspace

Sturdy

Easy to assemble and install

The product comes with installation tools
Cons:
No stickers to hide the screws

Unclear instructions manual
---
DecoBros Desk Supplies Organizer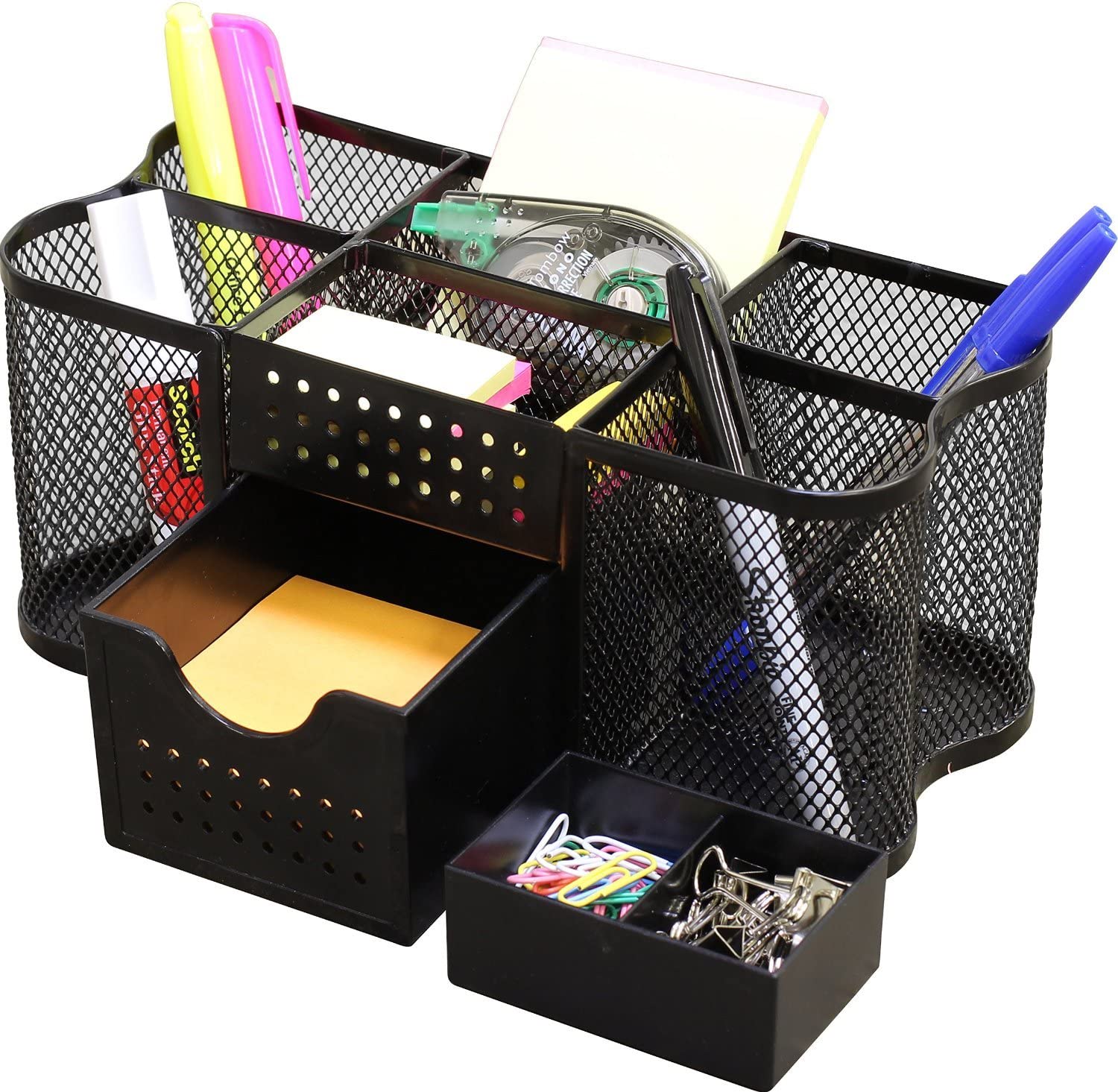 DecoBros desk drawer organizer is a mesh oval pencil cup that comes with extra organizational features. It has 5 divided compartments that help to organize all your writing instruments.
Additionally, 2 shallow compartments can be used to store small stationery supplies such as clips. It also has a small notched supply drawer that pulls out and slides in to hold 2.5″ x 3″ notes.
Features:
5 divided compartments

2 shallow compartments

1 pull-out drawer

Lightweight

High-quality mesh
Pros:
Budget-friendly

Easy to install

More organizing space

Bottom rubber grip
Cons:
Drawer sliding isn't great
---
Marbrasse Mesh Desk Organizer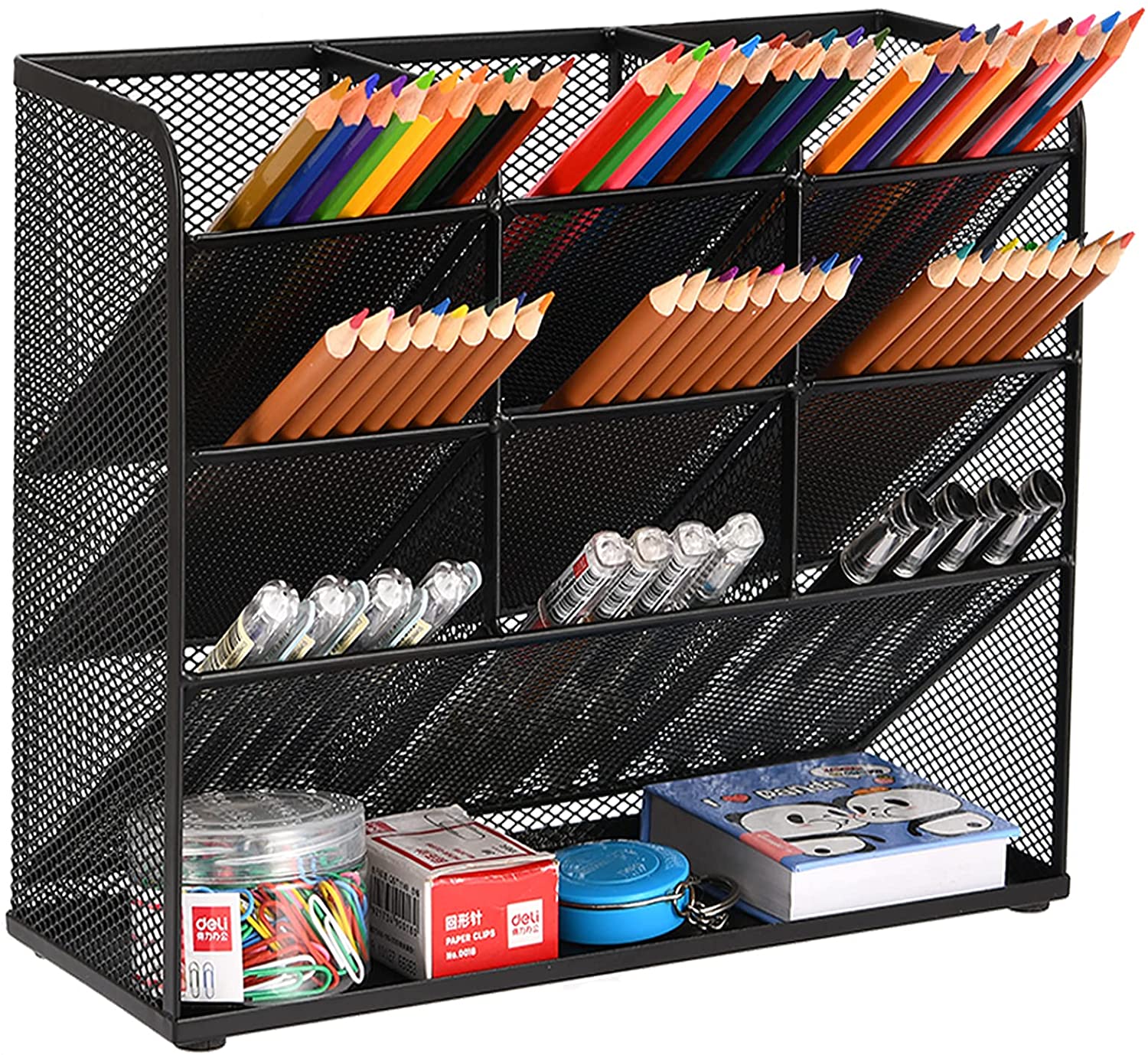 With this mesh desk organizer tray, you can easily organize, sort, and store small things such as pencils, markers, glasses, etc., without taking up too much space. Organize your desk so that it looks neater and cleaner. There are 9 compartments with a rack in this set, enough compartments to facilitate some basic organization.
Not only can you store your desktop stationery in it, but you can also put your makeup brushes, lipsticks, nail polishes, and other small personal items in it by type, which makes finding them way easier! The organizer can also be used to place daily necessities. Keeping your stuff organized is made easier with it.
This pen holder is made out of metal mesh that is highly durable and built on anti-slip feet that make it extremely stable and prevent it from getting rusted easily. This prevents the pen holder from rusting for the lifetime of the pen stand.
There are no sharp edges on the material, so neither you nor your things will get hurt. It is a perfect choice for kids, teens, and educators at the classroom desk.
Features:
High holding capacity

Versatile design

9 compartments

High-quality metal mesh material
Pros:
Multipurpose

Easy to install

Easy to clean

Space-saving
Cons:
A good choice only for pen-shaped items

A bit flimsy
---
Beiz Office Desk Organizers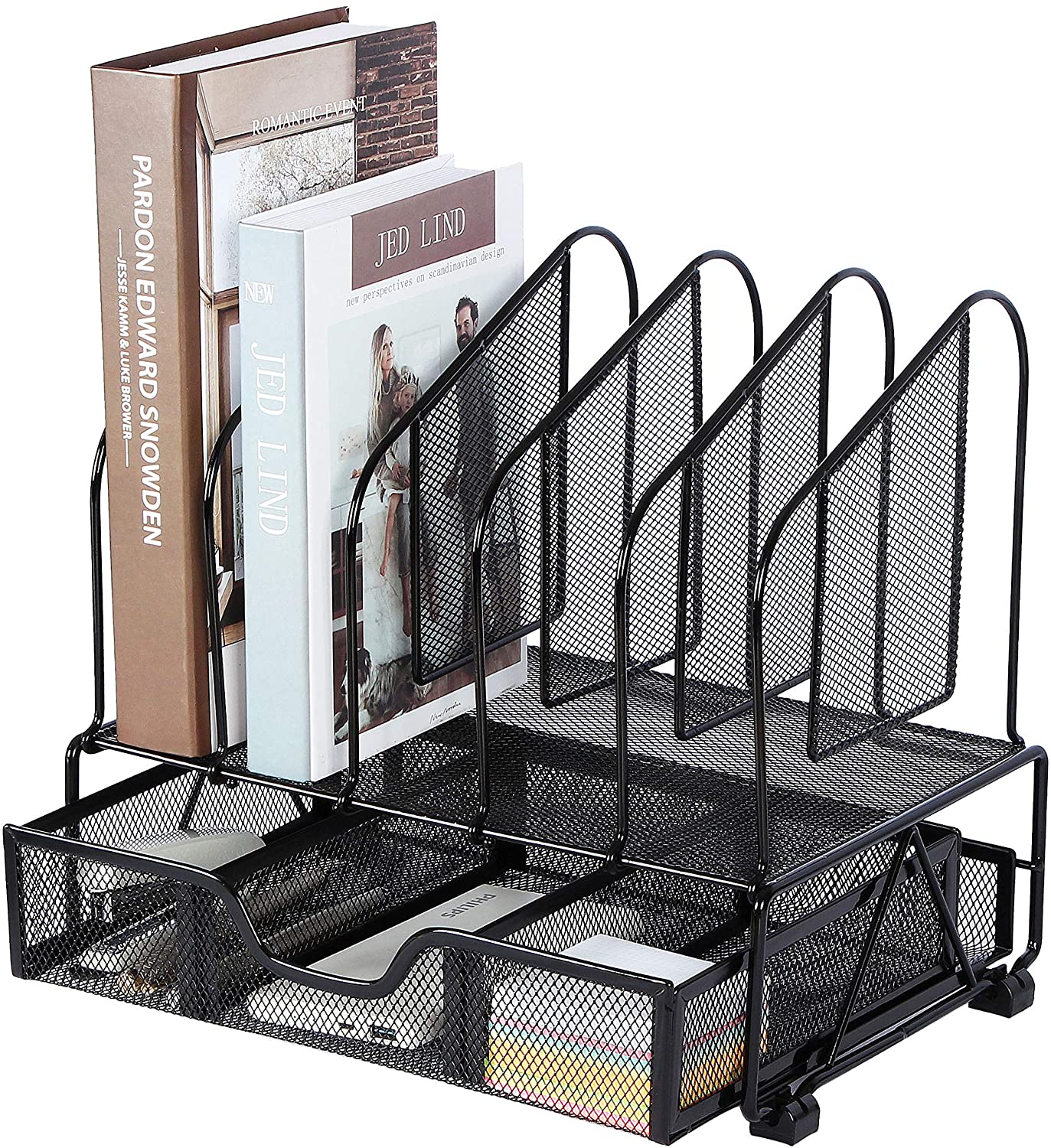 Beiz desk organizer is a combination of elegance, durability, flexibility, and functionality that makes it an essential office tool in today's workplace. It is a stylish desk accessory for women and men in the office, and can also be used in classrooms and at home for decor. It can also be college dorm room essentials for boys and girls.
Featuring 5 vertical sorters and a sliding drawer, this organizer provides plenty of space to organize folders, binders, books, paper, mail, and office accessories. It will take 2 minutes for the assembly to be completed. It does not require any additional tools. Your office supplies and messy files can be cleaned up after the assembly.
In the bottom flat tray, there is a mesh drawer organizer for desk accessories that can be detached. This desk organizer is made from a wire mesh structure with a steel frame and non-slip rubber foot pad that prevents sliding or scratching of surfaces. You can choose this desk shelf if you are looking for practical classroom supplies.
Features:
5 vertical sorters

Mesh tray

Metal construction and mesh material

Non-slip foot

Detachable drawer

3 compartment drawer
Pros:
Durable

Simple design

Easy to assemble

Saves a lot of space

Perfect for files and other stationery items
Cons:
Not sturdy enough

No sliding lock in the drawer
---
HUANUO Monitor Stand Riser Desk Drawer Organizer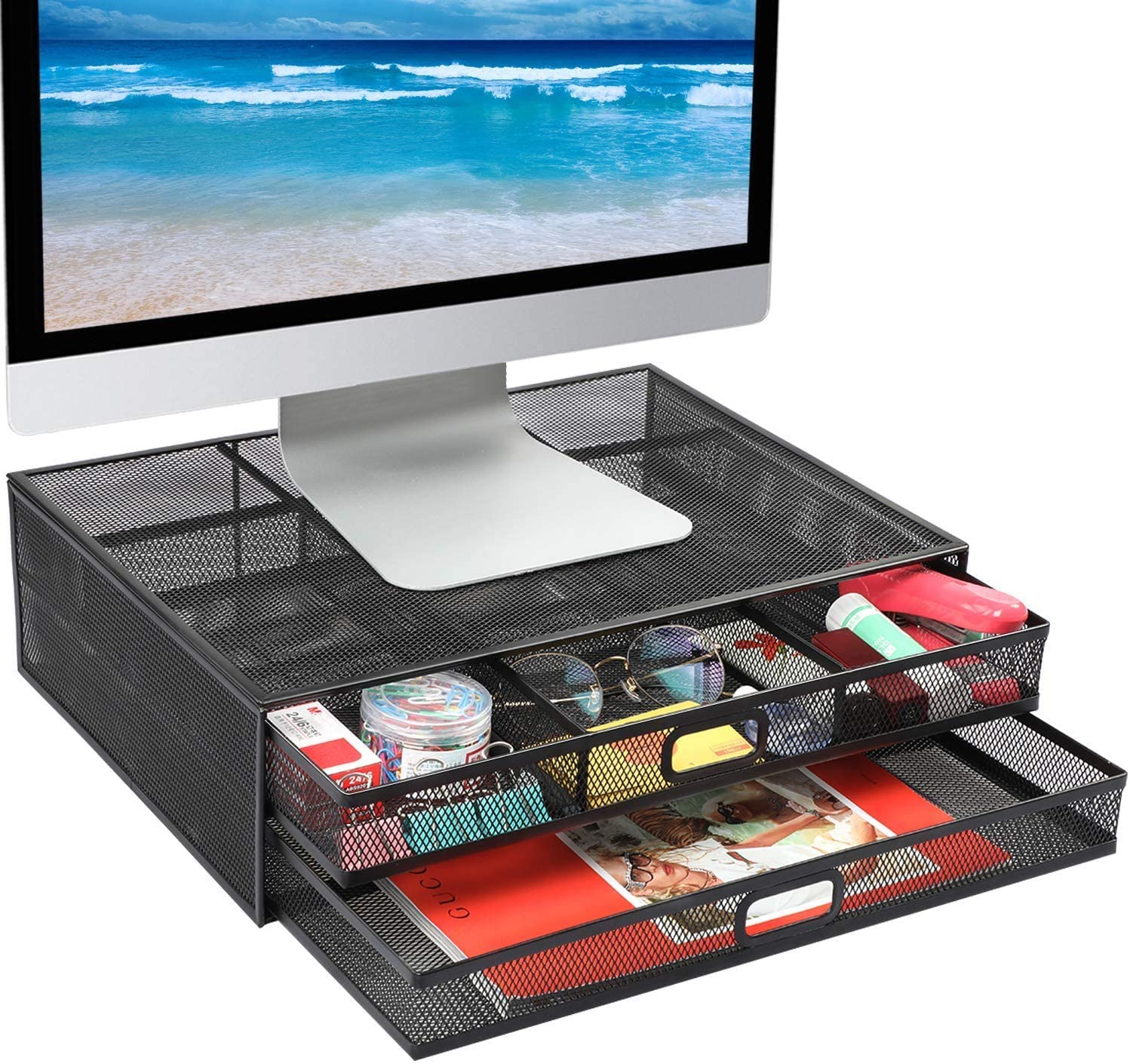 This HUANUO monitor stand riser is a unique kind of desk organizer that serves various purposes. Improve your posture and stay healthy with this "H" shaped monitor stand that lifts your monitor by 4.7″. It also relieves strain on your neck, back, and shoulder. It holds up to 33lbs of monitors, printers, etc.
This cabinet will hold nearly all of your small smartphones, paper, office supplies, including pens, notebooks, documents, etc., so your desk will be neat and tidy. An excellent method for reducing clutter and saving space.
The monitor stand doesn't need to be assembled! The drawer is already assembled and ready to go right out of the box. This is a great choice for any residence or office. Place it at your desk in the office or at home to enhance the quality of your life and increase your productivity
Features:
4.7″ monitor riser

Super desk organizer with 2 drawers

"H" and "T" shaped structure

Smooth arc angle

Smooth drawer rim
Pros:
Ergonomic monitor riser

Spacious desk organizer

High-quality frame

Divided drawers
Cons:
Wobbly drawers

Drawers don't sit evenly
---
YGYQZ Desk Organizer Tray And Shelf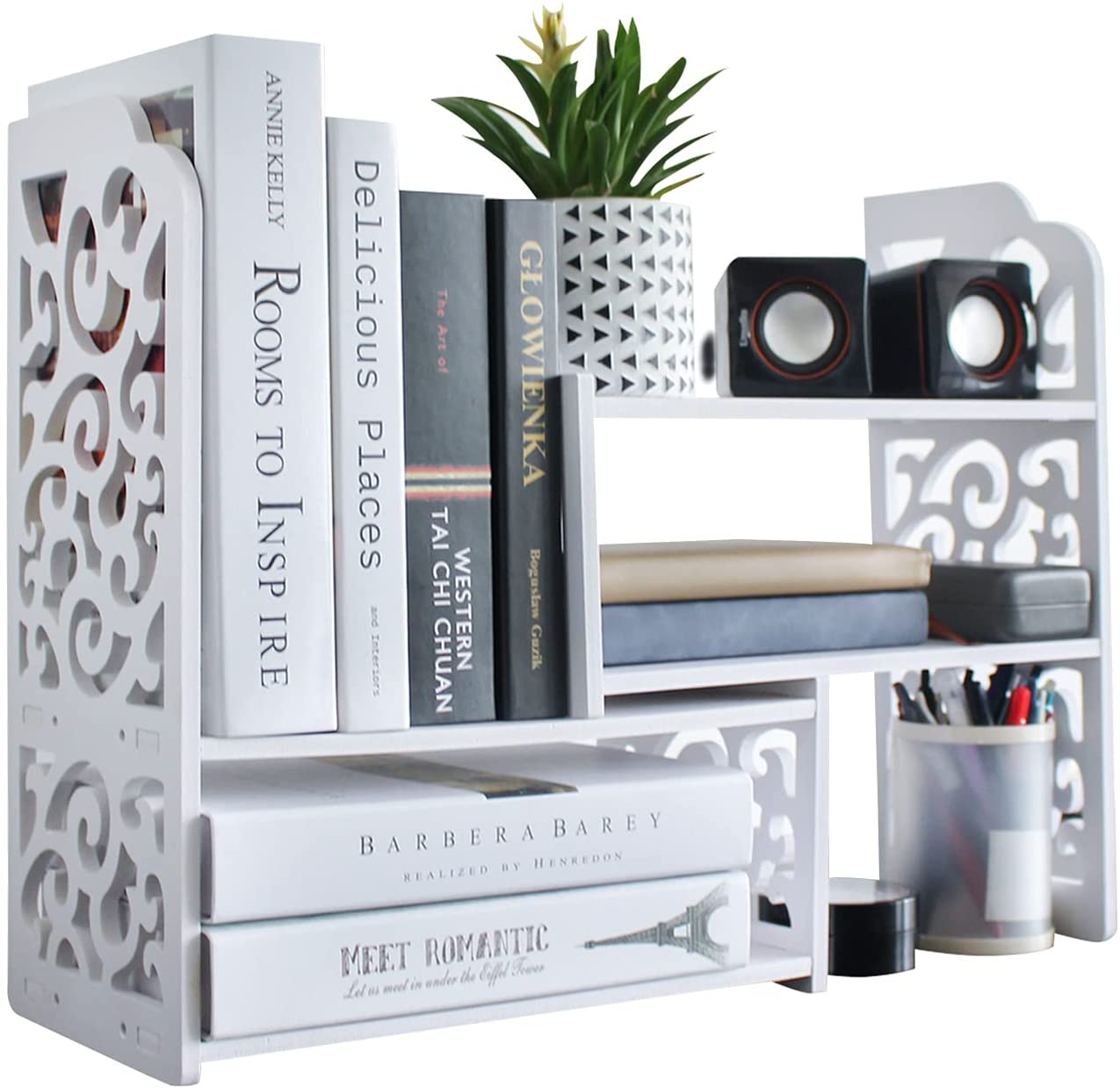 This YGYQZ store's bookshelf desktop organizer is a handy tool to save you from crumpled books. It has a great capacity with four shelves where you can put other office things along with your books. It has an amazing design too, that gives your room a new and attractive decor.
Also It is made from PVC material that makes it lightweight as well waterproof, thus increasing its shelf life. The shelf comes in different colors that you can choose according to your requirement. This desk organizer is extremely easy to install because of its simple design. You can even disassemble it and adjust the shelf position as you want. 
The best thing about it is, the company offers a complete refund policy. If the quality of the product is not good, they will give you a refund instead of returning it. Moreover, in 12 months' time, if your shelf degrades naturally, they will provide you a complete refund.
Features:
Four shelves

PVC material

Waterproof

Round corner grounding design
Pros:
Durable

Easy to assemble

Simple and attractive design

High holding capacity
Cons:
Flimsy

Books slide from the shelf due to the absence of grip
---
NEOLETEX Desk Organizer Tray and Shelf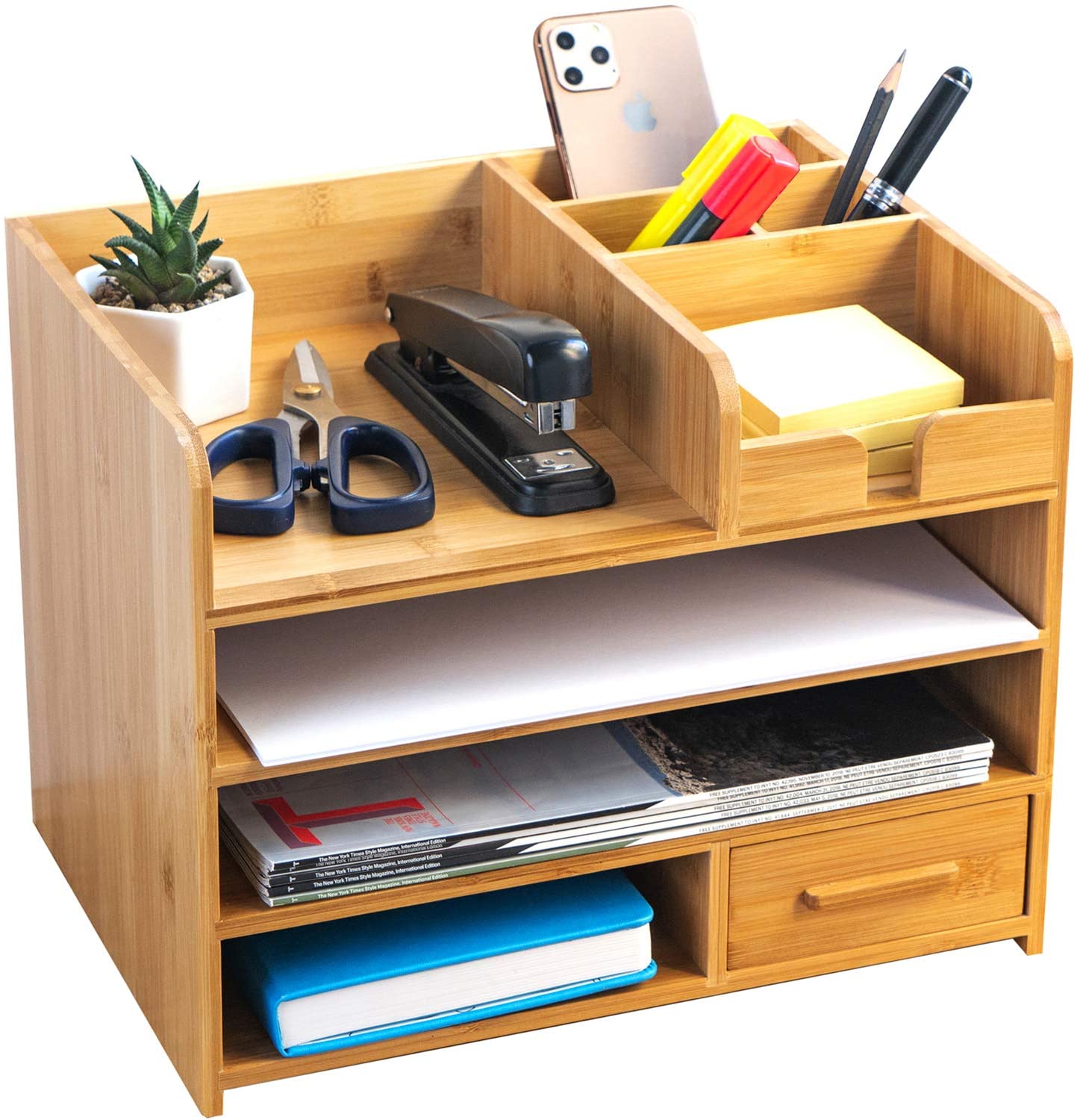 NEOLETEX desk drawer organizer stores a wide range of items including toiletries, office supplies, and more. This storage system has 4 tiers for maximum space. The design and handcrafted nature of this bamboo 4-tier drawer make it multifunctional. It's easy to clean and arrives already assembled, making it a great gift. This shelf can hold paper up to 81/2 x 11 inches. Fits small spaces, cubicles, shelves, vanities, tabletops, countertops, etc.
Eliminates clutter, frees up cabinet space, etc. The product can be used at home, at the office, or in the classroom. It is made of 100% eco-friendly bamboo that is non-toxic and environmentally friendly. No matter how hard you try, this bamboo organizer will not crack, sag, or deform.
A better alternative to wood organizers!  Stay organized and on top of things by keeping pens, pencils, phones, tablets, keys, and office supplies well organized. It's easy to keep everything at hand with this tiered desktop shelf organizer.
Features:
Made from natural bamboo

Amazing design

4-tiered shelves

Durable
Pros:
High storage capacity

Multifunctional

Sturdy

Pre-assembled
Cons:
A bit expensive

No color/aesthetic
---
Tips to organize your desk easily
Your desktop computer should be in front of you
It's easier to stay focused if you keep your desktop or laptop in front of you.

You should also be able to sit with your back straight facing the monitor, so be sure the monitor stands in a way that is comfortable. Make sure you have enough room in front of you, about 1.5 feet.

Computer cords? What about them? Make sure you keep them behind your desk and use computer wire ties to keep them out of sight.

In addition, a desk organizer tray is always an option.
Keep the most often used items near your dominant hand
My office phone was once positioned on the left side of my computer when I had a desk set up that way. I was, however, right-handed.

How does that relate to anything? 

I always had to reach across my body for the phone whenever I was on a call. This is a good stretch for sure. However, it's not one of the best ideas for desk organization. A little more time could have been saved if the phone had been moved or my desk rearranged to make it easier to reach the phone.

Do you have a desk against a wall? Over the top of the shelf, you can even install floating shelves or pegboards. Even wall files are an option. Trust me. Creating your own office or home improvements can also be fun.

You will be saving desk space, have more storage options and still have things within your reach with these options.

Tip: Make use of your wall space. If your office area or desk is small, and you lack storage space, a floating shelf might be a solution. You may still purchase a stackable desk organizer tray if you do not have any free wall space.
Group like items together
You probably can fit all of your office supplies in one drawer unless you are an artist who works with acrylics, brushes, and a lot of other materials. Maintain a single office drawer for your multi-purpose office supplies. Those scissors go in there without any problem, along with adhesive notes, pushpins, and your favorite washi tape.

The other drawers can now be used for other things, like storing those wires that you never forgot to get rid of, or maybe even for a junk food drawer. 
Maintain an open desk space
Do not clutter the area immediately adjacent to your computer. With this technique, you can review documents or papers immediately without clearing any desk or office space. Don't let things sit here for too long. Ensure they are reviewed, edited, approved, and moved forward.
Keep only the most urgent and relevant papers on your desk
Why keep unnecessary files, documents, and papers on your desk? It will only occupy more space and make your desk look untidy, right? Sort the things that you should keep on your desk for a day. This will give a tidy and organized look to your desk. Use a desk organizer tray or desk drawer organizer to get a professional feel while working.
---
Conclusion
So, these were some of the best desk organizers that we came across and thought to suggest to you too. Choose any one according to your requirement and space aesthetic and let us know in the comments which one you chose.