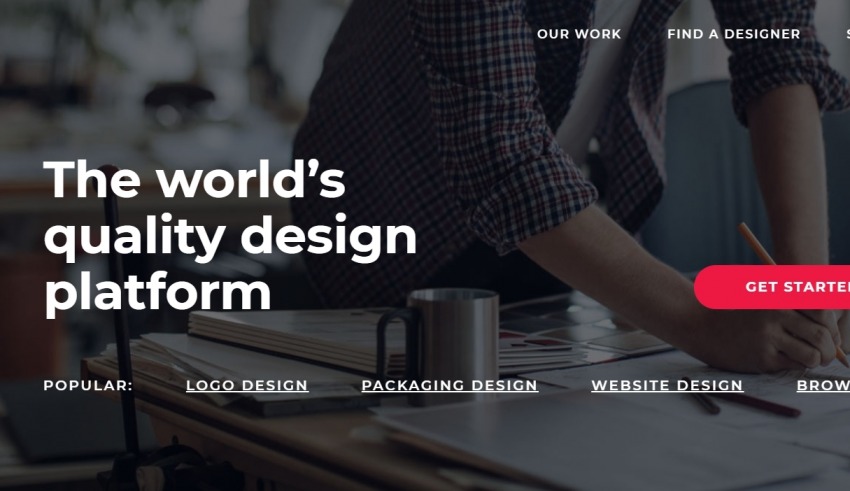 DesignBro is an online graphics designing platform that combines high-quality professional designers with clients around the world. DesignBro's CEO Christiaan Huynen, a 3rd generation agency owner, who has also founded the London office of Cartils in 2008, is an award-winning branding and packaging design agency well known for its works like Pernod Ricard, Brown Forman, Carlsberg, Nestle Waters.
Quality design has always been overpriced because of insufficient processes. DesignBro delivers affordable and high-quality design at scale by automating these processes.
The introduction of crowdsourcing on the internet has raced to the bottom some unwanted side effects of this gig economy. DesignBro aims to bring balance to this downward spiral.
Before commissioning a designer for joining a contest, brief research is done by the designing team at DesignBro. Designers must show their previous work and their vetting committee that comprises industry experts who review each of these portfolios. On average, just 5% of applicants make the cut.
"With the best 5% designers, DesignBro Turns Your Graphic Woe To Design Woah."
Logo design


The logos inevitably come to our mind when we think about the best and famous companies. The majority of people dismiss them as simple images plastered on every brand. They know that they will be finding golden arcs on their favorite fast food joint and then move on.
In contrast, you and other professionals will acknowledge how a simple swoosh will elevate the shoe brand for greatness.
Everyone wants their brand embellished with an iconic logo. Thankfully DesignBro is going to assist you in designing your logo:
Choose among 3 to 10 logo design concepts.
Selecting from a wide variety of unique, modern, and minimalist designs.
Crafted by top-notch designers from DesignBro.
Money-back guarantee.
You can get the best logo for your brand by just following these three steps:
Creative brief: You should specify your requirements by choosing from inspirational logos and provide details for your brand identity. You will also be asked about your business and target demographic for understanding your needs clearly by DesignBro.
Connecting with the designers: While receiving your first designs, you should communicate with the designer. You should provide feedback and collaborate directly with the designer, so they will be able to personalize your logo effectively that represents your brand.
Finalize your logo: You are then required to pick three designer finalists and improve your selected logos. Finally, it would help if you chose your winners so that they could submit your production-ready files.
The whole process's main aim is to provide you with the best quality as soon as possible. More importantly, your business needs are prioritized every step of the way.
Packaging design
There are uncountable branches for every project, each with its variants. Isn't it very surprising how people are not overwhelmed by the tremendous number of choices?
It doesn't stop the shopping experience for you and everyone else as your eyes immediately stand for your favorite brands. More often than not, the packaging empowers a ketchup brand for standing out in every food section. Good packaging only wants to be enough if you want your goods to stand out from the crowd.
DesignBro has the capability of assisting you with brand identity design, so your product boxes fly offshore shelves:
Selecting from 3 to 10 packaging design concepts.
Designed by the best pro designers.
Receiving tailor-made designs for your products.
Money-back guarantee.
Following are DesignBro step by step process for the best packaging design:
Describe your product: DesignBro provides clients with a simple guide for understanding their needs better. Answering the questions step by step helps the company in assisting you.
Selecting Your Final design: Picking your preferred design for receiving all its corresponding open files is the last step to be performed. It will enable you to reproduce the packaging, and you'll be owning the full copyright and allow other designers to apply modifications.
You are allowed to track your project's progress and communicate with designers at every step. Your product will get the best packaging design it deserves by the end.
Website Design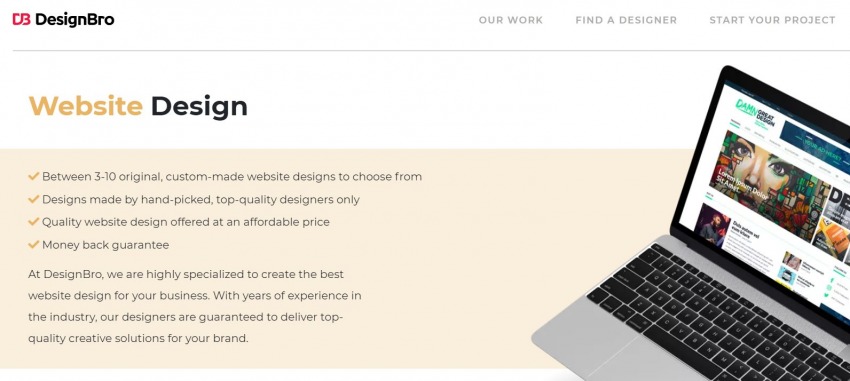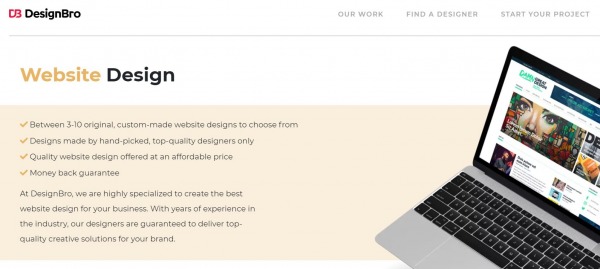 Every reputable brand has its signature home page as it assures users about your products and services. Even its structure lets everyone know about your company. Links, media, colors, and other aesthetic factors tell a lot about your business. Your website must undoubtedly be the best and no less. Fortunately, DesignBro offers your brand with high-quality web design:
You are required to choose from the 3 to 10 designs for your brand, especially:
Only the best web designers will work.
A commendable, affordable website design
Money-back guarantee
You can coordinate and monitor the progress of designers at every step. It gives you a high-quality website that represents the essence of your business!
More about DesignBro
Aside from website, packaging, and logo, DesignBro also assists with other types of graphic design projects.
For example, the company can also help people build their brand identity to resonate better with customers.
DesignBro could also help you with your marketing campaign, or if you want to advertise on social media, they could also create the best banner ads for Facebook and Twitter.
The company has the capacity for designing materials for traditional marketing such as posters and flyers. It also creates covers for albums, magazines, and books.
Summing Up
All your graphic design needs are provided by DesignBro so that you can create a better tomorrow. The company also offers a wide variety of graphic design services from the best designers worldwide.
You get to choose from the designs, so they are incentivized to create their best works. You may also collaborate with them for the best results possible.
DesignBro is allowed to provide affordable and excellent graphic design by this process. Besides, it enables talents worldwide for showcasing and earning from their work.
Eventually, DesignBro wants to provide affordable graphic designs for businesses and respectable pay scales for designers.