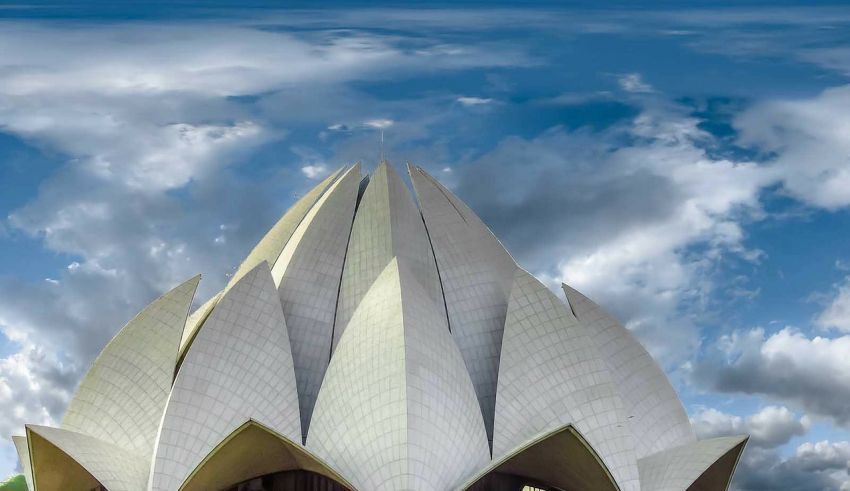 This capital city of the nation is a striking blend of everything old and new. From centuries-old monuments to the modern-age sky kissing buildings, it perfectly reflects contemporary India. People from all walks of life, diverse cultural backgrounds and faiths, coexist together under the same sky.
Thus, making it a vibrant place always buzzing with things which are new and exciting. If you are visiting it for the very first time, be prepared to feel overwhelmed. The city got it all from lip-smacking street food to enormous shopping malls and from street shopping places to religious ones, you think of it and Delhi has it.
Below is a list of all the places that you should definitely visit on your next trip to the city!
1.
Red Fort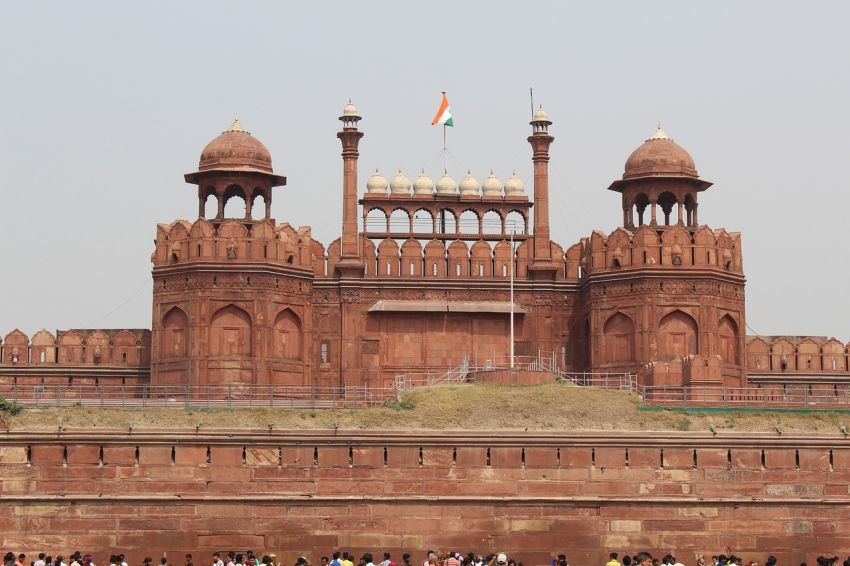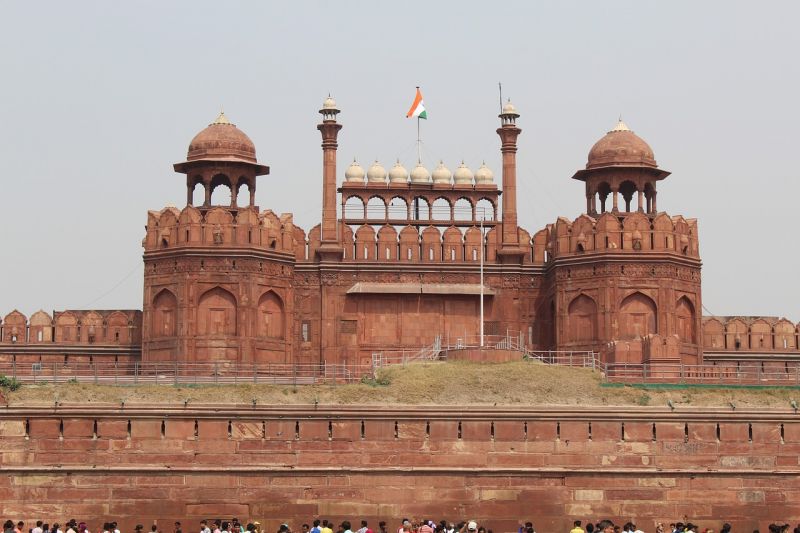 One of the most prominent and grand monuments of Delhi is Red Fort. The place also boasts the status of being a UNESCO WORLD HERITAGE SITE. The fort was built during the Mughal era and is made of red sandstone. It used to be the dwelling place for Mughal Emperors for almost 200 years. It is established in the center of the city and has a number of galleries and museums. A must-see attraction is the sound and light show depicting Mughal history during the evening. It also houses a museum of "blood paintings" representing young Indian martyrs along with their stories of suffering. Also, don't forget to visit the Chandni Chowk market which is located right opposite to the fort and is popular for delicious street food and traditional crafts.
Entry Timings: Sunrise to Sunset
Open On: All days except Monday
Entry Fees: Indian INR 30
International INR 500
For Museum INR 5
Photography: Allowed
Videography: INR 25
2.
India Gate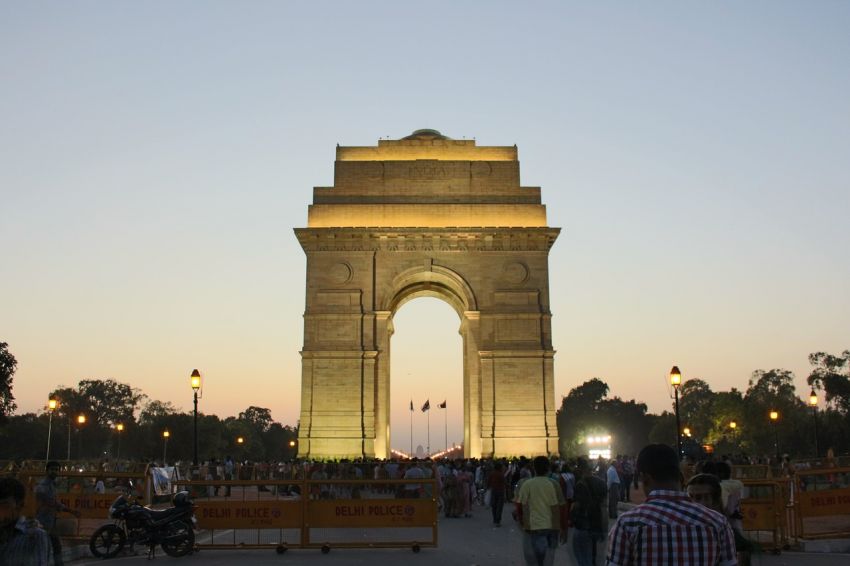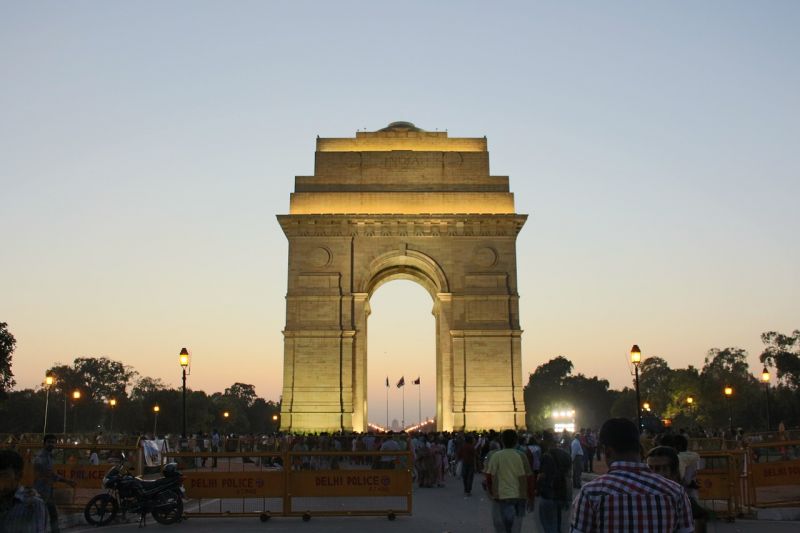 This masterpiece pays tribute to the country's martyrs of World War I and War in Afghanistan. It was built under the leadership of Edwin Lutyens and took a decade to get completed. Situated at Rajpath, it strikes similarity with the prestigious Arc de Triomphe of Paris. The monument is surrounded by gardens and is illuminated with bright lights post-sunset. It is also decorated with elegant fountains throughout the structure to make it look charming and cozy. A quick stroll in the gardens while eating ice-cream at evening, will surely leave you mesmerized.
Entry fee: Free
Opening hours: Always open
3.
Qutub Minar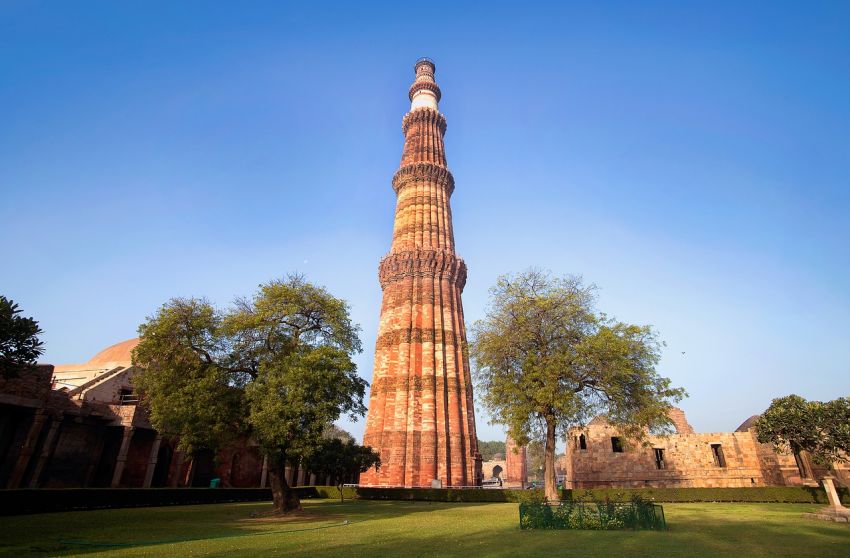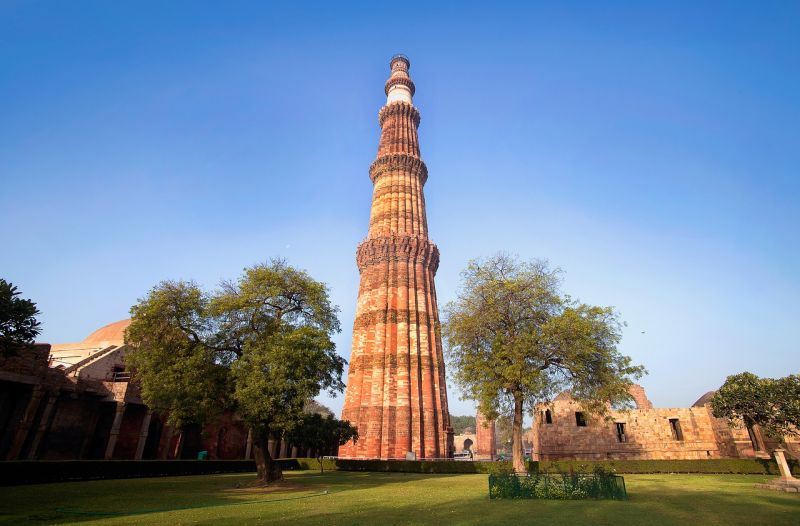 Do you know?
It is the 2nd tallest minar in the country and stands tall at the height of 73 meters.
It was built during the rule of Qutub-ud-din Aibak and has earned itself the status of UNESCO Heritage Site. The building has five stories and the initial three are composed of red sandstone and the latter two are built of marble and sandstone. The monument complex includes one of the very first mosques built in India Quwwat-us-Islam, the crypt of Iltutmish, Ala'i-Darwaza and the Ala'I Minar. Another major attraction of the building is the great Iron Pillar, which has survived corrosion since past 1,600 years.
Entry fee: Free for children under 15,
INR 10 for Indians
INR 250 for foreigners
Opening hours: Sunrise until sunset (Closed on Mondays)
4.
Akshardham Temple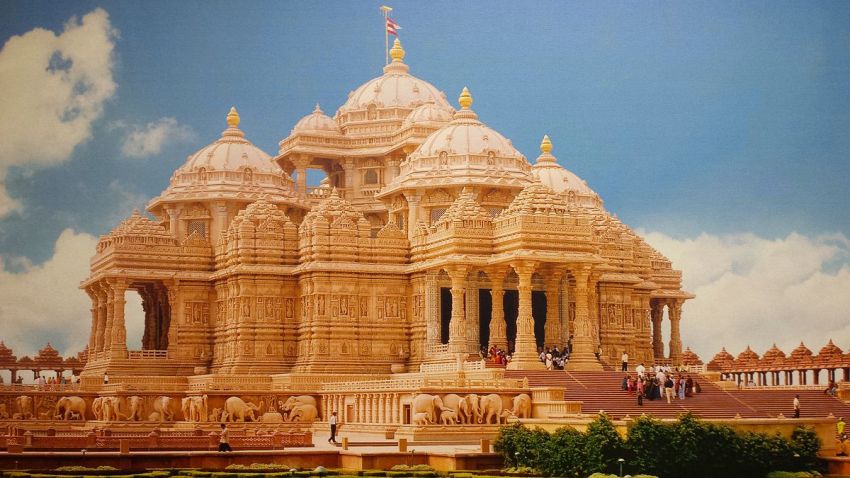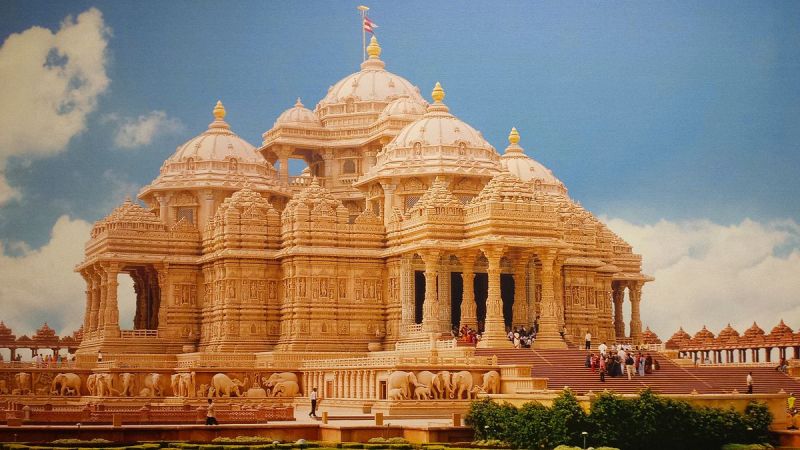 This beautiful temple is a must-see place and has found a place for itself in the Guinness World Record for being the World's Largest Comprehensive Hindu Temple. It extends over a large area of 83,342 sq feet which is 356 feet long, 316 feet wide and 141 feet high. The temple complex houses 200 carved stone structures of Indian saints, sadhus, disciples, acharyas and religious incarnations.
The building also houses world's largest yagna kund with 2,870 levels and 108 little shrines. At dark, the complex gets lit-up with the vivid musical fountain show which reverberates the complex with Vedic chantings of India.
Entry Timings: 9:30am to 6:30pm
Open: All days except Monday
Entry Fee: Free
Exhibition Entry: Timings- 10am – 5pm
Ticket:
Adults: INR 170
Senior Citizen: INR 125
Child (4-11 yrs): INR 100
Child (below 4yrs): Free
Musical Fountain Entry :
Adults: INR 30
Senior Citizen: INR 30
Child (4-11 yrs): INR 20
Child (Below 4 yrs): Free
Photography & Videography: Restricted ( Mobiles Not Allowed)
Get Direction to Akshardham Temple
5.
Agrasen Ki Baoli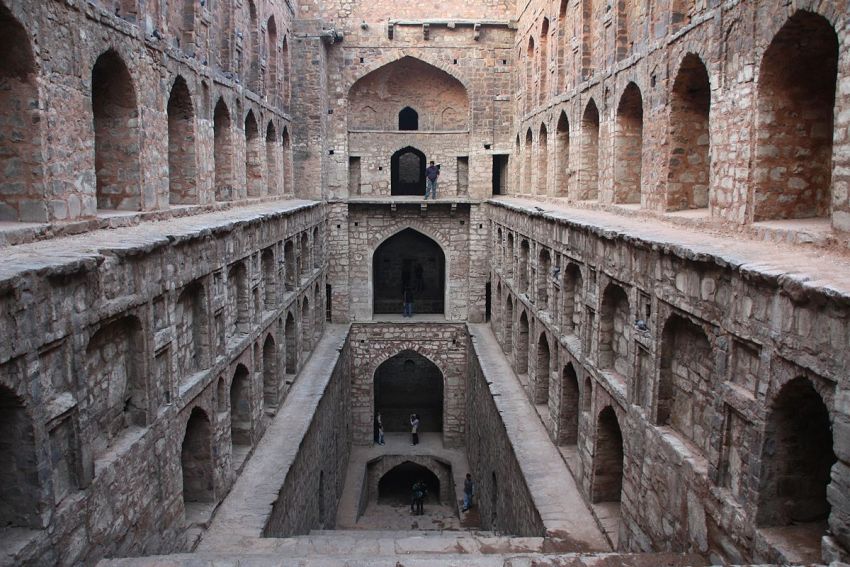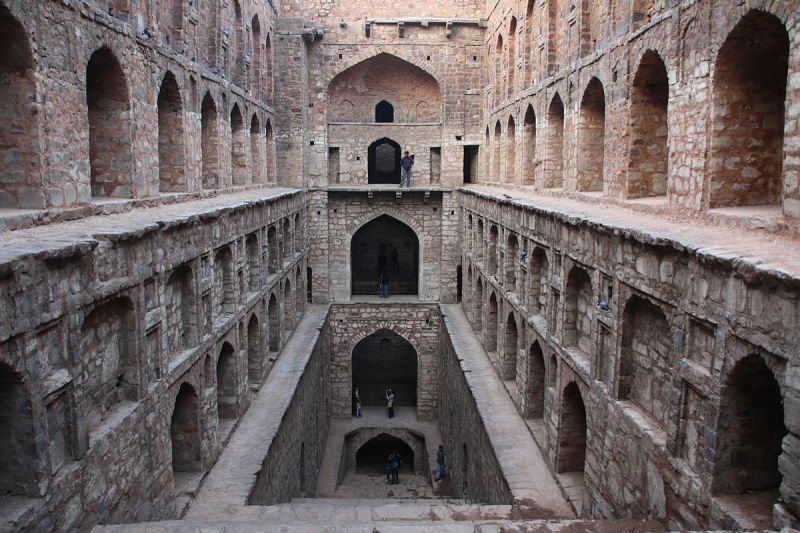 Source Image: Wikipedia
Counted as one of the most haunted places in India. This place is a must-visit for those seeking adventure and thrill. The building is situated right in the middle of the city and is enveloped by high buildings of Connaught Place.
The place was constructed back in time to conserve water. It is 60-meter long and 15-meter wide step well and you can often bump into people doing photo shoots here on its steps and against the ruins of the walls. This place is a must visit while roaming around CP.
6.
Purana Qila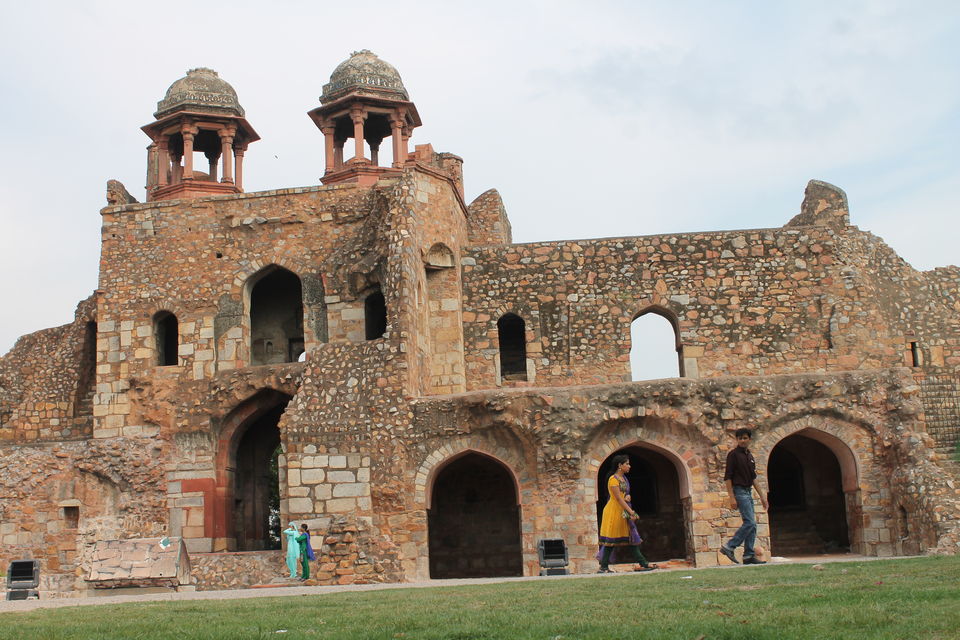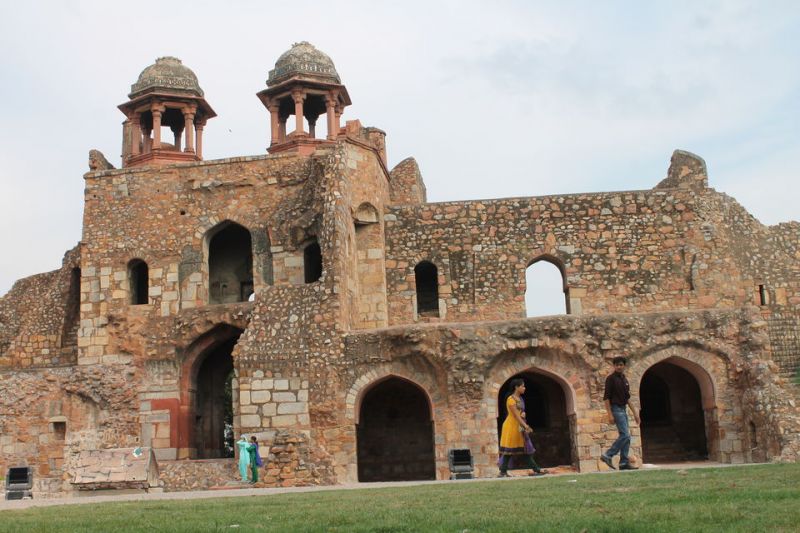 Source Image: Tripoto
Another historical grandeur of the city is this Purana Quila. It is built over a sprawling area of 176-acres and is a hot-public favorite over the weekends. It is a perfect place to go for a quick small picnic and ideal for kids who can enjoy a tour of the nearby National Zoological Park or Delhi Zoo.
An electric vehicle can also be taken on rent to take a tour of the zoo. Also, don't forget to try your hands at boating in the nearby lake and the sound and light show during the evening.
Entry fee: INR 5 for Indians
INR 100 for foreigners
Opening hours: 7am to 5pm
Check Also: 15 Best Hotels Near Delhi Airport That Will Ensure A Comfortable Stay
7.
Lotus Temple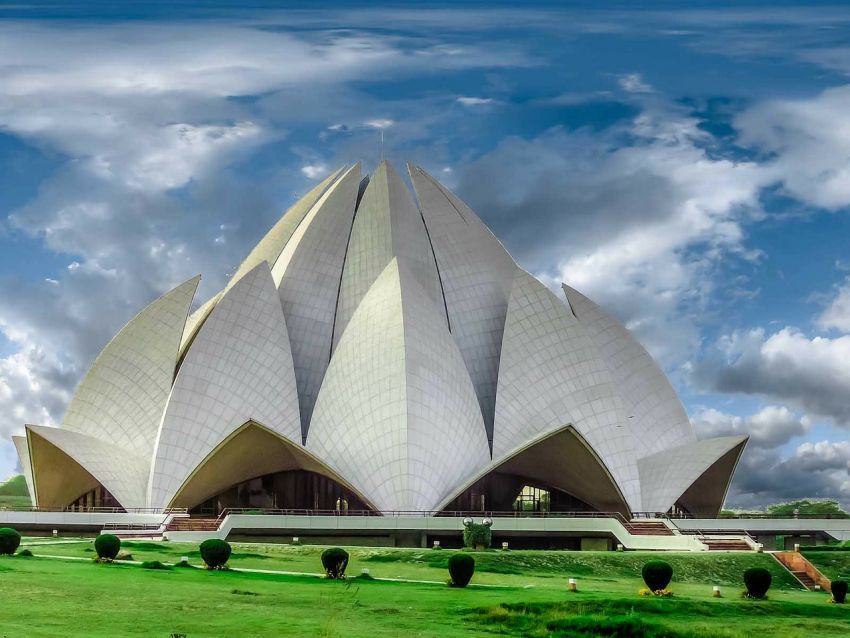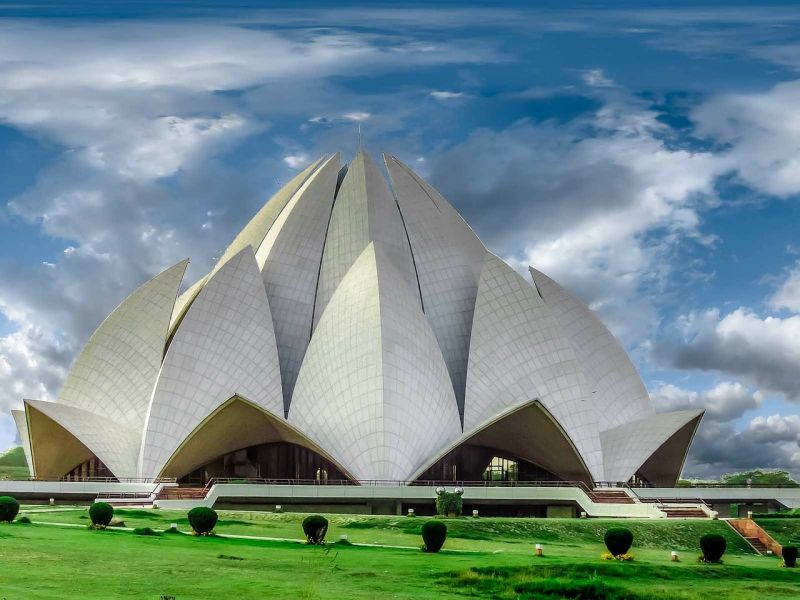 Built in the shape and design of the petals of the white lotus flower, it is also called The Baha'I House of Worship. The place comprises of nine pools and walkways. The outside appearance of the structure is jaw-dropping. But, you are not allowed to move your jaw or in other words, have to maintain pin-drop silence, once inside. This place houses a meditation hall which is open to people of all faiths and religion.
Entry fee: Free
Opening hours: From 9 am till sunset
8.
Humayun's Tomb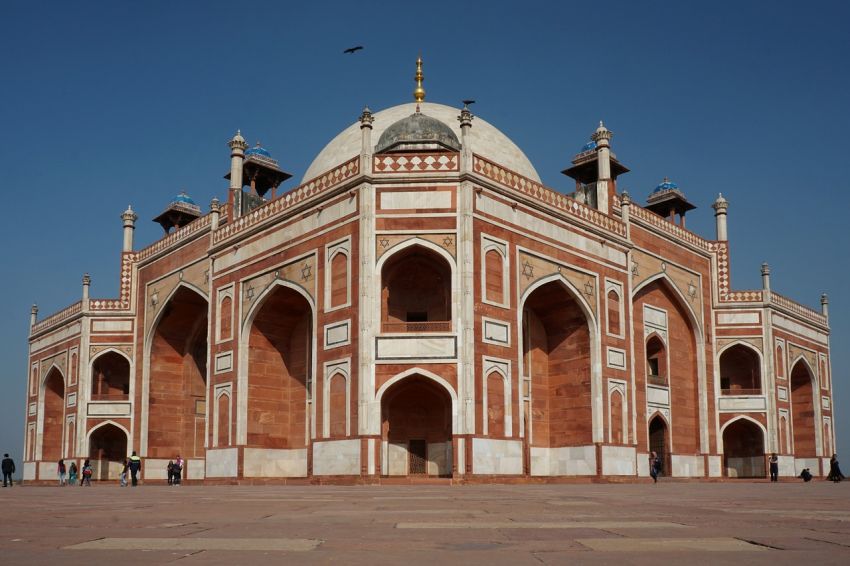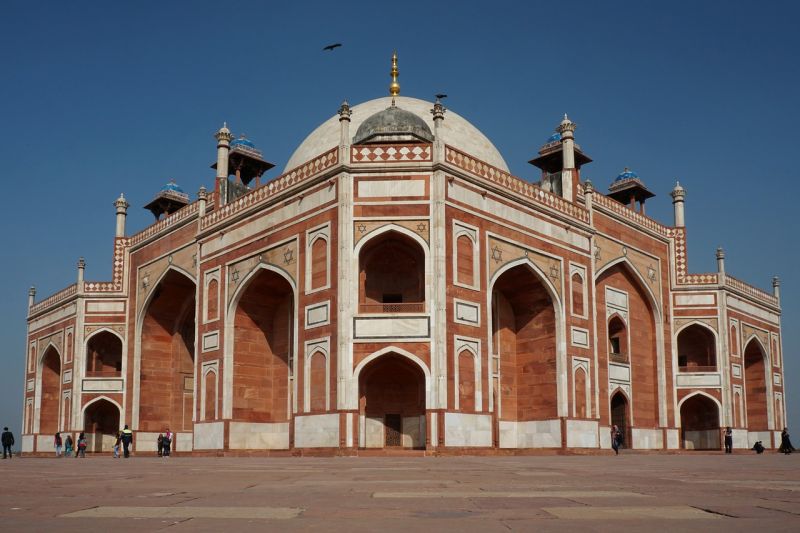 Another UNESCO World Heritage Site, it was the first garden tomb of the country and served as an inspiration for the design of the magnificent Taj Mahal which was built by his great-grandson Shah Jahan 60 years later in Agra. The tomb was built after the death of Mughal Emperor Humayun by his older widow Bega Begum. Apart from the tomb of Humayun it also houses the tomb of his Barber's tomb. The monument stands tall in the middle of the square garden named 'Charbagh' which has flat water channels running through it.
Entry fee:

INR 10 Indians and SAARC Visitors
INR 250 for others

Opening hours: 

Daily, up till sunset
9.
Gurdwara Bangla Sahib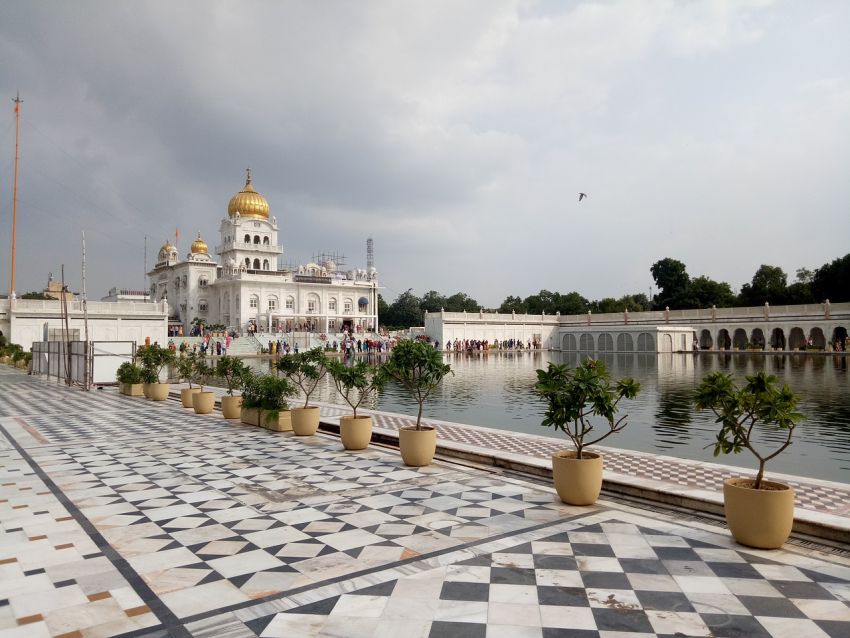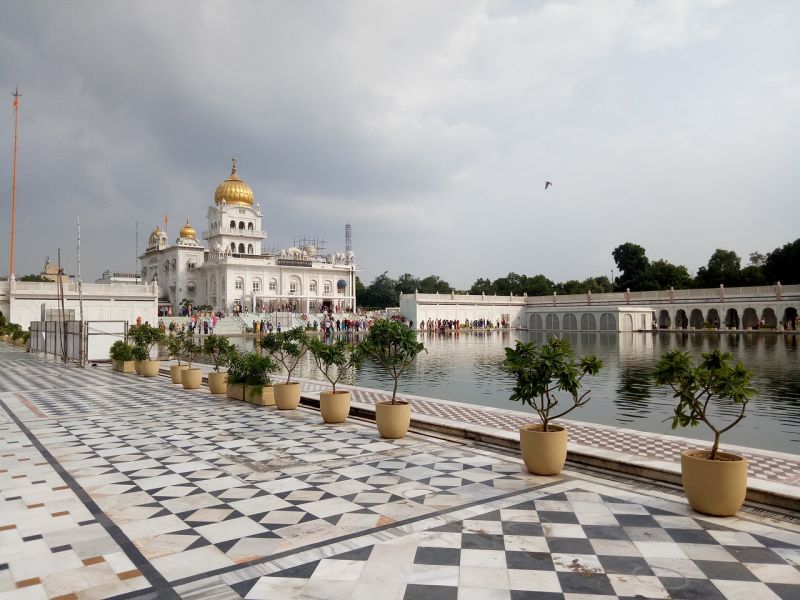 This beautiful Sikh Gurudwara is known for its affiliation with the eighth Sikh Guru, Guru Har Krishan. The gurudwara was formerly a home of Raja Jai Singh, a ruler in the 17th century, and was called by the name- 'Jaisinghpura Palace.' The eighth Sikh Guru Har Krishan helped the ill people who were affected by smallpox and cholera epidemic, by helping them and providing water from the well at this house. But, he soon died of the illness and ultimately died on March 30, 1664.
Therefore, a small basin was later built by Raja Jai Singh and the water is now believed to have healing qualities and is taken by Sikhs from all around the world.
10.
Rashtrapati Bhawan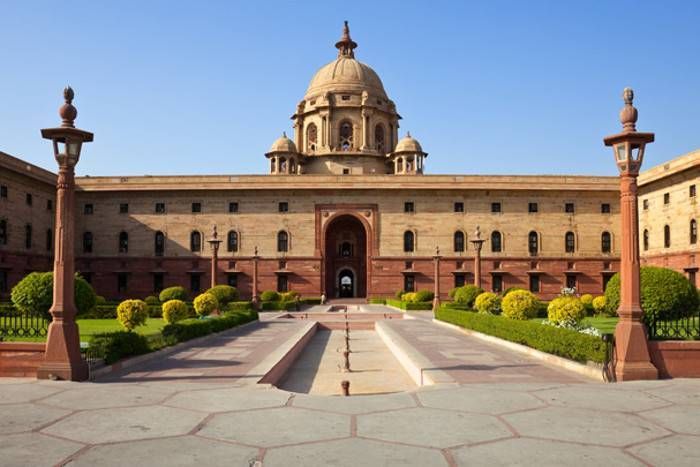 Last but not least, is the residence of India's President which you should not miss. Though not entirely accessible by the public, this building comprises of four floors and 340 rooms spread over an area of 200,000 sq ft. It also houses the famous rose garden or better known as the Mughal Gardens. These gardens are open to the general public only once a year in the month of February during Udyanotsav.
Opening hours: 9 am till late evening.
For an inside visit, do pre-book at a website.
Delhi is a big city and has a lot to offer which goes beyond the list. But, make sure you definitely check these places out on your next trip to
" Dilli Dilwalon ki".