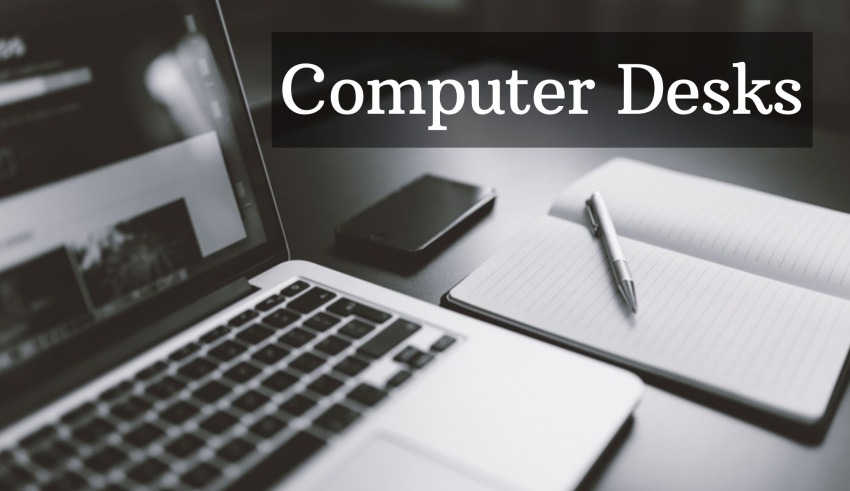 A desk is one of the most important furniture parts in homes, offices, schools, dormitories, etc. With people having their offices at home or needing a new upgrade to their office desk, computer desks, Computer Desk Lamps are highly demanded. Well, these desks are easy to find online but people often get confused about their durability and price.
That is why we have brought you the 15 best computer desks in 2022 that are budget-friendly and durable.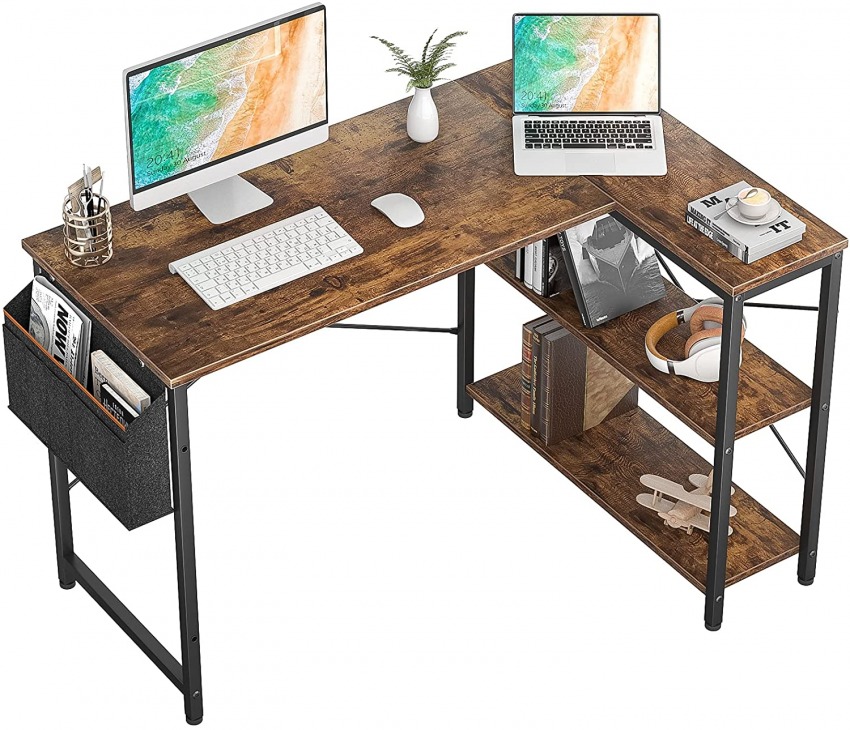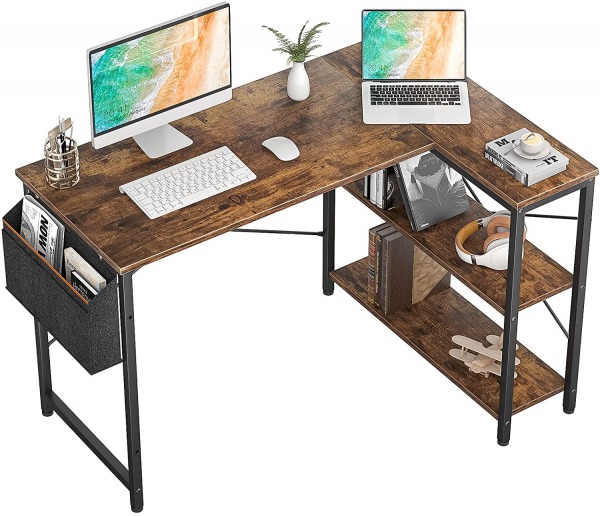 With this L-shaped small office desk by Homieasy, you can maximize your limited space to the fullest extent. Its simple and modern design will make it a beautiful addition to any living space, including the living room, game room, kids room, dormitory, and office.
This small office desk is made with a premium metal frame and MDF board. Steel powder-coated with a heavyweight powder coat ensures stability and durability. The desk is anti-scratching, waterproof, and easily cleanable.
Features
Available in 4 colors- rustic brown, black oak, white, black
Made from P2 black oak MDF board and metal frame
Reversible shelves
Risk-free purchase with professional customer support
Large desktop and ample space
300 lb capacity
Pros
The stylish, minimalist design of these computer desks will give your office or room a sleek, modern look.
This L-shaped desk is made of a sturdy metal frame and P2 MDF board.
By reversing the shelves, you can assemble them any way you want according to your preference or use case.
The desk's surface is scratch-resistant melamine, and it is water-resistant and easy to maintain.
Enhancements such as an X-brace and adjustable leg pads ensure stability even when the floor is uneven.
Cons
Doesn't come with the necessary tools.
Difficult to assemble.
---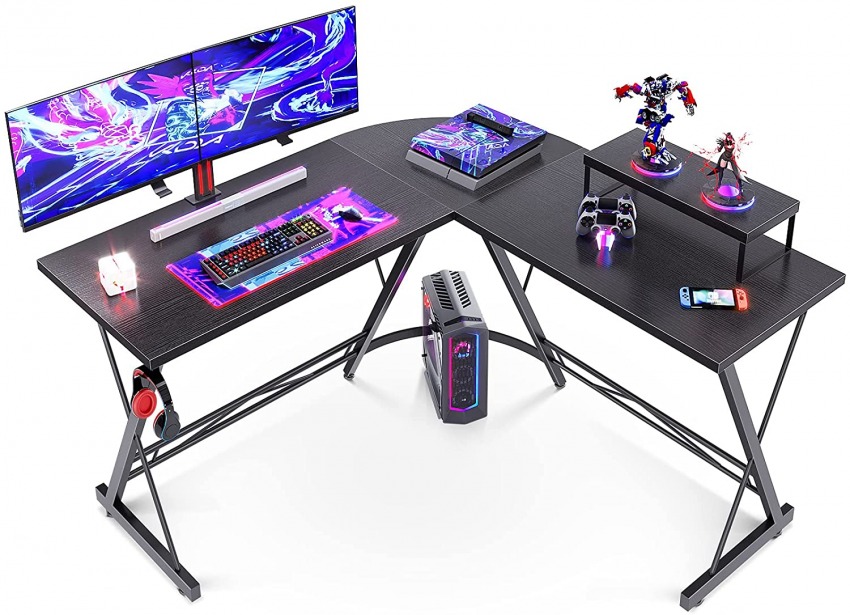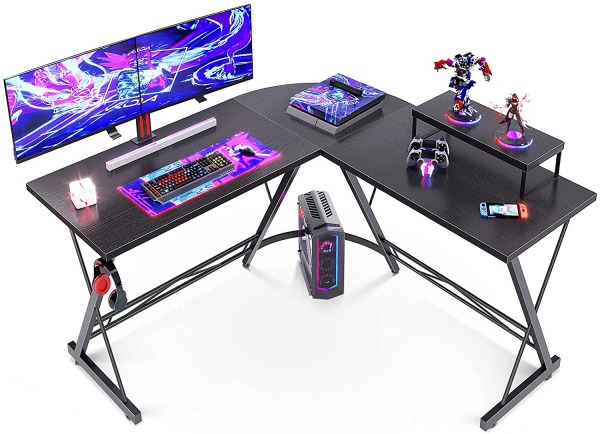 Casaottima L-shaped office desk is a great choice for offices as well as for homes. You can use it as a computer desks, or for any other purpose.
This office desk's overall dimensions are 51″(L) x 51″(L) x 18.2″(W) x 29.5″(H). It is long and wide enough for 3-4 monitors and any other working or studying items. Your work essentials can be supported on the sturdy frame and top. It is constructed with a fine texture and beauty and is scratch-resistant, heat-safe, waterproof, and waterproof. It has a removable shelf that can be installed either on the left or right and is large enough for a monitor. The company provides a 3-year warranty and their after-sale team will be at your service anytime you need.
Features
Scratch proof and a waterproof top
Floating and removable monitor shelf
X-shape frame
Adjustable leg pads
Spacious
Pros
Can fit 3-4 monitors
Easy to install
Stylish design that gives your room a modern look
High-quality wood used for the top
High-quality metal frame
Scratch-resistant, heat-safe, and waterproof tabletop
Cons
Could be a little wider
The monitor panel wobbles a bit
---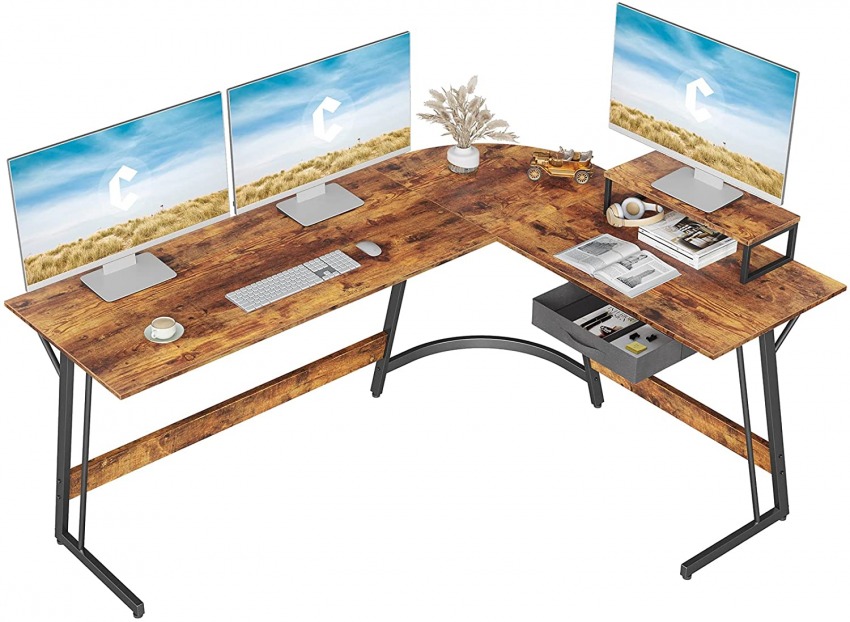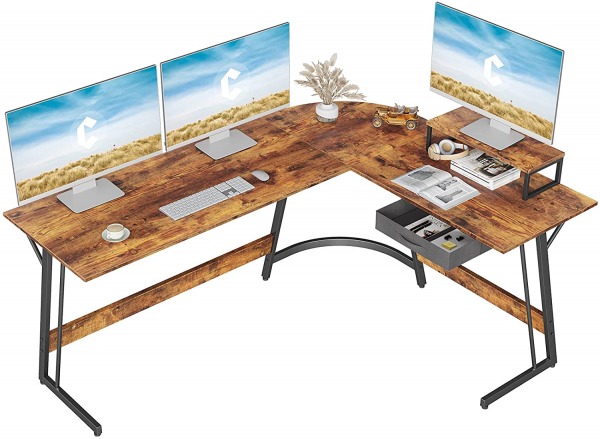 The L-shaped computer desks are intended for multi-purpose use. This is a must-have computer desks that you can use in your study room, home office, bedroom, or living room. You can enjoy a classy ambiance in your room as it appears to be highly vintage.
You can work or study on this table thanks to the solid metal frame and triangle strut, which give the table stability. An installation guide that is well-organized and clear is helpful even if you have never installed a desk before.
Features
Storage Drawer
A small table on the top
Vintage design
Metal frame and particle board top
Sturdy
Pros
Easy to install
Budget-friendly
Stylish design gives your room an amazing decor
Small but spacious
Made with durable material
Available in different colors
Cons
The tools that come with the desk to assemble it are of low quality
The top shelf uses sticky pad
---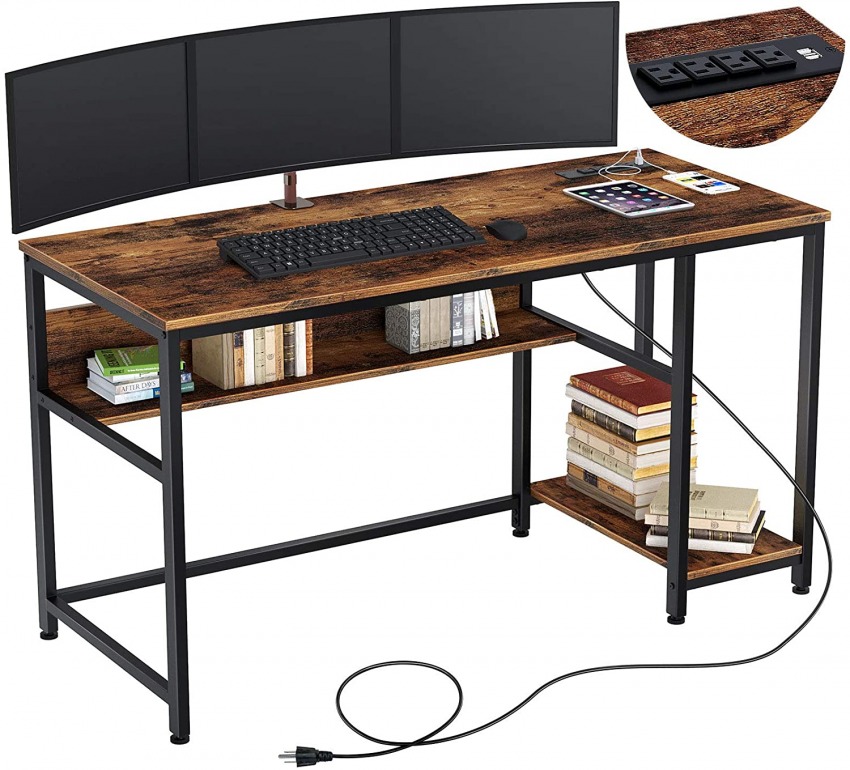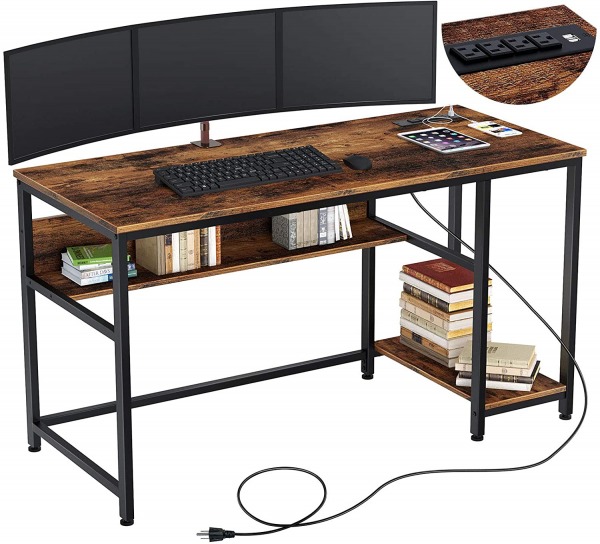 This Rolanstar computer office desk has built-in outlets and USB ports, perfect for powering a gaming rig, tablet, or smartphone, and has an integrated wire management system, providing convenience while working or playing. With the storage shelf added to the basic computer desks, you can better organize and allocate your books, desktop computer, switches, and other digital production, expanding your storage space.
The combination of raw materials, which meet EPA TSCA Title VI and Carb Certification, and the rigid metal frame provide you with a safe and healthy environment in the office or bedroom of your home.
Features
Recessed Power Strip
Reusable cable ties
Adjustable feet pad
One built-in socket with 4-Outlet
2 USB Ports
Pros
Spacious
Bold design
Metal frame
Multiple-choice and user-friendly
Easy to clean
Cons
Complicated assembling
Unclear instructions manual
---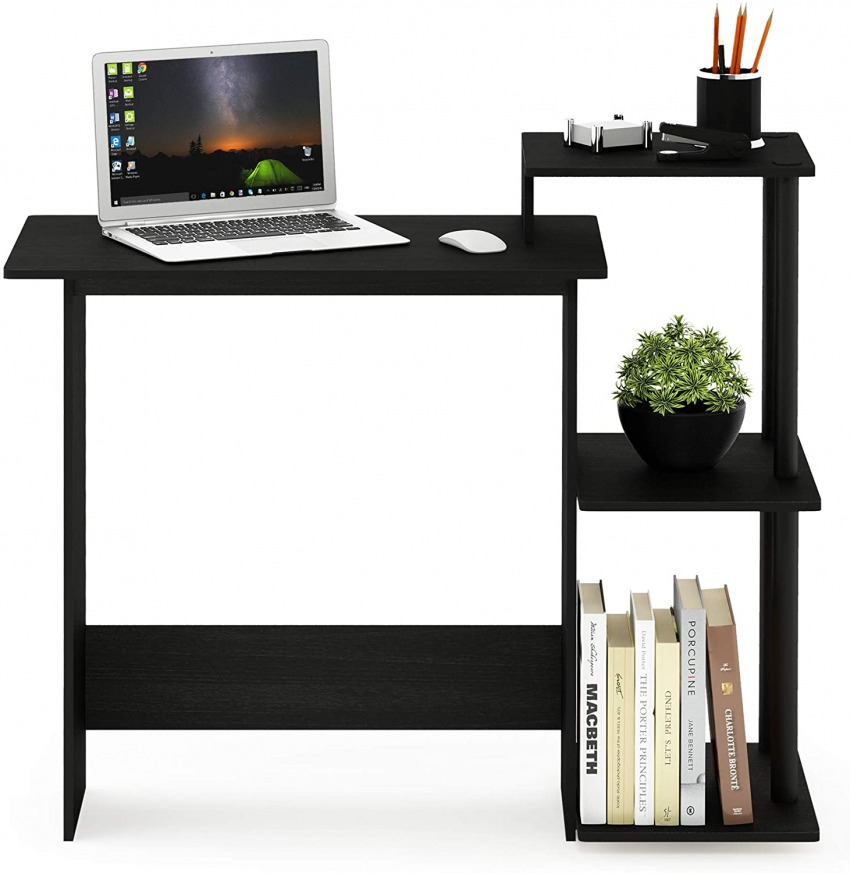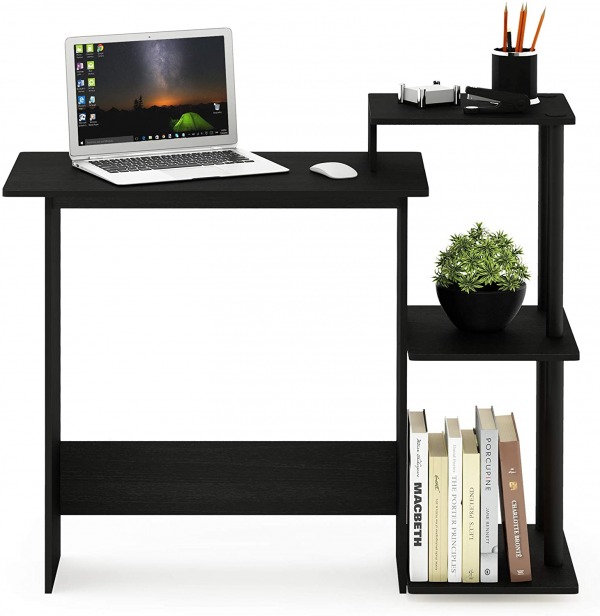 Furinno small computer desks are a great choice for homes as well as compact office spaces. It has ample space to fit your computer as well other things. This easy-to-assemble desk takes only 10-15 minutes to get to its perfect shape. The design is mesmerizing and gives your room great decor.
Built with engineered particleboard and PVC tubes, this Furrino office desk is durable too. The weight of the product isn't much either and you can easily move it from one place to another.
Features
CPU storage shelf
Elevated shelf
Lightweight
Simple yet stylish design
Pros
Budget-friendly
Strong body
1 year limited warranty
Easy to assemble
Cons
Wobbles a lot on carpet
Prone to scratches and nicks
---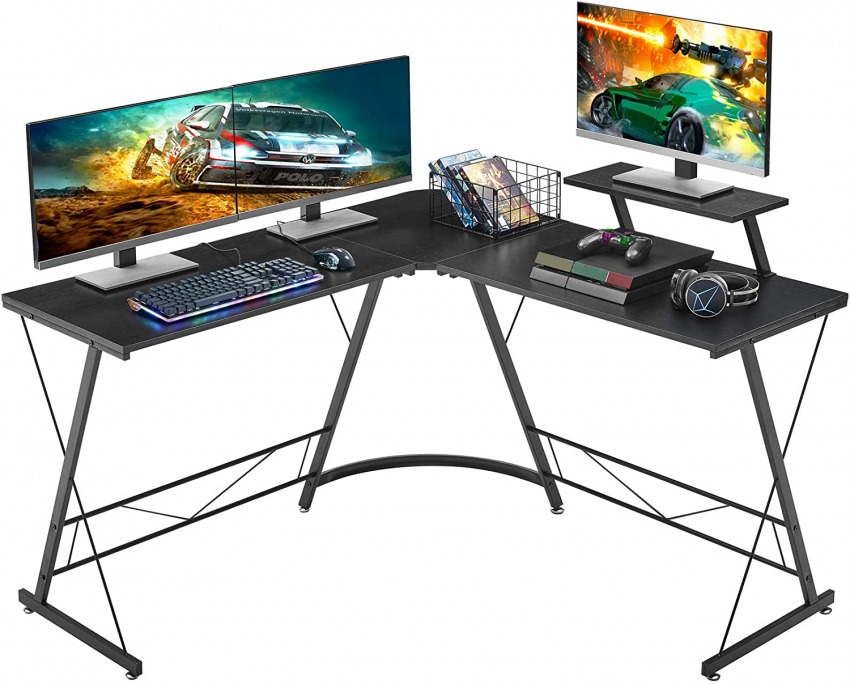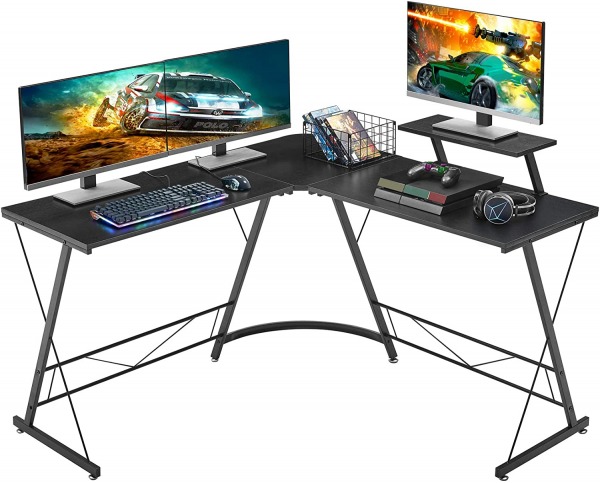 The L-shaped desk by Mr. Ironstone is made from high-quality P2 MDF and is metal-framed. Durable and sturdy steel makes up the desk frame, ensuring its stability and durability. A large desktop in three pieces, the desk can be divided into two sides, which helps maximize space in your room whether it is small or larger. The table's sturdy legs are adjustable so that it stays stable regardless of the surface. Additionally, it is an ideal choice for any home office or dormitory.
With the L-shaped desk by Mr. Ironstone Home, you can create the ideal office space. To maximize your home office space, it's designed to fit snugly in a corner. There is ample room to set up a monitor, laptop, papers, and other essential office supplies on the large desktop surface. A desk like this is the perfect addition to any home office thanks to its stylish design.
Features
High-quality P2 MDF board
Metal frame
X-shape support
Adjustable foot
Monitor shelf
Pros
An L-Shaped design that maximizes your limited space, perfectly sized for fitting in tight corners.
Using monitor shelves saves you desk space for a keyboard and mouse when you have large monitors.
It supports 2-3 monitors, along with desktop computers without collapsing.
The desk can be used to work on a computer, write papers, play games, and so on.
Providing more storage and activity space under the desktop due to its no-obstacles design
The surface of the P2 MDF Board is textured for easy cleaning, scratch-resistance, and nonslip properties.
Cons
Extremely sharp edges
Little bit unstable
---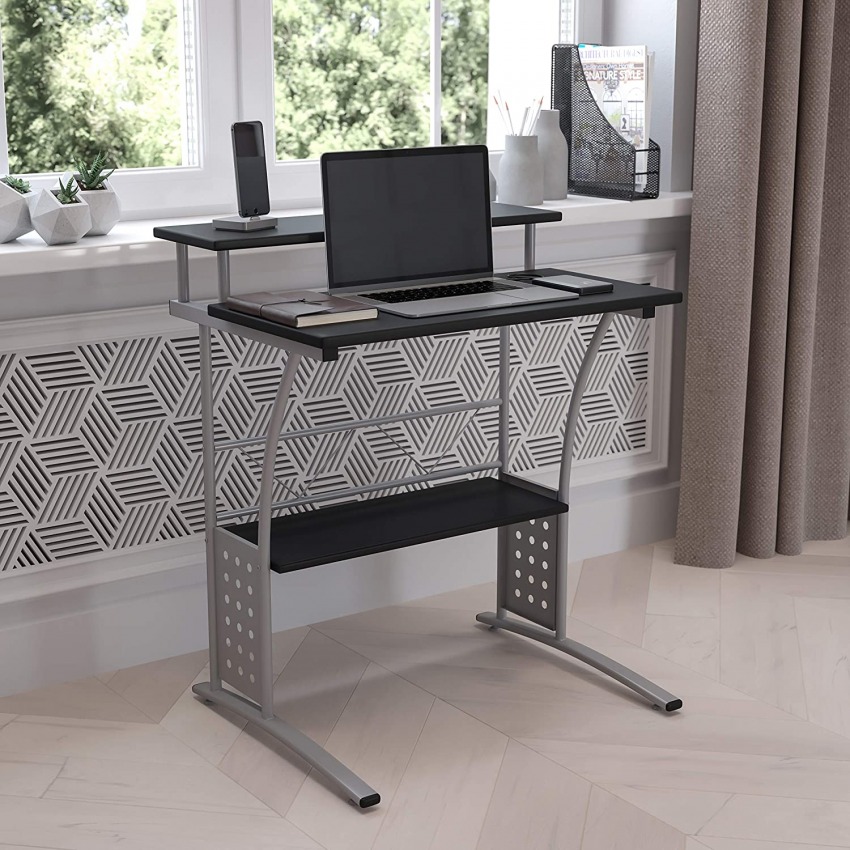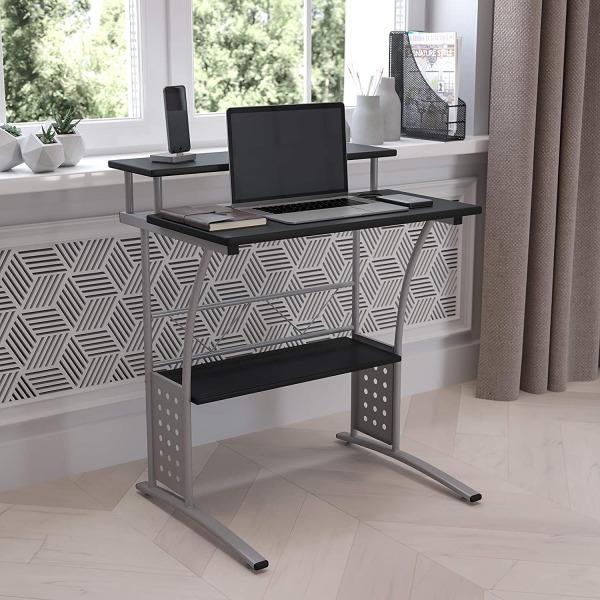 A stylish and on-trend small computer desks from Flash Furniture that creates a statement in your home office. The compact design of this office desk with storage shelves makes it suitable for space-constrained apartments or dorm rooms. Stylish silver perforated design frames contrast nicely with laminate shelving.
Black finish, large desk surface, raised shelf for your monitor or treasures, and lower shelf for supplies and hard drive. The steel frame is powder-coated for long-lasting durability on this two-level desk. You can move your desk smoothly regardless of uneven surfaces and you won't have to worry about it wobbling because of self-leveling floor glides. Designed with an open storage shelf, this compact desk is both functional and contemporary.
Features
Metal body
Plenty of storage
Spacious
Wooden shelves
Protective floor glides
Pros
Space-saving
Affordable
Adjustable leveling feet
Easy to assemble with the tools included
Cons
Holes for the bars are a bit cockeyed
Outdated appearance
---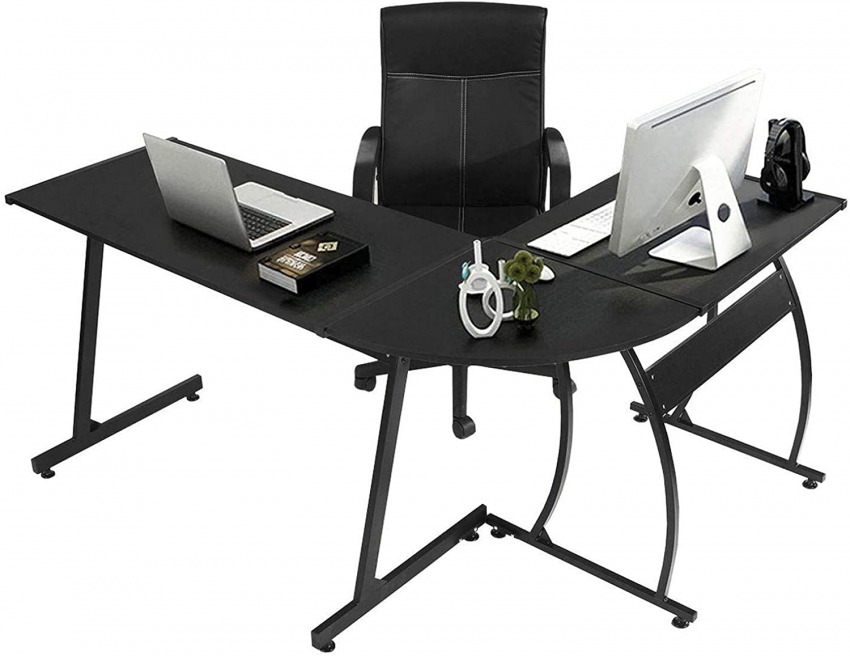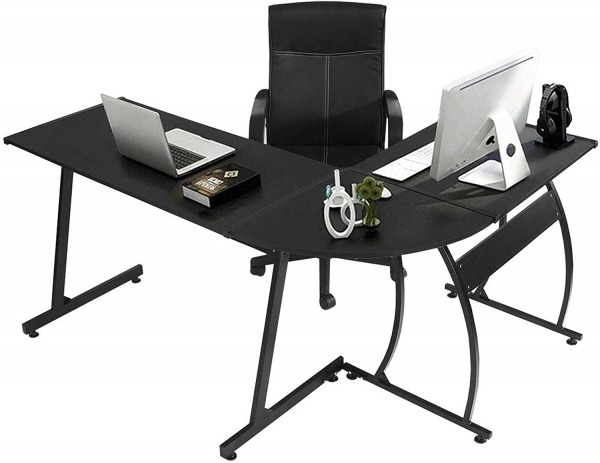 Apart from the rectangular computer writing desk, you have many other options in your limited space. This GreenForest 3-piece L-shaped computer desks is the better choice which fits snugly in every corner, providing more space for working, studying, gaming in bedroom room, home office room, and home.
This computer writing desk is moisture-proof and scratch-resistant, made of high-quality, eco-friendly P2 particle board as the table surface.
This black L-shape office desk measures 58.1″ from left to right, allowing it to accommodate at least 2 monitors, laptops, or computers for use in tasks such as gaming, office work, engineering drawing, or other tasks that require a large surface area.
Features
High quality Eco-friendly P2 particleboard
Reversible L Corner
Spacious
Adjustable table legs
L-bracket reinforce
Pros
Lightweight
Easy to build
Budget-friendly
Stylish design
Cons
The bottom support is too close to the top
Slightly unstable
---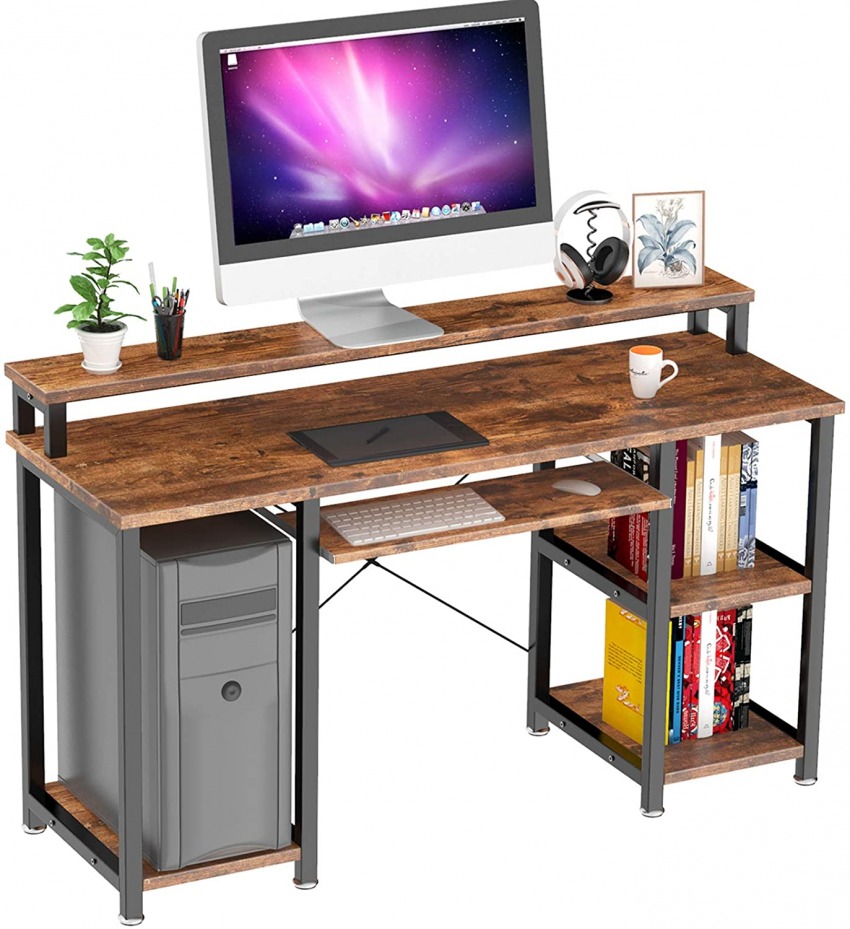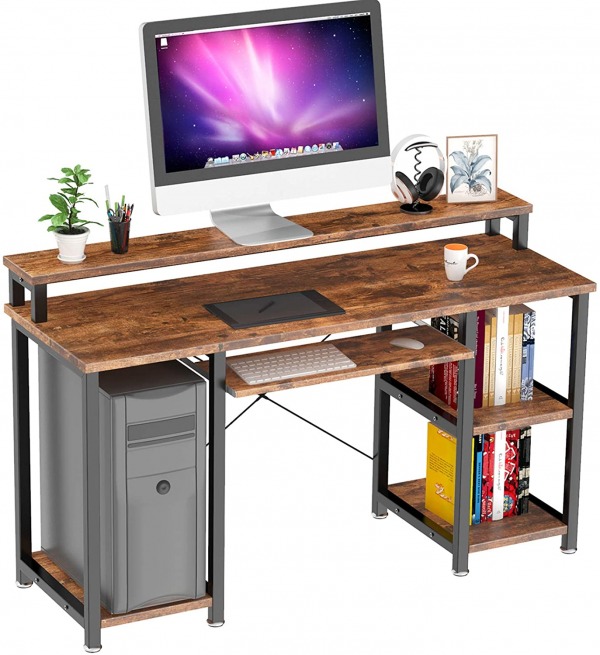 Designed with environment-friendly plates and metal frames, this Noblewell computer desks is a stable and durable product. It enhances stability without harming the floor by having adjustable pad footrests. The monitor can be placed on the raised shelf to allow for increased storage. You can effectively improve your sitting posture by keeping your monitor at eye level.
This keyboard tray features a 23.2-inch pull-out design that is very suitable for use with a keyboard and mouse. Two multifunctional open shelves allow you to store books, office supplies, and computers. There is no extra charge for parts, tools, or instructions for this desk. Computer desks such as this one are available in a variety of designs and sizes and are suitable for many settings such as study rooms, offices, studios, etc. The multifunctional shelves are suitable for a variety of storage requirements.
Features
Steady construction
Keyboard tray and open shelf
Easy assemble
Simple and modern design
Monitor stand shelf
CPU stand
Adjustable leg pads
Pros
Stylish design
Sturdy
Storage shelves for multi-use
Multi-function open shelf
Cons
No instructions manual
The keyboard drawer is hard to assemble
---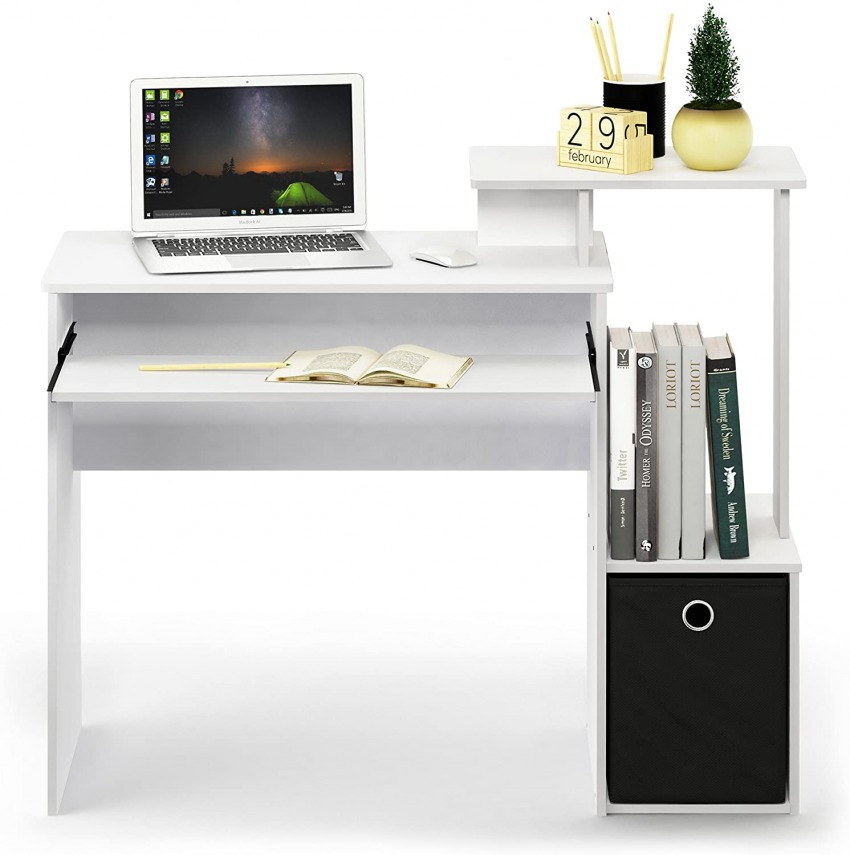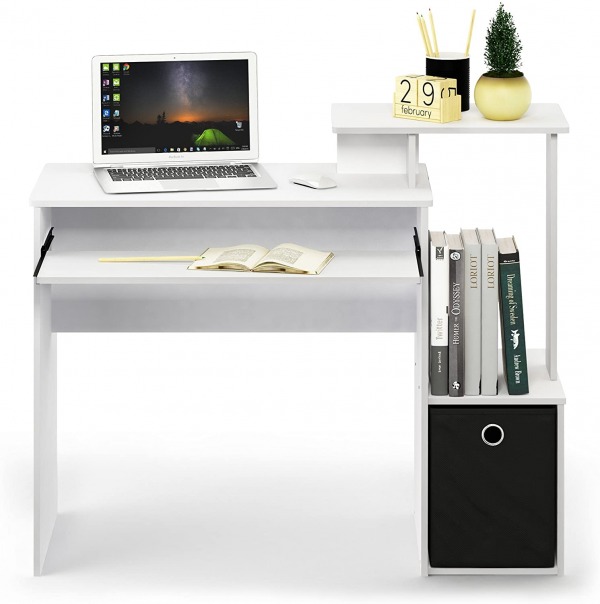 With a three-tier shelf design, this Furinno computer desks maximizes storage space and provides extra space for daily use with high, mid, and low-shelf configurations. Econ's multipurpose home office computer writing desk features a clean curved silhouette and a compact footprint, making it an ideal workspace for a limited space.
The design includes slide-out keyboard drawers for CPU storage, as well as a non-woven drawer. A smooth surface and a well-positioned keyboard tray allow you to work comfortably on your desk while keeping it organized. An easy-to-follow set of instructions makes this computer desk easy to put together.
Features
Keyboard drawer
Storage space
Non-woven bins
Compact stylish design
High-quality durable plastic wood and composite wood
Pros
Round-edged corners to avoid any sudden injuries
Spacious
Fits in small spaces
Little top shelf for light-weight items
Cons
Hard to assemble
Loose keyboard tray
---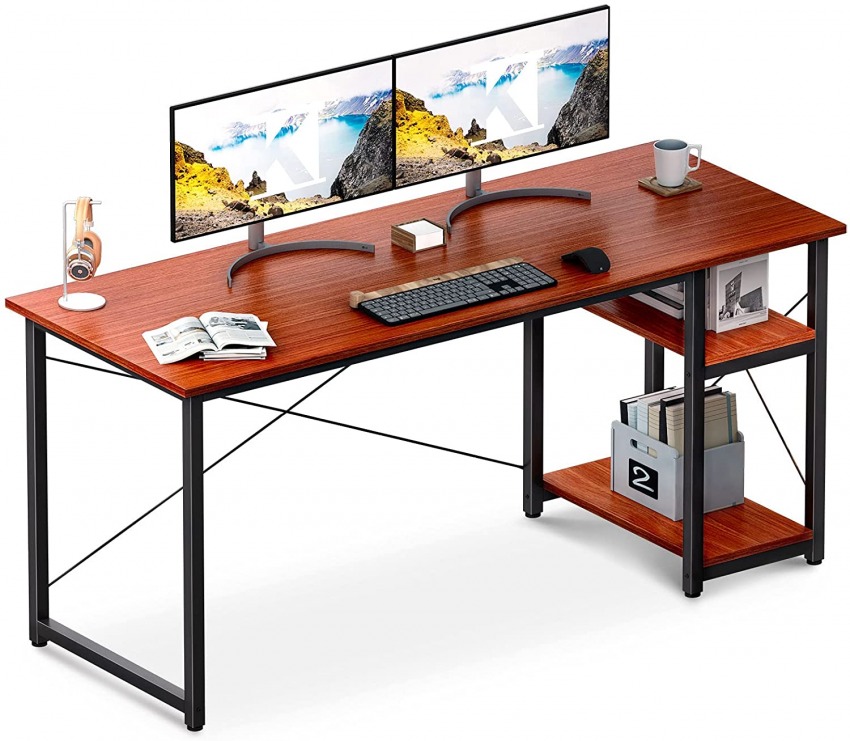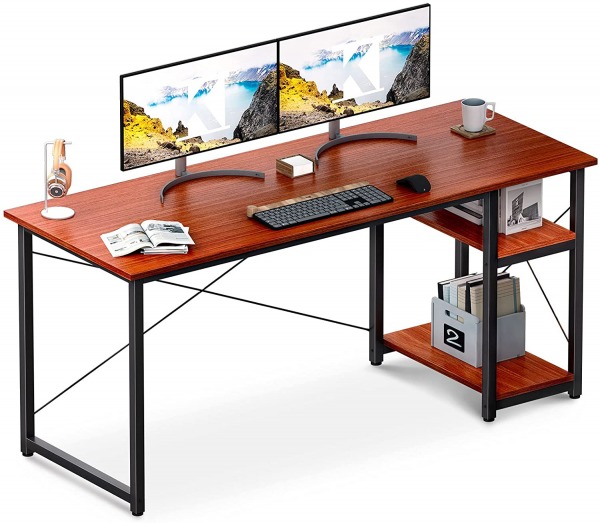 The size of this ODK computer desks is enough to fit 2 computers. The ergonomically designed deck offers the perfect setting for working, reading, or playing games. You have plenty of room to move your hands and feet. You can easily access common objects such as documents, speakers, and other objects. It is enough to store your basic needs on two different height shelves.
With this desk, you'll get installation instructions and tools free of charge, and you can easily assemble this desk by yourself or with your partner. Stronger legs, adjustable footpads, and X-brackets help the desk remain stable. The desktop is made of waterproof and scratch-resistant board. Also, it is easy to clean.
Features
Storage shelves
Vintage design
Stable
Waterproof and scratch-resistant board
Pros
Easy to install
Easy to clean
Budget-friendly
Extremely stable
Cons
Holes aren't aligned properly
Wobbly on carpet
---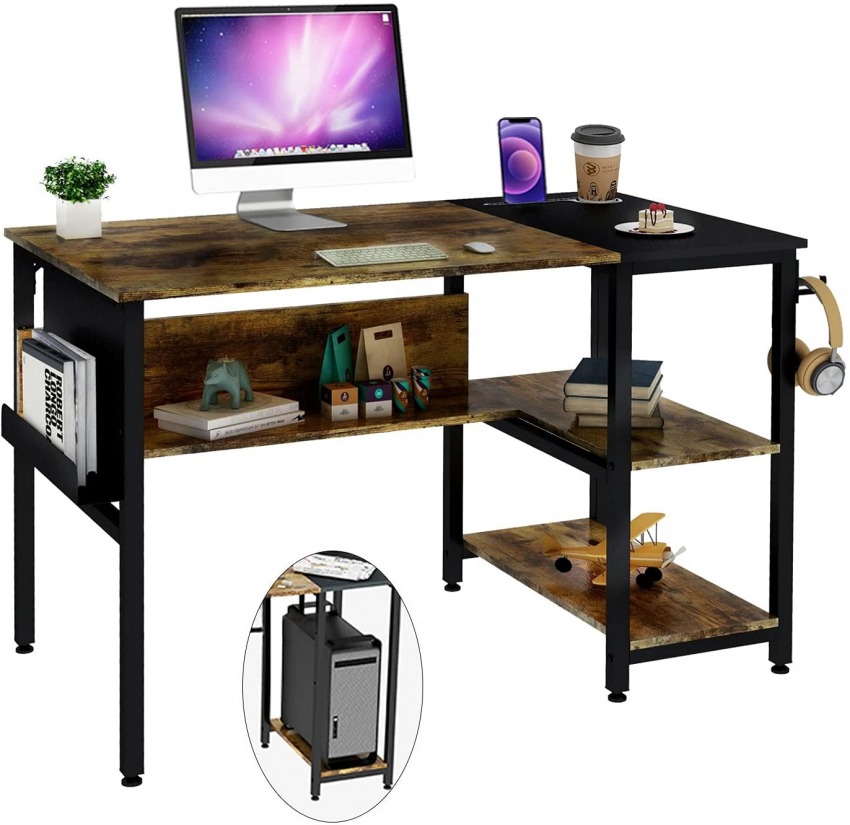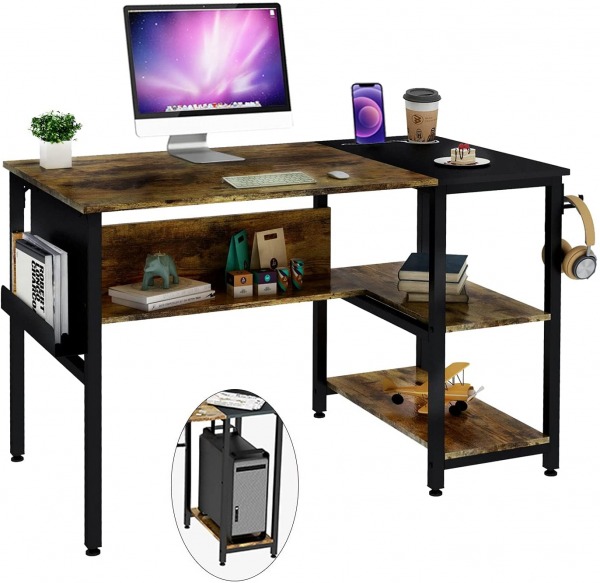 The Frunimall compact computer desk's dimensions are 39.7″ (L) x 23.6″ (W) x 29.5″ (H). The 39-inch frame will fit almost anywhere, easy to transport through doorways and halls. Neatniks may find a smaller desk sufficient, while standard heights can provide optimal legroom. It is a valuable tool in creating an efficient workplace that is comfortable and ergonomic.
The Franimall desk with shelves is constructed of heavy-duty steel metal. As it is built using a triangular support structure and steel pipes with a thickness of 20mm, it is highly stable and solid. The metal legs are sturdy enough to hold heavy parcels that weigh up to nearly 250 pounds. It also features adjustable footpads to increase stability. When it comes to desks that receive heavy use or a high volume of traffic, this is the most durable option.
Features
Durable anti-scratch surfaces
Adjustable foot pads
Shelf for a computer tower
Under table bookshelf
Side magazine holder
Cup and smartphone and pad holder
Headphone/ backpack hook
Pros
Wobble free
Easy to clean
Easy to assemble
Ergonomic design
Cons
---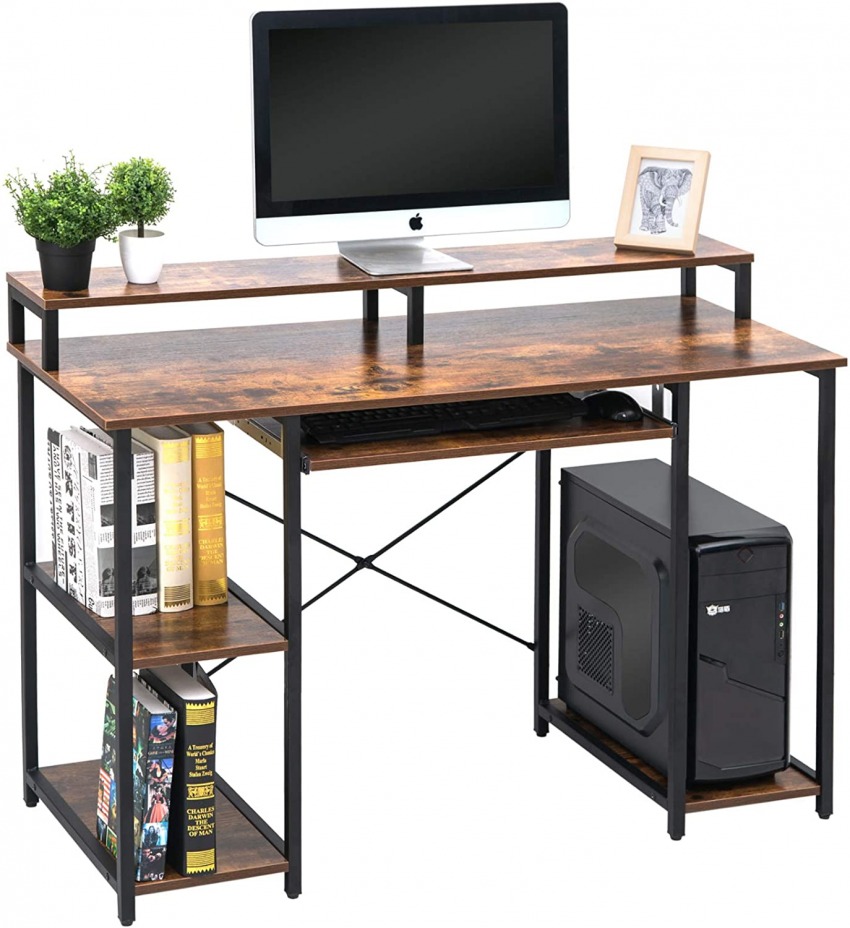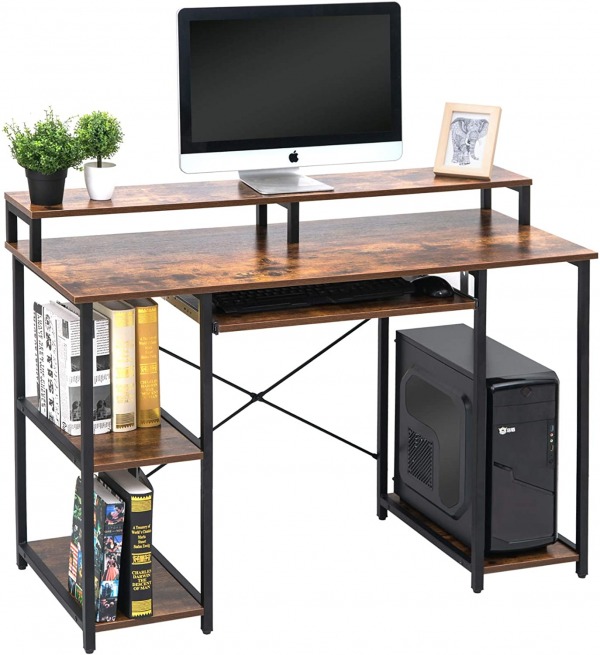 This Topsky office desk is a great option for home as well as for offices. The top is made of P2 class particleboard. It is easy to access your documents, books, and binders with the bookshelf on the side. You can replace the center shelf with another side shelf to accommodate your CPU. it also has a slide-out keyboard tray to save space on the top.
The cross structure design provides stability to the desk and doesn't let it wobble on hard surfaces. It is extremely easy to assemble and will take roughly an hour.
Features
Multi-function open shelf
Wide monitor shelf
Slide-out keyboard tray
Stable cross structure
Pros
Great design
Spacious
Easy to assemble
Budget-friendly
Plenty of legroom
Cons
The keyboard tray is not wide enough
Bottom shelves aren't adjustable
---
How to pick the best office desk?
It is important to choose an office desk that suits you and your needs. In curating this list, we had taken into account some crucial factors including:
Table size
It is important to use a table of the right size. The storage space should be adequate to store all of the items we need for our work. Thus, we recommend a table that is no less than 45 x 23 x 30 inches (L x B x H).
Storage 
Secondly, you need to think about storage. Tables that have at least two drawers or shelves or racks were our top picks. Storage containers are very important for keeping various items safe.
Height of the table
The table must have a minimum height of 26 to 30 inches. Customers can also adjust their office and study chairs to this height correctly.
Conclusion
With our list, we hope you've narrowed your search for the best office desk. What model catches your eye the most? Despite the unbiased nature of this list, we have put a lot of effort into analysis, thorough research, and comprehensive comparison. You should, however, make sure to cross-check the specifications of the office tables listed above before making a purchase.