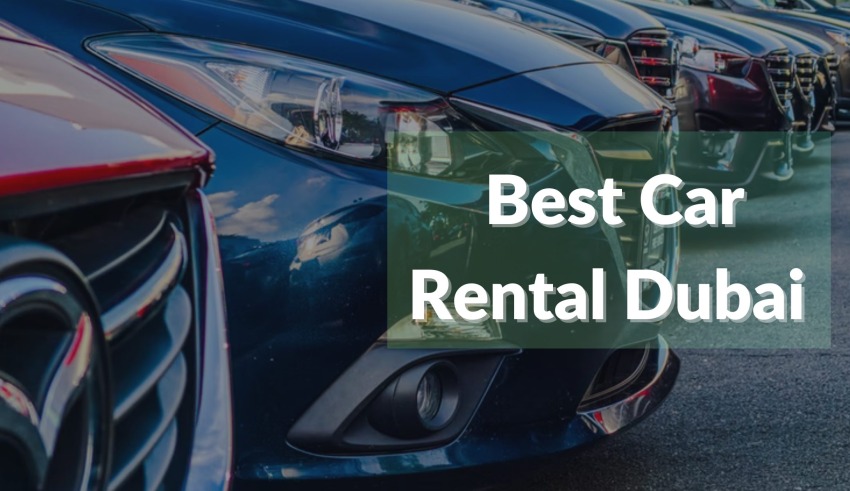 Planning a getaway trip to Dubai? You might wanna rent a car in Dubai, getting around the city has never been easy but you can save yourself a whole world of headache for car rental. Dubai is one of the most popular destinations among tourists and who can blame them?
Dubai has a lot to offer, from the Burj Khalifa to world-class restaurants, theme parks, gardens, and the impressive city skyline and you wanna make sure that you have enough time to explore it all. Car rental in Dubai is pretty simple, you book a car before you arrive in Dubai and choose a location to pick up your vehicle, you can even have it delivered at the airport. Dubai is synonymous with luxury, so you can only imagine what kind of vehicles they'd offer for rent. You can rent a sports car if you like or you can get yourself an SUV if you're traveling with your family. 
Best Car Rental Companies in Dubai: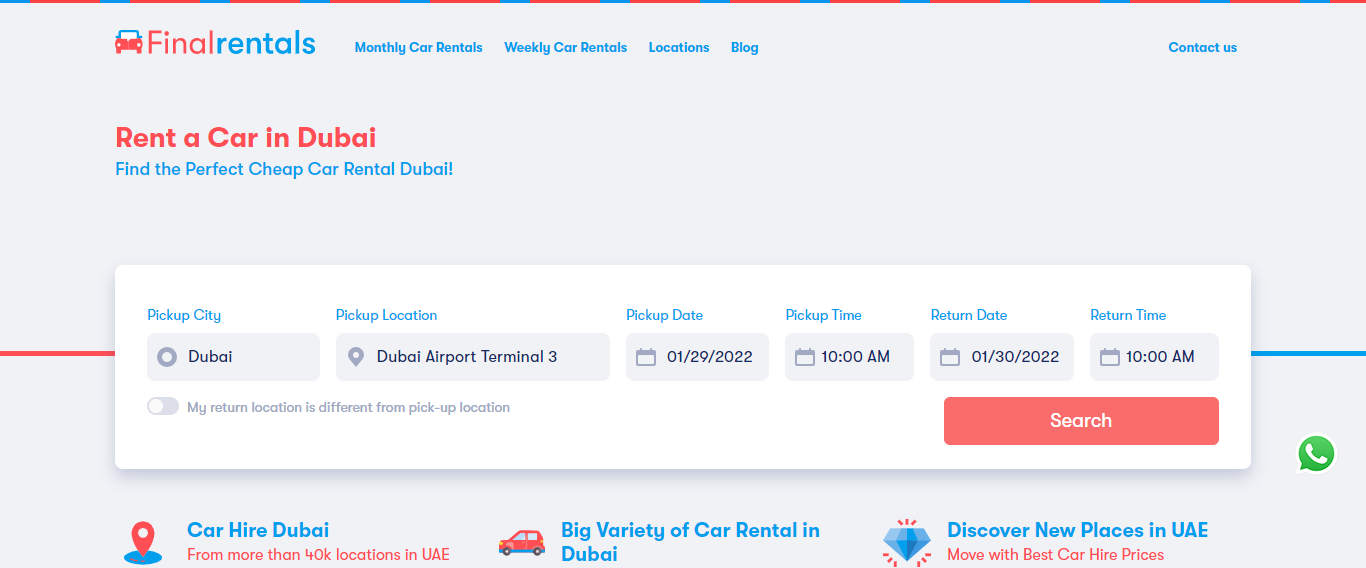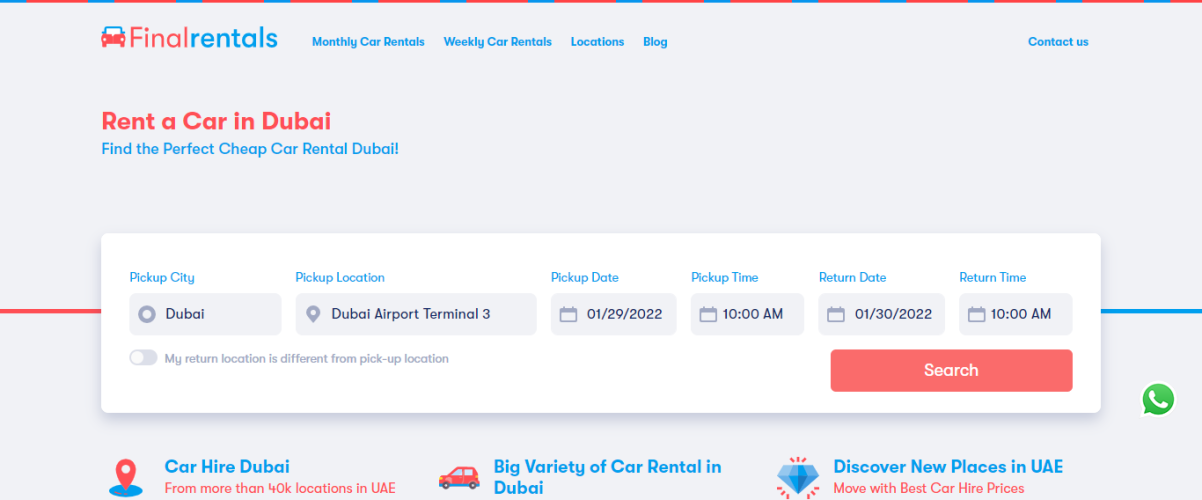 Finalrentals is headquartered in Europe and has multiple offices in UAE and been an established company in Dubai since 2017 and is one of the largest platforms for car rentals in Dubai, they offer over 200k cars from 40k different locations, they provide cheap and affordable cars for rent, they ensure that there is always a wide range of selection for customers, so they have around a thousand cars at their disposal for each customer.
They provide high-quality vehicles for both short and long-term use, Finalrentals claim to prioritize the needs of the customer and try their best to provide them with a personalized rental experience. It is one of the fastest-growing rental brands in the World, they offer affordable prices for their customers and you can even rent your preferred vehicle for months on end without any extra charges, so regardless of your trip duration, you will still be offered a good price.
You are required to pay a small security deposit and are advised to carry the necessary documents with you, a zero cancellation fee policy is offered but it is valid for 12 hours before the pick-up time after that a cancellation is incurred that can vary depending on when the booking is canceled, an extra fee is also charged for airport delivery.
---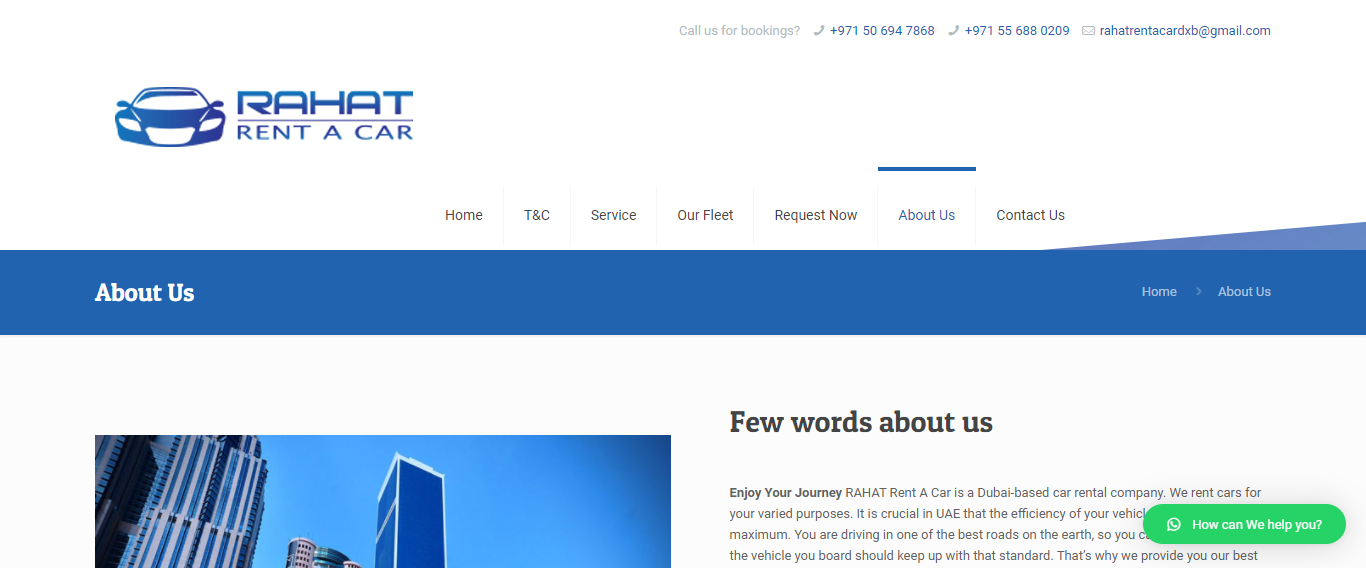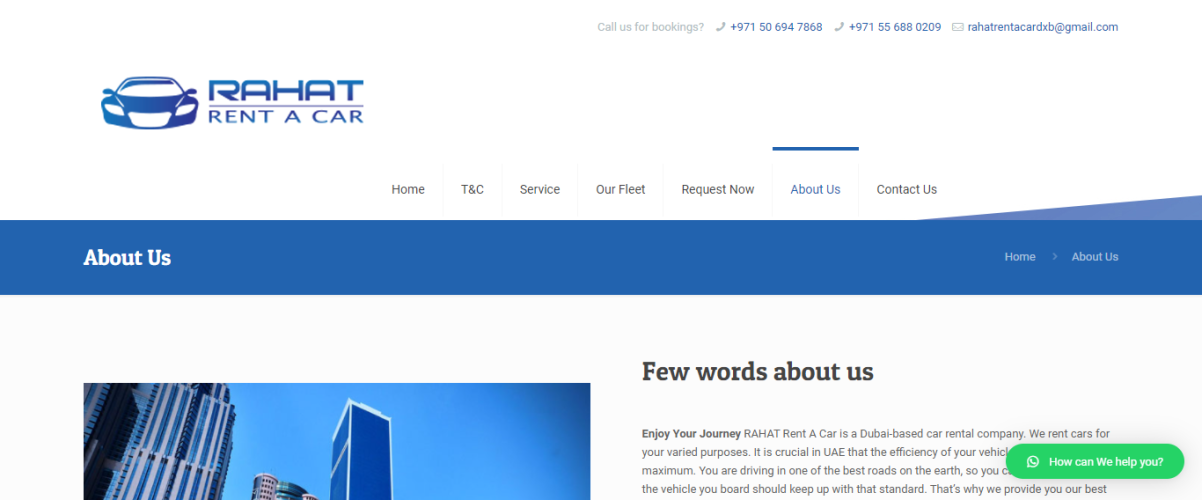 RAHAT Rent A Car is a Dubai-based car rental service that offers 12 pick-up spots in Dubai at affordable prices with a free airport delivery, they offer a variety of packages to pick from- a single day package, weekly package, and a monthly rental package.
They offer excellent customer care services with 24×7 support right after the booking. RAHAT is one of the most affordable rental services and even offers seasonal discounts for their customers, so if your trip to Dubai aligns with their seasonal discounts you can save even more money than you initially thought you would.
You can drive their prices even further if you make a booking in advance, their long-term packages get even cheaper. RAHAT also has some luxury vehicles if you wanna make a lasting impression on a business delegate, there is a large selection of cars from every major international brand, the prices can vary slightly depending on the model year and most cars have tinted windows for an extra bit of privacy as you stroll down the city.
To value their customers' time and money, they offer a hassle-free service that can easily be booked, either on arrival or in advance through their telephone number or their website.
---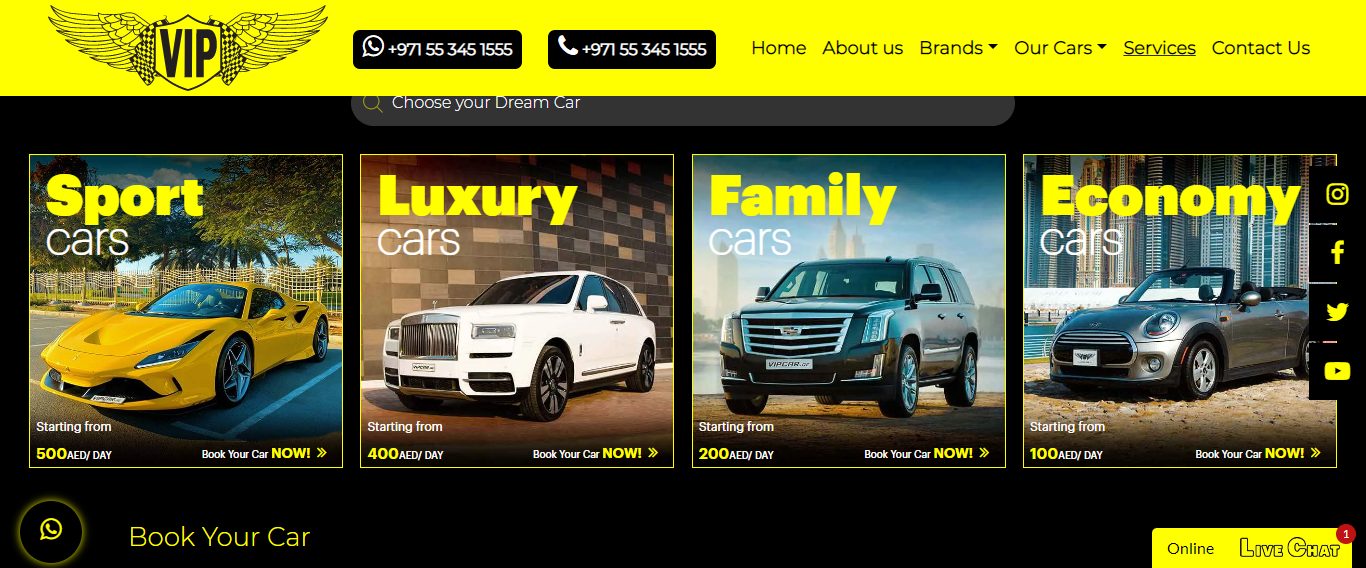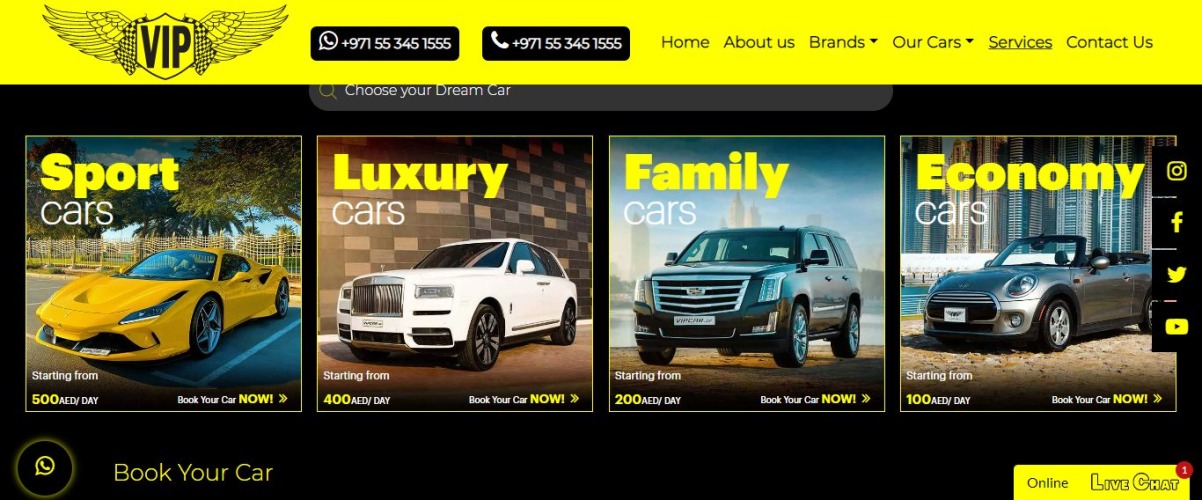 VIP Car Rental headquartered in Dubai has been in the business since 1999 and strongly believes in affordable prices and customer support, they have two branches in Dubai and have seen a constant expansion in business over the years and they're on their way to becoming industry leaders.
They truly offers a wide variety of cars to choose from, they have a large selection in every category of cars, from SUV to Sports cars, Luxury cars, Exotic cars, Jeeps and Economy cars. They also offer a chauffeur service with an airport pickup, so that you can fully enjoy the city and its glamor without worrying about placing your hand at the wheel.
If you aren't looking to impress someone or don't care about a classy experience, you simply want to cruise around town in a modest vehicle then you should look into Mazda convertibles in the economy category that provide a quality experience at an affordable price and with their energy-efficient car engines you don't have to worry about expensive gas bills.
There are no hidden booking charges or commissions and the cars can be booked through the website, phone number, or WhatsApp, with their 24×7 professional customer care you can have any of your concerns addressed ahead of time or during the rental duration as the company understands that you might need additional assistance.
---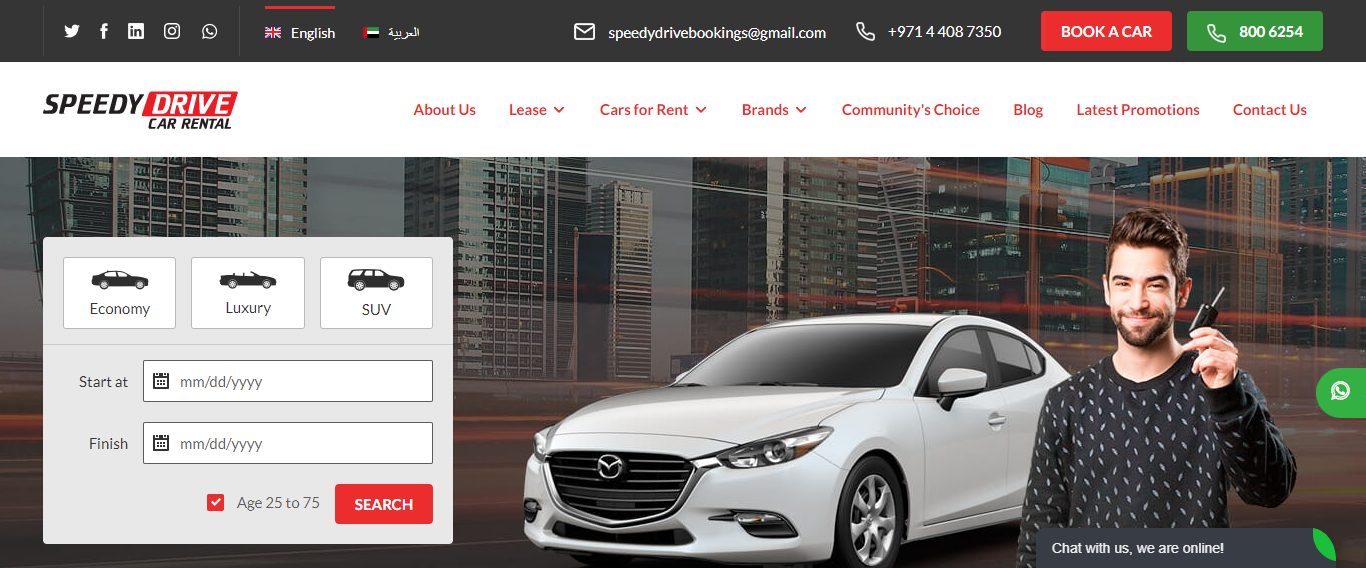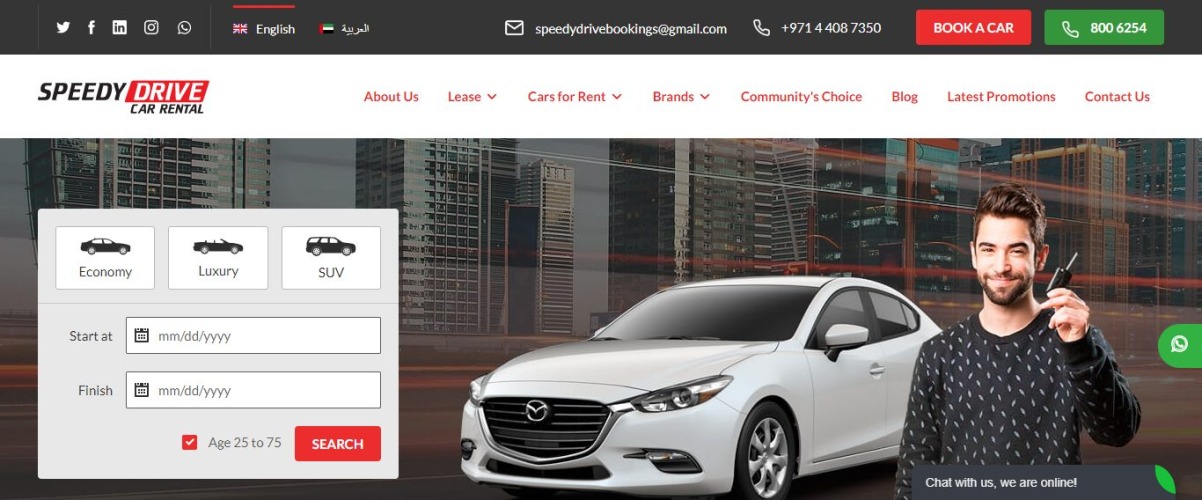 Speedy Drive Car Rental is one of the cheapest providers in Dubai with attractive offers all year round, they pride themselves on providing high-quality services at the cheapest prices, their rental fleet has 1000 cars at their disposal leased from leading global brands with a mix of both economy and luxury vehicles.
Their cheapest plans start from 23 AED/day, Speedy Drive Car Rental is committed to the safety of the customer, and each car is meticulously checked before the rental period to ensure the customer doesn't face any problems and if problems are found, they offer a one-day replacement void of any extra charges.
One of the most amazing features of Speedy Drive is that they offer pick-up at any spot in Dubai whether it is outside of the airport, your hotel, or just a random corner on the street. They claim to be flexible with their customers' requests and offer modifications to the vehicle if demanded including installing booster seats if there is a baby on board.
There are amazing offers available at any time of the year and the prices get even more affordable with the long-term lease package, there are no cancellation fees and no hidden charges, the cars are well maintained and the booking process is hassle-free.
---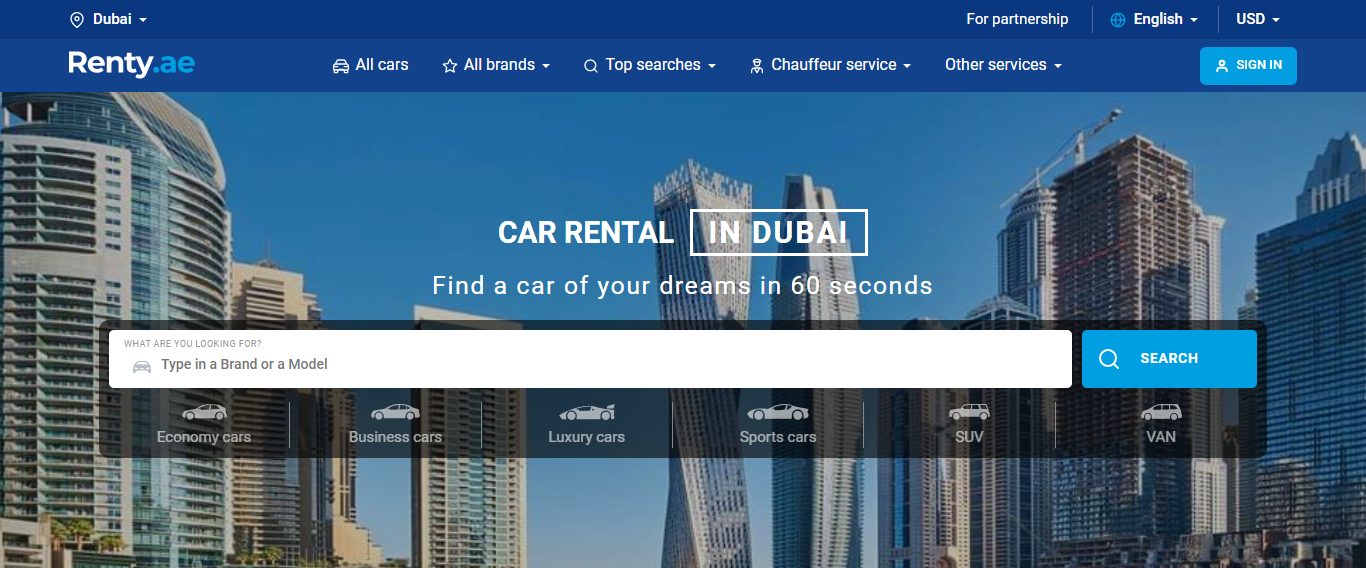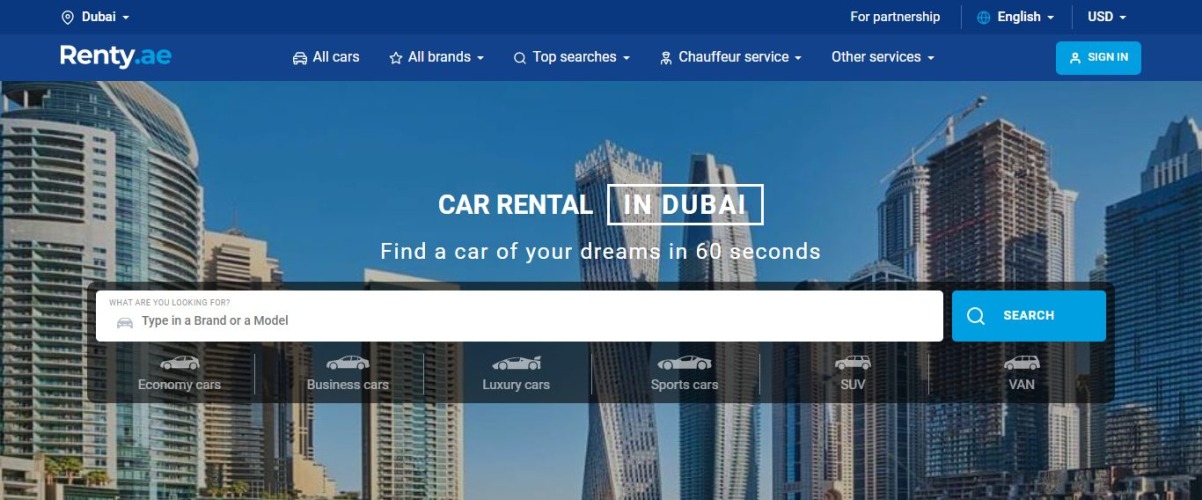 Renty is one the leading car rental services available in Dubai with cars that can be rented for both personal and business needs, the cars are fully tested and checked for any faults before handing over the vehicle to the customer.
They have a chauffeur service if you really want to sell your corporate look and make a sharp impression on your business clients, you could go for something even fancier by booking a limousine to cruise around town, their limousine service is one of the cheapest limo services in Dubai with many recurring customers, the drivers provided by the company are well-trained drivers with years of experience behind the wheel.
They provides comprehensive life and health insurance in case of an accident to both the main driver and the passengers, they does not cover the cost of any traffic violation, the driver is liable for the traffic fine.
Every car listed on the website is in excellent condition and all the vehicles have to undergo an extremely thorough verification process after the testing and checking of the vehicle so that you can book your preferred car without any issue and there are no overlaps with other customers. About 80% of the luxury cars in the rental market in Dubai are available on Renty and you always have the option to compare cars, so that you can better understand your own needs.
---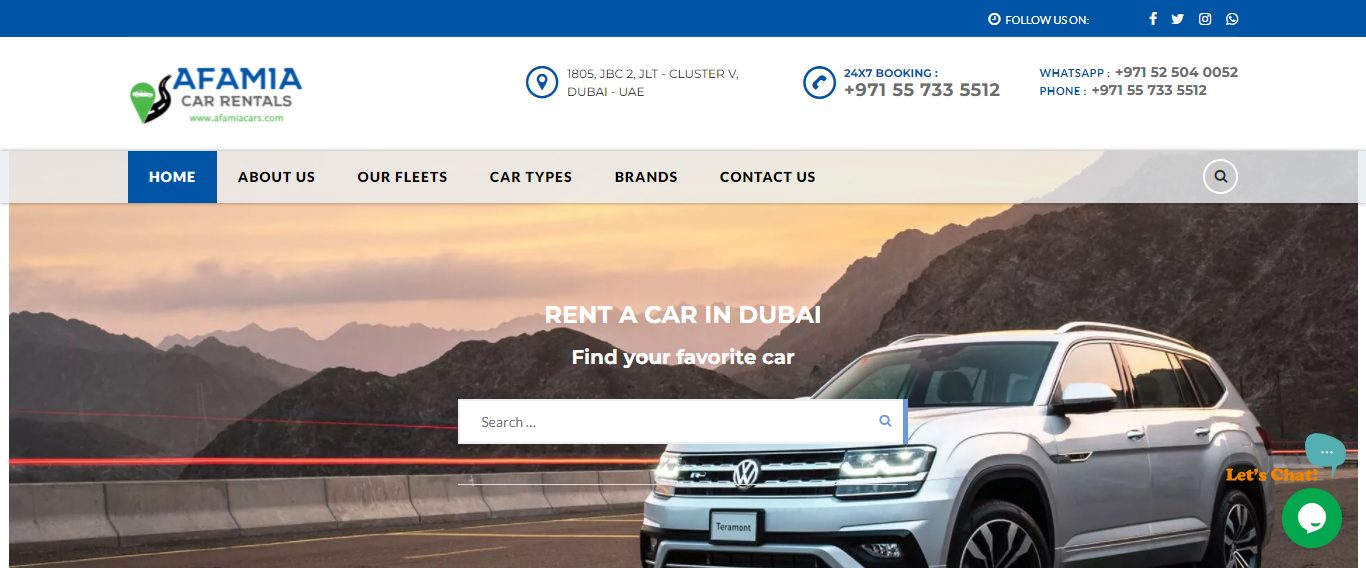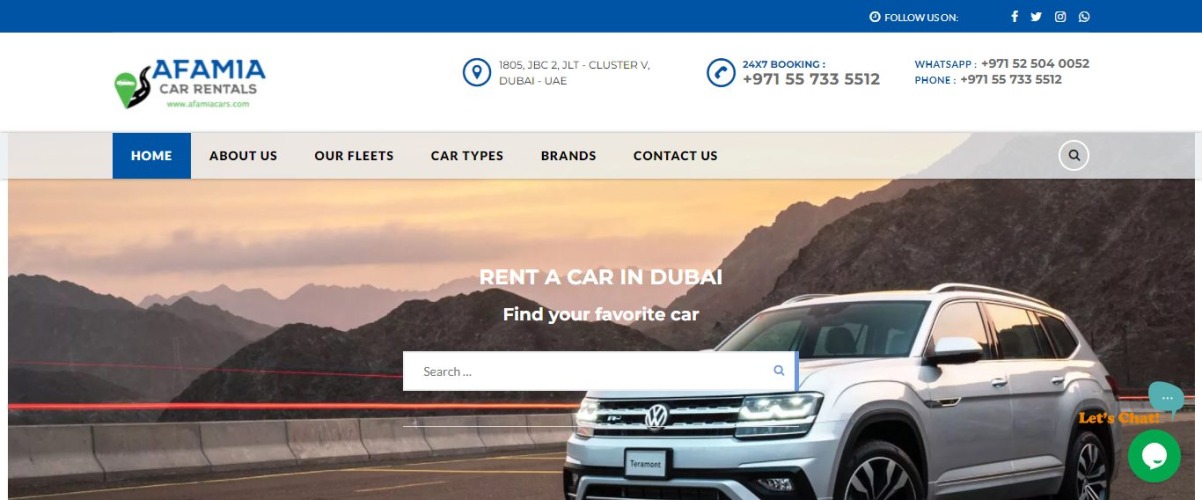 Afamia car rental is one the simplest services that you can use to rent a car in Dubai, Afami is more family and economy-oriented that offers services at very competitive prices with unlimited mileage deals on every package, they have a wide selection of sedans, SUVs, and hatchbacks, they offer the fastest and simplest way to make a booking, with just one single phone call you can rent a car, if you want to simplify it even further, you can use WhatsApp to book a car.
As you can probably already judge by the type of vehicles available for booking, they cater to people who are traveling with a large group of people, either their family or friends and are looking for a budget-friendly and affordable experience, if you are in Dubai for a month or so, you can choose their monthly for even lower prices and remember that you can get unlimited mileage deal with every package.
You can get a modest Toyota SUV for a family trip where you can have all the space that you want in the world or you can get something a little more flashy like a Jeep if you're gonna be drunk all night partying with your friends and need a ride that matches the spirit of your youth.
---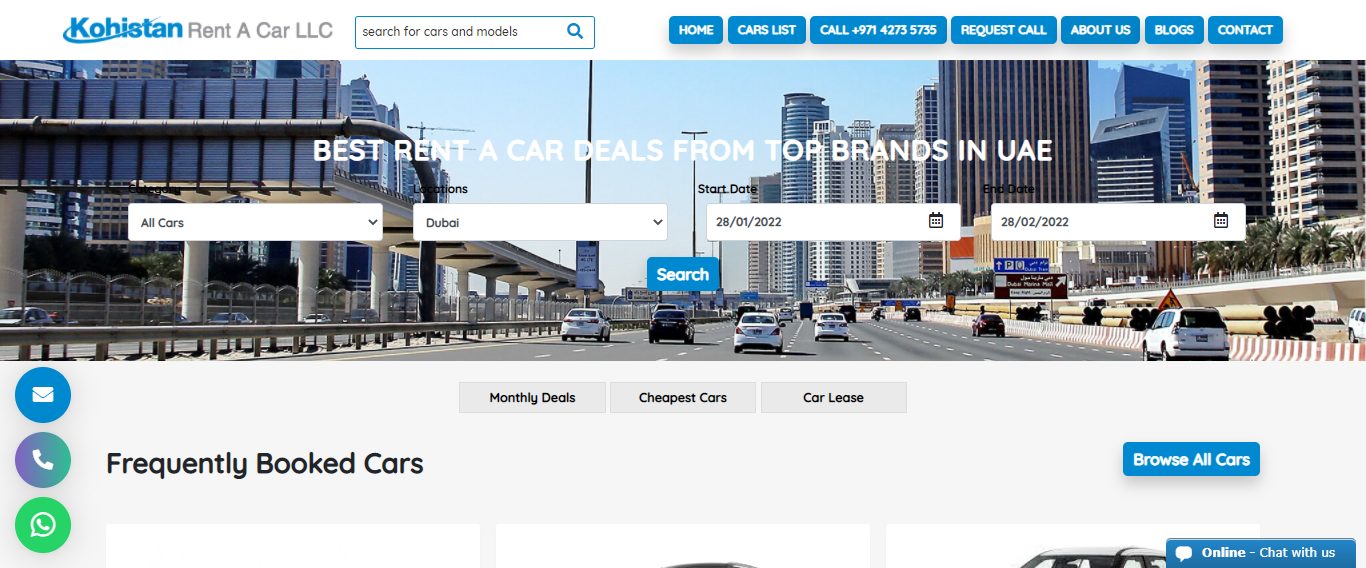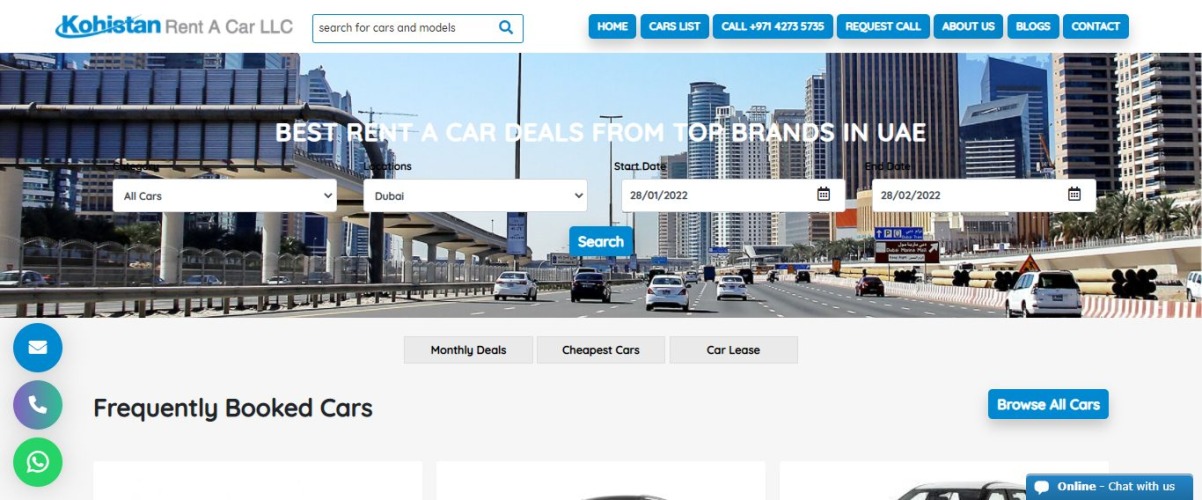 Koshistan is a company that aims to provide its customer with unmatched customer service and the best possible experience in the car rental industry, the company is committed to its customers and can be found on every social media with very responsive agents with whom you can get in touch with you at any given moment and are very easy to contact, their prices and services are quite flexible and they try their best to cater to their customers' needs.
They have a constantly expanding fleet of cars. They can be approached by businesses as well if they wish to rent out buses or large vans for their staff for transportation to and from hotels and airports. Koshistan is also compatible with companies looking to organize tours in Dubai and they are well equipped to handle any transportation needs at very affordable prices, you are guaranteed to be treated with extreme professionalism and personalized customer support that is available 24×7.
They offer a free pick-up and delivery service anywhere in Dubai and the passengers are also covered under a life and health insurance policy. Koshistan strives for customer satisfaction and comfort to gain recurring customers that will continue to rely on them for their transportation needs.
---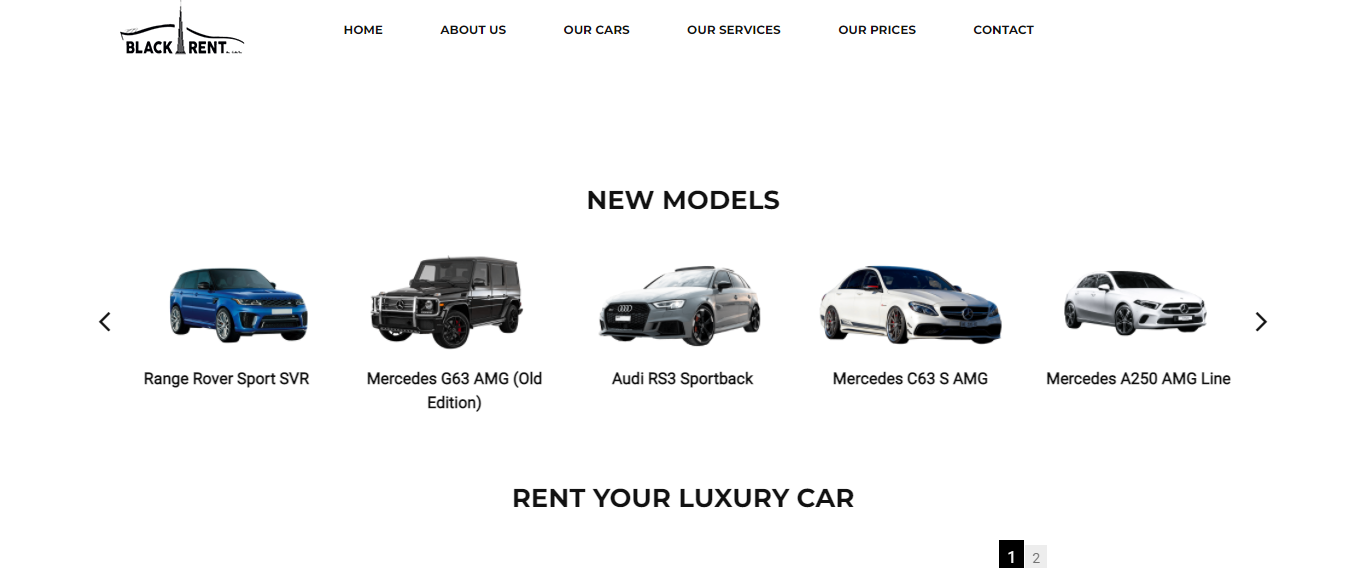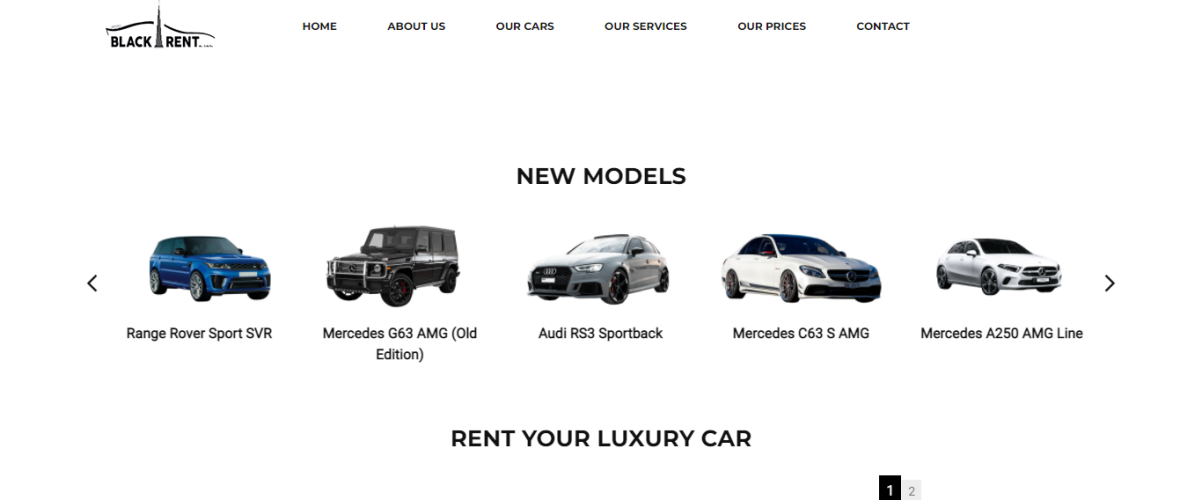 Blackrent Dubai is a company that exclusively deals with renting out luxury and exotic cars, any luxury car that you can find online can be booked through Blackrent Dubai. Originally from Switzerland the company has expanded its operations to Dubai and is one of the leading companies when it comes to luxury cars, they have a jaw-dropping selection of cars to select from, and rest assured you can't go wrong with any of their cars.
They also have an exceptional chauffeur service that you can use in case you forgot your driver's license or if you can't drive for any reason at all, you are entitled to airport delivery and pick-up. This service is perfect for someone who is looking to have the time of their lives, you can throw a wild birthday party full of exotic cars and an unforgettable evening.
The company understands the appeal of their brand is very compatible with such events and works with the customer to provide a customized solution and ensures that their customers are satisfied. Even top influencers in Dubai are known to have contacted Blackrent Dubai for organizing similar events so, you know that you are headed in the direction for a wild night.
---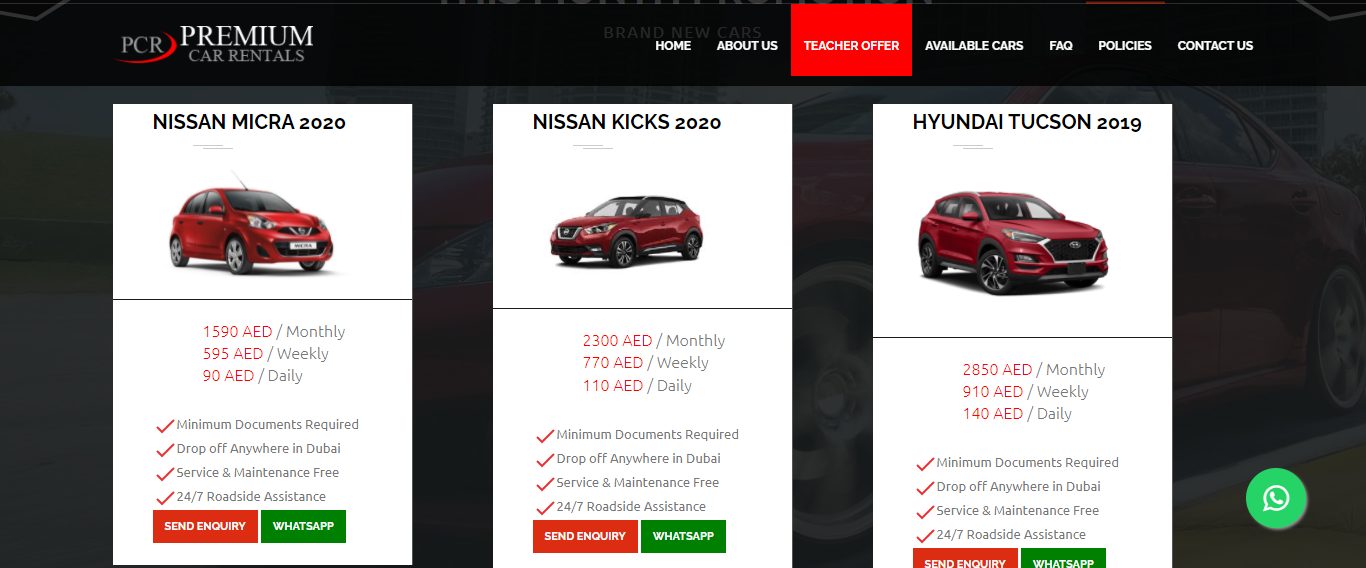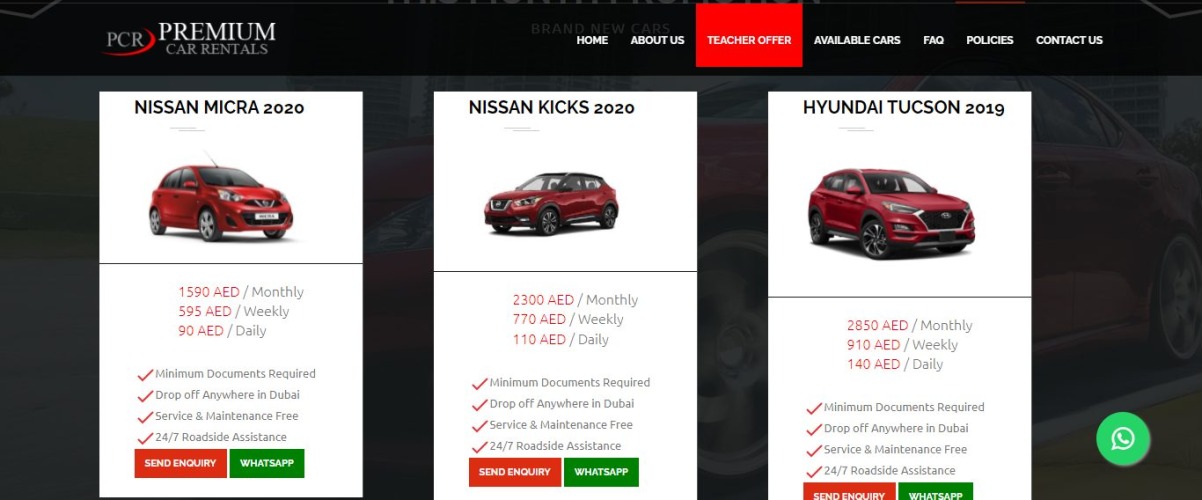 Premium Car Rentals as the name suggests is committed to providing their customers with a premium experience. They have extremely cheap prices for economy cars and they claim that no car in their catalog is older than 3 years, they believe in providing a safe and comfortable experience, every car is subjected to regular tests and checked for proper wheel alignment, interior cleaning, and regularly flushing the engine.
Premium Car Rentals optimize their services for hassle-free bookings, they appreciate getting on the road swiftly just as much as the customers, they ensure fast delivery and pick-up and even cater to walk-in customers and urgent last-minute requests. 
They are flexible on every level of the process, from selection to payment, they offer 24×7 customer service to further assist you. Add-ons can easily be added to the existing package with ease, the customer care is easy to approach and is dedicated to helping you in any way they can including giving out directions if you get lost in the city and general help with navigation.
They have multiple payment options and you can choose the one that works the best for you. Premium Car Rentals has a large fleet of cars so there will never be a situation where you won't get a car regardless of how last minute the request may be, you can always count on PCR to get you your preferred vehicle within a blink of an eye.
---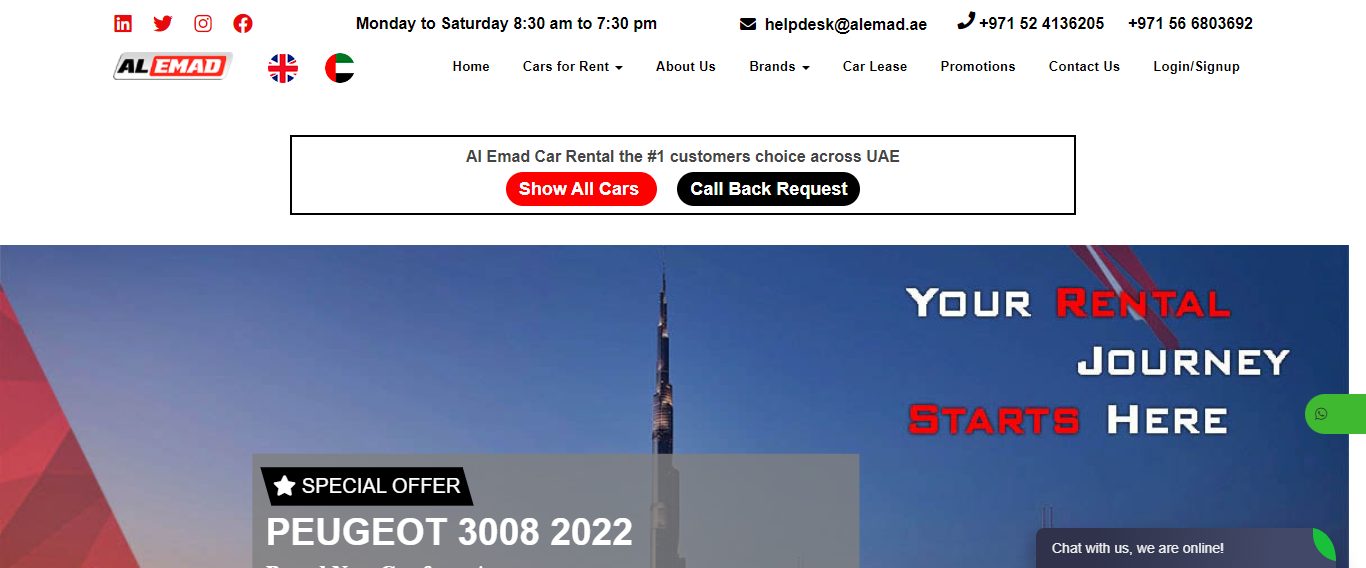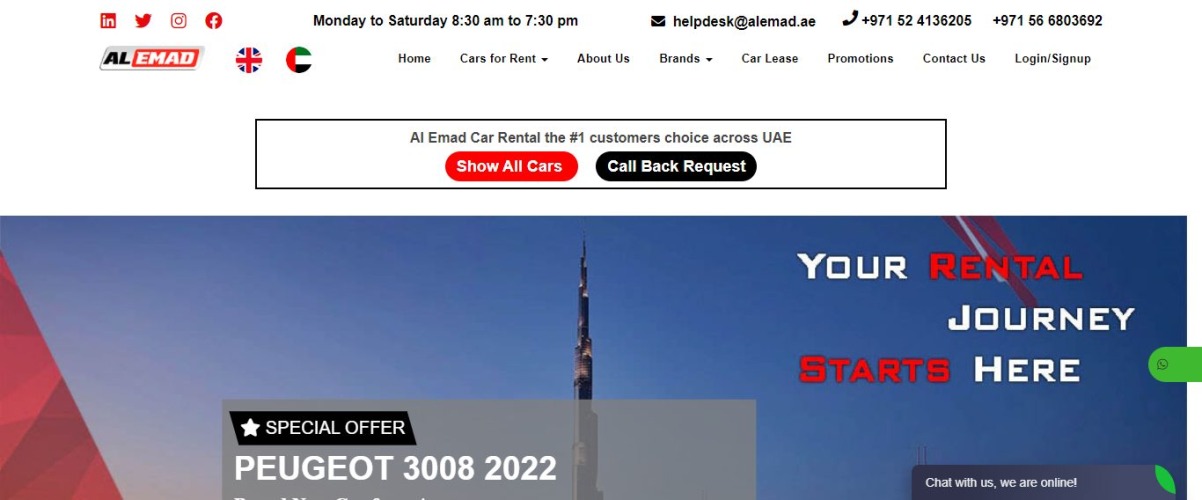 Al Emad truly offers the most affordable prices on rental cars in Dubai, you can get yourself a car for as cheap as 60 AED/day. They are committed to providing their customers with the best possible experience that they are capable of; the staff is determined to help you in any way that they can including answering your queries and concerns at any time and offering simplified and minimal paperwork so that you drive away within minutes. They offer unmatched flexibility to address any and every need of the customer.
Their services are designed to be convenient for the average customer and offer excellent prices on both short and long-term packages that are adjustable and can further be customized for a more personalized experience. They also have special discounts that are available during festive seasons.
Take full advantage of their wide selection of cars to find the one that can match your vibe on your trip. If you have a corporate demand then you can negotiate with any one of their agents anytime to come to an even more reasonable price for your business agenda, you are guaranteed to be left satisfied regardless of the nature of the demand.
Conclusion
Regardless of the nature of your visit to Dubai, you are always going to need a car to get around town more conveniently and the best way to obtain a car in a foreign land is to get rent one, no matter what kind of car you need there is always going to be at least one company in Dubai that has exactly what you need, whether it's a personal demand or a corporate, you can always find a company that offers the required service at an affordable price. Just remember to refer to our list to find the best car rental Dubai.