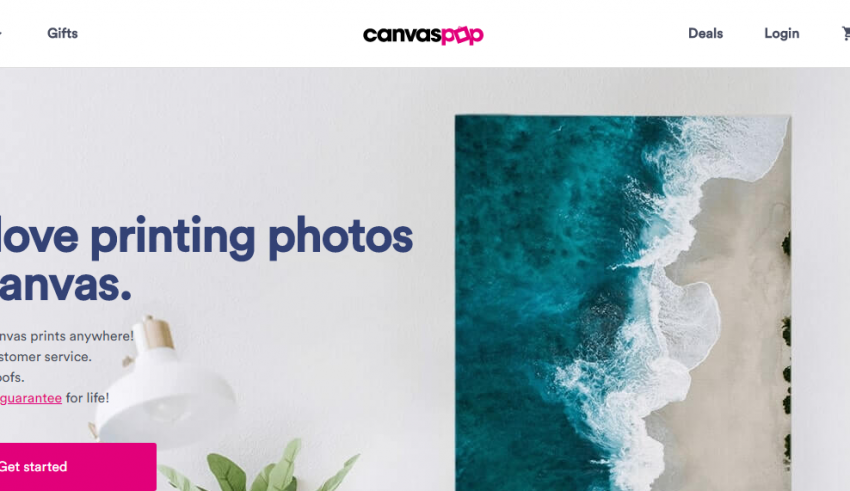 Canvas Pop is one of the best canvas printing services available on the internet. Basically, you can get your favorite photographs from Instagram or other social media printed on canvas through this website. Then you can display it like a painting anywhere in your house or office. This is a perfect way to preserve your memories and lend a personal touch to the space around you.
Canvas Pop is known for its service and print quality, but if you need to know more about this website, we are at your service. Here, we provide a detailed review of their website and final product, so you can make a final decision only after knowing all the facts. As there are numerous such photo printing websites on the internet, you should check out the reviews before opting for one of them.
Exploring Canvas Pop
If you visit their website, you will find it to be very bright and colorful, with some samples on display to help you get an idea of how your product will turn out. They have really reasonable prices, if budget is a concern for you. And they also have discounts and offers to ease your pocket a little more. All you have to do is choose the image you want printed, and sit back while they do the work.
On first look, Canvas Pop does not seem very different from all other canvas printing websites available on the market. But when you take a closer look at their options, you will find that they have many more varieties of products than are found in general. From print sizes to specialized products, you will find a lot more on offer here. They have easy ordering, quick turnaround time and good print quality. That's all you need really.
Placing Your Order
Placing an order can be achieved in a few easy steps on the Canvas Pop website. All you have to do is upload the picture of your choice on their website. This can be done from your computer as well as directly from your social media profile. The second step includes choosing a size, frame, filter, effect and making your image better and brighter.
After you have decided on the perfect look for your photograph, you can opt for a digital proof of what it will look like when it arrives at your doorstep. The preview will help you understand how the end result will turn out and you can make further changes if you do not like it completely. Once you place your order, just sit back and relax until the order comes home.
Things to Like
The print quality on Canvas Pop is good and consistent. Even if your photo has a low resolution, they ensure that the end product does not look stretched or pixelated. However, it is always advisable to choose a photograph with high resolution for a better effect. The shipping is completed within the specified amount of time and you are unlikely to face any unprecedented delays. You can also opt for the expedited shipping option for quicker service.
The photograph comes with two nails that you can use to hang it up, which is more than you can say for a few other similar websites where they charge extra to provide the hanging tools. They generally have a 50 percent discount coupon ready for the customers, which will make you feel like you saved a decent amount of money on your order.
The effects and filters available are varied and cater to almost every need of the customer. You will also get many size options, from small to quite big. They are transparent about their service and turnaround time, so you can make an informed decision before investing any money.
Pros
Varied edit and effect options
Wide range of size and frame choices
Discounts available almost all year round
Fine quality of print
Hanging tools available without extra charge
Things Not to Like
One small thing that might bother you about Canvas Pop is that they take a longer turnaround time for their products, but they are extremely transparent about that. To view your preview, you will have to wait for up to three days, as it is manually checked and produced for your benefit. That amount of time cannot be expedited even if you are willing to pay extra. After viewing the preview, you can submit the final approval.
Some of their prices might seem high if you are not a professional photographer. Although they have good discounts on offer, you will find that the products are mid to high range.
In certain products, a little portion of the photograph seemed to go inside the borders. Although that is hardly noticeable, it may stand out in professional places as a mark of compromised quality. The canvas quality is quite regular but you have to pay more if you want the more fancy ones.
Cons
Prices may seem high on occasion
Lack of professional finish in some products
Preview takes a long time to be generated
More suitable for amateurs than professionals
Final Thoughts
Overall, Canvas Pop is a very user friendly website that lets you get your personal photographs on canvas at a reasonable price and decent quality. More often than not, customers turn out to be very happy with the products they receive. You should definitely give a try to their services if you do not have a great hurry and are willing to spend for a good quality end product.
Their prints are not blurry or shabby, and you will have no complains about the resolution of the painting. For a regular person looking to lend a personal touch to their home or office, this is a really good option and should be definitely considered. For professional photographers, you might want to look a little more into the finishing and borders of your photograph.
All things considered, it is unlikely that you will be disappointed with your experience with Canvas Pop. So, go ahead and give them a try.