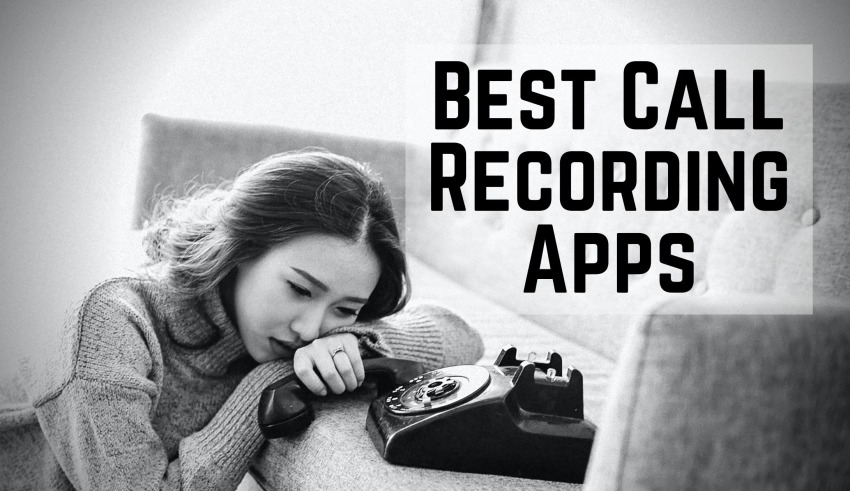 From work-related calls to calls with loved ones, be it short or long, we do unlimited calls every day. There are times when we might want to record some of those calls due to several valid reasons.  Whether it's an important brainstorming session with colleagues or an important discussion with business partners, there are instances when we want to keep a record of those conversations. We have listed some of the best call-recording apps. The best way to do so is by keeping records of them in the form of call recordings. After all, we never know when those call records may come in handy in the future. Such recordings also become important as we can refer to them later.
"Oh! If only I'd have recorded the call!"
If you are here reading this article, there must have been times when you might have said this to yourself in dissatisfaction. It is one of those little situations that might leave you frustrated for months, years, or sometimes even for a lifetime. But not anymore! 
You can fix this problem instantly either by using the in-built call recording feature on your smartphone or by using call recording apps available on the internet.
Fortunately, technology today has become much advanced and as a result, smartphones are now graced with several robust and intuitive features, including the call recording feature. But, this option of using the in-built call recording feature is not applicable in most cases because even today most smartphones do not house this functionality.
Most android phones don't have a call recording feature that allows you to record calls automatically. Similarly, since call recording is not legal in some countries, Apple also does not provide the call recording feature or app in its iPhones.
So, if you need such functionality and your smartphone lacks such an in-built feature, you can now take the help of call recording apps for Android and iOS. There are plenty of apps available on the internet that can help you record calls easily. 
However, with so many options available choosing the right one becomes crucial as they all claim to do the same thing. It becomes very important to choose an app that is both safe and reliable as you need to make sure that your data do not get compromised.
Well, worry not because, in this article, we will be reviewing the 10 Best Call Recording Apps for Android and iOS: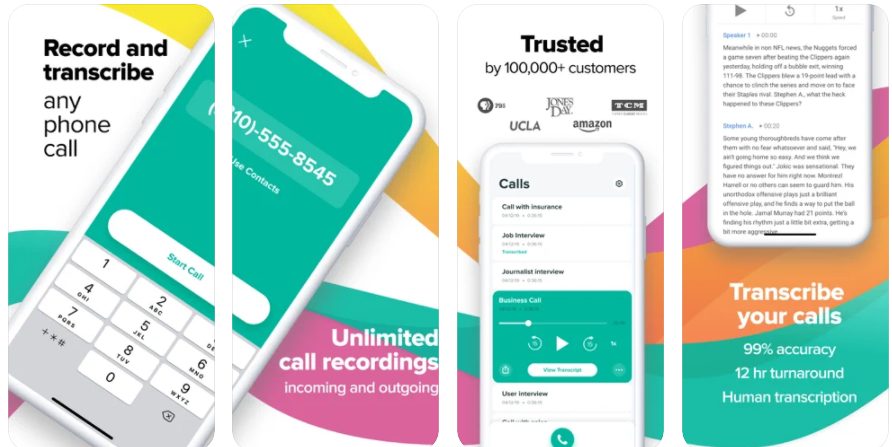 Trusted by over 170,000+ users all over the world, Rev Call Recorder is the best app to record any calls on the iPhone. It supports the recording of both incoming and outgoing calls. 
The best part about the app is its integrated transcription feature. Using this feature, users can get their recorded calls transcribed by Rev's team of experts. The human transcriptionists will deliver you the transcripted files within 12 hours. All these things make it one of the best call recording apps for journalists, writers, podcasters, creators, and almost everyone.
Features:
Allows users to share recordings and transcripts through email, dropbox, and more.

The quality of recording and playback is unquestionably top-notch.

It ensures no problems related to fumbling over a call or merging with other apps.

It has a very user-friendly interface and thus, is very easy to use.
Pricing:
Rev Call Recorder is completely free to use. It offers unlimited recording and users can record calls as much as they like without any limits. Also, there are no hidden fees or ads. In case of transcription of recordings, transcription is charged per minute of audio
---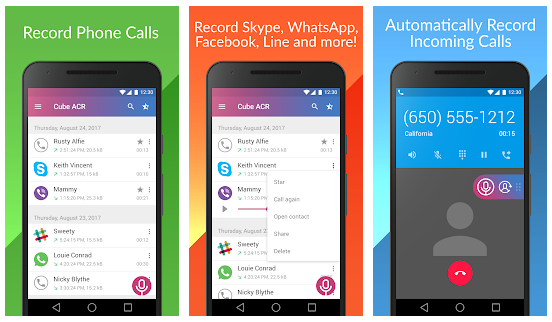 Cube ACR claims its call recorder app to be the most technically advanced call recorder to date. Now, after analyzing, comparing, and taking it for a test drive through several parameters, we are bound to say that the app justifies its tagline. From phone calls to VoIP, you can record everything using this app.
Not only this, but cube call recorder also supports recording for Phone calls, Signal, Skype, Viber, WhatsApp, Hangouts, Facebook, etc. One of the reasons, which makes it one of the best call-recording apps is that it's compatible with most versions of android devices. Also, the app makes sure that you can record your calls and conversations in the best possible quality.
Features:
It allows to automatically record calls the moment it starts which makes it very easy to use.

Custom select contacts for people whose calls you want to always automatically record.

Custom create an exclusion list of people whose calls you don't want to get recorded automatically.

It also offers a manual recording feature to record only selected conversations.

It has an in-built file explorer that allows users to play, delete, and manage their recorded calls. 

Enen, It Also allows exporting to other services or devices.

It offers a quick-access feature to star important recordings and filters them for easy access.

Users can call back and open contacts from the app itself.
Pricing:
The app is completely free to use and you can enjoy all the above-listed features without paying any extra money. Apart from this, the app also has a premium version. 
---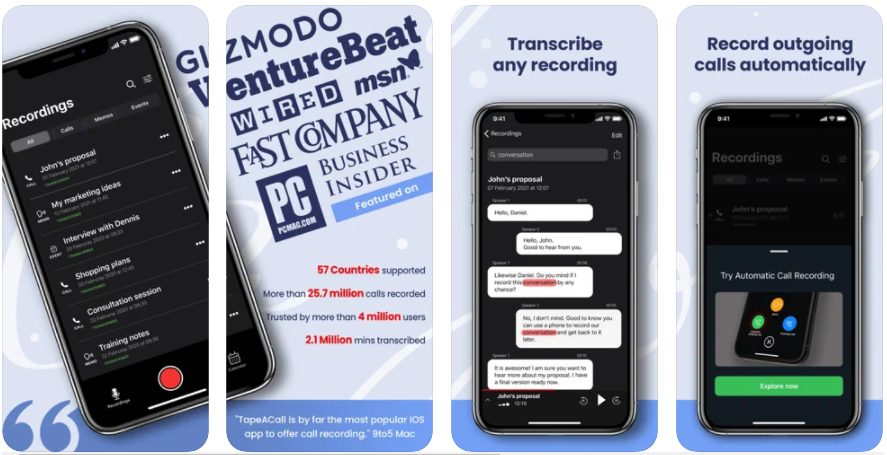 If you have already tried multiple applications for recording calls and still didn't get the desired results, try TapeACall, it just works the best for iPhones. Not only it is one of the best iphone call recording apps but also a no. 1 business app in most parts of the world.
Features:
It has a beautiful and easy-to-use interface.

Users get to record unlimited calls with crystal clear sound quality.

Allows users to share recordings via SMS, Facebook, Twitter, etc.

Easy downloading and uploading options of recordings to Dropbox, Evernote, and Google Drive.

Easy access and playing of recordings in the background.
Pricing:
It is not a free-to-use app and, it costs $10.99 for a year. The price is worth it because the makers keep updating and improving the app at regular intervals for a better and smoother user experience. 
---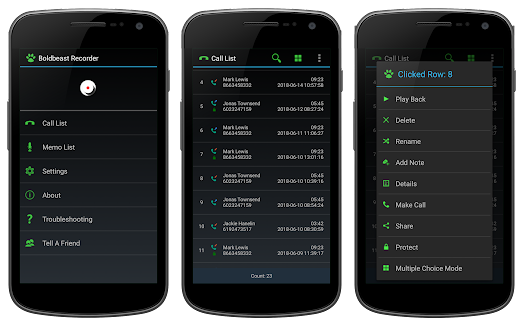 Boldbeast Call Recorder is one of the best options for auto and manual recording of calls on android. One of the reasons that makes it a phenomenal call recorder is its wide compatibility with almost every Android device. It supports call recording on all Android 10 and 11 version smartphones like Samsung S series, A series, Note, etc. It also supports the recording of calls on devices such as Sony, Huawei, Nokia, Moto, LG, Xiaomi, OnePlus, etc. Also, the app contains no advertisements or any click baits, which makes it a very legit and safe app.
Features:
Users can record phone calls, voice memos, meetings, lectures, interviews, etc.

It offers options to search, playback, delete, add notes, share, and altogether manage the recordings.

It offers smart recordings options to save recordings either into the phone storage, the SD card, or any particular folder.

Its auto-backup feature saves recordings to the linked cloud drive (Google Drive / Dropbox).
Pricing:
Not only this call recorder app is free to use, but it also offers an advertisement-free user experience. Apart from this, it also has some advanced features to offer, which come with the app's PRO version only. 
---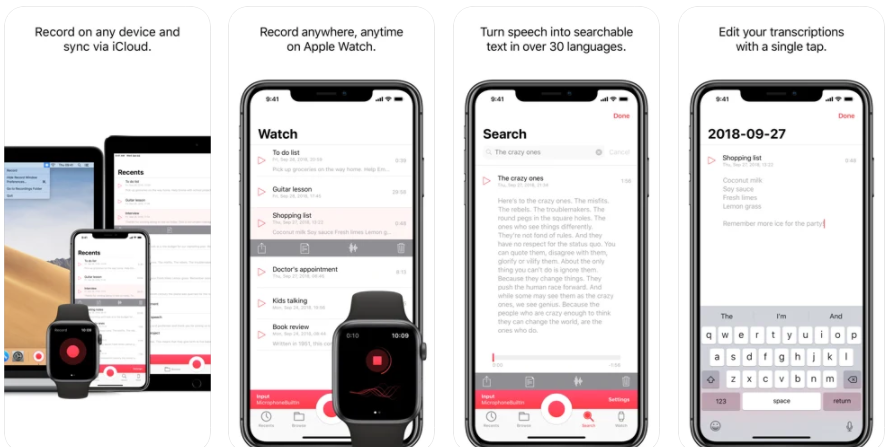 Just Press Record is the ultimate iPhone call recording apps using which you can record, transcription, and iCloud sync all your calls effortlessly, all in one place. It is one of the finest call recording apps for iOS devices because, unlike other apps, it allows you to record calls on iPhones, iPads, and even Apple watches.
Features:
Easy to use tap feature to start/stop a recording.

It offers users VoiceOver support throughout the app.

Allows sharing of recordings to social media, to iTunes, Mac, or PC.

Cut, correct, add and edit recordings and transcriptions.

View, browse, search, quick access, rename, and organize recordings.
Pricing:
This is a paid app and costs $4.99 for a year.
---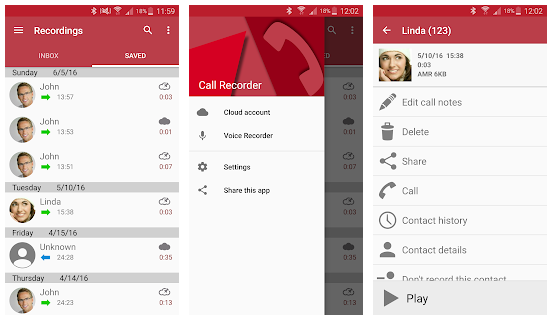 Automatic Call Recorder is arguably one of the best of its kind for Android devices, which is why it is on this list. The app allows users to listen, add notes, and share recordings, all in one place. It allows easy saving and synchronizing of recordings due to its integration with Google Drive and Dropbox.
It is one of the best auto call recording apps and operates on four different recording settings. They are as follows:
Record everything (default) – This option automatically records all calls except for pre-selected ignored contacts.

Ignore everything – This option ignores all calls except for contacts pre-selected to be recorded.
Pricing:
It is a free and easy-to-use app. It contains ads. There's also a paid version of the app.
---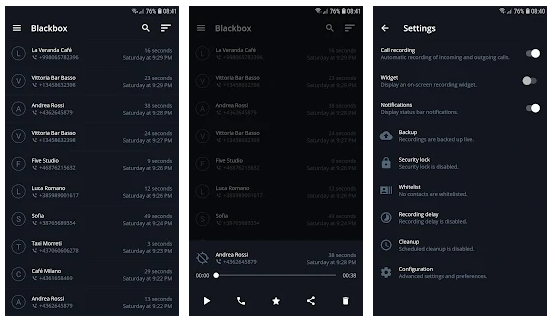 If you are looking for a legit and reliable app to record phone calls, then this call recorder app from Blackbox™ is the one for you. We found Blackbox Call Recorder to be one of the most professional automatic call recording apps available on the internet, designed with a clean yet powerful interface. 
The app covers one of the most advanced call recording technology that too on a robust utility platform. But, it lacks some important features which you'll get in most of the aforementioned apps. This is the reason we have listed it at the bottom of our list. Also, it is not compatible with other call recording apps.
Features:
Safety option to protect recordings from unauthorized access.

Allows users to backup and restore data to their Google Drive.

Offers options to search, select, delete, sort, manage, and favorite important recordings.

An automatic scheduling feature to clean up old recordings at regular intervals.

Ensures high quality and efficient file format of recordings.

Proximity sensor for playback, Dual SIM device support, and Storage options are also available.

It also has a manual recording feature. 
Pricing:
It is a free tool to record calls but it contains ads. 
---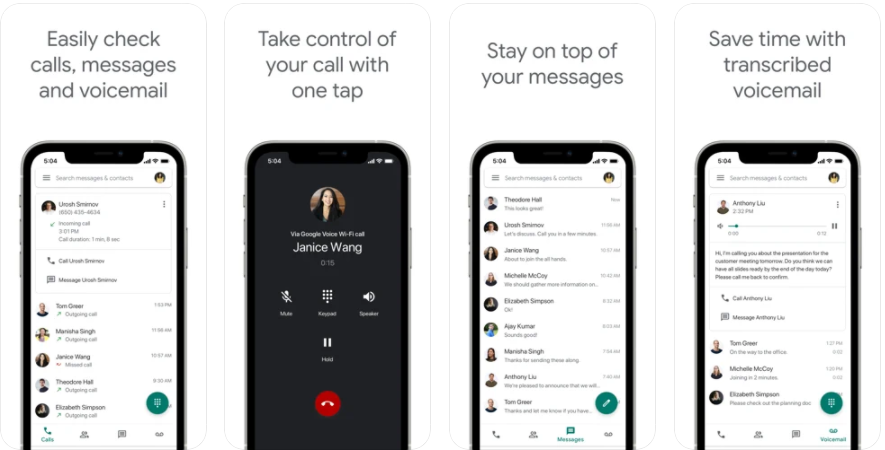 Google Voice comes under the category of iphone call recording apps and the app is compatible with both iPhones and iPads. Its advanced features make it very easy to manage and listen to recordings whenever and wherever you want. Also, the best part of this tool is its ability to synchronize easily. 
Features:
It transcribes voicemails and thus, helps to save time.

Allows accessing, saving, and updating contacts effortlessly.

Options to customize alerts and availability.

Easy managing of calls, messages, and voicemails, all with a single tap.

Storage, backup, and other personalized settings for calls, text messages, and voicemails.
Pricing:
It is free to use.
---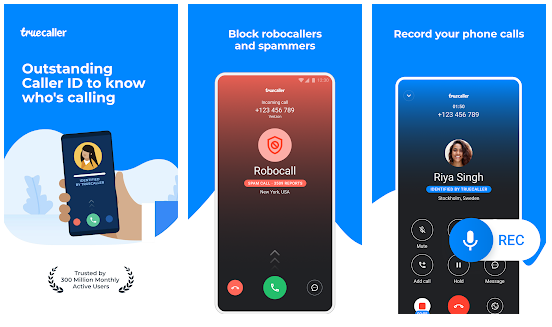 You must have heard of this app before of it being the leading platform for verifying contacts and blocking unwanted communication. Apart from this, Truecaller is one of the best call recording apps android. It allows saving important calls to your phone.
In order to start recording calls, you'll need to tap on the hamburger menu in the top left corner. Look for the Call Recordings toggle and then turn it on. Now, you can simply tap on the Truecaller widget appearing on your screen to start or stop recording.
Features:
Spam Blocking feature to block and auto-block spam unknown numbers.

From SMS to Chats, and Calls, easy managing of all types of communications in one place.

It instantly identifies the names of unknown numbers thus, ensuring that one always communicates with the right people.

Some of its additional features include tracking bills, delivery status, PNR status, bank transactions, and other important SMS.
Pricing:
The free version of the app does not have the call recording feature. It has two paid plans – Truecaller Premium and Truecaller gold, which includes call recording along with a lot of advanced features.
---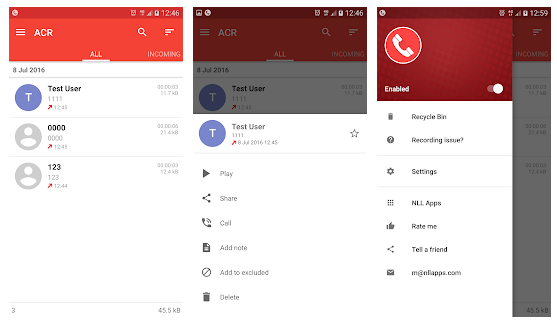 The last entry on our list of best call recording apps is Call Recorder – ACR, one of the best and most advanced call recorders in the Play Store. One of the things that we liked is that it offers a free transcription service. The mentioned service is available for the English language only.
Features:
List, search, marking, delete and manage recordings.

Recycle Bin section for accessing deleted recordings.

Manual (Pro) call recording option.

Option to put a password for protection of recordings.

Lots of recording formats as well as different recording modes.

Easy backup and transfer between devices.
Pricing:
It is a free call recorder application.
Conclusion
Well, as we come to the end of the list, you might be having a question about whether it is legal or not to record calls. The answer is that it is legal to record calls as long as there's the consent involved of at least one of the parties to a particular conversation. In simpler terms, you are allowed to record a call as long as you are a part of the conversation that you are recording. 
That said, irrespective of whether you own an Android or iPhone, you can go for any of the apps from the above-mentioned list of the best call recording apps. Depending upon your needs, convenience, and budget – Download the most suitable app, tap right away, and start recording!