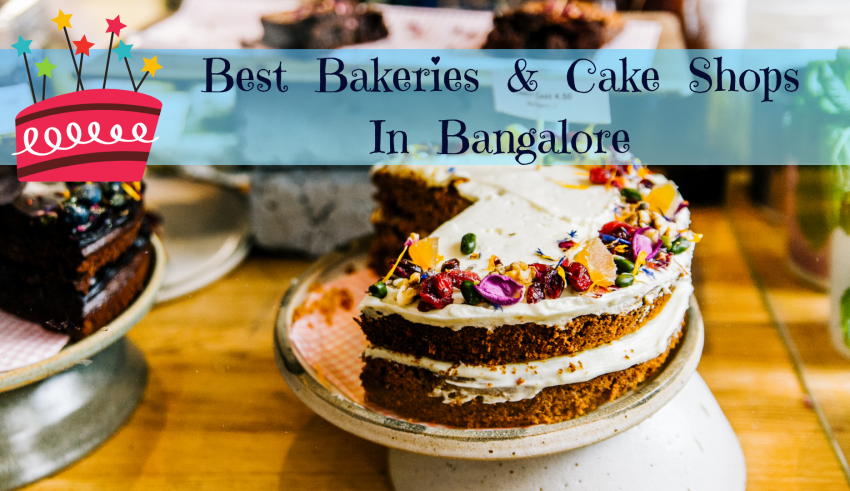 Cakes are a person's best friend, both in happiness and sorrow. And if you are living in a city full of exceptional cake shops and bakeries, there is nothing better to lift up your moods. Bangalore, as a city, has all sorts of food options catering to different tastes. But a special mention is required for its cake parlors.
From cupcakes to custom birthday cakes, there is nothing you won't get in this city. And along with these come the several other types of desserts, pies, pastries, croissants, doughnuts, and chocolates to wow your taste buds and soothe your soul.
If you are new to Bangalore and looking for great cake shops where you can visit or order from, we have a list for you.
Check out the best cake shops, dessert parlors and bakeries in Bangalore for all sorts of sugar fixes throughout your day.
Cake Zone
Cake Zone is a delivery-only chain of cake shops in Bangalore, with over 10 outlets spread across the city. Some of its locations are Indiranagar, Bellandur, BTM, Marathalli, Electronic City, Sanjaynagar, Koramangala, etc. It delivers birthday cakes, pastries, cupcakes, and much more in a variety of flavors.
Their premium red velvet, tiramisu, Irish coffee, and rasmalai cakes are super tasty, along with other varieties like mango, pineapple, vanilla, black currant, litchi, orange, black forest, etc. They have more than 10 different types of chocolate cakes alone, as well as themed cakes like Hello Kitty, Game of Thrones, and more. Their pastries and cupcakes are extremely delicious and reasonably priced.
Address: 14th Cross Road, #346, 9th Main Rd, Stage 2, Hoysala Nagar, Indiranagar, Bengaluru, Karnataka 560038
Contact: 099168 88854
---
CakeWalk
CakeWalk is a dessert parlor which has two outlets in Bangalore, one in Indiranagar and one in Koramangala 4th Block. Apart from desserts, it works as a café that serves soups, sandwiches, pastas, burgers, lasagna, etc. But their best offering is their selection of cakes that come in more than 30 different flavors.
There are flavors like choco fudge, choco truffle, mix berry, mango colada, blueberry white chocolate, pineapple, and many more. They come in different sizes as well, according to your preferences. You will also find tarts, pies, brownies, cold set desserts, cupcakes, cookies, and oven fresh baked goodies. This is the perfect place to indulge your cravings and get a fill of sugary, creamy goodness.
Address: Shri Krishna Temple Rd, Kalyan Nagar, Indira Nagar 1st Stage, Stage 1, Indiranagar, Bengaluru, Karnataka 560038
Contact: 080 2520 5393
---
Truffles
Truffles is essentially an American café chain in Bangalore, with outlets in Koramangala, Indiranagar, New BEL Road, St. Marks Road, and Kalyan Nagar. People go to Truffles for their exquisite food and massive burgers, but keep returning to get a fill of their delicious cakes.
The types of desserts available here are chocolate truffle, Ferrero Rocher, almond and chocolate fudge, peach and cream, death by chocolate, orange peach meringue, honey buzz, hazelnut bomb, etc. They also have goodies like apple pie, Mississippi mud pie, lemon tart, cupcakes, cappuccino  walnut brownie, and tons more. Their milkshakes and sundaes are also to die for.
Address: Apex Building 93/A Ground Floor, A Wing, 4th B Cross Rd, 5th Block, Koramangala, Bengaluru, Karnataka 560095
Contact: 080 4146 6565
---
Cupcake Noggins offers much more than just cupcakes. You will get possibly all sorts of cakes here, along with elaborate and custom versions for your special occasions. They have a selection of two-tiered cakes, both slabs, squares, and tiers. They also have several types of chocolate cakes, like mint chocolate, white chocolate, salted caramel, triple chocolate fudge, etc.
Other flavors include vanilla buttercream, walnut cream cheese, hazelnut banana, carrot walnut, lemon, blueberry, etc. They have pastries in all these flavors as well, for a solo indulgence. Cupcakes come in boxes with different cumbers, from 6 to 50 and above, and in about 20 different varieties. Also get brownies, doughnuts, pies, and much more here.
Address: Sarjapur Main Rd, near Apollo Pharmacy, Amblipura, PWD Quarters, 1st Sector, HSR Layout, Bengaluru, Karnataka 560102
Contact: 081509 61619
---
Glen's Bakehouse
Glen's Bakehouse, as the name suggests, is a bakery with 4 outlets in Bangalore, in Lavelle Road, Indiranagar, Koramangala 6th Block, and Whitefield. They have delicious American and continental food, from breakfast meat to pot roasts. They have a live bakery section, where cakes, cupcakes, and more are displayed every day.
Desserts and sweet dishes available here are apple cake, banana walnut cake, bagels, waffles, pancakes, frozen mud pie, baked cheese cakes in different flavors, cupcakes, ice cream sundaes, milkshakes, yoghurts, etc. Their tiny cupcakes are super delicious and come at a very reasonable price. Cakes and pastries may vary according to the day's menu, but they are also exquisite.
Address: 24/1, Lavelle Road, Shanthala Nagar, Ashok Nagar, Bengaluru, Karnataka 560001
Contact: 080 4112 4894
---
Smoor
Smoor is a dessert chain in Bangalore and has 12 outlets in the city, in locations like Indiranagar, Koramangala, Whitefield, Malleshwaram, Bellandur, Forum Koramangala, M. G. Road, Lavelle Road, Kempegowda International Airport, Bannerghatta Road, Electronic City, etc. They have some of the best cakes and chocolates in the country.
Smoor is known for its quality and hygiene. Sweets available here are cakes, cupcakes, macarons, cheesecakes, sundaes, candies, chocolates, plated desserts, etc. Some of their flavors are rainbow, pina colada, red velvet, Belgian chocolate, rasmalai saffron, pista passion, rose, salted caramel, gulab jamun, peanut butter, toffee, raspberry, strawberries and cream, etc.
Address: #1131, 100 Feet Rd, HAL 2nd Stage, Indiranagar, Bengaluru, Karnataka 560008
Contact: 080 2521 1901
---
Art of Delight
Art of Delight is a dessert parlor with outlets in Koramangala and Residency Road. It has delightful cakes and snacks for a light meal or sweet craving. You will get fries, nachos and waffles here, apart from cakes and other desserts. Their sweet offerings include brownies, sundaes, plated desserts, deep fried oreos and snickers, cake and lava cake sundaes, mud pies, fruit salads, ice creams, etc.
In their cake menu are cheesecakes, trifles, tiramisu, pies, brownies, and lots more. Also available here are milkshakes in more than 10 different flavors. Art of Delight has beautiful ambience and is a perfect place for you to hang out with your friends and family.
Address: 44/1 Residency Road, Near Nagarjuna Hotel, Firdous Complex, Shanthala Nagar, Ashok Nagar, Bengaluru, Karnataka 560025
Contact: 080 4091 3229
---
Corner House Ice Cream
Corner House has over 18 outlets in Bangalore, in locations like Koramangala, Indiranagar, New BEL Road, Jayanagar, Marathalli, Whitefield, Banashankari, Banaswadi, HSR, etc. You could literally be anywhere in Bangalore and order in from this dessert parlor chain. They are known for their ice creams, sundaes, cakes, fruit salads, milkshakes, etc.
Their cake varieties include black forest, truffle cake, apple and cream, apple crumble, chocolate mousse, hot caramello, sticky toffee, etc. All these come with extra toppings, chocolate sauce, extra portions, almonds and cashews, etc. You can also combine your favorite cake with your favorite ice cream. Fruit salads, jellies, and milkshakes are also extremely delicious at Corner House.
Address: 7th block, 67-7-61, 1st Main Rd, KHB Colony, 7th Block, Koramangala, Bengaluru, Karnataka 560095
Contact: 098459 23734
---
Matteo Coffea
Matteo Coffea is a café and dessert place that has great food and delightful ambience. They have two outlets, one in Church Street and the other in Indiranagar. They serve great coffee in many varieties, milkshakes, other beverages, pasta, sandwiches, and lots more. But their selection of cakes is one of the best in the city.
Pastries in assorted flavors are available here, like tiramisu, black forest, pineapple, chocolate pie, brownie, cheese cake, apple pie, fruit tart, and lots more. Also try their breakfast menu, croissants, and great coffee for a fully rounded meal with sinful indulgence.
Address: 2, Church Street, MG ROad, Shanthala Nagar, Ashok Nagar, Bengaluru, Karnataka 560001
Contact: 080 4333 6000
---
Cakewala
Cakewala is a dessert and bakery chain in Bangalore, with outlets in Jayanagar, HSR and JP Nagar. They serve all kinds of baked items like breads, savories, cookies, dry cakes, pastries, cakes, and much more. The items here are reasonably priced and great in taste. Their boxes of cookies are very popular among buyers.
Countless cake varieties are served here, including plum, chocolate, mango, marble, banana walnut, American brownie, blueberry, Irish coffee, almond alphonso, choco vanilla, chocolate truffle, mixed fruit, red velvet, pineapple, choco fantasy, and lots more. They are something for everyone on their menu.
Address: No. 461, 17th Cross Road, Sector 4, HSR Layout, Bengaluru, Karnataka 560012
Contact: 080 4976 6699
---
Le Gateau – The Cake Shop 
If you want beautiful-looking cakes which also taste heavenly, Le Gateau is the right place for you. They serve any and all kinds of cakes, including cupcakes, sponge cakes, fruit cakes, and pastries. This is a delivery-only outlet located on Old Airport Road and is highly rated on the basis of customer reviews.
They have more than 10 varieties of chocolate cakes, some of which are chocolate mocha, white chocolate, liquor chocolate, orange chocolate, nutty chocolate, mint chocolate, chocolate truffle, chocolate raspberry, etc. Classic varieties include vanilla, butter scotch, pineapple, strawberry, and black forest. Next come the dry tea-time cakes in carrot, coconut, rose, banana walnut, and tutti frutti varieties. Other items on the menu include fruit cakes in 12 varieties, six varieties of cheesecakes, and baker's special dessert varieties.
Address: No. 33/4, Narayanamma Garden, 6th Cross, Konen Agrahara, (Murugeshpalya, Old Airport Road ), Bengaluru, Karnataka 560017
Contact: 077603 61067
---
Amma's Pastries
Amma's Pastries is an extremely popular cake shop chain in Bangalore, with about 29 outlets in different places, like HSR, BTM, Jayanagar, Thippasandra, Malleshwaram, Bannerghatta Road, Electronic City, Whitefield, Nagawara, Jalahalli, RT Nagar, Yelahanka, Sahakar Nagar, Ulsoor, Hennur, New BEL Road, etc.
They have every flavor in with non-veg and eggless versions. Some of the cake varieties include mango mousse, strawberry mousse, white cheese, tiramisu, blueberry cheese cake, butterscotch, praline, pineapple tidbits, white brownie, galaxy, choco butterscotch, red velvet, fruit n nuts, etc. They also sell cookies, dry cakes, homemade chocolates, and savory snacks.
Address: 229, 9th Main Rd, Sector 7, HSR Layout, Bengaluru, Karnataka 560102
Contact: 095906 07750
---
Occasions
This bakery on Koramangala 4th Block is pet friendly and offers great ambience for its visitors. It serves beautifully made custom cakes and bakery items, along with dry cakes, swiss rolls, different varieties of cookies, etc. Their cakes are a vision and can be made on any theme for any special occasion.
Some of the items on their menu are cupcakes in varieties of milk, chocolate, fruit and nut, mawa, red velvet, etc. Then come the muffins (chocochip, blueberry, chocolate walnut, red velvet, etc.), loaves of swiss rolls and other delicacies follow, with more than 10 different types of cookies. Cakes have a whole other menu and can be ordered in any flavor and design.
Address: 439, 8th Main Rd, Opp. Onesta Restaurant, Koramangala 4th Block, Koramangala, Bengaluru, Karnataka 560034
Contact: 093227 28728
---
Lavonne
This café and dessert parlor is located at Indiranagar and St. Marks Road. It has wonderful ambience and is a great place to hang out with friends or family. Being first and foremost a café, Lavonne offers you varieties for an entire meal. Food items such as breakfast platters, eggs, pancakes, salads, and pastas are available here, along with great coffee and milkshakes.
Their cakes are soft and sinful, as are their other dessert items. Some options on the menu are crème brulee, oreo shake, banana caramel, tiramisu, Belgian hot chocolate, etc. While you will not get traditional cakes here, their dessert items are to die for and will leave you craving for more. Also on the menu are different varieties of tea, smoothies, refreshers, mocktails, etc.
Address: 2nd Phase, #263, 3rd Cross Rd, Stage 2, Domlur, Bengaluru, Karnataka 560071
Contact: 097405 44442
---
Bakingo
Bakingo is a popular bakery in Bangalore with outlets in Koramangala 1st Block, Marathalli, and RT Nagar. It has a vast cake menu that will impress dessert lovers with no exception. Apart from birthday and celebration cakes, Bakingo offers a plethora of items like cupcakes, pastries, brownies, cheese cakes, dry cakes, jar cakes, and muffins.
Cake varieties include any and all combinations of chocolate, choco strawberry, butter scotch, Ferrero rocher, oreo, royal cherry, white forest, simple kiwi cake, pineapple, paan cake, kitkat cake, red velvet, peanut butter, blueberry, etc. They also sell flowers to make your special occasion complete.
Address: 127, 1st D Main Rd, 1st Block Koramangala, Koramangala, Bengaluru, Karnataka 560034
Contact: 088825 53333
---
Budapest Bake Inn
This unique dessert parlor is located in Indiranagar and BTM and serves delicious cakes and bakery items to sweet lovers. They sell unique chimney cakes and cones, also known as kurtoskalacs, which is a festive treat popular in Budapest and Romania. These cones come in both sweet and savory varieties.
Some of the cone flavors are Banoffee pie, berrylicious, tiramisu, peanut butter pretzel parfait, red velvet, Nutella, death by chocolate, cream cracker, coconut flakes, cinnamon sugar, pista dust, etc. Also available here are smoothies, milkshakes, cold coffee, mojitos, and softies.
Address: No. 1083, Prince Arcade, 5th Cross, 12th Main Rd, Doopanahalli, Indiranagar, Bengaluru, Karnataka 560038
Contact: 080 4394 0813
---
Lazy Suzy
Lazy Suzy is the perfect place to go on a brunch or outing with your girlfriends or the special one. It is an extremely pretty café located in Indiranagar and known for its exquisite food and sinful cakes. They have pastas, sandwiches, burgers, pizza, main courses, and much more on their savory menu.
Coming to their cakes, Lazy Suzy has some of most chocolaty and yummy cakes in the city. Their flavors include three texture chocolate, tiramisu, chocolate mollet, vanilla bean pannacotta, crème brulee, apple pie, etc. Other things on the menu are Philadelphia cheese cake, chocolate walnut brownie, Belgian chocolate, raspberry, mango, passion fruit, baked berry, etc.
Address: 36, 80 Feet Road, HAL 3rd Stage, Indiranagar, Bengaluru, Karnataka 560075
Contact: 080 2527 2737
---
Dream a Dozen
This cake delivery outlet is located at JP Nagar and delivers yummylicious cakes right to your doorstep. Their specialty is their cupcakes, that come in many flavors like chocolate,vanilla, red velvet with cream cheese, cookies and cream, chocolate coffee, rainbow, caramel, banana cinnamon, etc.
Next come their caramel, spinach & corn, and chocolate tarts, followed by chocolate walnut brownies. They sell cookies in different varieties as well. Another interesting thing on their menu is cake pops, in chocolate, vanilla, and red velvet flavors. You can also order customized celebration cakes and gift hampers from this bakery in any flavor and combination of your choice.
Address: 103/25, ground floor, 2nd Main Rd, Puttenahalli, JP Nagar 7th Phase, Bengaluru, Karnataka 560078
Contact: 088617 39269
---
Butter Side Up is a dessert parlor at Bellandur which is popular for its signature cakes and pastries. Its special cakes are available in varieties of banana chocolate, Boston cream, caramel praline buttercream, carrot cream cheese, mocha chocolate hazelnut, nutty brownie, red velvet cream cheese, tiramisu temptation, etc.
You can also try their different types of rainbow cakes and more than 20 different kinds of chocolate cakes in combination with other flavors. They have a wide fruit menu as well, not to mention the all-time classic cake flavors like chocolate, butterscotch, pineapple, etc. Check out their customized cakes selection and get cakes and cupcakes with the decoration of photo of your choice.
Contact: 095131 44558
---
Happy Endings
Another gem in Bellandur is Happy Endings. It is a bakery and dessert parlor in Green Glen Layout that serves cakes, pastries, cupcakes, tarts, cheese cakes and more in above 50 different varieties. This café also serves pasta, if you want to eat something before filling up on dessert.
Their cake flavors are German chocolate, tiramisu, marble baked cheese cake, caramel custard, lemon cheese cake, chocolate Charlotte, red velvet, mango, litchi, Irish coffee, pineapple, blueberry, mixed fruit, black forest, mocha, etc. Their desserts are available in both with egg and eggless varieties.
Address: 164, Cherry Ln, Beside Sobha Jasmine Apartment, Green Glen Layout, Bellandur, Bengaluru, Karnataka 560103
Contact: 096326 84101
---
All these and many more great cake shops are hidden on the streets of Bangalore. Let us know which one is your favorite!