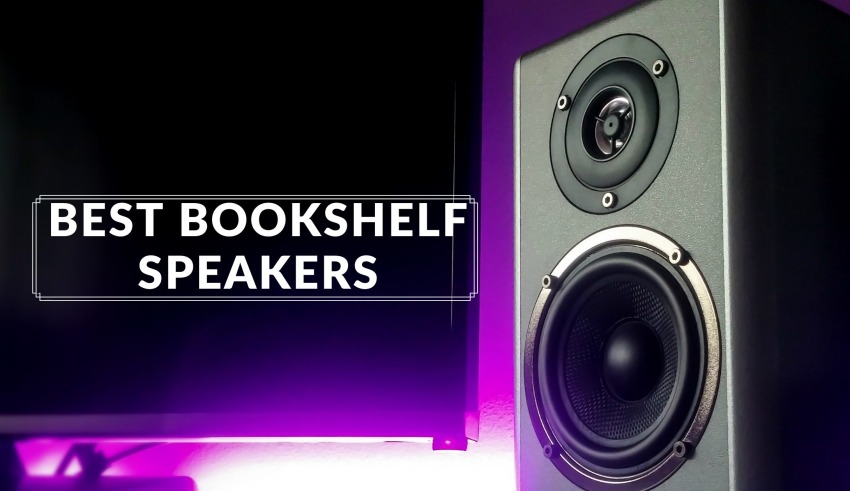 If you are planning to assemble a powerful home entertainment system, good bookshelf speakers should top your shopping list. But buying a decent speaker is not an easy task. You need to consider special factors before you can finalize your best purchase. A bigger speaker with in-built woofers is a popular choice.
While floorstander speakers take up a large space, small speakers do not offer the bass your wish for. But not everyone can afford to spare a large space or a big budget. This is why bookshelf speakers are the best option for you. They can give you an amazing listening experience without having you spend a fortune. To make your shopping experience smooth and fun, we have considered all the important factors you need to look out for while buying a good bookshelf speaker.
Here is the list of the 15 best Bookshelf Speakers to make your desk look Different.
Edifier R1280T Powered Bookshelf Speakers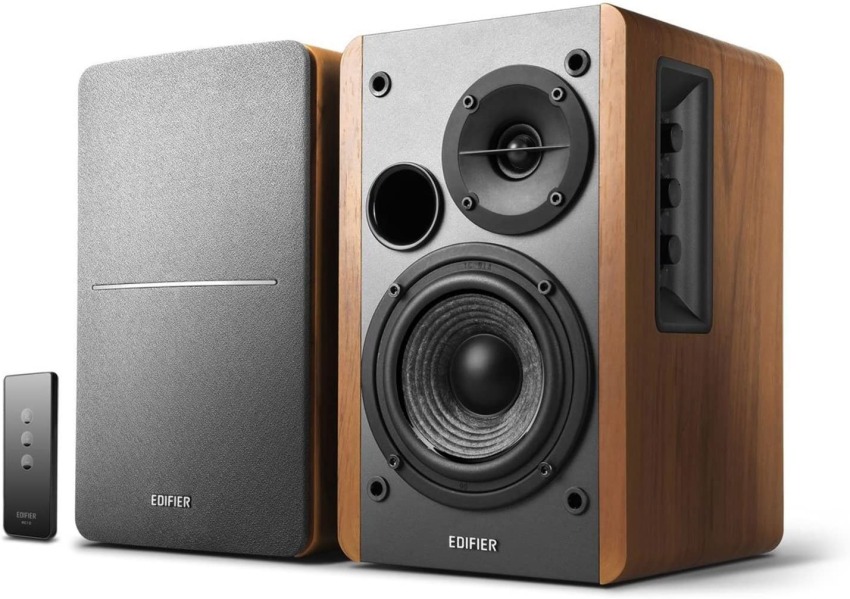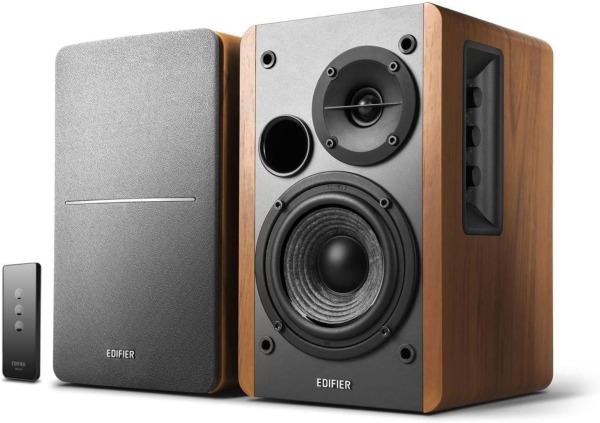 Sporting a high-quality classic MDF wood build with a wood effect vinyl, the Edifier R1280T Powered bookshelf speaker can be a great choice for your home decor. It is filled with a plethora of special features which make the speakers a good value for the money you invest. Its 13mm silk dome tweeter provides natural audio with studio sound quality. 
The device has two AUX inputs which make it convenient to connect it to any device having a 3.5mm headphone output or dual RCA output. Two outputs mean you can connect two different devices at the same time. The volume can be adjusted using a remote control. However, the switch to regulate the bass and treble control can be found on the side of the main speaker. 
Pros:
Exceptional sound quality

Classic Wood Finish

Can be connected to two devices simultaneously
Cons:
---
Polk Audio T15 100W Home Theatre Bookshelf Speakers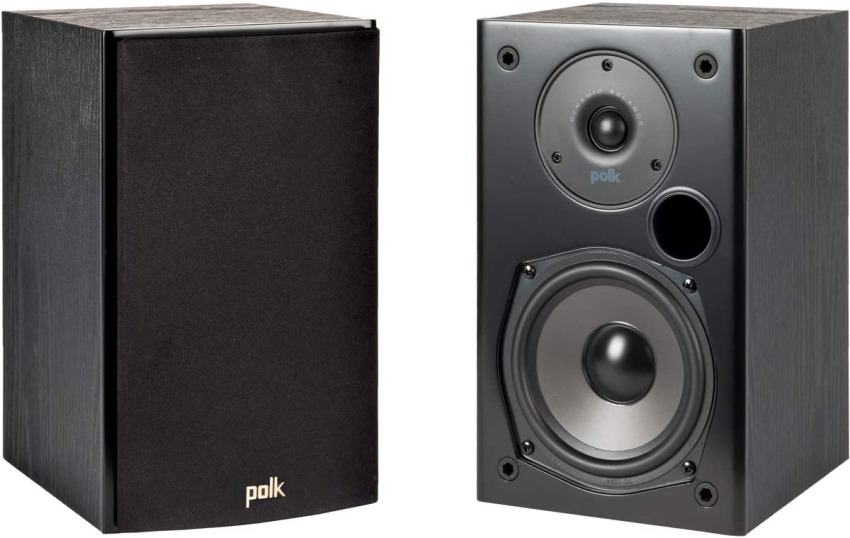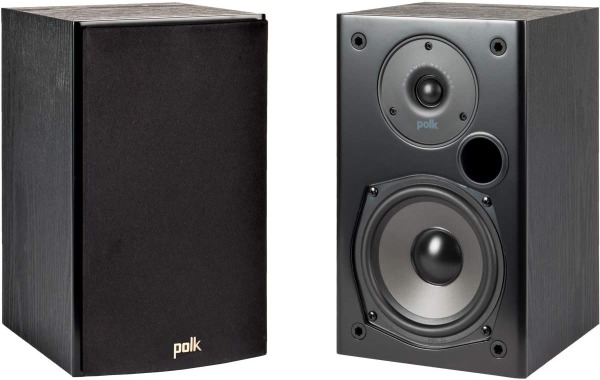 If you are looking for a Bookshelf speaker that can give you a dynamic surround sound experience, Polk Audio T15 can be the best bookshelf speaker for your home theater set. It features a 0.75″ tweeter and a 5.25″ dynamic balance driver. These speakers produce a well-balanced sound with impressive clarity and bass support. 
Another best feature of this speaker is that it can be wall-mountable, which means it can save you a lot of space. It is a great option for small and medium-sized apartments. These speakers are compatible with almost all home theatre AV receivers. As a perk, you will get an integrated microphone. You can pair this set of devices with two tower speakers, a central channel, and a subwoofer and you will have a full-fledged home theatre setup. 
Pros:
Solid build

Excellent audio clarity
Cons:
No adjustment option for bass and treble. 

Cannot be operated using a remote control.
---
Edifier R1280DB Powered Bluetooth Bookshelf Speaker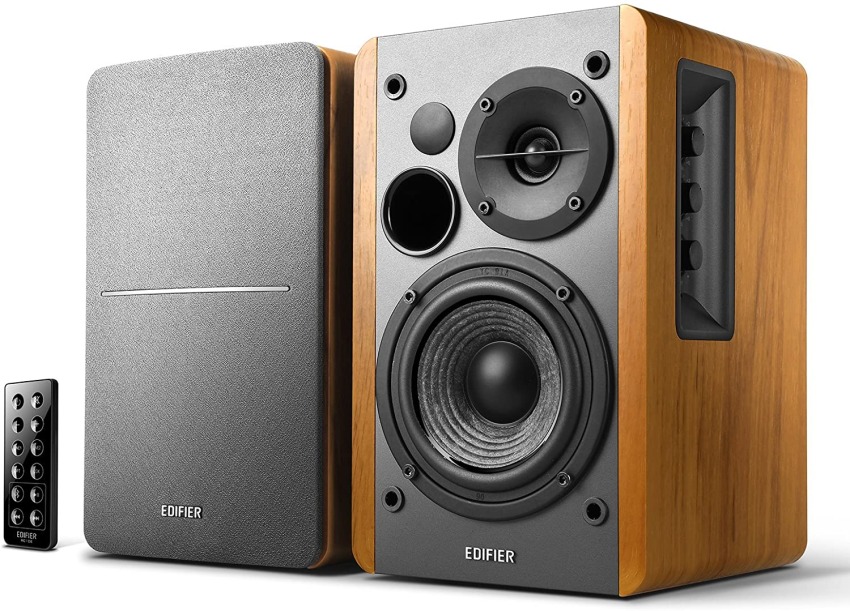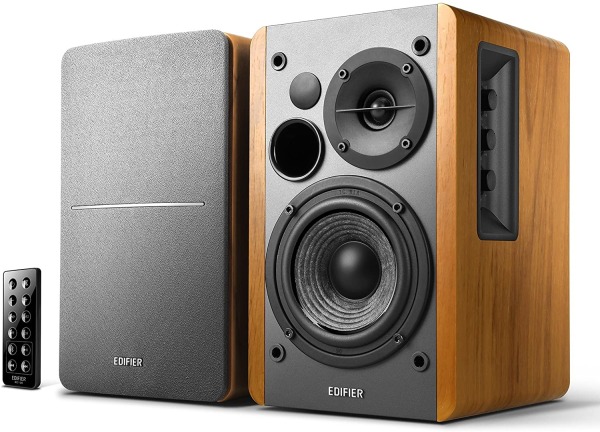 Much like the first Edifier speakers on our list, the Edifier R1280DB bookshelf speaker is another excellent choice. It sports a stunning wood finish that can suit any home decor like a pro. This speaker has become quite popular in the market being a wireless device. 
It can be connected to other AV devices (Mac, Android, Tablet, iPhone, or PC) with Bluetooth. This means you will never have to tackle the hassle of tangled wire. The Edifier R1280DB has a 4″ bass and 13mm silk dome tweeter and offers a naturally fine-tuned sound reproduction. 
The Bluetooth connectivity of the speaker offers a strong, lossless connection. The volume and the toggle inputs can be adjusted using a remote control. The bass and treble control switch is located at the side of the main speaker. 
Pros:
Had strong MDF wood housing.

Long-lasting and durable.

Excellent audio quality.
Cons:
Not compact. Has a bulky appearance.
---
Klipsch R-41M Powerful Bookshelf Home Theater Speaker (Black)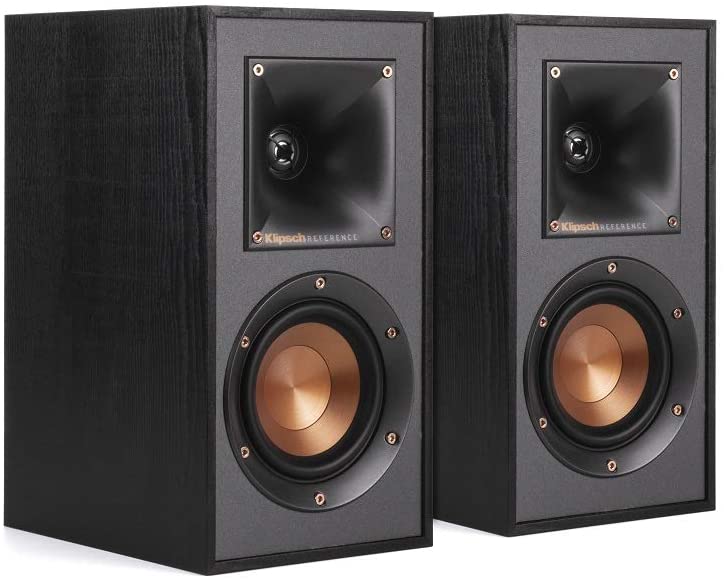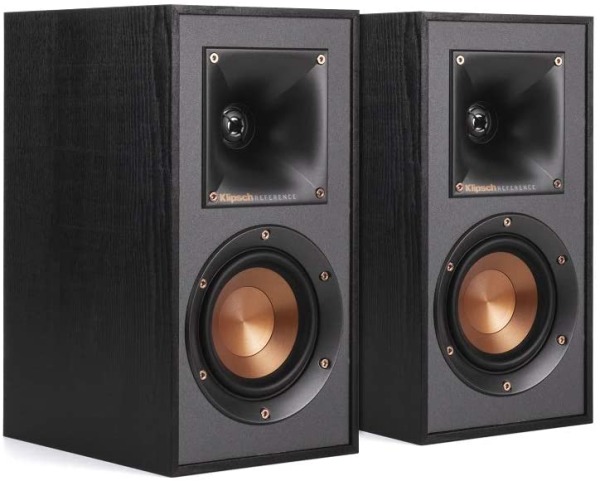 If you are a fan of black, the Klipsch R-41M can be a terrific addition to your home theater set. It is one of the best bookshelf speakers if you want a minimalist device for your home. It features a highly durable, stunning 4″ spun-copper IMG woofer and offers 20 watts of power handling. 
They are loaded with multiple special features and yet is extremely affordable. It has a Reinforced MDF cabinet with scratch-resistant coating. The Textured wood grain vinyl adds a remarkable beauty to it. This detailed 2-way speaker also features Linear Travel Suspension (LTS). It also has a high-grade Aluminum Tweeter with Kapton Suspension. 
Pros:
Taut, powerful bass

Impressive sound quality

Great sound sensitivity.
Cons:
Does not have wireless connectivity
---
Edifier R1850DB Active Bookshelf Speakers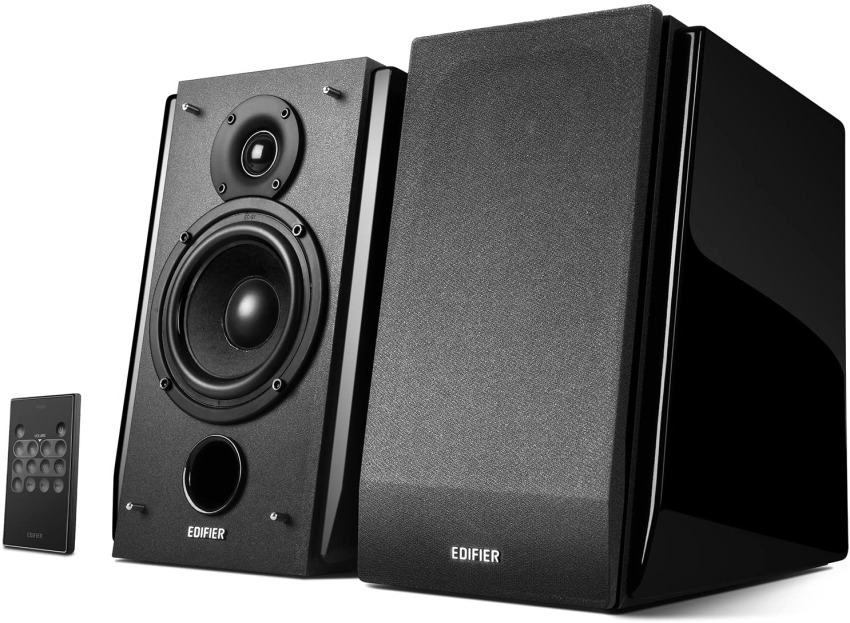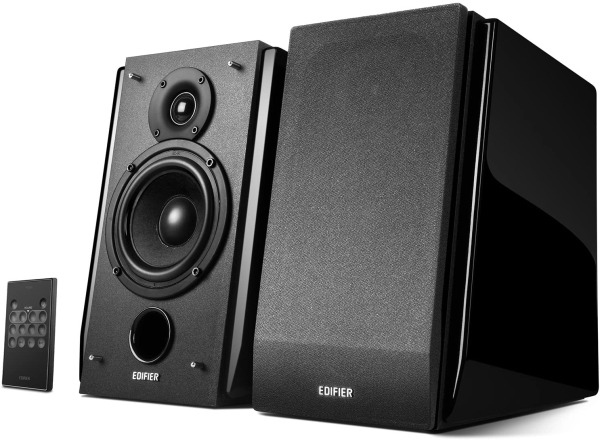 The Edifier R1859DB is one of the most popular Bluetooth bookshelf speakers. It works with Bluetooth V4.0, one of the latest wireless technologies. It is compatible with almost all AV devices. The connectivity features of the device also include digital and analog input: RCA and Aux cables. The Bluetooth connectivity is strong and lossless.
The speakers have adjustable treble and bass. The control panel is located at the rear of the main speaker. You will also find volume and toggle inputs in the panel. The Edifier R1850DB comes with a hardy, compact remote control which allows you to regulate the volume and track control. The built-in amplifier of the speakers produces high-quality and clear audio.
Pros:
Has a stylish, contact design.

Produces stunning sound. 

Has both wireless and wired connectivity. 
Cons:
Pricier, considering the features.

Has no wireless connectivity.
---
Klipsch Synergy B-200 Bookshelf Speakers (Black Label)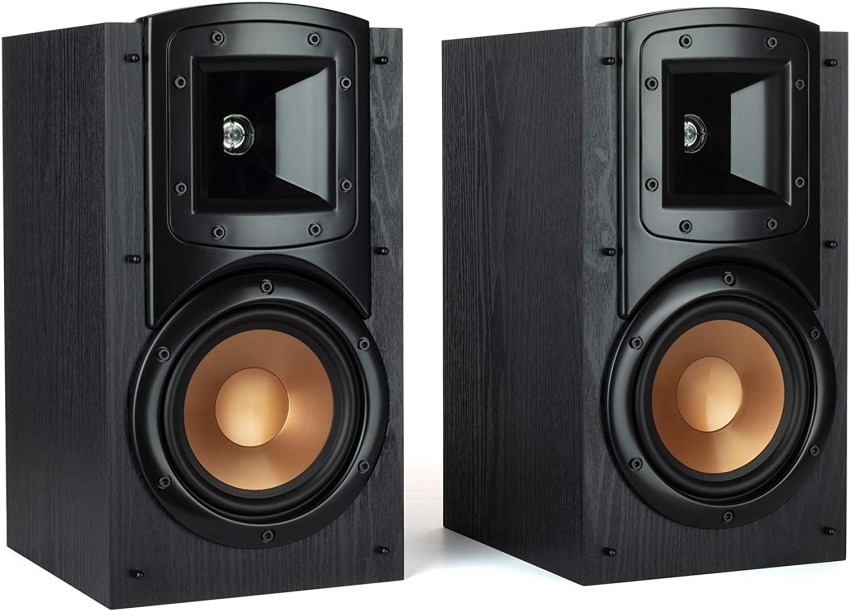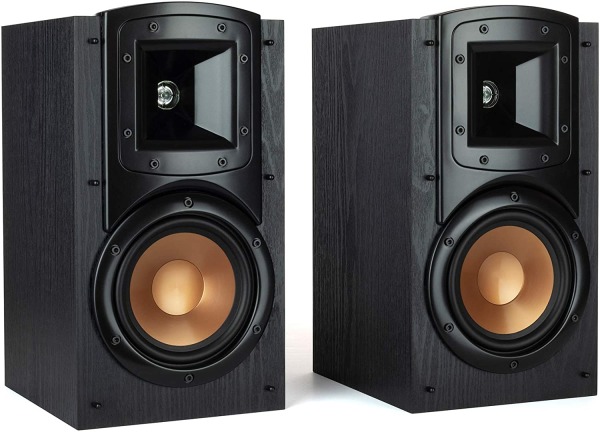 If you are looking for a contemporary speaker as an addition to your living room bookshelf, these Klipsch Synergy Balck Label speakers can be a great choice. It sports a magnificent and durable black housing that can blend with any home decor. Its Soun Copper injection-molded graphite woofer reproduces accurate, non-fatigued sounds. If you are a music lover this is the perfect speaker for you to listen to music for hours. 
It has a dynamic 0.75″ tweeter and a 5/25″ powerful woofer. Its rear-firing bass port makes sure you get exceptional bass performance. It features Linear Travel Suspension Tweeter that produces audio with minimal distortion and high details. Its compact size makes it suitable for small cabinets and bookshelves. You can use these as front speakers as well as surround speakers. 
Pros:
Sleek, compact Design
Features innovative Horn Technology
High-quality spun copper injection-molded woofers. 
Cons:
Comparatively expensive than other similar models.
---
ELAC Uni-Fi 2.0 Bookshelf Speakers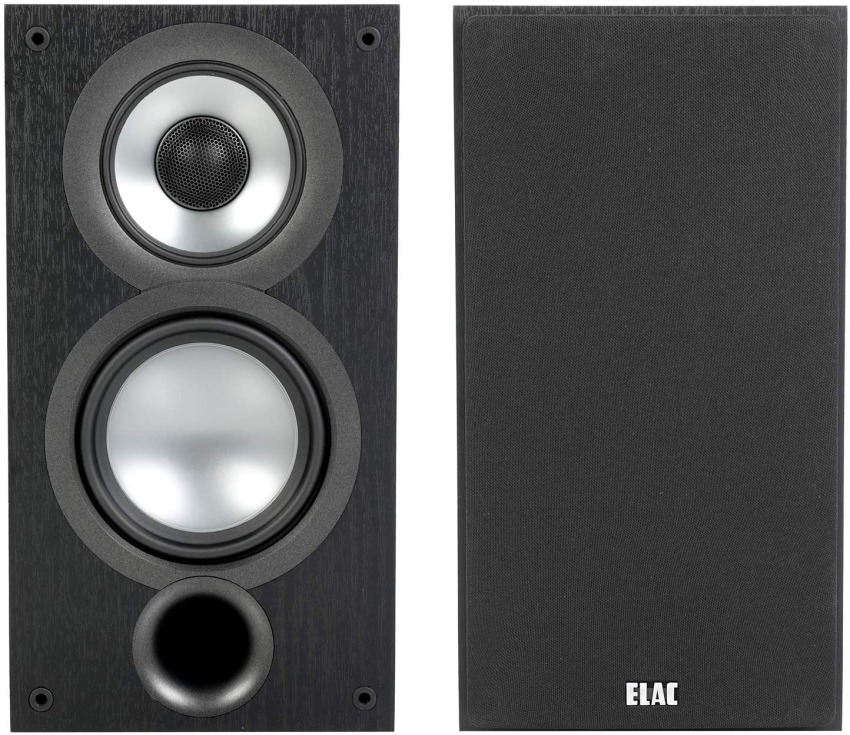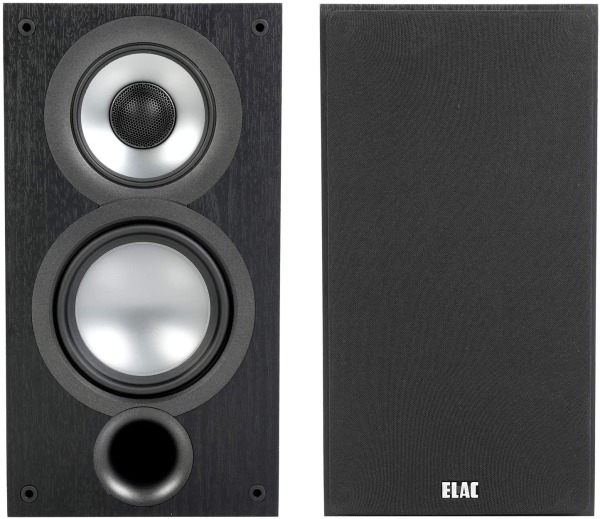 Elac has been producing quality audio solutions since the 1989s and has launched various affordable and high-performing speakers in the market. The Elac Uni-fi 2.0 is one of the best product marketing by the brand. It has a 3-way design that is a great buy at this price. It also features a newly developed concentric driver with a 4″ Aluminum midrange woofer and a 1″ Wide-roll Surround tweeter. 
Its innovative single-piece aluminum cone bass driver will provide you a powerful bass performance. It features a 6-Ohm Nominal impedance for compatibility with almost all receivers and amplifiers. Its 5-way binding post makes sure you get versatile connectivity. The Front Firing ports enable the user to place the speakers in any room placement. The connectivity port can be located at the back of the main speaker. 
Pros:
Features a strong Subwoofer with a 4″ diameter. 

Compact and minimalist design. 
Cons:
Lacks wireless connectivity

Quite expensive 

Not waterproof 
---
Edifier R1700BTs Active Bluetooth Bookshelf Speaker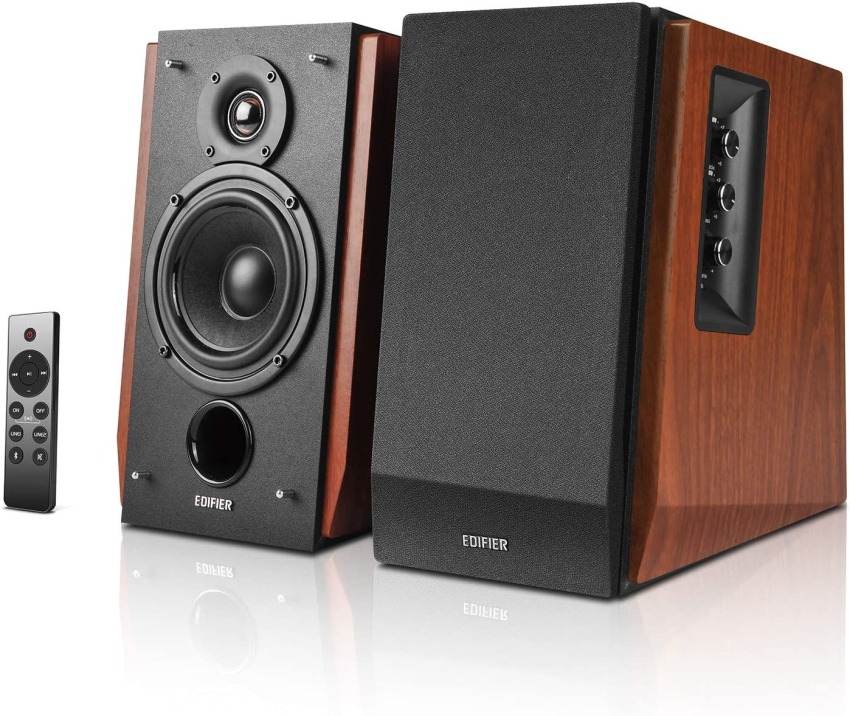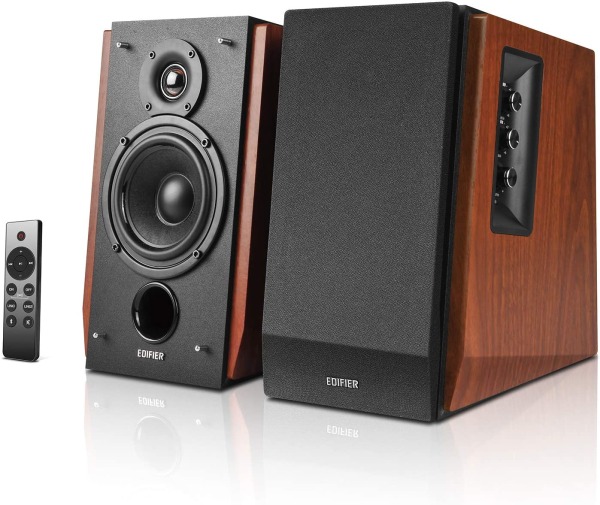 If you're looking for a feature-loaded speaker at an affordable price, Edifier R1700BTs can be your ideal choice. It features Bluetooth 5.0 with Qualcomm APTX connectivity. The Bluetooth connection is of high power and will provide a lossless, uninterrupted connection. The speaker also features Subwoofer with impressive 
Output with integrated crossover and auto-detection. 
It also features a unique Soundfield Spatializer button which can enhance your audio experience. The Edifier R1700BTs features Dual RCA inputs for connecting with the phone, DVD, PC, and other similar AV devices. 
Also, It had an easy-to-maneuver remote control that you can use to regulate volume, mute, and unmute the speakers, and shift between Bluetooth and line-in modes.  With this speaker, you can enjoy the cleanest sound with a continuous undistorted power supply. The bass and treble can be operated by the buttons present on the side panel of the secondary speaker. 
Pros:
Powerful, uninterrupted Bluetooth Connection. 

Has an impressive woofer unit.
Cons:
No. We could not find any.
---
Fluence Elite (HD) 2-Way Bookshelf Surround Sound Speakers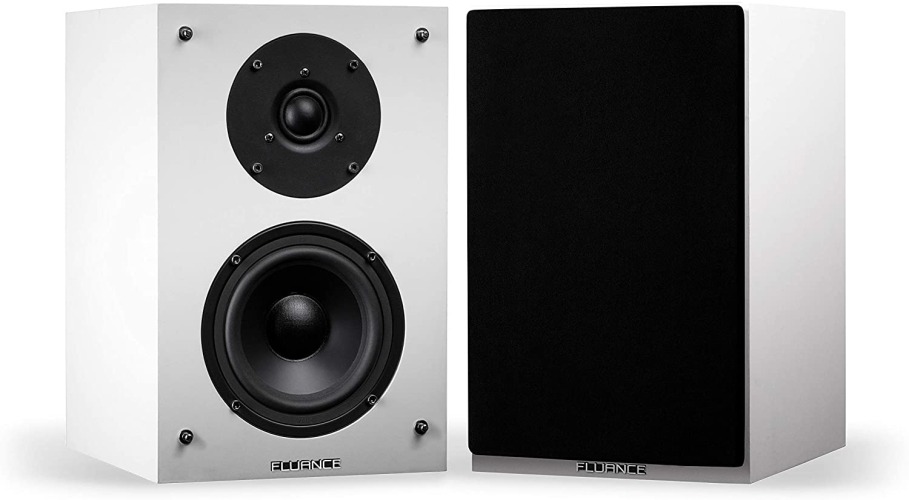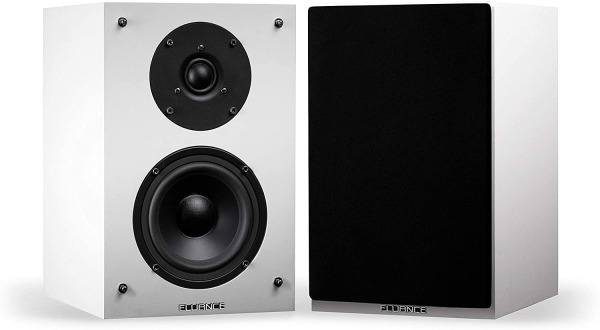 A spectacular bookshelf speaker with all the necessary features you need to add to a home theatre, the Fluence Elite HD Speaker can be just what you need. This premium quality device ensures that you get exceptional sound quality with great reliability. It is designed to be used as a front main audio device or as a home theatre surround sound speaker. However, you may need to use an external amplifier for boosting the surround sound. 
These speakers have an MDF wood construction which largely reduces cabinet resonance. Its ultra-high-end Neodymium tweeters provide just the right frequency response. The speaker also features Butyl rubber surrounds that provide increased durability and remarkable performance. 
It has a tuned bass port that gives you a regulated low-frequency response yet wonderful clarity. Its 5-way binding post is gold plated allowing it to produce optimum conductivity. It is also magnetically shielded to avoid interference. It also has Banana plugs and speaker wire that makes it compatible with diverse connectivity options.
Pros:
It features Ferro-fluid cooled tweeters

Had low diffraction flush fit removable front grills to facilitate spacious imaging. 

Innovative Butterworth design for audio equalization.
Cons:
Does not have Bluetooth connectivity. 
---
Also check: 15 Best Tablets under 300 dollars (Between $250 to $300)
---
Acoustic Audio AA321B Mountable Indoor Speakers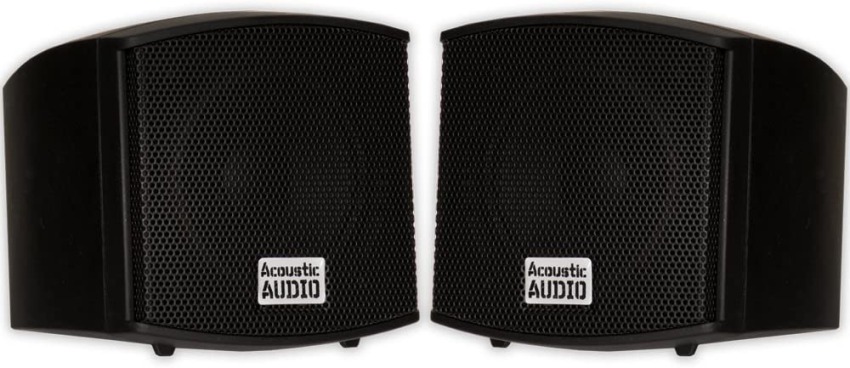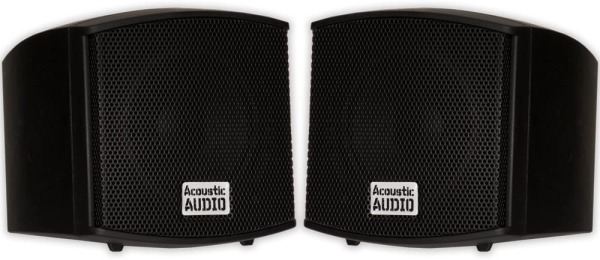 The most pocket-friendly option on the list, the Acoustic Audio AA321B speakers are an outstanding buy at such a great price. These traditional passive speakers are wall-mountable. It offers a full-range sound coverage, facilitated by the 2.5″ polypropylene woofers. It produces a frequency response in a range of 150Hz-20kHz. The speakers are housed in a highly durable and compact black ABS sealed cabinet. 
It has spring-loaded raw wire connectors along with a mounting bracket that allows you to save space. What else do you require? Just any receiver with raw speaker wire outputs. However, you have to manage tangled wires. The surround sound effect produced by these speakers can uplift any ambiance with its natural sound quality. 
Pros:
Sleek, compact, and Wall-mountable.

Extremely affordable.

Suitable for home theater as well as outdoor use. 
Cons:
Lacks wireless connectivity option.
---
Sony SSCS5 Bookshelf Speaker System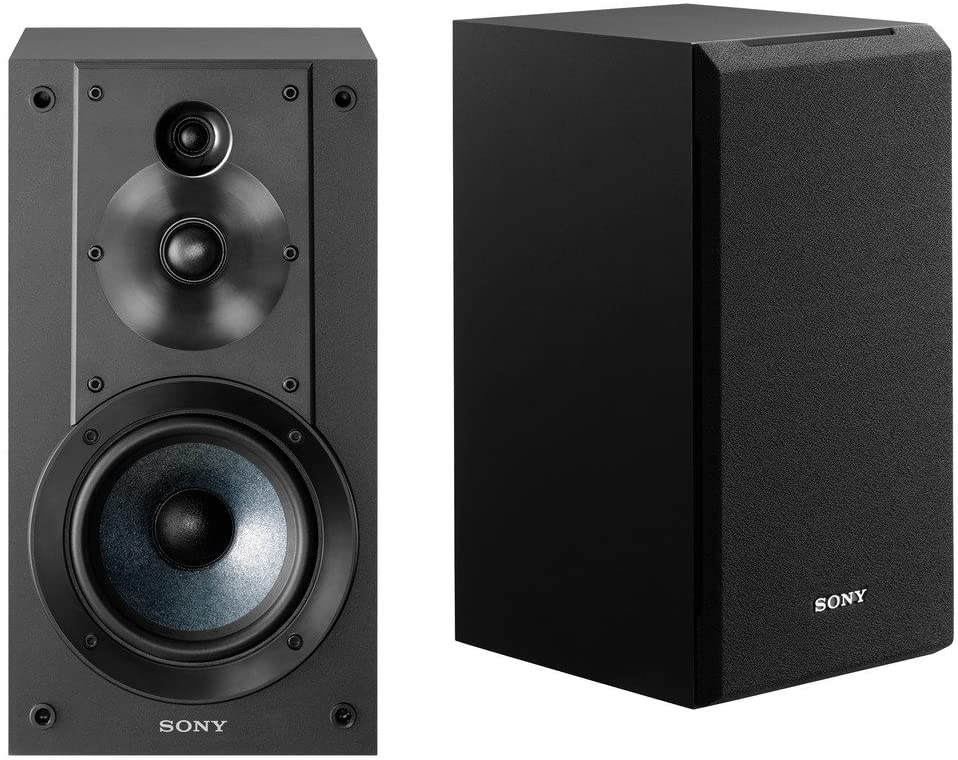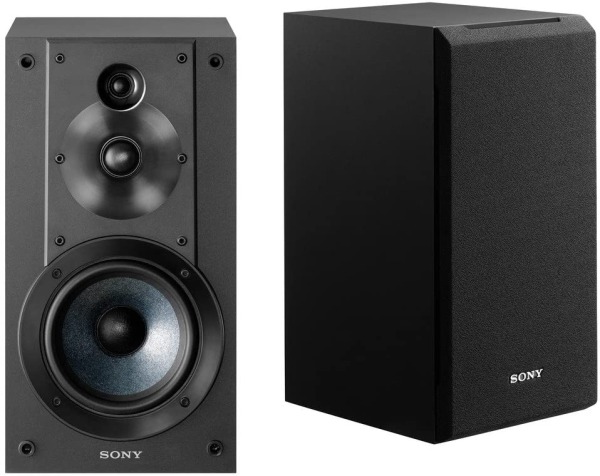 Manufactured to give you extraordinary sound quality at a reasonable price, the Sony SSCS5 Speaker system can be one of the best bookshelf speakers that can make your desk look awesome. It sports a pitch-black color with a minimalist design that can effortlessly blend with your interior decor. 
The speaker comes from the house of Sony, a brand famous for its audio-visual devices. This means you would not have to worry about the reliability and quality of the speakers. Even, This speaker model is compatible with computers, televisions as well as DVD players. And also, It has a three-way design, which implies that these speakers offer great versatility. 
It features an impressive bass-reflex system. It has a 1″ polyester main tweeter and a Sony super tweeter that produces immersive sound staging. The 6-ohm speaker impedance makes sure you get the highest resolution of audio possible. The speakers also have optimized crossover componentry which generates a clear audio path.  
Pros:
Has a modern design

Produced dynamic audio quality

Durable and efficient.
Cons:
Cannot be mounted on the wall. 

Features no Bluetooth Connectivity.

A bit pricier than other similar models 
---
Elac Debut 2.0 B6.2 Bookshelf Speaker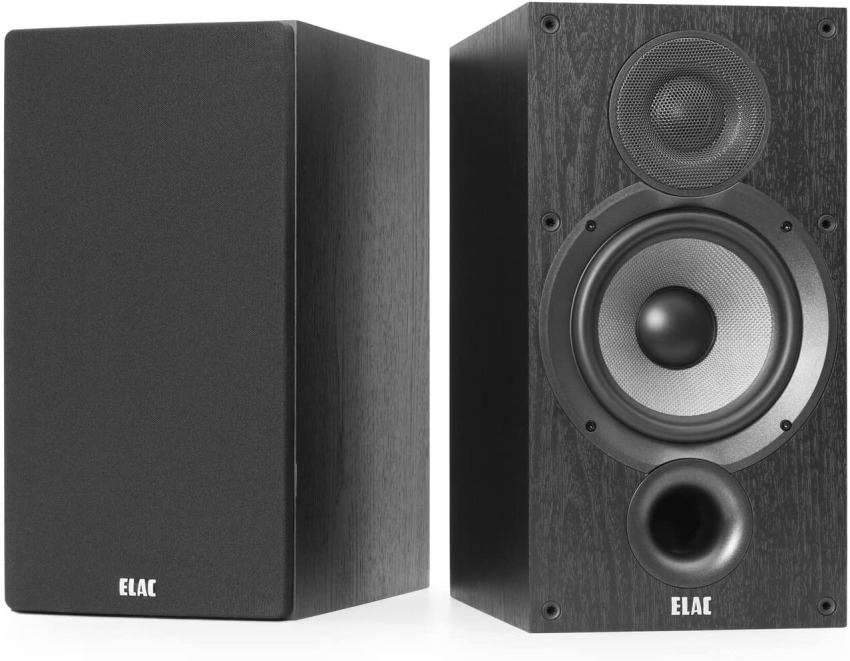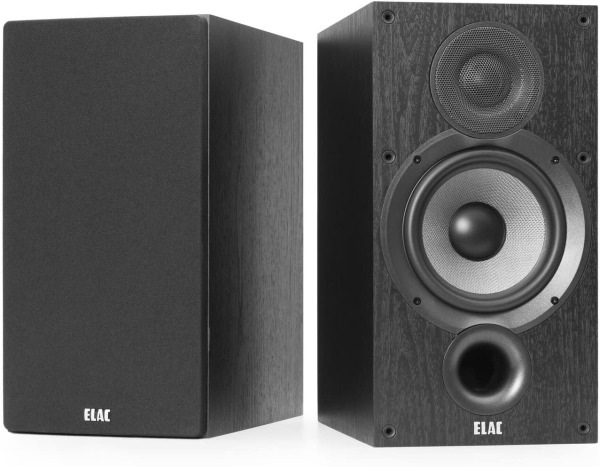 The Elac Debut 2.0 B6.2 is another outstanding device manufactured by the renowned Elac brand. It is one of the best bookshelf speakers when cost and performance are in question. The speakers are solid and sport a spectacular black color. Placement is hassle-free, which means your bookshelf will be devoid of clutter and you will not have to tackle the tangled wires. 
The Elac Debut 2.0 B6.2 produces a dynamic expression and offers a detailed resolution. This means you will enjoy a natural sound with incredible clarity. The speakers feature a tweeter with a wide-dispersion waveguide. The new woven Aramid-fiber woofer of the speakers makes sure the audio is of exceptional quality. It is suitable for computers, smartphones, and tablets.
Pros:
Comes with a durable, sturdy cabinet

Compact, space-saving

Unfussy placement

Solid build
Cons:
Lacks wireless connectivity

Lacks switches to adjust treble and bass
---
Edifier R1280Ts Powered Bookshelf Speaker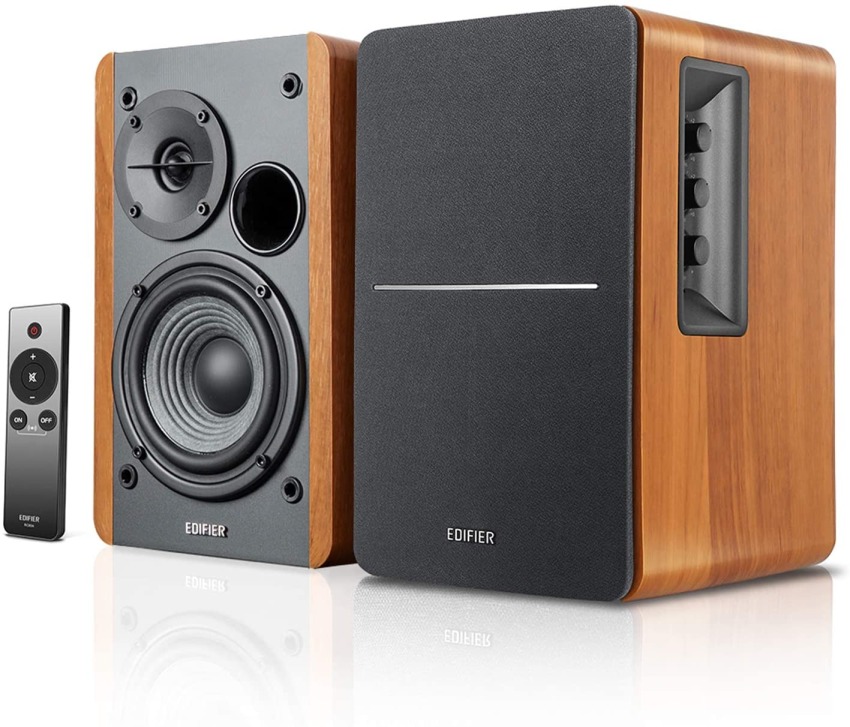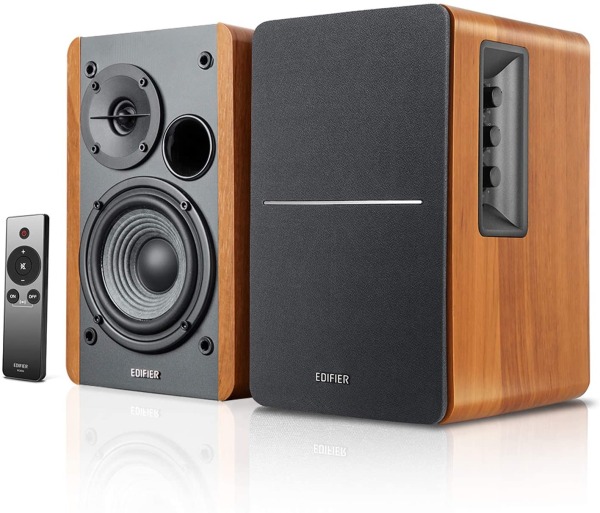 If you want a speaker with incredible bass to excite your audiophiliac ears, the Edifier R1280Ts powered bookshelf can be a great choice. The speakers feature a subwoofer output with an automatic detection facility. It also provides a connection opportunity with other external extra active subwoofers. It also features a built-in crossover, which gets activated when the subwoofer is connected to the speaker.
The speakers have dual RCA inputs which allow you to connect with any AV device easily. You can connect the speakers to two devices simultaneously, you would never have to unplug and plug different devices frequently. Also, Its 4″ subwoofer unit and 13mm silk dome tweeter unit make sure you get impactful sound and powerful bass. It needs to be connected to a 42W continuous undistorted power source.
A remote control provided with this device allows you to regulate the volume and unmute/mute the speakers. The switches to control the bass, treble, and volume are also located on the side panel of the main speaker. A Soundfield stabilizer button is also available that can enable you to enhance your listening experience.
Pros:
Has an impressive woofer unit.

Can be controlled using a remote control.
Cons:
Lacks Bluetooth connectivity.
---
Klipsch RP-600M Bookshelf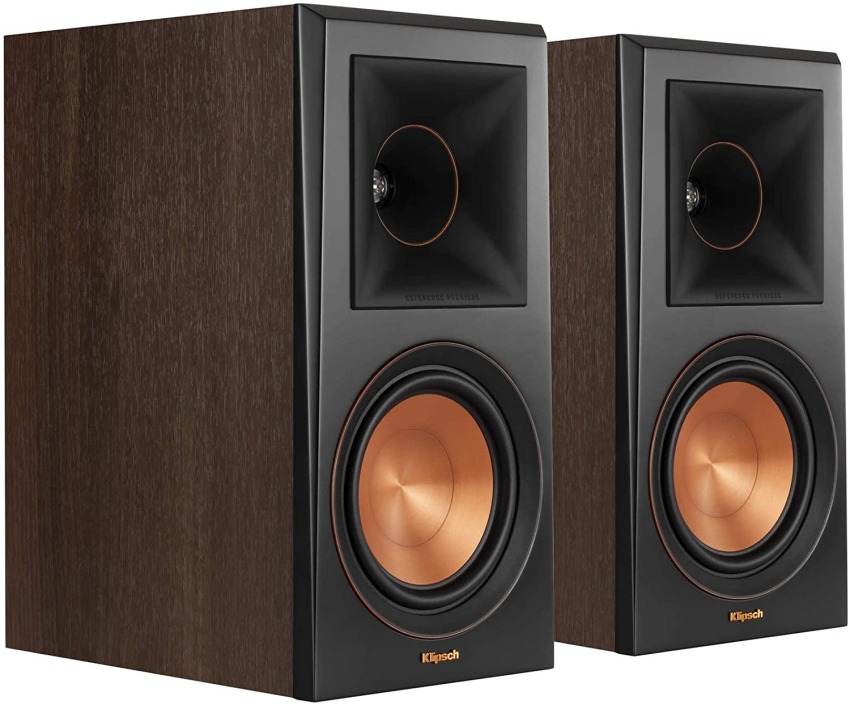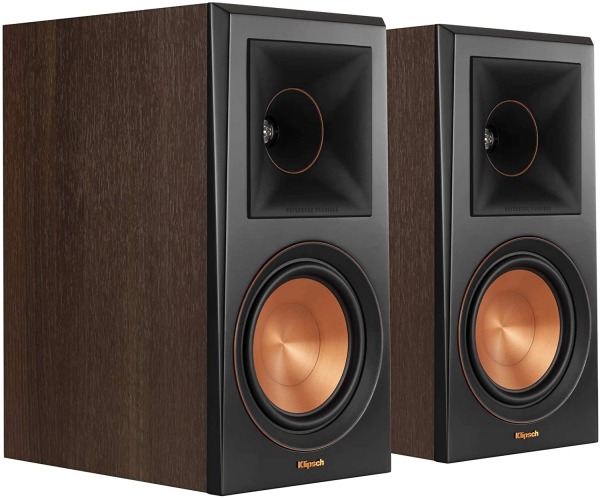 With incredible durability and audio quality, the Pair of Klipsch RP-600M is an impressive set of speakers at a reasonable rate. This can be one of the best bookshelf speakers if you are looking for a surround sound system. It features a high-grade 1″ Titanium LTS vented tweeter. It features a Hybrid Tractrix horn to ensure tremendous audio quality. 
The 6.5″ spun copper cerametallic woofer produces a natural sound that can be a joy for your audiophiliac ears. It produces powerful bass reflex m, thanks to its Rear-firing Tractrix port. It also features a strong, flexible, and removable magnetic grille. The walnut wooden casing of the speakers adds to its classiness.  
Pros:
It offers Hassle-free placement.

Features High-quality spun copper cerametallic woofers.

Features 2-way speaker design.
Cons:
Lacks wireless connectivity.

Comparatively pricey than other speaker models.

Cannot be controlled remotely.
---
Sonos One SL- Microphone-free Smart speaker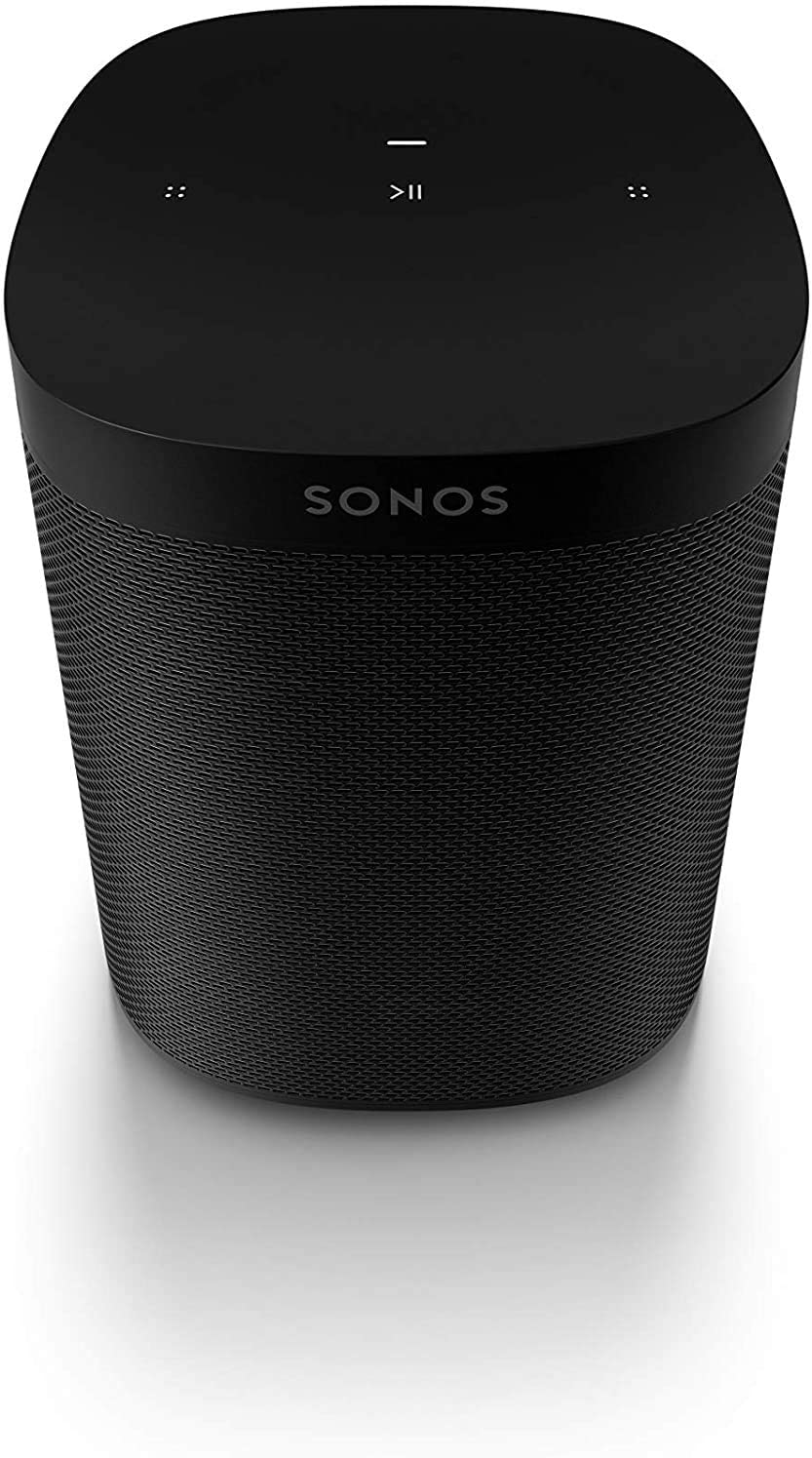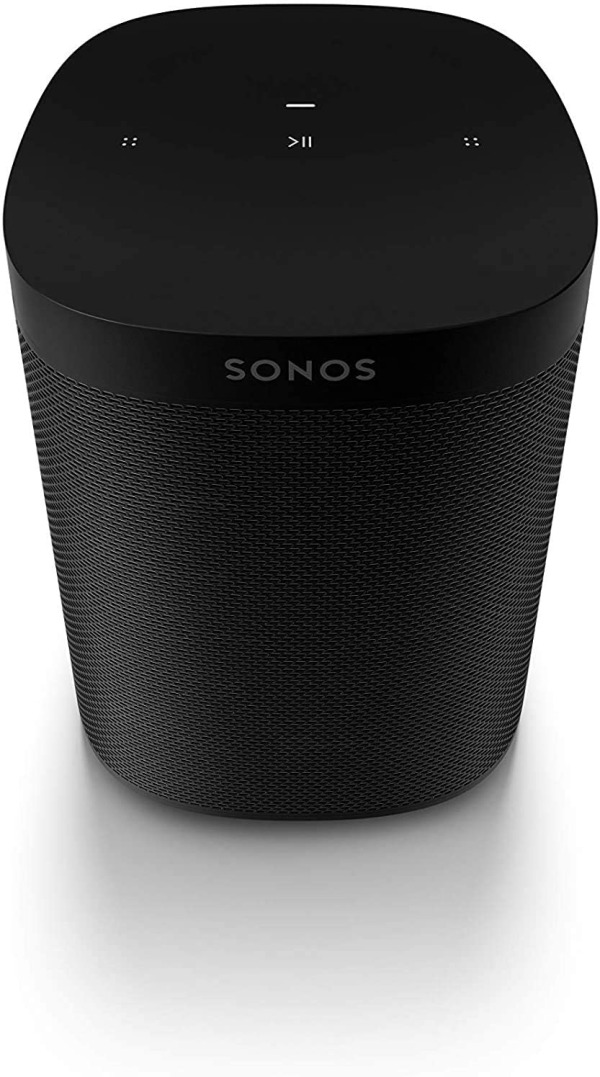 If you are looking for a small, handy speaker for your living room, the Sonos One SL is an excellent choice. It is one of the speakers on our list which can be connected to other AV devices using Wifi connectivity and it is also compatible with computers, smartphones as well as tablets. Even, It is favorable for studio apartments and medium-sized rooms. 
The compact, minimalist design of this speaker fits any space. Its unfussy nature allows you to place it anywhere you want. You can place it on your kitchen countertop or your desk, and it will immediately add a level of classiness to the place. It's completely humidity resistant, which means you can listen to music in your bathroom too. 
You can buy a pair of these speakers to create a surround sound system for your home theater. The Wifi connectivity feature of these speakers allows you to sync the speakers in different rooms. Setting it up is super easy and so is it to control. It is also compatible with Apple Airplay which enables you to stream music directly from your iPhone or Ipad. Just ask Siri to play your favorite song and groove to it.
Pros:
Excellent sound quality

Compact shape, it can be placed anywhere you want

Feature wifi connectivity

Compatible with Apple Airplay
Cons:
Features no Bluetooth connectivity 

Has no feature to adjust bass and treble. 
---
What Should You Look for Before You Purchase a Bookshelf Speaker?
Model
Bookshelf speakers are generally of two types: Active speakers and Passive speakers. Active, or powered speakers have integrated amplifiers in them. Active speakers are available as both wired and wireless. They also sport modern features like Bluetooth and Wifi connectivity. Also, They just need to be plugged into a power outlet and connected to a device and they will be ready to entertain you. Unlike surround sound systems, powered speakers also allow you to install them with stereo separation.
Passive Speakers are the best choice for people who want to customize their audio setup for better performance. You can also add subwoofers if you want to emphasize the bass. Though these speakers are often cheaper than powered speakers, additional equipment usually end up costing more.
---
Size
Gen Z people love to have big speakers with large woofers. But before you buy a bookshelf speaker for yourself, make sure you have a proper concept of the storage space. But when you have ample space to spare, you can get a bigger speaker for better sound clarity and bass.
---
Compatibility
Compatibility is an important aspect to consider when you are buying any audio device. Check whether your bookshelf speaker is compatible with your computer, tab, or other devices you want to connect with your speakers. Older models usually only work sigh a central control unit and can be connected using a cord. However, newer models are versatile and can be connected to your phone, TV, computer, or tab using a USB, Bluetooth, and HDMI.
---
Wired vs. Wireless
This is an important factor to consider when the interior decor is your concern. When your speakers need to be connected using a lot of wire, the clutter can be very unsightly. A wireless speaker is a much cleaner and more aesthetic version. However, you would have to consider the Bluetooth and or Wifi connectivity level.
Conclusion
If you are a music enthusiast, a pair of bookshelf speakers is probably one of the best investments you can make from the extra cash you have in your hand. A good quality speaker will last you a lifetime and entertain you indefinitely. With modern features like Bluetooth and wifi connectivity, speakers have opened a wide range of options for limitless entertainment.
Our recommendation list for the best bookshelf speakers is a result of thorough market research and consumer survey. If you don't have time to navigate the market yourself, we believe you will find the best choice for your home from our list. Just choose what suits your needs and aesthetic taste, and we can assure you that you have landed a good deal.