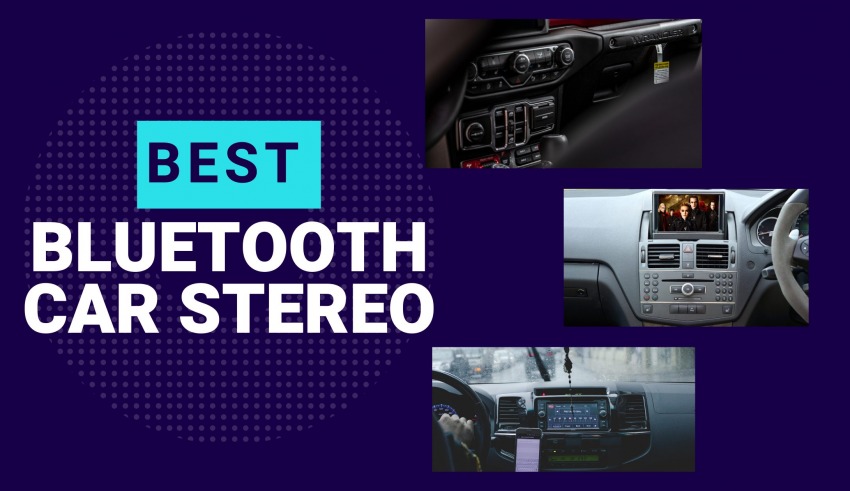 Over the years, music has become an integral part of our everyday life. We listen to music at home and other places to celebrate, relax and unwind. We have become accustomed to having music everywhere we go. Therefore it was long due that our cars too had a great music player. Even though most cars these days come loaded with Good Bluetooth Car stereo music players, yet it is possible that sometimes they are not good enough and you wish to experience better music quality.
Additionally, since now we carry our music around with us in different forms, in a CD, USB drive, or on our mobile phones, the stereo system in the car must be compatible with all of them.
While most of the latest stereo players are compatible with all major sources, there is a possibility that you may want to have a better and more versatile system than the default player. Therefore, we have curated a list of high-quality Bluetooth stereo system, that is versatile and offers their users the best music experience.
Take a look at the best Bluetooth stereo available in the market today:
Sony MEX-N4300BT Built-in Dual Bluetooth

No car ride is complete without good music. And to enjoy good music, you need a good stereo system. A good quality stereo system offers many features to its user, just like the Sony MEX-N4300BT. This high-quality Bluetooth stereo system comes loaded with many features that make it one of the best in its segment.
The stereo system comes with Bluetooth audio streaming, CD Player, Front USB/AUX Input, etc. additionally, it is compatible with the latest voice commands for all major smartphones as well.
The app supports Siri, as well. The system has a high-quality LCD with a built-in microphone. For those who enjoy high bass, the system comes with extra bass as well. You can enjoy FM and Am with the stereo as well.
---
JENSEN MPR210 7 LCD Bluetooth Car Stereo Receiver


The JENSEN MPR210 is an LCD Multimedia Single DIN Bluetooth Car Stereo system. The Bluetooth stereo system comes with a high-resolution seven-character LCD that offers a great viewing experience.
The system is advanced and allows user to access all their favorite apps with a single touch on an very responsive screen. The system also supports Siri or Google assistant.
This way, the stereo system can help play music, listen to podcasts and navigate using voice commands. The system comes with a USB port as well. The system allows users to customize their car stereo music settings. The stereo system comes with a warranty for 1 year.
---
BOSS Audio Systems 611UAB Multimedia Car Stereo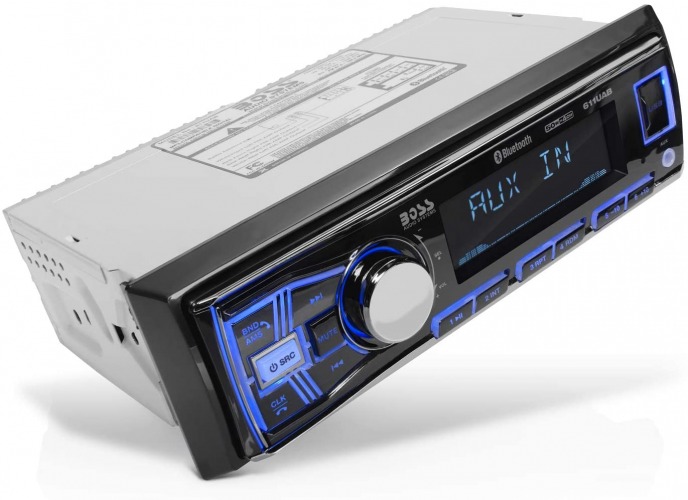 The BOSS Audio Systems 611UAB is a high-quality multimedia Bluetooth car stereo that allows you to listen to great music and receive and answer calls hands-free. Unlike many other stereo players, this system will allow the user to access and enjoy apps like Spotify and pandora.
The app supports music and files in various formats like MP3 and WMA. The stereo system also allows you to enjoy AM/FM radio stations. If you want to connect to another device to enjoy music, you can use auxiliary cables or use the USB port to connect and get access to the music library on the other device.
The system comes with front & rear pre-amp outputs and offers 50 watts x 4 max power. The system manufacturers offer a 3-year platinum online dealer warranty if purchased via amazon.
---
Alondy Car Radio Stereo


Blonde Car Radio Stereo system offers hands-free talking and audio streaming. The system supports playing CD, which is not available on many devices these days. With this stereo system, you also get the ability to enjoy AM/FM and enjoy music, sports, and news on the radio as well. The power output of the device is a peak: 50 watts x 4 channels, RMS: 17 watts x 4 channels.
In addition to all these features, the system also supports access to Spotify, pandora, and iheartradio. The Bluetooth stern system is compatible with Apple iPhones with iOS 8. It also has a data table faceplate., provides CD text information like title, artist, album, etc. the system also comes with some theft deterrent features too. This stereo system is a high-quality Bluetooth car stereo receiver.
---
Pioneer MVH-X390BT Digital Media Receiver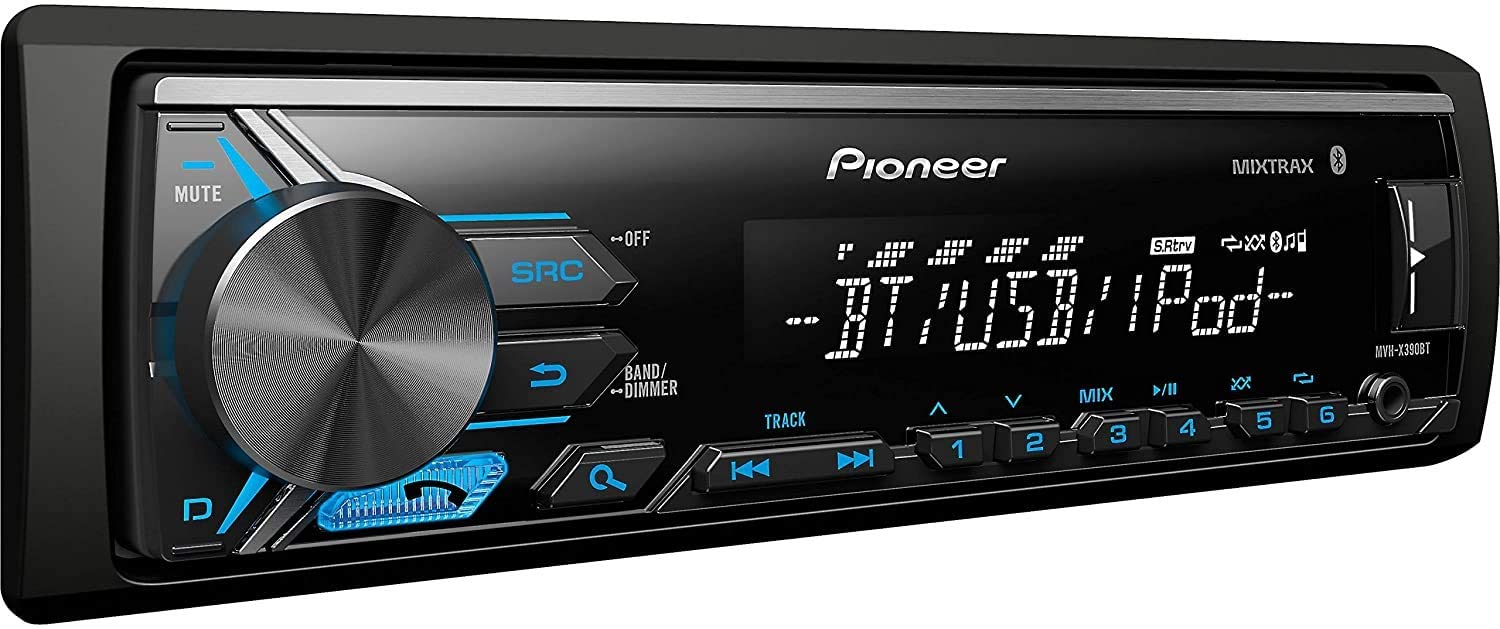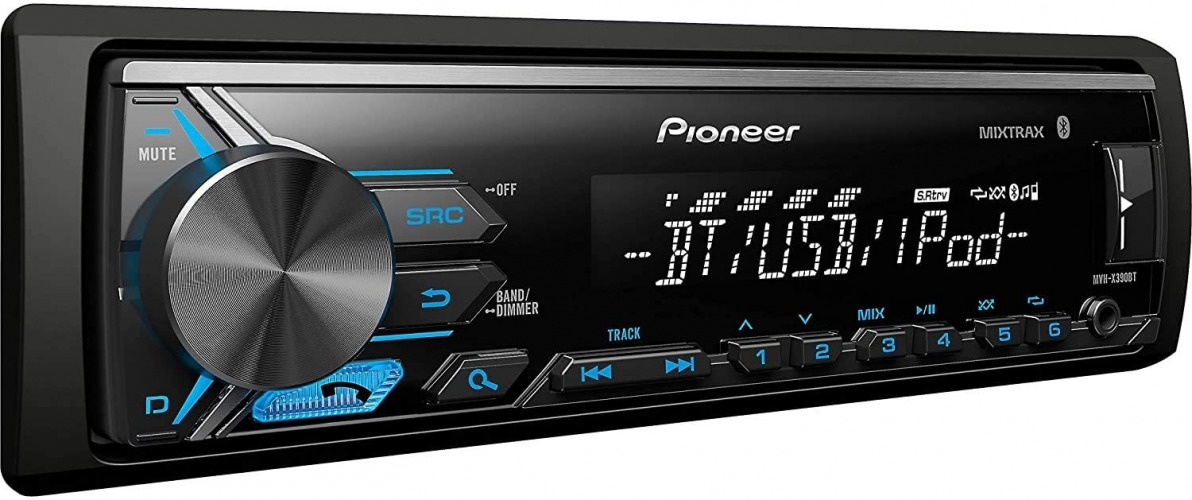 This high-quality stereo system by Pioneer is loaded with a plethora of high-quality and advanced features. It has a 3 -in-1 multifunctional set up which includes a micro USB, lightning and you SBC, USB charger cable, and adapter connector. The device is also great for people who enjoy listening to the radio as it features an AM/FM receiver and tuna.
However, the device does not play CDs. As far as supporting different file formats is concerned, the device is capable of playing MP3, WMA, AAC, WAV music files. It supports built-in iPod, iPhone, and iPad control.
The shallow Chassis fits in different types of applications as a detachable face and a single-line display. It is after keeping in mind that the latest advancements that the stereo system supports hands-free calling and music streaming thanks to its built-in Bluetooth.
The five-band graphic equalizer supported with an advanced sound receiver offers a great music listening experience. If you are looking for a Bluetooth stereo system, pioneer MVH – X390BT is a great option.
---
JVC KD-X260BT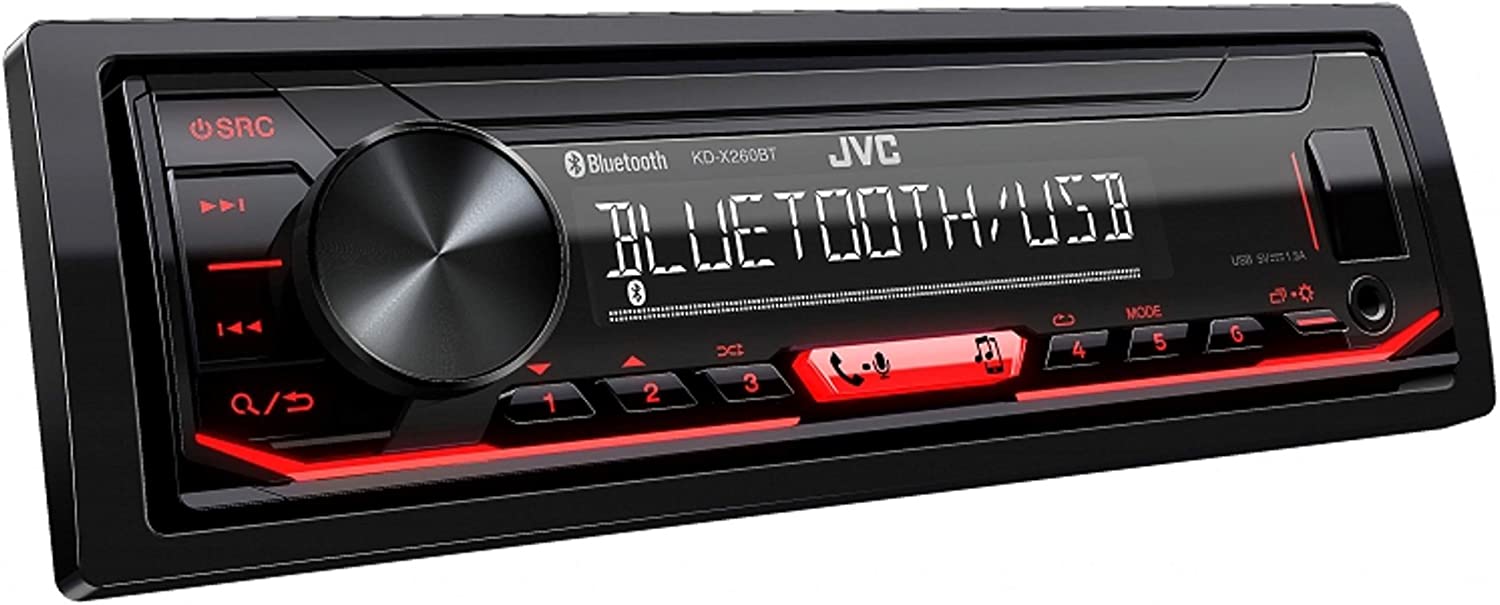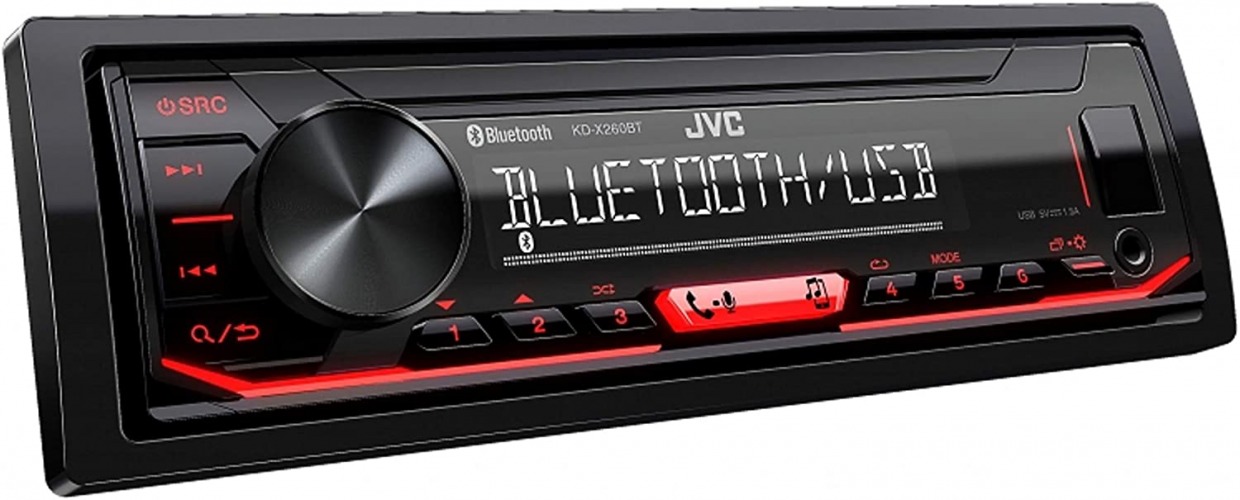 Another addition to our list of best Bluetooth serial systems is the JVC KD X260BT. This high functioning Bluetooth serial system comes with a built-in Bluetooth or USB device support system and an AM FM tuner and receiver. The device goes a step ahead and supports popular apps like Pandora, Spotify, and iheart radio.
Since all new generation listeners love listening to these online Music surfing platforms, the JVC stereo system scores extra brownie points from this point of view. The stereo system is very versatile And is compatible with Apple as well as android devices; it allows for easy smartphone tuning.
Furthermore, it supports iPad iPhone Music playback as well. If you are looking for a stereo system that gives you an overall package that supports different formats and devices, you are so which will conclusively end on this device.
Loaded with many features, this stereo system is worth investing in. You can explore its features to identify how you can best utilize this system to get the ultimate music experience in your car.
---
GRUNDIG Car Stereo Radio Audio Receiver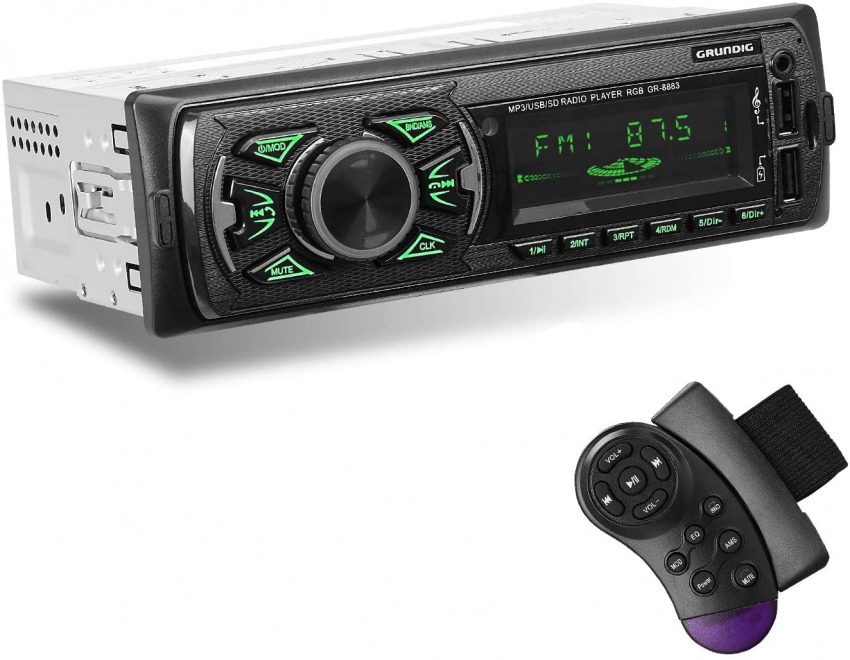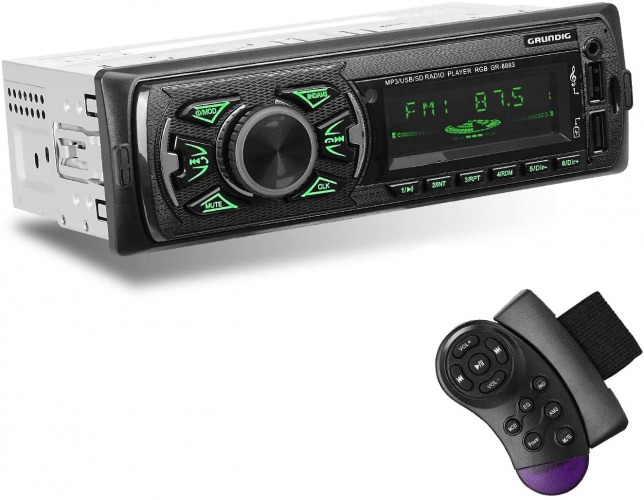 if you're looking for a stereo system that offers hands-free call and steering wheel control, your search for a great stereo system will end with the grande car stereo system.
This perfect car stereo system comes with an FM radio receiver, an MP3 player, a Bluetooth control, etc. with its hands-free calling feature, a user can receive calls safely while driving the car you can also choose the music you want to play and change the volume through the controls on the steering wheel this makes managing music and calls very convenient and easy with the stereo system.
The multifunctional stereo player comes with USB support with two slots in a UX cable support, an SD card port import, and other audio input options on the USB charge port that can also charge mobile phones 50% faster than conventional charging. The stereo system supports various file formats, which include MP3, WMA, FLAC, WAV audio file format.
The stereo system is very easy to install in a car and comes with seven colors of LED lights that can be replaced. But long-pressing and rotating the knob, you can also change the color on the screen by rotating the knob.
The stereo system comes with remote control, a power cord or manual, and a key. With one year guarantee and after-sale services, the stereo system is among the best Bluetooth stereo systems available in the market. It is great value for money, provides users with various options, and can be used in most cars.
---
Nakamichi NQ711B Bluetooth Car Stereo Receiver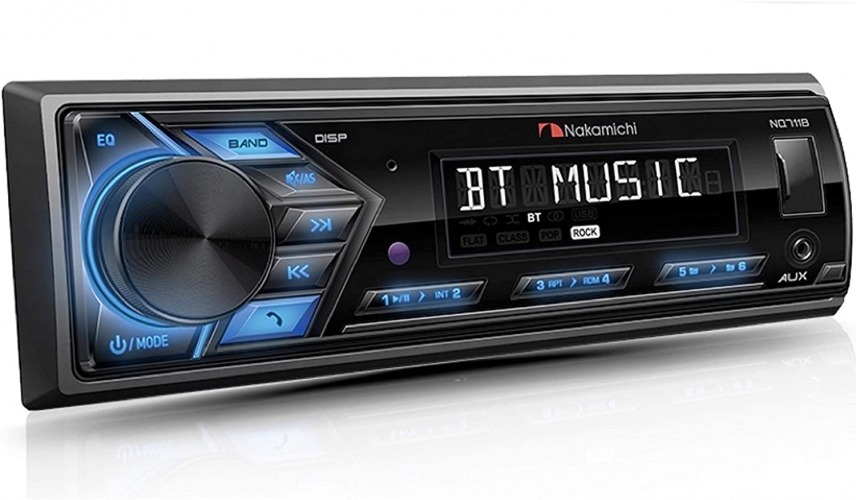 This Bluetooth stereo system from Nakamichi is one of the best in its segment. The white LED display with a blue LED button illuminates the display of the stereo system and is very appealing to the eyes. The stereo system comes with an AMFM tuner and digital media receiver.
The built-in wireless Bluetooth system offers a very convenient and easy hands-free experience which includes receiving calls and music streaming. The stereo system supports multiple audio formats that the user can play on the system.
These audio formats include and or are not restricted to MP3, WMA, etc. The stereo system comes with USB support, aux support, and a detachable face panel. The RCA line out also comes with an IR remote control. You can also use the stereo system for managing and using various apps the system supports.
This sleek-looking Bluetooth stereo system has all the significant features that a good stereo system must include. It can be a great addition to your car if you're looking for a stable, reliable, and multifunctional stereo system. You and your family will not be disappointed by making an investment and buying this stereo system for your car.
---
Pyle Single DIN Head Unit Receiver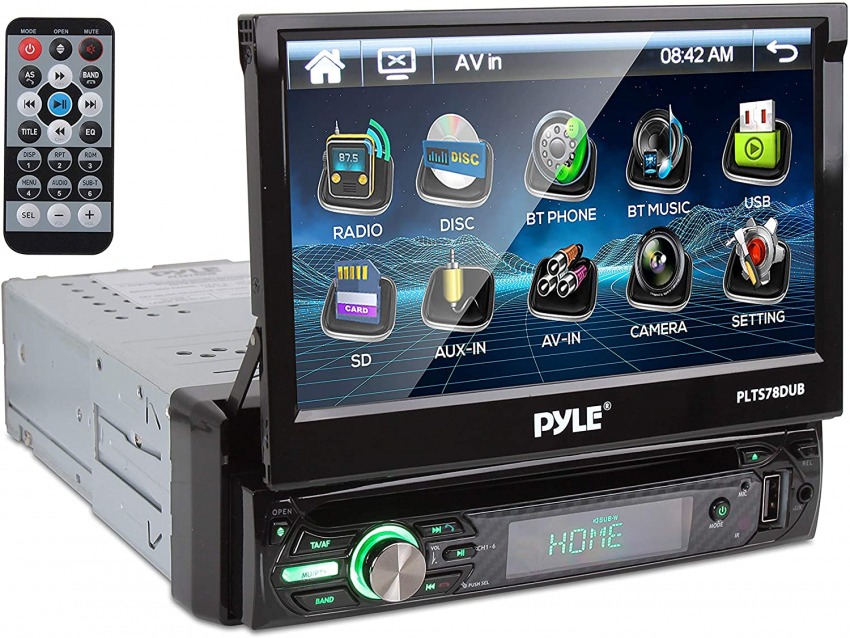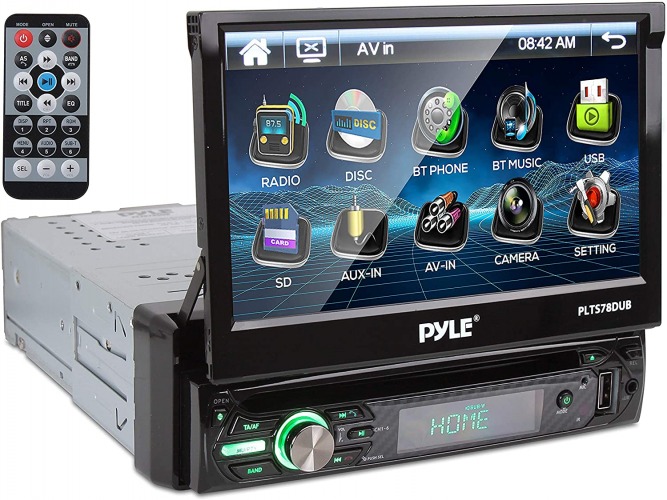 The 7-inch touchscreen monitor from Payal single is another high-quality stereo system that you can explore. This is a complete car entertainment system that features a multicolor LCD which is also a touchscreen that makes for an ultimate video watching and music experience.
A very fun system and convenient to use, it is also loaded with rear camera support for your protection. The system Supports hands-free operation and comes with Bluetooth connectivity for wireless audio streaming; the same can be used for making hands-free calls and answering through the built-in microphone that allows you to answer calls without having to hold your phone the whole time.
The device is a smart device that is compatible With iOs and android devices, including mobiles and tablets. The system supports MP3, MP4, and even MP5 files, which you can easily navigate through using a remote control that comes along with it. The single din head unit allows the user to have full control over their car's music and visual entertainment.
Going a step ahead, the system is equipped with an AMFM radio tuner and a CD and DVD player input as well. You can link your multimedia devices with the system without any hassle. You can use the aux input also that comes along with it. The manufacturers also provide the user manual for customers to make the most out of the stereo system.
---
Alpine CDE-172BT Bluetooth Receiver

This stereo system comes with a CD receiver, an AMFM tuner, a USB drive, and an inbuilt Bluetooth system. The music system supports various music formats, including MP3, WMA, FLAC, etc. The stereo system allows for hands-free calling and audio streaming thanks to the inbuilt Bluetooth system.
The system supports iPhone and Android devices and comes with built-in iPod, iPhone, and iPad control. However, you must Check product details to ensure that your mobile phone is compatible with the device.
The music system goes a step ahead and offers USB connection auxiliary input etc. The device is a reliable and versatile stereo system that will allow you to make your driving experience even better by playing good quality music of your choice.
---
Conclusion:
We hope that you find the above-mentioned stereo systems interesting and compatible with your needs and demands. Most of them support all major devices, audio formats, and music listening and streaming options that you can think of. Some of these devices offer hands-free experience, various app support, which is very rare in other stereo systems in this particular segment. You can explore these stereo systems and see if they fit your requirements or not. By investing in any of them, you will be making a good decision if you want to listen to great music while driving your car.