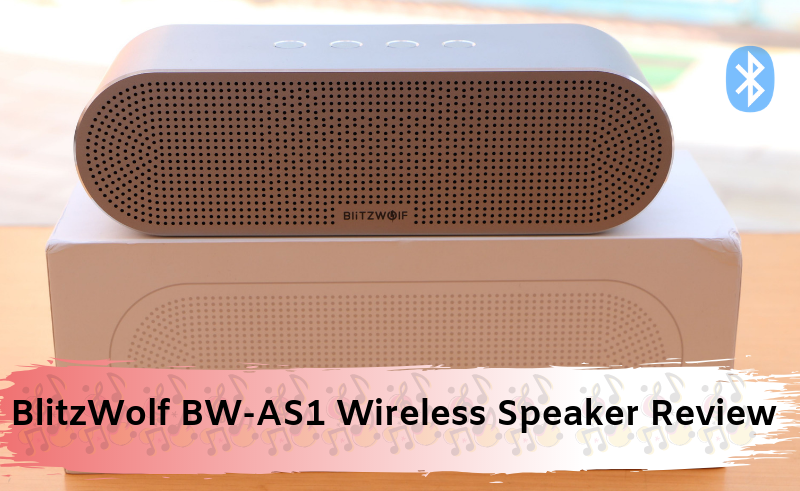 After creating fuzz in the headphones and earphones segment, BlitzWolf has expanded its portfolio with its first-ever wireless speaker called BlitzWolf BW-AS1.
The company managed to crowdfund this product with an awful lot of contribution. Wireless gadgets market did explode within a past couple of years with manufacturers trying to expand its portfolio.
The crowdfunded campaigns generally don't end well but fortunately, the HongKong-based company managed to adhere to its deadline and promise of providing premium speakers on a budget.
If you are in the market looking for a perfect sounding Bluetooth speaker at a budget price tag of £60, then you might want to have a look at the product which we will be reviewing today.
As per the company, BlitzWolf BW-AS1 offers loud, rich and bassy sound experience, all of it while still looking premium and elegant. Let's see does this product manages to live up to our expectation.
Interested in Buying This Amazing Wireless Speaker – Click Here Now !
Get 40% off Use Code : iloveAS1
Technical Specifications:
Model: BW-AS1 20W Wireless Speaker
Material: Aluminium Alloy
Connectivity: Bluetooth + Aux
Transmission Distance: 10 meters
Dimensions(inch): 2.5*2.5*8.1
Bluetooth Version:  4.0
Battery Capacity: 5200 mAh
Output Power: 10W* 2
Frequency Response: 20-20kHz
Box Contents
The box is clean, basic, and sturdy. It has the model number, an image of the actual product at the front and a list of the key technical specifications. The only colour option available is silver.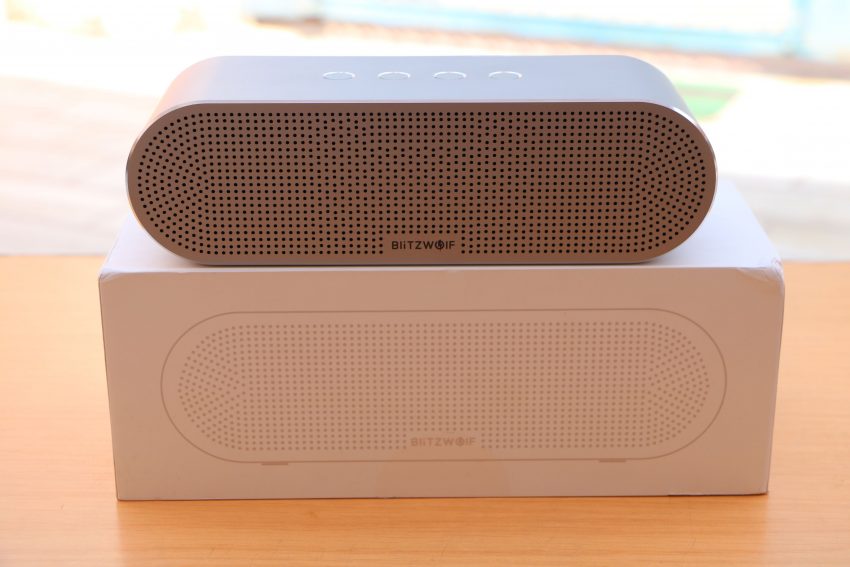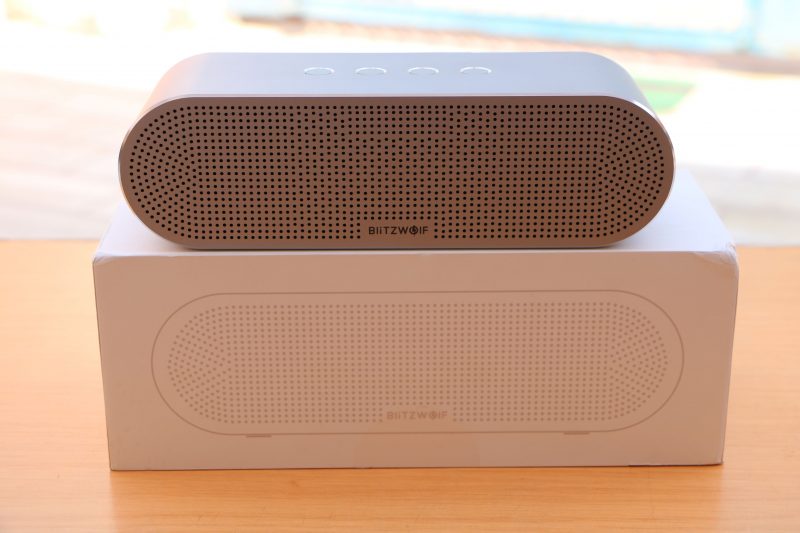 This may be due to the fact that the speaker boasts an aluminium finishing. Along with the BlitzWolf BW-AS1 Wireless Bluetooth Speaker in the box, audio and a micro USB cable included.
Basically, the package comes with the speaker, 3.5mm audio line-in cable, USB power cable, and User Manual. That's it with the in-box content. Let's move to the actual review.
Design
The key highlight of the BlitzWold BW-AS1 Wireless Bluetooth Speakers is the premium looking design. The Bluetooth speaker is crafted by a solid block of anodised aluminium.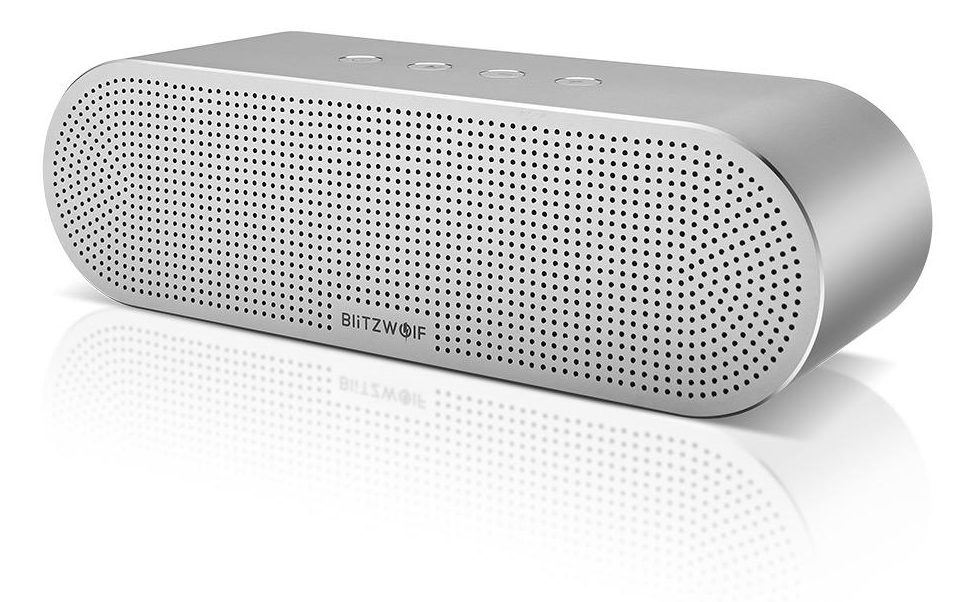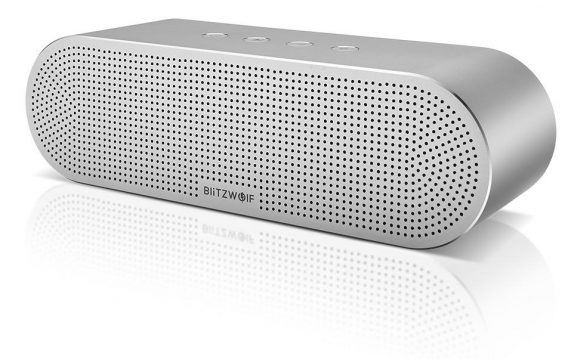 The speaker looks incredibly sturdy which is quite unexpected especially at this price point. What's even better is the fact that the speaker features an elegant design. Not only that, the speaker feels very solid and durable in the hand.
To be honest, I did accidentally drop it a couple of times and surprisingly nothing happened to it. The curved sides,  chiselled outlines and build precision is something that will grow on you in no time. In my case, the speaker perfectly blends with my white color desk setup.
BlitzWolf has, in fact, kept everything very simple. On the top, we have 4 buttons which include on/off, play/pause and volume up/down. The volume up/down buttons double up as skip track forward/back.
There is a micro-USB port for charging and an AUX-in for wired use at the back side of the speaker. On the front, the speaker grill covers the whole area with a small branding in the middle bottom position.
There are two individual 10W speakers to deliver 20W of sound in the front on either side of the rounded area. The design is pretty symmetric and clean and gives a robust feel in the hand.
At the back of the speaker, You will see slotted openings which are there to provide ventilation for bass, thus making the speaker lucrative for bass lovers.
At the button, we have a common pair of rubber pads to provide speaker stability and a firm grip which also gives some anti-shock capabilities. It may be a bit heavier (at 760g) for some users due to the aluminium casing.
Portability Features and Connectivity
Compact design with an impressively loud sound makes the BlitzWolf BW-AS1 best for portable use. The device also offers easy pairing with a stable connection so that you can experience seamless sound quality.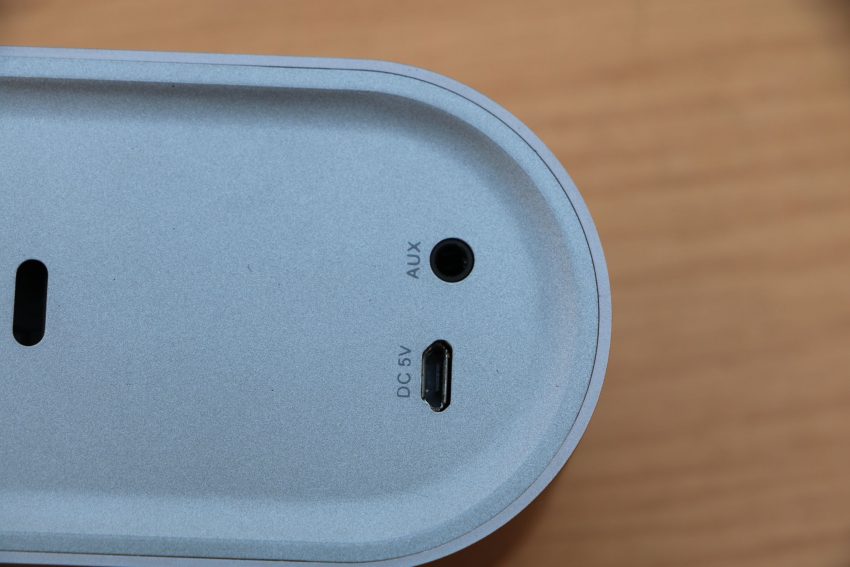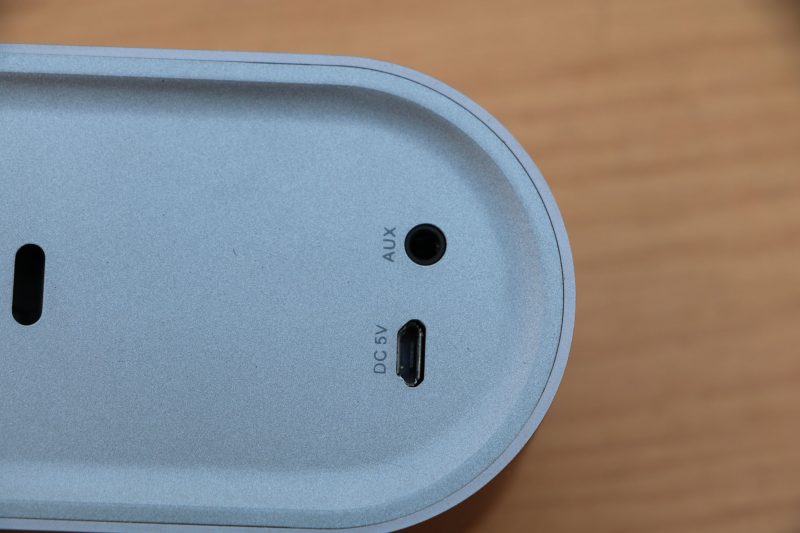 With the micro USB charging port and an audio input port, the BW-AS1 can be also connected via a cable. Talking about wireless connectivity, the speaker gives a stable and reliable connection and the range is quite impressive.
The company claims a maximum working range of 10m or 33ft. However, testing results reveal that a range of a maximum of two metres is best to get a stable connection.
Battery
The Bluetooth 4.2 technology with the 5200mAh lithium-ion battery allows the speaker to offer a whopping 11 hours of playback time at 50% volume on a single charge.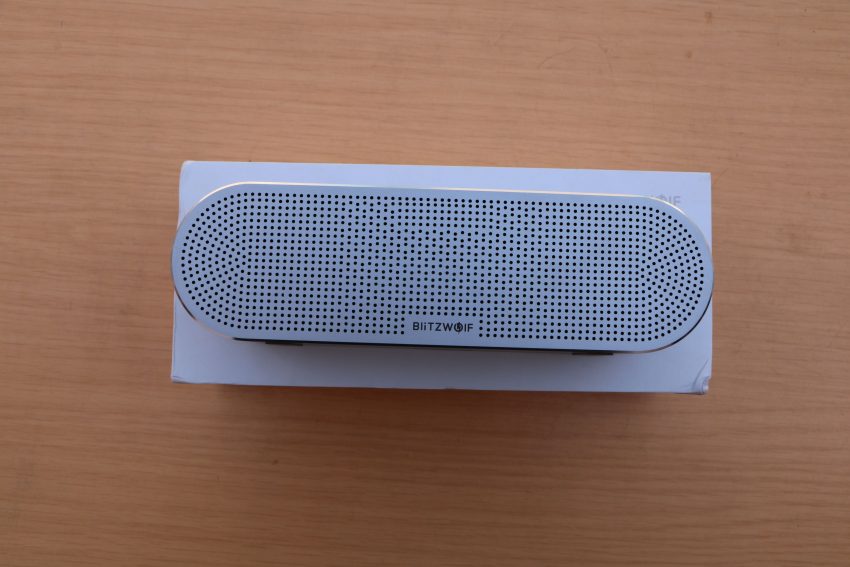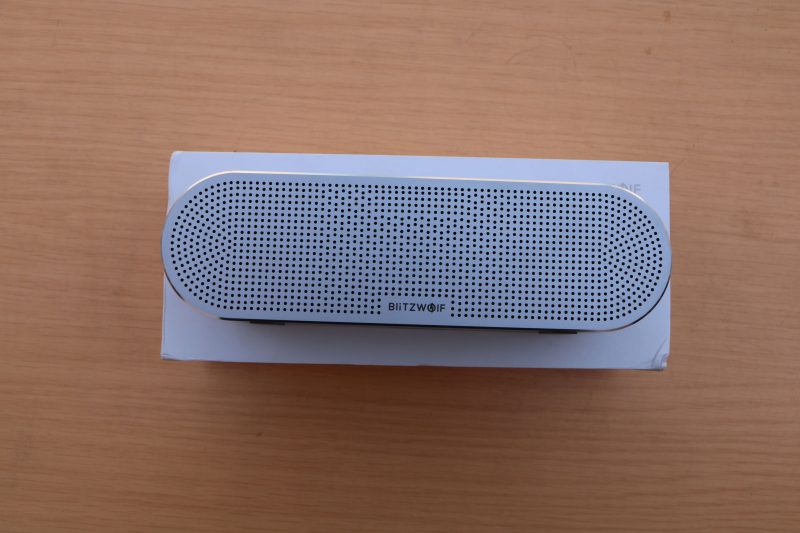 The speaker takes almost 3.5 hours to get fully charged. There's nothing else to talk about in the battery department. For the price point, the overall battery life seems pretty decent.
Sound and Performance
Another thing which BlitzWolf explicitly promised to the crowdfunders was the powerful sound performance.  The dual drivers on the BlitzWolf BW-AS1 produce clear treble, deep bass, and a composed midrange.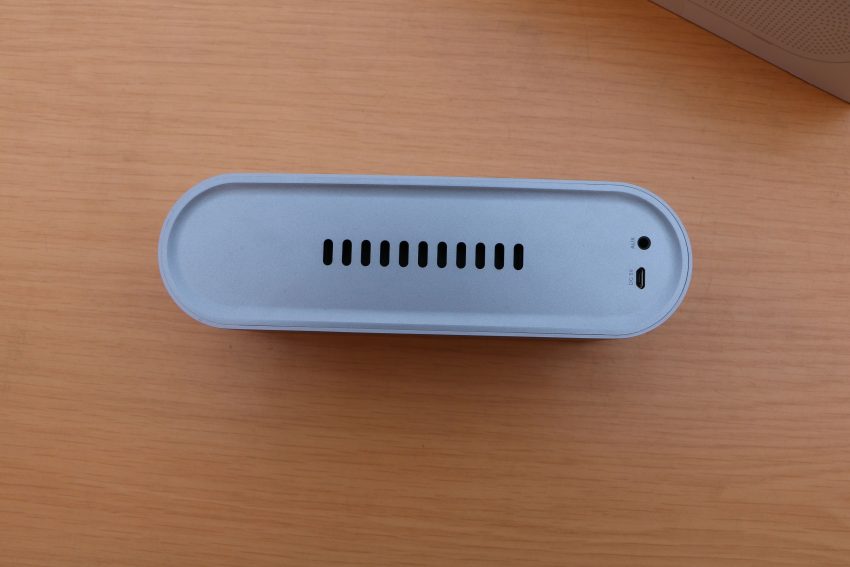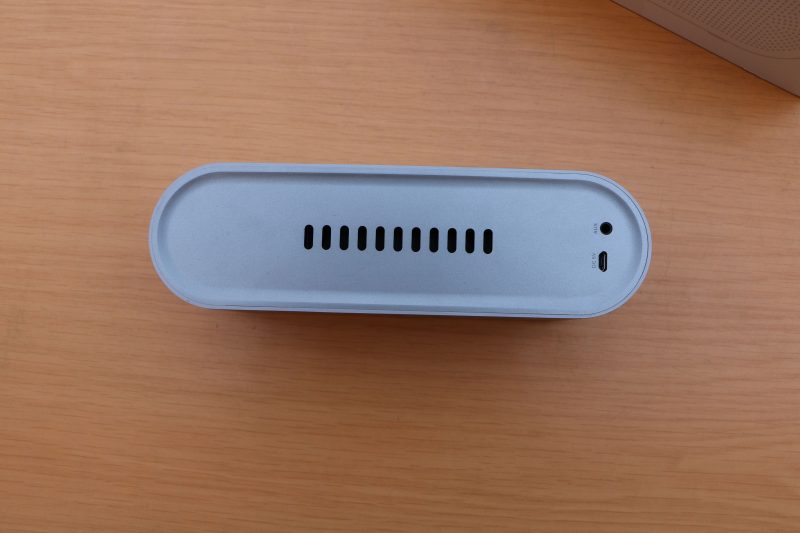 The dual bass radiators also add to the surround effect which in turn gives you immersive sound experience. However, we do experience some distortions here and there which is largely due to the connectivity problems.
For some users, a bit more of a crisp top end sound could have been wished but still you're going to love the overall sound quality of this speaker.
There are no vibrations felt even at maximum volumes, thanks to the rubber pads placed at the bottom of the speaker. The bass is finely tuned and made pronounced which makes it quite appealing to ears.
For people who wish to listen to audiobooks, the permanent boost of the bass makes listening to audiobooks sub-optimal. Similarly, for people who are willing to watch movies on the speaker, the main point to note is that when music and voices occur at the same time, the music overpowered the majority of the words of the time.
A 'Mode' button to toggle between different scenarios could have solved such issues. However, it can easily compete with other speakers in its category. Even though these are designed for inside use, they are recommended for outdoor purposes such as picnics etc too.
Verdict
You cannot get anything better if you don't want to spend more than £60. The BlitzWolf BW-AS1 boasts amazing sound and built quality at a fraction of the price to what some premium brands offered in the market.
The premium look makes it dissolve in its surroundings which makes it ideal to be kept on bookshelves. A 'Sound Mode' feature would have been appreciated to make it ideal for multi-purpose playback.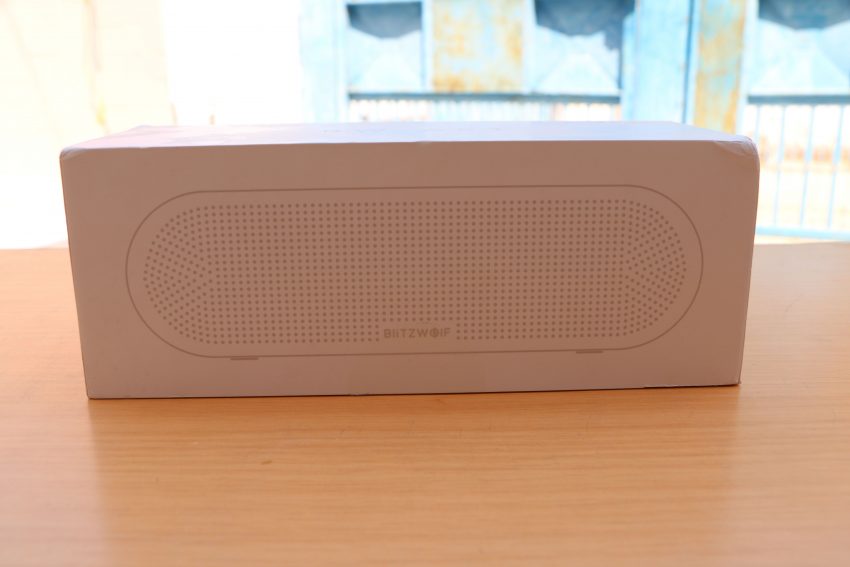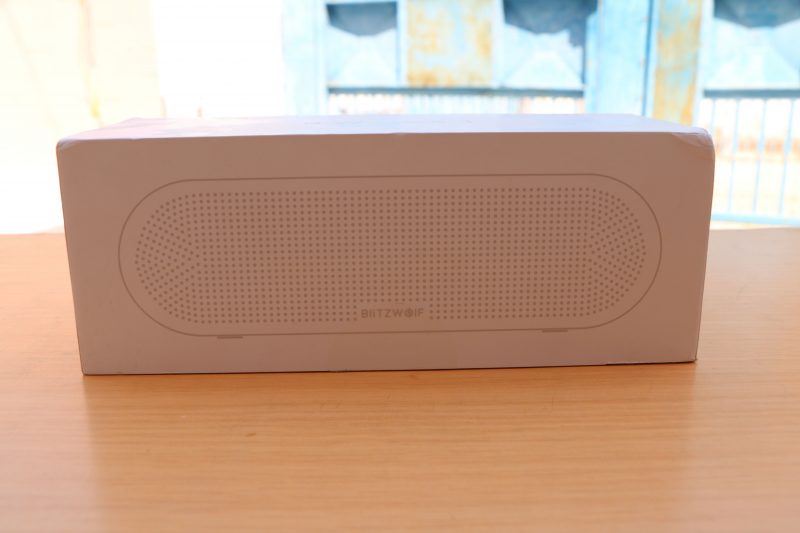 BlitzWolf might add such feature in its next-gen wireless Bluetooth speaker.  This is because audio playback quality lacks a bit as compared to some of its competitors.Another major con of the BlitzWolf BW-AS1 is that it is a bit heavier as compared to other speakers in this category.
Another downside is that it does not offer any water or dust protection and it is not resistant to dents and scratches as compared to other speakers like the Flip 4 or the Sony XB21 provide more functionalities such NFC or a light effect.
Overall if you want a powerful, premium looking Bluetooth speaker with loud sound a decent battery life at a price tag of £60 or so, the BlitzWolf BW-AS1 can be the one without any second thoughts. With a perfect balance between affordability and quality, the speaker is ideal for any environment or scenario.