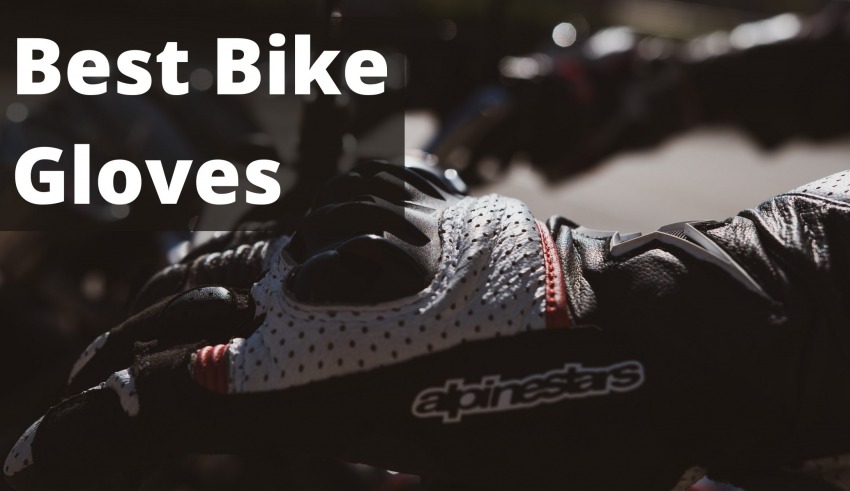 With the lockdowns becoming a bit more lenient and the countries reopening normally, travel has become a really important part of this time. Since people have been cooped up in their houses for almost two years, which did feel like an eternity are now getting to go out and hence are much better off than before. This is when the crazy biker in you can also come out and enjoy the reopened roads. However, for a biker's safety, good safety gear is important. One of the most important safety gear is biker gloves with great safety, and that is why we bring to you this article. Today we're going to tell you about the ten best biker gloves with great safety, which will be a great value for money deal.
If you ride a bike and are excited to go back on the roads, this is the perfect article for you. So without further ado let's start with the first one:
ILM Alloy Steel Knuckle Motorcycle Gloves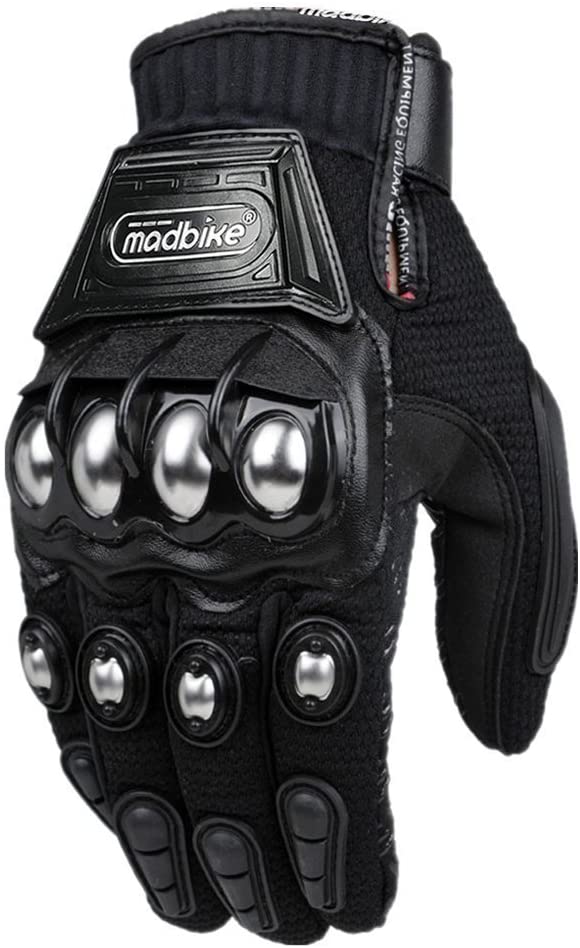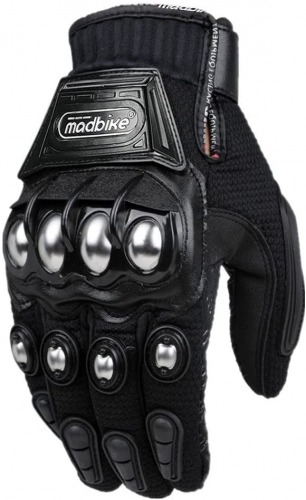 This biker glove from ILM is one of the best biker gloves you can find on the internet. This is because the glove itself is made of a comfortable textile mesh and the knuckles and the fingertips are covered with alloy steel which is made from injection molding. This gives you the comfort and the protection you're looking for and hence enhances your riding experience.
Speaking of riding experience, these pro bikers gloves are engineered well for the human body and hence they protect the joints and the bones well. So even if you, unfortunately, meet a collision, you can be sure to have your hands protected.
Compared to normal leather gloves, these biker's gloves are well made and provide all-around protection to your hands, which is important to have when you're revving on the highway.
For $19.99 these gloves from ILM are the best deal you can find and hence you should check this out. However, there is only one color option available, hence if you're looking for a variety in that segment, you may have to look out onto other brands.
---
Milwaukee Leather Biker's Gloves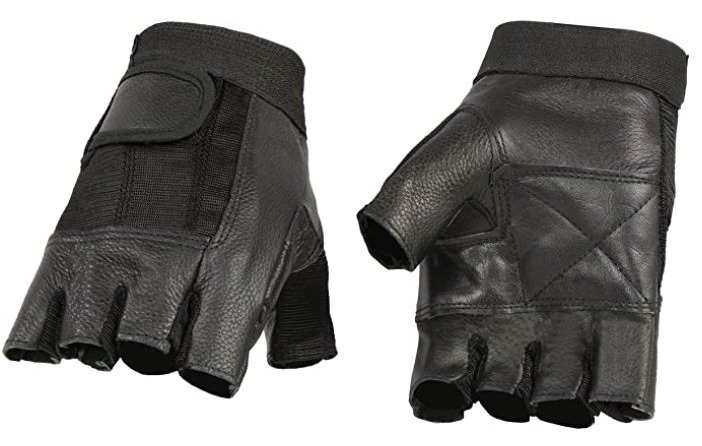 Now, if you are looking for a more trendy and stylish biker's glove, then this one from Milwaukee is the one for you. These gloves are fingerless gloves from Milwaukee which makes them look even more trendy and stylish.
They are made from real leather, so there is no compromise to quality and hence are durable as well. However, if you are looking for gloves that will protect your hands in the event of a collision, these are not the best option to go for.
However, to look even rawer and get the essence of biking, these gloves are the best. They also have padded palms, to keep you comfortable and hence for $9.99, these biker gloves are the best option for you. If you are looking for fingerless biker gloves this is the one you should go for.
---
Jackets 4 Bikes Leather Gloves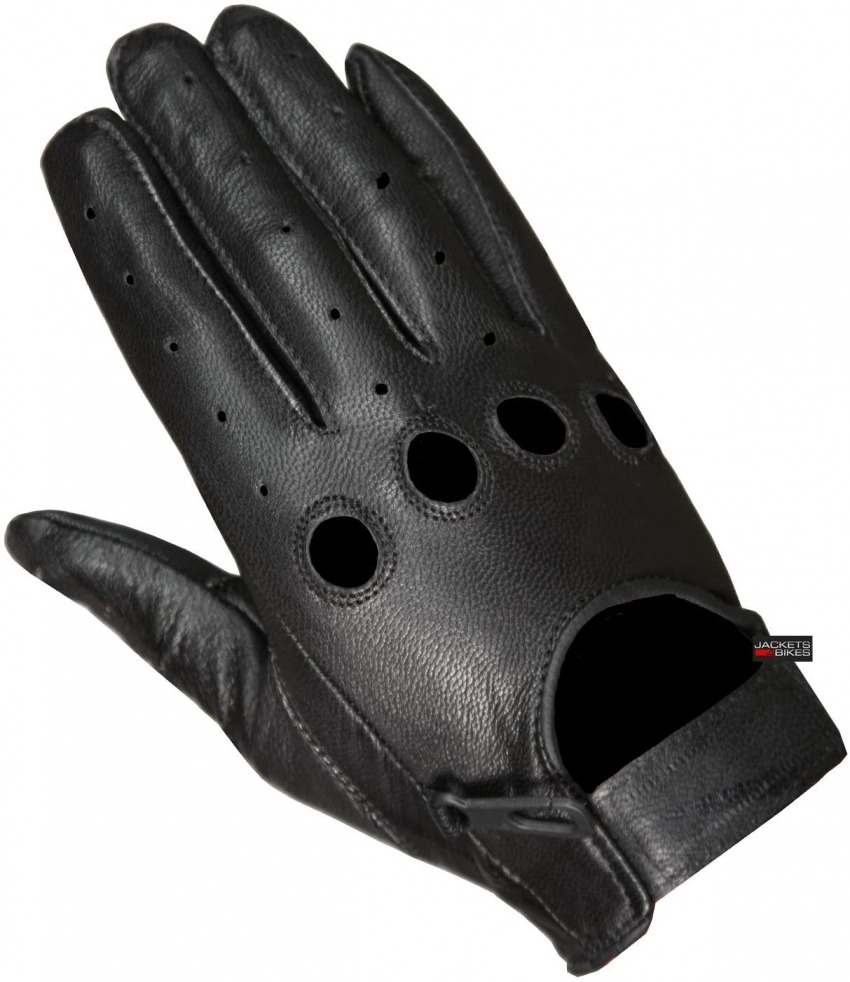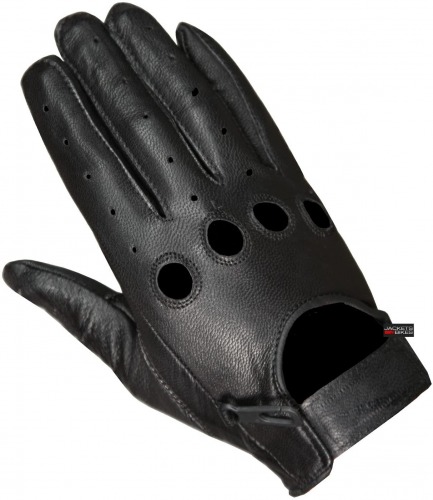 Unlike the last product we mentioned, this one is a complete leather glove with fingertips intact. This leather glove from jackets 4 bikes is a high-quality product as it is made from aniline leather, which is strong, durable, and hence will stand the test of time.
This dont come with the protective padding as you saw in the first glove that we took a look at, but these do a fine job keeping the weather out and hence maintain your grip on the rev. These gloves are unisex, so both men and women can wear them which is why it is a great pick.
Also, it is available in a variety of sizes, which makes it easy for everyone to get a pair for themselves. If you are looking for a pair of vintage biker gloves, then this one from jackets 4 bikes is the one you should go for. Speaking of the price, these gloves come with a price tag of $15.93 irrespective of the size you pick, so it is a great deal in our opinion.
---
Raider Bcs-500m Fingerless Leather Gloves
As the name suggests, next on the list is yet another pair of fingerless gloves for the ones who are trying to look as raw as possible when riding their bikes. The thing with fingerless gloves is that you get a better hold on the rev, but you are not as well protected. However, it is a gamble that a lot of people like to take, which is why we present to you these from the raider.
Now, the BCS 500M is a fine leather glove made to last. Even with the high quality, the price isn't as high, which is a great thing. For $10.18 this pair of gloves is a great deal.
As the product description says, this product can be worn while riding ATVs and even motorbikes, which makes it versatile. Also, the sturdy design gives you a long-lasting product, which is why you should consider buying these biker gloves. This might not be the safest option to go for, but this does look good when you're riding your bike.
---
Galaxyman Motorcycle Gloves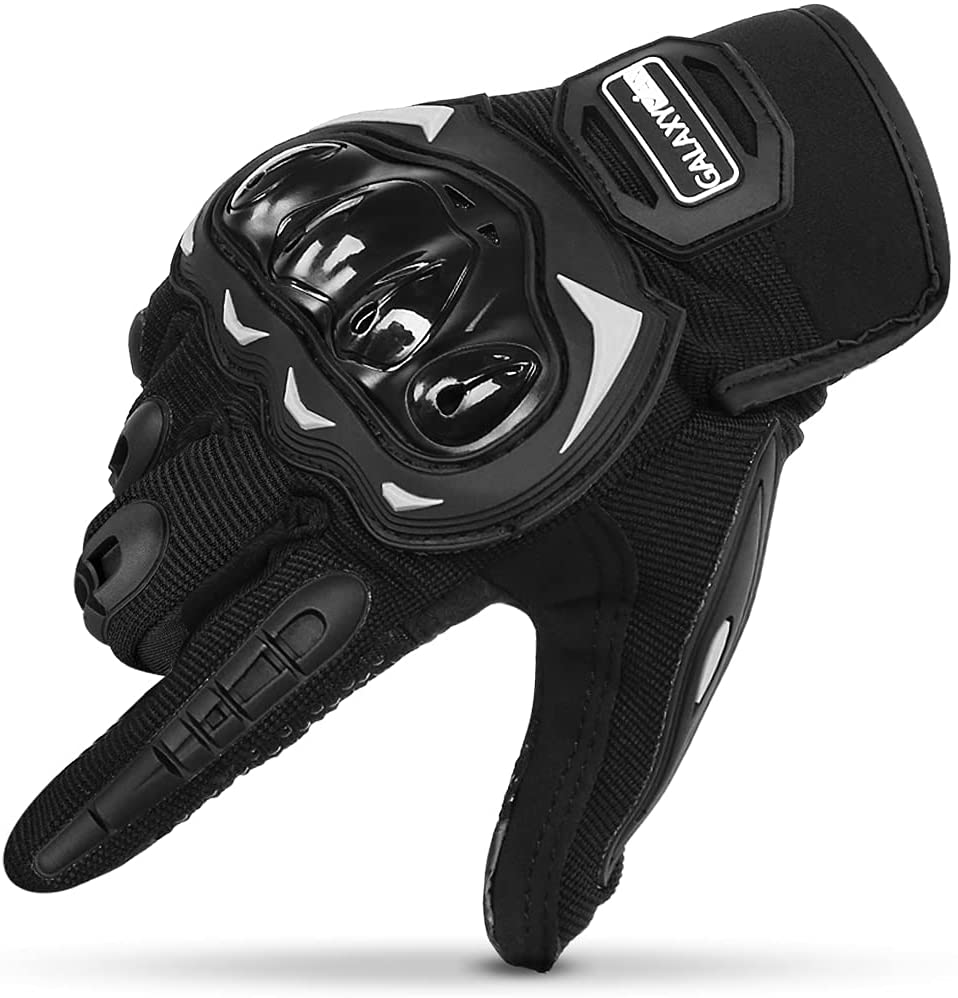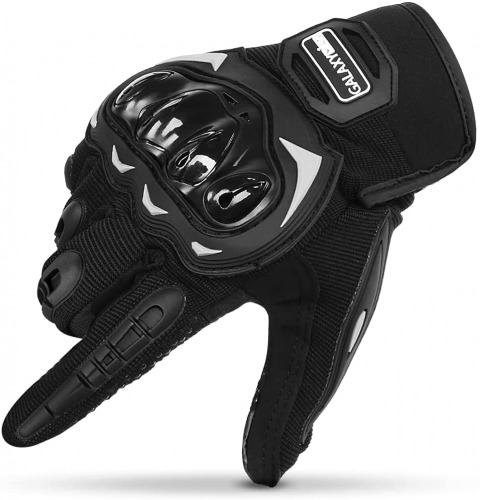 For the ones looking for a great fit and maximum protection of their hands while they ride their beauty, these pro biker gloves from galaxy man are the answer to all their questions. For people who love to ride really powerful bikes, this glove is an absolute necessity. This is because, at higher speeds, accidents are more prone to happen and hence protection becomes important.
This glove is made from high-quality leather and the knuckles and fingertips are protected with a soft PVC material. This makes it a perfect choice for those who are looking for all-rounder protection and comfort as well.
On top of that, the best part about these gloves is that they are made from a material that supports touch screen usage. This means, that you can use your mobile devices while wearing this pair of biker gloves and there won't be any difficulty. For $19.99 this pair of pro biker gloves are a great deal and hence you should highly consider picking it up.
---
Purfun Fingerless Leather Gloves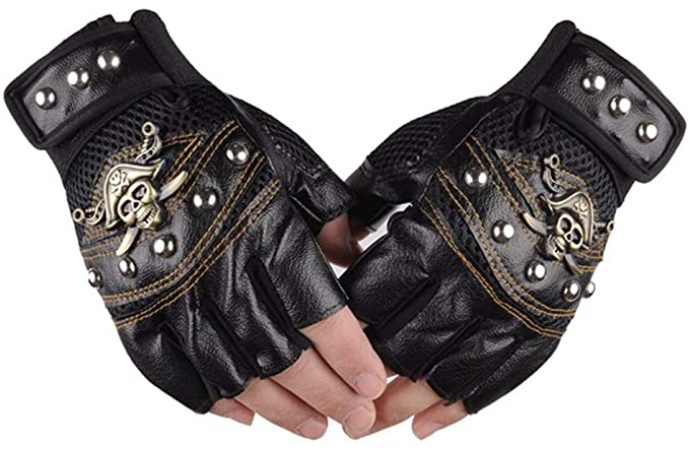 Here is another entry of fingerless biker gloves, which are trendy and stylish. This one from Purfun outperforms the other ones mentioned on this list because of the classic metal skull design on the face of the gloves and with the iconic fingerless design, it looks really good while riding.
As the name suggests, this glove is also made from high-quality leather which makes it more durable, sturdy, and protective. This pair of biker gloves can take quite the beating and will look even better a bit more beaten up.
With the contrast stitching on the face and with the rivet design, this pair of gloves will catch quite the attention on the road and hence will get you compliments as well. If you are looking for a statement piece in the form of gloves, this is the one you should go for. The $9.99 price tag, also makes a good gifting product to give to your biker friends.
---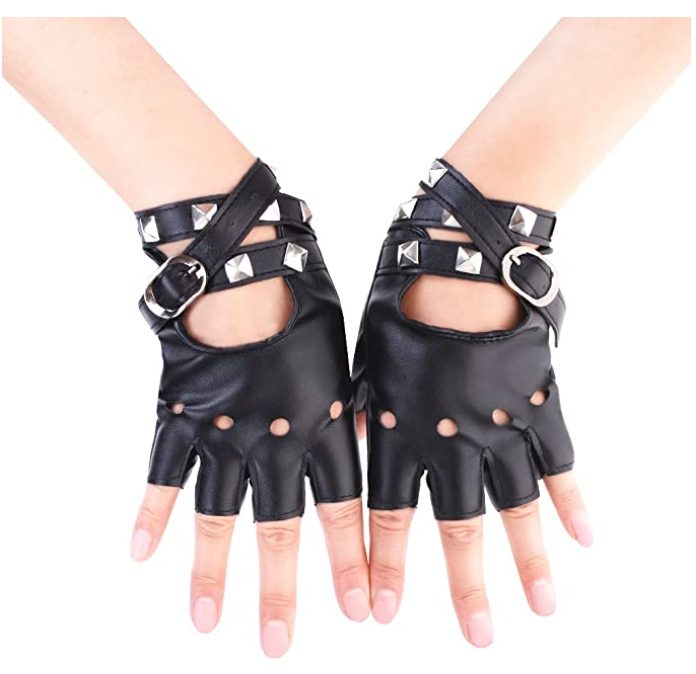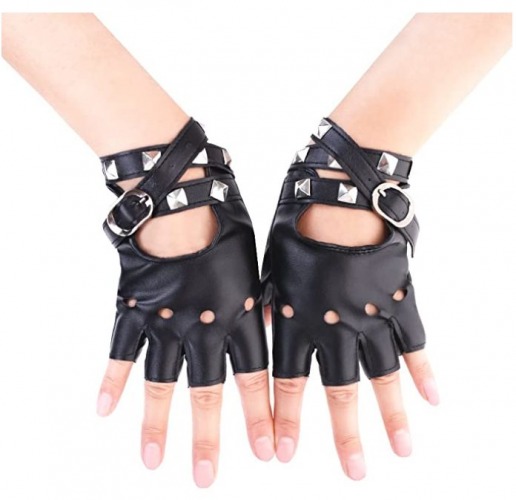 All the gloves that we have mentioned on the list so far have been unisex products, meaning both men and women can wear them. However, this one is particularly from the women's section.
This leather glove from Jisen is a good-looking and trendy, fingerless biker glove for people who like the punk aesthetic. Made of faux leather, and with the rivets to style them up a little bit, these gloves look beautiful.
Since they have a U-cut on the wrist face and small knuckle holes which makes the glove look even better. These might not be the best protective biker gloves but these are one of the most stylish ones out there, hence if you are looking for something like that, this pair is the one you should pick up. Priced at $10.99 and a variety of color variants available, this pair of gloves is the best punk gloves on a budget.
---
Skeleteen Gothic, Fingerless Leather Gloves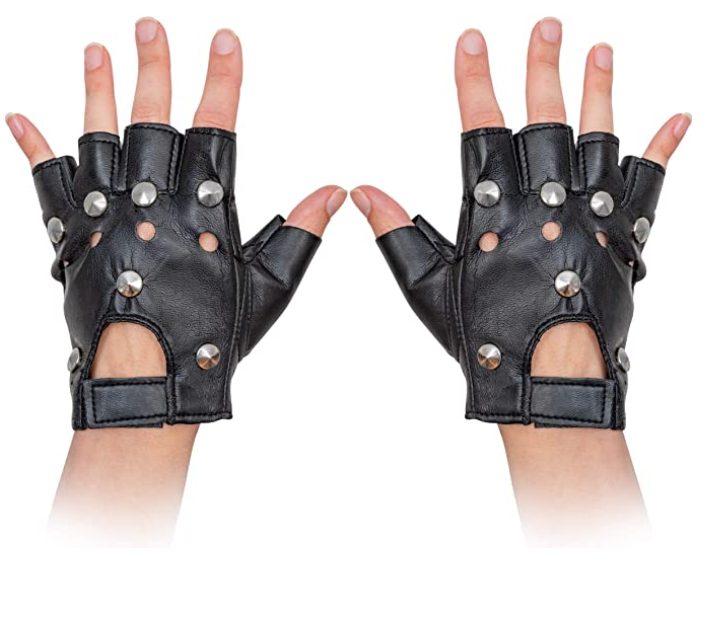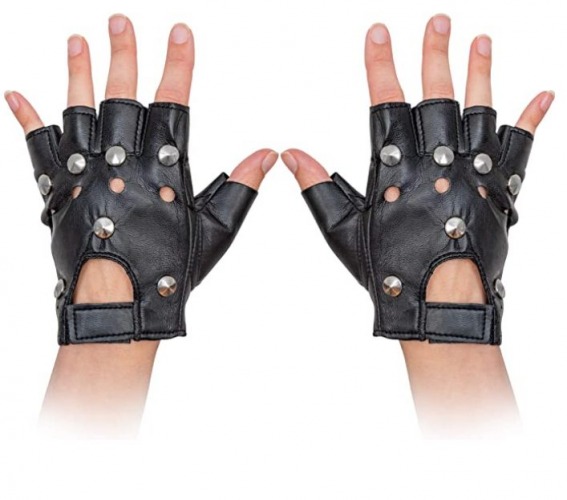 The next on the list is another fingerless biker's glove which is made in a hook and loop cut, just like the previous one, but this time around the design is more unisex. With rivets on each finger's base and a shiny leather appearance, this pair of biker gloves is really good when you put them on while riding.
The design, the material, and the price everything are perfect and hence you should consider buying this pair of biker gloves. In terms of comfort, these gloves have proven their mettle and have also stood the test of time as reviewed by the customers.
If you dont believe the claims, you can order one for yourself and test these out. They only cost $9.99 which is a great deal when it comes to biker gloves and hence you can test them out without worrying about putting a hole in your pocket. Skeleteen has been making biker gloves for a while now and this fingerless one is one of their best selling products, so you should check them out once.
---
Wtactful Fingerless Biker Gloves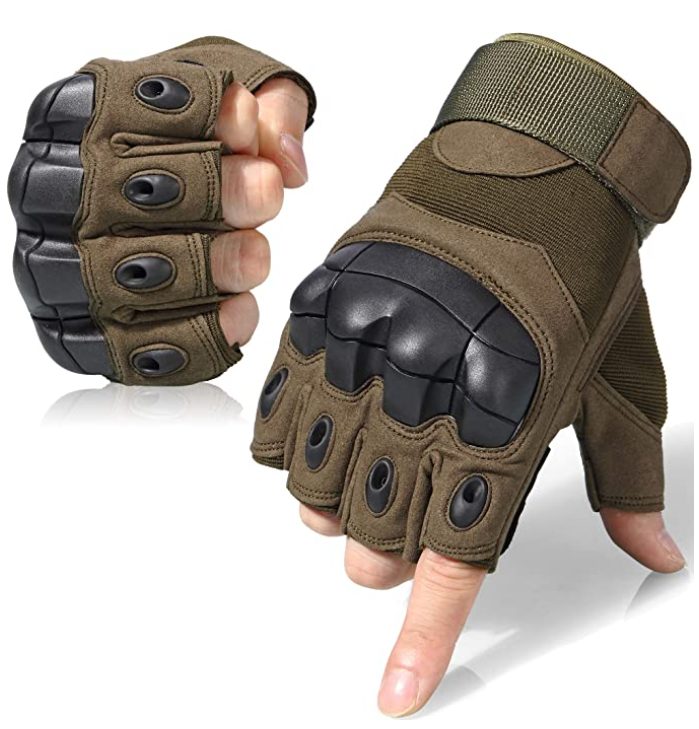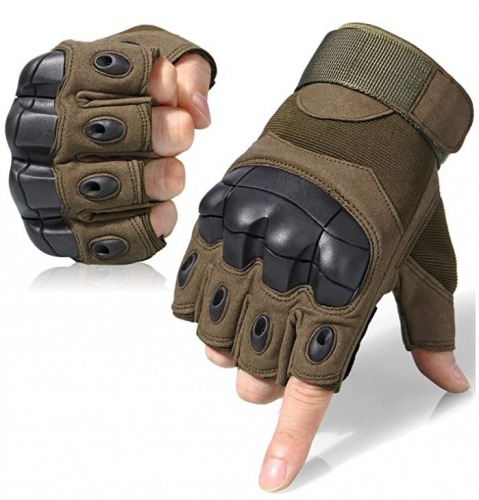 This one adds another name to the fingerless biker gloves we have looked at today, however, this one is the most versatile. Since fingerless gloves are known to neglect protection and focus on style, Wtactful has come up with a way to make fingerless gloves safer without taking away the style points.
This glove is made from a microfiber material that is comfortable to wear and the knuckles are covered in rubber, which can take an impact without damaging your hand. Since your fingertips are exposed, it is not as safe as a pro biker glove, but it does the job pretty well.
With three color options available, namely, brown, black and green, this pair of biker gloves takes it up a notch when it comes to fingerless biker's gloves. These gloves are multipurpose as well, which means you can wear them to a hike or even mountain biking and much more. With a price tag of $13.99, this pair of biker gloves is the best one in our opinion.
---
MoreOK Biker Gloves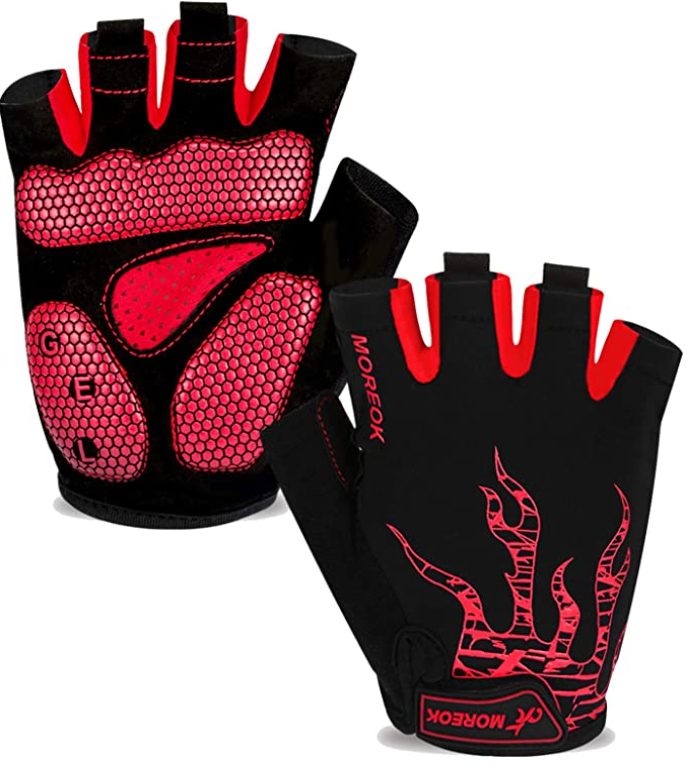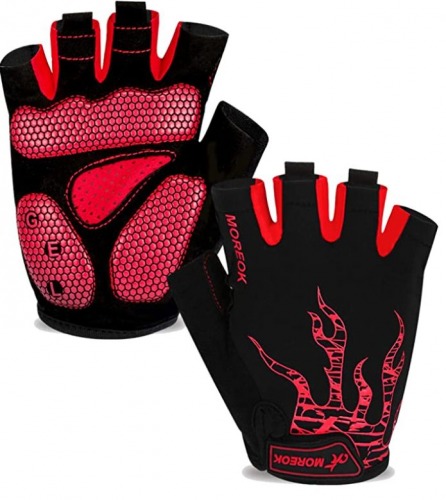 Last but not the least, these biker gloves from moreok are made from rubber which is shock resistant, which can easily absorb the force of a collision and keep your hands safe. On top of that, these gloves are available in a variety of colors which makes them good-looking, and hence you should consider picking one up.
They are also made in hook and loop closure, which gives you a great fit and the fine rubber material feels comfortable to wear on long biking sessions. One of the best things about these gloves is that they have a pull tab on their fingertips, which makes them easy to get off and hence are the ones that you should consider buying. This pair of biker gloves come at a reasonable price of $15.99 which makes them a steal deal and hence you should pick them up as soon as possible.
---
Conclusion
The 10 biker gloves mentioned above are easily ten of the best biker gloves available on the internet. Since most of these products are listed on amazon as bestsellers, you should pick one up from the bundle.
There are all types of biker gloves on this list, starting from fully protective ones to trendy and good-looking ones. We're sure that you will find something that suits your aesthetic and hence you should take a good look at the gloves on this list. Till then, happy biking!