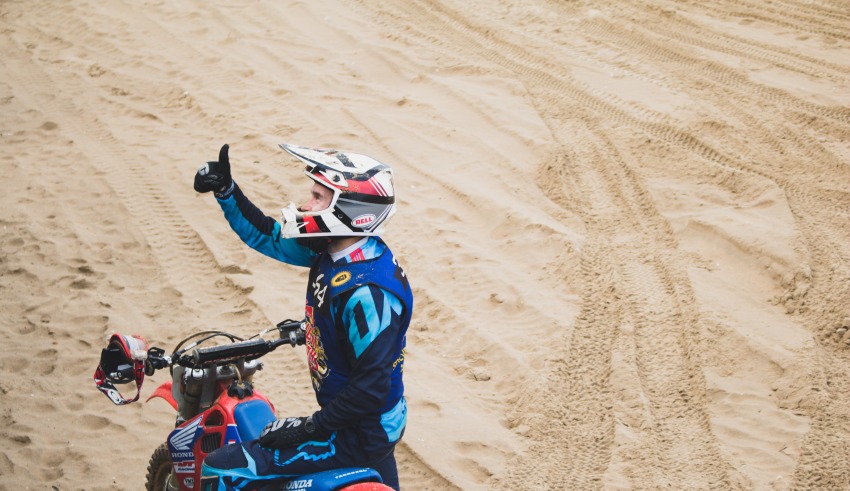 When it comes to biking, there is a lot of difference between an on-road and an off-road method of riding the bike. Off-road biking refers to biking on rough terrains and is an adventurous activity for a lot of people.
Having said that, off-road biking requires the necessary equipment and gears designed to give you the best possible experience when you're zooming away on rocky grounds. When you're driving off-road, your main concerns are rocks, mud, and gravel.
With the requirements being different from an on-road biking experience, the equipment needed also differs vastly. Here are some off-road bike accessories you must have!
Helmet and Goggles
Riding off-road requires intense physical activity, which means that you'll have to allow a large passage of air into your lungs. When a lot of air enters your body, it's necessary to expel a lot of air too.
That's why you must have a specially designed helmet that allows the free flow of air in and out through a large viewport. The helmet's peak also keeps sunlight out of your eyes. According to MotoShark, nearly 60% of off-road deaths were caused due to absence of helmets.
Along with your helmet, it is also necessary to use goggles. When you pair the helmet with a good pair of goggles, it provides a very good rate of protection against dust and dirt.
Boots
There are three main types of off-road biking boots available- motocross, enduro, and adventure. Motocross and enduro boots protect against loud banging, for example when you bike at 60kmph on a rough surface.
Enduro boots come with soles that give more traction. Motocross ones have smoother soles that prevent your boots from getting lodged against rocks or pebbles.
On the other hand, adventure boots are not designed in such a fancy way; they provide more comfort while retaining some of the characteristics of the other two types.
Jersey and pants
Since off-road biking requires a lot of mobility and breathability, it's important to remember that heavy jackets and pants are a strict no here. Light jerseys and pants help you move faster and more flexibly.
If you're looking for some trendy clothes when you're biking, check out Saint.cc, a company that provides you with wear-resistant motorcycle jeans and gloves. They aim to make fashion as comfortable as possible, and have a wide variety of single-layer protective clothing for your adventurous rides!
Elbow and knee armor
When you ride around wearing protective clothing, it makes sense to protect your elbows and knees too, right? These armors can be worn underneath your jackets and pants.
If you strap them properly, they won't budge even an inch, no matter how jerky your movements are on the bike. EVS Gear makes a large number of such armors, and their products come at various prices to make shopping easier.
Gloves
So you've bought protective gear for all your body parts, but what about your hands and fingers? Off-road biking requires lots of muscle movements in your fingers and palms. Even your knuckles may get injured if you're not careful. So gloves are necessary equipment here.
Many of these gloves don't have knuckle protection, but it is always better to opt for one that has it.
Roost deflector
Roost deflectors protect you from flying rocks and dirt that the motorbike in front of you might be kicking. They also protect you from blunt impacts, such as hitting branches or shrubs.
There are two types of roost deflectors available- under the jersey and over the jersey. There is no fixed method of saying which type is better. It all depends from person to person. But this protective equipment forms the final gear to complete your look.
Hydration packs
Going on adventures can be very stressful, so you'll have to carry water with you no matter where you are going.
While traditional water bottles are fine, they can be heavy and stressful to carry around. This is why hydration packs are a great alternative. You can simply drink with just one hand, or even without using your hands!
Over to you…
These are a few must-haves when you go for your fun adventures outside. Although there are many more equipment you may need, such as auxiliary fuel tanks and bike gears, the above-mentioned equipment is crucial for your safety.
Remember to drive safely and make mindful decisions while driving, and have lots of fun!