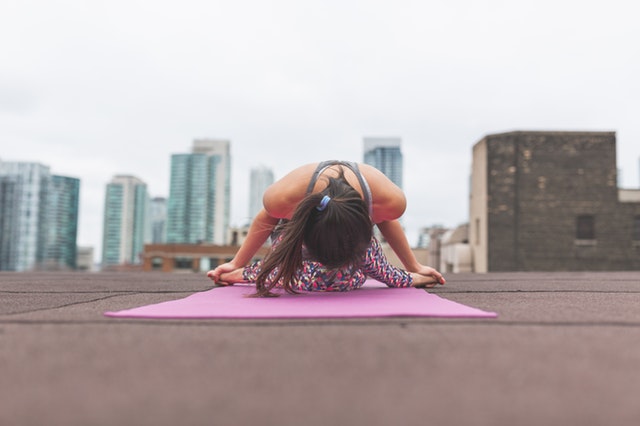 We all live in a world where everything is pretty fast. Maintaining the perfect balance between the work schedules and personal life is not only difficult but almost impossible to achieve. In such circumstances are you also looking for an alternative which would help you in relaxing and not letting the stress affect you?
Yoga which earlier was practiced only by its traditional followers has slowly emerged as a viable solution for the same.
However, if you do not have the correct knowledge of the poses and their benefits then practicing the same would not be as fruitful. In case, you do not have the time to invest in learning yoga from a trained professional then these mobile apps can provide you with desired results.
Let us have a look at the best yoga apps available and how they are helping millions of users maintain a healthy lifestyle.
Training category- Beginners Yoga Apps
5 Minute Yoga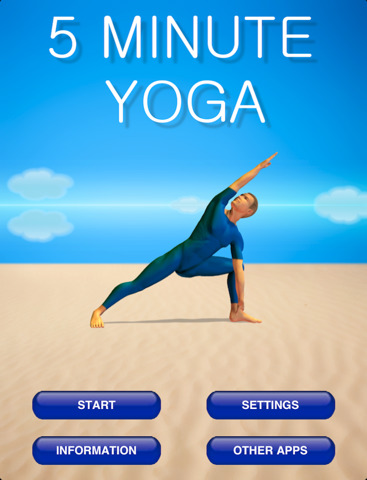 For people who are just starting to learn Yoga, the 5-minute yoga app provides simple 5-minute workouts. Each workout session provides you effective but easy to do yoga exercises. In order to ensure that the practice happens for the set time, there is a timer function provided. Once your workout is over the timer intimates you to stop exercising.
The fact that each workout is only for 5 minutes ensures that you can practice them at any time of the day. All the poses are easy to learn and rehearse making them ideal for beginner level users. Each pose shown comes with clear images and informative instructions on how to do the workout to receive maximum benefits.
Pros
For the benefit of the beginner user.
Timer function allows you to know when your workout is over.
Simple workouts allow you to do your exercise at any time.
Images and detailed descriptions allow you to understand the workout.
Cons
Useful only for early learners.
Basic Features
User rating of 4.6
Free to use but comes with premium monthly or annual subscriptions.
Compatible for use on Android smartphones, Apple iPhone, and iPad.
Available in 10 languages.
Distinguishing feature
The unique timer function updates you when your workout is over and helps you in effectively executing the workout.
---
Simply Yoga App­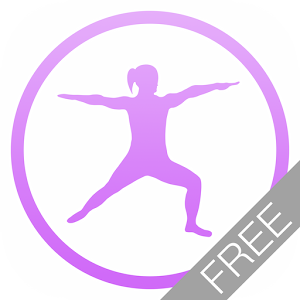 You may be a beginner but would want to have a detailed workout session so that you can move on to the next level soon. In that case,Simply yoga app is the answer to all your problems. The app provides the users 20, 40 and 60-minute workout videos and as you grow up in your expertise you can increase the duration of exercise.
Ideal for use by both men and women each video in the app shows how to effectively perform each pose. There are more than 30 + poses shown and each of them has audio instructions accompanying them. Though the app is free at the initial level for more intense workouts you have to subscribe to their level two application.
Pros
Very clear descriptions making it easy to understand.
Possible to integrate with their health app as well.
Three pre-set routines you can choose as per your need.
30+ poses for you to make a choice.
Cons
Doing the same exercises seems repetitive after some time.
Limited yoga options.
Basic features
User rating of 4 in Google play store.
Great for both male and female users.
The first level is free and with ads, whereas the second level app is ad-free and much more detailed.
Distinguishing feature
You can customize and integrate this app with your health app as well.
---
Daily yoga app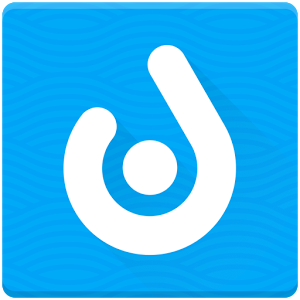 Having a large yoga pose base this app comes with more than 100 yoga and meditation classes available.   There are exclusive daily yoga programs which work to give you the power to achieve your daily goal. These classes are set from beginner and advanced and they are made such that any learner can move on to the next level within a span of 2 weeks.
Even very tough yoga poses like shoulder stand and master full splits are taught in a simple and easy to comprehend manner. If you have any kind of doubt you can always contact the experts and clarify. Each time the user achieves a target he is given points and rewards to motivate him to perform better. The application also provides meditative techniques to help you calm and relax.
Pros
An easy depiction of even tough yoga poses.
Customised daily yoga programs.
Ability to interact with yoga experts.
New content added every month.

Cons
Might seem expensive.
High onsize can reduce the speed of your mobile.
Basic features
Two subscription options at different price ranges.
Available for installation on Apple I phone and I pad.
Community feature to allow you to discuss your thoughts with people of similar tastes.
Distinguishing feature
The community feature ensures that you get to discuss your queries and thoughts with experts and other users as well.
---
Training category- Intermediate
iYoga premium
Once you have learned the basics of yoga it is time to raise the difficulty bar a little. The iYoga premium app uses the latest technology to show you the exact muscles affected by the poses you are going to do. There are hundreds of poses and you can place them in a seamless manner to prepare a playlist.
There are voice instructions which provide you the detail of how each pose needs to be accomplished. You can either choose from among the many pre-set programs or create one of your own. The free app provides access to 80 poses while the premium app has 114 advanced poses.
Pros
While displaying a pose shows all muscles in action.
Drag the poses into a timeline and prepare a seamless video.
Multiple pre-set videos to choose from.

Cons
Very high on size the app requires a high speedWi-Fi connection to download.
Basic features
Rating of 4+ at Apple iTunes store.
Can be installed on an iPhone and iPad.
The app can also link to your Apple TV and watched on screen.
Distinguishing feature
Seeing the muscles in action shows you how much impact the pose has on your body.

---
Pocket Yoga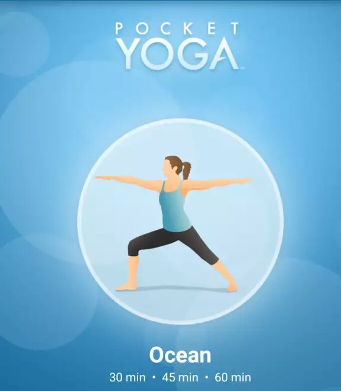 The pocket yoga app is for those people who love to do their workouts in the peace and solitude of their home. There are about 27 poses and each one of them has been defined with explanations about the correct posture and the benefit it gives. All during the exercise, you need to understand about breath control which is aptly explained in the app.
As you keep on progressing there is a provision of unlocking new environments which help in motivating a person to perform better. You also have the option to preview any of the poses before-hand to see if it suits you. The app also records all your previous logs of exercises so that you can go back to them on a daily basis.
Pros
Inhalation and exhalation explained stepwise.
Detailed explanations provided for each pose.
200 pose images which show the correct posture and alignment.
Stores your last done exercise details.
Cons
As per users review the movement from one pose to another is quick making it difficult to decipher.
All videos are long duration which can be a turn off for some users.
Basic features
Play store user rating of 4.4
Available on Android, iOS, Mac and Windows phone.
Comes at a price of 2.99$ which is reasonable.
Distinguishing feature
Breath control in Yoga is very essential. The fact that Pocket yoga tells you each time how long to inhale and exhale makes it a favorite of certain users.
---
Down Dog: Great Yoga Anywhere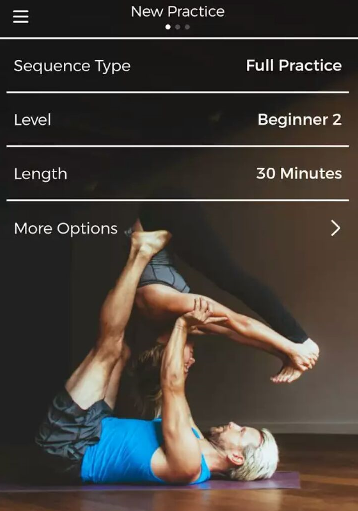 If you want your yoga practice to be an experience in itself, then this is the app that you should turn to. Every time a user gets down to practice yoga the app creates a fresh new Vinyasa sequence. This means that there would never be any repetitive sequences as there is a lot of content worth sharing.
Every pose is accompanied by clear audio instructions and a matching playlist. This makes the entire workout a studio like experience for its users. The music and sequencing of the poses are so much in sync that it is very easy to continue doing the exercise without watching the screen even once. The app also has a boost function which allows you to concentrate on one particular area of your body.
Pros
Every day new vinyasa sequence created.
Beautifully synchronized sequences make the yoga an experience to relish.
Music provided which matches well with the exercise.
Cons
The premium version is expensive but has better features.
Faces startup problems occasionally.
Basic features
Google play store rating of 4.9
Even though the app is free for additional features, you can always opt for premium membership.
Available on iOS and Android,
Distinguishing feature
The perfectly coordinated sequences and music are something which allows you to keep doing the exercise even if you are not looking at the app.
---
Training Category- Advanced
Yoga studio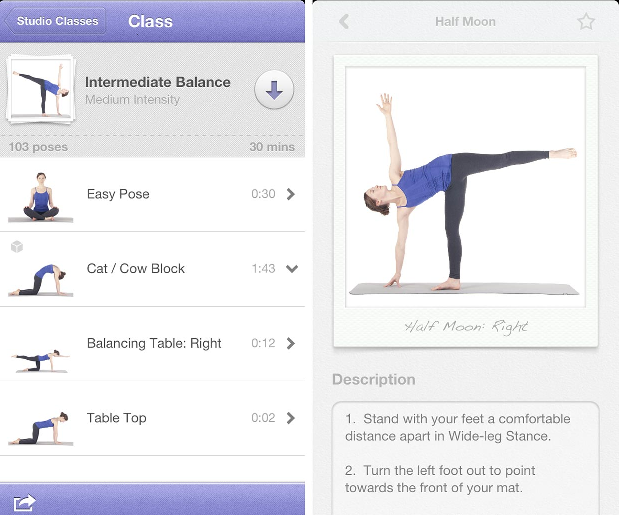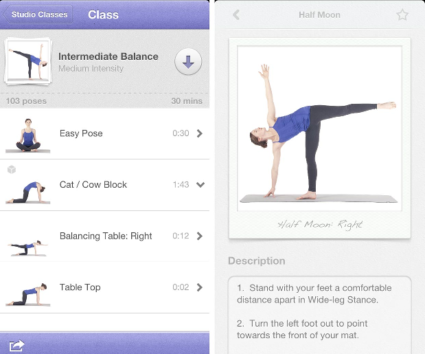 With an option to create unlimited classes the Yoga studio is clearly one of the preferred yoga apps. You are provided with 65 already created classes. You can define your settings as beginner, intermediate, advanced set the duration of the class (15, 30 or 60 minutes) and finally add the focus (strength, flexibility, relaxation, and balance) to get the tutorial suited for your needs.
The app provides nearly 280 poses which are accompanied with all the detailed information and advice. These poses can also be added as favorites to be used on a daily basis. Saves the user the trouble of going through them again and again. The option of scheduling a class lets the app add it to your mobile calendar and remind you when the time comes.
The smart link feature allows you to fit those poses with each other which are otherwise totally unrelated. The Yoga Studio app has a collection of nearly 1700 yoga clips. With their video stitch, feature then can create one video for any kind of exercise need.
Pros
Schedule your classes as per time availability
Create unlimited classes as per the level needed.
Developed and performed by a professional instructor.
Simple and intuitive navigation
Cons
People who follow a strict yoga schedule may not like the variety available.
Does not give the feel of attending a yoga class.
Basic features
Modestly priced at $4.99
User rating of 4.8
Installs of 50,000-10,00,00
Available on Apple iTunes, Google Play and Windows 10
Distinguishing feature
The video stitch feature prepares a free-flowing video of each class that the user makes. If you want to move from one class to another, this seems like a blessing in disguise.
---
Yoga.com Studio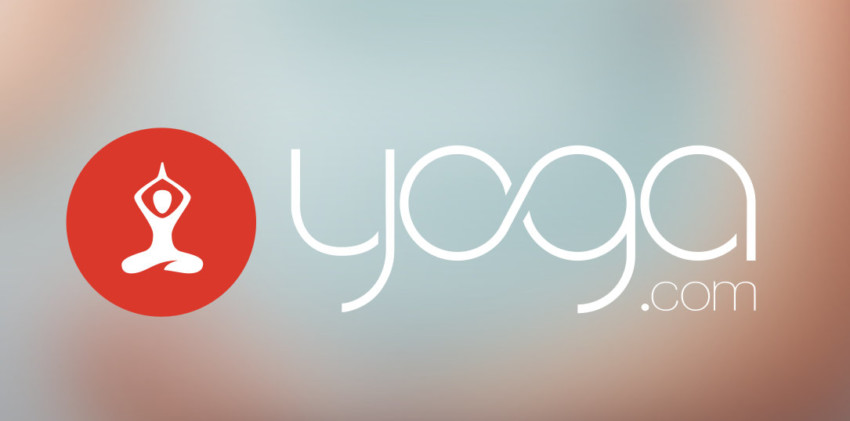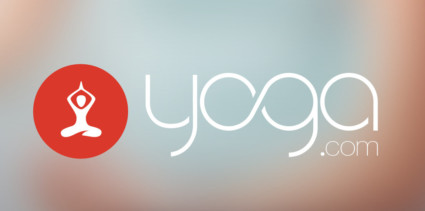 Yoga.com is an already well-established community of people who are interested in practicing yoga to achieve the perfect healthy lifestyle. The app has nearly 37 pre-installed programs and each has been prepared to guide you in getting a perfect health. All the programs provided are suitable for any level of training (beginning, intermediate and advanced) you need.
In case you are just learning the basic nuances of yoga then probably breath control would be something you need to work upon. The app provides you 4 breathing exercises which help you in relaxing and optimize your breathing process. All the 289 poses depicted in the app are accompanied with HD video demonstrations. You also get to see 3D muscle images in each of them which lets you know the exact manner in which it needs to be executed.
Pros
1 rating at Google play store.
Available for Android and Apple iTunes.
Free for both with the provision of in-app purchases.
Cons
Does not allow you to customize your yoga routines
At times downloading the app may slow down your mobile.
Basic features
289 Poses and simple breathing exercises make doing yoga easy.
HD video demonstrations help in understanding the poses better.
37 Pre-installed programs suitable to every user's need.
Has a program for any kind of training
Distinguishing feature
The 3D muscle feature allows the user to fully comprehend the exact way the pose needs to be performed.
---
Fitstar Yoga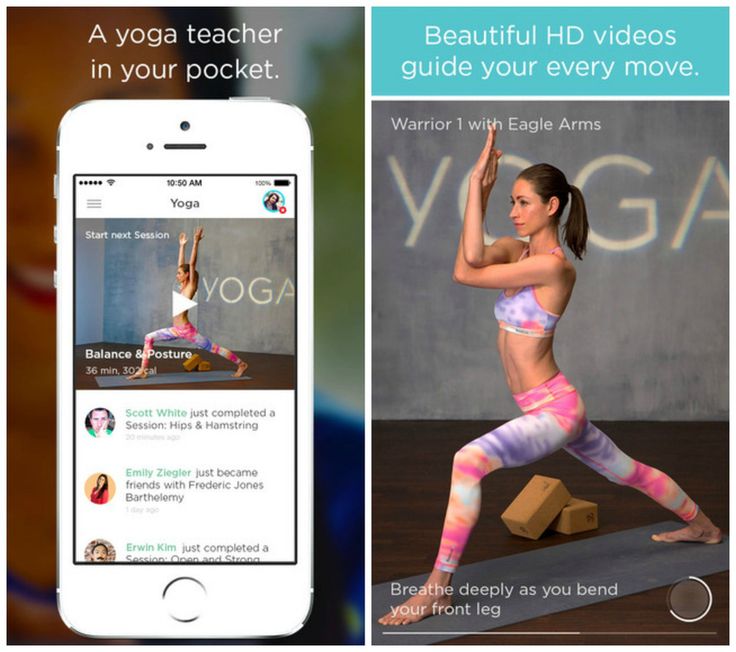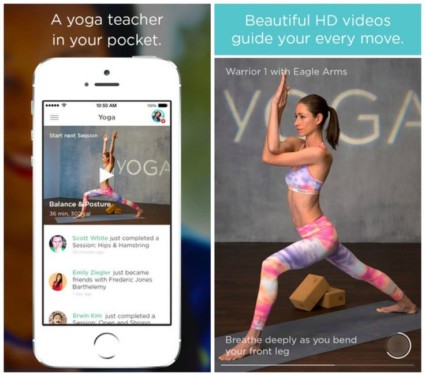 Endorsed by popular Yoga expert Tara Stiles Fitstar Yoga makes it easy for users to practice any level of yoga training. The app provides you personalized workout sessions each set up according to your level of flexibility and strength. As the level of your training progresses, the app keeps providing you customized workout videos.
These workouts are made up of 300 varied poses which would help you to decide what kind of training you need to do. It is easy to set your own yoga flow or you can also select from 8 custom made freestyle sessions. As the skill level keeps advancing so do the routine workouts set for you. Also, you also gain up on bonus points and badges after achievement of each level.
Pros
Personalised workout videos changing as per the progression of skill level.
New challenges and badges to motivate the users.
Option to choose any duration workout.
Audio tracks to stream our choice of music.
Cons
The free account provides only two custom workouts per week.
If you want better workouts, a premium membership is required which can be expensive
Basic features
4+ rating on the Apple store.
Available in 5-6 languages.
Handcrafted sessions like "10 minute abs"
The choice to connect with other popular weight management apps.
Distinguishing feature
The fact that each workout keeps changing as your skill level keeps increasing reduces a lot of burden on your mind about choosing the right plan.


---
Other Favourite Yoga apps
Universal breathing – Pranayama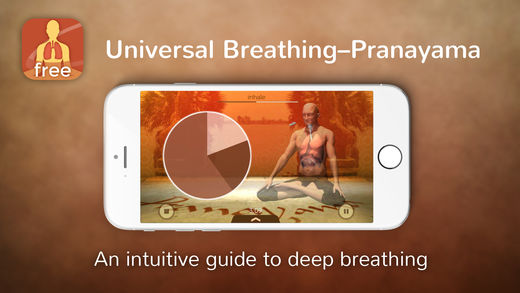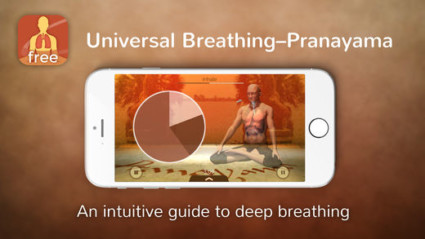 There are some people who wish to do yoga only to calm their senses and for them, the Universal Breathing Pranayama is the perfect app. Learn the art of mindful breathing and relaxing. The main aim of this app is providing you ways to focus on breathing technique.
These techniques help in boosting the endurance of your body. There are different music styles which help you in relaxing before you go to sleep or wake up in the morning. The breathing course starts from beginner to advance with different techniques taught for each. Music and animated visuals show in detail how to manage your breathing better.
Pros
Calms the body and relaxes the mind.
3 level of breathing exercise with multiple stages in each.
Gives you the chance to customise your breathing session.
Cons
You cannot track customised sessions each time you log in.
Pauses on its own if left in midway and keeps running consuming battery power.
Basic features
Android user rating of 4.3
Available for use on Android, Nook, Mac and iOS platforms.
Priced at 4.99 $.
Distinguishing feature
Customised training sessions help to keep your breathing under control.
---
Sworkit app
 
The app has six-week customized exercise programs for different targets like getting "leaner", "fitter" or "stronger". There is a huge database of exercises which can be customized to create a workout of your own. Professional trainers have made all the workout plans and it is very easy to find a suitable plan for your own.
Not only that you can always get in touch with any of the personal or sports trainers, physical therapists, and PE teachers. However, this benefit is available only if you purchase the paid subscription of the app.
Pros
More than 50 workouts to select from.
Different plans targeting multiple needs.
All the workouts created by trained professionals.
Cons
Heavy on size making it difficult to download.
Music is sometimes too loud to understand the instructions.
Basic features
Apple store rating of 4.8.
Premium features available at a monthly subscription of 7.99$.
Can be downloaded for Android, iOS and web browser as well.
Distinguishing feature
With nearly 50 plus workout plans available it is tough to not find one which suits your need the most.
---
Yogatailor Yoga and meditation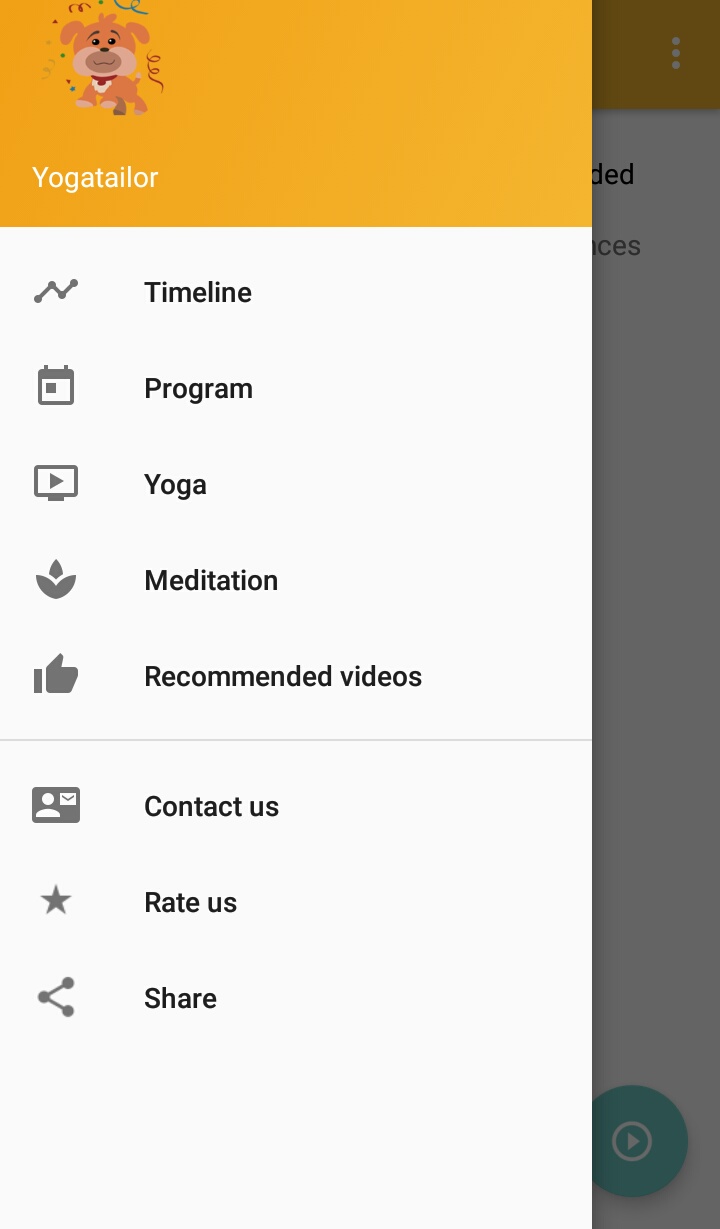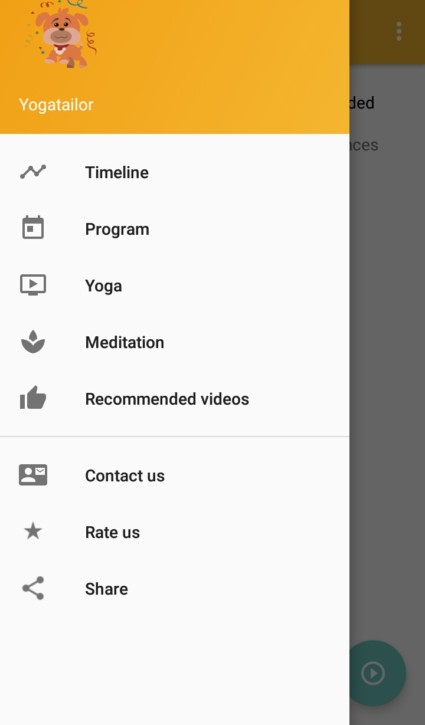 Starting from the duration of 7 to 50 minutes the app provides you many workout sessions to choose from. There are also videos which guide you about the correct nuances of meditation and how best to get it done. The programs provided keep customizing as your training progresses.
The app has special routines for pregnant women and for those who are suffering from chronic back pain. There is a program scheduler feature which allows you to plan the next workout. The user can also bookmark the videos which he would like to watch in the next session.
Pros
Thousands of sequences to select from.
Pre-schedule your next day workout videos.
Customised workouts as the learner level increases.
Cons
There is a 15 day trial on iOS after which it costs 2.99$ per month. For the play store, the app is free for three months.

Basic features
Play Store rating of 4.6
Can be downloaded on Android and iOS platforms.
Also, can be used through their website http://www.yogatailor.com/
Distinguishing feature
Meditation videos in different settings help the users to relax and calm themselves.


Final Verdict
Yoga has slowly become a trusted method to get back to your healthy self. There are a plethora of Yoga apps available which can seriously lead the users to get confused on which one should be considered. However, the above listing gives you a fair idea of which app can be used for which purpose.
We would like to tell you that some of these apps are describing some tough yoga poses as well. It is important that you be aptly prepared before you start attempting any such poses.  To avoid feeling stressed it is better to first learn the beginner poses before you move onto the next level.
If you also wish to turn to a healthy lifestyle by adopting yoga, it is effortless to do so with the apps mentioned above.
The pressures of life are many, and it is easy to get stressed out. However staying healthy and fit is the demand for such times and yoga is one of the easiest ways to do so.
After all, it is your life and maintaining a fit body is the first step towards making it a happy and satisfied one.