Wikipedia defines photography as "the science, art application and practice of creating images".
Hence, it goes without saying that the field calls for a lot of creativity, vision and out of the box tactics to be a successful photographer.
At the same time, photographers who are serious about their professional prospects would always invest in the right photography accessories in order to upgrade their skills.
One of the most important and basic photography accessories are tripods. For a layman, the tripod is a 3-legged stand that helps to take better photos by limiting the camera movement.
Tripods are essential since they provide your camera with additional attributes like height and support in terrains that enhance your photography.
There are tons of choices available in the market when it comes to tripods. How do you know which ones to go for? Simply try answering the following questions –
Why do you need the tripod? Will you be using it while travelling? Or are you looking for an amateur one to learn the basics?
What is your budget?
What kind of weight do you want the tripod to hold?
Do you want it to be lightweight to make it more accessible?
What kind of tripods are compatible with your camera?
Is your focus Day or Night photography? Or a mixture of both?
Now that you have a clearer picture of the tripod you are looking for, go through the following categories to find the best tripod of 2018 that fits your bill.
Budget Tripods
Manfrotto MTPIXI-B PIXI Mini Tripod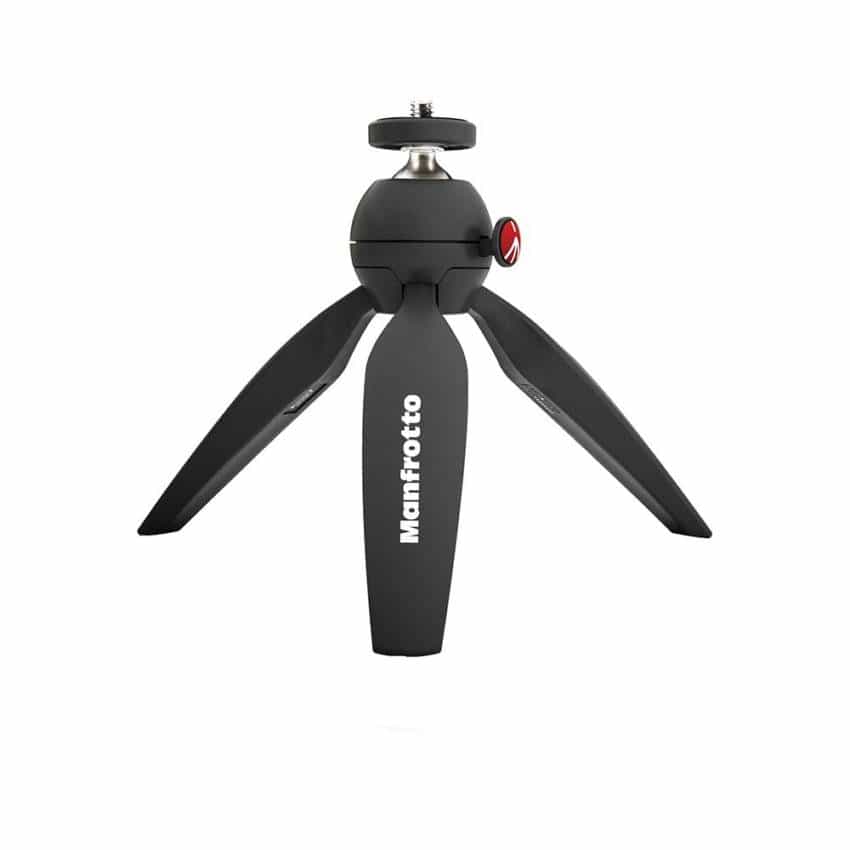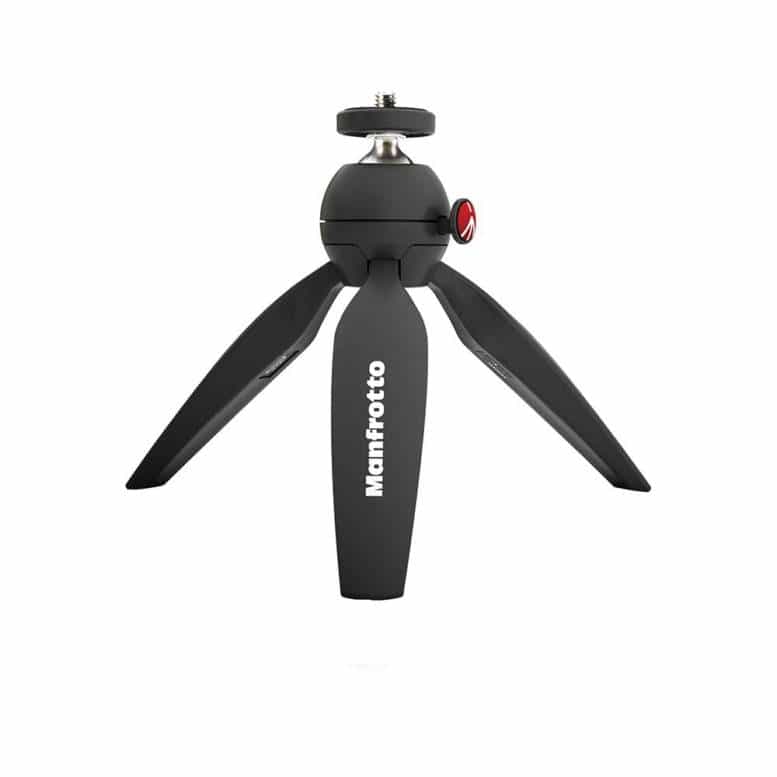 If you visit the product link, the first thing you would notice is the 4.8 star rating it sports even after 625 customer reviews! This is the best tripod out there at this price range.
The Manfrotto PIXI Mini tripod is a lightweight and portable product that comes with a solid construction design to be as durable as possible. The tripod features a rapid push button lock system for easy and quick head adjustment.
This budget tripod can also be coupled with the universal Manfrotto mount for cell phones to kickstart your photography sessions even if you don't have a camera.
GorillaPod Action Video Tripod From JOBY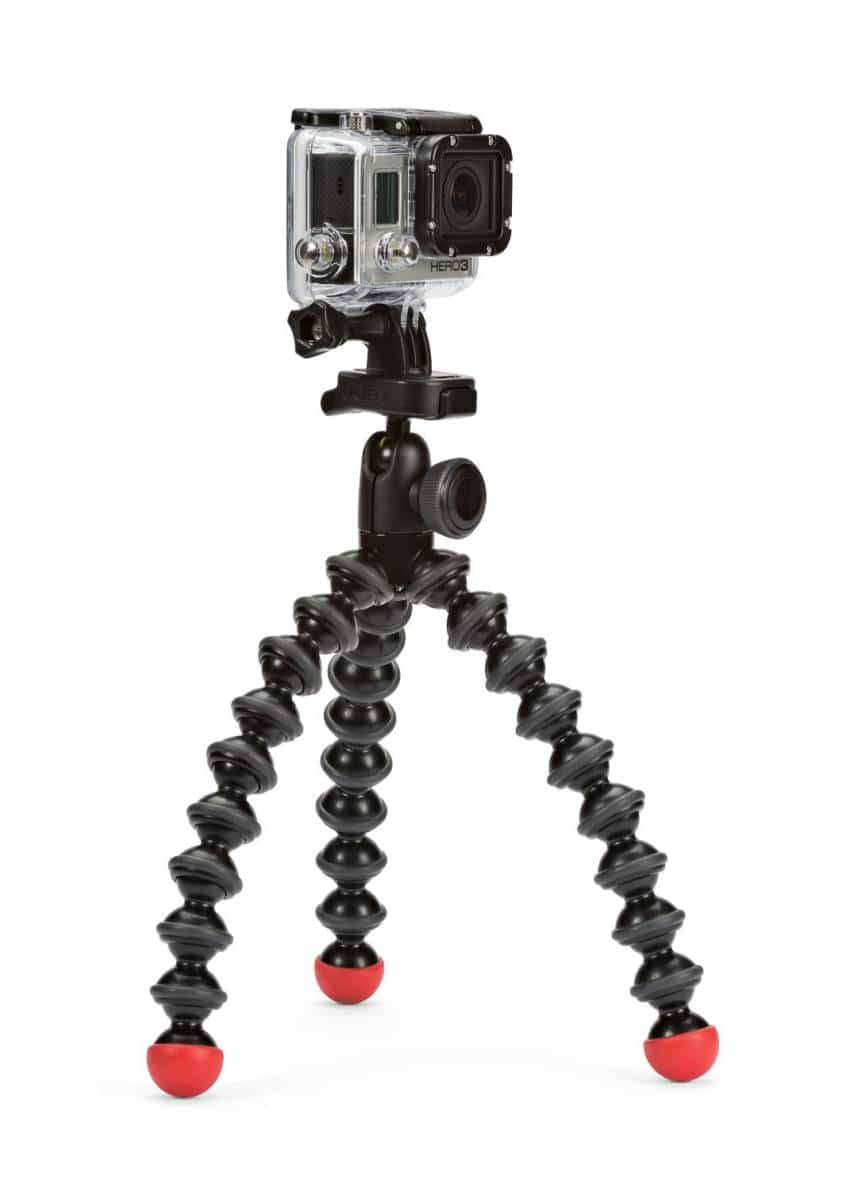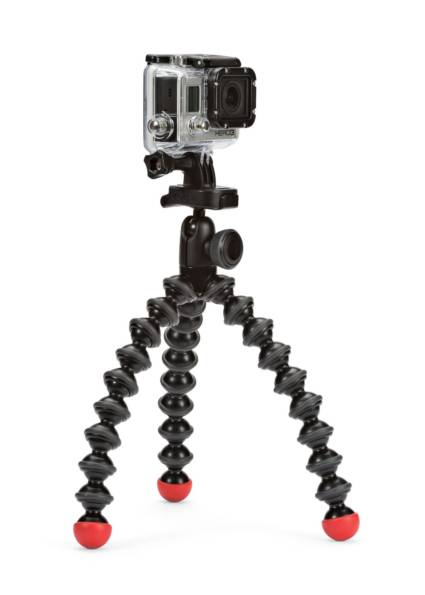 The GorillaPod tripod from JOBY is one the best budget options when it comes to choosing a versatile tripod that can be quickly set up for use with multiple cameras. It is a flexible tripod that can be used in collaboration with cameras like GoPro, Contour and Sony Action Cam and even 360 cameras like the 360 fly. The tripod comes with two quick release clips and therefore, it also works with a host of action cameras in the market.
Making use of an integrated ball head, the action cameras can be tilted 90 degrees and panned an impressive 360 degrees.
3. LESHP Adjustable Tripod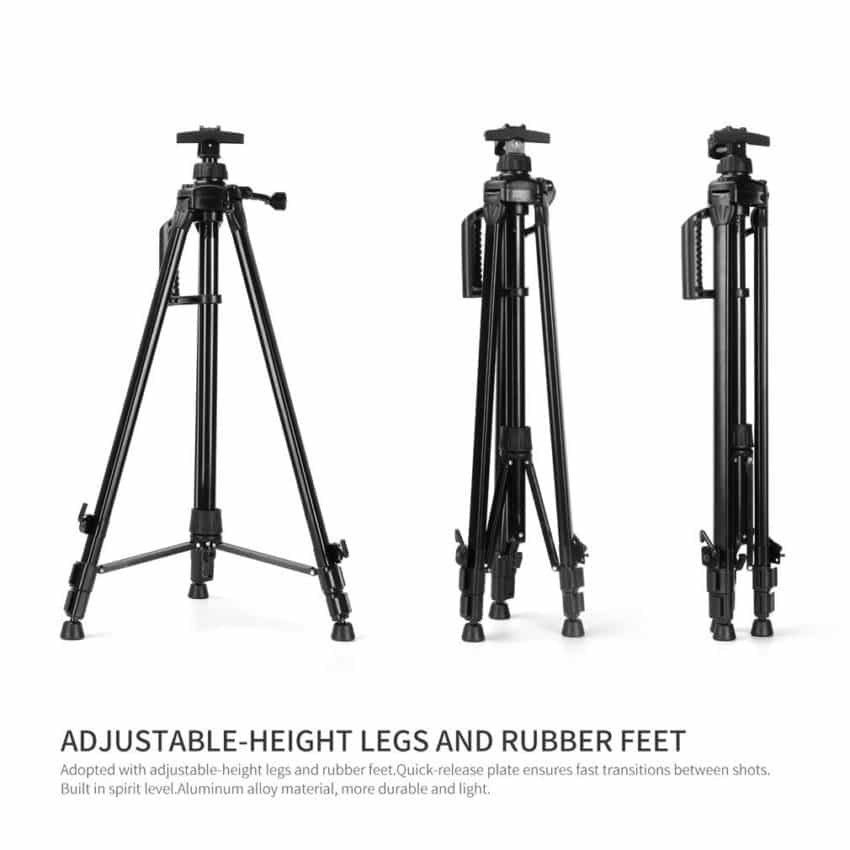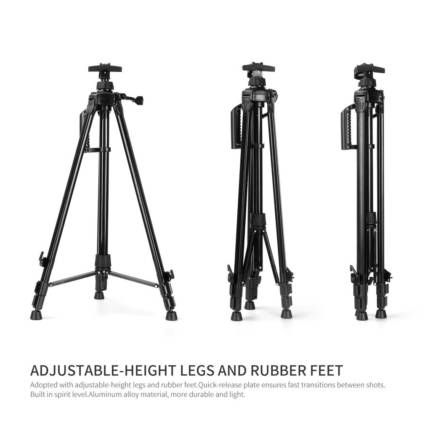 With adaptable height legs and rubber feet, the LESHP Adjustable tripod is the best budget tripod if you are looking for a full size product in the domain.
Making use of the most advanced casting technology, this tripod is a sturdy accessory that can be your camera's companion in any type of terrain. The aluminium material only adds to the capabilities since it makes the tripod light in weight.
Related: 15 Best Camera Tripods for Under $100 (Between $50 to $100)
Beginner Tripods
AmazonBasics 60-Inch Tripod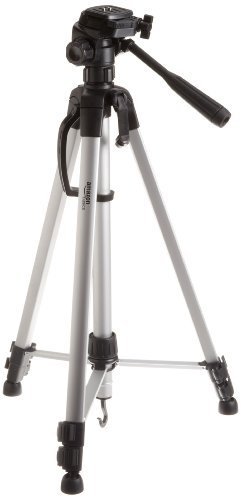 As the name suggests, the Amazon Basics is a starter tripod, perfect to be used by beginners. Thousands of customers have placed their trust in this one since it sports a respectable 4.4 star rating after 5,735 customer reviews!
Since the pod is lightweight, for optimal performance, the maximum recommended load weight is 3 kgs. The product also comes with a zipped bag to make it easy for users to carry it around. And what's more? Amazon has also thrown in a one – year manufacturer's warranty along with the product.
Although to avail it, you have to get in touch with the customer service.
2. Pedco Digital UltraPod II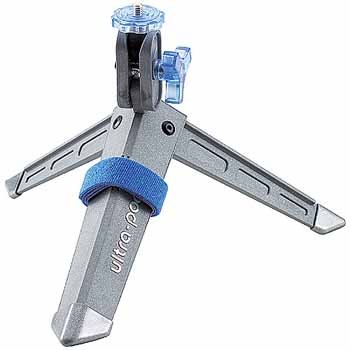 This is another reliable entry in the list which comes with non-slip vinyl nylon feet that provide an extra level of stability to the product.
Pedro has provided users with a velcro strap to enable the tripod to be attached to posts, tree limbs, railings, etc. Along with this, the ball and socket mount assembly allows to position the camera at any angle.
The manufacturing process makes use of molded fiberglass reinforced nylon with aluminum threaded components which can support a weight of up to 6 pounds, while the tripod itself weighs just 0.35 pounds!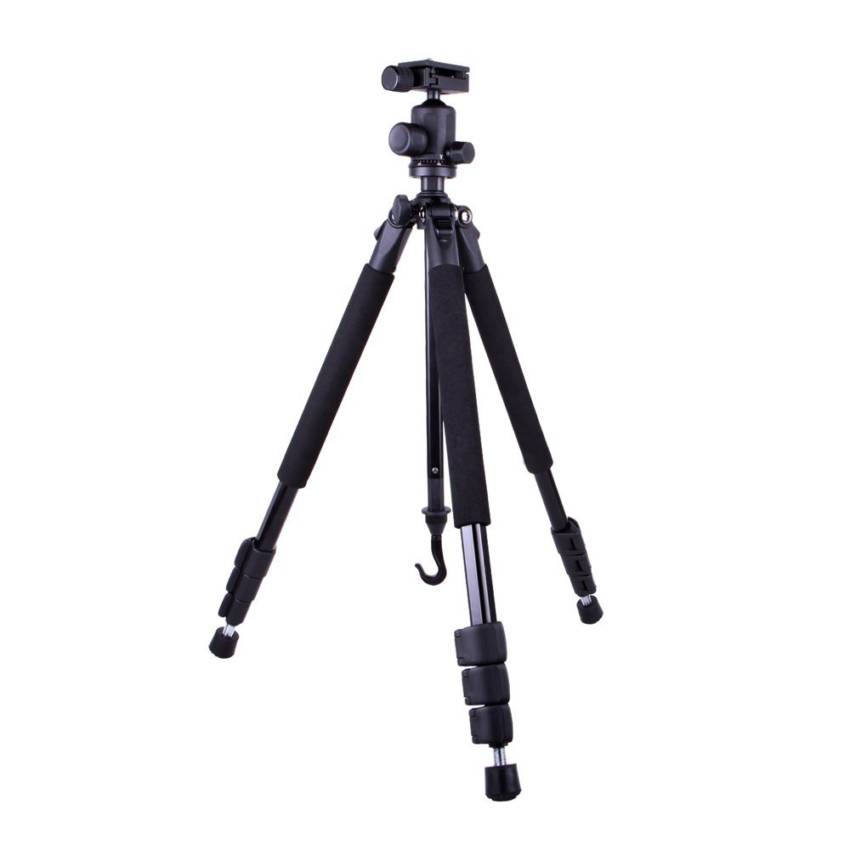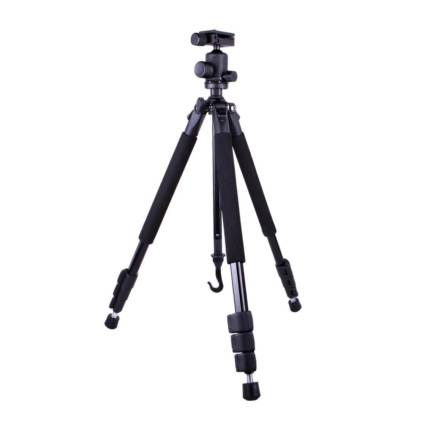 Attracting all sorts of positive reviews from the buyers, the Dolica Proline is a popular tripod. Dolica is a high-end tripod brand and the same is illustrated by the finishing of this product. Owing to its moderate weight, the tripod comes handy for both indoor and outdoor activities. To give extra weight carrying capacity to the tripod, the 4-sided round tube legs with snap locks come into the picture.
It has been manufactured with Anodised Aluminium Alloy and plastic polymer composite to provide an increased sense of stability for those perfect photoshoots. This is a great choice for beginner photographers.
Professional Tripods
Ravelli APGL4 New Professional 70″ Tripod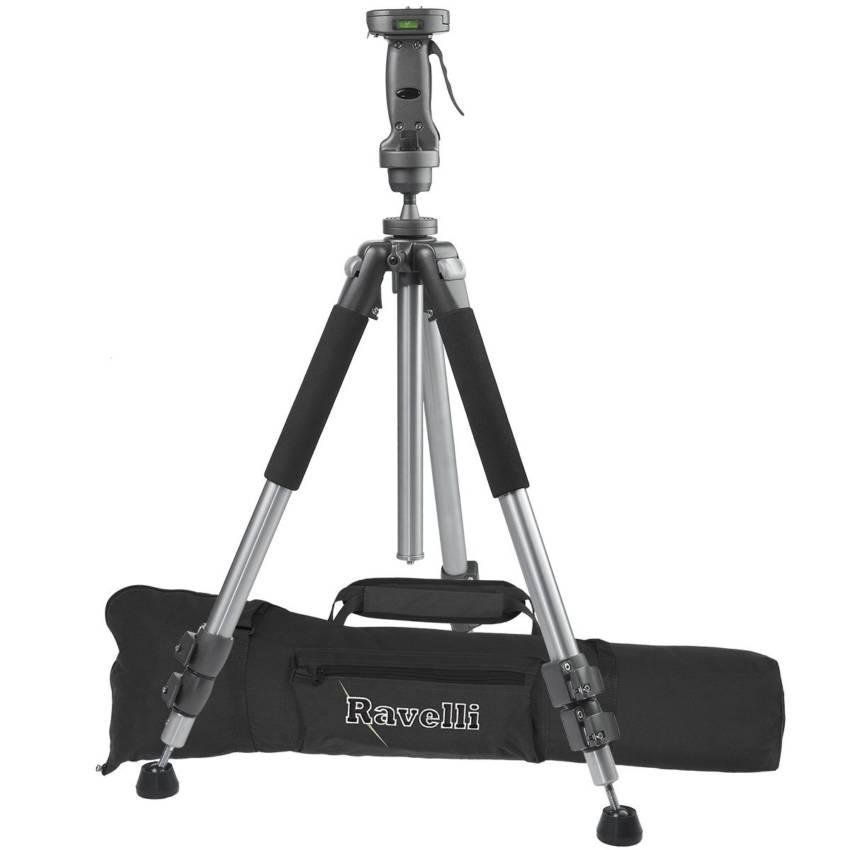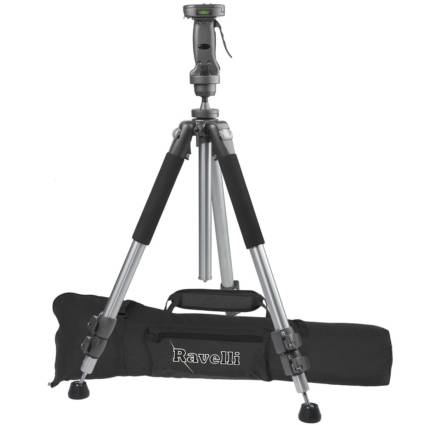 To provide professional photographers with an incentive to go for this product, Ravelli has introduced a pistol grip ball head tripod, which is a kind of mechanism attached to the ball head of the tripod to enable users to quickly adjust the angle and height.
Although one con of the tripod is that it's weight is on a bit heavier side. This can make it difficult for use while travelling.
2. Manfrotto 475B Pro Geared Tripod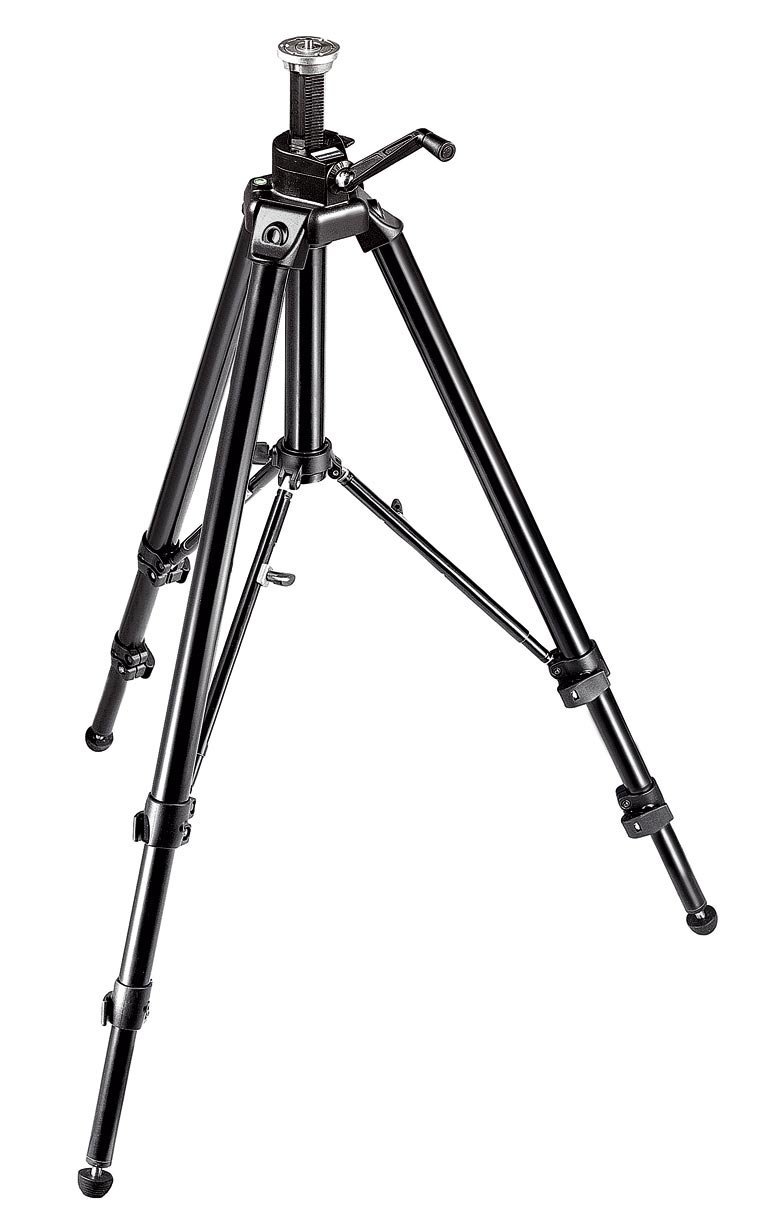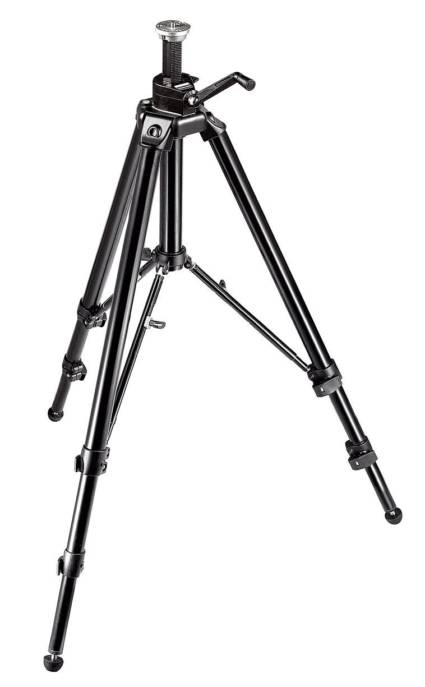 The Manfrotto 475B is an upgraded version of the renowned 3036 and can extend to a height of up to 6 feet.
This comes along with a unique centre brace strut system and reliable quick action leg rocks. The best aspect of the product is that it proves to be stable at all heights with a virtually infinite leg spreading capability.
The telescopic center braces of the tripod have been provided with with two click stop positions in order to speed up the leveling process of the tripod.
SLIK PRO 700DX Professional Tripod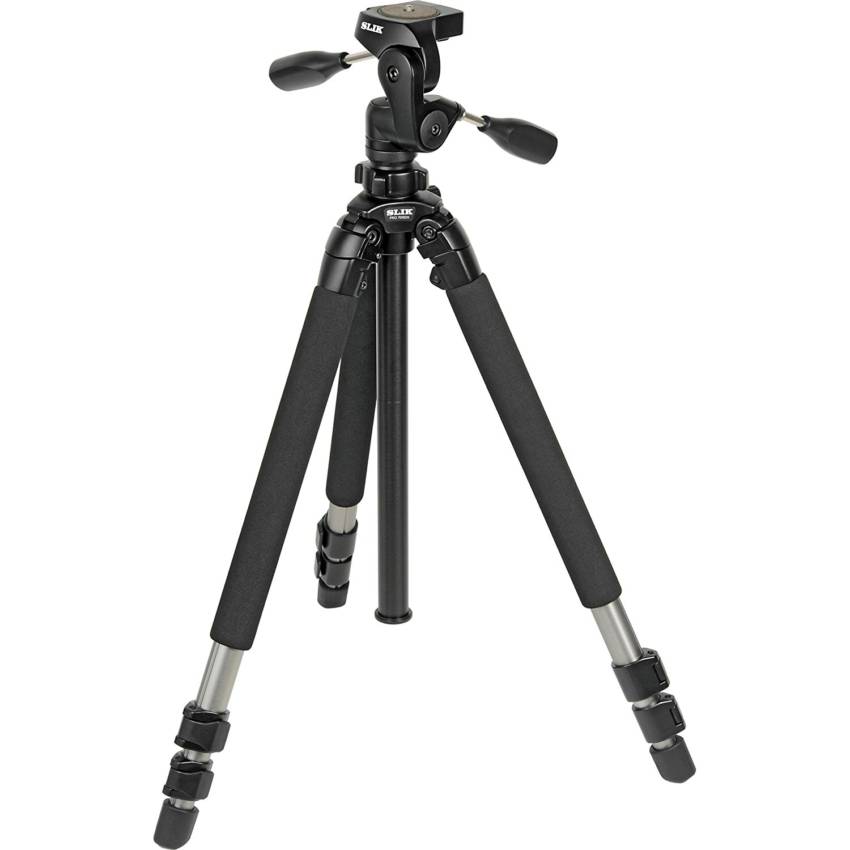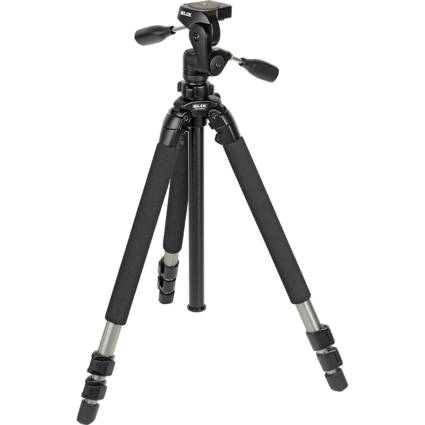 With an average rating of 4.6, this entry by Slik is one of the most sought after professional tripods out there.
It  has been manufactured with a 40% more greater strength to weight ratio than standard aluminium tripods.
This makes the legs of the tripod lighter and stronger than other products in the domain. It has been designed and developed with the notion that a tripod should be easy to use with minimum set-up time so that the user concentrates more on his/her photography.

Lightweight/Compact Tripods
Zomei Q555 Lightweight Aluminum Alloy Camera Tripod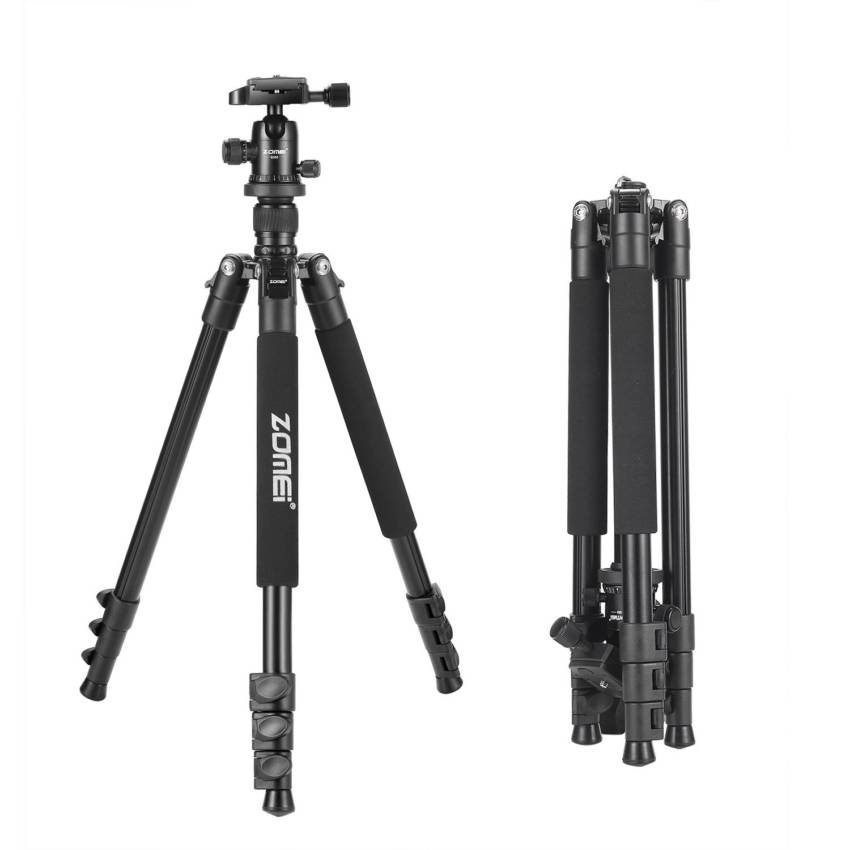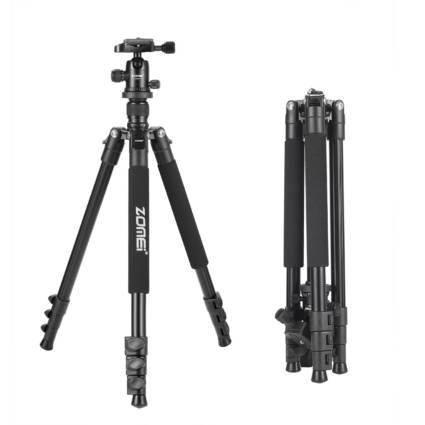 This entry by Zomei is one of the most highly rated lightweight tripods one can find in the market today.
Standing at just 2.9Lbs, it is ideal for both indoor and outdoor photography. This also makes the tripod handy in case of sports events.
The tripod is so compact that the legs can be inverted and folded back 180 degrees giving it a size of just 17".
It can easily fit into a carry on luggage or backpack.
Zomei Camera 65-inch Lightweight Tripod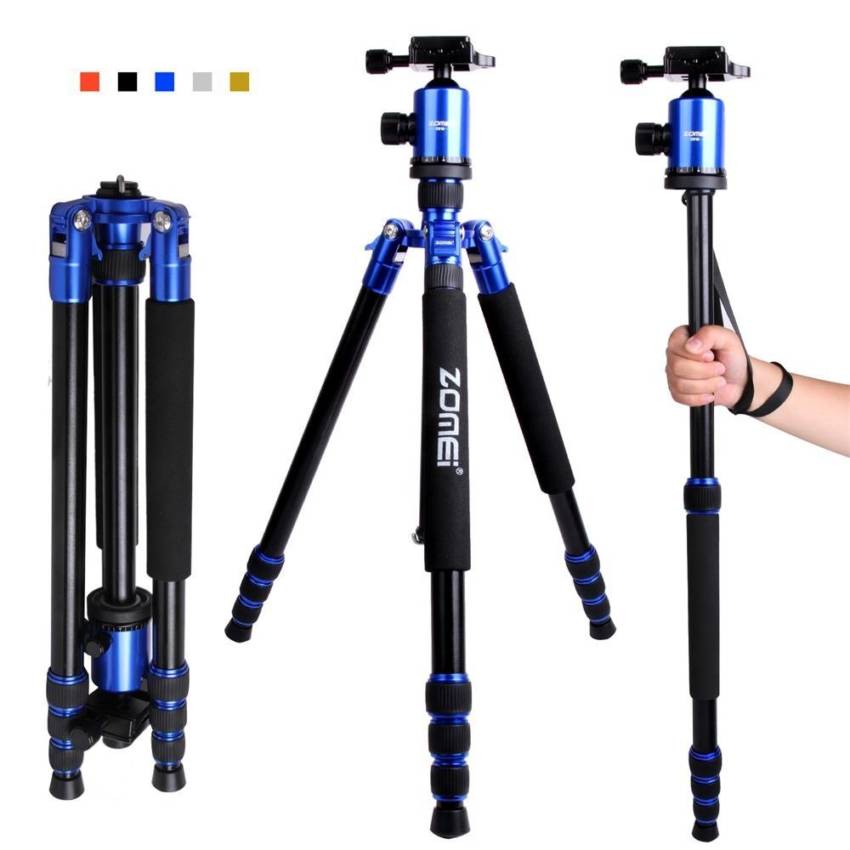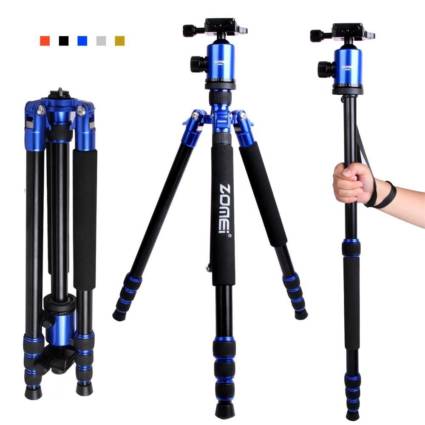 Another entry by Zomei on the list, this is of the few tripods that can convert themselves into a monopod when needed.
Made of anodic oxidation, processed anti-corrosion magnesium and aluminum alloy tube, the tripod stands at a weight of just 3.7 Lbs with extensive high efficiency and shock absorption capabilities.
It has also been provided with a spring-loaded hook in the center-column so as to add extra weight for extended stability.
On the other hand, the twist lock proves to be handy while making angle adjustments. A handy photography companion!
Rangers 57" Ultra Compact and Lightweight Aluminum Tripod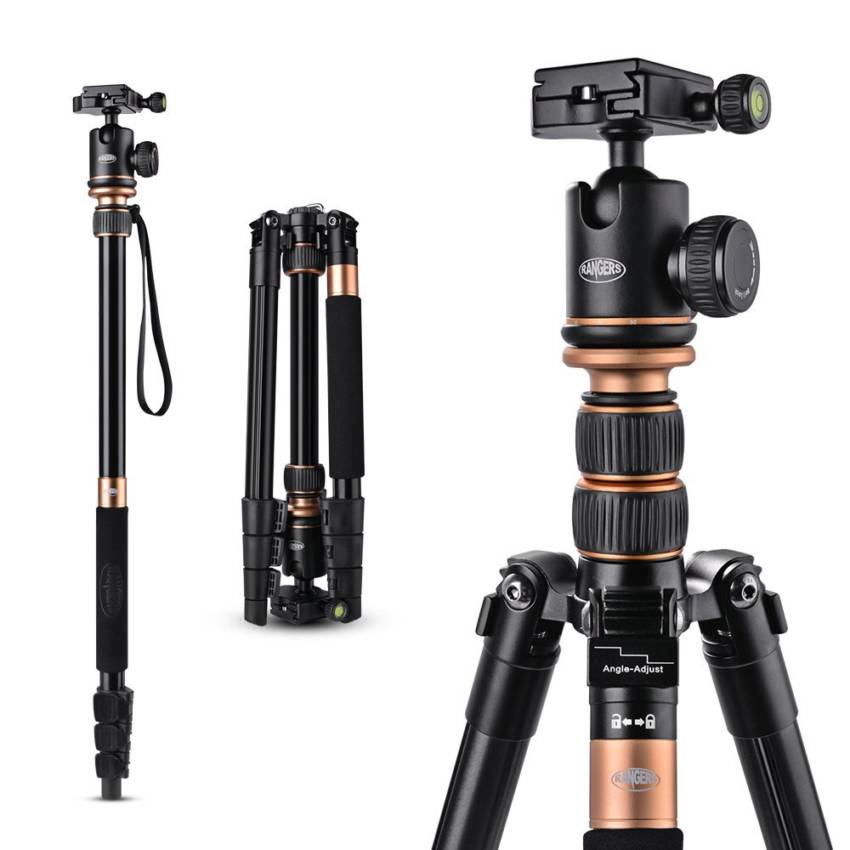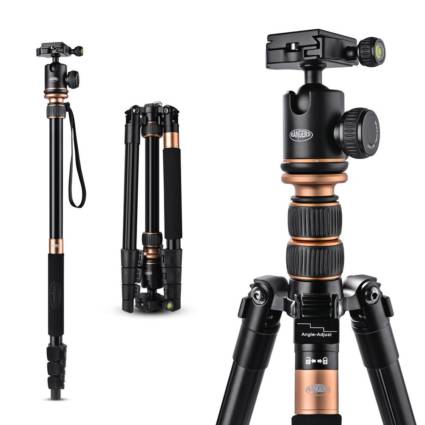 Another lightweight tripod standing at just 2.9 pounds, this is an ultra stable Rangers product which involves an intricate manufacturing process with the help of CNC machine.
To make it easier to travel with this product, the compact size of the tripod stands at just 14 inches.
Heavy Duty/Full Size Tripods
Manfrotto NEW MT055XPRO3 055 Aluminium 3-Section Tripod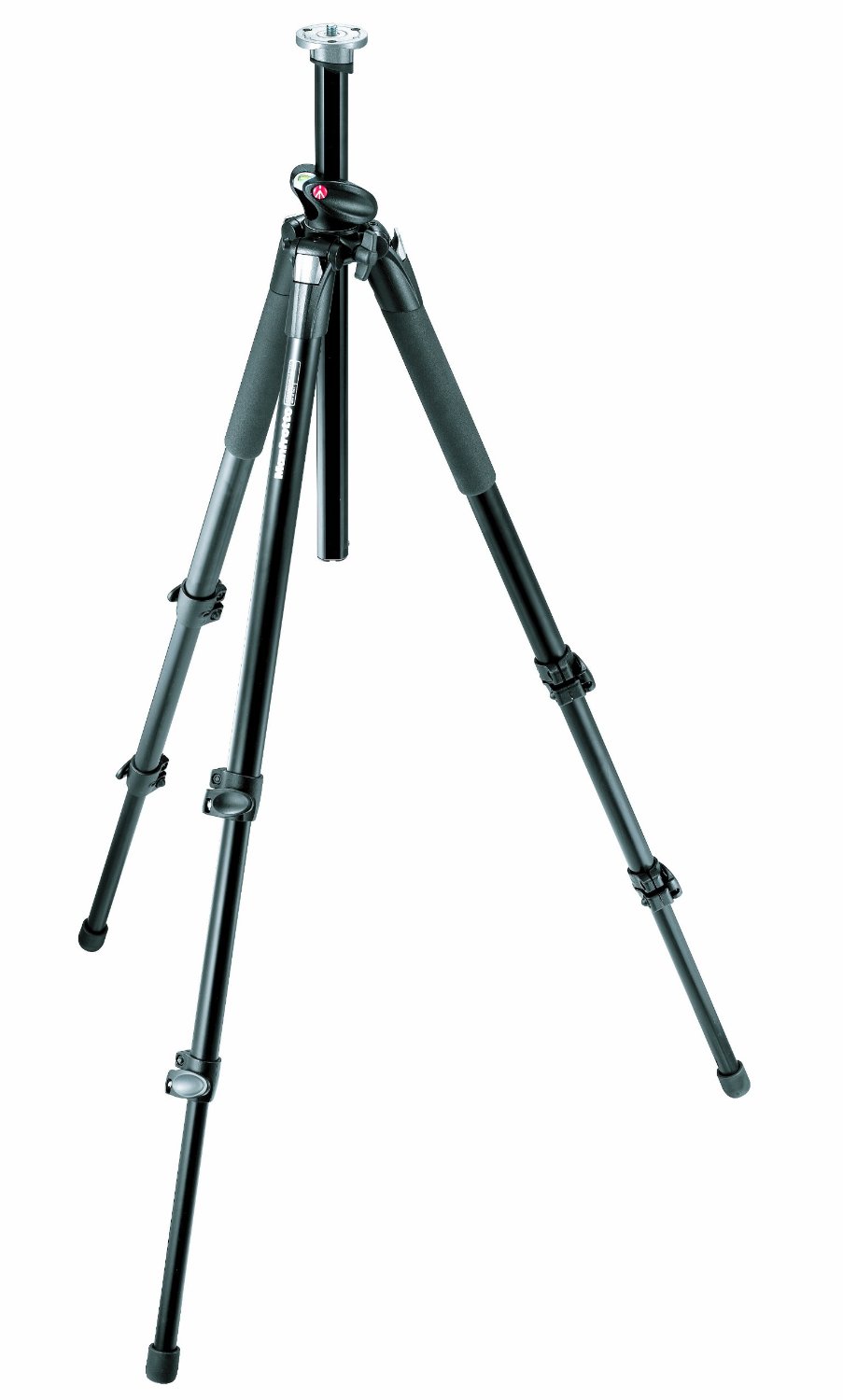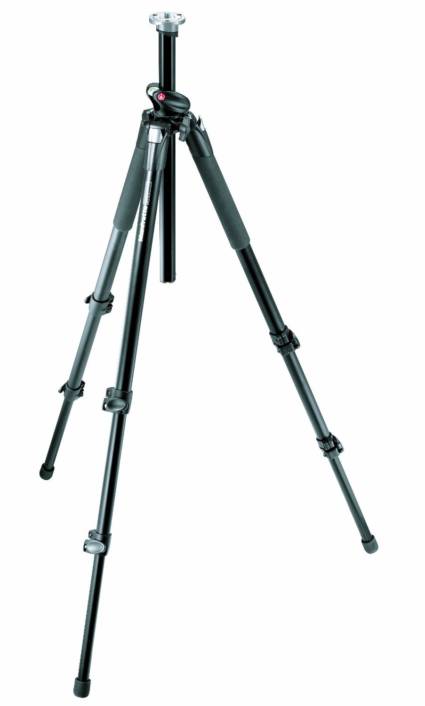 Manfrotto asks you to imagine more and lets you capture your imaginations perfectly with the help of such sturdy piece of art. Featuring 4.8 stars of the 442 reviews on Amazon, this tripod is perhaps the best investment you can make for those perfect captures.
The smart Italian design and the 90° centre column mechanism, which can be extended horizontally or vertically within no time, provides flexibility for a wide range of perfect shots.
Other highlights of the product are its Quick Power Lock system which ensures rigidity of your tripod and Easy Link for connecting video accessories.
2. Feisol Elite CT-3472LV Rapid 4-Section Carbon Fiber Tripod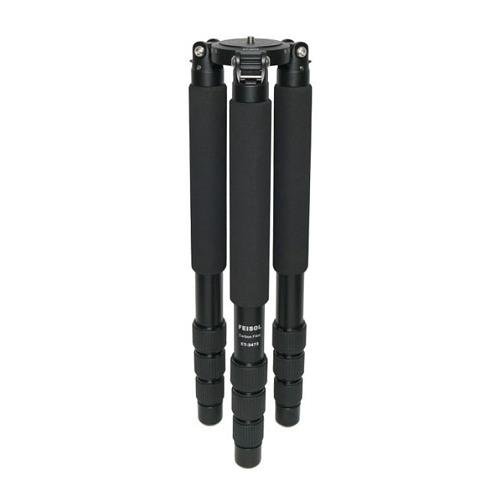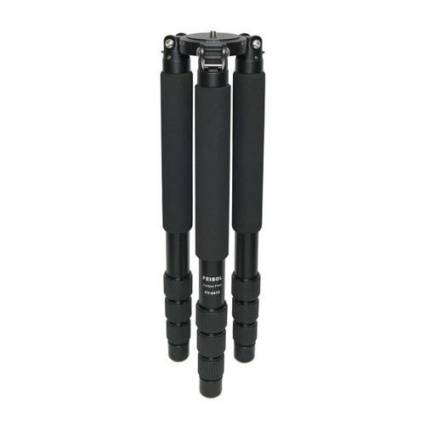 This heavy duty but extremely lightan tripod is made of professional grade material.
It is light, stable and yet allows for easy adjustment of angle within no time. The product features a leveling base center column which is removable and can be replaced with a standard mount base.
Highlighting features are its anti-leg rotation technology, given its carbon fibered body a remarkably lightweight construction of 5.05 lbs and a load capacity of 26.46 lbs.
It has a CNC-milled low angle ballhead mount which is multi-layered and functions perfectly even in the roughest conditions.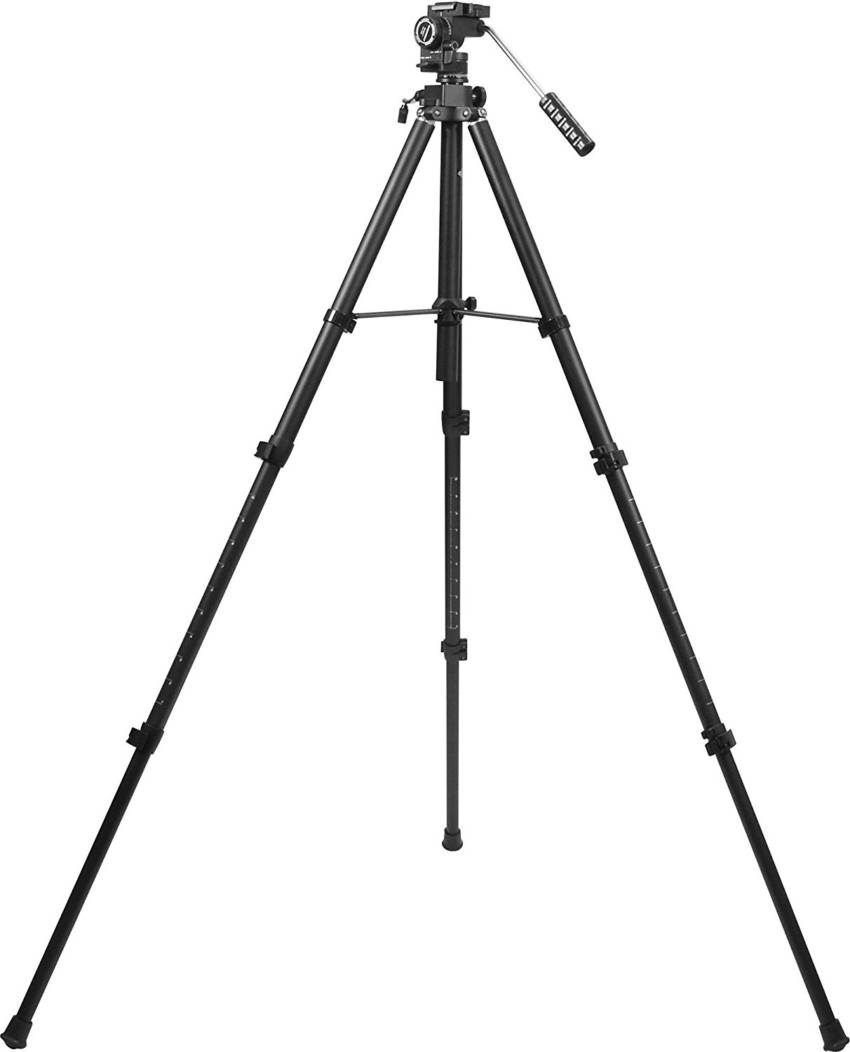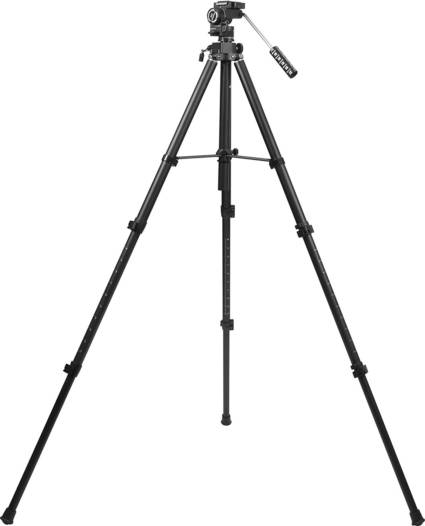 This heavy duty tripod speaks for itself when comes to durability, strength, stability and smooth fluid movement.
The body of this tripod is made of aluminum which provides steadiness. The aluminum tube legs come with robust lock levers that offers ease for setting up and take down. The added feature of graduated reference etching on each leg facilitates in quick and easy adjustment of length.
The tripod is 72" high and weighs 7.5 lbs. It comes with a quick-release ¼"-20 show for convenient attachment and detachment of instruments without tools.
It has been rated 4.7 stars by 46 reviewers on Amazon.
Travel Tripods
MeFOTO Aluminum Roadtrip Travel Tripod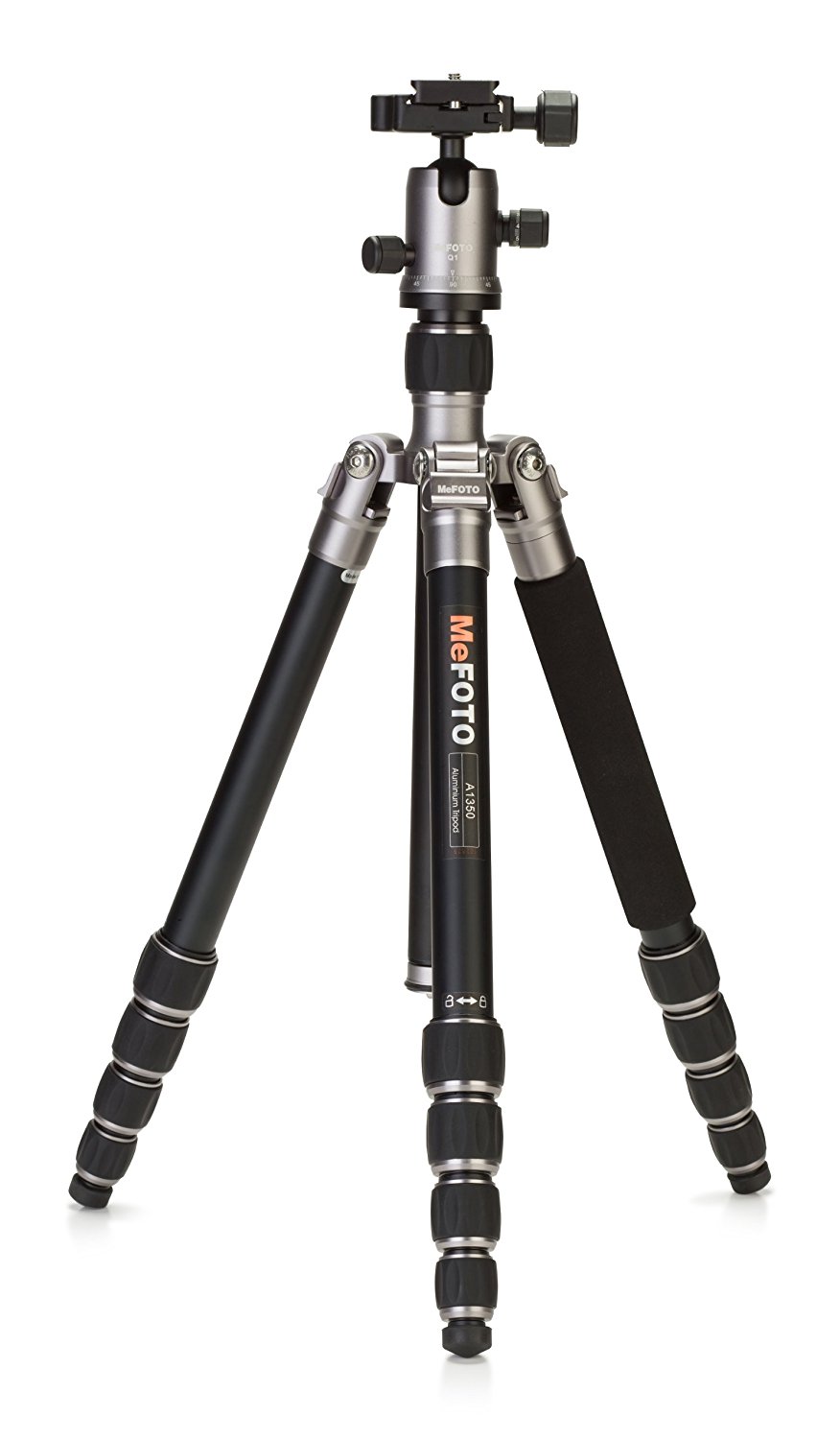 The MeFoto RoadTrip Travel Tripod is where your search for light weight and travel friendly tripod comes to an end. This compact travel companion is so flexible it folds up inversely and can be easily converted into a full size monopod without requiring any tools.
The maximum height when converted into a monopod is 64" while that with an extended column is 61.6".
The folded length of the camera is a mere 15.4". This extremely light 3.6 lbs weighted tripod can bear a maximum load of 17.6 lbs. A
part from these stunning physical attributes, the RoadTrip comes with a dual action Q series ballhead which has an Arca-Swiss style quick release plate.
2. ZOMEI 55″ Compact Light Weight Travel Tripod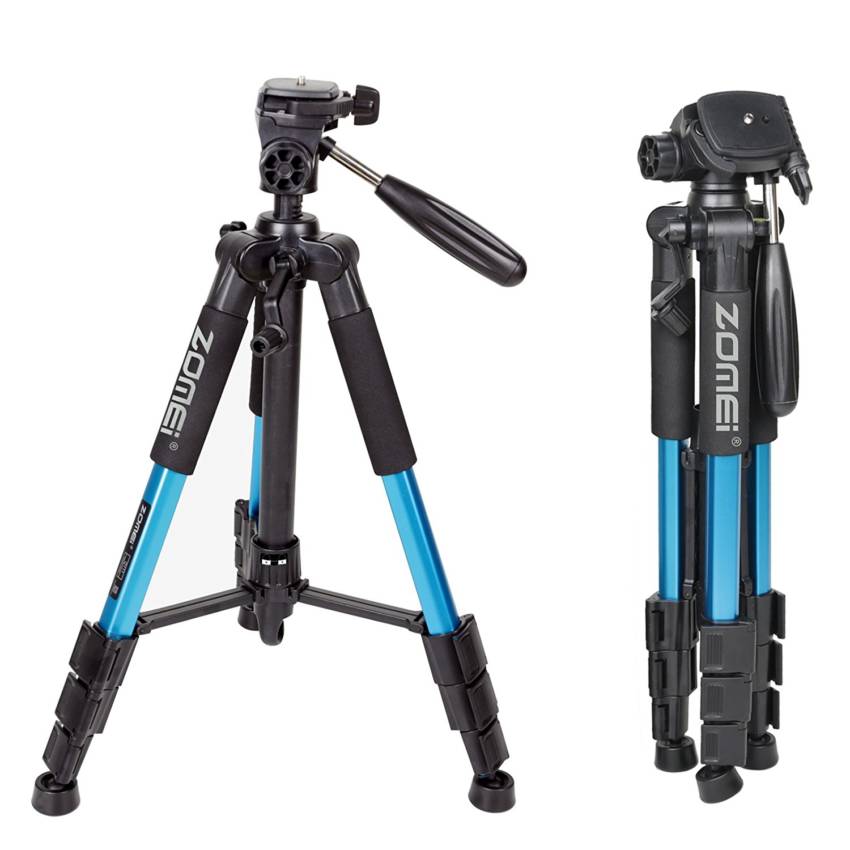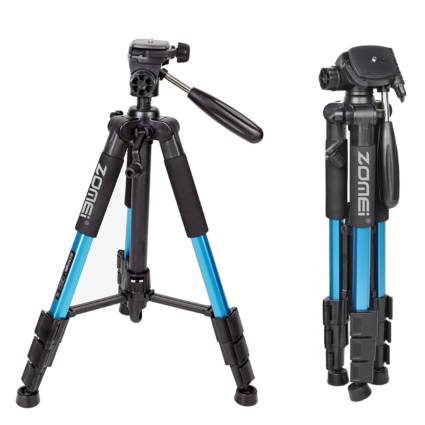 The striking feature of this tripod is its weight – 2.6 lbs.
Despite such a low weight the tripod stands true to its deliverance of sturdiness and durability.
The maximum height the tripod reaches is approximately 55" and when folded the tripod is 19.7" long.
It can support up to 11 lbs on its aluminum alloy legs which feature three flip locks that help in adjusting the size of each leg. The tripod comes with a pan-head for that can be adjusted and smoothly moves left, right, up and down.
The tripod also features a quick release plate. In addition to all the wonderful attributes it comes at a very pocket friendly price.
ZoMei Z818C Light Weight Portable Carbon Fiber Travel Tripod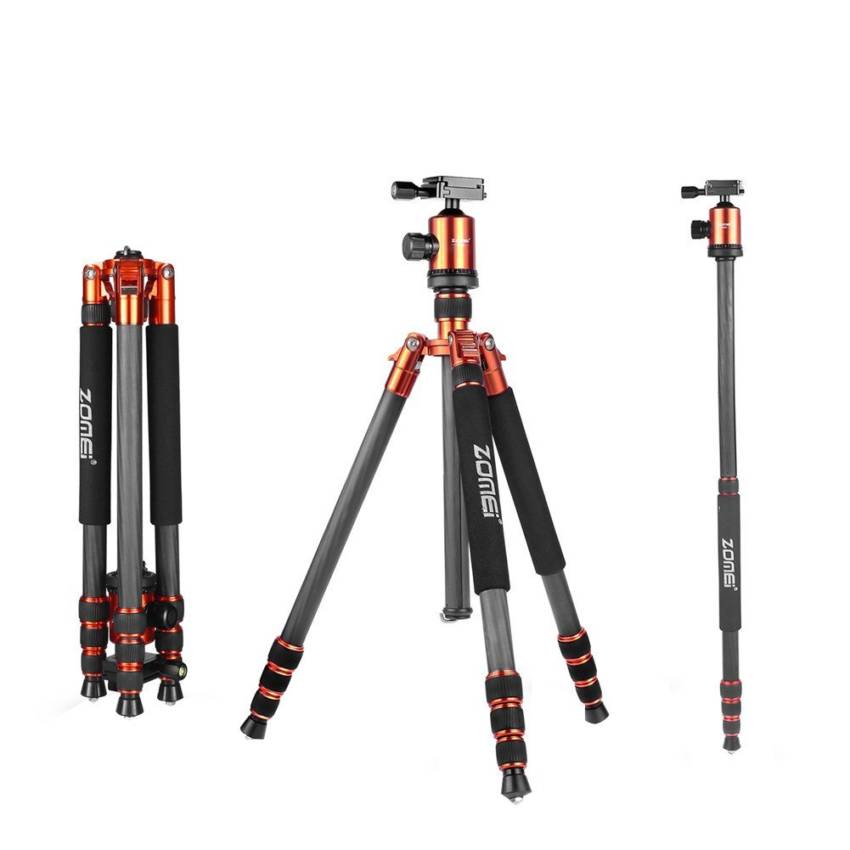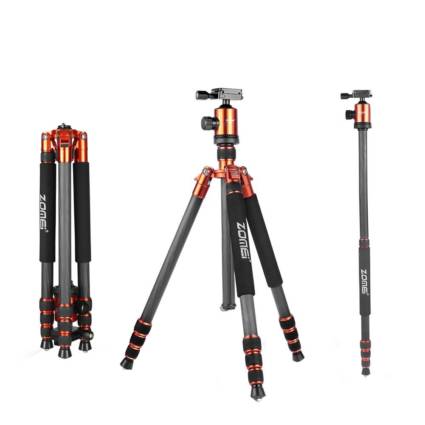 This product by Zomei is perhaps the perfectly weighted tripod to capture your travel stories.
The 3.3 lbs weighted product supports a maximum load of 33 lbs which is ten times its weight! Its new generation of high-density carbon fiber tube with rigid intensity provides resistance to heat, shock and corrosion.
This tripod can be converted into a monopod and it reaches the maximum height of 65" whilst its folded length is 18".
The tripod features a flexible ball head with three adjustment knobs and also has the facility for attaching any other standard ball head for smooth panning and tilting.
Its quick release plate has a heavy duty construction featuring two integral bubble level, is made of metal to provide stability, preventing uneven pans  and capturing accurate panorama pictures with 360-degree panning.
DSLR Tripods
Bontend Flexible Tripod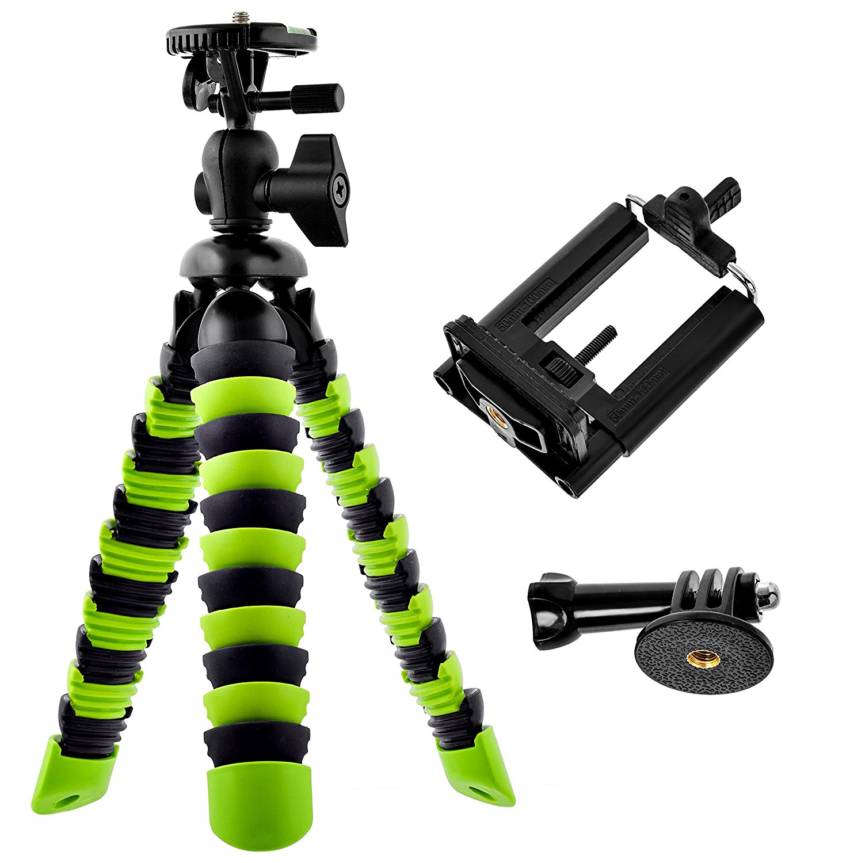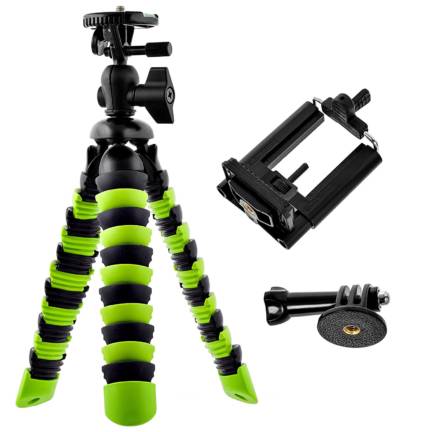 The tripod is not only flexible but also multifaceted. With an iphone and smart phone holder, this light weight very sturdy tripod can be used for a range of cameras including SLR, DSLR, camcorders and of course, smart phones. The tripod can be also be used as monopod.
It comes with rubberized legs for ultra stability and extra grip. The flexible tripod lets you adjust angles as per your requirement for that perfect shot. It can be classified as feather weight weighing just 11 ounces.
It can support a maximum load of 5 lbs and hence can easily support the weight of a DSLR.
2. RetiCAM Tabletop Tripod with 3-Way Pan/Tilt Head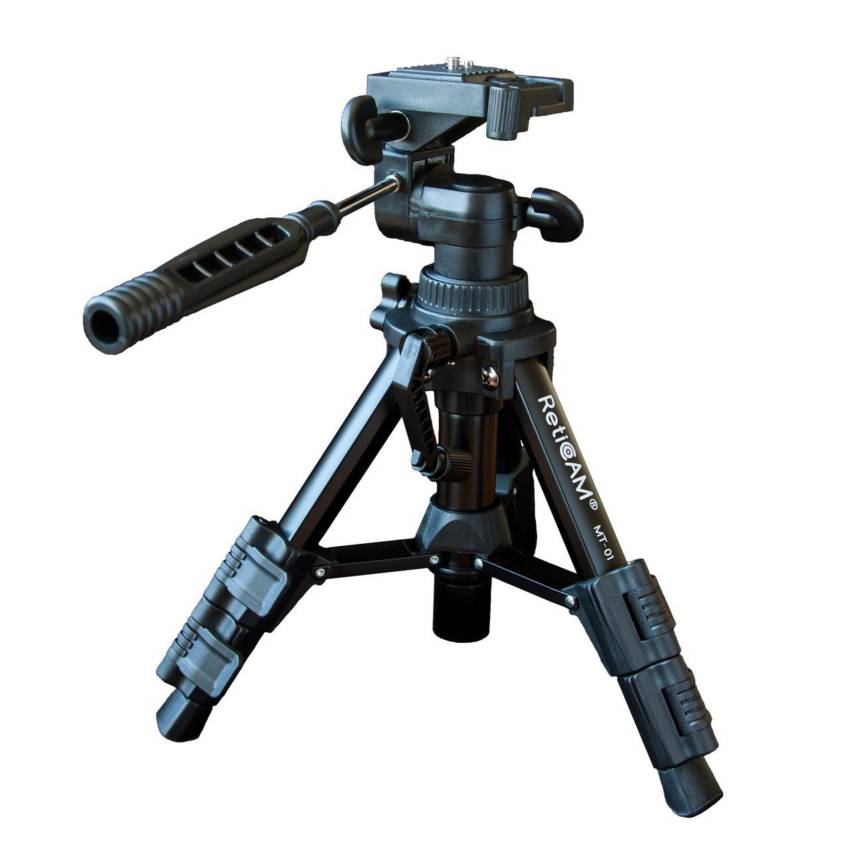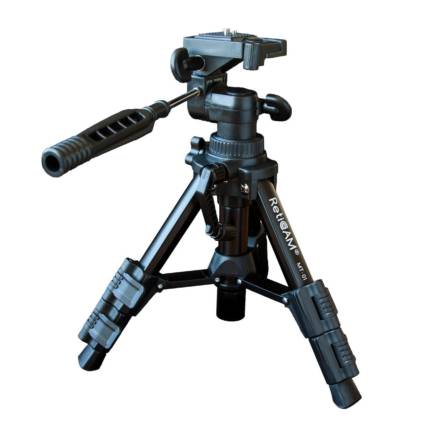 This table top tripod designed for an array of devices equipped with standard 1/4 tripod mounts such as digital cameras, camcorders, DSLR cameras, spotting scopes and many other such table or bench setup devices.
This lightweight yet sturdy tripod features aluminum construction that gives it its strength, 20 mm legs and 20 mm diameter geared center post with over sized locks.
The tripod can be extended to a height of 19" and can be folded to the minimum height of 10-3/4".
It comes with a three way pan head that allows for smooth panning and tilting that facilitates easy positioning of camera for optimum shooting angle.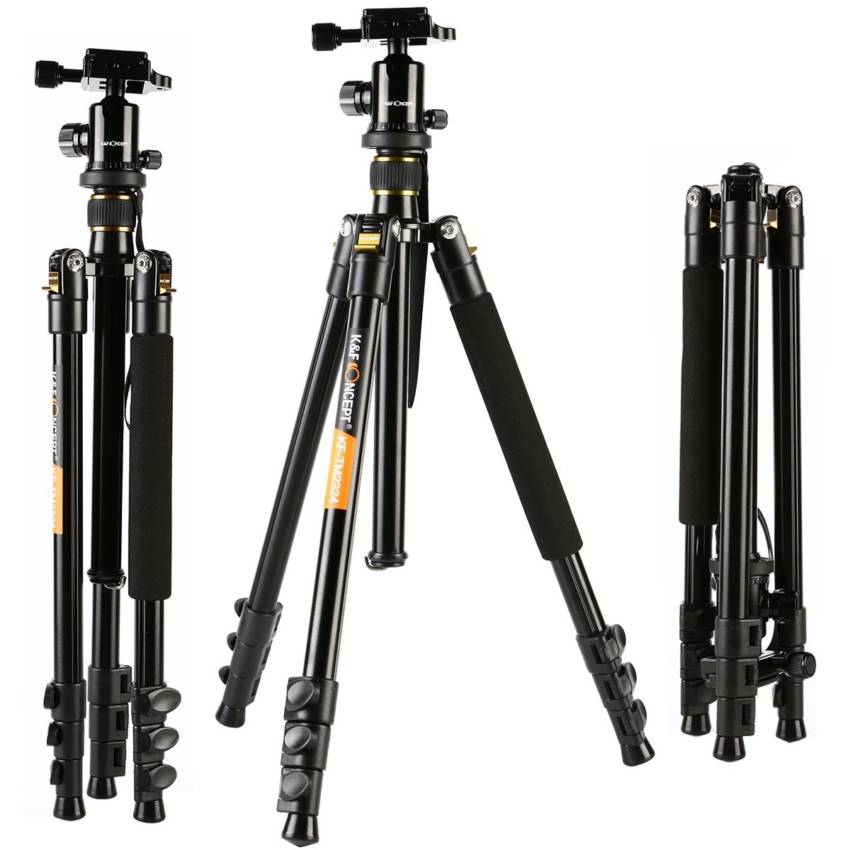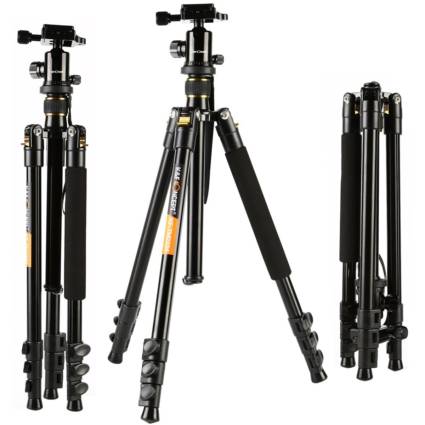 The K&F Concept tripod is made of magnesium-aluminum alloy. The legs are made of high-quality military use metals and are extremely steady regardless of the terrain. The tripod supports all models of Nikon, Sony, Pentax, and Canon.
It weighs just 4lbs and has a maximum load capacity of up to 18 lbs. The highlights of this products are easily foldable legs that can be folded in reverse, reducible and reversible center column, metal die casting ball that can be rotated 360 degrees for attaining perfect panoramic capture.
The tripod can be folded to 16.5"
Film Making Tripods
Magnus VT-4000 Tripod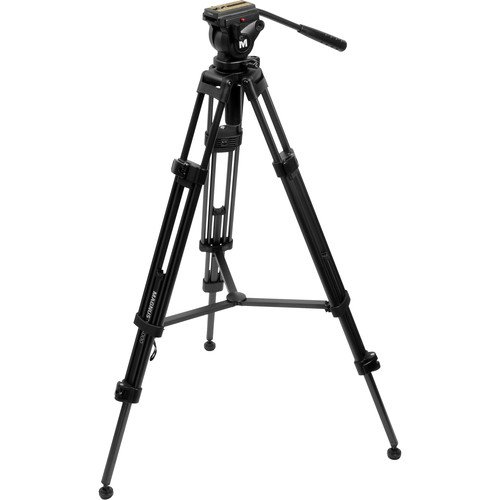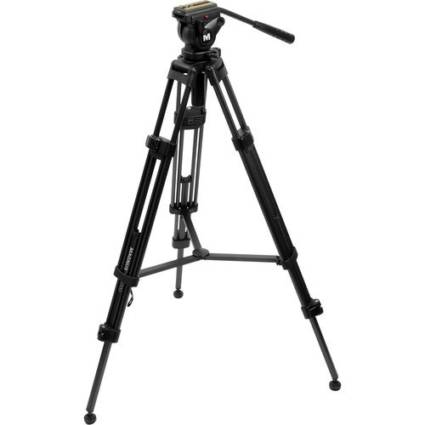 The highlighting feature of this tripod is its two-way fluid head that provides a smooth motion for a sturdy panning in all directions.
Its 3.3 lb fixed counter balance spring set also provides for smooth tilt movements which can be adjusted from +90 degree to -60 degree.
With its 2 stage design, one can adjust the height of the tripod from 2.6" to 59".
The tripod weighs 7.9 lb and supports load up to 8.8 lb.
It has convenient ground spikes for outdoor use and retractable rubber feet for indoor usage.
2.Manfrotto MVH500AH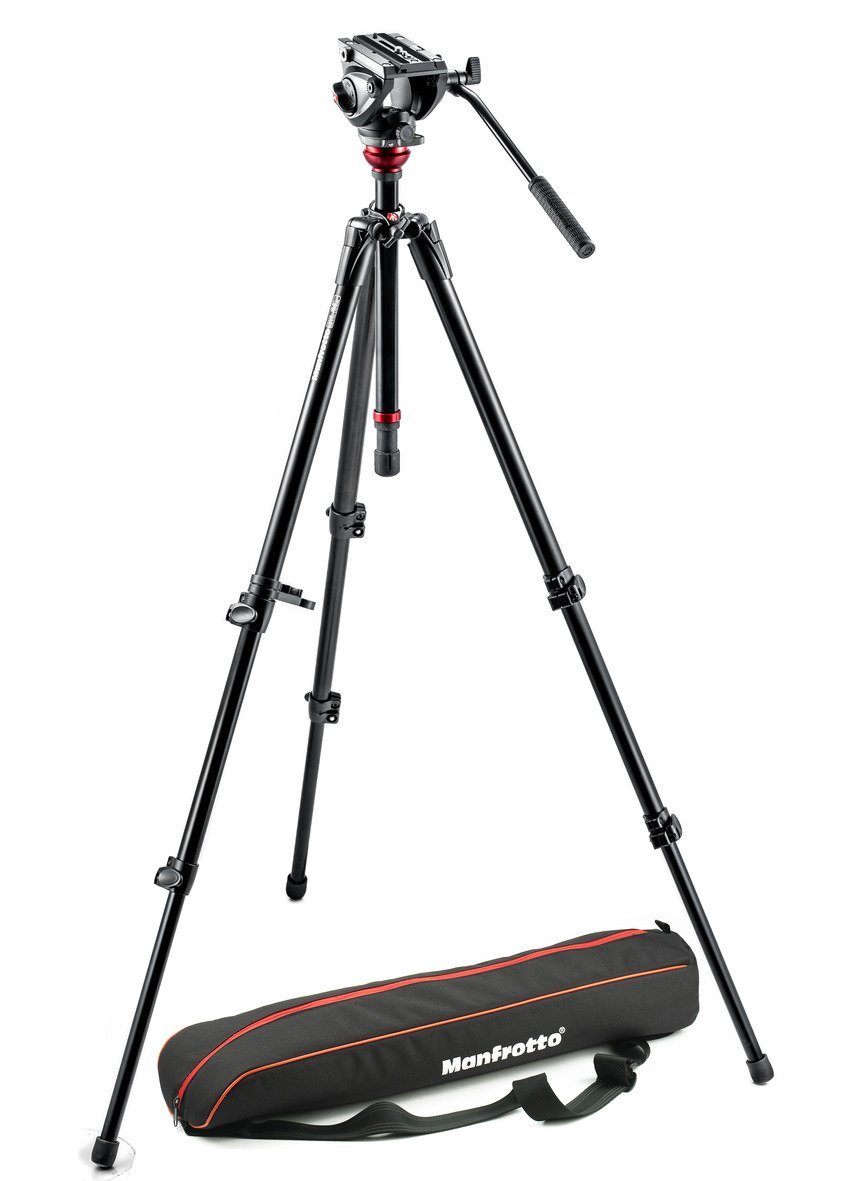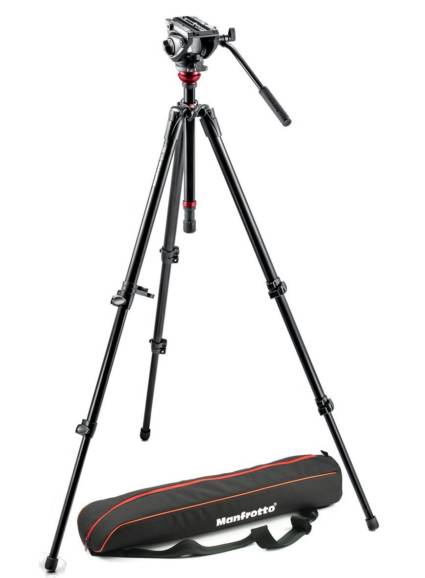 This light duty tripod is perfect for travel and amateur videography. Weighing 7.39 lbs, it can hold a maximum weight of 11.02 lbs.
The system includes a fluid video fluid video head (flat base) MVH500AH with a wide platform plus a sliding plating plate and the MDeVe Aluminum Tripod 755XB.
This entry level 500 has a pre-set counterbalance of 5.3 lbs and features professional fluid cartridges on both pan and tilt axes to ensure smooth shots and fine control with up to 11 lbs weighted equipment.
It is 28.74" in length, maximum height goes to 68.5" and maximum height without column center down can go up to 58.86".
The minimum height is 20.08".
Benro Aero 4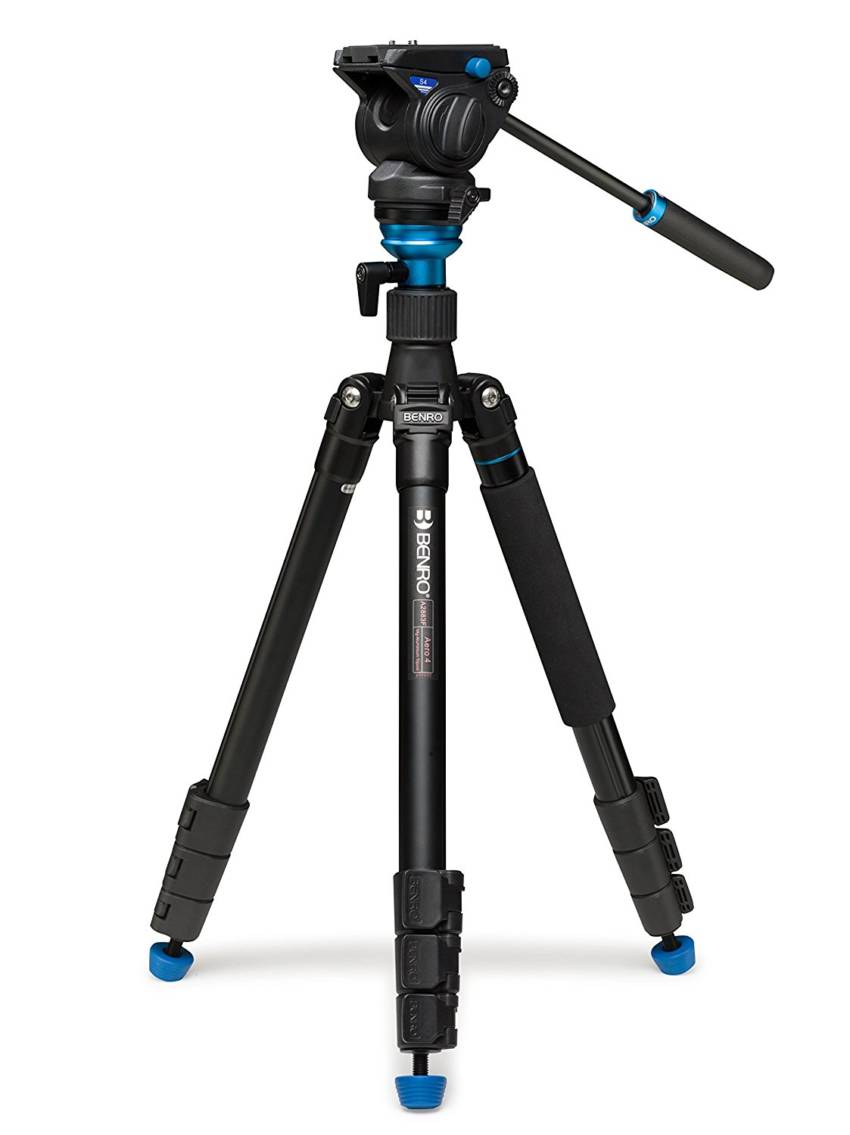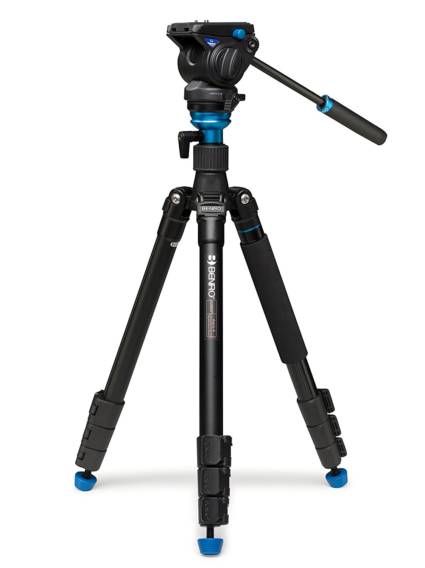 The Benro's Aero travel tripod kit for video is a super compact video tripod which also contains a unique convertible monopod.
It features flat based fluid effective video head with left-right pan and up-down tilt controls for a defined camera movement. It has an integrated bubble level for precise camera alignment.
This aluminum tripod weighs 7.7 lbs and features reverse folding legs with secure quick lock levers, easy leg angle adjustments for sturdy set up regardless of texture of terrain. It has convertible rubber/spiked feet which allows the tripod to be secured sturdily on any surface.
The maximum height of this tripod goes up to 65.2" while maximum height without column extended goes up to 52.6".
The minimum height of the tripod is 21.9" and folded length is 21.7".
Tips on How to Effectively use the Tripods for Better Photographs
Now that you have selected your tripod, here are some tips which can help you improve your photography experience:
For head shots: Place the front leg of your tripod towards your subject and use an L bracket to keep your camera stable and centered. Adjust the height of tripod in such a way that the camera is positioned slightly above your subject's face.
For group shots: Set people in the desired position and spot before adjusting the tripod. Position one of the tripod legs towards the focus point of the setup. Use a standard plate and landscape orientation.
For nature shots: Choose a light weighted preferably a carbon fiber tripod that can be easily transported to remote locations. For capturing shrubs, bushes, creepers, small animals use a tripod with a short center post that can be easily pushed almost flat against the ground. Set the camera on a three-way ball head.
Capturing an animal: Stealthily set up your tripod in an unobtrusive location towards the downwind direction of the animal you desire to photograph.
In windy conditions: A small bag with you can save your perfect picture during a particular windy condition. Carry a small bag or spare camera bag. Fill this small bag with rocks and hang it from the center post of your tripod to keep your camera stable and secured on the ground.
This completes our round-up of the best tripods of 2018. Did we cover your favorite ones?
Share your views with us in the comments below!