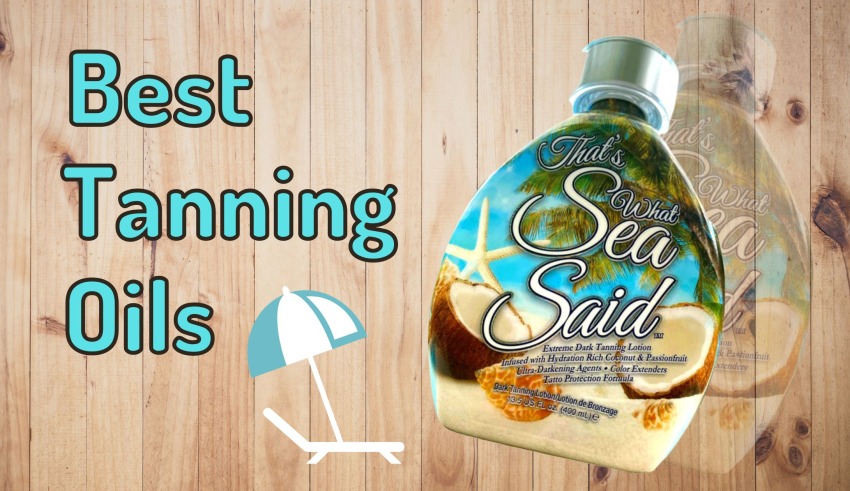 Summers call for some beach time to just relax, sit back and enjoy the sun. People love that tanned look on their skin, making them more bronzed and radiant. Achieving a perfect and luminous tan is all we want, right? However, you must be wondering how to get tan quicker and evenly. Then, my friend, you have landed in the right place as we have a list of the top 10 Best Tanning Oil which will help you achieve that perfect tan.
Tanning oils help you achieve tan quickly as they enable/induce your body to create more melanin. Melanin draws UV rays to your skin, allowing you to tan speedily. This way, when you use these tanning oils, you will get an even and desired tan. Tanning oil with good ingredients and SPF is what makes it ideal and stand out among the rest. So, in this article, we will take you through the best tanning oils available out there, which are great at their job and gentle on your skin. Without any further delays, let's just dive right into the article.
Best Tanning Oil:
Australian Gold Dark Tanning Exotic Oil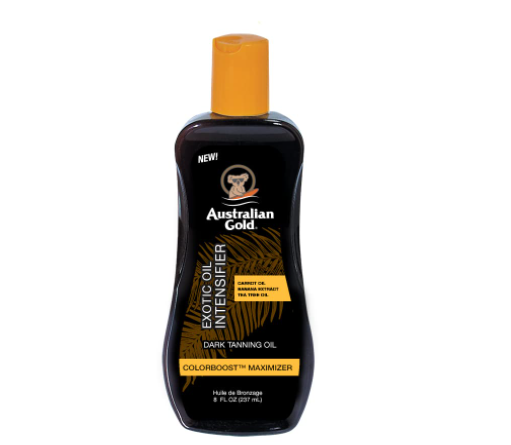 Australian Gold is a great brand when it comes to tanning oil. Its Dark Tanning Exotic oil is infused with carrot oil which amplifies your tan to leave a darker shade. This way, you will achieve a bronzed look while keeping your skin moisturized. It has a non-greasy and fast-absorbing formula which adds to your glow. A potent antioxidant like Tea Tree Oil, along with the greatest concentration of Vitamin C, is found in Kakadu Plum extract.
It fights free radicals as well as gently purifies your skin making it youthful and flawless. Its fragrance contains cocoa with a hint of coconut tones, making it more summer-appropriate and beach-like. All you have to do is apply the tanning oil to the exposed skin and let it settle in. Though this oil does not contain SPF but it will help you achieve tan quicker.
---
Banana Boat Deep Tanning Oil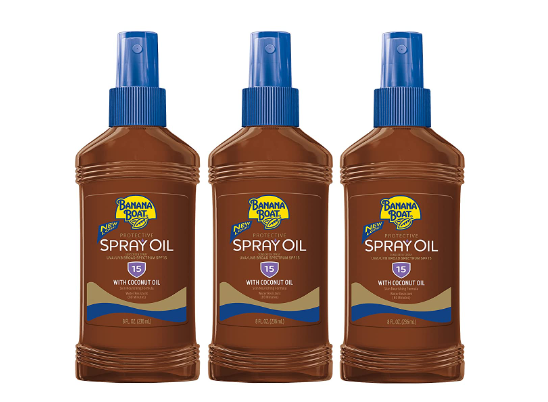 Banana boat deep Tanning oil is excellent to help you tan beautifully and achieve the tan you desire. It contains carrot and banana extracts along with coconut oil. This oil is prepared without octinoxate or oxybenzone, making it Reef friendly. It has SPF 15, consisting broad spectrum of UVA and UVB sunshield.
This protects your skin from burns or bumps, making it extremely smooth. Banana boat deep tanning oil is up to 80 minutes water resistant. Also, it is a spray bottle, making it more convenient to apply.
---
Sun Bum SPF 15 Moisturizing Tanning Oil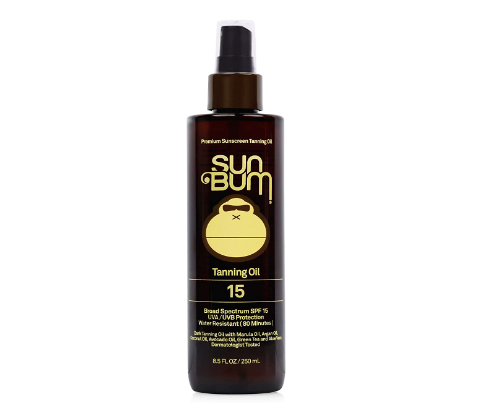 Sun Bum tanning oil is meant to give you a golden brown tan while making your skin radiant and moisturized. It is infused with Aloe Vera, Green Tea Butter, Marula, Argan, Coconut and Avocado Oil with their authentic summer fragrance.
Moisturizing Tanning Oil has a water-resistant and Reef-friendly formula along with SPF 15 UVA/UVB sun shield. It is suitable for all skin types giving you a sun-kissed glow. Sun bum tanning oil is Hypoallergenic, Paraben Free, Gluten Free and Vegan and away from toxins.
---
Hawaiian Tropic Dark Tanning Oil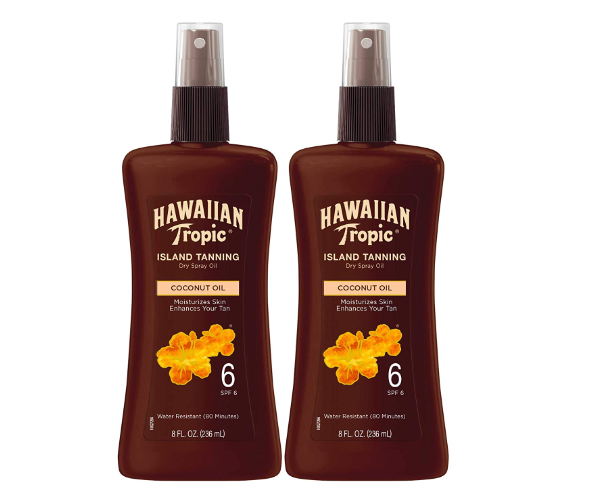 As the name suggests, it has a very beachy and tropical essence that will teleport you to the Hawaiian land. It consists of a rare blend of nature's rich oils known as exotic island botanicals and all the nourishing antioxidants. Hawaiian Tropic Dark tanning oil has a broad spectrum UVA/UVB sunscreen to keep your skin protected. It is fast absorbing and made with coconut oil and cocoa butter, which makes the oil extremely hydrating.
Tropic Dark tanning oil helps you enhance your tan while keeping your skin soft when you are in the sun. It does not strip away your body's natural texture but rather makes it more nourishing and radiant. It states to be extremely lightweight and has a coconut scent. Also, it is free from octinoxate or oxybenzone.
---
Body Nutritive Serum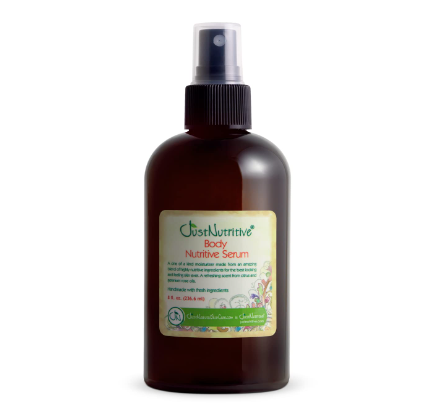 Body nutritive serum by Just Nutritive is also one of the great tanning oil available in the market. It is infused with vitamin-rich plant goodness from Kukui, Hazelnut, Avocado and many more. The oil thoroughly hydrates and nourishes the skin as it is rich in fatty acids and vitamin E. This makes it excellent for dry, scaly, or flaky skin. It helps you achieve that shiny and radiant look while giving you the most beautiful tan.
This oil is not heavy and has a non-greasy formula while having UV properties to protect your skin. It claims to improve your skin's elasticity and reverse visible signs of ageing due to its ingredients. This oil helps you tan evenly and keep the tan intact longer than usual. Also, it is cruelty-free and chemical-free.
---
B.tan Intensifier Deep Tanning Dry Spray Oil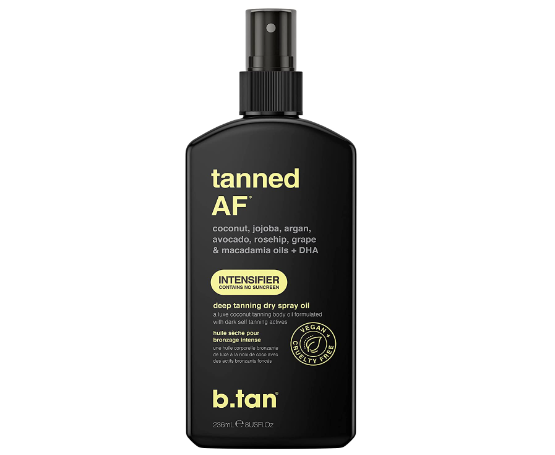 B-Tan's tan AF tanning oil is a great tanning oil, helping you achieve the tan of your dreams. It has coconut, jojoba, argan, avocado, rosehip, grape and macadamia oil + DHA as its ingredients. These ingredients keep your skin moisturized and nourished throughout the tanning process.
It contains dark self-tanning actives for achieving a faster and dark tan than ever. You do not have to expose yourself to the sun for a longer time as it works extremely fast. Also, it is 100% cruelty-free and vegan without any parabens and toxins.
---
Carrot Tanning Oil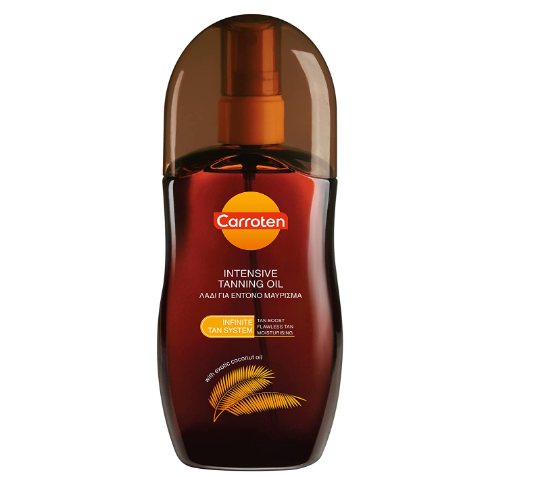 Carrot Tanning oil is meant to give you a deep and flawless tan. It has an advanced intensive tanning system, i.e. Carrot + Coconut Oils providing you with a deep, rich, and dazzling sun-kissed tan. It is made with some amazing ingredients such as Vitamin A and E along with calendula Extract.
These ingredients will help you get that tan boost while looking out for your skin. This oil will keep your skin nourished while you are sunbathing. Also, an added bonus is that this brand is vegan.
---
Cabana Sun Deep Tanning Dry Oil Spray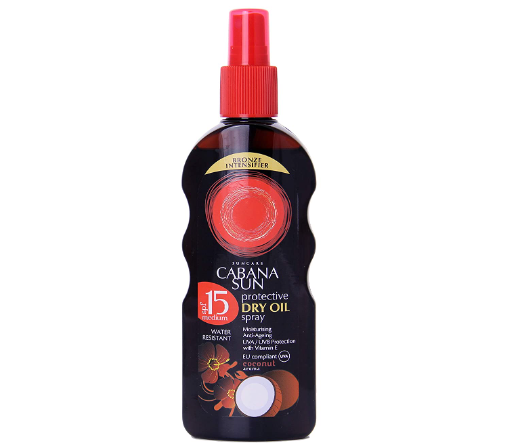 Cabana's Deep tanning oil is one of the best tanning oils. It has moisturizing and anti-aging properties, which is a plus. This oil provides your skin UVA/UVB protection with vitamin E, which is necessary when your skin is exposed to the sun.
It is water resistant and suitable for all skin types. Cabana sun deep tanning oil has a coconut aroma which is appropriate for beach time. Furthermore, it is a dry oil spray that is incredibly handy when you are out and about.
---
Eda Taspinar Bronzing Bomb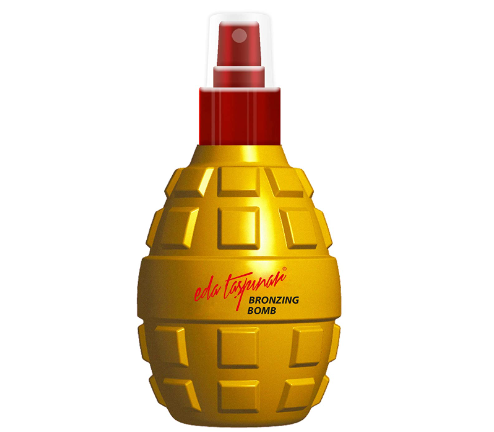 This Bronzing bomb is the game changer as it will help you achieve the tan you have wanted for the longest time. It is infused with Roucou Oil, Carrot Oil, along with walnut oil, giving you that authentic Mediterranean dark tan. This product states to have anti-ageing characteristics as it contains Vitamin A and E combined with argan oil. It has cacao and coconut signature fragrance which transfers you to a tropical land.
This oil has a paraben-free formula which makes it gentle on your skin. You will have a nourished and glowing tan with all the mentioned ingredients present in this oil. Just spray the tan evenly and let the tanning oil do its job. It has an advanced formula with 0 SPF, but they assure you that your skin will love the product.
---
Tanning Indoor Oil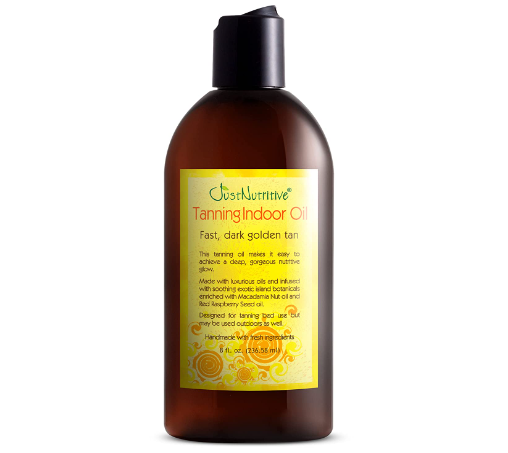 Just Nutritive's indoor tanning oil is there to transform your skin tone while being indoors. It is great for tanning bed sessions, but it can be used outside too. It is made with multiple unique ingredients such as Black Cumin Seed Oil, sesame oil, rice bran oil etc. Black cumin seed oil is packed with valuable skin-friendly components like vitamins A, B, and C, calcium, potassium, magnesium and zinc.
Along with other moisturizing nutrients, it has vitamin E, which helps you achieve the ultimate tan without harming your skin. It makes the skin vibrant as it is packed with hydration. Also, it gives you a long-lasting golden tan and bronzed look while making your skin smooth and moisturized. This oil is cruelty-free and chemical-free, making it preferable to the other products floating in the market. 
Conclusion:
Tanning oil helps you achieve the tan of your dreams by making your skin seem naturally bronzed and radiant. There are numerous tanning oils that are being manufactured which makes it hard to find the right one. So, we hope this article came to the rescue to ease up your research to find the ideal one with the right ingredients that helps you tan flawlessly. Through this list of the best tanning oils, we are sure that you will find the perfect tanning oil, which checks all your boxes.
These tanning oils have incredible ingredients and fragrances which will surely make your beach day a hit. These oils will make your skin tone sun-kissed and toned, which will, in turn, make you look healthy and youthful/glowy. Thus, we hope you found this article insightful and that you will give these mentioned tanning oils a shot. You can easily find all these products online to order straight to your doorstep in no time.