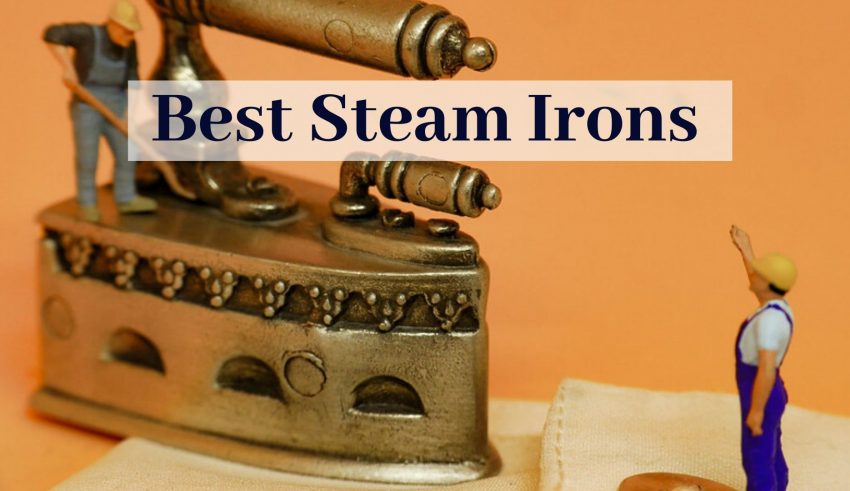 Everyone wants to look their best for important events like meetings, interviews, weddings, and first dates, and a creased shirt has never made a good first impression. In fact, even on those mundane days, a crisp, tidy outfit can add infinite class to your look and ultimately make you feel more confident.
We recommend a steam iron because it's the most efficient tool to smooth out even the most stubborn creases in your clothes. The moisture from the steam loosens up the fabric, while the heat immediately smoothens the folds. You might be confused about which iron to pick, with the innumerable options in the market. Fret not, because we've got you covered.
Here are the top ten picks of Best Steam Irons for you:
We can bet that you grew up with at least one Philips appliance in your house. The brand has established a good reputation in Indian households over the years, there's simply no scope for second guessing the quality of its products. The Philips GC1905 steam iron is designed to fit the needs of modern lifestyle.
Its compact and easy to store, and the soleplate is linished, allowing it to glide smoothly on the fabrics without any tugging. Thanks to its large water hole, filling up and emptying the water tank of this iron is extremely easy and fast, and it has a high steam output. The mist produced by this iron is extremely fine, and will leave your clothes creaseless in a jiffy. With this product in your house, ironing will not be a chore anymore!
---
This pretty pink steam iron is another one of Philips' fantastic range of appliances. Armed with a golden soleplate, this iron has been designed to never stick to your fabrics, so you don't have to worry about burning your favourite clothes. Its pointed tip will let you iron effortlessly along fold lines, pockets, and any other small parts of your clothes.
Moreover, it is equipped with a button groove that allows hassle free ironing along buttons and seams. The steam control knob releases a fine steam with a single push, and works in tandem with the powerful soleplate to smoothen out all the creases in your fabric. With a power of 1440 Watts, this steam iron heats up quickly, which makes the process of ironing faster and efficient. 
---
If you're a student living away from your family, or simply anyone on a budget, we can understand that you may not want to spend a lot of money on an iron. But don't worry, the Bajaj Majesty MX 3 steam iron is here to the rescue. Not only is it highly affordable, it is also extremely lightweight, so storage and travel will never be an issue.
The soleplate has a non-stick coating to protect your fabrics from damage. The water tank can hold 150 ml of water, which means that you won't have to refill it too frequently. This iron features a uniform steam distribution, and can even be used vertically. It also has a 360 degrees swivel cord to allow you to move the product in all directions. Affordable, versatile, user friendly, and so efficient!
---
Yet another dependable product from the house of Philips is the GC1011 steam iron. Its linished soleplate will guard your clothing against damage, while its vent design has been crafted to distribute steam evenly along the fabric, ensuring that you won't get wet patches on your clothes. The 150 ml water tank is extremely user friendly, and can be filled and emptied easily.
This iron is also equipped with a light which will indicate when the iron is hot and ready to be used. If all this was not enough to convince you to get this iron ASAP, let us inform you that it is available in a combo pack, in which you can also get a high quality Philips hair dryer! Now that's what we call a steal deal!
---
This incredible product from Inalsa has been designed especially to suit the needs of people who have limited time to perform household chores. It has a large water tank, with a capacity of 330 ml, which is more than enough for you to iron all your laundry in one go. The 360 degrees swivel cord allows you to iron with maximum ease, while the Vertical Steam feature makes it a cakewalk to iron hanging clothes or curtains.
The steam this iron produces is extremely dense, and the intelligently placed steam holes allow for an even steam distribution. Lastly, the titanium soleplate heats up within seconds and the pointed tip makes it easy to smoothen out creases in smaller areas. This iron is low maintenance, affordable, and something we highly recommend! 
---
The Havells Plush steam iron features an ergonomic design and multiple amazing features. The sole plate has a non-stick coating to minimise any friction against fabrics. It has a steam function and a spray function, along with heat settings. This lets you be in charge of how you want to iron your clothes. It also boasts a self clean feature that makes this iron highly utilitarian and hassle free.
The 230 ml water tank is large enough to let you iron out all your fabrics in one go, thereby saving time and energy. It comes with a water cup, which lets you measure water and fill up the tank with ease. Moreover, this iron has a safety feature which causes it to shut off automatically if it overheats, making it a really good option for houses with kids and pets.
---
If you know even a little about home appliances, we are sure that you've heard of the brand Morphy Richards. The brand is trusted and loved by a large number of people, and the Super Glide steam iron is something we highly recommend. It boasts a massive water tank with a capacity of 350 ml, and its 46 steam holes produce a mist so dense, even the toughest creases will succumb to it. It has a Turbo Boost feature, which has been made to tackle stubborn creases.
The vertical steam feature makes it a breeze to press hanging fabrics like curtains, drapes, sarees, or jackets. Finally, the self clean feature automatically flushes out any deposits, preventing any clogging in the steam holes. Basically, this product offers everything you could ask for in a steam iron.
---
This ultra affordable steam iron from Eveready offers some unbelievable features for its low price. It is equipped with a linished sole plate, which prevents any friction against your fabrics and makes the plate long lasting and scratch resistant. The water tank is extremely easy to fill and empty, and the steam and spray buttons let you decide how you want to iron your fabrics.
The self clean function is a blessing for those with hectic schedules, as the iron automatically cleans the steam holes with the click of a button. The best part, however, is that this steam iron automatically shuts off in case of overheating, making is very safe to use. It also comes with a 2 year warranty, so you can be truly tension free with this appliance.
---
Class and efficiency take physical shape in the form of Black and Decker Appliances BD BXIR2401IN steam iron. It has an anti-drip feature which assures that no water will drip from any part of the iron, even if the water tank is completely full. The water tank has a large capacity of a whopping 380 ml, and the steam produced is fine enough to tackle even the most stubborn creases.
Temperature and steam controls let you iron your fabrics exactly how you want to. The auto shut off function makes the iron shut down if not in use, which is an excellent feature to save electricity and prevent any mishaps. This product does not only look incredible, it also offers features so incredible they'll knock your socks off!
---
Maharaja Whiteline is a homegrown brand that offers some high quality home appliances that are not heavy on the pocket. One of the most affordable steam irons in the market, the Maharaja Whiteline Pristine SI-103 is the best option for anyone on a budget. It operates on 1300 Watts, which makes the iron heat up quickly. It has a 360 degree swivel cord, and a water tank with 150 ml capacity, letting you iron all your laundry in one sitting.
The vertical steam feature allows for enhanced flexibility, and the sole plate is equipped with a non-stick coating to keep your favourite fabrics safe. Its variable steam settings and temperature knob let you choose how you want to iron various fabrics. Equipped with an automatic shutdown safety feature, this ISI certified appliance is one you should definitely check out.
---
This comprehensive list of the best steam irons incorporates products to suit all needs and budgets, and we are sure that you'll find something that is a perfect match for you.