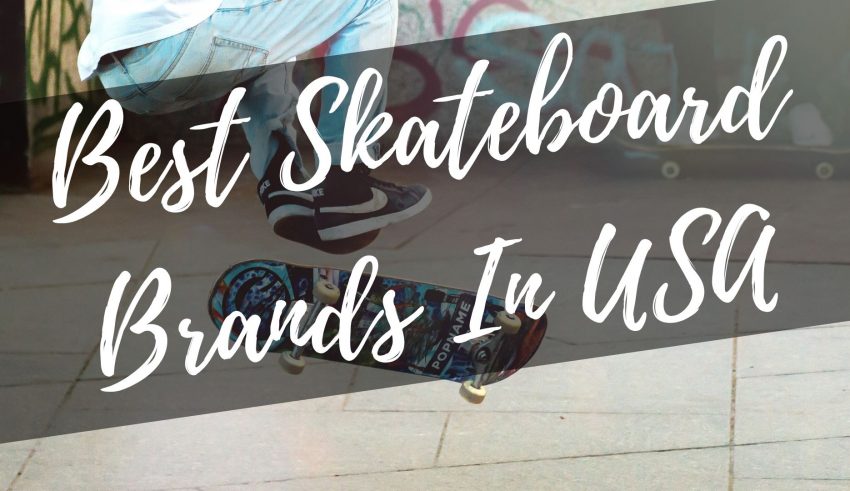 Skateboarding is a popular extreme sport that is full of thrills and fun. It is one of those sports which anyone can start without much hassle. I mean you can literally buy a skateboard from one of the good brands and start riding it within a day.
Of course, doing kickflips and other cool tricks will take time as these things come with practice. Also, the quality of your skateboard matters too. You need to choose a brand that produces boards that can suit your style. But there are so many brands to choose from.
So, today we have compiled a list of some of the best skateboard brands in the US that can help you get started in skateboarding or if you are already a pro enables you to take your game to next level.
Here are the Best Skateboard Deck Brands In The USA:
Buy On Amazon
Plan B is one of the most popular Skateboard brands not only in the US but globally as well. The company was instrumental in sort of bringing a revolution in the industry. The company was started by Mike Ternasky who was a popular professional skateboarder.
His vision was to bring about a change in the industry and got some of the best skateboarders to join his team and thus started Plan B. The company gained some traction with their video releases Questionable, Secondhand Smoke, Virtual Reality, etc.
They sold decks, wheels, bearings, jumpers, and hoodies. After Mike's death in a car accident, the company did receive a setback but they have been back for a long time now and have been delivering quality products to their customers.
The company sells custom boards and so you build it your own way but they also sell finished products fully equipped with decks, wheels, trucks, and bearings.
The company is known for its quality products and is foreseen by a team of professionals like Danny Way, Colin Mackay, Chris Joslin, PJ Ladd, and many more.
The deck is made from seven-ply maple and is very durable. So, if you want a product made by professionals to be able to customize it to suit your style then Plan B is a great choice.
---

Buy On Amazon
This is probably one of the most recognized brands of skateboards in the US and chances are when you asked your skateboarding friends to recommend you the best brand they said Element.
The company manufactures top-quality products from decks to apparel to footwear. They are currently headquartered in California. The brand does not only cater to the US but also markets its products globally with their stores being in Madrid and Paris, just to name a few.
The company started more than two decades ago and was founded by Johnny Schillereff who wanted to build something so that it can bring some awareness to this community. It slowly started making its presence known in the market before dominating it.
Now, they are a household name in the action sports industry. Their skateboards are made to last and resist extreme duress. They sell skate accessories, deck wheels and cruiser completes.
The company has some of the top-tier professionals in its team starting from Nick Garcia, Nyjah Huston, Ethan Clements, Bastian Bello, Bam Margera to Tom Schaar, Roman Hager, and many more. The company is at the top of the market so choosing this brand is a good decision.
---

Buy On Amazon
If you dig horror and have an affinity for evil design then this might be the skateboarding brand you are looking for. One look at their products will make you understand how evil and horror designs can be made funky and cool.
The company was started in the early 90s by a group of 4 skateboarding professionals Viz. Russ Pope, Jason Adams, Darren Navarrette, and Barker Barrett. This brand of skateboards is distributed by NHS Inc. and also deals in apparel.
The color palette generally used by the company includes green and purple and this is used in the bulk of their skateboard designs though you can get other colors. The company provides top-quality service when it comes to its skateboards.
The decks are durable and are made from strong 7-ply maple. It is also a subsidiary of Santa Cruz Skateboards. This brand can be suitable for you if you are a very or pool skater as the deck is wider than many other brands.
This is because that's the attitude and style they wanted to adapt and cater to the old school skateboarding style. You can buy full decks complete with all the parts or you can also customize your board according to your style. 
---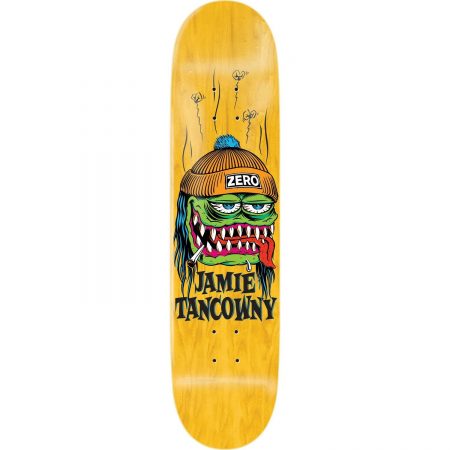 Buy On Amazon
Another tip skateboard brand based out of California is Zero. The company was founded in 1996 by Jamie Thomas who was a popular professional skateboarder. The brand products were distributed by Back Box company which was again owned by Jamie.
The headquarters of the company is at Carlsbad, California. The company started by selling apparel but later moved to skateboard manufacturing and Jamie became the professional rider for the company.
He wanted to counteract the mediocrity in the industry and create a brand that can appeal to the underdogs and represented a sort of rebellious style.
Jamie has been managing the company for more than two decades and has been able to be consistently providing top quality products from decks to wheels to trucks to bearings and apparel.
The logo of the brand is the iconic skull which skateboarders can recognize easily. You can buy a finished skateboard to just buy and start your riding or can customize the board with the parts that suit your style.
Besides Jamie, there are many other professional skateboarders such as Tommy Sandoval, Adrian Lopez, Dane Burkan ride for the company.
---
Punked

Buy On Amazon
A lot of top skateboard manufacturing Brands in the US are based in California as is evident from this list and the next company, Punked, is no different. It is a popular brand among skateboarders and provides great quality when it comes to its products.
Many of their boards are very durable and are made to last. It is also known for making various beginner-friendly boards that can be used just for commute and exercise and get you started in this extreme sport.
The company sells full finished products and spare parts as well. You can also order customized boards from them. A good feature of the company is that they make really beautiful boards which is equivalent to a piece of art and so not only will your skateboard be a means of commute or fun but also look good at your home.
Their boards generally have hard gel wheels and as said before their decks contain beautiful graphics. The decks they manufacture are made of 9 ply maples to give good rigidity to it.
Also, they are lightweight and strong. They also sell longboards made of bamboo which have good flexibility and will give you a smooth ride. So, check them out for your next skateboard.
---
Minority


Buy On Amazon
Minority is a great Skateboard brands for people of all skills. Maybe you are a beginner who just wants to develop balance and try practicing a few skills or maybe you are a skilled skateboarder who wants aboard to show off his skills.
Doesn't matter which end of the spectrum you fall in you will find their boards extremely versatile. The deck is made from 7 plies hard rock maple and has been cold-pressed into the deck. It can support about 220 lbs.
Their boards are great for tricks helped by the mediate concave of built into the deck's design. The trucks they provide on their boards have good strength and has been made from aluminum alloy and equips carbon steel kingpin.
The bearings are very smooth and will enable you to reach high speeds. Minority knows that skateboarding is also a lot about style so you can choose from a wide variety of attractive graphics to make it suit your style.
The company is also environmentally conscious and does uses methanol-free epoxy glue and harvests its raw materials from sustainable woods. So, when you buy a product from them you know you have contributed something towards the environment as well.
Lastly, the motto of the company so to make a skateboard that they themselves will ride. So, if you like what they are doing you can check out their products. 
---
Girl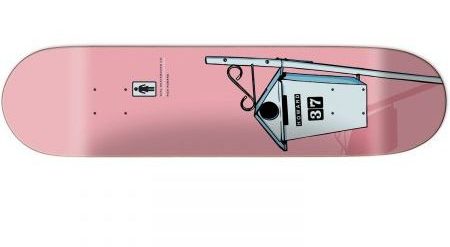 Buy On Amazon
Girl Skateboards is a popular skateboard company that has the iconic logo that most of us are akin to seeing outside a female washroom. The icon aptly portrays the name of the brand.
The brand is again based out of California and is distributed by Crailtap which is a popular distributing company for various other skateboard brands like Chocolate and Royal.
The inception of the company was in the early 90s by pro skateboarders Mile Caroll and Rick Howard. They had the vision to enable professional skateboarders to have a future in their fields.
The company came up in a time when the industry wasn't kind to newcomers and tried to obstruct them from getting into the market. But they sustained and now are one of the most popular skateboarding brands in the States.
They produce top-quality boards that are made from 7 ply maple giving it the needed resistance and strength. They are various customizations available for the customers to choose from but one can also get a complete board here.
---

Buy On Amazon
Enjoy is a popular skateboard deck manufacturing brand that was formed in 2000 by Marc Johnson and Rodney Mullen who were professional skateboarders and had been part of different teams and brands.
Dwindle Distribution is the company that distributes the products of this brand. The brand is very popular for its designs which generally portray a humorous or satirical theme. The logo of the brand is a panda.
Though they don't have years in the arsenal in terms of the experience they have quickly become popular and have created a loyal customer base because of their good quality products. They used the internet and social media effectively to market their products.
Their boards are very versatile and can be comfortable for riders of all skill levels. So, if you are just beginning to ride boards this might be a good fit for you.
The decks are pretty strong having been made from maple wood from North America. The concave is very decent which lends it's versatility when considering riders of different skill levels. The boards are also very colorful and can be immediately recognized from a distance. 
---

Buy On Amazon
Birdhouse is a skateboard manufacturing company that was formed some 28 years ago by Tony Hawk and Per Welinder. They were professional skateboarders for Powell Peralta.
The company manufactures decks, wheels, and apparel. Per Welinder was basically the brainchild behind the company and had approached other pro skateboarders from Powell Peralta to be equal partners with him in his venture but had no luck until he asked Tony Hawk. 
Oth of them felt that they didn't have much of their career left on the sports side of the thing but wanted to stay attached to the community and thus started the company. They manufacture top-quality products that have good endurance, flexibility, and strength.
The deck is made from 7 plies strong American maple and can be customized with various catchy and good looking graphics to define a unique style. The Birdhouse boards have good balance too as they use the black six technology in their decks.
Doing tricks is easy on these boards as they offer a good amount of mobility. You can get a completed as well as a customized board from the company.