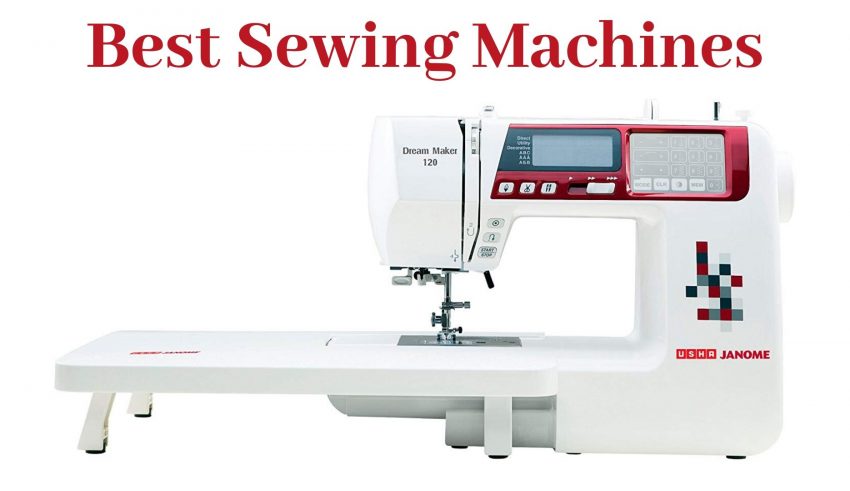 Sewing machines are an effective instrument playing an important role in our households. Before they were invented, women had to give most of their time trying to maintain their family's clothes. The invention of sewing machines reduced both the time and labour. But since the time of its invention, the sewing machines have evolved to a great extent featuring new looks and functionalities to suit your taste better.
But the progress of the machine also leaves you with a plethora of choices to choose from. It becomes really confusing to choose from when you encounter the same kinds of things with slight differences and also it's important to see which of those will suit your requirements. Hence to help you with your decision, we have provided all the required information so that you can purchase the one that is perfect for you.
Here we have shortlisted the six best sewing machines in India for home use.
This sewing machine is based on Japanese technology and has 7 built-in-stitch function with 14 applications. If you are looking for a portable sewing machine, then the Usha Janome Dream Stitch sewing is just the one for you. It is both lightweight and comes with a handle perfect for carrying around. Its free arm functionality enables circular stitching.
It also features four-step buttonholing so that you can easily stitch buttons on your shirt or coat. It also comes with a dial option allowing you to select your desired patterns. To add to its advantages, it has a compact size and fits in your cupboard efficiently. Moreover, it is equipped with a sewing light enabling you to work in poorly lit surroundings as well.
---
This compact and affordable sewing machine comes with explicit functionalities. It features automatic needle threading system. This means that you need not manually pass the thread through the needle hole and is automatically performed by the machine. This reduces the manual labour.
It is equipped with triple strength stitch ensuring that the stitching stays in its place and does not come off the fabric easily. It offers 21 types of stitches like buttonhole, straight, zigzag, tricot, satin, fine blind stitching and much more. Apart from these it also offers 9 sewing applications such as button fixing, rolled hemming, smocking, zip fixing, etc.
---
This mini sewing machine comes with a foot pedal and adaptor giving you a complete tailoring experience. The sewing machine comes pre-threaded so that you can use it without having to labour for putting the thread through the needle hole.
It is equipped with chain-locking stitch to ensure that the fabric is properly and efficiently stitched and is not ripped off easily. It is advisable not to use the machine without clothes or else it can cause a problem in bobbin.
---
Repairing those simple tears of your clothes can be done by you now. No need to run to the tailor for every small and simple repairs you want in your cloth. Get yourself this sewing machine and there you go doing all the simple repairs.
This sewing machine comes with a foot pedal and an adaptor. It comes pre-threaded and features chain-locking stitch that ensures a firm stitch on the fabric and does not come off easily. It comes with double threads and has two speed control sewing the sleeves easily. However, thick fabrics like denim, velvet and other such fabrics cannot be stitched using this sewing machine.
---
The sewing machine is one of the best and has 8 built-in stitches for straight, satin, zig zag, blind hem, scallop, 4-step buttonhole and one decorative stitch. The 4 step buttonhole enables you to automatically make buttonholes in 4 steps.
To have a seamless and skip-free sewing it comes with a heavy duty metal frame. Its convertible arm provides easy stitching of circular areas like cuffs, collars, pant hems and other such areas. It features easy threading path which saves time. Moreover, it is also available for free home demo.
---
This sewing machine comes with 120 built-in-designs including buttonhole stitch. It has an LCD screen with fast navigation and stitch selection. It offers start and stop button with speed controller so that you can sew your clothes without the use of foot control.
It also enables hands free operation up to 50 different combination patterns. It operates on a power of 35 watts and between the voltages 220-240 volts. The manufacturer also offers 2 years warranty on the product. The price of the sewing machine is a bit expensive but is worth buying for. If you are thinking to seriously start stitching, then this sewing machine is the perfect one and gives you an entirely professional experience.
---