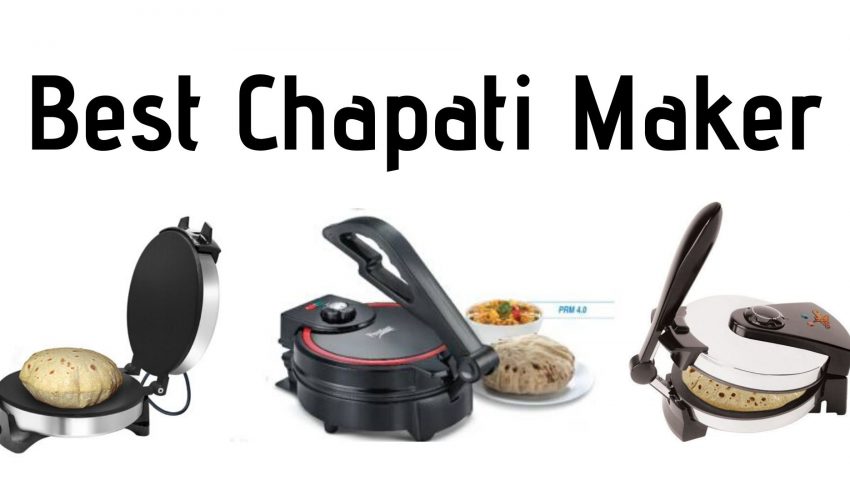 Rotis or as we call chapatis fall under the category of most staple foods that we require in our day to day lives. It is the most essential part of Indian cuisine, without which our meals would be completely incomplete.

Just because we require this item almost every day, many companies have come up with the idea of automatic or semi-automatic roti makers to help ease our work day in and day out. Roti makers do not cause any change in its taste and therefore you don't need to worry about it before purchasing it.

There are many factors like the rate of power consumption, shockproof materials, its price, the durability, the size and weight of the body, warranties, easy to clean around and some more, to keep in your mind before going and actually purchasing one. Today there are many options available in the market which can easily confuse you.

Hence, we have made a list of Best Chapati Makers: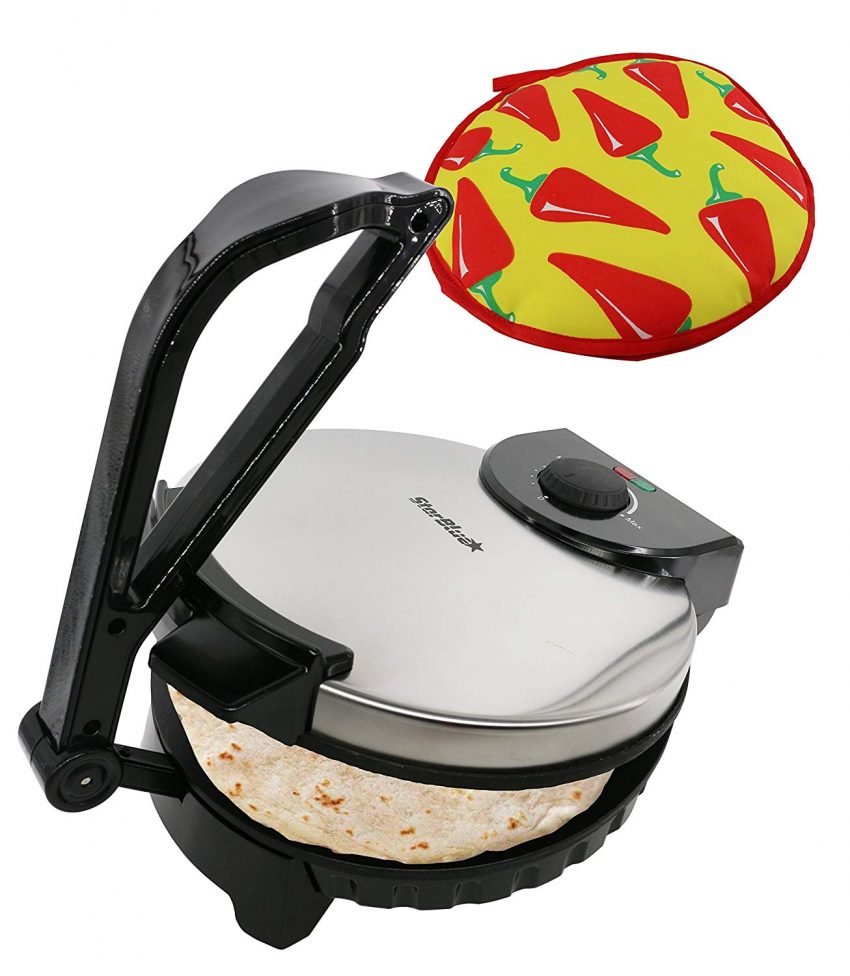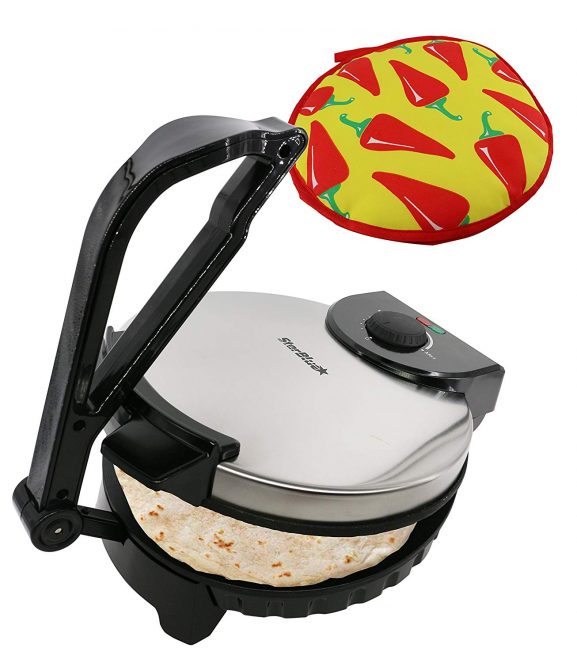 The 10 inch Roti Maker by Star Blue is an amazing tool, made with the finest non-stick materials that will make your rotis or tortilla perfectly in shape. You don't have to worry about losing the original taste of your chapatis, as it has been designed in such a way to maintain the taste as it should be.
The body has been constructed from high-quality stainless steel that helps in increased durability for a longer period of time. It has also been shown to prevent any external damage or corrosion to the body.
It has a stylish and glossy design to attract more attention and potential customers. While cooking, you do not have to keep checking the temperature of the machine again and again, just wait for the indicator to turn green and you can then finally start cooking the rotis.
The roti maker is quite easy to clean and maintain, you just have to take a wet cloth and wipe the body with it. This will ensure its proper hygiene.
The mechanism is also very easy to understand and use.
The company has this amazing condition, that if you are not satisfied with the product in any way, you can return it within a span of 2 months from the purchase, to earn your money back, provided the reason should be reasonable. Overall this product should be tried at least once or should be at the top of your list for the next purchase.
Pros:
Easy to clean and set up

100% money back guarantee if you are not satisfied with the product

Built from high quality stainless steel, making it durable in nature
Cons:
Rotis may become hard sometimes

The dough keeps rolling forward
---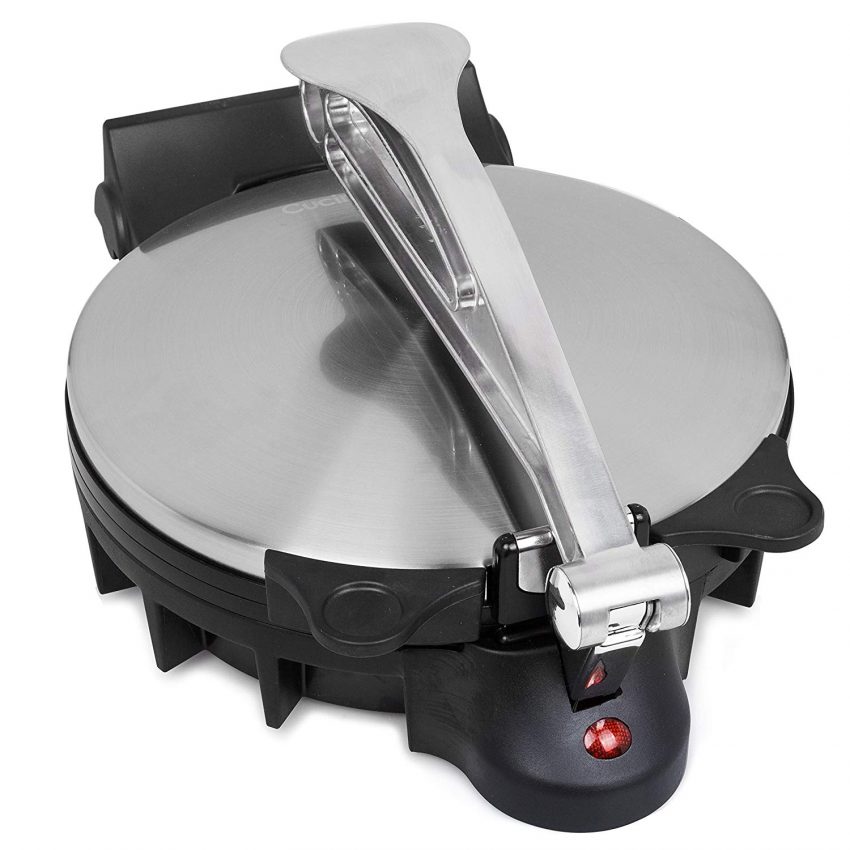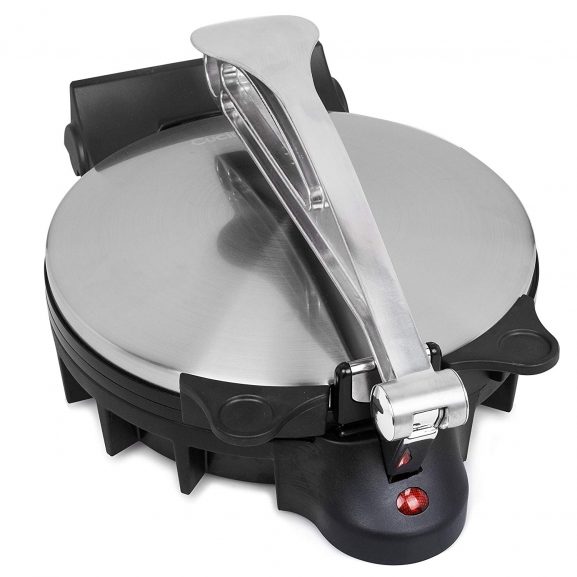 The Cucina Pro Tortilla Maker is also a good addition to the list and also an affordable one. It easily flattens the tortilla or flatbreads or pita bread within seconds, speeding up the cooking process in general.
The body is constructed with the help of heavy weight Aluminium, making it resistant to corrosion and therefore, durable and long lasting in nature.
The heating plat is made up good quality, non-stick coated plates that help in distributing the heat evenly for uniform baking.

It has a very easy and simple cleaning up process. You just have to take a wet cloth and wipe the entire thing in one sweep and you will be done with it. It is also light in weight and therefore easy to carry around with easy to handle cord wrap. This product will not be the best choice for no-gluten flours and so try avoiding such item while cooking. Overall, this is quite a decent pick to your kitchen accessories and you wouldn't be disappointed with the quality of the product at all.
Pros:
Faster cooking speed

Easy to clean and maintain

Manageable cord wrap

Durable and long lasting in nature
Cons:
Not the best option for gluten free flour

The hardware is not that strong
---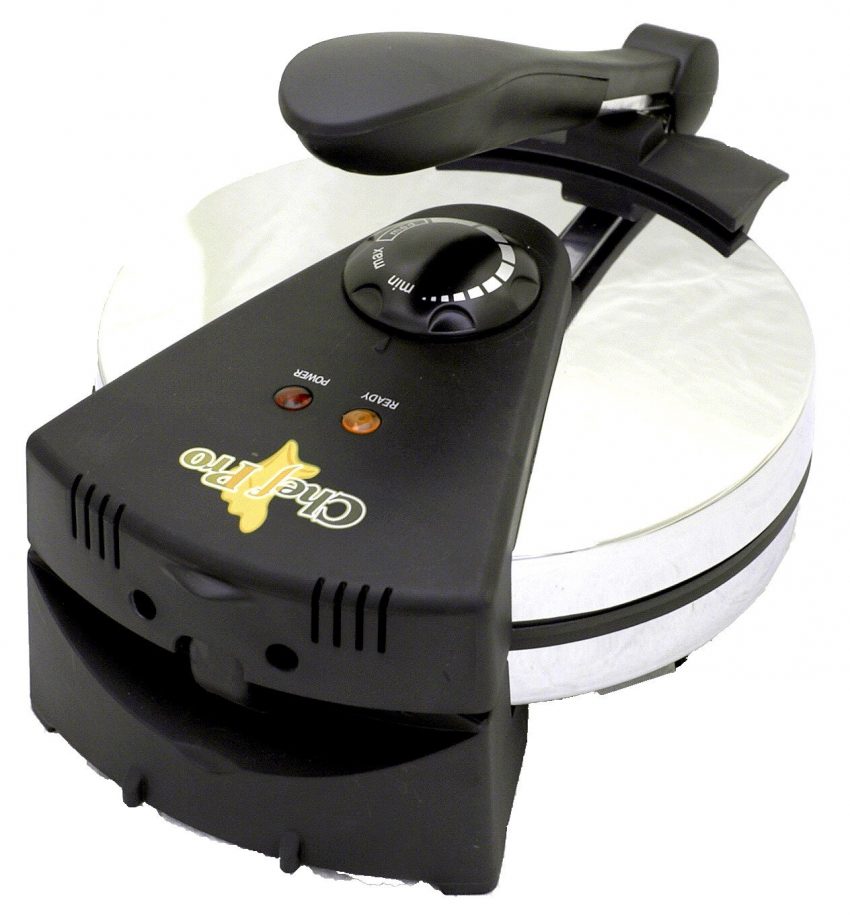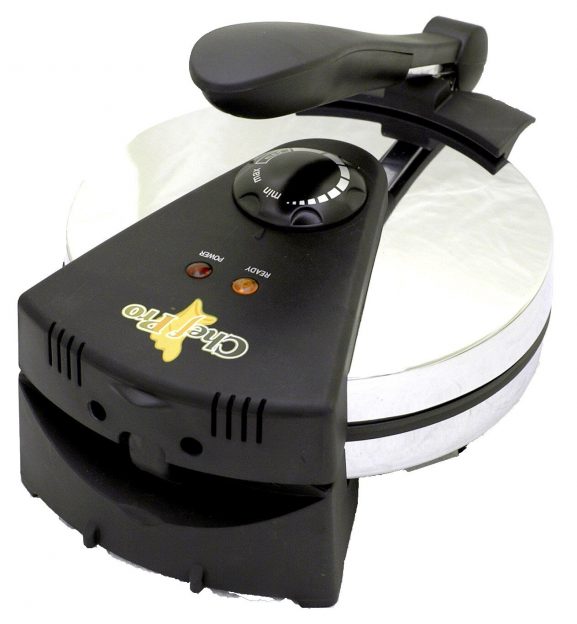 The Chef Pro FBM108A Tortilla and flat bread maker is also a good choice when it comes to chapati maker and if you are wanting something in budget. It can bake faster and also consume lesser electricity for better carbon footprint.

The plates are non-stick and made of good quality materials for better cooking. The materials used also don't change the taste of the rotis in any way possible, so you do not need to worry about this thing.

The plates used for cooking purpose as well as the body of the product are very easy to clean, you just need to wipe it with a wet cloth or towel and you will be done for the day. It is also light in weight so you can carry it anywhere needed. 
This product has been tested ideal for making all kinds of flat breads such as tortilla, wraps, burritos, rotis, puris etc. Other features that will make this a good choice have to be mentioned. One of them is the cool-touch handle, that will keep your hands safe from any burns.

Others include the chrome housing, a ready light indicator that will tell you the exact moment when you initiate the cooking process, heat adjustment dial for various temperature control. The company also gives you a one year warranty on the product to help you replace or repair the existing product if it undergoes any defect. 
Pros:
Chrome housing

Temperature control knob

One year warranty from company

Cool touch handle to avoid any burn injury
Cons:
Does not have the exact temperature to cook good rotis
---
The Prestige PRM 1.0 roti maker is another model of the company that is an ideal choice for customers to pick. It can help you in making wider and rounder chapatis to eat.

The model has been designed with the view to increase its portability, i.e., it has a small and a compact design. The body has been constructed with stainless steel to prevent any corrosion, while the cooking plate is non-stick in nature so that your chapatis or rotis or any kind of flat bread do not stick up on the model, and you get a flawless roti in no time.

People usually have to check the temperature again and again to know the right time to start cooking; with this product, you do not have to worry about it, because of its power indicator that turns green when it's time to cook. To protect you from any sort of electric shock, the body of the chapati maker is built shock proof and also comes with an adjustable temperature knob.
Pros:
Small and compact design for good portability

Shock proof body

Adjustable temperature knob

Easy to use and clean
Cons:
Still takes more than the average time to build chapatis
---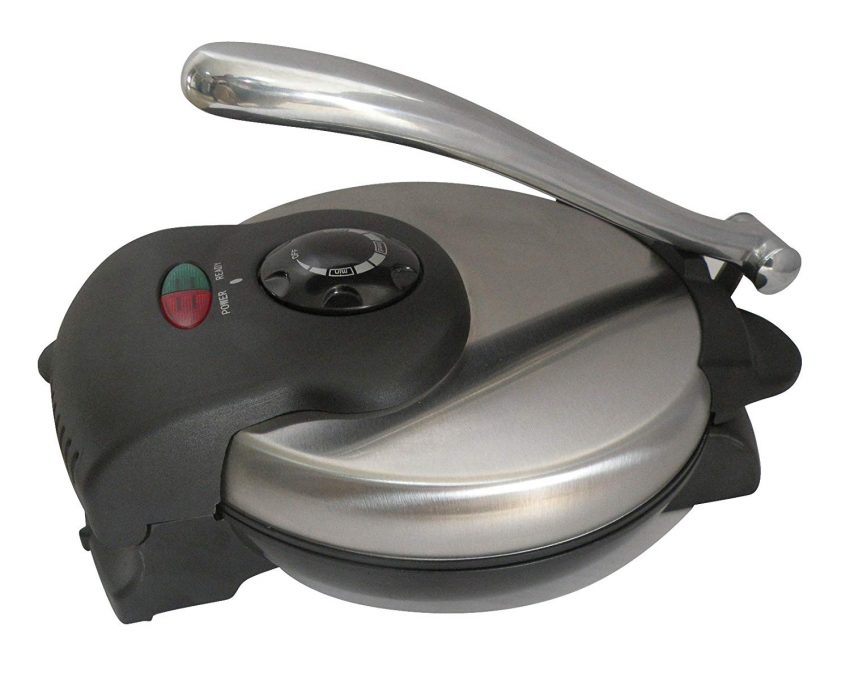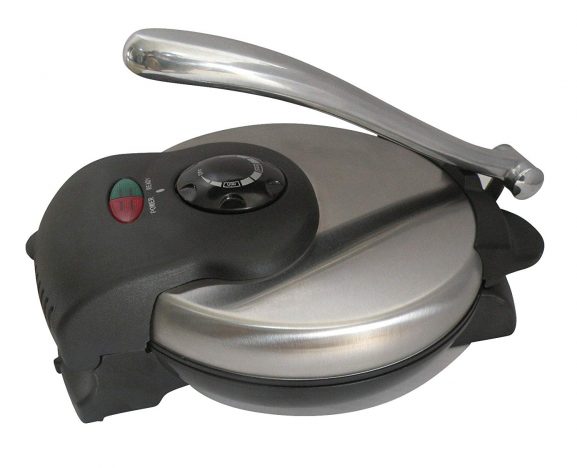 If you are looking for tortilla maker, this is a good option for you. It will not help you in making the kind of rotis you are used to making, but will help you in preparing great tortillas. The Brentwood TS126 Non Stick tortilla maker has some great features that has enabled it to fall in this list of best chapati makers.

The cooking plate has a non-stick coating so that your tortillas do not stick up to the surface and provides you even cooking throughout. It also has a convenient cord storage place to avoid any tangling here and there.

The tortilla maker also has a temperature control dial to adjust the heating level for uniform cooking experience. It is quite easy to clean and carry around because of its light weight. You do not have to check again and again the temperature for cooking, just wait for the power indicator to turn green and you are good to go. All in all, this is a decent choice and you should go for it only if rotis or chapatis are not your main concern.
Pros:
Non-stick cooking plate

Adjustable heating knob

Power indicator to help know the right time to cook

Easy to clean and carry around
Cons:
Does not have the right temperature for making rotis

Hardware quality could be better
---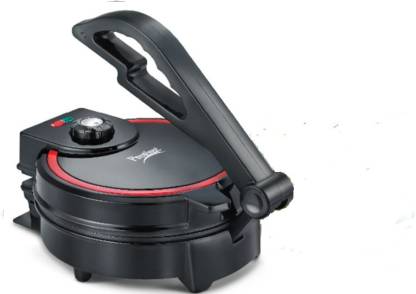 The Prestige PRM 4.0 version is an upgraded version of the above mentioned 1.0 PRM roti maker that has installed some of the best features to fall in this list.

The product comes with a free demo CD in the pack to help you get started with the process easily. The look of the body has been very stylish and comes in black color with contrast red lining, to sooth your eyes as well as your attention.

It has been designed to stand vertically as well, to help you save much of storage space in your kitchen. It has a fully adjustable Temperature Knob with which you can easily adjust the temperature of the appliance at your will and your cooking capacity.  It has a non-stick base to get your rotis perfectly out of the maker.

The product is quite easy to operate and also to carry around as it weighs very less. It also comes with a shock proof body, made of hard plastic, to ensure safety and durability in a longer run. Overall this is really good device to invest in, if you are looking for quality and durability.
Pros:
Compact design to save storage space

Comes with adjustable temperature control knob 

Power indicator to help you start cooking at the right time

Shock resistant body
Cons:
Takes more time than usual to cook the chapatis

The starting point of using the product might be a little tricky
---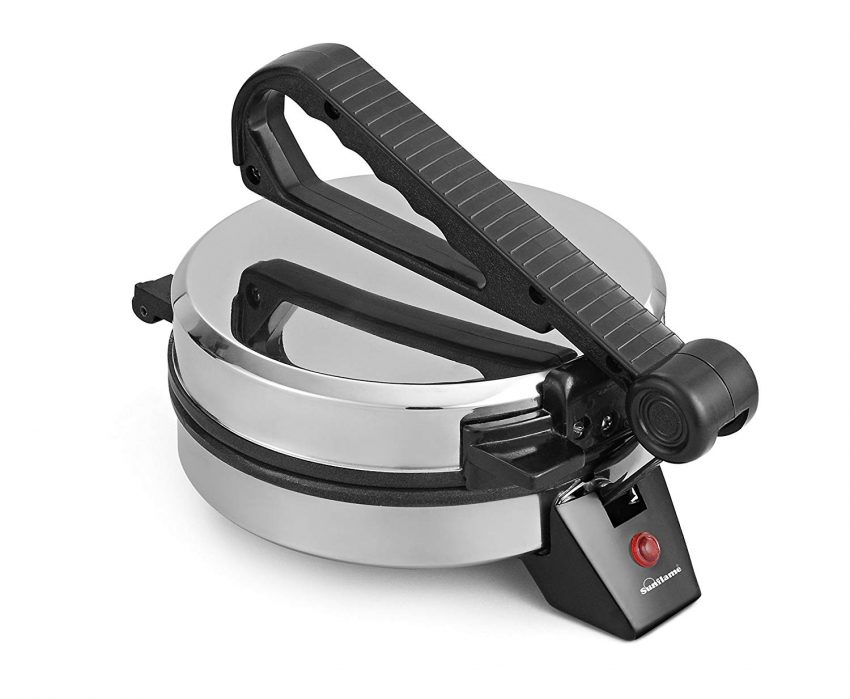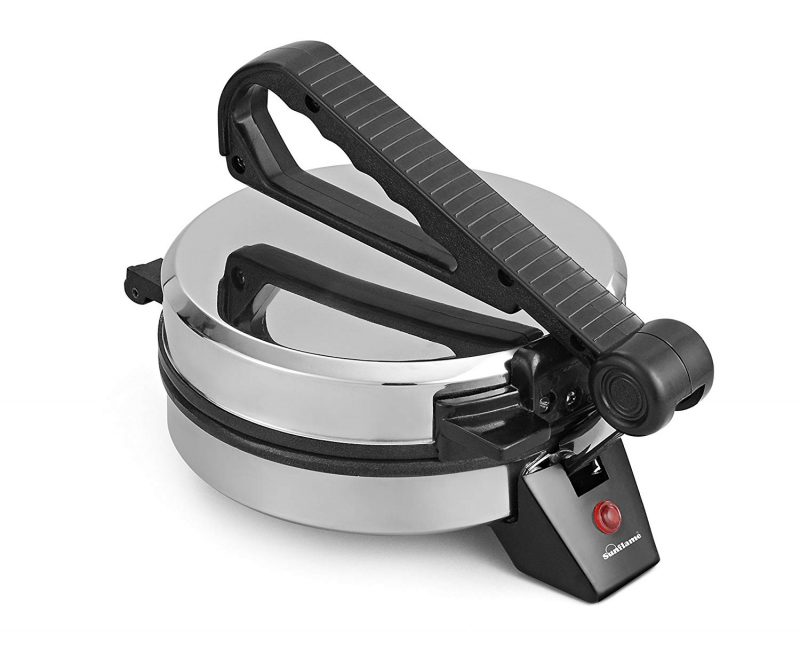 The Sunflame RM1 900-Watt roti maker is one of the finest choices in the list. The product is quite light in weight and therefore, it becomes very easy to carry it around. The appliance comes with a free demo CD to help you get started with it, in the beginning.

It is a durable product with which you can rely upon to meet the entire needs of your family in one go.The cooking plate has food grade non-stick coating to ensure added safety and precautions. It also enables uniform cooking of rotis or chapatis so that no side is left undercooked or not cooked at all.

The company has made sure that the appliance comes with a 1 year warranty to help you with any problems cause by it during the warranty period.
It has some very attractive features which is why this is one of the most popular products in the market.
One such feature is the LED indicator that provides you the exact time to start cooking your rotis. The body is built with stainless steel with a thermally stable handle to make it last longer and safer. 
Pros:
Come with 1 year warranty card

Comes with easy lift handle for added safety

Easy to clean and operate

Has thermostat for better safety
Cons:
The appliance might get too heated up sometimes
---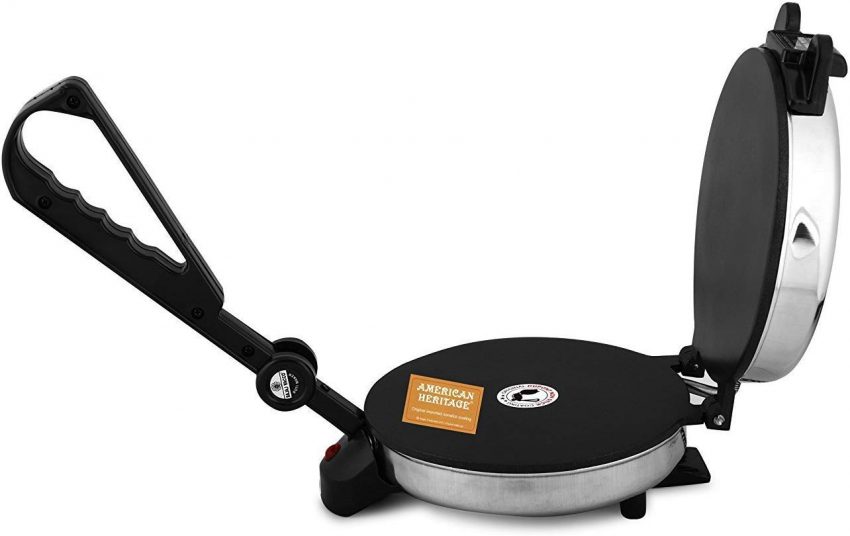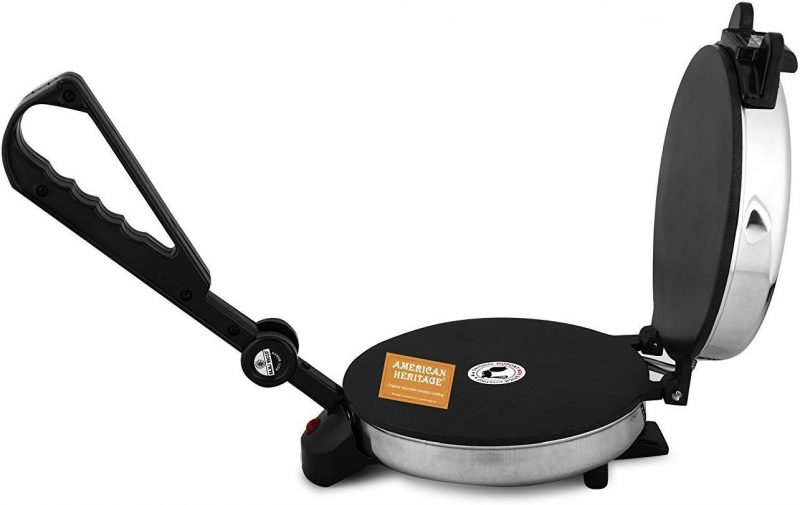 The Bajaj Vacco Go-Ezzee non-stick chapati maker is also one of the most famous chapati makers in the market right now. Bajaj has always been known due to its quality and durable products and this appliance is a part of that legacy. The product has been found quite effective and easy in the making of round and fluffy rotis.

The package also comes with a free demo CD to help you get started with the whole cooking process easily. It has an adjustable temperature knob which will help you in controlling the overall temperature of the maker, so that no roti is under or overcooked. The body has been built with sturdy materials so that it can last longer in time.

The cooking plate has a Teflon coating built over the non stick aluminium which makes the it even better to cook those round rotis.
You will be glad to know that the appliance is shock proof and has a handle that can handle high temperatures with no problem, keeping your hands completely safe and sound.

The overall weight of the product has been kept on the lower side to enable easy portability. It is also versatile in nature as it can cook any type of flatbread like chapati, pita bread, tortillas, khakhras, papad etc. 
Pros:
Comes with a 1 year warranty

Heat resistant handle

Non-stick Teflon coated cooking plate

Comes with pre installed power indicator

Sturdy construction that is durable in nature
Cons:
A little expensive

You might not like the textures of some rotis among the lot
---
Conclusion
Looking at the number of options available for a single product can be a little overwhelming if you don't know the easy way of searching them out.
We have tried to ease of that thing so that you can just focus on the best features and select the best option as per your preferences.The reviews have been made, collecting different customer reviews and you won't regret buying any of the above options for yourself.