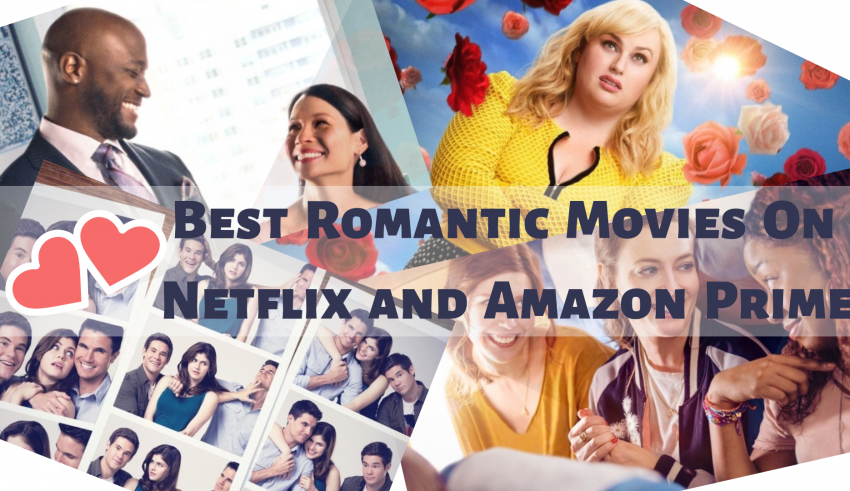 Watching movies no longer requires getting dressed up and going to the theater. With so many online streaming services like Netflix, Amazon Prime, Hulu, etc, you can catch your favorite movies and also brand new content from the comfort of your bed. After all, what is better than Netflix and chill on a lazy day? Movies from all genres, like comedy, drama, suspense, romance, and so many more are available to be streamed online.
If you are a fan of romantic movies, both rom coms and drama, Netflix and Prime offer you so many options that you will be spoilt for choice. Be it original movies or ones that have released in the theater first, you will get best of both the categories online. So, enjoy these heart-warming movies with friends on a sleepover or just alone on your couch with snacks and ice cream.
Check out these best romantic, rom com, and drama movies to watch online on Netflix and Amazon Prime from the comfort of your home.
Here's The List Of Amazing Romantic Movies to Watch Online On Netflix And Amazon Prime:
Isn't It Romantic
Isn't It Romantic is a hilarious satire on typical romantic comedies, featuring Rebel Wilson, Adam DeVine, Liam Hemsworth, and Priyanka Chopra. For girls who have grown up listening to fairy tale stories and waiting for their Prince Charming, this movie is a breath of fresh air.
Natalie has grown up watching romantic comedies and believing in love, but she turns into an underconfident architect who is pushed over by everyone around her. After she hits her head in a series of unfortunate events, she wakes up in a perfect world where her life seems to like that of a heroine in a romantic comedy. How she finds her soulmate and gets out of this "perfect" nightmare forms the rest of the movie.
Available on: Amazon Prime
The third and final film of Italian director Luca Guadagnino's Desire trilogy, Call Me by Your Name is a romantic drama starring Timothee Chalamet, Armie Hammer, Michael Stuhlbag, Amira Casar, etc. It is a coming-of-age movie that will warm your heart and tug on your tear ducts.
Set in 1983, the movie is based on 17-year-old Elio Perlman who falls in love with 24-year-old graduate student Oliver who moves into their home for the summer to assist Elio's father in archaeology research. Their growing closeness, outward social life, and their struggle between the two identities are depicted in a poignant way in the movie, which ends on a beautiful bittersweet note.
Her
This 2013 Hollywood drama is an amalgamation of the science fiction and romantic genres. It features brilliant performances by Joaquin Phoenix, Scarlett Johansson, Amy Adams, Olivia Wilde, and Rooney Mara. It is based on man's increasing attachment and dependence on technology and virtual relationships in the present world.
Set in LA in the near future world, Her tells the story of Theodore Twombly, a lonely, depressed introvert works at a company writing personal letters for people who are unable to do so. While growing through a rough divorce, he grows unnaturally attached with a virtual assistant with artificial intelligence (AI) named Samantha. Their connection and attempts to build a relationship with the semblance of reality forms the rest of this critically acclaimed movie.
Based on Jenny Han's novel of the same name, this movie is a teenage romantic movie that has been loved by viewers for its simplicity and honesty. It stars latest heartthrob Noah Centineo, along with Lana Condor, Janel Parrish, Anna Cathcart, Emilija Baranac, Madeleine Arthur, etc. With a fresh cast and premise, this movie will win your heart.
Lara Jean Covey is a high school junior who has a habit of writing letters to boys she has had feelings for, but never sending them. One day when all the letters are mysteriously delivered to the addressees, including her elder sister's boyfriend, all hell breaks loose in Lara Jean's life. This movie is sweet, heart-warming, and will leave you with a warm smile on your face.
What If ?
Also known as The F Word, What If? is a 2013 romantic comedy starring Daniel Radcliffe and Zoe Kazan. The movie has been critically acclaimed and lauded for its chemistry and heartfelt love story. The movie is based on TJ Dawe and Michael Rinaldi's Toothpaste and Cigars.
Wallace, a resident of Toronto, Ontario, drops out of medical school after discovering his girlfriend's infidelity with his anatomy teacher. He withdraws from social life for a while, after which he meets Chantry, his best friend Allan's cousin, at a house party. He also meets a girl called Nicole, with whom he starts flirting. Watch how their lives pan out by catching this movie.
This Netflix original romantic comedy has been directed by Claire Scanlon and stars Zoey Deutch, Lucy Liu, Glen Powell, and Taye Diggs. It was released in 2018 and tells the story of modern love in the middle of a corporate life and work in the city of New York.
Harper is the overworked assistant of Kirsten in an online journalism office, while Charlie is venture capitalist Rick's assistant. They meet one night while ordering dinner for their bosses and realize that both they and their bosses have nothing but work in their lives. So, they decide to set up their bosses together, which would also give them time to relax and focus on their own lives.
Available on: Amazon Prime
This 2017 romantic comedy is a remake of the French film The Intouchables, which in turn is inspired from Philippe Pozzo di Borgo's life. It stars Bryan Cranston, Kevin Hart, Nicole Kidman, Julianna Margulies, and Golshifteh Farahani. The movie is bold and heart touching at the same time.
Dell is unemployed, on parole, and unable to visit his child. He is appointed as a caretaker of Phillip, a multi-millionaire who is paralyzed below his neck. It remains to be seen whether this ex-con can do his job properly and win over Phillip's assistant, who is unconvinced about him.
Alex Strangelove is a high school romantic comedy starring Daniel Doheny Antonio Marziale, and Madeline Weinstein. It is a poignant story of a teenager named Alex who struggles to come to terms with his sexuality and in this journey, almost messes up his long-time friendship with Claire.
Alex and Claire begin dating after being friends for a long time, but he starts questioning his sexuality when he meets Elliot, an openly gay teenager who is unapologetic about this life and choices. Torn between maintaining a social façade and his real feelings, Alex eventually goes to prom with Claire where a giant surprise waits for him.
This teen comedy is a Netflix original that was released in 2018 and stars Shannon Purser, Noah Centineo, Kristine Froseth, and RJ Cyler. It won hearts by telling the story of a teenage girl who is not conventionally beautiful but falls in love with a handsome and popular football player.
Sierra is a smart high school girl who is tormented by the beautiful bully Veronica, mostly because of her looks. When Jamey, a hot football player, asks for Veronica's number, she gives Sierra's number instead as a prank. Jamey thinks he's talking to Veronica while texting Sierra, and the two girls bind together to keep up the pretence. How the two girls' new-formed friendship and this complicated relationship is affected when the truth comes out forms the rest of the story.
This 2017 American romantic comedy stars Jessica Williams, Noel Wells, Chris O'Dowd, Lakeith Stanfield, Zabryna Guevara, and Megan Ketch. This is a Netflix original movie that deals with how to get over a break up and how social media can be a factor in not letting us move on from the past even though it may hamper our present life.
Jessica meets Boone on a blind date, where they bond over their sad past. She tells him about her recent breakup while he tells her about his recent divorce. Although they are both fiercely independent individuals, they cannot seem to get over their past, even resorting to stalking their exes on social media. They decide to help each other move on in life and form a bond gradually.
The Big Sick
Available on: Amazon Prime
The Big Sick is a romantic comedy released in 2017 that is loosely based on the real life romance of standup comedian Kumail Nanjiani and Emily V. Gordon. It stars Kumail Nanjiani, Zoe Kazan, Holly Hunter, Anupam Kher, Adeel Akhtar, and Ray Romano. The film deals with racial conflicts and interethnicity in the modern world.
Kumail is an Uber driver and struggling comedian in Chicago who meets Emily, a grad student, at one of his standup shows. They slowly grow closer but Kumail is apprehensive about the relationship because of his traditional Pakistani parents who want him to have an arranged marriage. After Emily falls seriously ill, Kumail bonds with her parents and has to make a decision about his life, love, and career.
Another beautiful teen romance by Netflix, The Kissing Booth is based on the novel of the same name by Beth Reekles. It features actors Joey King, Jacob Elordi, Joel Courtney, and Molly Ringwald. This is the perfect movie for you if you believe in romantic clichés and happy endings.
Teenager Elle is a late bloomer in high school who starts a romance with her senior and known bad boy Noah, despite being very close friends with his younger brother Lee since childhood. Their romance strains her relationship with Lee and also the bond between the two brothers. How they deal with so many emotions forms the rest of the story, which ends on a positive and hopeful note about their love and their future.
Available on: Amazon Prime
The Lovers is an unconventional romantic comedy starring Debra Winger, Tracy Lefts, Melora Walters, Aidan Gillen, Jessica Sula, and Tyler Ross. Releases in 2017, it is based on the love lives of a long married couple who have grown bored of each other and seek adventure in partners outside their marriage.
Mary and Michael are married to each other but are carrying on happy extramarital affairs for a long time with other people, he with Lucy and she with Robert.
On their way towards getting divorced, Michael and Mary rediscover their passion for each other and start a renewed sexual and romantic life. On the other hand, their partners expect them to get divorced soon and move on with life. How this new development affects their lives and their son is depicted in the rest of the movie. This film has some brilliant performances and a funny plot that will give you a fresh feeling when you watch it.
Available on: Amazon Prime
This independent romantic comedy was released in 2016 and stars Wesley Elder, Christina Grimmie, Osric Chau, Tessa Violet, and Victoria Jackson. It depicts the story of Ethan, a man who works as a match breaker by ruining girls' relationship on behalf of opposing parents. The movie is unique, fresh, and a definite watch in your free time for a feel-good vibe.
Ethan has had a crush on Emily since grade school and he meets her again at a jazz club after being appointed by her parents to break up her relationship with her then boyfriend. His profession and personal feelings get entangled as he embarks on a journey of self realization and gets an opportunity to turn his fantasy love into a reality. This was Christina Grimmie's first and only movie before being shot to death at a concert.
When We First Met is a 2018 fantasy romantic comedy movie starring Adam DeVine, Shelley Hennig, Alexandra Daddario, Andrew Bachelor, and Robbie Amell. Apart from a goofy, beautiful love story, it also has the elements of time travel, fantasy, and second chances in life.
Noah Ashby attends the engagement party of Avery and Ethan and regrets the fact that although he is in love with her, she always sees him only as a good friend. After confessing his feelings to Avery's roommate Carrie, Noah falls asleep and wakes up the next day only to realize that he has gone back in time to the day he met Avery. He then gets multiple chances to make her fall in love with him but later realizes that Cupid has something else in store for him after all.
Ibiza is a Netflix original romantic comedy that is directed by Alex Richanbach and stars Gillian Jacobs, Phoebe Robinson, Vanessa Bayer, and Richard Madden. It came out on the online streaming platform in 2018 and was later retitled Ibiza: Love Drunk. It has love, friendship, girl power and all the elements that make a good old Hollywood rom com.
Harper is asked to go to Barcelona on a work trip, for which her two best friends Nikki and Leah decide to accompany her. But when all the girls get together, work can hardly be done. They decide to skip work and go to Ibiza for some fun. There, she meets a handsome DJ, Leo and falls in love in spite of being apprehensive about him.
Apart from Netflix and Prime Originals, many classic Hollywood rom coms can be found on these online streaming sites, like The Ugly Truth, The Proposal, 13 Going on 30, and many more. So, it is time to forget boredom and make your off days interesting with these healthy doses of romance and a bucket of popcorn.