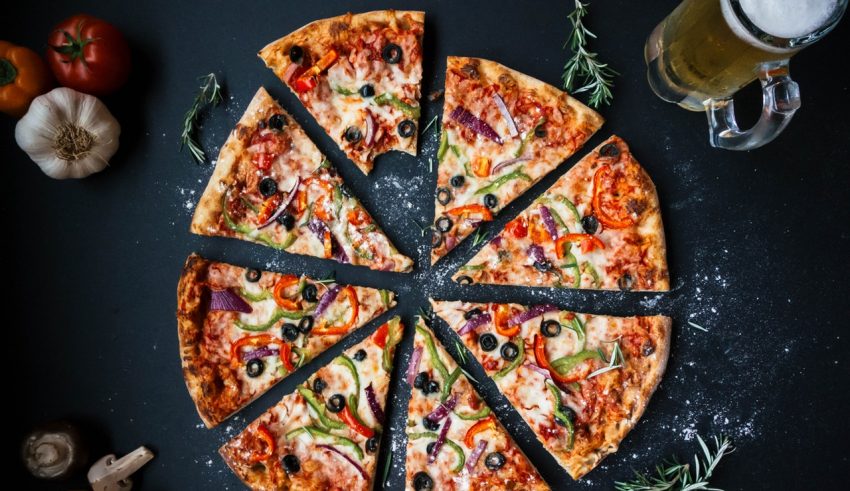 Pizza, the word itself brings a lot of memories and reminiscences. I am sure that each and every one of us has had the chance to taste this amazing invention of Italians. Yes, pizza has a beautiful back story that dates back to the 19th century. We are not bothered about its history but its various flavors and varieties.
Here is the list that provides you with the best Pizza places in Gurgaon. (Note it down, folks!)
Have you ever had food in an award-winning restaurant? If not give this wonderful newcomer a try. The restaurant was opened only a few years back but they managed to bag awards like Half Pizza Marathon and Best Pizza in Gurgaon. They offer pizza in various sizes so that one could taste before buying a larger one.
They serve both veg and non-veg pizzas. Yo yo Desi veg pizza is their special dish with indigenous ingredients. One could also taste different varieties of pizzas from various parts of the world such as Hawaiin pizza, Rome capriccioso pizza, Turkish lamb pizza and many more. This restaurant should be on your bucket list to savor your hunger with authentic and exotic pizzas. 
---
This place is the local people dine out destination. Many claims to have tasted truly delicious pizzas from this restaurant. The average cost is about 500 and they provide unimaginably good varieties of pizzas.
This restaurant has got amazing reviews in the food delivery apps like zomato and swiggy. It is due to their kind of service that they are running the branches successfully all over the country. The best part of the restaurant is that they offer slice pizzas so that you could have a bit even when you are not hungry. The slice pizzas cost only 60 to 70 Rupees and now you know why people are going crazy about this restaurant. 
---
Italiano
Italiano is actually a chain of restaurants that is being run successfully in different parts of the country. The first thing that comes to mind when you hear Italian cuisine is pizzas. But this restaurant is sure to challenge this notion with their myriad of authentic Italian recipes. They serve pure Italian varieties that they are bold and less heavy.
The menu is carefully chosen to suit the Indian food lovers that you need not be worried about your health when you try new items. I would suggest you visit this restaurant to get yourself transformed into an exotic place because the ambiance is as good as their pizzas. The pizzas can also be customized and they also provide online ordering service. There are many signature dishes titled as chef's special that allows you to explore just in case you are not sure about the choices. 
---
Is there anyone who doesn't have heard about this classic house of pizzas? Pizza hut is one of the oldest chains of restaurants that stood as a pioneer for the new pizza places. If you are a pizza addict, you could have pizzas from this place almost every day without even worrying about the cost. The lowest price of a pizza is 99 Rupees.
Although the price is much less than any other pizza centers in the city, they never compromise with the taste and quality of the items. The pizzas come in standard sizes which makes it easier for you to order. One thing that is appreciable about this place is that they provide offers almost every day. Who wouldn't like to grab their favorite pizzas at an affordable price? The pizzas all have a unique flavor that you would not get anywhere else. Pizza hut's triple is on-trend right now!
---
Pizza Express is the perfect destination if you would like your pizzas loaded with extravagant toppings. The regular visitors say that they like the place because of its ambiance and ample toppings. It costs approximately 2 K for two people to dine here. It also turns out to be the best place for dinner dates since they offer different varieties of Italian items apart from pizzas. This is also a chain of restaurants that the chefs are all well trained and professional.
They provide rich flavorsome pizzas of both vegetarian and non-vegetarian kind. The desserts made here especially Tiramisu and Nutella bread are also popular among the food lovers. Pizza Express' menu is really exhaustive that you will feel like wanting more. The pizzas range from Romania to American and Calabrese. The one thing that leaves you awe about the restaurant is the blend of the modern and classic style of recipes. This can be a good dine out destination where you delish pizza varieties along with the knowledge on its history. 
---
Caribbean pizza
The name says it all! This pizza place has filled its menu with a lot of Caribbean inspired pizza flavors. They serve pizzas of various sizes like 7, 10 and 12 inches. The menu is so exhaustive that you might have to spend quite some time to choose the pizza. The specialty of the restaurant is their pizzas in chicken varieties such as Chicken carnival, Butter chicken, Taj chicken, Tandoori chicken, BBQ chicken, and Hot and Chilli chicken pizzas.
The reviewers of this particular pizza place state that their home delivery is really fast. Though the place hasn't got a fancy and luxurious ambiance, they are clean, neat and tidy. However, people prefer to order pizzas online where you can also get some really good deals and offers. The staff is friendly and they value their visitors.
---
The Pizza square
This is an amazing place to visit if you are a fan of non-veg pizza flavors. It is one of the highly-rated restaurants in the city. The popularity is due to their health as well as a tasty kind of cooking. Pizzas are always said to be unhealthy but this restaurant serves food breaking all those conventions. Their secret mantra for healthy and delicious recipe lies in their choice of toppings.
The crust of the pizzas is also well roasted that they are thin, soft and crunchy. The must-try pizza preparations at this place are farmhouse pizza, La Mexican nonveg pizza, pizza paneer tamer, exotic chicken pizza, peri peri paneer pizza, and cheesy pizza. One can also customize the pizzas but people usually don't ask for extra cheese here that the pizzas are already loaded with cheese extravagance. 
---
DJ's pizza and pasta
This is a wonderful pizza place to satiate your pizza cravings with amazing deals and offers. They provide home delivery too at a fast speed. This is not like any other sophisticated restaurants but this small place with minimal settings serves in such a way that people make it their hangout spot. One would sure to get impressed with the layers of toppings and the thin crust of pizzas made here.
Also, if you are a lover of spices, you must give it a shot. You can make your own veg pizza with the list of toppings and crust flavors provided by them. Wouldn't it be nice to make pizzas that suit your mood instead of the fixed flavors? We all know that there are pizza places who claim to serve thin-crust pizza. But his place literally has a flavour called thin crust pizza! The other famous items are peri peri chicken pizza, chicken pizza, paneer pizza, mushroom pizza, and supreme pizza.
---
This Italian import is said to have a lot of calories, fat, and sodium that makes it difficult for people to go for it. But the good thing is that pizzas can be healthy if they are made with fresh and whole ingredients. The toppings play an important role in enriching the nutrient value of the pizza. Veggies can be a good choice to make it healthier.
This is why you should choose restaurants wisely. The above-mentioned pizza places are the best ones that provide what you needed. There is no doubt that pizzas are the best companions that anyone could have. So go grab that little box of joy and enjoy the divine flavors!