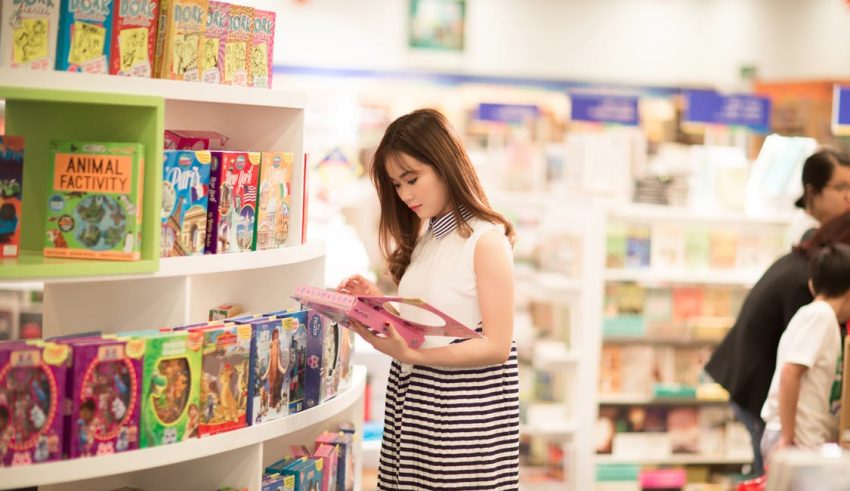 The way we shop has changed drastically and, for good.  Thank your lucky stars, for you are one of those who are born in an era where the definition of shopping has been redefined. Gone are the days when people had to push themselves to even go out for simple groceries; now getting anything, from literally anywhere, is just at the click of their fingertips.
From day-to-day shopping such as groceries to wedding shopping, millennia prefer to be their lazy self. And fortunately, being lazy actually gets you things, these days.
In Germany, e-commerce websites has been giving some serious challenge to stores or supermarkets, and why not! From exceptional customer service to hassle-free/no-cost delivery, these websites or apps let you have a wonderful shopping experience in the comfort and luxury of your home.
You get to window-shop, you get to purchase the stuff that you like, and, moreover, you also get to learn about new trends in fashion and new arrivals in gadgets, automobiles, electronics, etc. In short, it is fun and hip to shop online.
So, if you are one of those who love shopping but tend to procrastinate a lot because dressing up to go out to even the nearest mall is a mammoth task to you, don't fret. Let's have a look at this list of top online shopping sites in Germany we have exclusively piled up for you. We are sure your lazy bones are going to love this one.
Multi-product websites 
You might have been to fancy big malls, where they have multiple products under a single roof.  Right? Online websites just serve the same purpose.
These are exactly like those malls or super-marts, but only better. To begin with, they are just a click away, for you don't have to move yourself and get out of your house to get something.
Electronics and Gadgets 
If your shopping needs involve purchasing some trendy laptops, tablets, smartphones, LEDs, washing machines, etc., various top e-commerce websites specifically deals with these categories of products.
One benefit of buying electronic items online is that you can easily compare and contrast prices or descriptions of such electronic items, and figure out for yourself which dealer offers you the best deal out of all.
Isn't it interesting?
Automobile and Related Products 
Germany is known for swanky automobiles among many other things. And trust me when I say that there are much easier alternative to buy automobiles and related products, and that too without leaving the comfort of your home and actually burning the fuel of your vehicle.
So, don't just leave your home yet, these listed  websites are there to cater just your machinery needs.
Refurbished and Overstock Products
How many times have you thought you could hold an iPhone but your pocket made you think otherwise? Well, don't worry now.
If you are willing to go to any lengths to buy the product of your choice without breaking your piggy bank, there are various websites that sell refurbished, overstock, and second-hand products at incredibly lower prices. Check out this list to find your favorite one.
Fashion Accessories 
Fashion changes in a swing. That's why there is an undeniable need to be updated, sartorially. You can order your favourite apparels or fashion accessories without giving it a second thought.
So click through these e-commerce websites to keep  your fashion tastes are satiated.
Beauty 
Did you run out of your favourite sunscreen lotion? Or are you in an urgent need of a glittery lipstick you just saw in an ad to wear for a party? Try these websites and all the beauty products that you want and need, will be delivered to your doorstep.
Some of these famous Germany e-commerce websites even offer prime delivery, which means you don't have to wait for years to get them delivered.
Only for Girls 
Accept that you wanted to buy that sexy lingerie that Gigi Hadid wore in the latest Victoria's secret show. But here's the fact: Not every store sells exquisite designer lingerie and bridal undergarments.
So the question is where you should head to? Well, we have the answer. Try these online websites and buy the perfect one to make your partner the happiest man on the planet.
Kids & Babies 
If you have kids and babies, you might be struggling with a long list of baby products such as diapers, baby shampoos, etc. that vanish in a blink. These online websites understand your uneasiness to make errands carrying your babies on one shoulder and shopping carts in another.
Moreover, if your kid didn't like the toys you bought just the other day from the mall, these websites sell an exclusive range of babies' toys for every age at very affordable prices with easy return and exchange policies.
Health & Fitness 
Todays' generation crave a toned and healthy body. Name anything that concerns your health, and these websites have it for you. From multivitamins and protein shakes to clinical electronics like Glucometer and even general medicines, these online websites get your health-related stuff at the luxury of your home.
However, do note that to purchase your medical needs from these websites, you might need to submit an authentic prescription.
Event Booking 
Do you know there are multiple interesting  events happening in and around your city? Weekends or weekdays, keep your calendar intact with events to thrill you with these event booking websites.
Travel 
They say travel more to learn and experience more. Whether you want to make a journey from one city to another in the country or you want to plan a trip abroad, get on these travel sites.
These websites allow you to book flights, train, and bus tickets in just a few clicks so that you don't have to wait in a long queue.
Offices Supplies 
Need a new visiting card? Need stationery items in bulk? Whatever you need, these top e-commerce websites in Germany are your one-stop destinations for your office supplies needs.
Home & Kitchen 
Happiness is where home is. If you believe in this statement, get some high-end décor items for your home and make your home a much livelier place to be. Ranging from kitchenware, bath furnishings, etc., these websites offer you nothing but the best when it comes to home décor.
Handicrafts 
So now that we are talking about home décor, how about adding some pinch of ethnicity in your home? These best sites help you style your home with exquisite yet inexpensive handicrafts.
Pets & All 
Own a dog, cat, or any other pet? From delicious pet food to entertaining pet accessories and toys, these sites offer the best products for your pets. So why not let your pet know that you also care!
Books & All 
A book lover wants and needs a good book in their hands, like always. If you have finished your last book and have an urge to grab some best reads, scroll through these e-commerce websites to keep the book reader in you ignited.
Sports 
When you know that everyone around is involved in one sport or other, it is high time you also herald the sportsperson in you. From indoor games like chess to outdoor games like football, shop sports items from these websites.
Gifts 
Gifts are a perfect representation of your love; don't think twice and shower your dear ones with love by shopping some priceless gifts from these top e-commerce websites and best online shopping apps in Germany
Groceries & Food 
Ever had a day when you have to go shopping for few daily essentials but don't feel like going out? Well, for those days, these e-commerce sites will be your complete saviour. Shop for your everyday groceries and food items from these sites :
Conclusion
Apart from the convenience these online websites offer, another perk of shopping online is that you get the stuffs that you need at relatively discounted or attractive price, which you might never get if you shop in a store near you. These best online shopping sites in Germany not only offer things at affordable prices but also endow you with the liberty of shopping at the comfort of your home.
Even though online shopping comes with its own sets of rainbows, it is always advisable to keep these keynotes in mind before you scroll through online shopping app or websites:
Don't share your credit, debit, or any internet banking details to any websites that are lesser known.
It is better to opt for COD (Cash-On-Delivery) option in case you have any doubt about the items or the sellers.
Always double check the items that you purchased and unpack your parcel immediately to avoid unscrupulous sellers.
Always read the reviews and check the user ratings of the product before making the purchase. These ratings and reviews tell a lot about the products, sellers, and the websites. It is always smart to be careful before purchasing.
Most importantly, always purchase from top e-commerce websites to ensure that your online shopping experience is safe and secure.
Now that you have a heavy list of top e-commerce sites in Germany for you to explore, just begin your shopping already.
Happy and Safe Shopping!