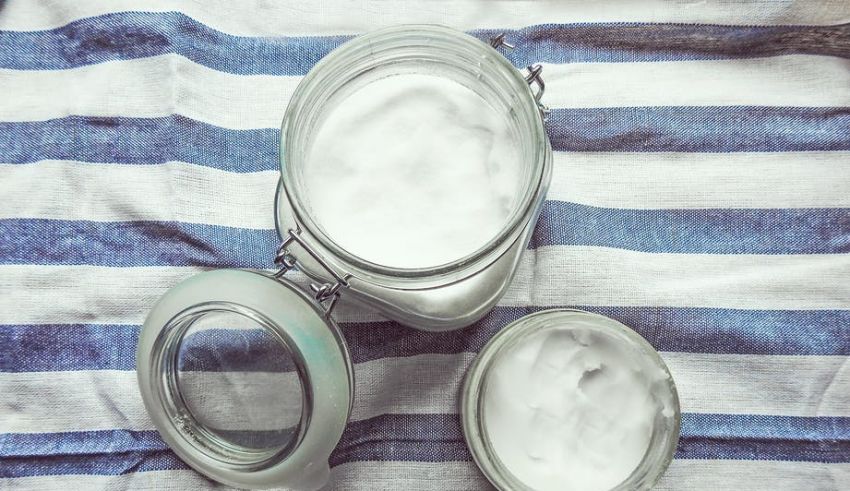 We're always on a constant lookout for adding something miraculous to our beauty routine. If you ask me, ten years ago I wasn't quite scrupulous to go large extents for my skin as I do today.
A lot of my prudence for my skin owes heavily to social media and strong marketing game by hefty brand names. Its almost like we are living in an era where the thought of living without beauty products is unimaginable. Our growing reliance on beauty products is both a boon and a bane but when chosen correctly, they are more of a boon than anything else.
Using night creams in beauty routine has become synonymous with healthy and flawless looking skin. After all, night time is the best time to pamper your skin and replenish it after long hours of daytime exposure to dirt and pollution. Before I begin with my review of 6 best night creams, I'd like to draw the attention of readers to some must dos if you're pursuing beautiful looking skin.
Always remember to cleanse your face before bedtime with a mild face wash to clean out the pores.
Applying a rich face serum before applying night cream can be an added bonus for people with particularly dry and flaky skin.
Steaming the face right before application of night cream can help absorb the cream better, thus, maximising its effects.
Choose a night cream (or any other beauty product) with keeping in mind your skin type. Assess you skin for blemishes, wrinkles and dark spots or any other possible marks that you want to get rid of and then go for the product that is in harmony with your skin type.
Lastly, all you need to do is get lots of beauty sleep. Its that simple! If you think that getting three to four hours of sleep at night can keep your skin healthy then you're wrong.
At last, be patient! As the famous business tycoon Bill Gates says "Patience is the key to success." Patience is indeed the key because no night cream can do wonders overnight. You have to give it weeks and months for results to start showing.
---
Also Check: Himalaya All Products List with Price & Reviews (2020)
---
So, without much ado, let us have a look at 6 Best night creams:
With the goodness of vitamin E and biofermented hyaluronic acid, this night cream by The Body Shop is suitable for all skin types. The added bonus is the presence of aloe vera and shea butter in the cream which are famous for their skin healing properties.
The cream is extremely light textured for easy penetration and comes with a non greasy formula that is suitable for even oily skin. Applying generous amounts to face (especially dry skin) before going to bed should do the trick. The fragrance is mild and light for you to feel fresh all night and the morning after.
Apart from this, the packaging is compact and circular. It can be comfortably carried in a small pouch or a purse.
Price: Rs. 1210 for 50 ml (also available in sizes: 1.5 ml, 15 ml and 100 ml)
---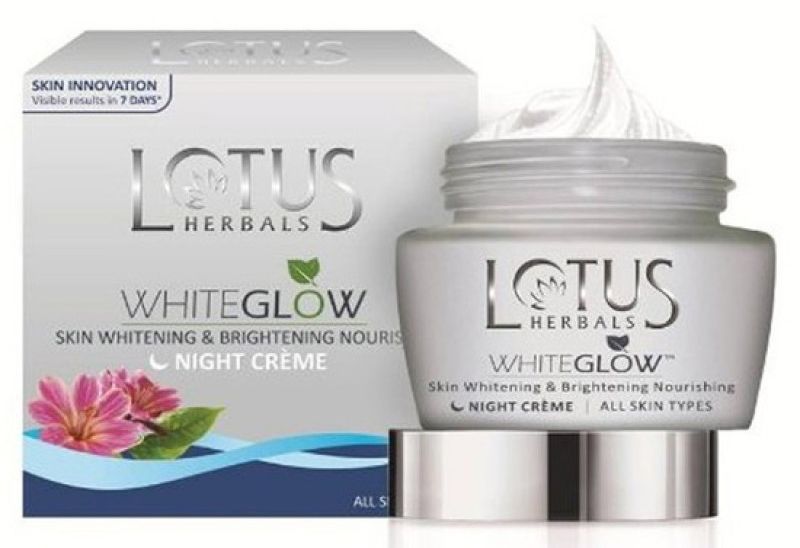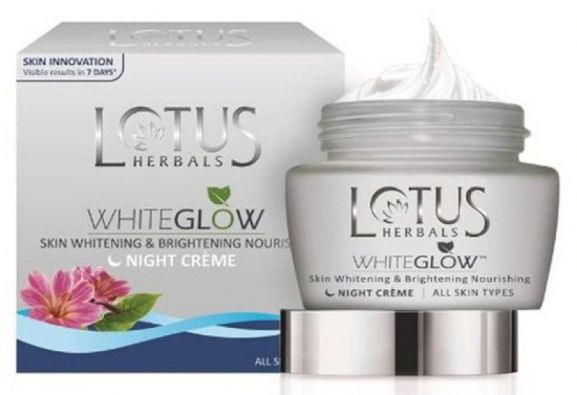 Lotus is one of the most affordable cosmetic brands of India. The use of exotic and varied ingredients in their products really makes them stand out from any regular beauty brand. One of the best products from this brand is their Whiteglow Skin Whitening & Brightening Nourishing Night Cream.
The cream is enriched with the goodness of ingredients like grape, mulberry, saxifraga extract and milk enzymes. Quite exotic right? Most of us have not even heard about these ingredients! This is what makes Lotus different from the rest. The added bonus of this cream is its SPF 25 which protects the skin from harmful UV rays.
The best part about this cream is its gel based formula which gets absorbed in seconds without leaving any residue or oil. Apart from this, as the name suggests this cream is highly recommended for dark spots and pigmentation. Extremely light with a mild fragrance, it is suitable for all skin types. The only drawback with this cream is that it comes in a glass jar packaging which makes it non-conducive to travelling.
Price: Rs. 425 for 60 gm
---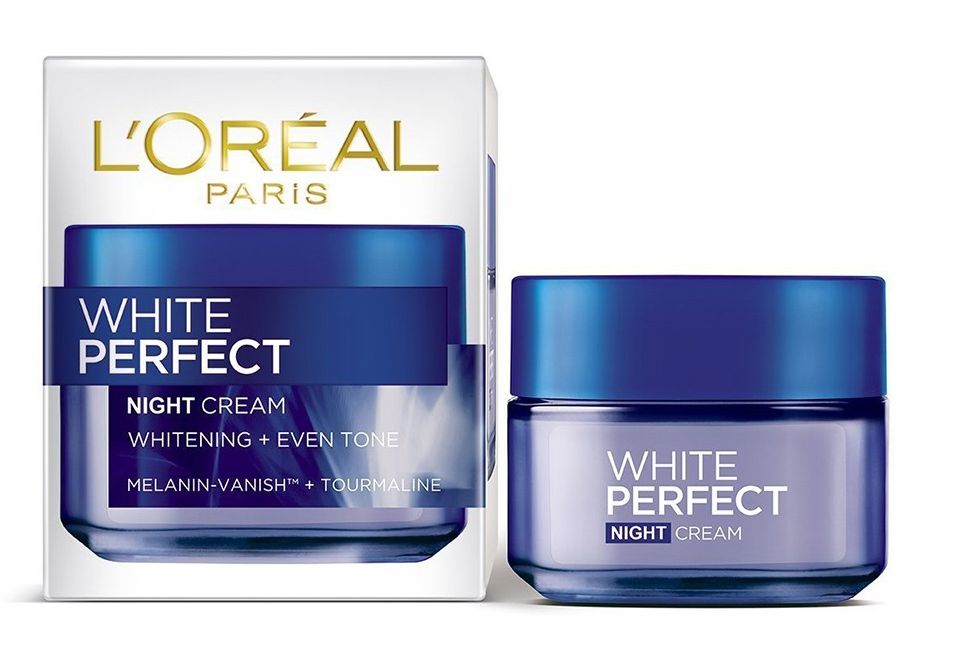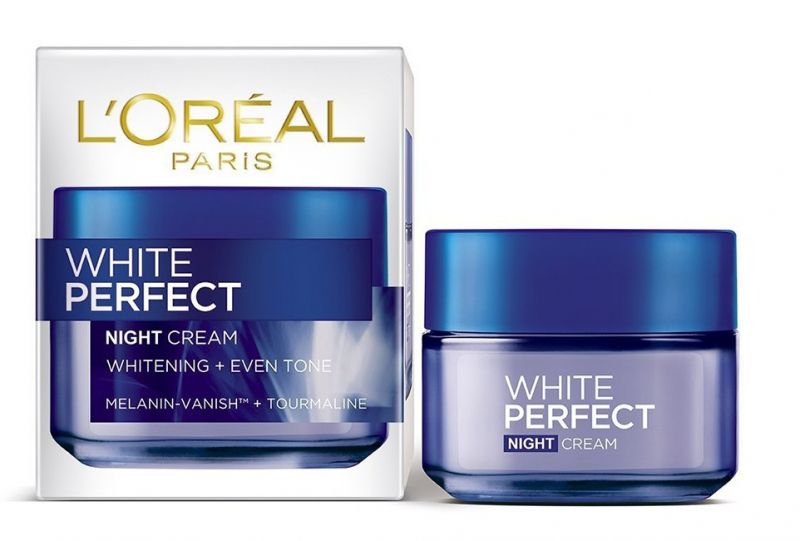 A must have in every woman's vanity is this wondrous cream from L'Oréal Paris. With the goodness of Tourmaline Gemstone it claims to give your skin intense radiance and rosy glow. Its melanin vanish formula helps the skin become brighter by curbing pigmentation from the source. The cream also claims its 1 drop to be 50X more powerful for everlasting effective results.
It is non-greasy, non-sticky and spreads evenly on the skin like butter. Since it is non-greasy and light, it is most suitable for oily to combination skin (particularly acne prone skin). Works wonders for acne spots too!
Again, the cream comes is a round jar made up of glass which can be non conducive to travelling for some. The thick glass also makes it heavy and prone to breakage. But since the jar is quite compact, I can literally toss it into one of my travel bags without worrying about it occupying a lot of space.
Price: Rs. 550 for 50 ml
---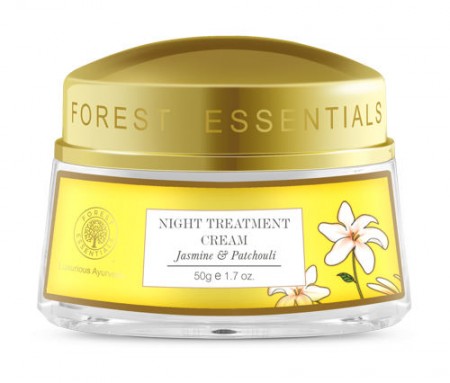 Forest Essentials is one of the most luxurious natural brands in the beauty market. All their products are loaded with exotic natural ingredients from around the country and around the world. This gem of a night cream from Forest Essentials is a superb go to option in the coming winter season. It's enriched with the goodness of jasmine, patchouli, olive and rice bran oil to specifically target premature ageing.
Best suited for oily or combination skin, this cream evens out the skin tone and makes skin supple and bright. The texture is very light, smooth and creamy and leaves you feeling fresh right before hitting the bed.
Although this product is jam packed with goodness but it might be a little exorbitant for some. Nonetheless, this product has a gazillion things to offer.
Price: Rs. 2475 for 50 ml
---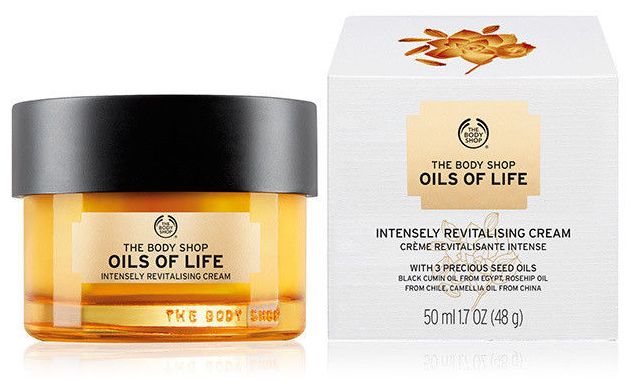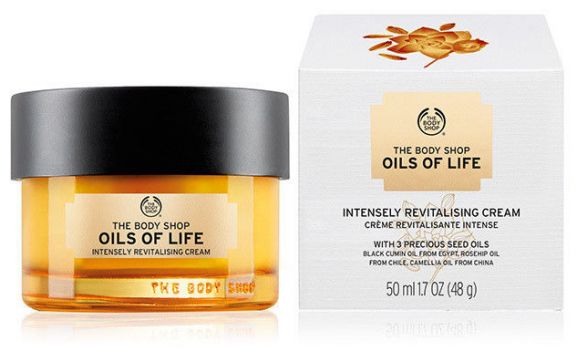 The Body Shop is a pioneer in the realm of beauty and cosmetics. Their high-end, super effective products are absolutely irresistible and never fail to leave me awe-struck.
This particular product by The Body Shop has been voted best moisturiser of 2017 by Elle is totally worth the shot. For all the dry skin beauties out there, this is your calling. Winter is around the corner and dry skinned people cannot get more fuzzy about taking care of their skin. This is indeed the answer to all their dryness, flakiness and itching that they have to go through every day.
With a thick, creamy texture the cream glides very easily on the skin and leaves it feeling well hydrated. Since this cream is loaded with essential oils, it works wonders for both young as well as mature skin. With prolonged usage, it reduces the appearance of dark spots and fine lines while adequately moisturising the skin. The cream comes packed in a glass circular jar with a black plastic lid with an overall lavish look. Additionally, the jar also has an anti spillage lid to avoid spillage which makes it travel friendly.
Price: Rs. 2245 for 80 ml
---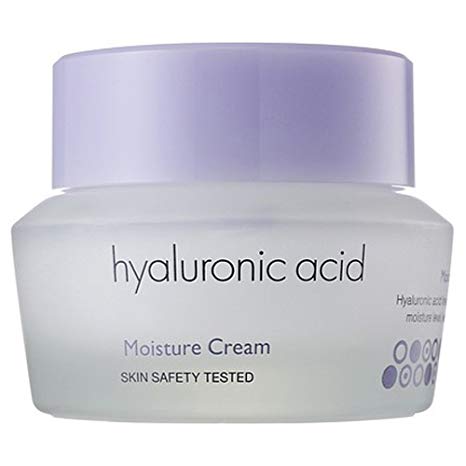 It's Skin is one of the few Korean beauty brands that has gained pace in India in last 2 years. Their diverse range of face sheet masks, creams and serums are worth spending money on. This particular cream is enriched with the goodness of hyaluronic acid which is amazing at repairing dry, itchy and flaky skin. Skin devoid of moisture, especially in winters is prone to dulness and lifelessness. This cream actually provides all that your skin needs in cold weather.
The added bonus of this product is that it is free from alcohol, scent and colouring and is 100% natural. It not only moisturises the skin but also corrects the complexion and treats dark spots.
The cream comes packed in a circular glass jar which is compact enough to carry anywhere. Priced at Rs. 950, this product is quantity and quality for money and is an absolute must have this winter season.
Price: Rs. 950 for 50 ml.
---
Also Check: Organic Harvest All Products List with Price & Reviews (2020)
---
So there you go fellas! Next time you bake your skin using makeup, don't forget to give your skin a little back end treatment by inculcating night cream in your beauty routine.