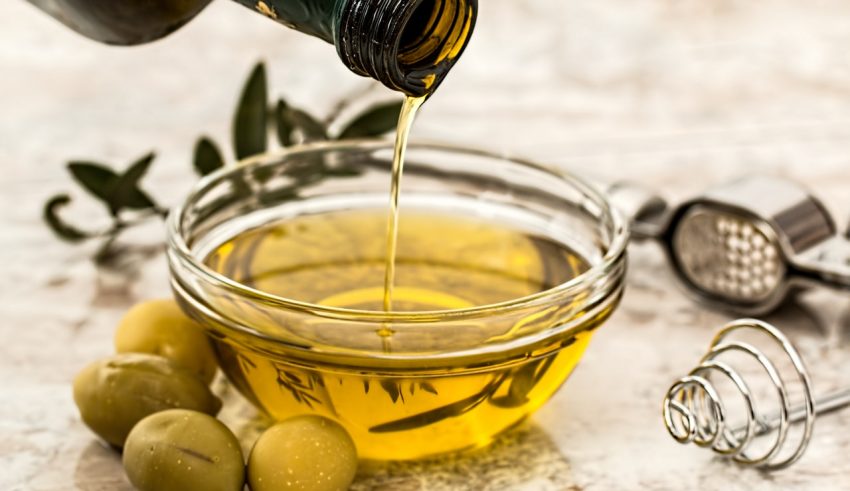 Indian kitchens have some unique ingredients that you cannot easily find anywhere else, and our ancestors have been using them for centuries. Indians have also claimed that many components from our kitchens are quite beneficial to the health, but the western sciences have been dismissing them; until recently.
A lot of studies and research is proving that Indians were right, which is why many primarily Indian kitchen elements, like turmeric, groundnut oil, ghee, have started to become popular worldwide.
Mustard oil, too, happens to be one of them. Many urban Indian households have also begun to return to their roots by using traditional Indian ingredients.
Mustard oil is the oil extracted by pressing or grinding seeds under high pressure. The grains used are either the black, brown and yellow mustard seeds. This oil has a pungent and unique smell that one can get used to and possibly even addicted, and is usually in a brown or amber colour.
Especially in North-Eastern and Eastern India, you will find a bottle of mustard oil in every household. This oil has high levels of alpha-linolenic acid and erucic acid which led to some studies getting concerned about if this oil is harmful to the health of the heart, but no adverse health effects have been noticed in people who consume mustard oil. In fact, mustard oil is excellent for maintaining your skin, hair and overall health.
So, how can mustard oil promote better health?
The most significant contribution mustard oil makes towards our health is its power to prevent can cancer; the oil has some unique compounds that have anti-carcinogenic properties.  Mustard oil when used with other ingredients also clears congestion and helps with cold and cough.
It also contains the right amount of healthy fatty acids which help in maintaining a healthy heart while defending it from diseases. Mustard oil also has anti-inflammatory properties which make it useful in cases of aches or pains in the body.
Now, how does mustard oil maintain hair's health?
It has been discovered that mustard oil is a fantastic element that could control or prevent untimely greying of your hair. Mustard oil is rich in vitamins, calcium, iron, fatty acids, and so on which aid in the growth of healthy hair.
Not just that, this oil also deters breakage and fall too. You can also get a healthy scalp since mustard oil happens to be anti-bacterial and anti-fungal and can tackle severe scalp and hair problems in a tick.
And finally, what role does mustard oil play in skin care?
Mustard oil is an incredible, natural tan-removing agent. It is also high in Vitamin E which happens to be a sun-protectant, hence making mustard oil an effective sunscreen as well.
The dense layer of oil protects your skin from harmful UV rays, therefore, shielding the skin from illnesses like skin cancer. Mustard oil is also a moisturizing agent that helps treat severely dry skin and makes one's chapped lips smooth and soft.
Now that you know how versatile and unbelievably useful mustard oil is, you must try it for yourself. We have curated a well-thought
list of the 10 best mustard oils that are sold in India:

Fortune is one of the biggest brands of cooking oil in India, and it is no doubt that their mustard oil is a favourite amongst millions. It helps immensely with digestion by counterbalancing the harmful toxins.
It's got a lovely dark amber colour and has a distinct aroma that enhances the flavour of anything that you cook with it because Fortune uses the best quality of mustard seeds. Because it is 100% pure, all of its natural and original properties are retained, making it super healthy and delicious. You can buy a 1-liter bottle for ₹144 on Amazon.

This particular brand of mustard oil has been produced by cold-pressing some of the best quality of mustard seeds available in India. The oil is entirely organic, and it is certified that the farming procedures used to grow the mustard are natural and without the usage of any chemical pesticides.
This mustard oil even has the shelf life of twelve months and is loaded with nutrients. Elworld is a brand that believes in producing organic commodities and ensures perfect health to the customers who consume their products. You can buy a bottle of 1 liter of mustard oil for ₹280 from Amazon.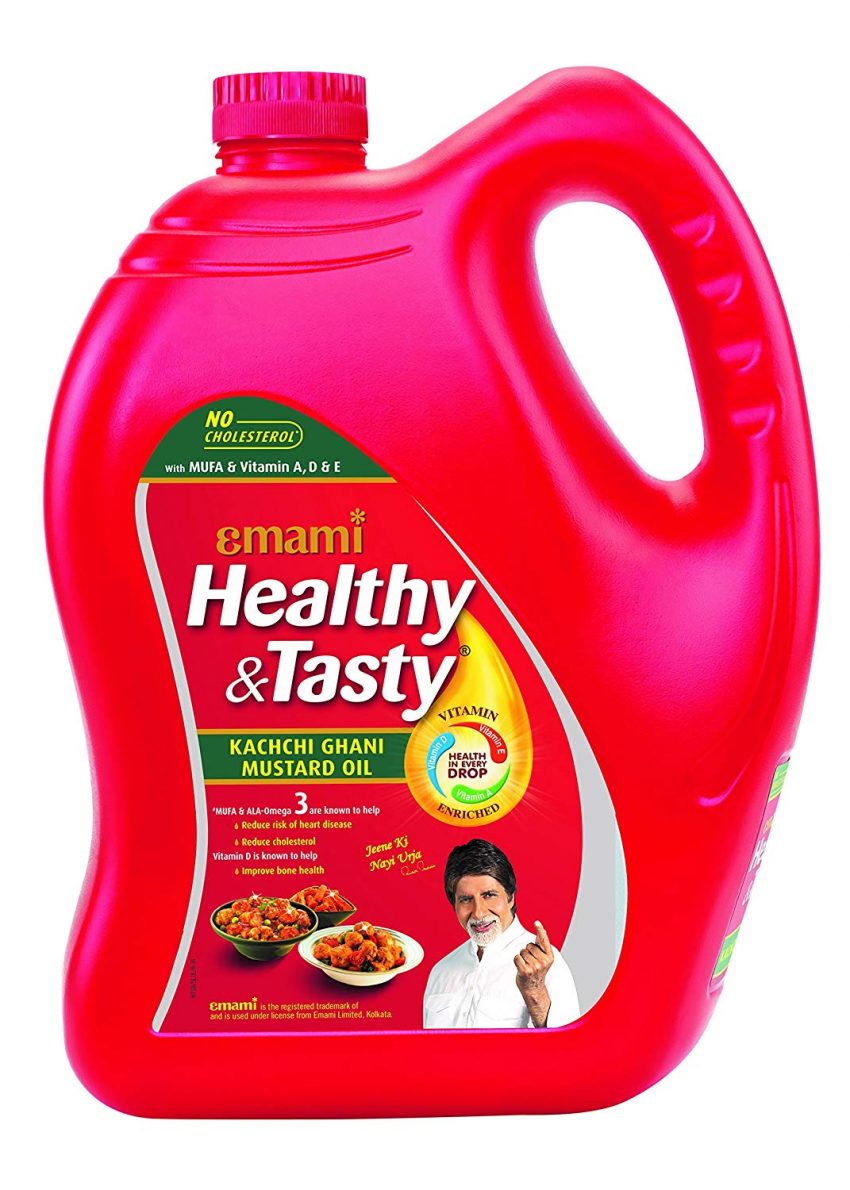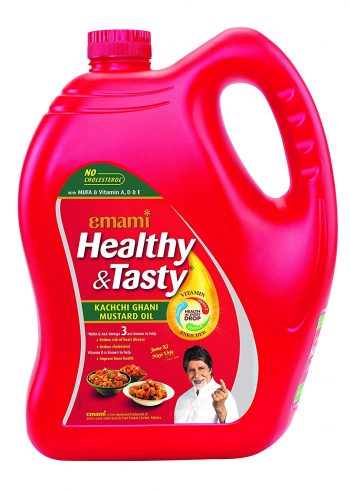 Emami is yet another brand that has gained popularity and trust by numerous customers over the years. Their nutrient enriched mustard oil, too, has made many consumers happy.
This oil is rich in Vitamin A, D, and E and has several other nutrients that help to diminish the risks to your heart's health. Emami mustard oil has been produced from carefully picked mustard seeds, and the oil has been extracted using equipment of the best quality. You can get a 5-liter jar for ₹700 on Amazon.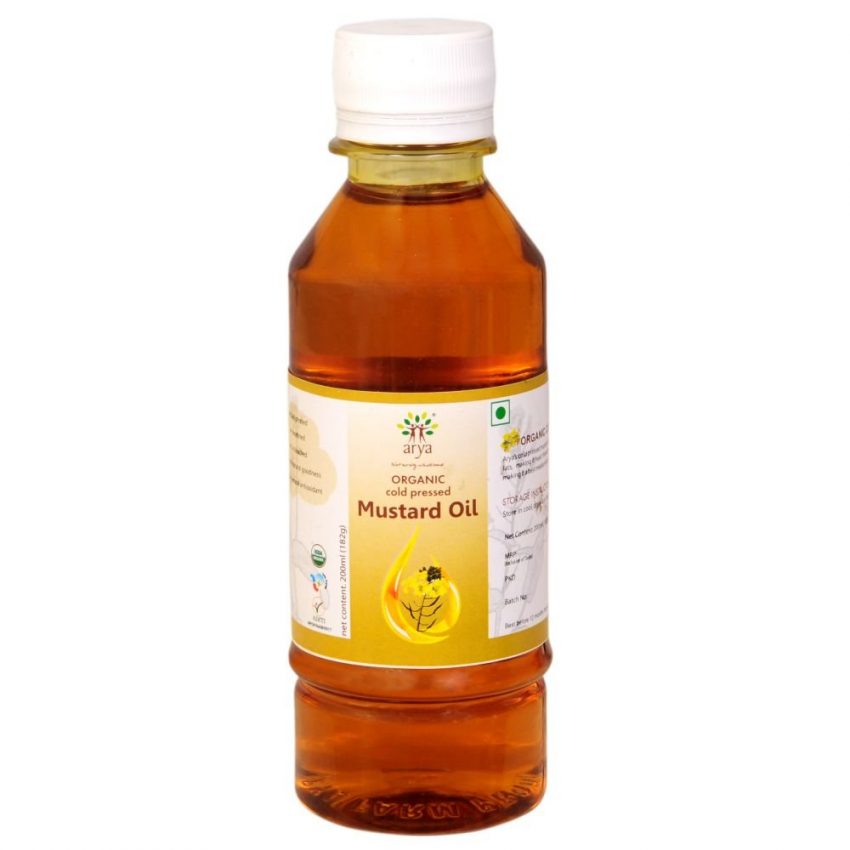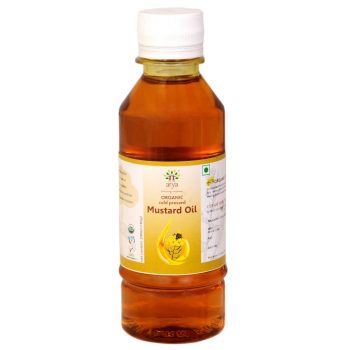 Arya Farm is a brand that has faith in producing organically. All of their produce is natural and has been cultivated using controlled and organic farming methods. Their mustard oil is free from pesticides, filtration, and artificial additives.
This oil has been extracted by cold-pressing the seeds; hence it is so full of nutrients and anti-oxidants that vouch for your health. It has a beautiful aroma and a delightful amber colour too. You can try it yourself by buying a bottle of 200 ml for ₹125 on Amazon.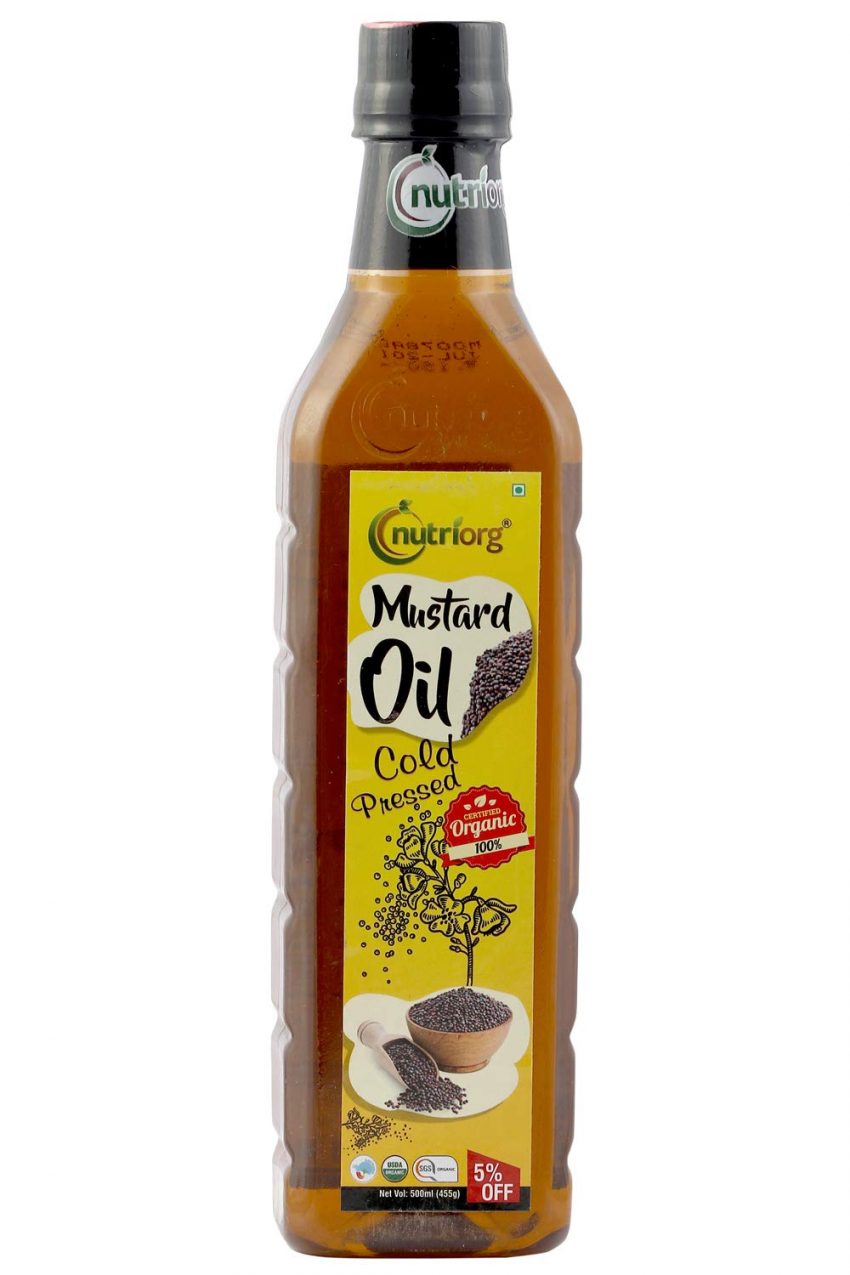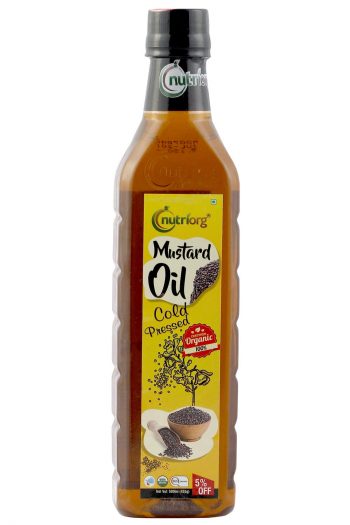 This organic and cold-pressed mustard oil is not only good for your diet but also your skin and hair. The oil is packed with Vitamin E which works wonders for your skin and general health.
Nutriorg Mustard Oil is also rich in MUFA which helps maintain a healthy heart and shields it from diseases. The mustard seeds used are also of top-notch quality and have been carefully picked to make this brilliant oil. You can buy a bottle of 500 ml of oil for ₹170 through Amazon.


Sourced from the best mustard producers from all over India, not only is this oil cold-pressed, but it is also incredibly healthy and nutritious. The mustard seeds used are entirely organic and have been extracted to its full potential to deliver the best and the most salubrious mustard oil.
The brand also makes sure that the mustard isn't exposed to any pesticides or chemicals while it's being cultivated. Pure & Sure is a brand that aims for the betterment of the farmers' lives and is doing it through controlled organic farming. A bottle of 1-liter costs ₹320, and you can buy it from Amazon.


Farm Naturelle's mustard oil has been extracted from hand-picked and some of the best yellow mustard seeds. It has a great amber colour and a delightful aroma, which happens to be entirely natural.
No pesticides or insecticides are used when the mustard is being grown to ensure that the resulting oil is entirely organic. This mustard oil is better than regular cooking oil because it reduces the bad cholesterol in the body and guards the heart against any potential risks.
You can get a bottle of 915 ml for ₹265 from Amazon.


24 Mantra is a trusted and genuine brand when it comes to producing organic commodities while working for the betterment of cultivators. Pesticides and harmful chemicals are not a part of the process of making this mustard seed oil.
The oil is rich in anti-oxidants and is also anti-bacterial, which guarantees that the food you make with it is keeping you healthy. This mustard oil is a refined golden-amber colour and has been double filtered to make sure there are no unwanted particles in it. You can buy a bottle of 1-liter for ₹232 on Amazon.


Ideal for people following diet plans, Daana Mustard Oil has the best and the most nutrients. It is jam-packed with vitamins, minerals, anti-oxidants and so on. Cold-pressed in the traditional Indian Kacchi Ghani way, this oil has a striking aroma and a rich dark amber colour.
This oil has no cholesterol or trans fats which means that your heart's health is secure. This mustard oil is also a vital ingredient in Ayurvedic treatments such as joint or body massages to ease the aches. You can try it for yourself by buying a 1-liter bottle for ₹349 from Amazon.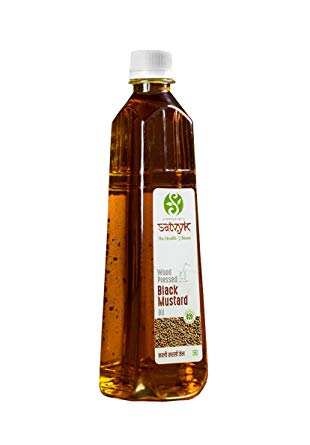 Cold-pressed in a traditional Indian wooden press, the Kachi Ghani, this oil is enriched with various nutrients. The black mustard seeds have been carefully selected to ensure that they are of the best quality so that the oil delivered to you lives up to its promises (and it does!)
. This black mustard oil is refined but is much healthier than the other oils available in the market. Their website sells a 1-liter bottle of black mustard oil for ₹240. They also sell yellow mustard oil which is worth trying
Let us know if you try out any of these brands of mustard oils and tell us how you like it!