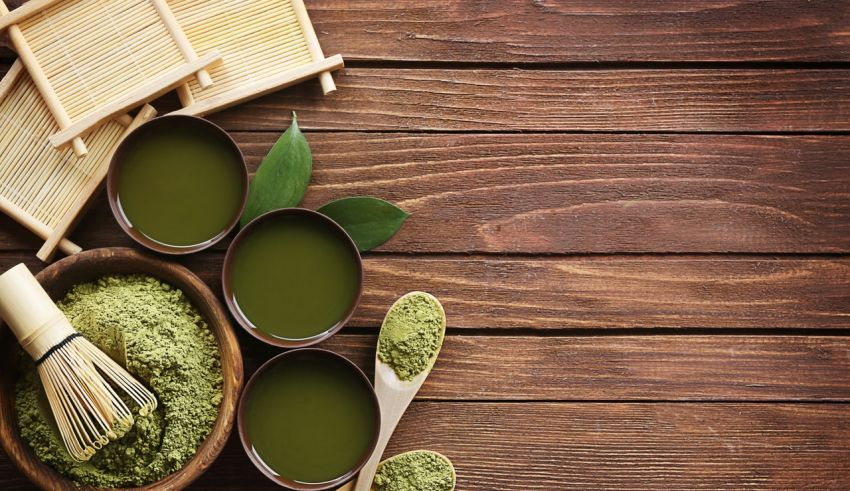 It's a tough task to remain healthy in today's world. We are constantly on the move and are either too busy or too tired to give our body the proper respect and attention that it deserves. On top of that, quite a few of us also incorporate unhealthy practices into our lives, such as eating too much junk food, smoking, etc.
But it cannot be denied that we need to respect our bodies, if we wish to live long, fulfilling lives. While there are several ideas that can help us improve the state of our bodies, one which has gained immense popularity in recent times is matcha tea. Matcha tea is Japanese green tea, but it is in a powdered form. It is also made out of specially selected tea leaves, which make it far superior to any other kind of green tea.
Matcha green tea benefits are understandably numerous and include detoxification, a boost to the metabolism, a healthy dose of vitamin c, selenium, magnesium, chromium, and zinc, to name a few. This tea is also extremely versatile when it comes to its culinary applications. You can, obviously, make a nice cup of tea, but you can also have matcha flavoured ice cream, use as it as a sprinkling over your sweets or use it to bake brownies and cookies.
Thanks to its immense popularity, the number of matcha tea companies and vendors has increased over a hundred. In order to guide you through this multitude of options, this list will not only tell where to buy matcha green tea but also about the best matcha green tea that can be found on the market.
Here's The List Of 13 Best Matcha Tea Brands:
Easily available on Amazon, and highly rated by most buyers, this is probably the best organic matcha green tea powder at its price point. The Republic of Tea is a renowned brand that has made it a mission to offer the best kind of tea to the public, and at a cost that is immensely competitive.
You can recognize the purity of the matcha tea just by the intoxicating aroma that is unleashed the moment you open the lid of the container.
The taste is soothing, and will immediately make you feel warm and relaxed on the inside. The fine people over at the Republic of Tea recommend that you should consider making matcha tea with warm water, but it is just as delicious and beneficial as a refreshing morning smoothie.
---
One of the oldest and most revered makers of tea from Japan, Aiya Organic calls its matcha tea 'ceremonial grade'. The reason behind this is the iconic Japanese tea ceremony.
Only the finest tea can be used in this cherished Japanese tradition, as anything lesser can be construed as an insult. Thus, 'ceremonial grade' indicates that the matcha powder that you purchase from Aiya Organic is undoubtedly of the highest quality.
As the name suggests, any and all tea made by this company is completely organic, which is also verified by the regulatory bodies of the United States of America, the European Union, and Japan. Aiya Organic also makes sure to get your tea from some of the finest sources in Japan, so that every spoonful of matcha is a revelation for the senses.
---
As we talked about earlier, most of us are pressed for time these days. And while it will not take you hours to make a nice & hot cup of matcha tea, perhaps you just don't have the time for even such a simple task. For those perpetually on the go, tea bags are a gift from the heavens. And, obviously, you can buy matcha tea bags online with incredible ease. One of the best ones, however, is MatchaDNA.
A general complaint against tea bags is that you don't get the authentic taste of tea from them. But MatchaDNA is different. They make sure that the essence of matcha is carefully preserved with each and every tea bag.
The tea is also produced is the most traditional manner at the Hiroshi family farms, where matcha tea has been made since the 13th century. So it goes without saying, MatchaDNA is probably the best premium matcha tea bag you'll be able to get your hands on.
---
In our quest to better our health, we have been returning, with increasing rapidity, towards nature. It is a fact beyond doubt that some of the best remedies to our physical ailments come from the bountiful gifts of nature.
One such gift, although frequently overlooked, is the mushroom. Mushrooms have been a culinary delicacy for several years, especially in vegetarian and vegan cuisines. Cooked properly, the succulent taste of a mushroom is nearly unmatched. However, this humble fungus has a lot more to contribute than its delectable taste. Certain kind of mushrooms are known to have incredible medicinal properties and can heal and rejuvenate the body.
One such mushroom, which is used by Four Sigmatic, is the Lion's Mane. This species of mushroom is known as a 'cognitive supporter', i.e., it improves the mental capabilities and accelerates the thought process. If you happen to be someone who is engaged in copious amounts of cerebral labor, such as a teacher, a financial advisor, a lawyer, etc. then Lion's Mane will not only erase your mental fatigue but will help you work faster and smarter. By creating a mix of Lion's Mane and matcha tea, Four Sigmatic has created an organic health drink that is beyond compare.
---
The first thing to know about Midori Spring is that it is first flush. While this description might mystify a few people, tea enthusiasts the world over will be struck with unparalleled excitement.
First flush is the first harvest of the season, and these tea leaves are considered to the best that are grown all year round. As can be surmised, matcha tea made from first flush leaves is some of the best that you'll ever have the fortune of tasting.
Grown and harvested without a touch of artificiality, GMO, or any other kind of impurity, the Midori Spring Organic matcha tea is some of the best available on the market today.
---
Also Read: Top 10 Healthy Green Tea Brands Available to Buy in India (2018)
---
Tea isn't the only thing you can make with the versatile matcha tea powder, as you can incorporate it into several other forms of dishes. If you want to put yourself in the matcha green tea weight loss regime, then you need to find ways to increase you matcha tea intake. Nonetheless, drinking copious amounts of green tea can become repetitive and boring.
Unfortunately, not all kinds of matcha tea are fit to be used to make delicacies such as brownies and muffins. You need to use specialized matcha tea, such as the Jade Leaf matcha green tea, in order to make your baked goods and smoothies exceedingly delicious and delectable.
Jade Leaf matcha green tea has all the best attributes of organic matcha tea, and is harvested from the best matcha farms in the city of Uji in Japan. Uji is famous for its matcha tea and for performing some of the most beautiful tea ceremonies in the country. Matcha tea sourced from Uji is peerless in quality and provides you with an unforgettable taste and aroma.
---
Kenko is known for providing some of the best matcha that you have ever seen. The powder is smooth to the touch and has been ground onto the finest of particles.
Unlike inferior brands of matcha, which sometimes have stems or unprocessed bits of the leaf within the powder, the Kenko matcha is perfection personified. It also makes it a point to maintain a consistent standard when it comes to the taste, as well as the production process.
Kenko makes some of the sweetest matcha tea that you will ever taste and has none of the bitterness that comes through due to impurities or the addition of chemicals.
All of the matcha tea sold by Kenko is harvested from the city of Nishio, where tea experts work day and night to create the best blend possible. The result is a matcha tea that is incredibly good for your health, can be consumed multiple times a day without any kind of ill effects and will become one of the pillars of your healthy lifestyle.
---
8. Pure Matcha 
The name of this brand doesn't leave much to the imagination, where the quality of the tea is concerned. Pure Matcha is one of the costlier variants of matcha tea currently available on the market, but it is worth every penny that you will be spending on it.
By now, you must have read of some of the matcha tea weight loss tips and tricks on the internet. And while it is true, matcha tea does enhance your metabolism, Pure Matcha takes it to the next level.
Pure Matcha is filled with epigallocatechin gallate, a catechin that provides an explosive boost to your metabolism. This, in turn, burns fat away from your body at a rapid pace. Another unique thing about Pure Matcha is that, as a ceremonial matcha, it is not an instant mix and requires whisking. Thus, Pure Matcha allows you to capture that experience of blending matcha, as if you were hosting an authentic Japanese tea ceremony.
---
9. Taste of Kyoto Reserve 
As the name clearly states, Taste of Kyoto brings to you some of the finest matcha tea powder that is produced in the Japanese city of Kyoto. One of the oldest and most important cities of Japan, as well as its erstwhile capital, Kyoto is considered by many to be the stronghold of Japanese culture and traditions.
The matcha grown here is harvested with techniques perfected over the centuries, and favors methods over the use of chemicals and pollutants.
Thus, the matcha tea which is sourced from this beautiful city is perfect for health-conscious individuals and vegans. Taste of Kyoto is also so of the best commercially available matcha that can be used in your cooking. Cookies, smoothies, ice cream, or even as a substitute for powdered sugar on your donuts, Taste of Kyoto Reserve is the matcha for you.
---
Located in Santa Barbara, California, Mizuba Tea Company is owned by tea connoisseur Laura Danson, who decided to start up her business after falling in love with the flavour of matcha green tea. The Mizuba Tea Company Daily Matcha is unique in the market for two primary reasons. Firstly, it is gourmet matcha.
Keeping the health benefits of the matcha intact, the Mizuba Tea Company has been able to infuse it with exceptional flavour. Not only is the matcha tea smooth, but it fills your mouth with the taste of freshly churned butter. And if that is not heavenly already, there is a divine aftertaste of roasted vanilla.
The second noteworthy feature of this matcha tea is that it is the result of a personal journey. Made from a family owned farm, in Uji Japan, that has produced matcha for the past hundred years, the journey of this tea began when Laura Danson personally visited the family and asked them to provide their tea. Every cup of Mizuba Tea Company Daily Matcha has a story to tell, and what a delicious story it is.
---
11. Teavana Matcha 
As much as matcha is known for its health benefits, it is also equally popular for its subtle taste. If, on the other hand, you are a person who favours a bolder taste, then matcha might feel a tad bland after a few drinks. In which case, the flavor-intense Teavana Matcha is the matcha for you.
Jam-packed with complex flavours, this matcha tea will not only jump start your body, but will give new life to your taste buds as well. Available in tins of 40g and 80g, Teavana Matcha can be brewed in a quick and contemporary manner, as well as in the traditional style of the Japanese people.
---
Also Read: Top 10 Healthy Green Tea Brands Available to Buy in India (2018)
---
If you are taking your first steps in the world of matcha tea, then things might be a bit overwhelming. Talks of antioxidants, appetite suppressants, EGCG, etc. can easily confuse you and make the whole experience too complicated. But Zen Spirit Matcha Green Tea is the best matcha tea that can help you start your journey.
Zen Spirit takes every care to make sure that your matcha tea is free from any kind of chemical additives or impurities. The tea leaves are even crushed in ceramic mills to ensure the complete purity of the product. Zen Spirit takes these precautions so that you don't have to crunch the numbers to verify whether you are getting the most out of your matcha tea or not.
The company also understands that matcha has become one of the most versatile food products today, with people constantly coming up with new and exciting dishes. So they help you begin this culinary expedition by providing you with an e-book that instructs you on how to make 10 simple, but brilliant, matcha dishes.
Finally, there is the money back guarantee. Zen Spirit has a 100% money back guarantee on the quality of its product. If you are unsatisfied with your purchase, then Zen Spirit will refund the entire amount.
---
13. DoMatcha Organic 
Probably the most popular name on this list is DoMatcha. A brand so popular that it has almost become synonymous with good quality matcha tea. Every other brand out there is compared to DoMatcha, and most of them can't stand up the quality and expertise that DoMatcha has. DoMatcha isn't just a matcha company, it made matcha tea the global phenomenon that it is today.
The brainchild of tea-master Mr. Kazunori Handa, DoMatcha Organic is made out of the best leaves only.
The tea leaves chosen for this matcha are not only first flush, but also shade-cultivated. This means that the flavor and texture of the tea leaves were not tarnished due to overexposure to the harsh sunlight. Carefully handpicked, these leaves are then put through a time-honored process that has no equal. None of the fresh and earthy flavors are lost in the process.
You might as well have been sipping on matcha tea right at the farm, for there is no difference in taste. A must-have for tea connoisseurs and a brilliant first option for newcomers to matcha tea, DoMatcha Organic exemplifies just how good matcha tea can be.
---
As the days go by, we hear more and more about the wonders of matcha tea. It is truly a wise decision to add matcha tea to your lifestyle. Not only is it versatile and easy to use, but it will also bring a new flavor and freshness into your life.
Equipped with this list, you'll be able to pick the matcha tea the suits your needs without the hassle of endless searches online. So order your matcha now, and sip on the healthiest cup of tea that you've ever had.