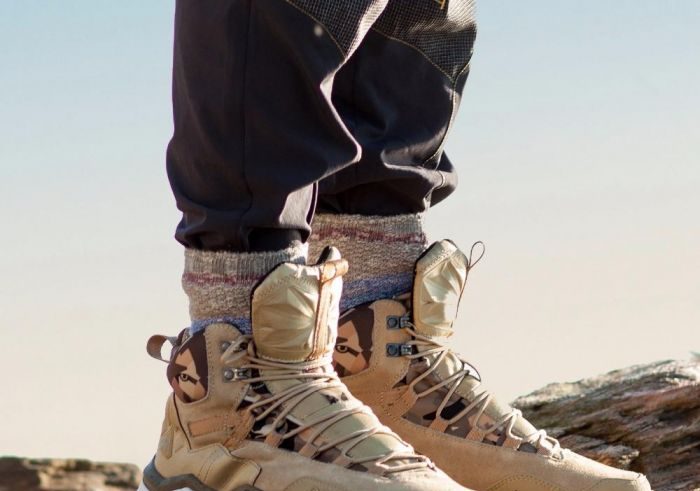 A successful hunt requires more than the right weapon, more than experience and more than the patience of job. As a hunter, you are undoubtedly aware that you need a variety of gear to ensure that every hunt is successful. In order to perform at your best in the field, you need the best hunting boots you can get to provide both physical comfort and peace of mind. Concentrating on your hunt can be difficult when you can't stop thinking about how hot, wet, cold, or sore your feet are.
It's your feet that carry you over hill and dale, through swamps and across rivers in pursuit of your quarry, not your rifle or sunglasses. As such the footwear you choose is of principal importance.
We've comprehensively reviewed some of the best hunting boots on the market to figure out which of them offer the best quality for any type of environment you intend to hunt.
We've compiled all that information into our hunting boot guide.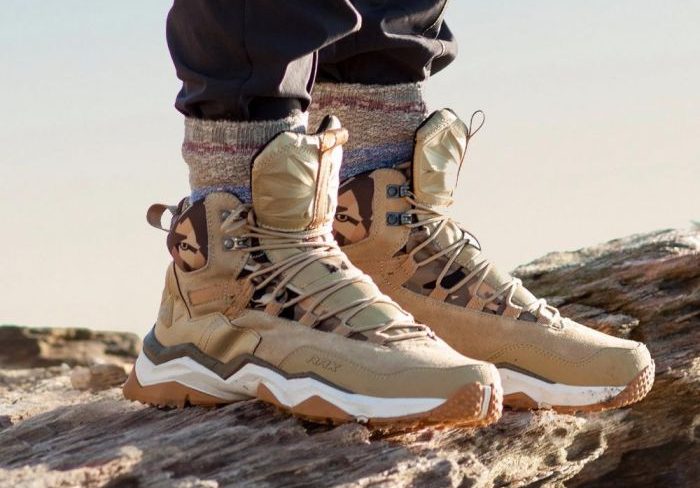 The RAX Men Hiking Shoes are perfect for all your adventurous outdoor activities, like hiking, trekking, camping, hunting, and the like. The boots are made of suede and rubber, with lace-up detail. They also have synthetic lining and are made to be skidfree. You can wear it safely during all your outdoor plans for the best results.
The boots are true to size and made of waterproof material. It is breathable and also increases your height a bit. What makes it a perfect choice for your adventures is its shock absorbing quality and strong sole. It is perfect for mountaineering and climbing as well. You can get it in the color of your choice, among seven options.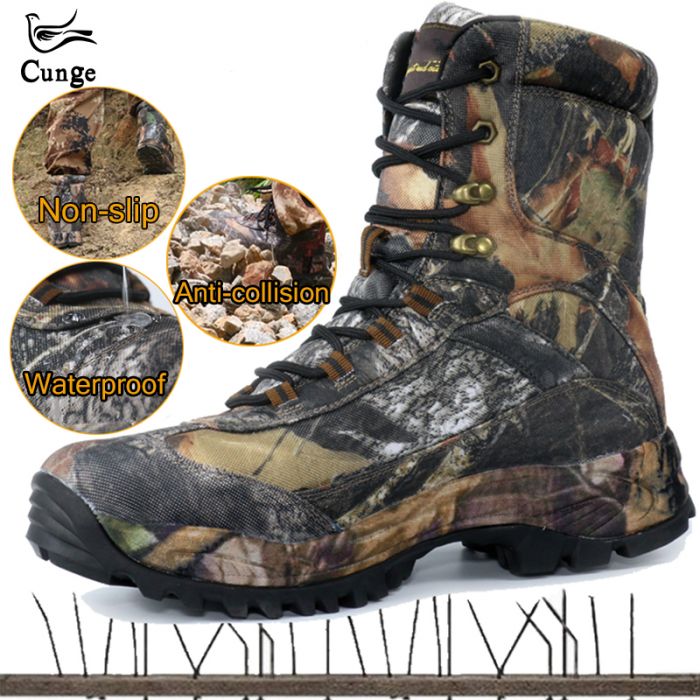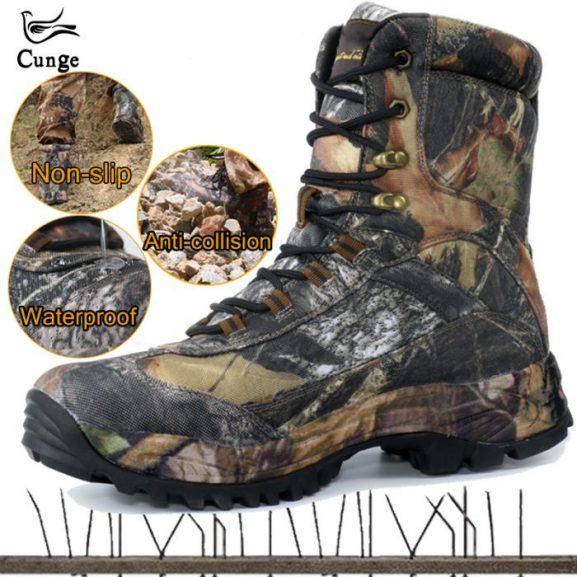 The CUNGE Outdoor men's shoes are a durable, heavy-duty, and sturdy pair that is best for doing outdoor activities and taking adventurous risks. It is breathable, water-resistant, and gives a boost to your height as well. It is made of latex, canvas, and rubber, and is of a lace-up variety. These are professional men's shoes that can offer support in your toughest adventures.
It is designed in a way that it does not slip on tricky terrain. It also has anti-collision properties, and you can step on sharp objects as well without hurting yourself.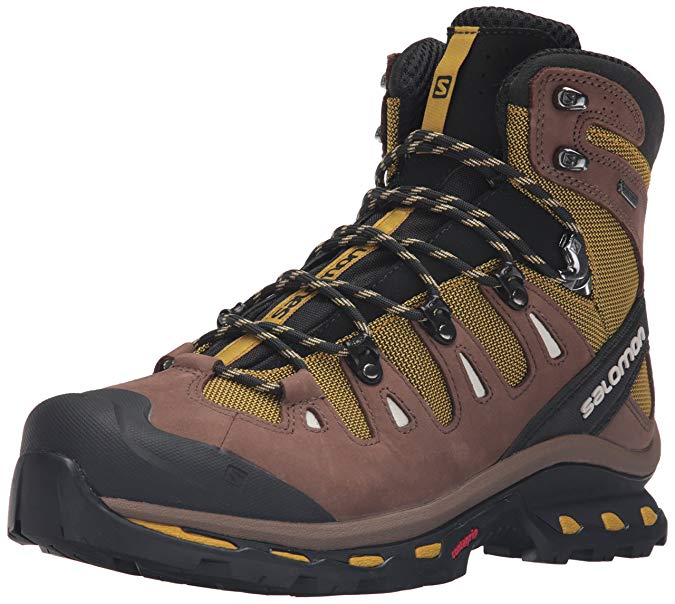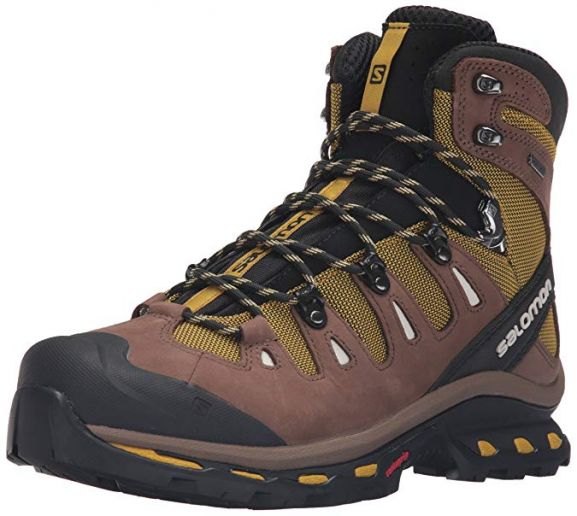 Able to get you through the thick of any hiking trip, the Salomon Men's Quest 4D 2 GTX is a heavy-duty hiking boot that hugs the foot and ankle in all the right places. It's made out of both Nubuck leather and textile material. This provides a durable and weatherproof shell to protect your feet.
The shaft measures around six inches from the arch, providing you with total coverage and support of the ankle without it restricting your range of motion. Its rugged lacing hardware keeps the show securely fastened and attached to the foot, while the protective rubber tow cap lets you navigate the trail with confidence.
GORE-TEX waterproof protection keeps the cold and rain out of the Salomon Hiking Boot in order to ensure your comfort. It stands on a high-traction Contagrip sole.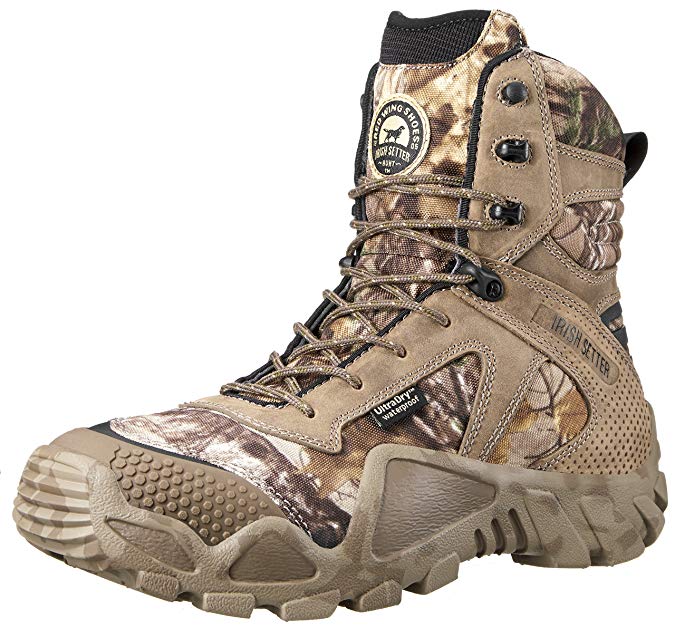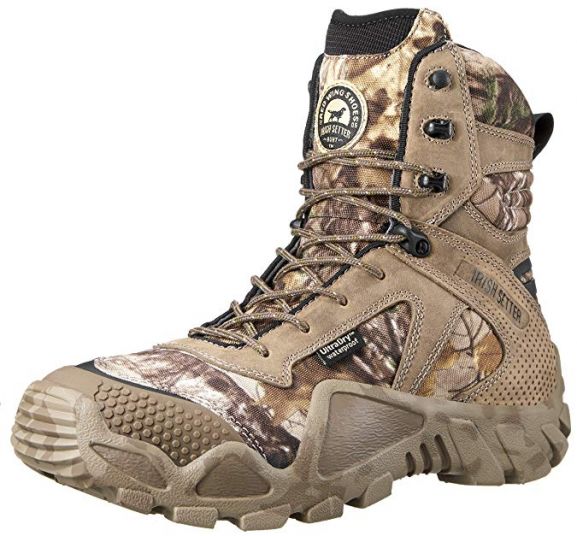 The VaprTrek Boots from Irish Setter can power up your hunting game thanks to their superb footwear features. Boasting patented RPM technology, these boots employ a state-of-the-art composite sole material engineered to minimize weight from them so they are 40 percent lighter compared to standard big game footwear. The ankle-high hunting boots feature the ScentBan scent control capability to make stealth hunting successful. The UltraDy waterproofing system employed in the boots protects the feet no matter what the moisture condition will be, so users can wade through swamps, shallow bodies of water, creeks and marshes while ensuring dry feet at all times.
Incorporating the flexibility of an athletic show and the performance of hiking boots, this hunting footwear offers outstanding athletic manoeuvrability while never compromising on traction and balance, for confidence on the trail. The lace-up style provides a customized fit along with the logo-stamped tongue and waterproof upper. The shaft measure around 7 inches from the arch for exceptional support and protection around the feet on scrub-intensive treks.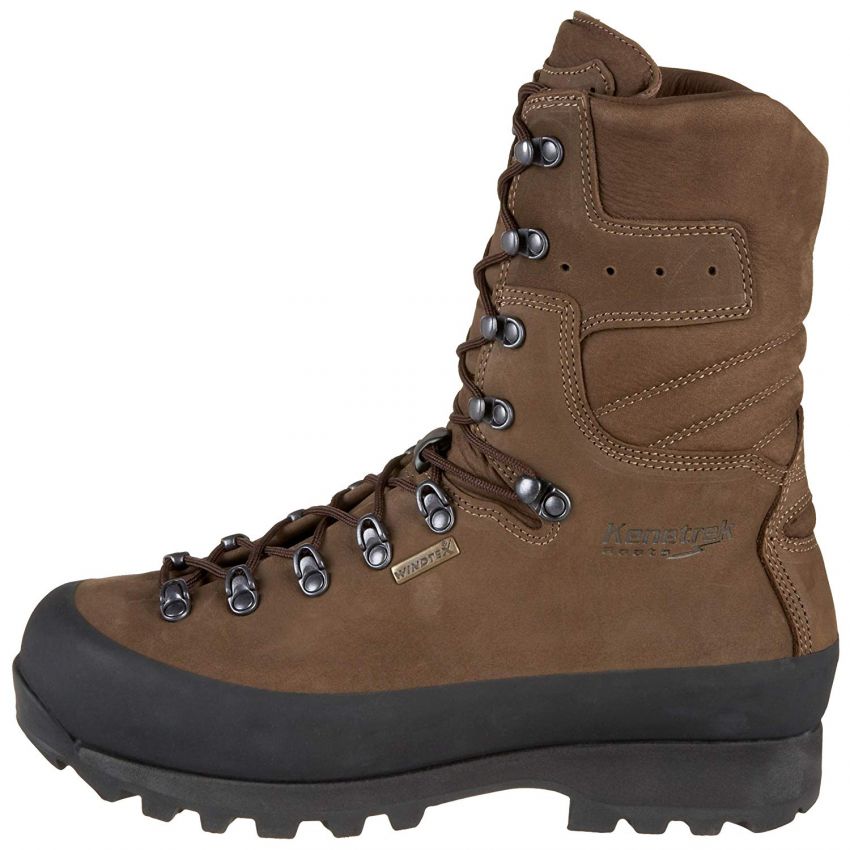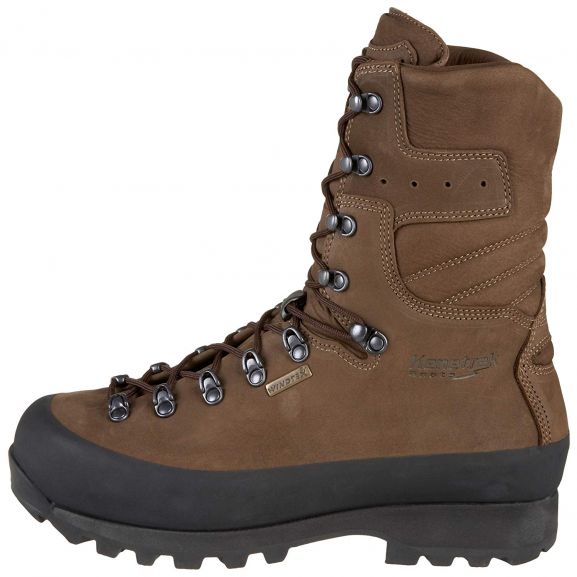 These hunting boots are as effective as they are attractive and, as you might guess, they'll set you back a bit more than most other hunting boots. But they're worth it. Whether you're bounding over rocky crags or silently working your way into positing along the riverside, Kenetrek's Mountain Extreme Hunting Boot has your back. And more importantly, your feet.
There's a lot to like about the Mountain Extreme Hunting Boot from Kenetrek. From the waterproof, breathable membrane that underpins the thick, 1 piece leather outer to the nylon midsoles that ensure support regardless of the load or terrain and the extra grip of the K-talon outsoles.
They're also warm, comfortable, durable as all get-out, they provide excellent ankle support and they don't weigh a ton so they won't become a drag on your pursuit. Just a great hunting boot.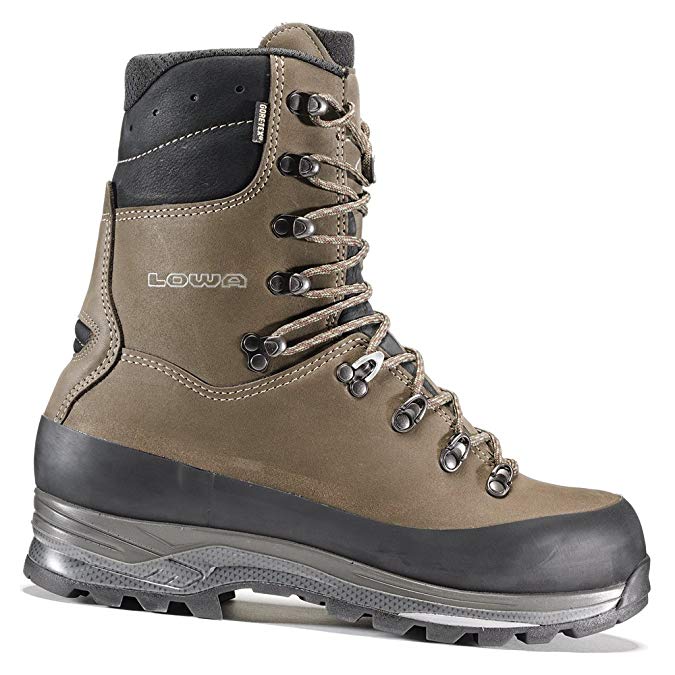 In past boot tests, Lowa's entries have consistently finished near the top of the heap. These German-made boots have outstanding build qualities and will last longer than it takes to draw a sheep tag. After a two to three day break-in, your feet will find their place in these boots and you'll find supportive, enduring comfort on unforgiving ground. They're perfect for sharp, rocky terrain and boast a great foundation for packing load after load of mean out of the backcountry.
Perforated air channels do a good job of drawing heat away from the feet, and there's room inside for both a linger and a beefy sock. The lacing system includes centre post on the tongue, which helps lock the lace in place. The collar is tapered in the front, allowing both sides of the upper to hug the tongue and snug up the ankle.
Like all great hunting boots these will start out stiff and soften with wear. Also like any great hunting boot they'll provide you with plenty of support and a warm, dry platform to work from. The Vibram sole can handle any terrain with aplomb and the snug fit makes these hunting boots feel like natural extension of your feet. The flexible ankle, anatomically accurate tongue and rock solid lacing ensures your footwear will never be the thing to hold you back.
Read Also: 10 Best Shoes For Men, Women & Kids Under ₹ 2000 (2020)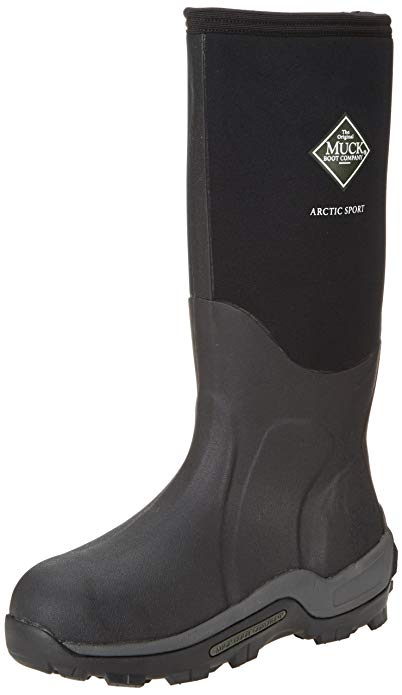 Able to keep you warm at temperature as low as -40 degrees Fahrenheit, the Original MuckBoots is ready to get you through those long winter treks. It's made out of a mix of rubber and fabric with rubber on the show and around the ankle and fabric running up the rest of the way to the knee. This boot has a rubber sole with deep-traction grooves in order to keep you on your feet in snow and ice.
The shaft of the Original MuckBoots Arctic Sport Boot measures around 14.5 inches from the arch to provide your lower leg with plenty of coverage. The boot opening measure approximately 15.5 inches around in order to ensure a comfortable fit around your leg. Snow, freezing, rain, slush and ice can be easily combated while enjoying your favourite outdoor activities when you wear the boot.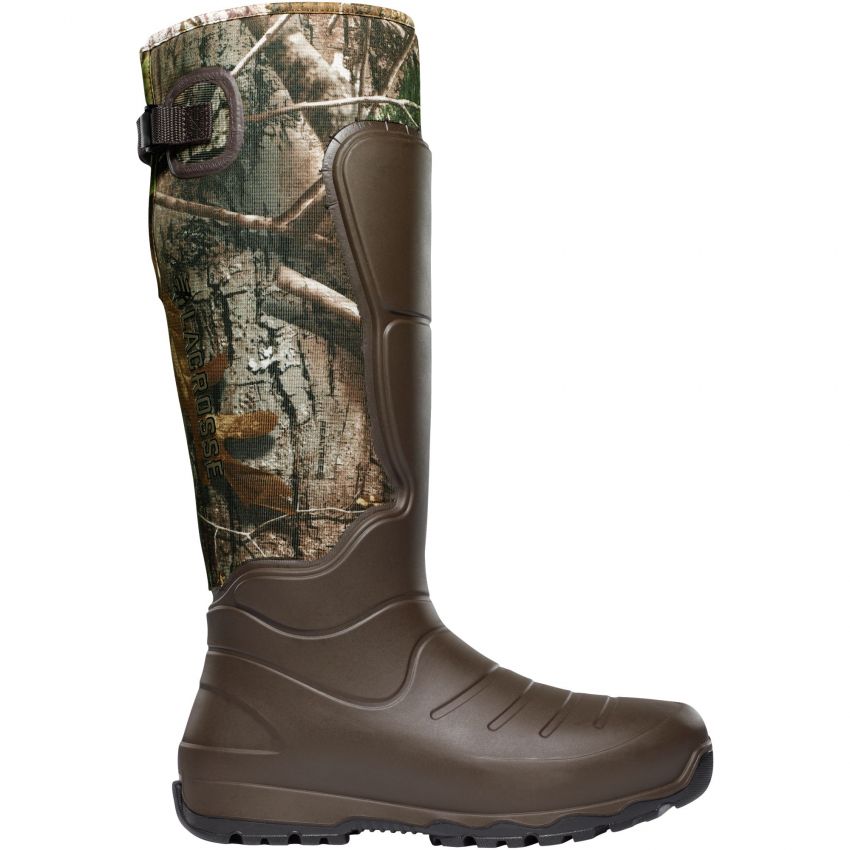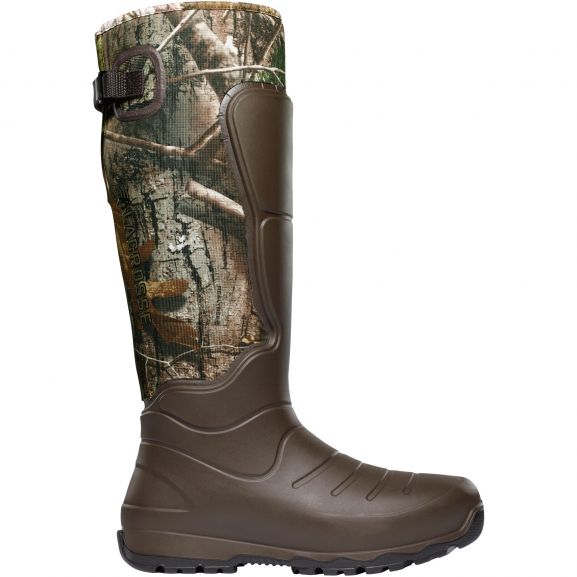 These new knee-high boots from a venerable American manufacturer feature an innovative construction of layered liquid polyurethane over 3.5 or 7-millimeter neoprene. The result is a warm, comfortable boot that offers significant cushioning and excellent protection against sharp thorns and wayward limbs.
Built on an updated last, the AeroHead is much easier to get on and off than the old Alpha burly, and it offers significant ankle and outsole support. There's an integrated shank under the arch, and the boots are flexible and comfortable to stand in for long periods of time, whether in a pit blink of on a treestand.
The opposing wedges on the sole grip like glue to the metal grates found on most stands.
They fit true to size and can be worn by hunters with large calves and still provide enough room to tuck pant legs inside the upper. Available in four camo choices, these boots will find favour with wide range of hunters across the country.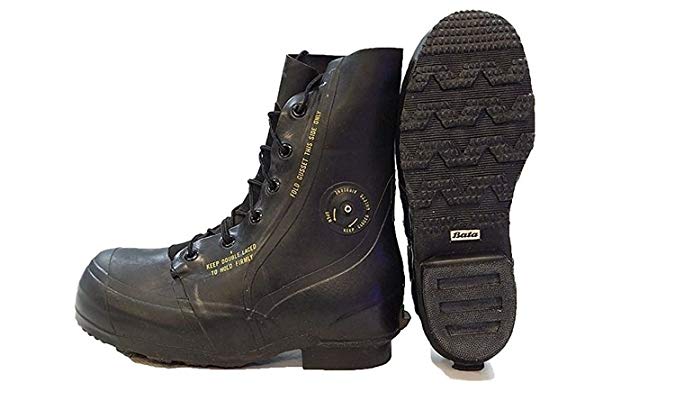 Weather the storm by keeping warm and dry with these Extreme Cold Weather Water-proof Rubber Combat Boots. These sturdy boots keep your warm with air insulation. The insulation can be easily pumped into the pockets using any air pump, making for winter boots with insulation that will never wear down or stop working.
The Extreme Cold Combat Boots are entirely waterproof, making them ideal for wear in any wet, cold environment. Perfect as work boots, these have ultra-tough, reliable traction with deep threads that will keep you stable on your feet in both ice and snow. There is a slight heel that gives you plenty of footing. The laces are tough and doubled over in order to keep them securely fastened to your feet, no matter what activity you are undertaking. Ideal for any inclement weather, you can get the job done no matter the environment.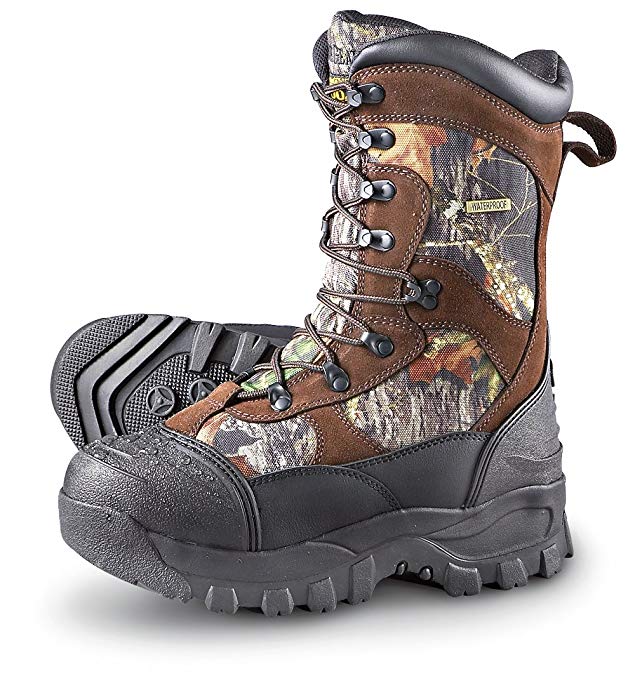 Available in smart Mossy Oak finish, the Guide Gear Men's Insulated Monolithic hunting boots boast thick 2,400-gram Thinsulate ultra insulation to keep your feet more than adequately protected from the extreme cold. Your feet won't end up feeling like a ton of bricks from the cold so you can move with utmost mobility and comfort every time.
This means you can take your post in your tree stand even when the weather is exceptionally cold thanks to the excellent heat barrier that the boots provide. Your feet are kept feeling warm and toasty so you can simply focus on your prey. The affordable price makes these hunting boots the best purchase you can make for the money.
Made of durable and waterproof suede leather, these boots boast 900-denier nylon uppers that ensure a nicely snug fit. The breathable membrane ensures that your feet remain dry during the trek. The oil-resistant rubber lug outsole delivers excellent traction for you to maintain balance and grip on the terrain.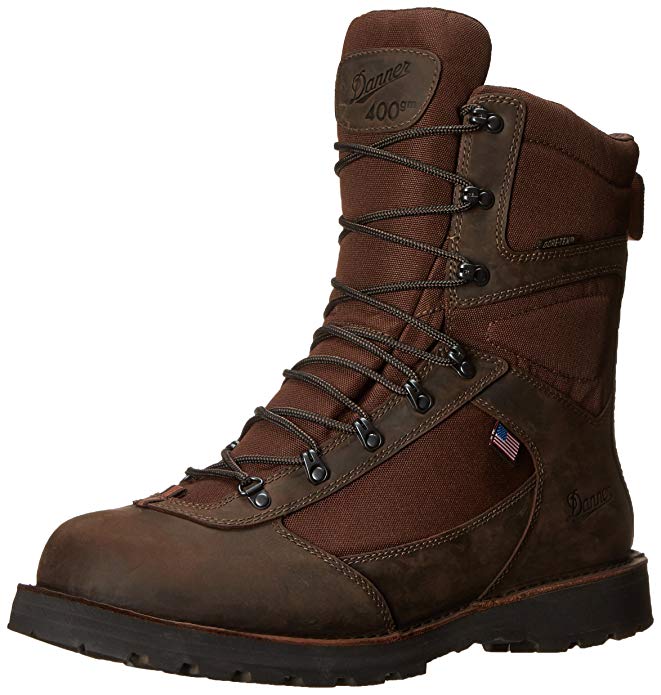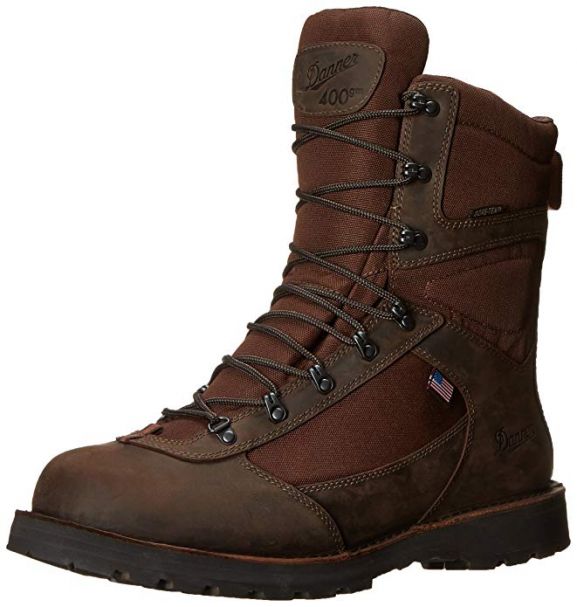 The Danner Men's East Ridge 8-Inch BR 400G Hiking Boots are traditional style designs that are prepared to take you as far as you want to travel off-trail to get the job done. Offering superior durability, these boots are meant to go the distance. GORE-TEX technology helps to waterproof the entirety of the boot, providing you with a dry and comfortable step during the entirely of the trip.
The leather uppers are made from oiled nubuck leather to give you a smooth feel and ensure that the Danner Hiking Boots are able to last for many years to come. Thinsulate insulation traps in the perfect amount of heat you need to stay warm and cozy, even on chilly, dark mornings. These lightweight boots will not weight down your step in order to prevent premature fatigue in your feet and legs. The outsole features a tread pattern unique to the Danner, designed to keep you on your feet on any terrain.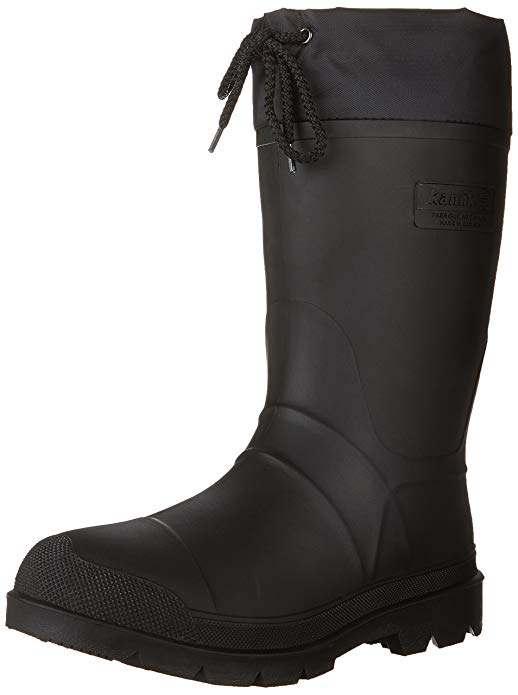 Designed to be breathable in the summer, warm in the freezing months and totally comfortable all year-round, the Kamik Men's Hunter Boots feature a synthetic composition that is designed to outlast the weather and outlast the years. The shaft measures around 13 inches from the arch, providing your lower legs with plenty of coverage to help protect you while you wade through thick forests, thorny branches, and tall, wet grass.
The Kamik Boots are waterproof as well, helping to keep you dry if you have to trek through a creek or end up getting caught in the rain. It is insulated up to -40 degrees Fahrenheit in order to ensure that you are snug and warm, even in the most brutal of weather. It comes with a removable eight-millimetre thick thermal guard liner that will keep you warm in the winter but is removable in the summer. An adjustable snow collar will keep out the snow, ice and slush as well.
Since we can't say that these are the best hunting boots you can buy, not all boots listed above will meet the particular needs of your hunt. They are perfect for the economical hunter who wants a boot that will perform effectively and that will last a long time.
When shopping for new hunting boots there are an array of things you'll want to look for and keep in mind so that you can get the right pair for you.