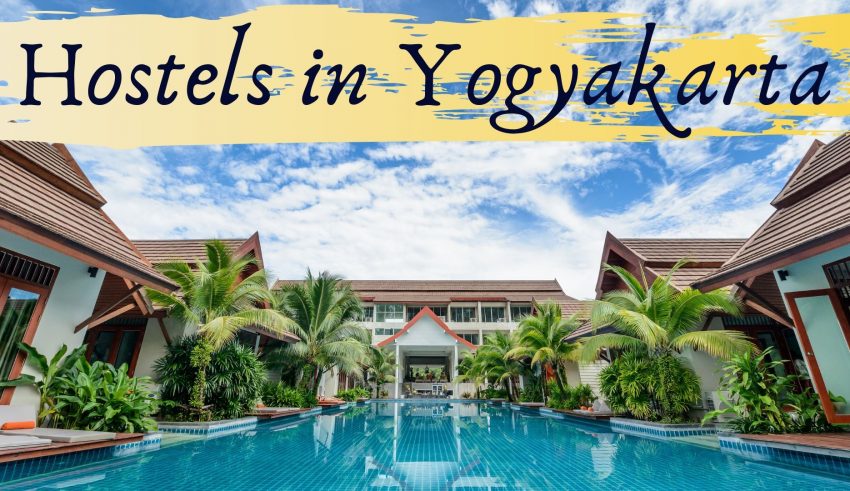 Yogyakarta in Indonesia is renowned for its slogan 'Jogja – The Never Ending Asia' and indeed, the city is one of the foremost cultural centres of Indonesia and it till today, testifies to its definition. Magnificent temples, historical relics, picturesque beaches and boundless cultural heritage are the key elements of this city. The city is situated adjacent to Borobudur, which is a UNESCO World Heritage site.
The city with its authentic art and music scene along with rustic thatched cottages set among tiered rice fields, carries a rich cultural past with a long lineage of Hinduism and Buddhism along with Javanese civilization. This confluence is reflected in the city's ethos and architecture. The city is simultaneously scenic naturally and architecturally.
The city is also home to many tourism villages. Here, you can even chase the sunrise through the patios of some temples! Experience the authentic daily life of the locals, and engage in some recreational wonders such as playing the gamelan, weaving janur or batik and performing a Javanese traditional dance! And what better way to do so than staying at some of the best hostels in Yogyakarta, which are closest to the city's vein.
Check out below, the top rated and reviewed hostels in Yogyakarta:
Venezia Garden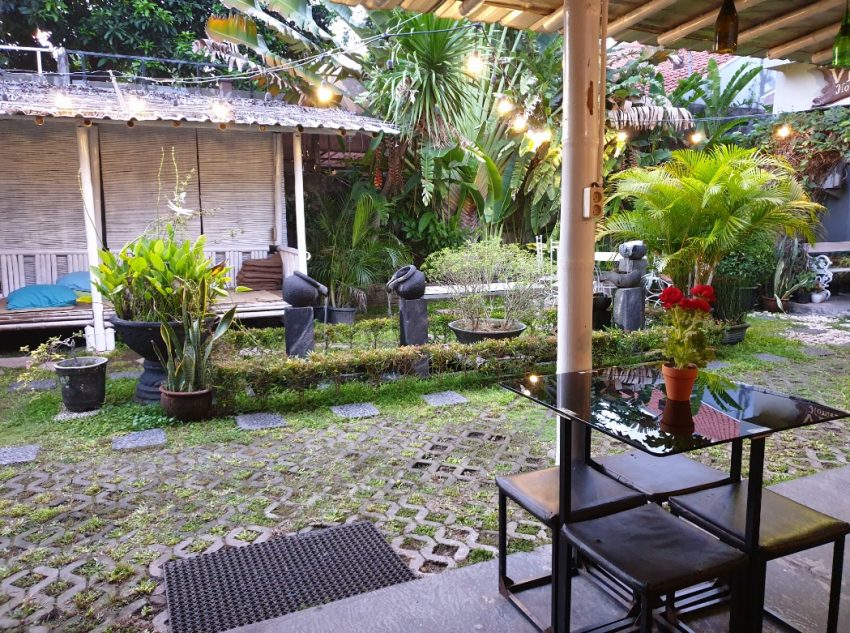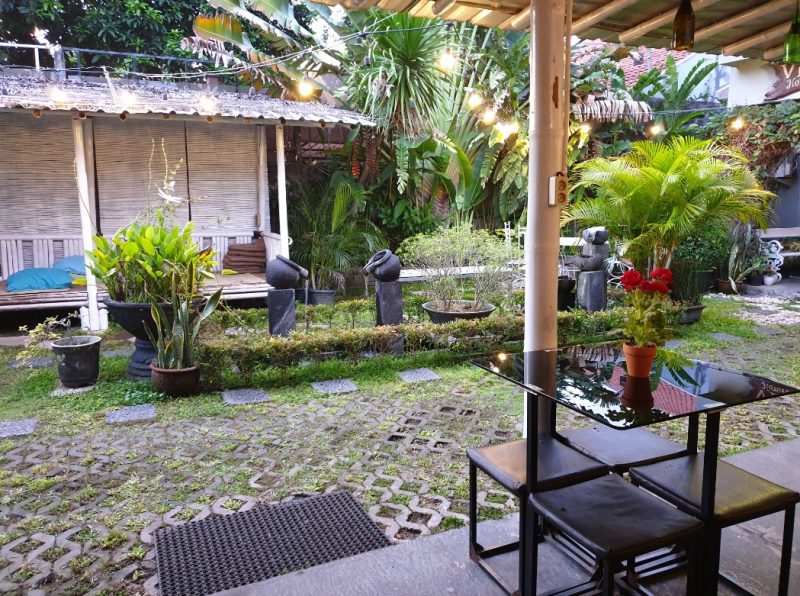 One of the best rated hostels in Yogyakarta, Venezia Garden values its guests a priori. It offers a clean, quiet and cozy place to stay for travellers at a minimal price. Accommodation here, is available in dormitories and superior private bedrooms, each of which is equipped with an ensuite bathroom.
It has all essential modern facilities like air conditioning, hot water showers, storage lockers, electric sockets etc.. There is also a swimming pool surrounded by lounge chairs, where you can relax, sunbathe or strike a conversation with fellow travellers.
The rooms are equipped with a small balcony, overlooking the swimming pool. There is an artsy mini-bar and a restaurant at the hostel, which serves some delicious drinks and meals. Barbeque facility is also available on request. The hostel has a very vibrant nightlife, where travellers come together in the bamboo shade to interact, play music and have lots of fun.
Address: Jl. Parangtritis No.92B, Mantrijeron, Kec. Mantrijeron, Kota Yogyakarta, Daerah Istimewa Yogyakarta
Phone: +62 274 373821
---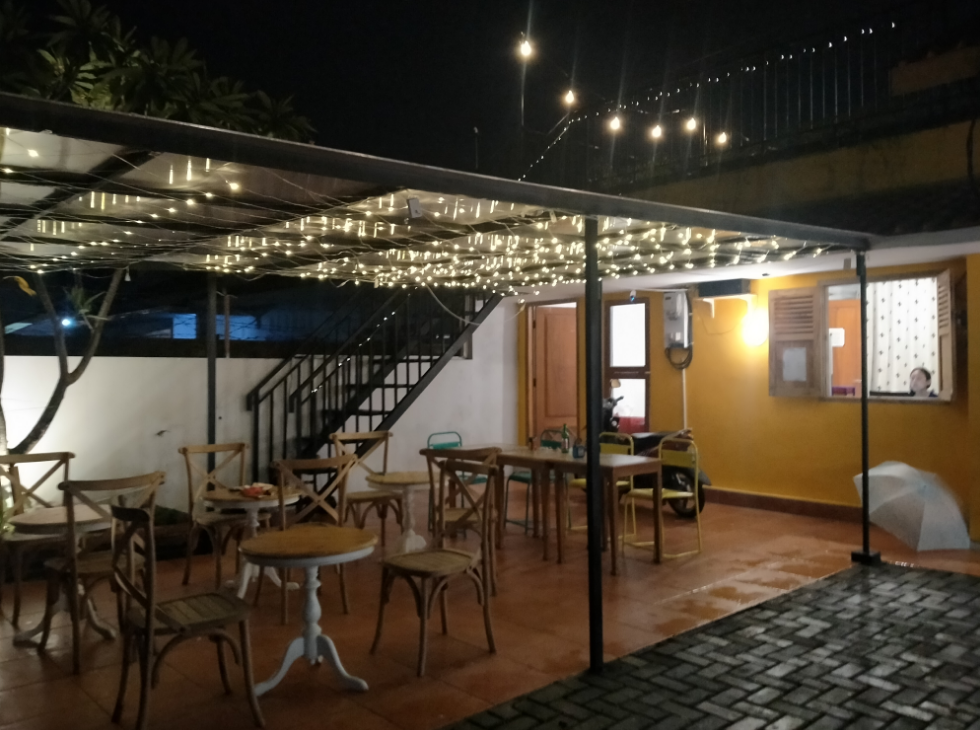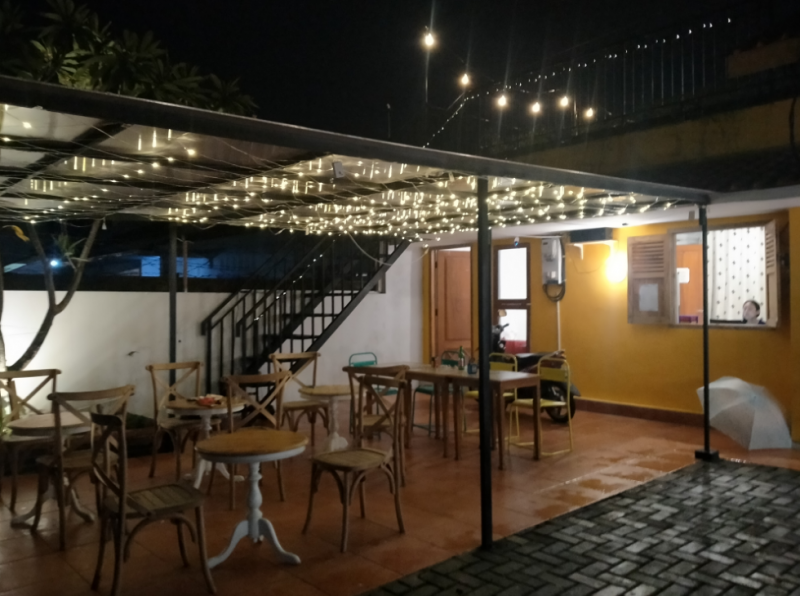 This is an ideal alternative for backpackers and travellers looking for a low budget accommodation. It is equally comfortable, spacious and comes with all essential modern amenities to cater to all your requirements. Located close to the Yogyakarta Palace and the Tamansari Water Castle, the hostel attracts several backpackers due to its convenient location.
Both private and shared rooms are available for accommodation; female-only dorms are also offered. Besides, the hostel is jam packed with activities for its guests. These include pool competitions, poker night, twister competition, city tour, mall or museum visit, karaoke and many others. Also, if you prefer a quiet stay, the hostel offers a reading room on the second floor. Downstairs, there is also a common lounge area for the guests to interact, socialize, jam on the guitar or watch television. Indeed, a visit to this hostel is all about fun, and more fun!
Address: Tirtodipuran St No.47, Mantrijeron, Yogyakarta City, Special Region of Yogyakarta
Phone: +62 274 4288879
---
After-midnight Hostel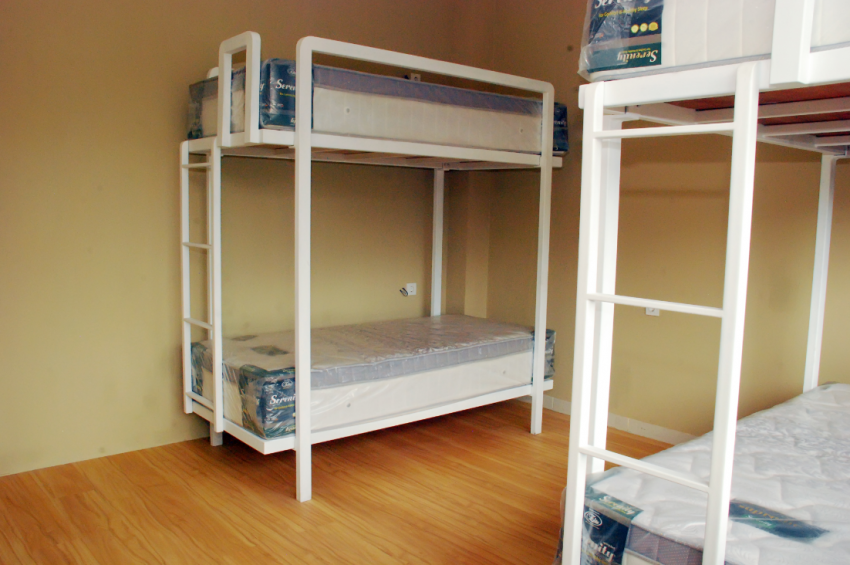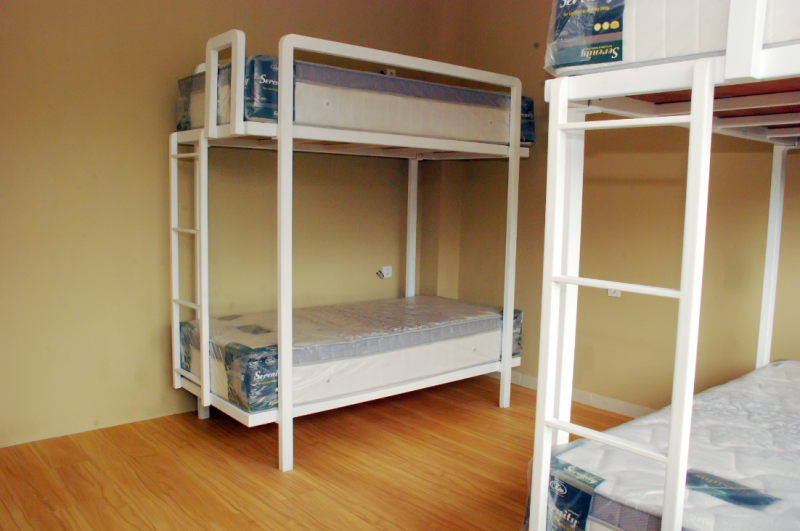 This is among the best hostels in Yogyakarta for it combines modern facilities with an essence of local taste. The hostel is youth inspired and provides accommodation in shared dorm rooms.
The rooms are spacious, clean and come with a capacity of four persons per room. Besides, a large and fully stocked rooftop kitchen is present at the hostel and is also its highlight feature. Here, you can cook a meal while overlooking the local neighbourhood. Fresh herbs and plants can be picked right from the kitchen area.
The hostel is located right affront the morning market – supermarkets, stores and Malioboro street are well within walking distance. Numerous local restaurants and eateries are situated right around the corner of the hostel; while you are at it, you can admire Yogyakarta's characteristic street art.
Address: Jl. Poncowinatan No.48, Gowongan, Kec. Jetis, Kota Yogyakarta, Daerah Istimewa Yogyakarta
Phone: +62 858-7870-0113
---
Paddy D'Sawah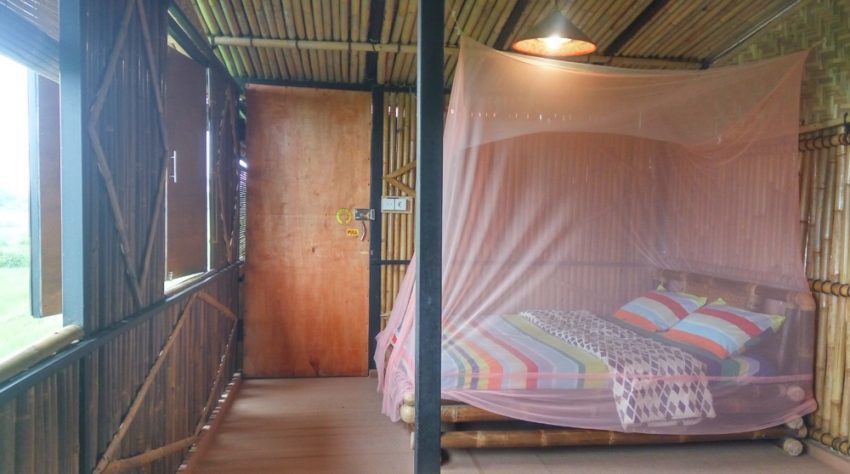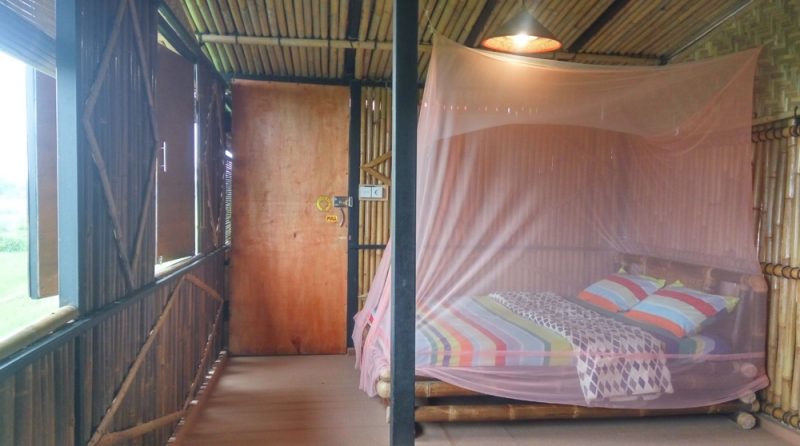 This bed and breakfast hostel is surrounded by large stretches of farms and fields in a natural landscape. It is also built in rustic style with bamboo sticks and wooden textures, that give the illusion of a rural setup. This peaceful setting would relax and refresh you completely during your stay. From this hostel, you can easily access popular destinations and recreational activities that the city offers.
These include the beautiful beaches in Gunung Kidul, rustic and ancient caves, paragliding in Parangtritis, sand-boarding on the desert, visiting the temples Borobudur and Prambanan, a catholic church built in Javanese style and several others.
Private bedrooms are available for accommodation with single and double beds. All rooms have beautiful canopy beds in hut style cottages with low-lying roofs. All of these are equipped with ensuite bathrooms. Some units also feature a balcony and exquisite mountain views. Bicycles for hire are also available at the hostel.
Address: Jogodayoh, Sumbermulyo, Bambanglipuro, Bantul Regency, Special Region of Yogyakarta
Phone: +62 274 2810650
---
Snooze Guesthouse

This is one of the best hostels in Yogyakarta because it gives you a natural retreat. Being surrounded by plants and trees all around, this hostel provides a cool and comfortable place to stay and is far away from the noise and rush of the city.
Both private bedrooms and shared dormitories are available for accommodation at highly affordable prices. A different breakfast is offered at the hostel on every morning of your stay including a bowl of fruits and tea or coffee.
Besides, there are plenty of common lounge areas at the hostel and a garden with bamboo chairs for relaxation. Also, plenty of books are available at their unique books tree library. There is also a kitchen which is fully equipped so that you can prepare your meals in your own style!
Address: Jl. Mangunnegaran Kulon No.9, Panembahan, Kecamatan Kraton, Kota Yogyakarta, Daerah Istimewa Yogyakarta
Phone: +62 812-2785-4554
---
OTU by Ostic House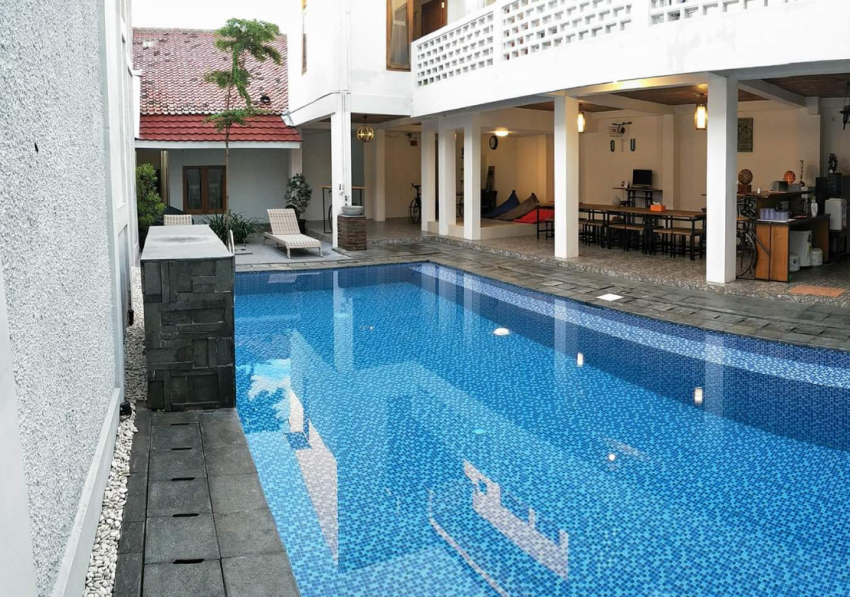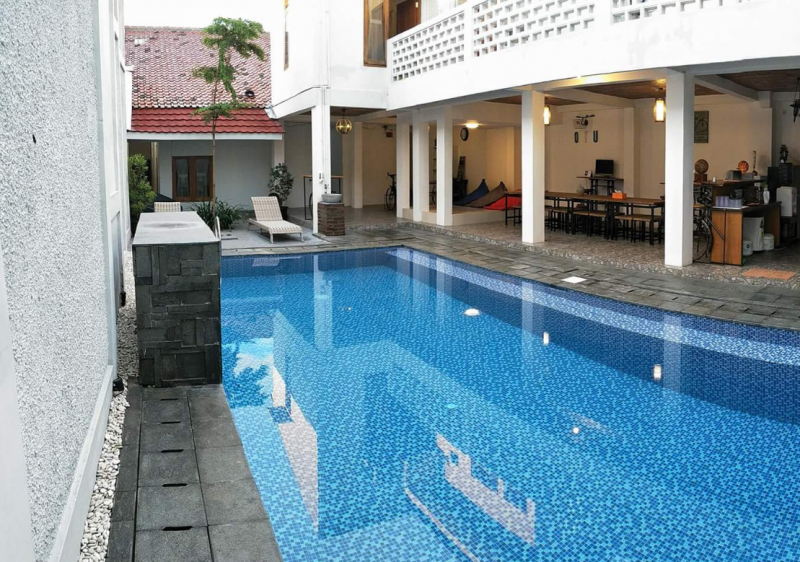 This hostel has something for every kind of traveller! It comes with an all-in-one packaged deal, making it a preferred choice of hostels in Yogyakarta among backpackers. The hostel offers a variety of accommodation options such as fun dormitory rooms with slides, dorms with large and spacious beds, private bedrooms with different capacities. So, whether you are travelling as a group or going solo, the hostel will come to your rescue, giving you the space that you desire.
All the rooms have a good quality bed, 24/7 free WiFi, air conditioning, hot showers, essential toiletries, a power socket and a reading lamp. They are also equipped with a towel, a blanket & dorm curtains to ensure privacy. Besides, the hostel features a large swimming pool, a dining hall and common seating areas for interaction and socialization. All this makes it one of the best hostels in Yogyakarta for backpackers.
Address: Jl. Prawiro Taman I Gang Batik Gringsing No. 517, Brontokusuman, Mergangsan, Brontokusuman, Kec. Mergangsan, Kota Yogyakarta, Daerah Istimewa Yogyakarta
Phone: +62 274 4282688
---
Hoz Bed and Breakfast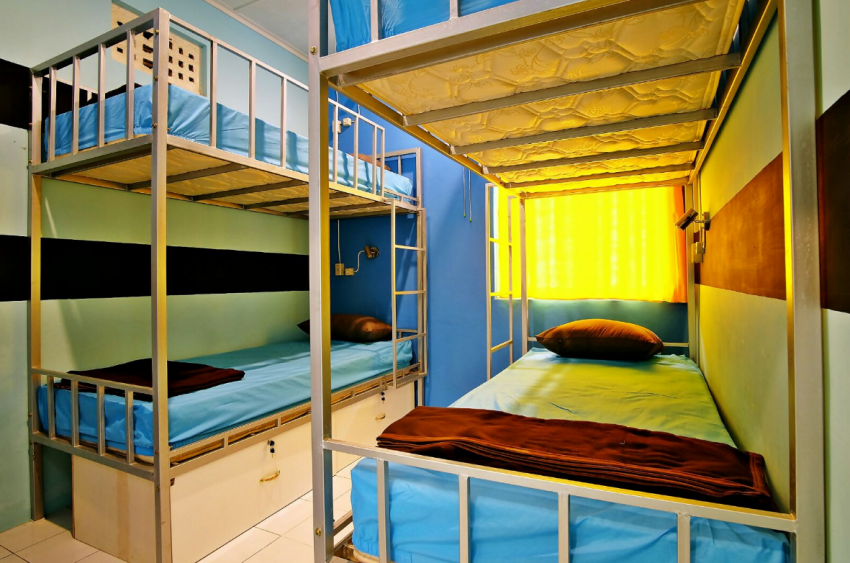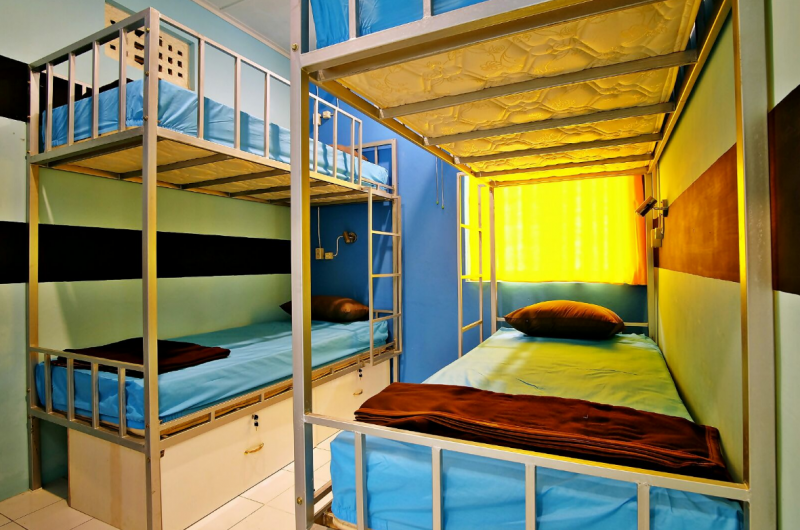 Another alternative for stopping over, this bed and breakfast makes for an excellent choice of hostels in Yogyakarta. Located amidst a village at the heart of the city, this hostel offers a calm, relaxing and comfortable accommodation for travellers. It is situated at a twenty minutes' drive from the Sultan Palace and the Water Castle and a ten minutes' drive to the famous backpacker street Prawirotaman.
Both private and shared dorm rooms are available to suit your liking. All the beds are equipped with ear plugs, a reading light and are all air conditioned. Also, there is a shared kitchen for self-catering.
Also, the room bookings include a free breakfast and a free family dinner on selected days. If you have not yet planned your travels around the city, their tours and travels desk would be more than happy to help you organize your trip.
Address: Jl. Gedongkiwo MJ I/977A, Gedongkiwo, Kec. Mantrijeron, Kota Yogyakarta, Daerah Istimewa Yogyakarta
Phone: +62 896-9558-6135
---
The Patio Yogya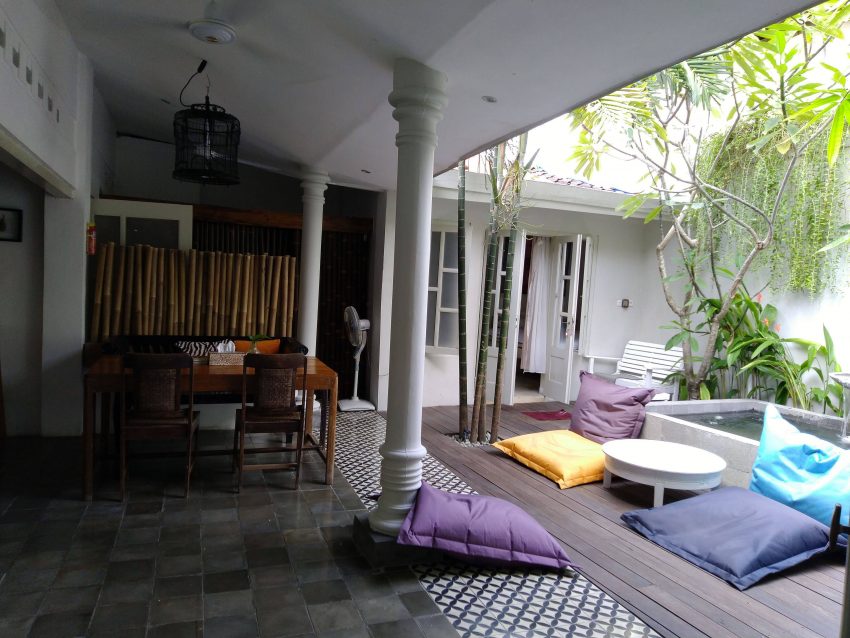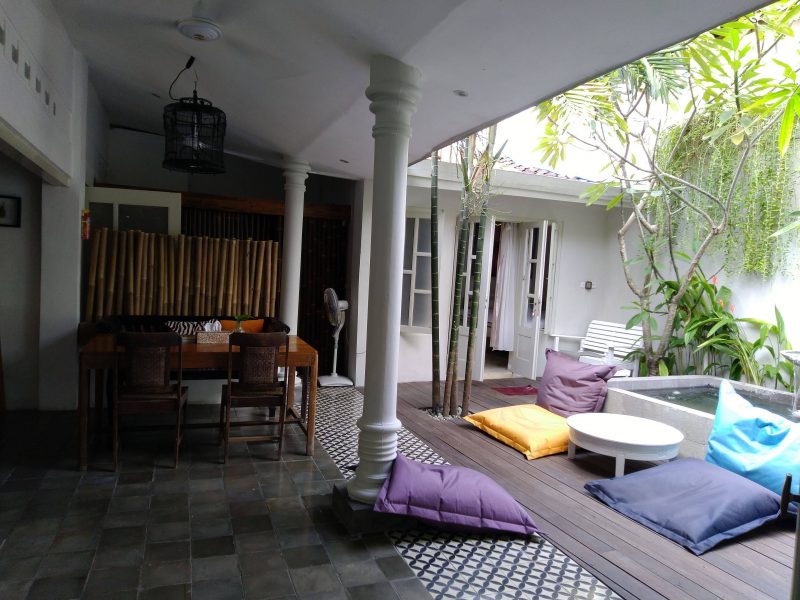 This is one of the highly rated and best reviewed hostels in Yogyakarta, for it is built inside a colonial Dutch mansion and is a heritage homestay. This hostel is most suitable for solo travellers and couples looking for an accommodation which is more on the luxurious side. The hostel has tasteful and creative interiors, decorated by local artists. This means you get to click some Instagram-worthy shots during your stay at this hostel!
At the hostel, both private bedrooms and common dormitories are available for staying. Besides, there is an onsite plunge pool or jacuzzi surrounded by a seating area with bean bags. The hostel premises are well ventilated and full of natural sunlight.
An outdoor terrace, common lounge area, an inhouse bar and café and board games are offered at the hostel. Plus, free Internet access is offered throughout the premises.
Address: 2 Jalan Kemitbumen PB II No.98, Panembahan, Kraton, Yogyakarta City, Special Region of Yogyakarta
Phone: +62 852-9010-7781
---
Alexiz Hostel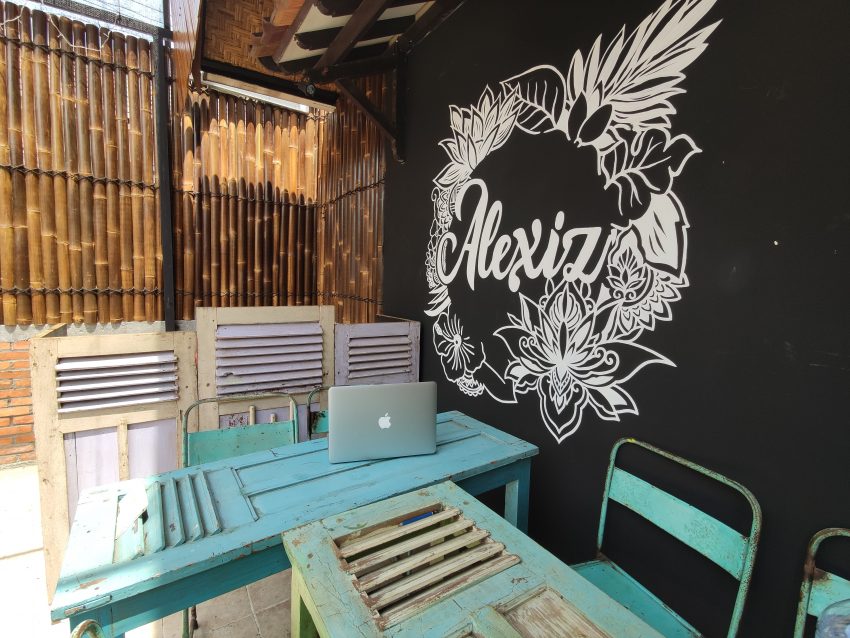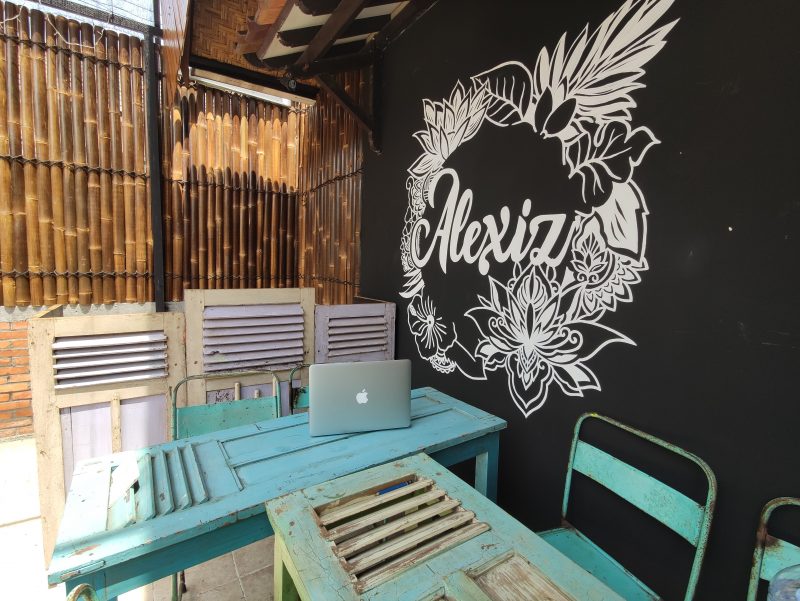 This is a very simplistic and traditional stopover option of hostels in Yogyakarta. Located on the backpacker street of Prawirotaman, the hostel is in close proximity to the Sultan Palace, Malioboro and Tamansari Palace.
Plus, the street is also lined with some great local eateries and cafés so that you never go hungry and experience the authentic local food of the city at a stone's throw distance.
Here, individual bedrooms and shred dormitories are offered for accommodation. The rooms are air conditioned and have an ensuite bathroom with hot and cold showers. They also offer male-only and female-only dorms. A reading room, an outdoor terrace, free WiFi access, board games, bicycles for hire are other facilities provided by the hostel.
Address: Jl. Prawirotaman 2 No.39, Brontokusuman, Kec. Mergangsan, Kota Yogyakarta, Daerah Istimewa Yogyakarta
Phone: +62 813-2647-6703
---
Ostic House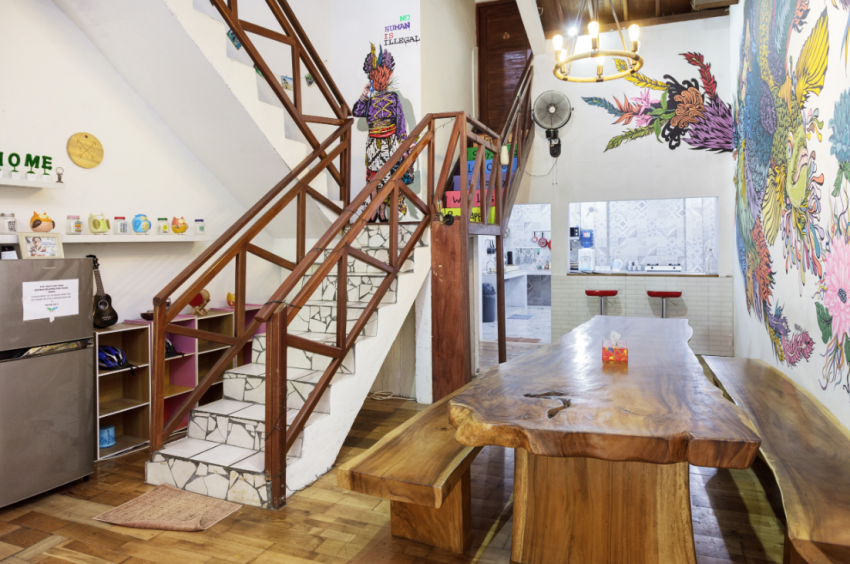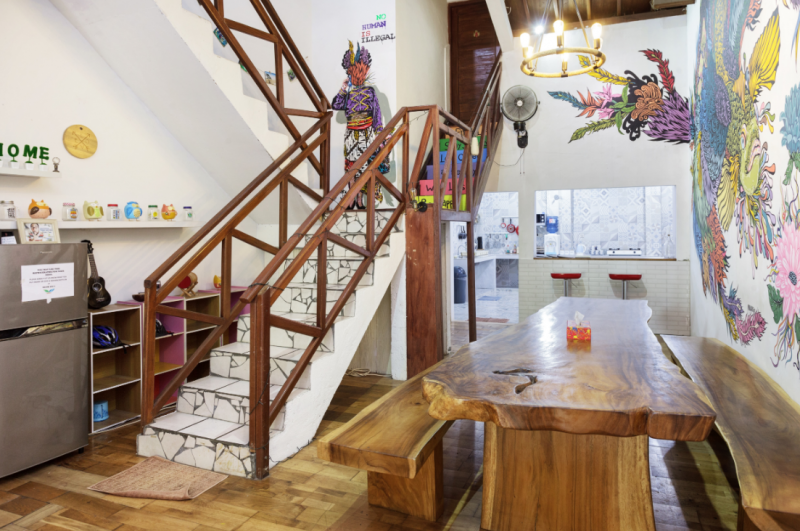 Ostic House is more than just a place to stay! It is every backpacker's paradise for it provides a wide range of recreational options for its guests. The hostel was formerly used as a painting gallery.
Today, it still retains its old artsy touch for your Instagram feeds! For accommodation, it offers shared dormitories, shared bedrooms and private rooms, with attached bathrooms. The hostel has a large and spacious common lounge area with foosball table, board games and a mini-library.
A complimentary breakfast is included with the room bookings. For other meals, a kitchen for self-catering is available for the guests. There is also a fitness centre so that you can keep up with your morning workouts. There is a common dining area, where the travellers interact and socialize over dinner or lunch.
Address: Jl. Suryodiningratan No.10B, Suryodiningratan, Kec. Mantrijeron, Kota Yogyakarta, Daerah Istimewa Yogyakarta
Phone: +62 274 378930
---
RedDoorz Hostel – Titik Nol Malioboro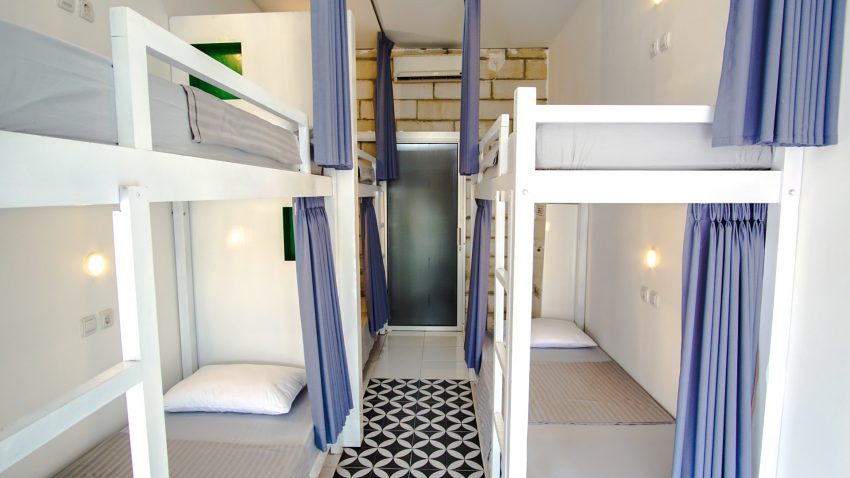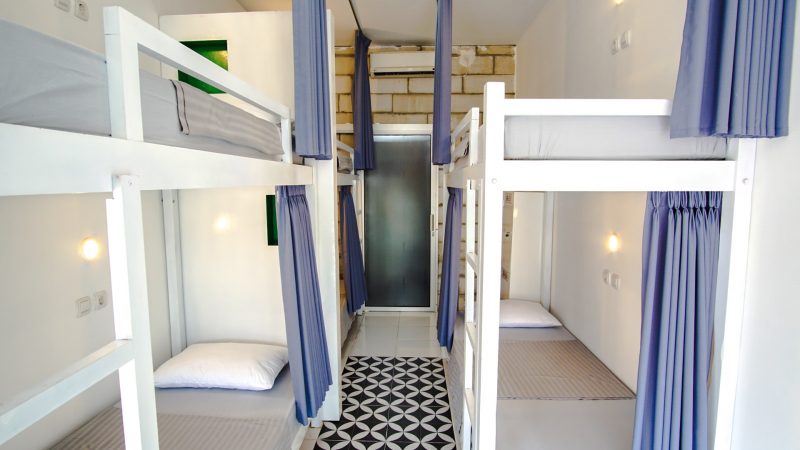 This hostel welcomes travellers from all over the world, be it solo travellers, family or friends groups or couples. The hostel provides a very light-hearted atmosphere and simplistic white themed interiors which give a peaceful and calm surroundings to stay in.
Budget accommodation is available in shared dorm rooms which are not overcrowded at all. All the bunk beds are equipped with a cushion, a blanket, a reading light, an electric socket and a dorm curtain to ensure complete privacy.
Popular leisure, shopping and entertainment options near the hostel include: Alun Alun Kidul, Keraton Yogyakarta, Taman Sari Water Castle, Benteng Vredeburg, Malioboro Mall, Gudeg Yu Djum and Warung Soto Kadipiro. The hostel is equipped with all essential modern facilities to ensure that the travellers have a comfortable and convenient stay.
Address: Jl. Nakulo No.2, Wirobrajan, Kota Yogyakarta, Daerah Istimewa Yogyakarta
Phone: +62 858-7896-7266
---
Jawajiwa Hostel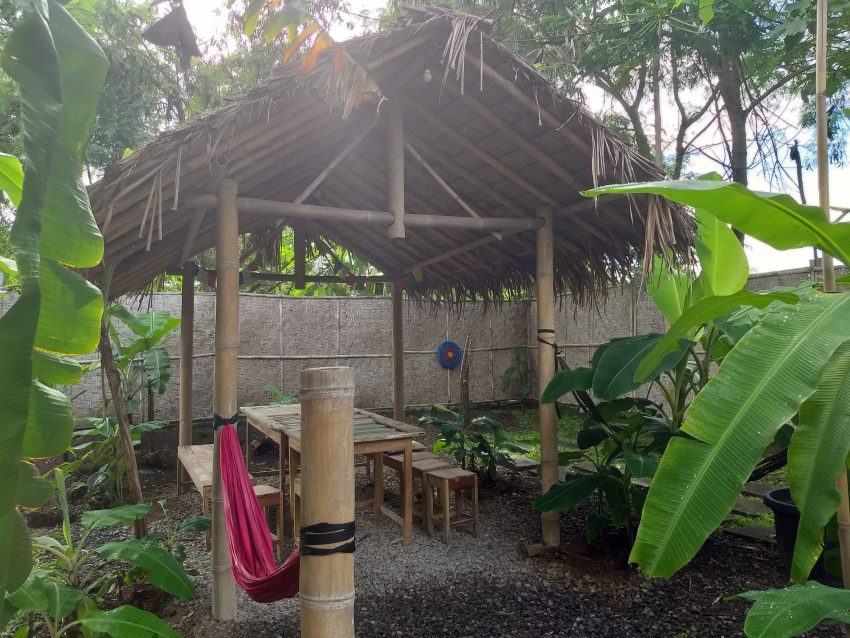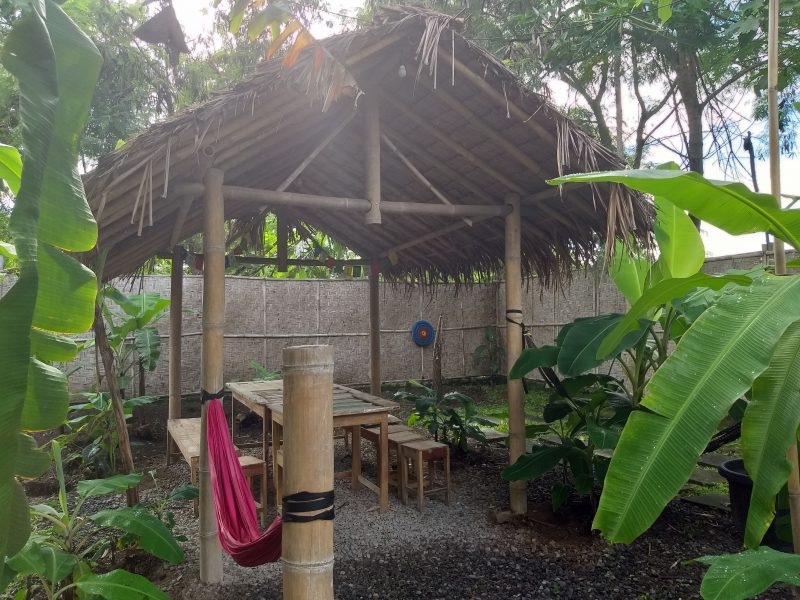 The tagline of this hostel reads, 'Come as a Guest. Stay like a Local. Leave as Friends' and indeed, this hostel is sure to give you an unforgettable experience of a lifetime along with some long lasting friendships. Set in an artist village and in the midst of rice fields, the hostel offers plenty of local recreational activities.
Private bedrooms, shared dormitories and female-only dorms are available for budget conscious travellers. The hostel has two clean indoor shower rooms with western toilets and hot water showers, as well as a fabulous outdoor shower.There is an authentic outdoor kitchen overlooking the garden as well as indoor and outdoor common areas for socializing with fellows.
The back garden courtyard offers the perfect place to sit and unwind or lay back in one of our hammocks and enjoy the tranquility, peace and calm of nature. Here, you will get 24/7 free access to tea and coffee. Plus, a fully equipped and stocked kitchen is available for self-catering.
Address: Jl. Kersan No.65, Tegal Kenanga, Tirtonirmolo, Kec. Kasihan, Bantul, Daerah Istimewa Yogyakarta
---
See you Soon! Hostel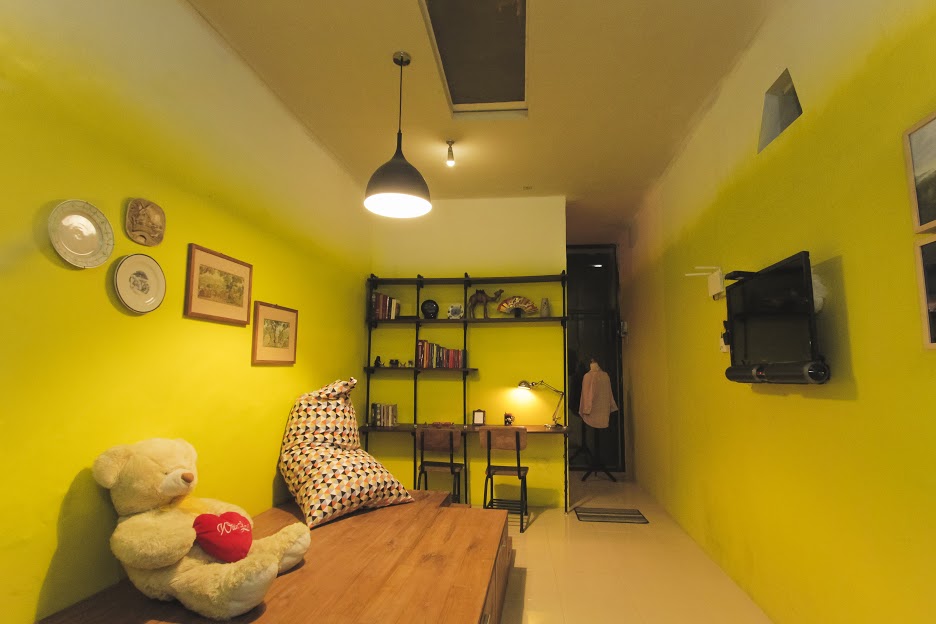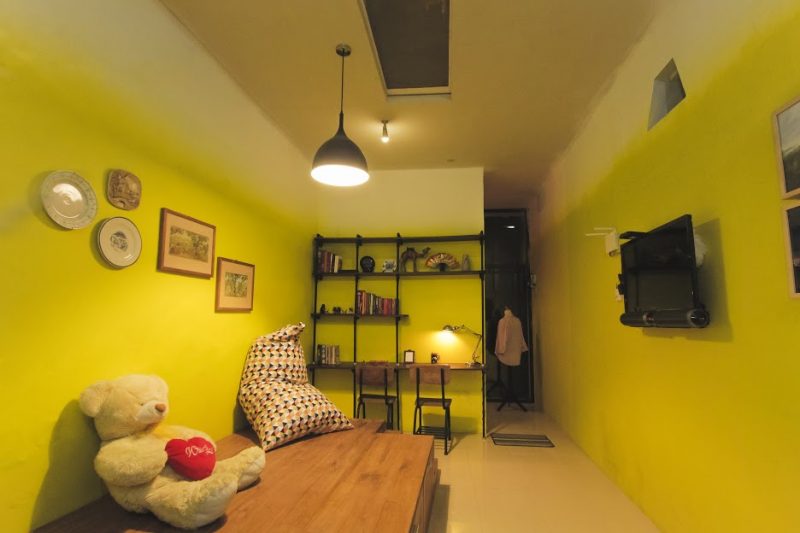 This is a small property of a capsule cabin hostel which is situated close to the bustling city centre, authentic art and culture and some of the great sights of Yogyakarta. The hostel is an artsy place for travellers to stay and has youth-inspired creative interior décor. Budget accommodation is available in shared dorm rooms with spacious bunk beds with privacy curtains.
The hostel features a large common area wherein you can sit back and relax, watch television or enjoy reading a book from the mini library. It also has a printer if you are visiting for official purposes.
Throughout the day, you get to have complimentary tea or coffee. Also, the hostel has a fully stocked kitchen with delicious ingredients so that you can prepare a delicious meal of your liking for yourself. It grants free WiFi access 24/7.
Address: Jl. Sawojajar No.25-29A, Panembahan, Kecamatan Kraton, Kota Yogyakarta, Daerah Istimewa Yogyakarta
Phone: +62 274 2872350
---
Hati Hati

This is one of the artsy hostels in Yogyakarta, renowned for its creative interiors which are youth inspired with artistic graffiti on the walls. It has attracted several travellers from across the globe and has received best reviews from first-hand travellers.
Its highly sociable atmosphere is definitely going to give you 'good laughs and good vibes'. Here, you can choose to stay in their two types of air conditioned dorm rooms – mixed and female only – or in one of their private rooms.
Besides, they possess a swimming pool, a common kitchen for self-catering, a spacious indoor garden and common lounge area for relaxation. Vending machines are also present at the hostel. The hostel exteriors are raw and rustic with thatched bamboo shades with hammocks to give you a mesmerizing experience of the real essence of the city.
Address: MG 1, Jl. Sidoluhur No.424, Keparakan, Kec. Mergangsan, Kota Yogyakarta, Daerah Istimewa Yogyakarta
Phone: +62 274 4281257
---
The Packer Lodge Yogyakarta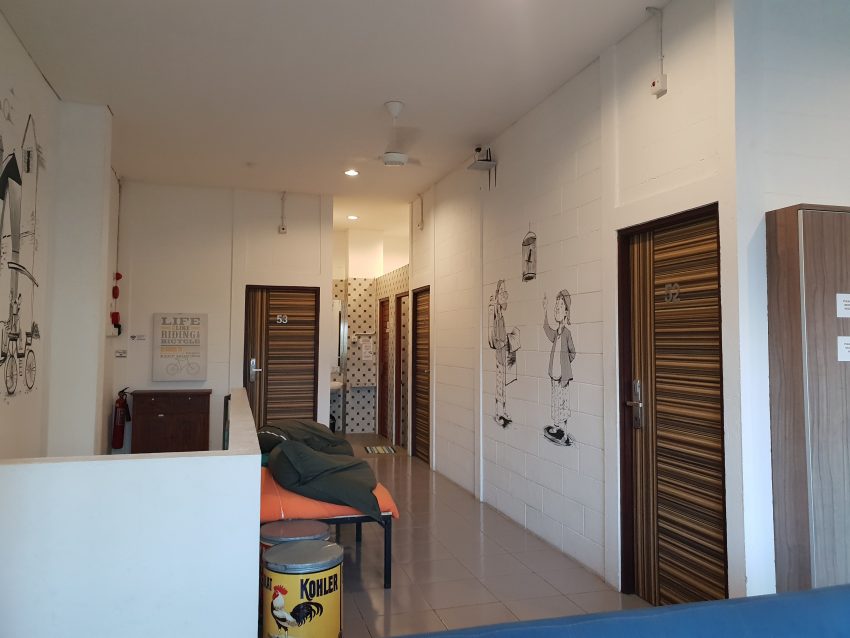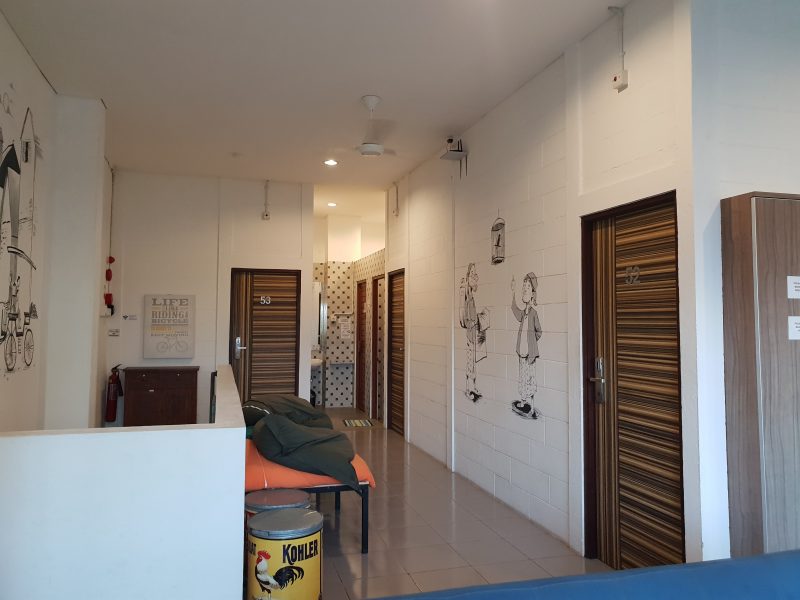 This is one of the best boutique hostels in Yogyakarta, located in the heart of the city. It is located just a few steps away from the Malioboro cultural attractions of batik making, gamelan performances, museums and Kraton – the Palace of Yogyakarta Sultan. The hostel is modernized and is yet an eco-friendly space for travellers. For accommodation, they offer both shared dorms and private bedrooms.
The other on-site facilities include unlimited internet access, DVDs and indoor games. The hostel provides a complimentary breakfast and all day long free access to tea or coffee and drinking water. The rooftop garden is a small getaway spot in itself where you can simply chill or lay back, play your own music or workout in calisthenic gym bars. The hostel boasts of a communal atmosphere, making it one of the highly preferred hostels in Yogyakarta among backpackers.
Address: Jl. Dagen No.3, Sosromenduran, Gedong Tengen, Kota Yogyakarta, Daerah Istimewa Yogyakarta 55271, Indonesia
Phone: +62 274 513872
---
These best and top rated hostels in Yogyakarta are sure to give you an unforgettable experience. Indeed, you are never going to go monotonous in this relatively small, but equally bustling city, full of culture, art and tradition.