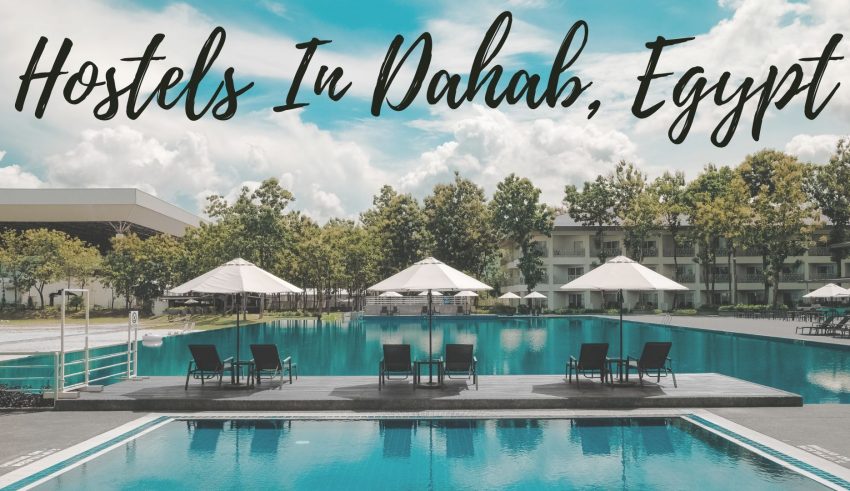 Dahab, a tiny little town in Egypt on the southeast coast of the Sinai Peninsula is one of the best diving destinations in all of Sinai. Though supremely underrated because most divers consider it to be a little out of the way, it is definitely a spot worth visiting if you want to add to your diving experiences and check another great spot off your list!
A 100 kilometres north of the more famous location of Sharm-el-Sheikh, it borders the Red Sea, ensuring you gorgeous views of the ocean. It is also extremely safe to travel to, and even a lot of solo female travellers hold the place in high regard. So add a little flavour to your travel plans; make yourself a path apart from the ordinary and head to Dahab for a unique experience!
And while you're making your plans, these are our favourite hostels for all you backpackers out there!
Here are the Best Hostels In Best Hostels In Dahab, Egypt:
Golden Dahab Dorms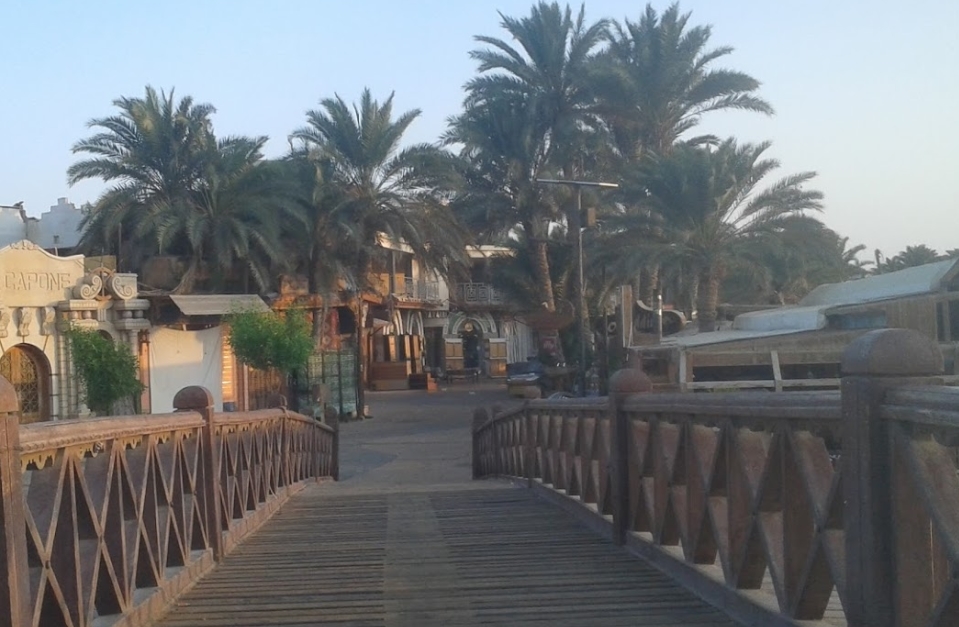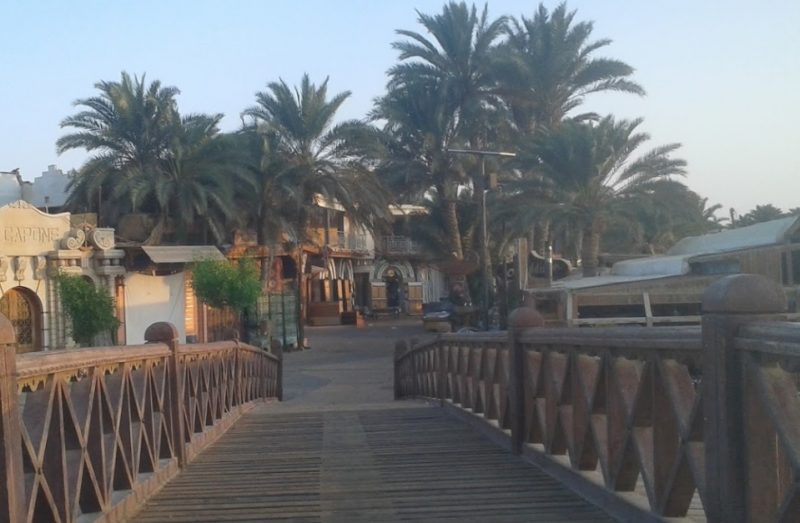 Situated only a small walk away from the beach, Golden Dahab Dorms is one of the highest rated hostels in the area! Under unobstructed blue sky, and a large terrace, it guarantees you beautiful views of the ocean and the sky for miles.
Their location makes them close enough to the town and all its necessities without being too caught up in the hustle and bustle of the crowd; a great balance between the two.
They feature all female, and all male dorms of four, allowing everyone to have their space without too much of a crowd, and the dorms have been described by many as almost like a hotel room.
They even offer private rooms in case you prefer a little more privacy. They also feature an indoor pool that is certainly a plus all their guests enjoy. They offer a splendid, free breakfast, and despite their faraway location have free wi-fi to offer! With a great average rating of 9.4, their guests have had great experiences staying with them, and would definitely consider another trip under their hospitality.
Address: Lighthouse Road, قسم سانت كاترين، South Sinai Governorate
Phone: +20 69 3641309
---
Sinai Gate Adventure Hostel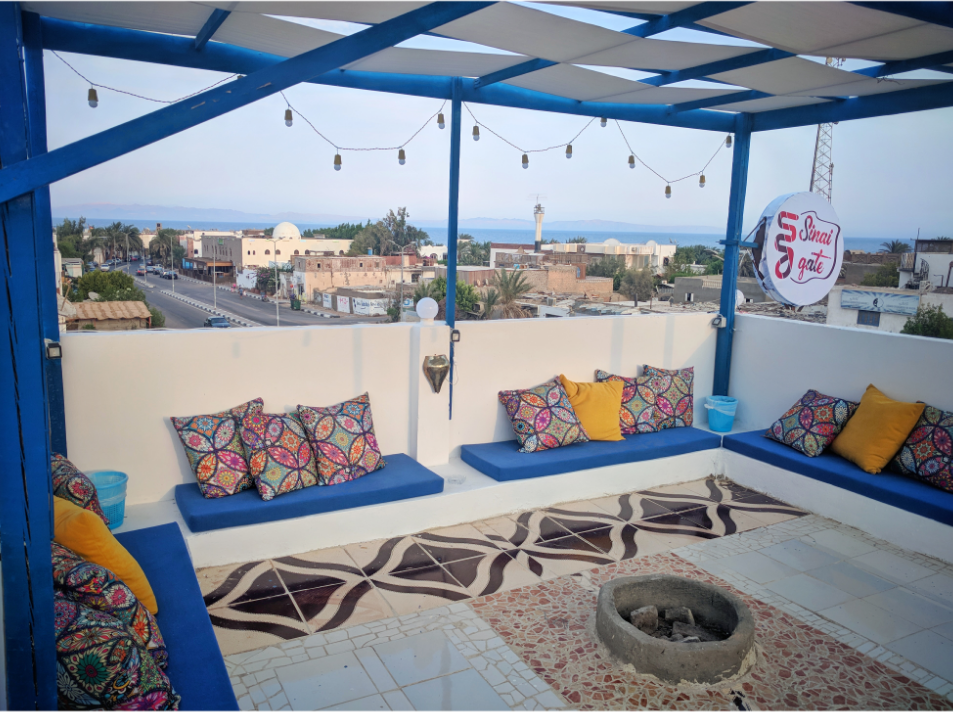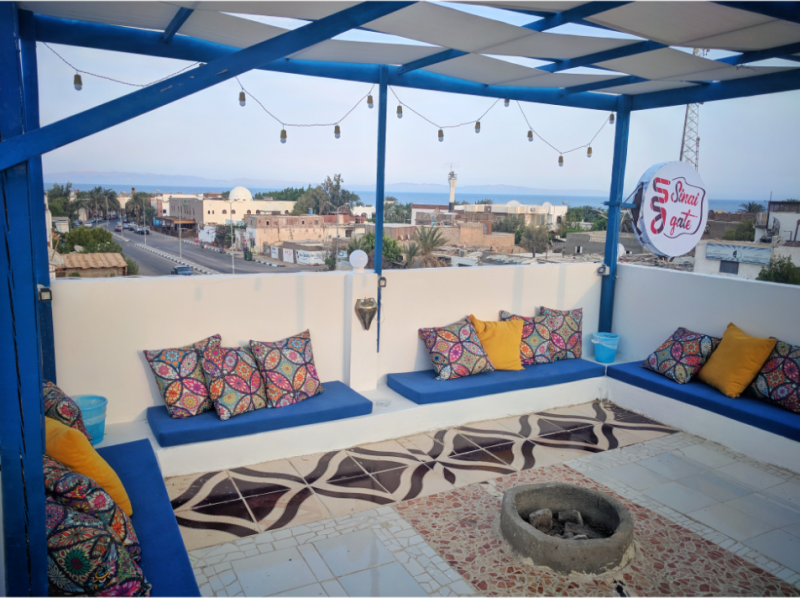 Sinai Gate in Dahab is one of the extremely popular living options for those who visit Dahab first and foremost for the diving experience. Situated within a 2-kilometre radius with multiple other diving resorts and centres, Sinai Gate offers its guests free diving courses, diving tours, and also arrange hiking, rock climbing and other adventurous activities that make your stay that much more fulfilling. And if adventure sports are not your thing, you can simply stroll down to the beach and visit one of the many restaurants and bars in the area!
They offer 6-bed mixed dormitory rooms, and private rooms at great prices! Additionally, each room has its own private bathroom so you don't have to go through the trouble of a public bathroom! Especially popular among couples, it's been rated a solid 9.6 on booking.com, proving that your experience will be pleasant.
They also offer free continental breakfast, and bike and car hire on site, which is super convenient during your stay! P.S. They even allow pets for free, and that's amazing for all you folks out there who don't want to leave your beloved furry friend alone.
Address: Fanar st، Lighthouse Rd, South Sinai Governorate
Phone: +20 106 633 0415
---
Jowhara Hotel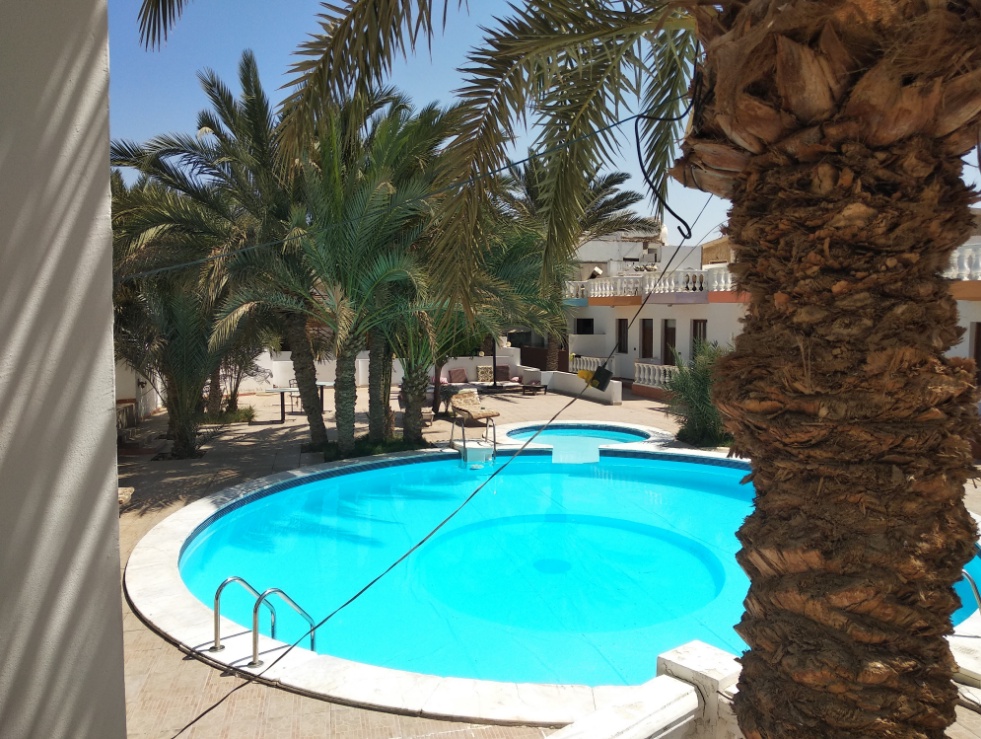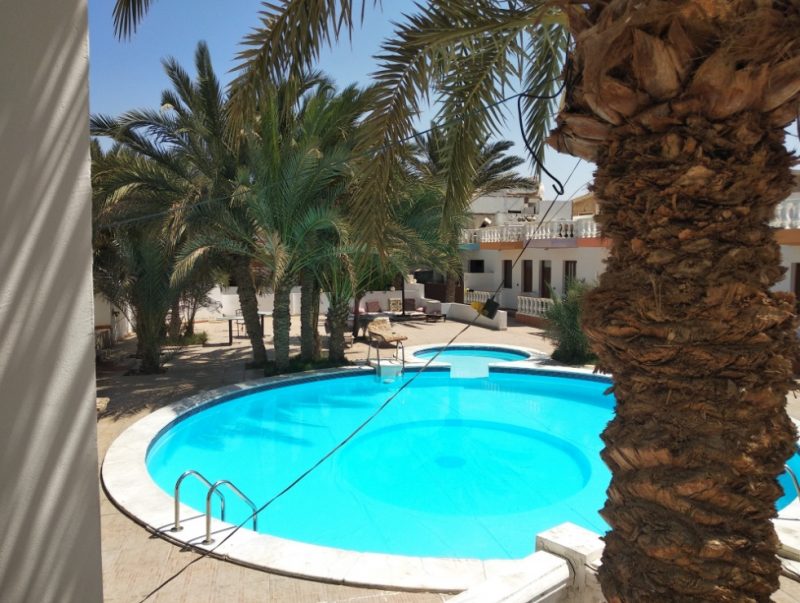 We know, we know, but before you say Jowhara Hotel isn't a hostel, let us just say that Jowhara is an amazing living option that has an array of private rooms to offer you, from single beds, to triple sharing rooms, and also dormitories for all you backpackers out there! With the infamous diving site, The Blue Hole being a mere 10 minute-drive away, and Wadi Gnai, a perfect spot for some rock climbing being 20 minutes away, Jowhara Hotel has an amazing location.
The friendly staff are more than eager to help you plan your adventurous excursions around the area, be it safaris, trekking, kite surfing, wind surfing, boat rides, spa treatments, horse riding, and still more!
They even offer you the option of booking a traditional Bedouin dinner near the mountains or a lagoon, which is a sweet plus that comes with your stay! With an airport shuttle, free parking, free wi-fi, and a free breakfast of Egyptian and continental cuisines, Jowhara Hotel is definitely a good choice for your trip to Dahab.
Address: ش المشربة ، المسبط، Dahab
Phone: +20 69 3640079
---
Happy Camel Oasis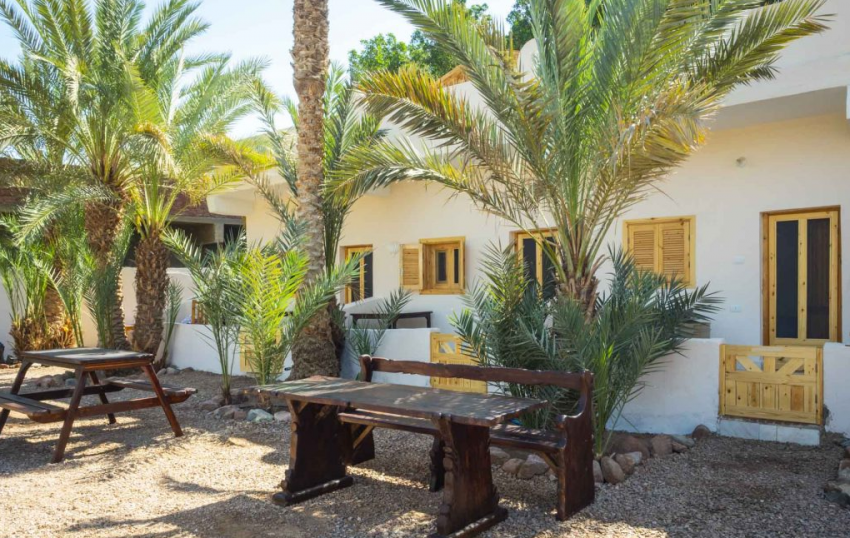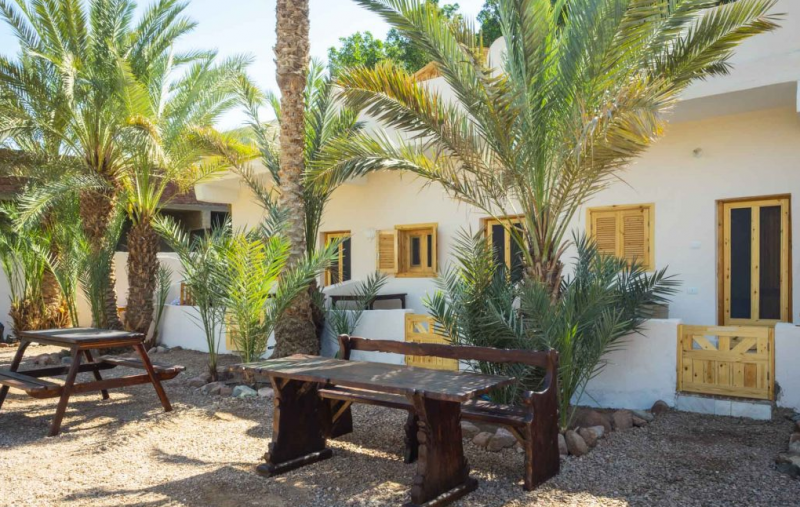 Happy Camel Oasis is yet another living option that offers private rooms, shared rooms of up to 3 beds, and B&Bs that cater to up to 4 guests. Located near the middle of Dahab, it is close to both the beach, and a number of restaurants, cafes, and dive-shops, without being in the centre of all the hustle-bustle and the crowd.
Described by many as the best value-for-money option In Dahab, it offers a variety of rooms, ranging from shared accommodation with public bathrooms to private rooms with en suites and balconies. Their clean, Bedouin style common areas give you a lovely atmosphere to meet and talk to other travellers and backpackers while on your trip.
You are more than welcome to approach the friendly staff and ask them for help in arranging snorkelling trips, hikes, and more. An ATM on-site, it is extremely convenient should you ever need to withdraw any money for your excursions around the area.
With a lot of guests having great experiences and even wishing to be back and stay with them again, we can ensure that you're going to have an amazing time and take a lot of happy memories back with you!
Address: Peace Rd, قسم سانت كاترين، South Sinai Governorate
Phone: +20 115 351 8495
---
Deep Blue Divers, Dahab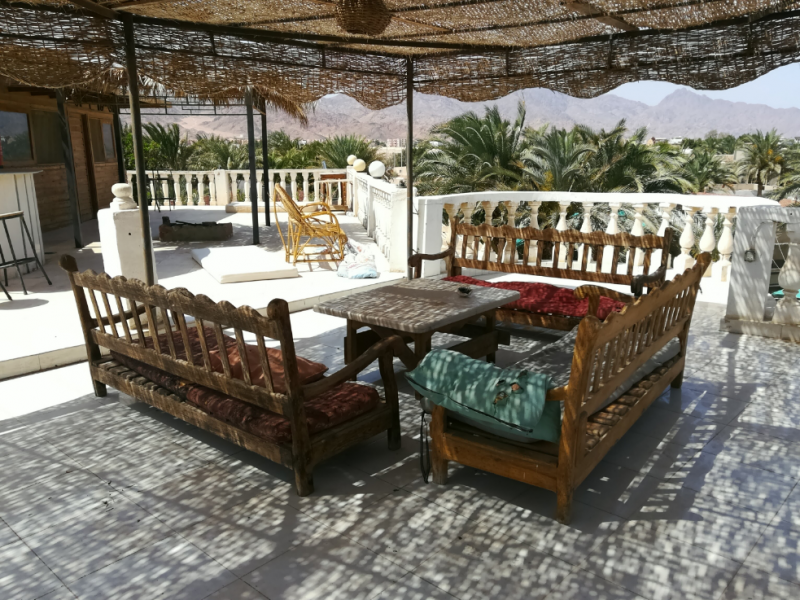 If you're a hardcore diver, and your first priority visiting Dahab is checking out all their great scuba diving spots, Deep Blue Divers is the way to go. Located within 100 metres of the Red Sea, a supermarket, and a couple of restaurants and cafes, Deep Blue Divers offers you all that you could possibly need on your backpacking trip.
Offering simple yet comfortable accommodation, Deep Blue Divers gives you the option of choosing between a variety of dormitories, some with shared bathrooms, and some with private en-suites if that's what you're looking for.
Certified by PADI as a 5-star dive centre, they pride themselves on giving you a professional, authentic, and awe-inspiring diving experience. They even offer PADI courses for beginners, and guided tours where they'll take you around the most famous and scenic diving spots ensuring an experience you will never forget.
While booking yourself a spot, you can choose between a combination of a stay and diving courses and tours, or separately; whatever your fancy may be, all at prices you simply can't beat.
Address: 34 POB, South Sinai Governorate
Phone: +20 122 113 4668
---
Conclusion
And with that we come to the end of our list! So, head to Dahab and you're going to find yourself a gem of a place that'll give you a number of experiences you'll never forget!
Think we missed out on any good hostels? Message us! Or even contact us to tell us of your time in Dahab, living at any of these hostels. We'd absolutely love to hear from you!