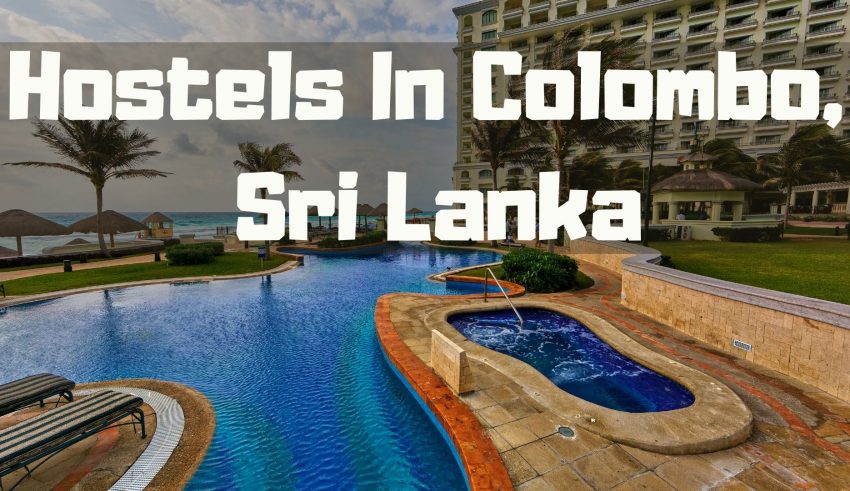 Colombo, the vibrant, bustling capital of Sri Lanka doesn't find itself on a lot of lists when it comes to top destinations of the country, but that's just what makes it the ideal travel location for so many of you backpackers and travellers! Having to dig deeper, and sense the beauty in a place where a lot of people see none is half the fun that comes with knowing how to enjoy yourself, and experience a place!
Sizzling evenings, street vendors on Galle Face Green, the musical nights on The Pier, National Parks for those that love the wild, there's a lot to do if only you look, and you should definitely consider ticking Colombo off your list if you ever visit Sri Lanka. And while you're there, these are some of the best hostels you could stay at to round off your experience with a bang!
Here are the Top Ranked Hostels In Colombo, Sri Lanka
Bunkyard Hostels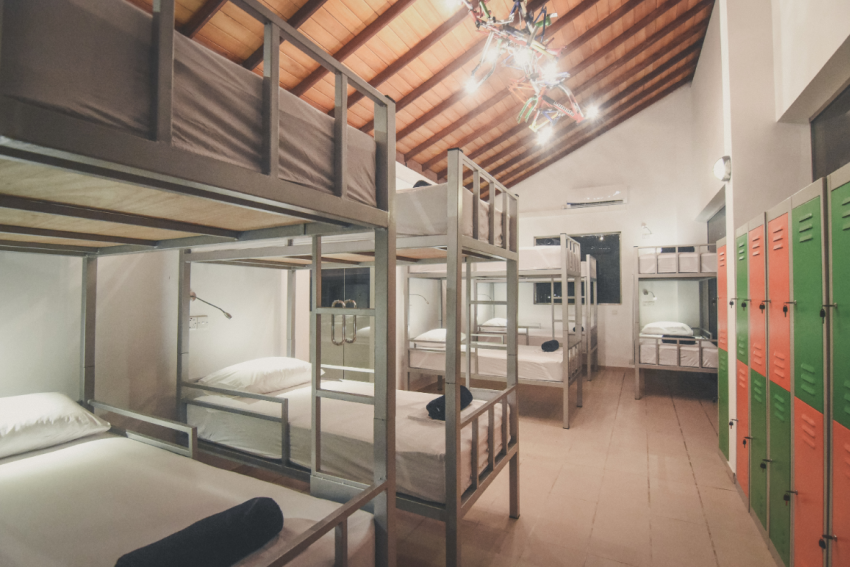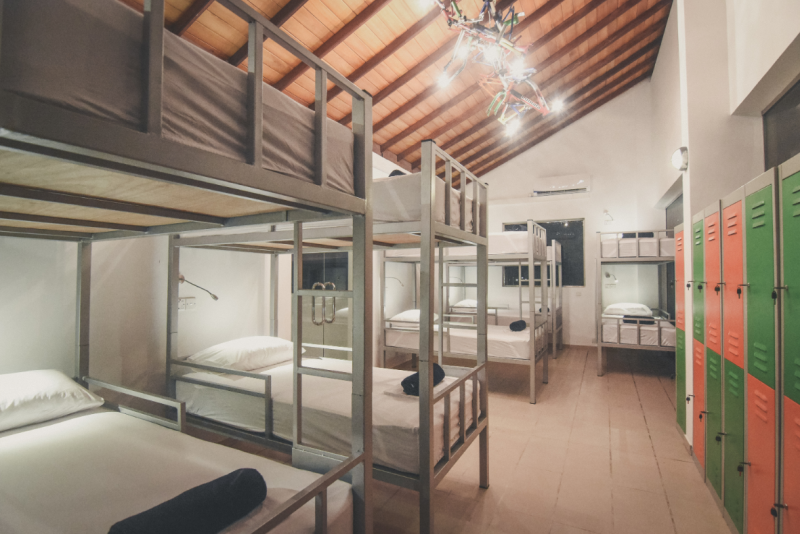 If you're looking for a funky little place with some great vibes, Bunkyard Hostels is the way to go! Situated in the centre of Colombo, in what's known as Colombo 07, Bunkyard Hostels offers you the peace, quiet, and safety of a residential neighbourhood, plus, with is great central location, it's only a walk away from most of the city's bustling joints! Restaurants, cafes, ATMs, bars, you name it, and it's within walking distance.
The get their name "Bunkyard" from their Bunks + Junkyard concept, upscaling junk items to give the place a truly unique appearance! The chill atmosphere of the Bunkyard Hostels makes it the perfect place to stay, whether you're there with your friends, or if you're a solo traveller looking to make new friends and share your travel stories!
Other perks of staying here include free breakfast, free wi-fi, free parking, an airport shuttle service, an open library if you ever have a rest day in the middle of your travels, and the 8 different types of living options they offer, ranging from standard family rooms, to 8 bed dormitories. They also offer dormitories only for women which makes you feel that much safer and more comfortable if you're a female traveller!
But, the popularity of Bunkyard Hostels makes it a hard catch since it's booked so often. So, if you're planning on spending a few days in Colombo, check them out and book yourself a place soon!
Address: 20A Guildford Cres, Colombo
Phone: +94 77 730 2865
---
Island Hostels

Again, situated very close to the centre of the city, a mere 500 metres away form the U.S. Embassy, Island Hostels is one of the most popular places to live among travellers and backpackers!
Featuring inviting, capsule-like sleeping living spaces that maintain your privacy, Island Hostels is definitely a unique place to stay. But you also needn't fret about the capsules giving you less space, because on top of being surprisingly spacious (with very comfy beds, might I add), you're also given a private locker of your own if you need to keep away your things without any fear for their safety! They have the option of dormitories with a shared bathroom, and even some with a private bathroom so you can take your pick, all at unbeatable prices.
They also feature a sleek swimming pool on their property if you want to take a dip during your stay, and that definitely makes us more inclined towards the Island Hostels! Plus, its great location makes it extremely easy to visit supermarkets for your needs, and any get access to public transport, be it buses or tuk-tuks.
They also feature a games room, and provide evening entertainment in the form of live, music performances that truly enliven and brighten the atmosphere of the place.
Address: No: 30 Sea View Ave, Colombo
Phone: +94 77 697 1647
---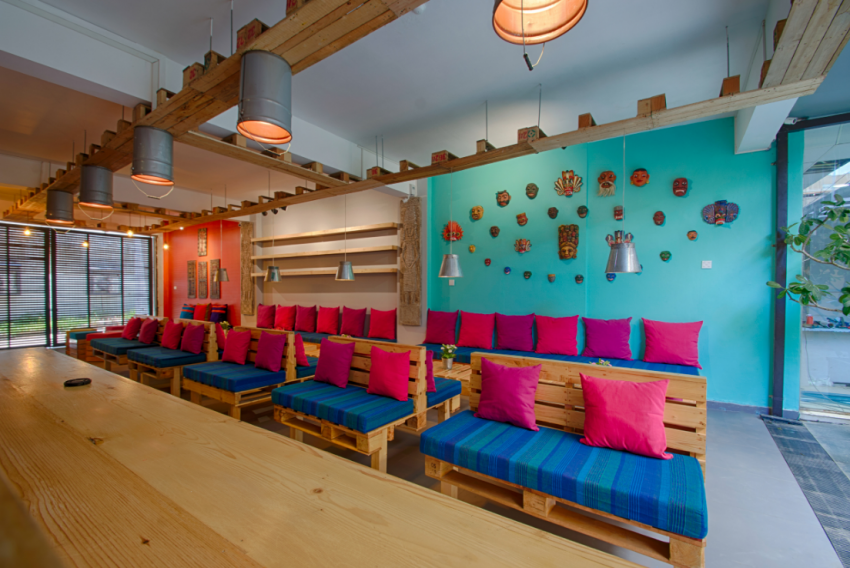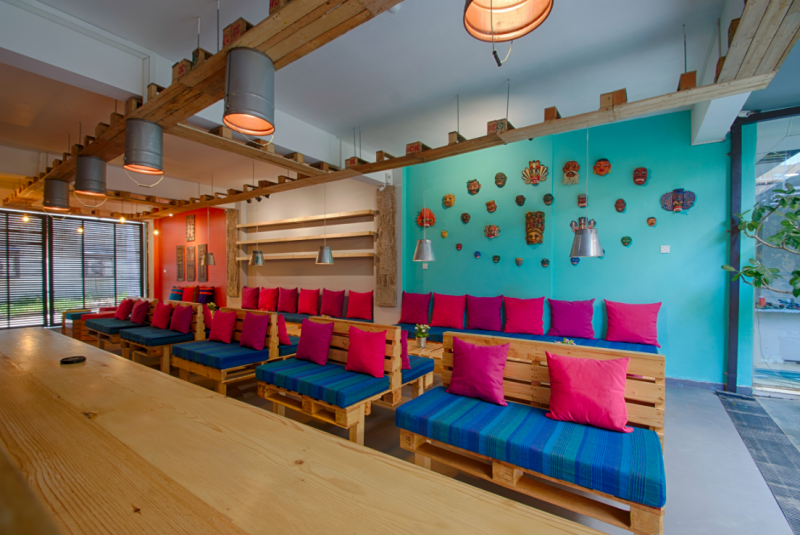 Extremely popular among travellers from all over the world, My Little Island Hostel is located around 2 kilometres from Galle Face Beach and Galle Face Greens. It offers air-conditioned rooms, with the dormitories having a separate curtain for each bunk bed to maintain the privacy of its guests. The beds are extremely spacious themselves, and each guest has access to their own charging sockets and lamps, which is super important!
There is free wi-fi throughout the property, and the guests can enjoy a vegetarian buffet breakfast at the hotel. The on-site restaurant offers delectable local, and Asian cuisine for breakfast, brunch, lunch, and dinner!
Another really interesting thing about this hostel is, is that it started off as an express laundry service for backpackers! That service is still open to travellers, including those who don't stay at My Little Island Hostel.
One thing that proves to us just how great this place is, is their loyal customers. My Little Island Hostel has the greatest number of regular customers who choose time and again to spend their time here! So, if you ever plan to visit Colombo and choose this lovely hostel for your stay, you can be ensured of a great time!
Address: 594/1 Galle Rd, Colombo
Phone: +94 77 995 0503
---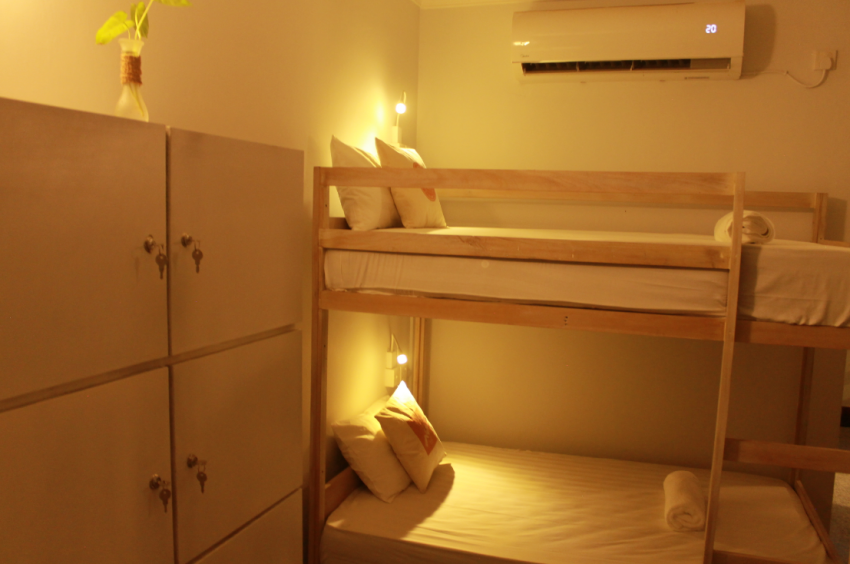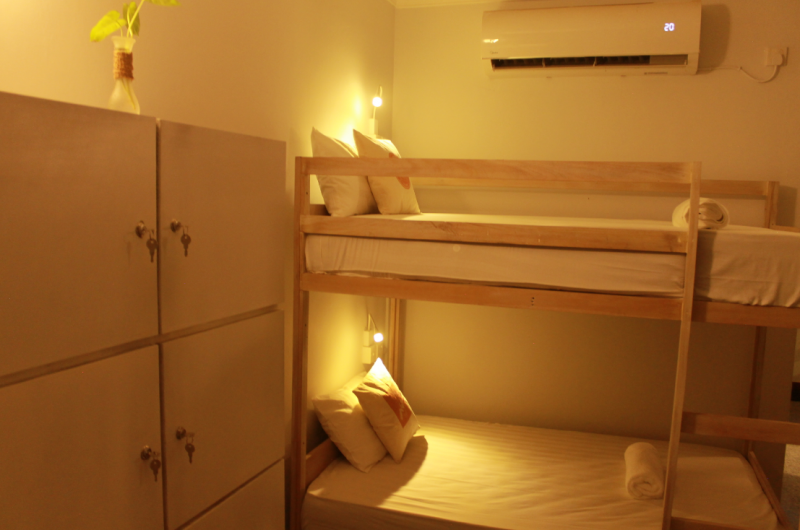 Right at Marine Drive Beach, Layover Hostel is another really popular hostel among travellers. Their proximity to the beach gives you the perks of being within walking distance of a number of cafes, restaurants, and bars, serving food from a variety of cuisines! Just ask the front desk about where you can find the best local eats, and they'd be very glad to help you!
The location is amidst the hustle and bustle of the city, and yet the hostel with its cute little garden offers you peace and tranquillity after a tiring day of site-seeing, or a tiring flight.
The rooms in the hostel feature a warm, minimal design that is decluttered, and inviting. Each room is air conditioned to beat the Colombo heat, and each bed has its own charging point, reading light, and fluffy towel atop plush mattresses.
They also offer free wi-fi, complimentary breakfast of mixed cuisines, and a wonderful atmosphere where you can join a community of travellers and meet some great new people, make friends, and share stories and laughs.
(Also, no shoes are allowed indoors and that ensures that the constant flow of people in a beach city doesn't dirty up the area, and honestly, that's a great plus.)
Address: NO 6 Rheinland Pl, Colombo 00300, Sri Lanka
Phone: +94 77 075 7575
---
CityRest Fort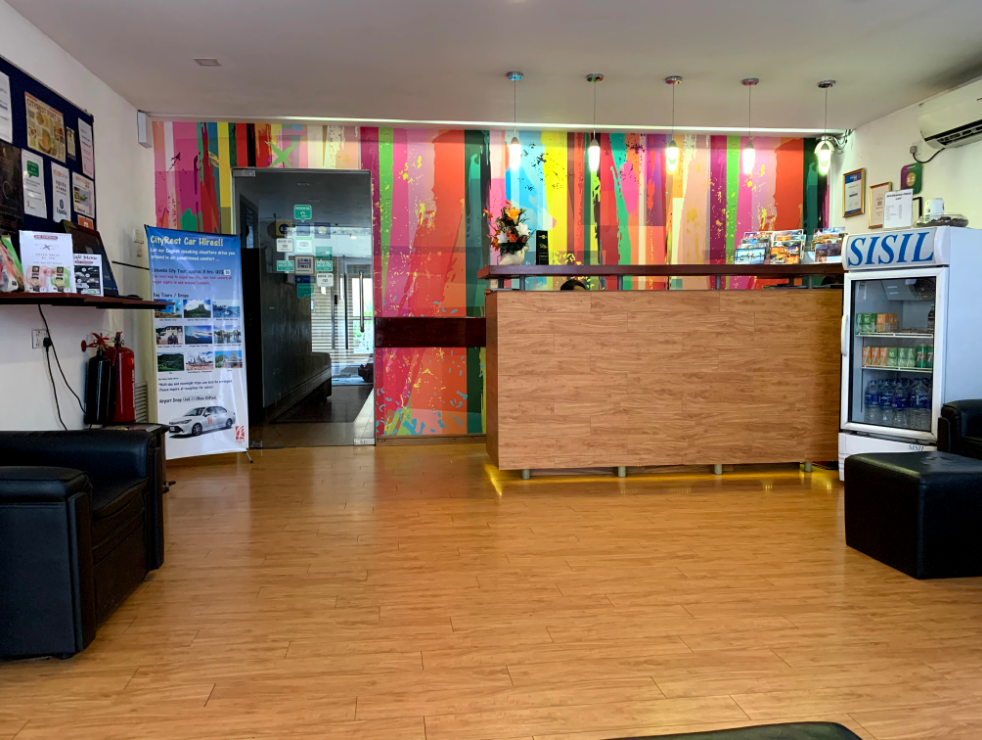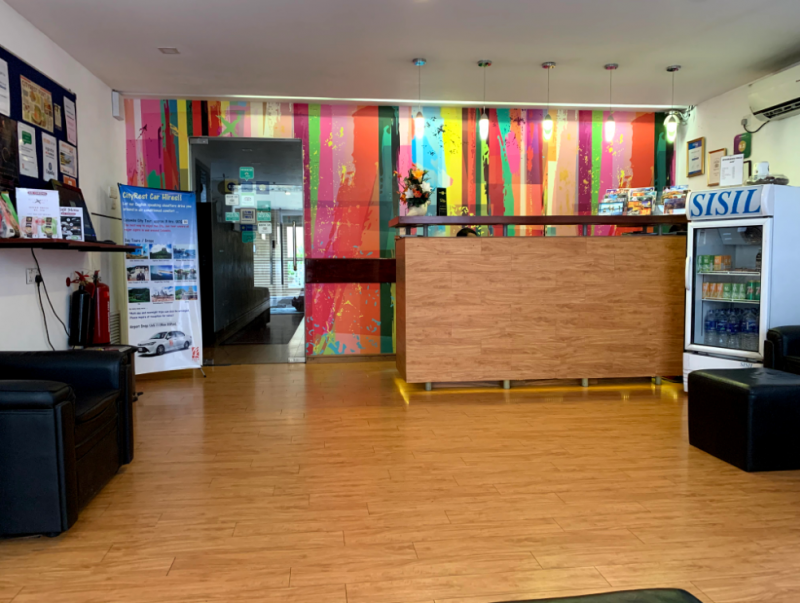 Known across websites as the hostel with the best wi-fi (traveller verified. We know how important that is), CityRest Fort is the last but not least on our list! The extremely helpful staff greet you with cold drinks and wet towels upon your arrival which immediately lifts one's mood in place as hot as Colombo. You're also given your very own toiletry pack with shampoos, conditioners, soaps, combs, razors, and whatever else you might possibly need.
They offer both, dormitories and private rooms, with the shared lounge having a television, and also a library! The property is air-conditioned throughout, and even has a terrace and a café. The hostel also offers public computer terminals for the guests' needs.
The location of CityRest Fort makes it all the more viable, since it is situated in the centre of Colombo and gives their guest easy access to a lot of famous temples, tours, and city walks.
Choosing CityRest Fort will also give you some really great complimentary breakfast (trust me, it's really good) before you head out on your way to tour the city!
Address: 46 Hospital St, Colombo
Phone: +94 112 339 340
---
And that concludes our list on what we think are the best hostels in Colombo, Sri Lanka! So, pack your backs and tick another country off your list, and stay in one of these great hostels. But only after the pandemic wears off, for obvious reasons. Until then, stay safe, and don't forget to let us know if we've missed out on any hostels, or if you had a nice experience living at one of these.