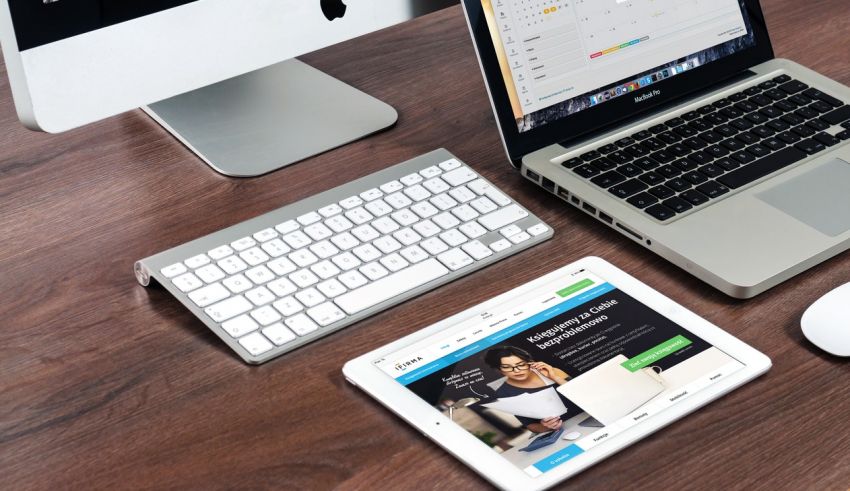 Want to hire a graphic design company to develop new, fresh and crisp creatives for your company? There is an old saying, "Don't judge a book by it's cover". While that statement might hold some semblance to people. With businesses, first impression is might be the last. Your company's visuals define your business more than you think it does. Think about it for a second…
Close your eyes and imagine. What's the first thing that pops into your head when you hear the name 'Google' or 'Samsung' or 'Apple'. Did you see a doodle, a strong metallic font and an Apple which was bitten off? Understanding how definitive and elemental the value of Logos, fonts and visual consistency is their job. This is why you need a good, creative and intuitive graphic designing company. To do those things for you because you can't do everything yourself.
What is a good graphic designing company you might ask. Well, there's no single definition. A good graphic designing company will create something unique. That's true. But a great one will create something unique with your inputs in mind. Quite often, the most successful companies with the best designs are the ones that take every dimension of the company into account while designing. The history, origins, ethos, vision and many other elements make up a company. Going back to the earlier example, why do you think all the earlier designs fit their companies best? (Apple, Samsung and Google)
Well, now that the spiritual mumbo-jumbo is over with. Let's get on with the list.
Here's our list of the "Best graphic design companies in India" hope it's worth your time: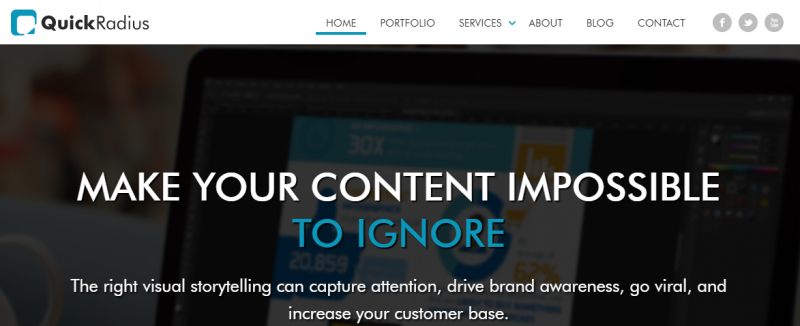 Quick Radius is a one-stop shop of skilled designers, animators, and writers. They create engaging infographics, entertaining gifographics, motion graphics, ebooks, presentations, and more. From content research to core messaging, from outline to customer-interaction, we provide a creative solution for everything.
A dynamic data visualization company. From concept to end deliverable, we find ways to tell your story and share your information in an attractive and engaging way.
The first and obvious thought that hits your mind might be: that's a cool name, right? Yes, it is. Verve Logic is a web designing and web development company based out of Jaipur, Rajasthan. (Bet they can't liquid cool their PCs because…no water. Get it?). They are well received in every aspect of their work. You just need to go check their ratings on websites such Facebook, Freelancer, Clutch, etc.
They are a team of 80+ talented designers who work in the fields of software design. Some of their services are Logo Design, SEO, E-commerce, app and web development. So, when it comes to your digital presence, they will pretty much see you through till the end. If they're not in your city, don't worry. They work in an offshore work model and design for companies overseas as well. I.e. they develop for companies at long distances and have no issues at communicating, ya dummy. You're welcome, btw.
Some of their clients involve well known brands from different industries. Like ICFAI, Multi fit, Earthen Nest, Thugle, etc. Verve Logic has received 5 star ratings from all their clients (Unlike a cab company I won't name) Mostly praising their good work and creative designs. If you're interested, check out their website.
---
This is a bar lower in terms of creative names. I know. These days, you put the word 'Crafts' behind anything and it becomes a company. Needless, criticism aside, 'Communication Crafts' is a great graphic design firm by the looks of it. They do a lot of digital work including web development, Mobile app development, etc. CC is mainly a branding and advertising agency based out of Ahmedabad, Gujarat (Pronounced: Guj-aaaah-raat, Motaben!).
After a heavy dhokla n' chai breakfast, these talent bunch of advertisers and designers get hard at work. No, seriously. They have received many accolades about their work ethics, professionalism, timely work and uniqueness. (That is, not in terms of their brand name)
Some of their biggest clients involve the likes of Navneet, IMS Dabbawalla, Marwadi University (can't make this stuff up), Colgate, Zaveri Reality, etc. It's a huge list of successfully serviced clients and I commend them for it
One thing's for sure…If you hire them, you won't have to worry about a thing. Sab Majama Che!
---
Multia is a municipality in Finland. It is located province of western Finland. Wait. Wrong Multia.
This Multia is a creative digital agency. They have over 10 years of experience in the fields of design, technology and marketing. They usually work on more small scale, intimate and personal projects (something they pride themselves on). Damn perfectionists
While they're not having an argument about which side of the toilet paper is ethically the right side to wipe with, they're designing great websites. One look at their website and you will know that they are not excramenting around. They seriously know what they're doing and they're great at it. Much like their work portfolio, their website feels intimate and well polished.
Some of their clients have been companies such as Multiversity, PalmLeaf, HPS, MahindraComViva, York Motors, etc. These are some of the best corporations and startups that you will come across. Everything about their aesthetic understanding was perfect to me when I visited their website and read about them.
Everything was perfect, until…I found out they were from Pune. Sad.
---
Also Read: 10 Best Web Development Companies in Dallas, Texas (2021)
---
StudioTale is a page out of a slightly different book. A book in the same section but like a different book. It's like a detective genre novel but not written by Sir Arthur Conan Doyle, like Batman: The Killing Joke. I don't understand how libraries work. You get my point!
They are one of the best firms to approach for 2D animation explainer videos. Like the ones you'll see on YouTube, with a witty voice over. Just like the painstaking process of 2D animation, their landing page takes a lot of time to happen. You could go to Gujarat (Pronounced: Guj-aaaah-raat, Motaben!) and hire CC personally and come back. Their page would still open after 5 mins.
But to be fair, they're not a web designing company. Not primarily at least. I hope.
What you find on the other side will open your third eye. Gorgeous and colourful visuals drawn in unique and intuitive ways. Just by looking at their website, you can hire them to do your graphic design work.
They are a digital animation and ad film studio based out of Hyderabad, Telangana (Fact: second lowest education budget in India). Which is not a reflection on their work, because they're great. Expect web development. Don't hire them for that.
---
I think if lighting and cats for some reason when I see this name. Shame. They just use one.
Power is a marketing and advertising firm started out of Louisville, Kentucky. They dabble in all areas digital. From trends like AR, VR, AI to your SM channels planning. They truly cover all bases when it comes to marketing you or your brand. Leaving no stone unturned.
A company that is 40 years old by now (started 1979), they like to describe themselves as one big happy family. They help brands sell their products through promotion of said products over relevant channels. A modern blend of marketing which they describe as "fresh, disruptive and smart".
A little fact about them, they were a graphics house to start with. Further down the years they evolved into more areas of marketing and such. Their informal and personalised approach to design can be noticed even on their website.
There is an influence of the old and the new in terms of their visual style. Which isn't necessarily a bad thing considering it's a rarity these days. If you are into such an art style you should approach them by all means.
---
Ok. I take back what I said about CC. This is probably the lowest bar one can set. UD actually stands for Universal Designovation. Yes, it does.
Setting aside their extra corny 80s records company name, there is some crunch behind that bone. UD Lab is a multi award winning design studio. They've won accolades for their works in the fields of product design, machine design, medical product design and design research.
Now, that's a lot a design!
On visiting their website you'll notice all the international awards they've been nominated for. It's crazy. A company made of talented individuals who work hard and get the deserved recognition. They become a default choice for a graphic design company as soon as you see the positive feedback the received for all their work.
Of only they had a better name. Shame.
---
I know by now it may seem as if I have an unhealthy fixation towards judging companies for their names. That's not true. I'm a balanced person. At least, I think so.
But,…This is a cool name. Not just that, the graphic design firm is cool overall. You'd feel like hiring them solely for those reasons. Litmus Branding is a digital branding and advertising agency out of India. Their primary focus is to promote and scale your brand using all tools at their disposal.
Not just that. They seek to avoid moderation altogether, with strong brand messages such as 'Cookie cutters are absolutely banned from our office". Yep. It's a thing on their website. I said it verbatim.
Even their design ethos is reflected quite well and clear through their website. It's clean, crisp and has saturated shades of red, purples, blues, yellows. This pretty much creates a visual identity which would be in sync with their brand messaging
They are a good pick for you not only to fit your graphic design needs but as a capable company to advertise your brand. Check them out.
---
8. Studio Fifi 
Another one of those Pune based design companies. Ugh. Well, Studio Fifi is a multi disciplinary design firm based out of Pune, Maharashtra. They do everything from product design, brand design, digital marketing, UX/UI design, space design (what now?) and digital marketing.
They have a huge list of clients on their landing page itself. The design of their website isn't exactly a bad egg either. They fit the bill of the more stylised, colourful and contemporary graphic design companies.
SF like is that hipster cousin you know. He's talented and hardworking. He doesn't even try to bother anyone. However, for some unknown reason, you still wanna slap that excremental grin off his face. I feel that way about every hipster. I have issues.
Check their website out and see if they are what you are looking for in a graphic design company for your particular predicament. Desperate times call for desperate measures. How desperate indeed.
---
Another one of those 'award winning' digital media agencies on this list. I hope the award wasn't for the fastest loading landing page. Because it lesser time to build the great wall. It may seem unfair to start with such heavy criticism but it's a digital agency. Cry me a river, ya babies!
This Visakhapatnam (Visa-Khaaa-Patnam!), AP based digital media agency has had a list of decent clients and have experience of working in different industries molding them into more flexible and a multi disciplinary graphic design company. Which is a good thing.
However, they push the message of being a cut above the others a bit too far. Which should not be a reflection on the quality of their work. It is just that they push the "We're not ordinary" or "Don't hire us if you're looking for someone ordinary". They end up looking like the kid who's only loved by his parents. It must be nice having parents who love you. Not jealous at all.
---
10. Identical Design
While their name doesn't vouch for originality of work (yes, I'm going to do this joke till it's dead). They're reviews and ratings suggests otherwise. This Delhi based graphic design company is in its top 4/5 rating for every place you can find any information about them. Therein also lies the problem. Like me, if you've tried to open their website, one could say…we've had an IDENTICAL experience (wink! wink!).
I cannot seem to find their website or any other public information from the side of the company online. Like mentioned earlier, a website is the bread and butter of a web development and graphic design company. For them, I can't find one. Maybe it's me (I doubt that, I'm perfect).
On ethical grounds I cannot recommend this company to you. However, if you do call them up or email or message them and find out that they're really that good. You should definitely go for them.
When I tried to open a link to their website, it was Error 404 – Forbidden. SEE? WHY WOULD SUGGEST SOMETHING THAT'S FORBIDDEN? DO YOU GUYS EVEN KNOW ME?
From my side, it's a big nope.
---
A digital marketing agency with over 8 years of experience under their belt, DWA explains everything they do in three words, their title.
This Jaipur, Rajasthan based web development and graphic design company has come far. From its humble beginnings as a graphic design studio in Jaipur to travelling across UK, USA, Australia, Singapore, UAE, etc. And I'm guessing they couldn't use boats. Because, you know, no water. Hehe.
It is their customer focussed approach makes them desirable to businesses across the globe. An open-minded firm which gives respect to its employees and it's customers. Giving each side the opportunity of an opinion and the chance at growth.
If you desire to hire this agency, check out their website. As mentioned in the beginning, this is a company that will design things as a synthesis of opinions from both sides.
---
Logo design India keeps things true to its title. A logo design company which keeps its eyes on two things, efficiency and cost effectiveness. This is literally plastered across the marketing. If you are looking for a graphic design company with its sole focus on design, this is it.
They also design collaterals such as brochures, flyers, business cards, etc. So, that's a plus too. You'll find a thousand options and packages to customise your logo and other graphic design needs.
Some of the biggest names associated with them are Arya Seafoods, My feminine touch (what can I say? I have gentle hands), Nature's soul, Crystal, Sani-Flo, etc. The list is big.
If you're exclusively looking for a graphic design company which works specifically on logo design, this is your pick. Trust me. I'm not insane.
---
Also Check: 16 Best Web Development Companies in India to Checkout in 2018
---
Another logo design company on this list. Saddle up. This isn't the last one. As mentioned before, these are a few companies you can pick. If you're looking into logo design
If you're starting a new business. Or looking to expand your pre existing business to new horizons you will need a unique logo. Logos are the first thing that creates brand recall. The better the logo. The higher the recall. There's something you didn't know. You're welcome.
LogoPie is a Delhi based graphic design and marketing company. Their own logo, however, err…let's just say it looks oddly similar to a company whose name rhymes with Stoogle. Maybe it's a coincidence. A huge coincidental-coincidence.   
If it's any consolation, their list of clients is huge (much like the coincidence). Some of the big ones include: Esquire, Numero Uno, TVS, Petrichor, etc.
---
Guess what? Another logo design company! (Yay?!)
Logo People India (or simply Logo people) is an nationwide graphics design and marketing company. However, their main offices are located in Faridabad, Haryana. Some of the other notable office locations involve Mumbai, Hyderabad, Noida, Trivandrum, etc.
For their great work in the field of logo design, LPI has received several awards and accolades from their clients and their critics. A whopping 7000+ satisfied customers across the country. This graphic design company is not skiddadling around.
Some of their main areas of service involve logo design, brochures, digital marketing, web design, business cards and packaging design. As a design company, they are quite full service.
---
15. CrowdStudio 
Here's a unicorn. A Kochi, Kerala based graphic design company. Not very often do we see a name from the state with the highest literacy rate. While it is rare, it is a sight to behold. I would recommend anything that guarantees money back in cases of dissatisfaction. (That's why I order from Domino's and give them the wrong address…sshhh! Don't tell them)
They are honest, hardworking and don't beat around the shrubs. I don't understand Idioms. You visit their website and they clearly note things down. 50+ designs in 5 days. 800+ handpicked designers. 300+ satisfied customers. Money back guarantee. Value for money.
I'm sold…on their proposition. FYI, I condemn slavery of any other kind.
---
Conclusion
This list of the best graphic design companies of India was in no particular order. Ascending or Descending. While some of them might be bigger in scale than the others. All of them are champs in their own right. They work on different scales and on different demands. The biggest one won't guarantee a great logo for your ice-cream company.
While the smaller one won't guarantee great and consistent visuals for your pharma corporation either. Pick and choose carefully which one fits to your needs the best. Don't hire someone because they're expensive expecting they'll work fast. And please, don't he cheap. So, that was our list. Hope you liked it, hope it was worth your time. Your opinion shapes our world (sarcasm).
---
As always leave us your feedback on our website (www.reviewsxp.com/contact) or via email. Your feedback is always appreciated. It helps us reduce the mistakes we make and give you a better experience. 
You're Welcome!