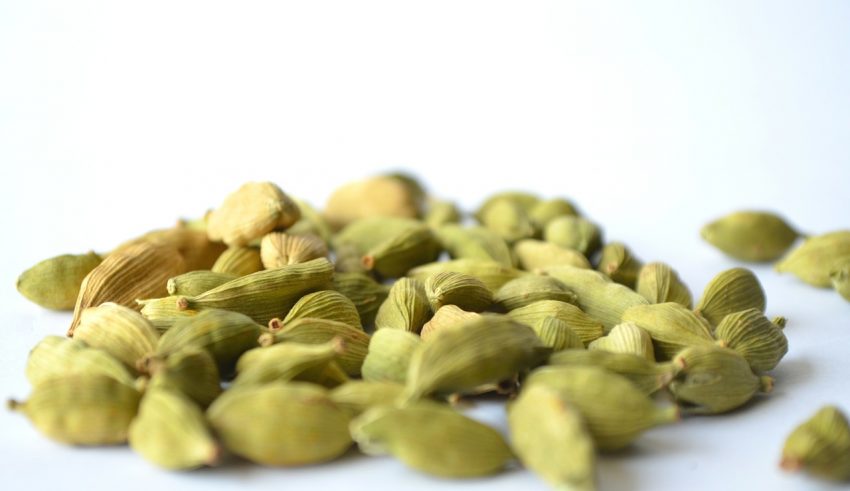 Us Indians have endlessly contributed a lot to the culinary world, especially the division of spices. I mean people have tried (and succeeded) to conquer us for the various spices that originated in our homeland. We have been using these wonderful spices for centuries together, and we continue to do so. One of the most impactful and flavoursome spices that originated in India is cardamom or Elaichi as many know it.
Believed to be native to India, cardamom has a distinct and slightly-sweet flavour, and a unique fragrance that has made it popular not just in the world of cooking, but also in the beauty and medicine industry. Mostly, the cardamom pods harbor the necessities that we use. Furthermore, people even grind up the pods or use the seeds within. The Indian Elaichi is of two types; a greenish, small pod and a black, slightly elongated pod. The black cardamom is grown in the north-eastern parts of India and is used only in savoury dishes, unlike the green cardamom that grows in the south-western regions. Cardamom is one of the vital ingredients in the iconic Indian garam masala, it is also added to chai and multiple sweet dishes to give it a little bit of edge. Cardamom also has numerous health benefits because of the various nutrients it contains.
Cardamom is abundant in anti-inflammatory components, and due to this, it has the ability to protect our body against various, even chronic, diseases.
Cardamom is also believed to be an anti-oxidant agent and might be able to lower blood pressure as well; because people with high blood pressure have responded well to it.
Elaichi or cardamom also works wonders for one's oral health. It freshens your breath and prevents cavities. Moreover, in many cultures, people chew cardamom to attain a fresh breath. This happens because cardamom is anti-bacterial and also helps in treating various skin allergies and infections.
Cardamom is also helpful in maintaining the health of your heart. As mentioned before, it helps in leveling the blood pressure, and it also helps lower blood sugar levels. Although this remains inconclusive, there have been a few studies where cardamom consumption has shown a difference in people's blood sugar levels.
Cardamom happens to have a sweet-spicy and fresh fragrance. Due to this, cardamom itself or its oil is added to many cosmetics and skin care products. Essential oils are also made from cardamom because it offers therapeutic relief and helps soothe irritable skin. Cardamom also immensely helps in clearing the skin from blemishes and so on.
Lastly, it is worth mentioning that cardamom acts as an aphrodisiac too. A tiny pinch of cardamom powder can loosen up all your nerve stimulants and turn up the passion!
Now, we know that pretty much everyone (including you, yes you) has cardamom in the form of pods or powder in their homes. However, we have thoughtfully curated a list of some of the best brands of cardamom (seed powders and whole pods) that are available in India.
Grown in the Wayanad region of the southern Indian state of Kerela, this powder has been produced from the most exceptional quality of green cardamom. The cardamom is 100% pure and natural, and have been hand-peeled to ensure they are no faulty seeds.
Seeds and Hands is a brand that carefully picks farmers who cultivate the cardamom for them; they guarantee that the farming practices are all natural and organic so that they can deliver premium quality of cardamom powder. You can get your hands on one right now because Amazon sells a box of 65 grams of cardamom seed powder for ₹290.
Sourced from near Alleppy in Kerela; these whole green cardamom pods are gourmet and of the finest quality. Handpicked, these cardamom pods are prepared and packed in minute quantities to ensure that each batch gets proper attention and is guaranteed to be excellent in nature.
These cardamom pods are produced in farms that use only organic and traditional methods without any unwanted or artificial pesticides. You are in for an exquisite and robust dining experience once you use Lev's Cardamom. Amazon sells three different quantities starting from a bag of 50 grams of elaichi for ₹225.
Grown in the picturesque hills of the Kattapanna region in Kerela, these green cardamom pods are some of the best ones you are ever going to try. Each of the cardamom pods is hand-picked and sorted to make sure that only the best ones are being packed and delivered.
The flavour of this particular brand of cardamom is striking and it is all natural, too. Hill Valley Spices use no artificial additives or preservatives because they believe in providing the customer with authentic products. You can buy a packet of 100 grams for ₹350 on Amazon.
These small sized green cardamom pods are entirely organic and are grown in monitored conditions to ensure that all the farming techniques used are natural and maintain the quality of the cardamom.
This brand of cardamom does not contain any preservatives or GMOs, so it is very safe and healthy. Pro Nature is a brand that wants to work towards the betterment of the lifestyle quality of the cultivators which is why all of their products are made with natural procedures. You can get a 50 grams packet of green cardamom on Amazon for ₹205.
Keya is one of the most trusted brands in India when it comes to spices and seasoning, and their cardamom powder lives up to its reputation.
Produced from some of the best green cardamom pods sourced from Kerela, this cardamom powder has a brilliant flavour and aroma that assures to enrich the taste of anything you add it to. You can purchase this cardamom powder in different sizes, including a dispenser box containing 65 grams of cardamom for ₹249.
This select type of vibrant green cardamom is garnered from Kerela and is sold by a family company that has been in the business for decades. These cardamom pods have a minty flavour note and have a delightful floral and sweet aroma.
To assure the quality and taste of the cardamom, it even goes through rigorous taste and quality checks. Amazon sells two boxes of 50 grams of these green cardamom pods for ₹497; you can also get 80 grams of elaichi powder from the same brand for ₹349.
This brand of premium cardamom is produced in the Idukki region of Kerela and is of beautiful green colour. These cardamom pods are 100% natural and have no preservatives or artificial flavouring agents.
The taste and aroma of this cardamom are pure and completely unadulterated. You can get a zip-locked bag of 100 grams on Amazon for ₹310.
Exclusively used in savoury cooking, this healthy and delicious pack of black cardamom can be undoubtedly called the queen of spices. Black cardamom is an essential part of the garam masala, but apart from that, it has a unique taste that makes it so remarkable.
This black cardamom is not only crucial for cooking but also for multiple medicinal uses like battling a cold, cough and even asthma. You can buy a packet of 200 grams on Amazon for ₹239.
Urban Platter is a trusted and qualified brand that produces commodities of excellent quality. These whole green cardamom pods have been collected from the western ghats in Kerela. This cardamom has a distinct taste and fragrance that sets it apart from the regular ones. This cardamom is also loaded with beneficial nutrients that will not only make your food taste splendid, but also keep a check on your health. You can get a box of 50 grams for ₹225 or 100 grams for ₹400 from Amazon.
Homegrown, this particular brand of green cardamom pods is marvelous. Satvyk brand makes sure that their cardamom is cultivated in top-notch conditions and at the same time, organically.
No unnecessary pesticides or chemicals go into the process of producing cardamom for this brand. Satvyk green cardamom is excellent for cooking, and medicinal purposes; it can treat ailments like heartburn, solve digestion issues and such in the blink of an eye. You can get yourself a pack of 150 grams of some of the best green elaichi from the Satvyk website itself, for ₹410.
Now that we've told you about these amazing brands of elaichi, we'd love to hear from you! Tell us if we've missed any of your favourite brands and don't forget to let us know how you liked the ones we've recommended!!