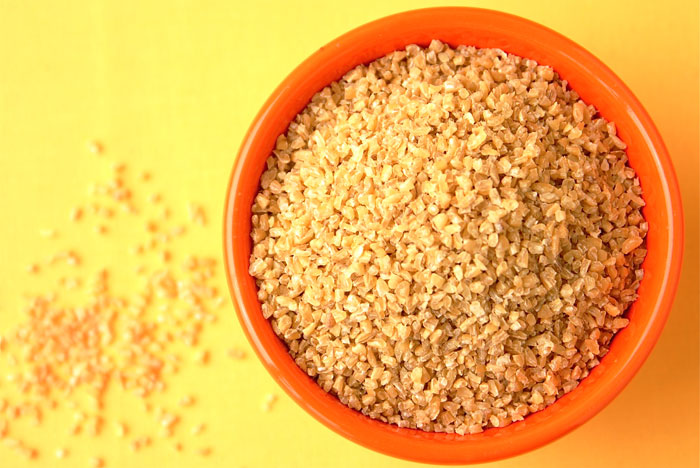 You might be aware of the fact that Indians are credited with the pioneered usage of a variety of kitchen ingredients. The elements of Indian cuisine are unique and cannot be found anywhere else in the world that easily. Dalia is one such ingredient. It is nothing but broken wheat, mostly used as a healthier alternative to your regular bowl of rice.
Dalia has been a favorite in Indian households for centuries, it is a versatile ingredient that can be used to make almost any type of dish, and it tastes just as remarkable.
However, ever since the reemergence of Indian millennials and youth turning back towards their Indian roots to stay healthy, dalia, too, has become a popular grocery ingredient again.
Dalia is packed with nutrients and is so much healthier than rice, which is a staple in nearly every Indian household. Vegetable upma, khichdi, porridge are just a few ways by which you can incorporate dalia into your diet.
Dalia is basically wheat with husk; this makes it incredibly rich in natural fiber; apart from this, it is also an abundant source of proteins and minerals like iron.
Weight Loss
Dalia has shown to aid in weight-loss; this occurs because of the plentiful fiber present in it. Fiber assists in smooth and healthy digestion, and if your metabolism goes well, you have chances of shedding some of that unwanted weight.
Anti-Inflammatory
Much like many other Indian kitchen ingredients, dalia is anti-inflammatory too. Daily consumption of dalia can protect your body from many chronic diseases, such as osteoporosis, diabetes, and some other heart diseases.
Good for Diabetic Patients
Dalia consists of certain enzymes which work towards breaking unwanted glucose in the body hence controlling blood sugar levels. It also stimulates a balanced production of insulin in the body. Dalia is loaded with nutrients that can help prevent type-2 diabetes.
Balancing Cholesterol Levels
Rich in fiber and low in calories, dalia is perfect for people keeping a check on their health as it immensely reduces unnecessary cholesterol levels in the body. In return, this also secures the health of your heart.
Builds Muscle Mass
For bodybuilders and people trying to create a stronger muscle mass, dalia is the perfect solution. Laden with proteins and other nutrients, it is the ideal post-workout snack.
Infinite Source of Energy
Above all, dalia's rich nutrient content is an excellent source of energy. Many consume dalia as breakfast because it keeps one energetic and on their feet all day, without making you crave for junk food every now and then; it is filling and healthy.
These are just some of the numerous advantages of dalia. Many urban Indians have already switched to dalia as their primary source of fiber and carbohydrates; you're probably one of them too. However, do you actually know if your dalia is healthy and pure like the packaging claims to be?
Well, you must not worry about that because we have curated a select list of eight of the best brands of dalia that are available in India.
24 Mantra Organic Wheat Dhaliya
24 Mantra is an established brand known for its devotion to all things organic. They believe in producing and delivering 100% organic goods, all while working towards the betterment of our farmers and the planet.
The wheat for their dalia is cultivated in monitored conditions to ensure that strictly natural methods are being used and no pesticides or chemicals go into the process. The dalia produced is exceptionally healthy and delicious; it is also an abundant source of vitamins like Vitamin B and Vitamin E. You can order yourself a pack of 500 grams for ₹115 from Amazon.
Organic Tattva Wheat Dalia
Grown in purely organic conditions, this marvelous pack of wheat dalia is not just nutritious but also super yum! This brand of dalia is enriched with dietary fiber that not only helps with digestion but also aids in keeping you fit and robust. The wheat grains chosen for the dalia have been carefully selected and handpicked, ensuring the best quality.
The various nutrients it encompasses, play a significant role in keeping people, of every age with any ailment, healthy. You can try it yourself by ordering a pack of 500 grams for ₹138 from Amazon.
Sampurn Organic Barley Dalia
Made from health and fitness enthusiasts' all-time favorite, barely, this dalia is much more nutritious than the average ones. It is certified to be 100% organic and has been grown naturally; what you get is entirely pure and organic. The brand is conscious as to not to use any harmful pesticides or artificial additives.
Barley's nutritional value shines through this dalia that can be used to cook pretty much anything; this millet is affluent in nutrients such as fiber, iron, copper, B vitamins and magnesium to name a few. What is even better is that Amazon sells a combo of four packs of 500 grams for an enticing price of ₹320.
NaturPro Gluten-Free Jowar Dalia
Made from sorghum or jowar, this dalia is packed with nutrients and is remarkably delicious. It has low-fat content and is perfect for anyone with a fitness regime. Jowar is a fibrous millet that is crammed with healthy nutrients.
The jowar for this dalia has been produced naturally using traditional farming practices to ensure the best quality of the produce. It has the nourishment of calcium, iron, and protein. Some would even agree that it is better than the average wheat dalia. You can find out yourself by ordering a combo of two packs of 350 grams for a small price of ₹100 from Amazon!
Nature Land Organics Wheat Dalia
Perfect for making many dishes, including a delicious bowl of porridge, this brand of dalia is not only easy on your pocket but also excellent for your health. The wheat has been cultivated in certified and controlled organic conditions, guaranteeing you the delivery of 100% natural and pure dalia. It is packed with many nutrients, such as iron, dietary fiber, and manganese.
The flavor and aroma you get from the dalia are wholly natural without any added preservatives. You can get a pack of 500 grams for only ₹54!!
Sri Satymev Sprouted Wheat Daliya
This dalia is made from sprouted wheat, which is considered to be better than standard wheat grains. It makes it easier for you to digest them, and they usually have a higher fiber content. Hence, this brand of dalia is healthier than the average brands. It can be used to make all sorts of dishes, sweet and savory alike.
This dalia is rich in nutrients like iron and Vitamin B-complex; it even relieves one from constipation as it makes digestion smoother. Amazon sells a box of 1 kg, and you can get it for only ₹130!
Arya Farm Organic Wheat Dalia
Arya Farm is a brand that acquires their produce directly from the farmers, to get rid of the mediators and serve you with the best and purest product. The wheat has been produced in entirely natural and organic conditions.
Their dalia is nutritious, filling, and delicious. This Organic Wheat Dalia is free from all sorts of chemicals, pesticides, and GMOs. It is a delicious and healthy addition to your diet, and you can buy a 500 grams pack from Amazon for a modest price of ₹50.
Satvyk is a unique brand with exceptional organic produce. Their dalia also lives up to the promise they have made to their customers, to deliver the best and the healthiest quality of commodities.
Their dalia is made from emmer wheat, which is an exceptional variety of wheat that is jam-packed with nutrients like proteins, iron, dietary fiber, thiamine, and so on. Satvyk Daliya is rich in anti-oxidants and is light on the pocket too. It is healthy living on a budget! You can get a pack of 500 grams for just ₹80 from their website itself; they also sell Genhu Daliya and Multigrain Daliya (yes they are just as incredible and totally worth trying).
Wait! Before you close the tab, we want you to know that we love hearing your thoughts on the products we recommend and anything else that you want to say to us.
So, do let us know what you think!