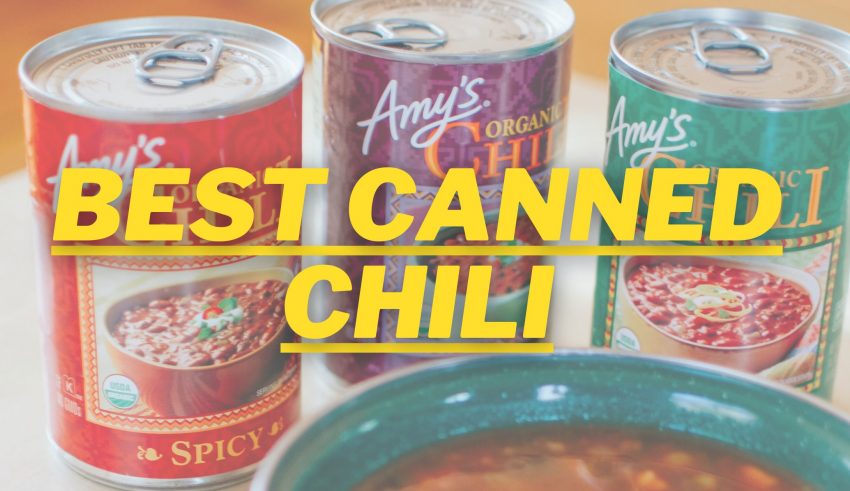 Chili is one of the most popular dishes in the US. What you may not know is that chili is the shortened version of Chili Con Carne which meant chili with beef. The dish originated in Texas and Mexico and due to its deliciousness it quickly spread and now millions of people enjoy this dish. There are a lot of variations of the dish and different people have different recipes.
It does take some time to cook yourself a bowl of chili but if you do not have time you can easily buy canned-chili which tastes quite good and all you need to do is heat up the contents of the can and voila! You have a bowl of chili ready in minutes to be enjoyed as a standalone dish or with dogs or as an appetizer. Canned-chilli is a portion of popular convenience food.
With 2021 just starting out we decided to find out the best-canned chili 2021 you can buy on Amazon. Our vegetarian readers do not have to worry as we have included a few vegetarian canned-chili brands which are quite delicious as well.
Here is the list of 10 Best Canned-chili To Buy On Amazon: 
Stagg Silverado Beef Chili with Beans, 15 Ounce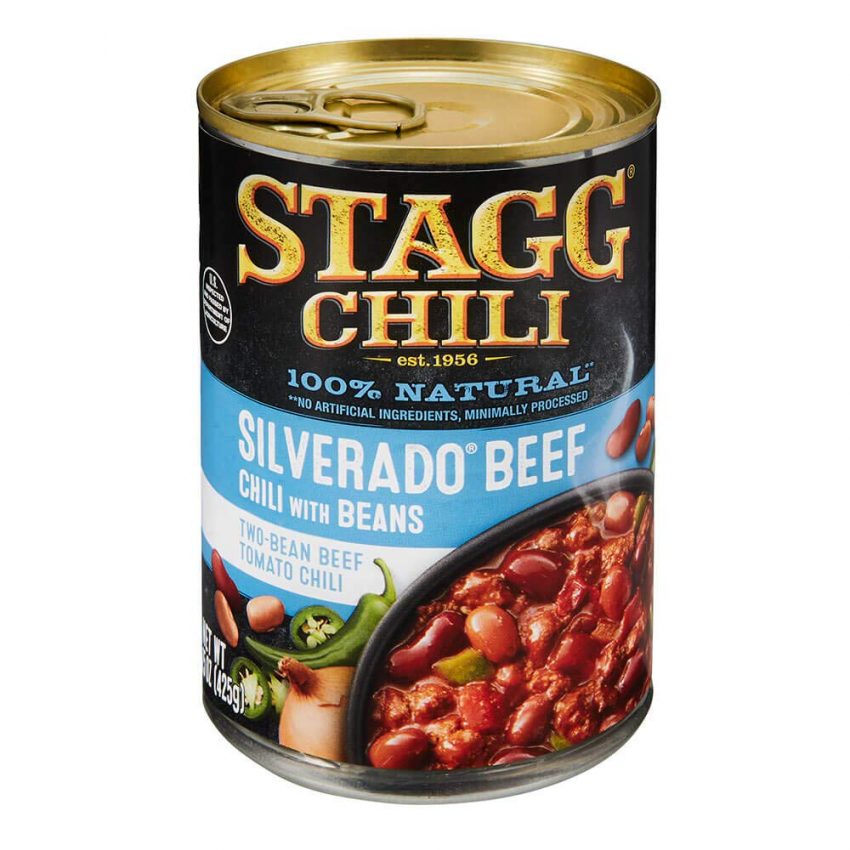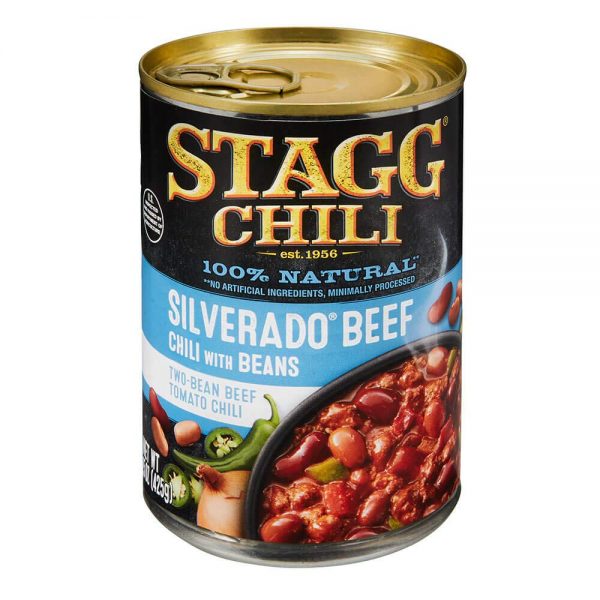 Let's start the best canned-chili list with the Silverado Beef chili With Beans By the brand Stagg. Stagg has been in this business for over 60 years and has developed a good rapport with its customers. A lot of people enjoy consuming Stagg chili. It contains a variety of ingredients which gives it the delicious taste that you associate with a good chili.
It contains tomatoes, water, kidney beans, pink beans, dehydrated beans, dehydrated onions, bell peppers, various chili seasonings like salt, spices, sugar, etc., and of course the beef.
The item weight is around 1.1 pounds and each serving of this chili gives you 16 grams of proteins. So, this chili is a slow-simmered tomato and two-bean chili. It has a delicious taste that arises from the succulent red tomatoes, the juicy beef, and the jalapenos and onions.
The usage of this beef, tomato chili is versatile. It is good as a dip, decent for bowls, dogs, and appetizers as well. The company has taken some effort to ensure that the ingredients are minimally processed and no artificial ingredients have been added.
The can is very easy to handle as well. It comes with an easy pull top which you can just pop like a soda and pull. You can purchase the Stagg Silverado Beef chili With Beans on Amazon for $1.59.
So, if you already love the Stagg brand of chili or just want to try tasty canned-chili then you can go on Amazon and purchase this product.
---
Amy's Organic Black Bean Chili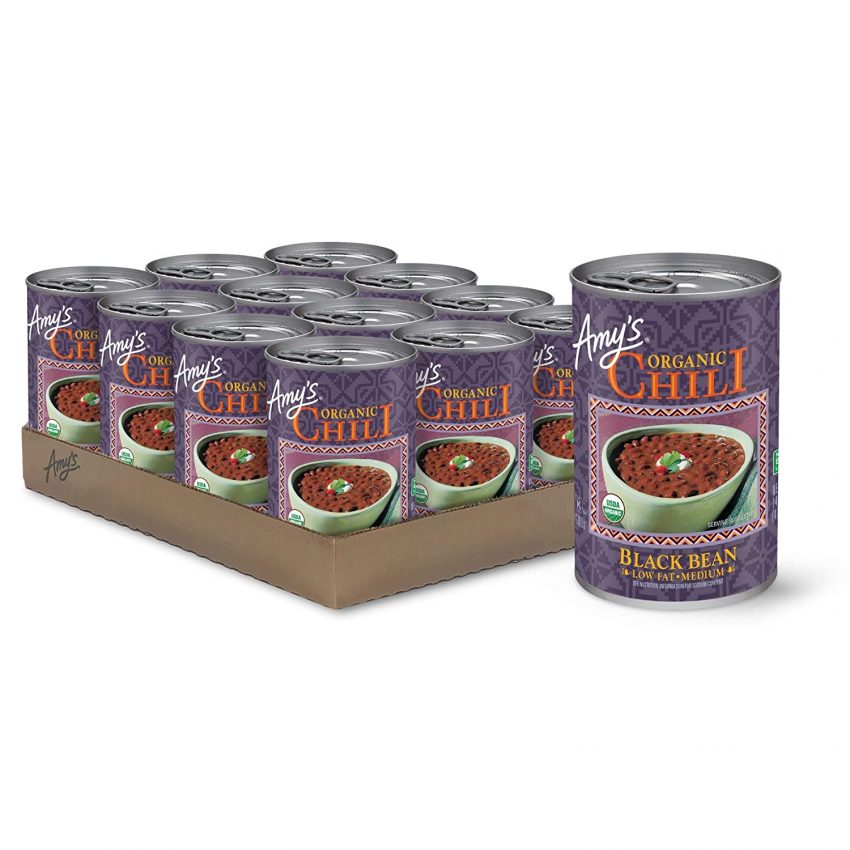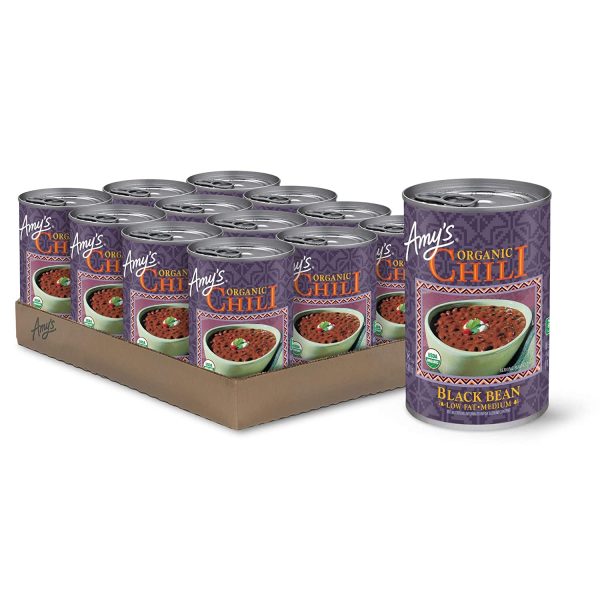 The next chili on the list is produced by the brand Amy's. Amy's is a company started by a couple of individuals after their daughter Amy was born. They wanted to create a brand that provides healthy and organic convenience food to consumers who are kind of busy to take that extra time to ensure that the food they are eating is beneficial to their health.
Amy's is still a family-run business and the people at the company value customer satisfaction a lot. The company has been producing organic food products even before there was any certification of organic standards.
So, after the USDA organic certification was created the company easily got the certification. All the products that Amy's manufactures and brings to its customers are non-GMO. It is a company that believes in GMO labeling as the consumers should know what they are putting in their bodies.
The medium black bean chili by Amy's comes in a can of 14.7 Oz. It is full of labor but if you do not like your chili to be too spicy then this can be a good option for you. The chili contains organic black beans which are simmered with tomatoes, chilies, bell peppers, and a hint of lime.
Along with these various other spices and natural flavoring ingredients like sea salt and sunflower oil have been used. This product is gluten-free, dairy-free, soy-free, and follows Kosher standards. You can purchase a pack of 12 cans on Amazon for $34.56.
---
WOLF BRAND Homestyle Chili With Beans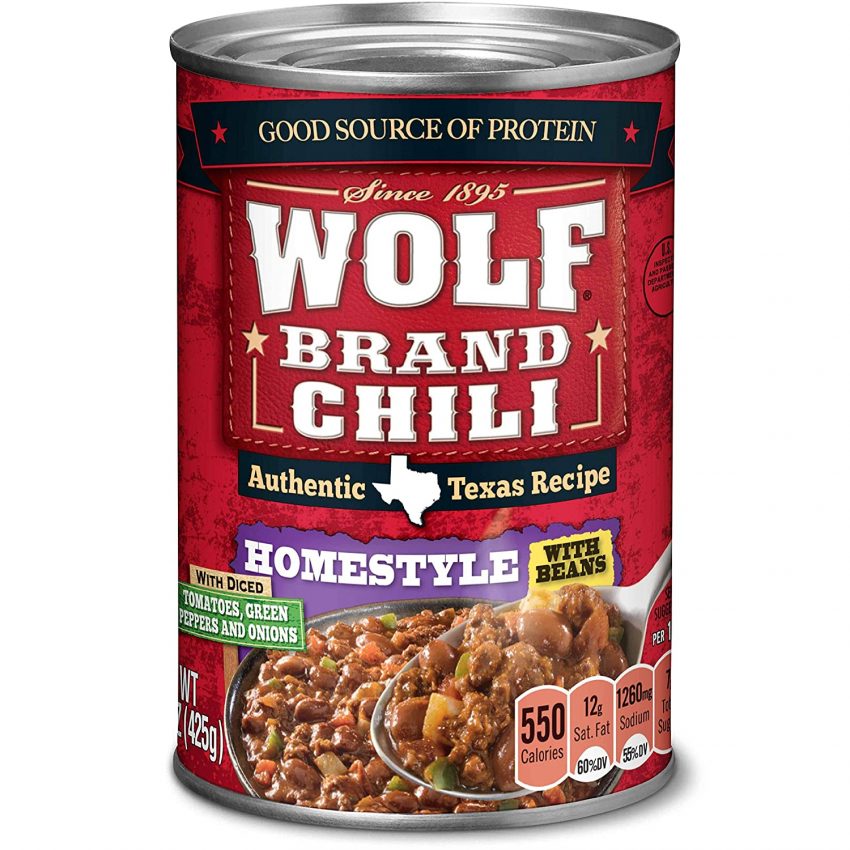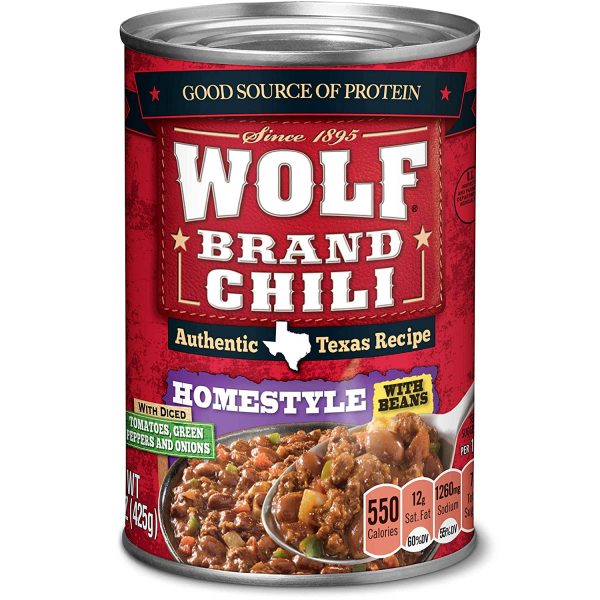 The next chili is by the brand Wolf which has been around for more than a century. Yes! The brand was established in 1895 and has been manufacturing various products for consumers. The chili that the brand makes will give you a delicious taste which you get from the decent seasoning choice and the juicy beef made for generations.
One can of the Wolf Brand Homestyle chili with Beans contains 15 ounces of the product. Each serving provides you with 17 grams of protein. So, yeah this food is a good source of protein as well.
It has some really tasty ingredients like ground beef and pork which are combined with delicious pinto beans, tomatoes, onions, green peppers, and a blend of delicious spices to coalesce and enhance the flavor of the main ingredients. This is one of the tasty convenience foods that you will keep coming back to because it is so easy to make while being quite tasty.
You just need to empty the contents of the can in a microwave bowl and heat it up in a microwave oven or put it in an appropriate utensil and heat it atop a stovetop. If you are going for a low carb diet lifestyle then you can consume this product occasionally as it contains only 19 grams of net carbs barring the 8 grams of dietary fibers per serving. A pack of twelve 15 Oz cans of this chili costs $24.15 on Amazon.
---
Dennison's, Original Chili Con Carne with Beans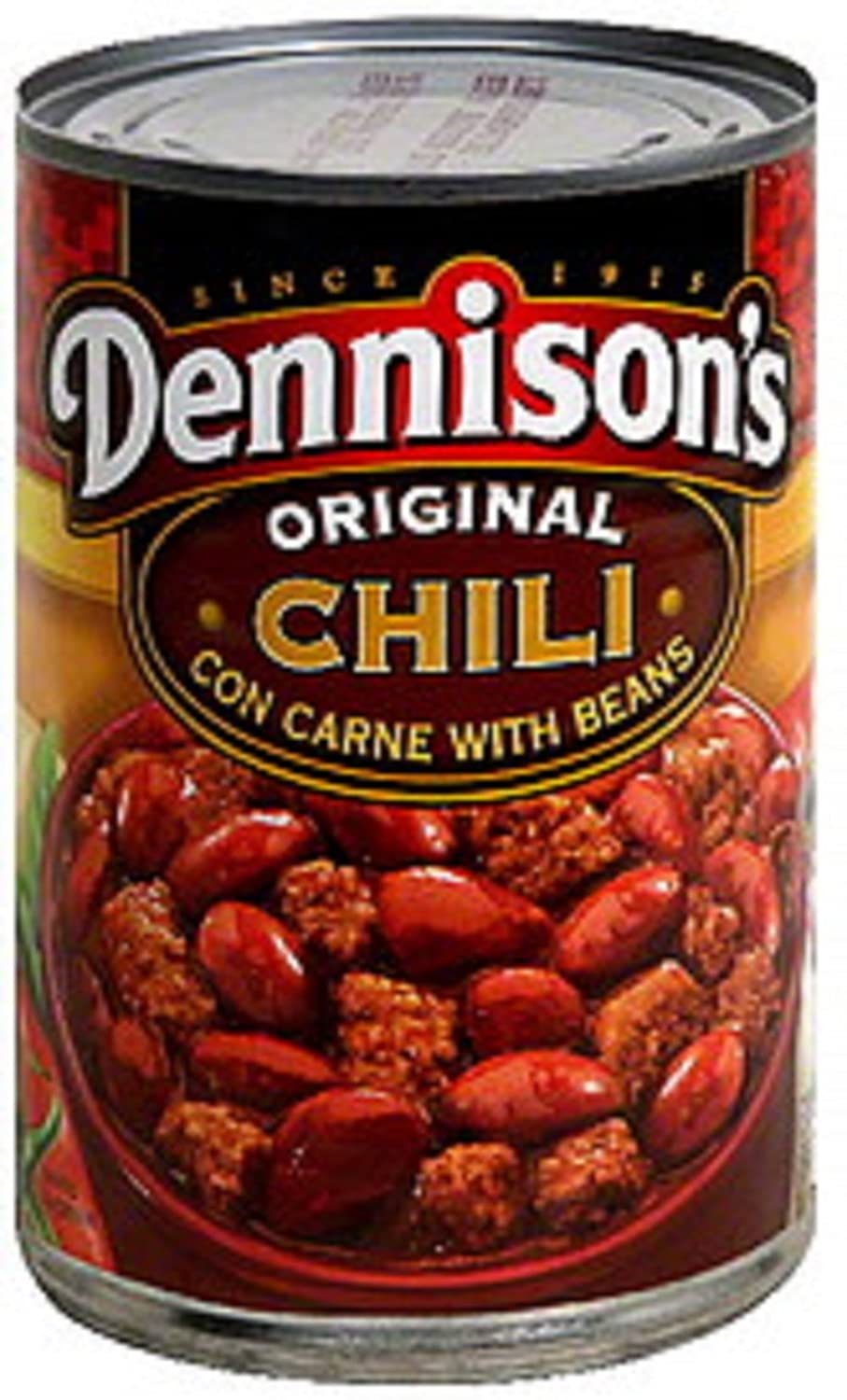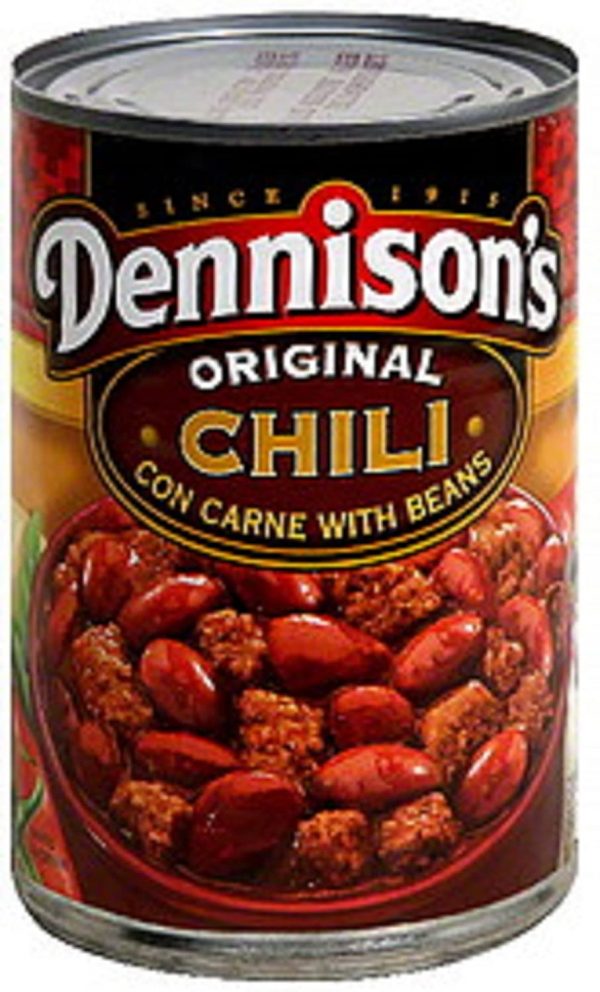 The next brand on the list is Dennison's. It is another one of the best-canned chilies to buy on Amazon based on the positive ratings it received. It is tasty, healthy enough, and will give you a quick meal if you are not really feeling like cooking or you do not have the time to whoop up a recipe.
All you need to do is pour this bad boy in an appropriate container and then just heat it up in an oven or on a stovetop. The chili con Carne with Beans includes a variety of ingredients which adds to its delicious taste. It contains beans (obviously) which are pinkly prepared.
It has a beef to give it the juicy meat. Then there's tomato puree made from succulent tomatoes and water. To enhance the flavors of the main ingredients and bring everything together soy flour, spices, salt, food starch, garlic, powder, onion powder, and various other flavoring agents have been used. Now, each can weighs around 15 Oz.
Each serving gives you around 14g of total fat and 38g of carbs out of which dietary fibers take 11g. You also get 20g of protein per serving so this can be a good source of protein for you. Dennison's Chili Con Carne With Beans is the original chili flavor produced by the brand. You can purchase a pack of 6 cans on Amazon for $20.49. Yes, this seems to be a bit pricey than some of the other options on the list but maybe the taste makes up for it.
---
Hormel Chili No Beans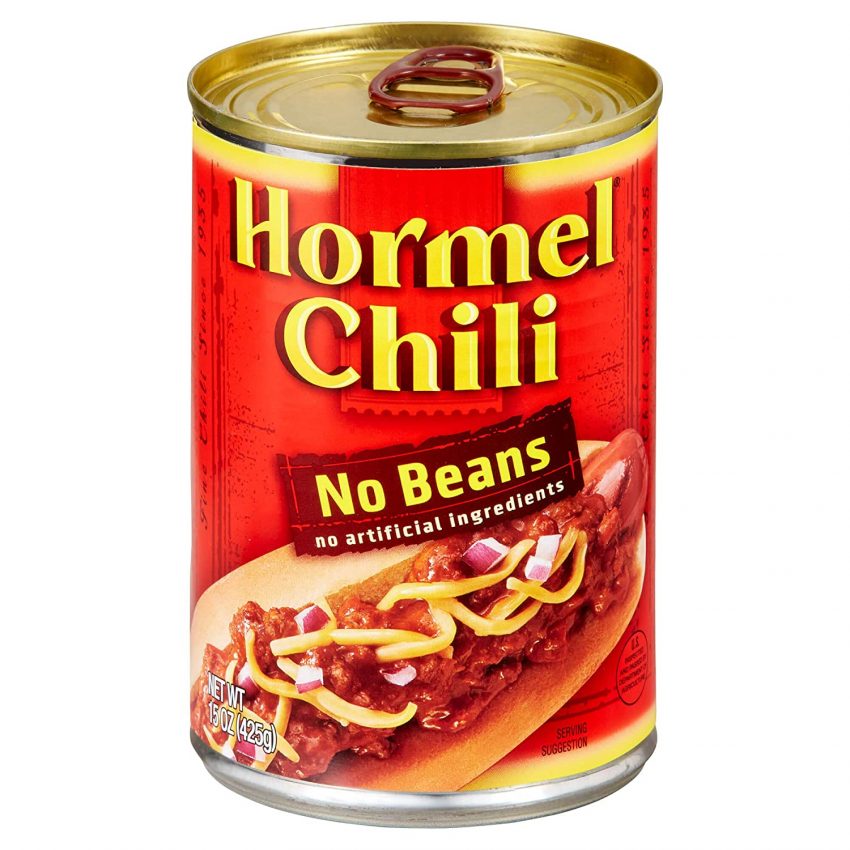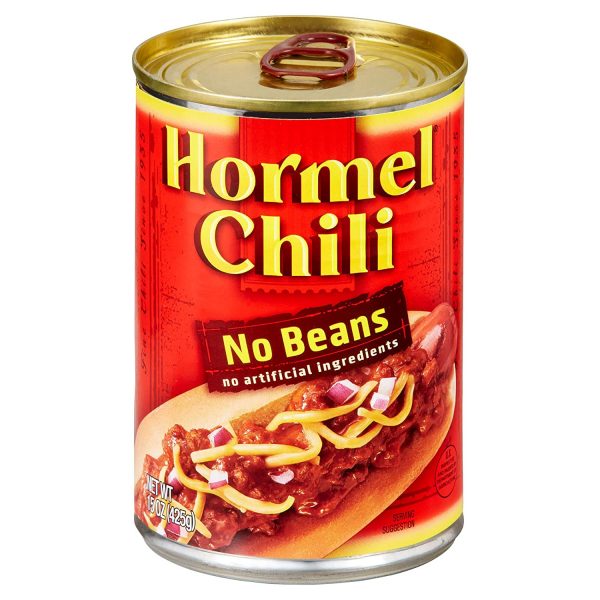 The next brand on the list of the best-canned chili brand on Amazon is Hormel chili. Now, a lot of people enjoy beans in their chili. I mean cooked beans give off a creamy texture and a good signature taste which can be very enjoyable under the right circumstances and chili is one meal that provides it. But a lot of people may not enjoy beans in their chili.
So, for them, the Hormel chili With No Beans can be a good option. It can be a good choice for you if you have been consuming the beans chili variety and just want to switch and experience something new.
Hormel chili claims to be the number one selling chili brand in America. Well, even though we can debate that claim as much as we want the sales figure and the amount of positive rating that it has received on Amazon do give you plenty of hints as to why the claim may be warranted. This chili is a great addition to your dog's, appetizers, bowls, or dips.
It contains beef and ground pork which is combined with oatmeal, soy flour, cornflour, chili powder, salt, and a variety of spices to enhance the taste. Each can weigh around 1.05 pounds and each serving of the chili had 15 grams of protein, 19 grams of carbs, and 14 grams of total fat. The top is an easy pull-off type and the cab coating is BPA free. You can purchase a can of Hormel chili on Amazon for $1.79.
---
Skyline Chili 4 Cans/15 Oz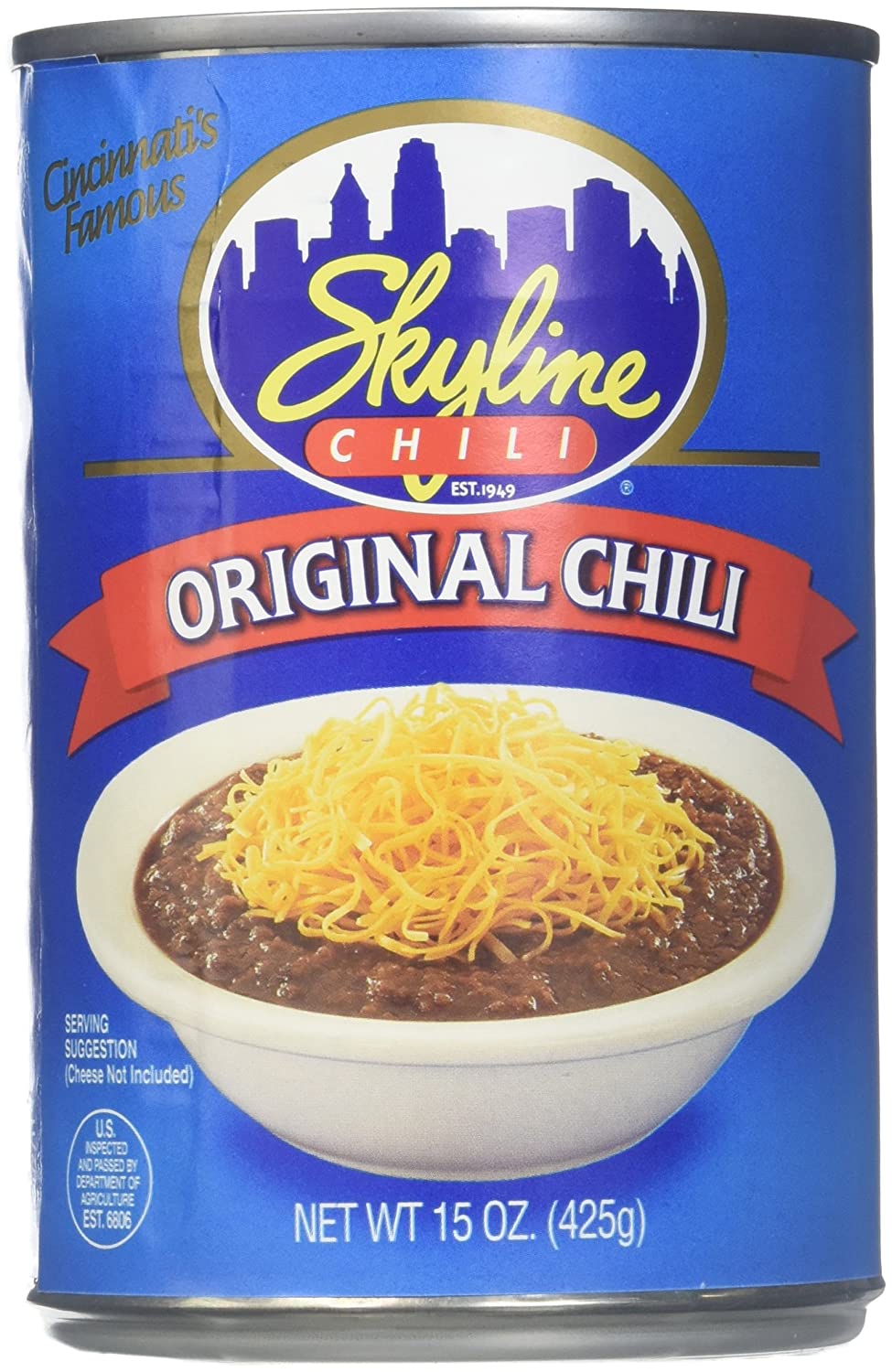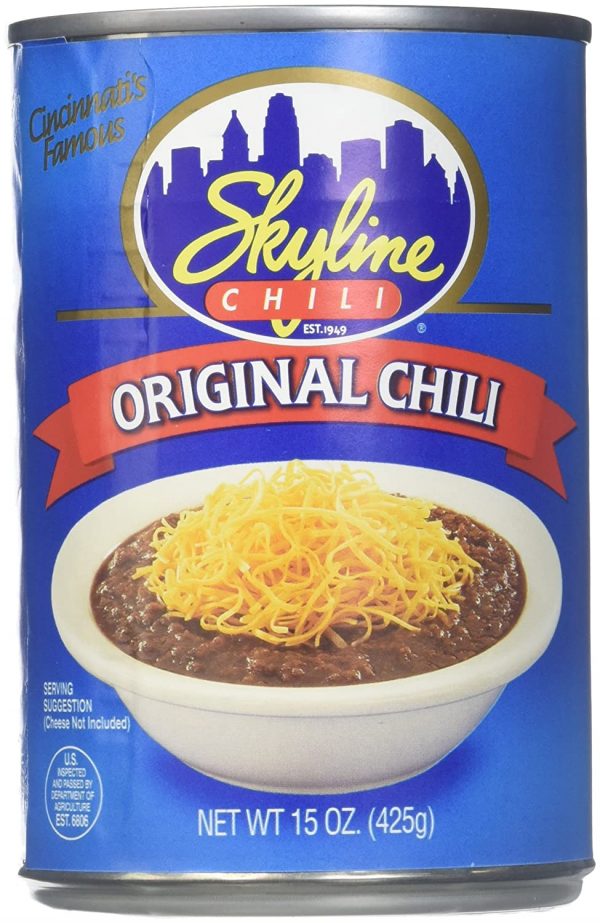 Skyline Chili is the manufacturer of the next chili on this list. The brand has been around for over 7 decades and claims to be the best chili of Cincinnati. Now, we don't know how true that claim is but we do know that a lot of people bought it from Amazon and the majority of them liked it and are satisfied by the flavor that the brand has put out.
This is another chili that contains no beans so if that is something you are looking for in a chili that tastes delicious as well then maybe you have stumbled upon something that you might enjoy. The ingredients of this chili are similar to any chili which follows one of the original or traditional recipes. Beef serves as the meaty ingredient of the chili.
Water and tomatoes are mashed to create tasty tomato paste which is then combined with the beef. Dehydrated onions, garlic, and paprika add the required flavors to bring everything together.
Dried yeast, salt, and other spices are some of the seasonings used to enhance the flavor of the chili. The total fat per serving is 15 grams and the total protein is 23 grams. You can buy a pack of 4 Cans of Skyline chili on Amazon with each can weighing 15 Oz. It costs $27.49.
---
Loma Linda – Plant-Based – Chili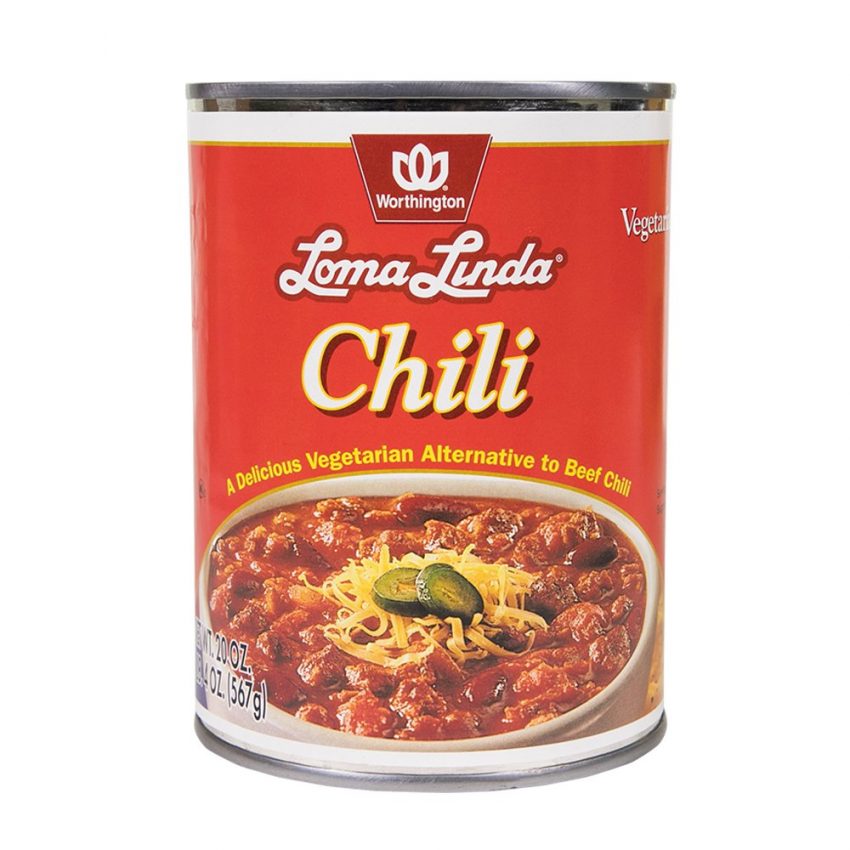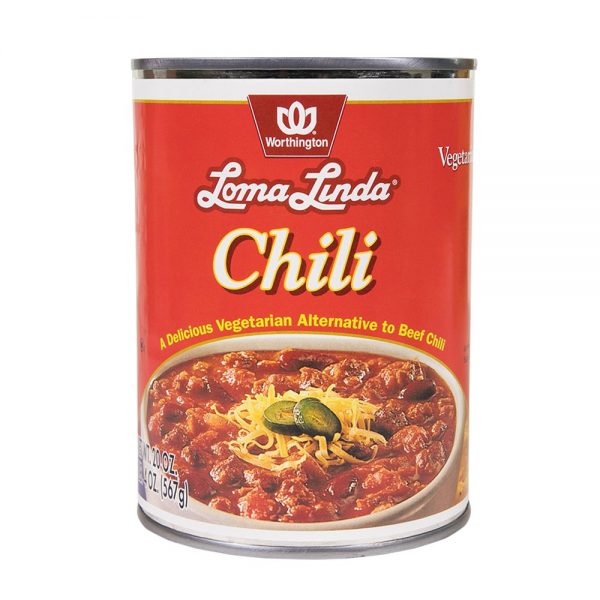 Okay, so we did have one entry on the list so far which does not contain beef or any other kind of meat. So, we decided to find another canned-chili that can be a good option for an individual following a vegetarian lifestyle. But, of course, no meat does not mean that it needs to taste bland.
Loma Linda is the next brand that brings you the plant-based canned-chili which is a delicious alternative to your everyday beef chili. This is made with Kosher standards in place and is 100% vegetarian. This means that consuming this product ensures that you are consuming food that is low in fat.
The chili had been made using wheat gluten, pinto beans, and tomato paste. Other ingredients like garlic powder, dehydrated onions, autolyzed yeast extract, salt, and various spices have been added to make the chili taste delicious.
It does contain wheat and soy. The total fat content per serving is only 10 grams out of which there is no trans fat and only 1.5 grams of saturated fat. The total amount of protein you get is 24 grams and total carbs barring dietary fibers is 17 grams. You can purchase a 20 Oz can of the Loma Linda Plant-based chili on Amazon for $3.82.
---
S&W Chili Beans, Pinto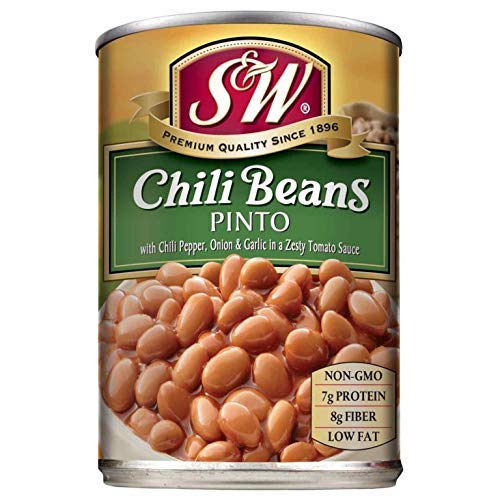 S&W is another brand on this list that provides you with vegetarian chili as in, no meat product is present in it. The brand says that it uses really good and tasty beans. It understands that a good chili with Beans needs to have darn good beans.
The company uses naturally produced gluten-free, non-GMO, vegan ingredients to create the chili. It has been handling beans for more than a century so the folks at the company know what they are doing.
A lot of common chili ingredients have been used to make this product taste delicious. The pinto beans are mixed and cooked with tomato paste, salt, garlic powder, onion powder, ground chili peppers, cumin, cayenne pepper, and various other spices to bring the flavors together and give the beans a good taste.
Everything is handled with care right from the farming of the beans. A special team is raised with regular field visits to ensure the quality of the beans. The chili contains non-GMO ingredients only and the can is BPA free. You can get a pack of six 15 Oz cans on Amazon for $19.16.
---
Nalley Beef Tamales in Chili Sauce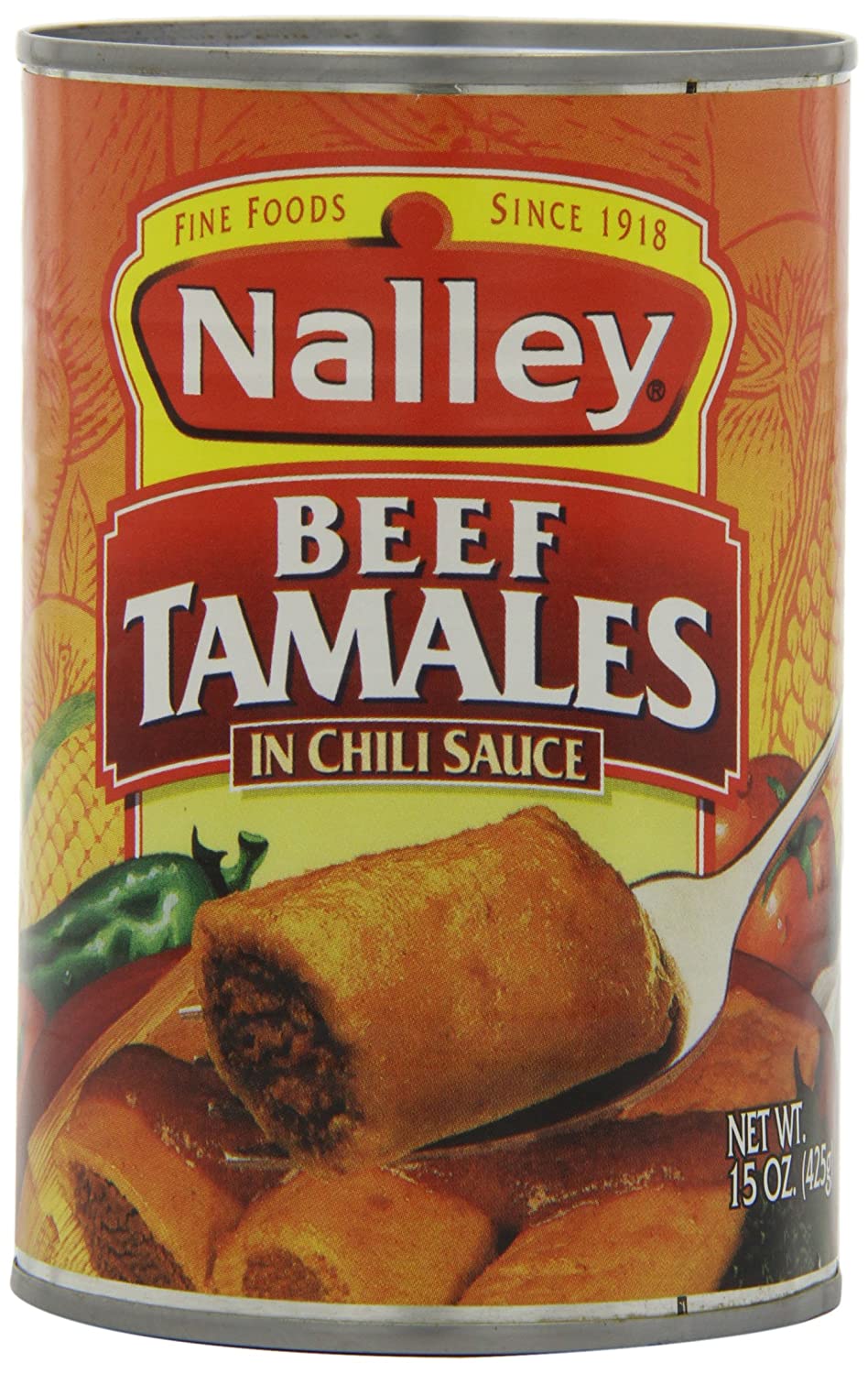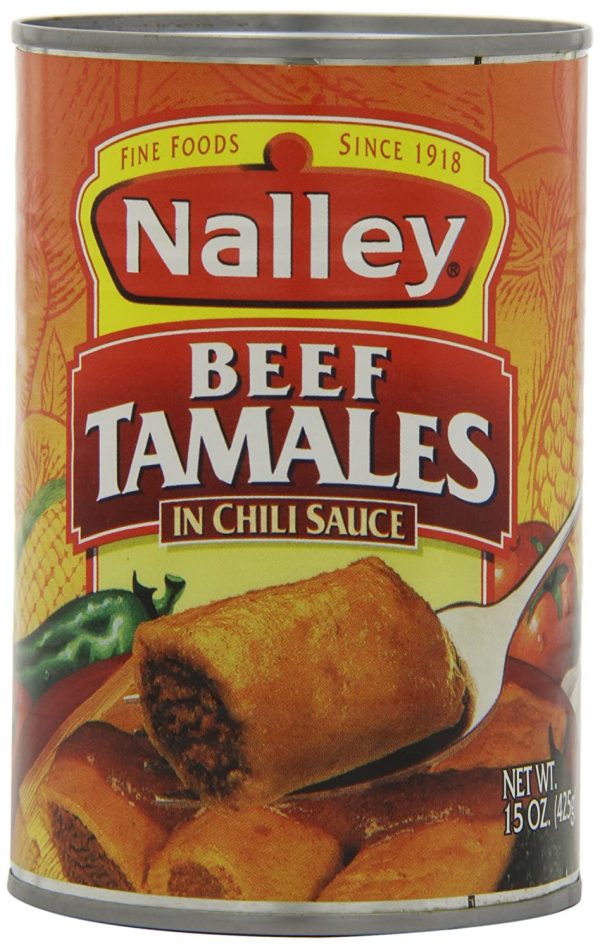 Nalley's chili line is something that is quite popular in the US but this popularity came with over 8 decades of consistent efforts to ensure quality and good taste. This is a traditional Mexican recipe made with traditional methods and ingredients. Mexican tamales are wrapped with stone-ground corn masa which is surrounded by a spicy-meaty center dipped in chili sauce.
Yes! The company takes care that each tamale is wrapped with parchment so that it holds its shape. All the effort is put into creating a delicious chili that is of high quality and is something you will enjoy.
The ingredients which make this chili are Beef, cornmeal, oats, soybean oil, salt, tomato paste, jalapeno pepper, and a few other stuff to enhance the taste of the chili. It does contain traces of soy protein. Each serving gives you 6 grams of protein, 20 grams of total fat, and 19 grams of carbs. You can purchase a pack of six 15 Oz cans of Nalley's Beef Tamales in Chili Sauce for $27.66.
---
Steak 'n Shake Chili With Beans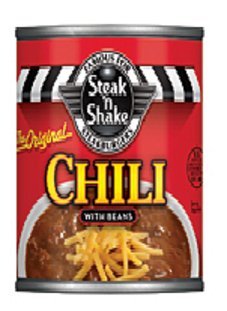 Steak 'n Shake Chili is a brand popular for producing steakburgers. The company also produces delicious chili which you can enjoy in a bowl, or on hot dogs, or as a dip.
This chili contains all the simple and common ingredients that you will find in chili. The beef is combined with beans and seasoned with traditional chili seasonings like chili pepper, dried garlic salt, and paprika.
A lot of people might not enjoy this product a lot because it has a high quantity of beans. But for people who love chili with beans, it is one of the best canned-chili you can get on Amazon. As mentioned before this chili is versatile and you can use it as a topping or side dish. Amazon is currently selling a pack of 4 cans 15 oz each for $30.60.
---
Conclusion
Canned-chilli is one of the most popular convenience foods for a reason. Another good thing about this is that it is quite affordable. You can buy a pack of 6-12 cans of chili for 25 to 40 bucks. So, if you are looking to eat something delicious but don't want to spend a whole lot of time cooking it then grab yourself a can of delicious chili and in minutes you can have a hot bowl of chili which you can enjoy.