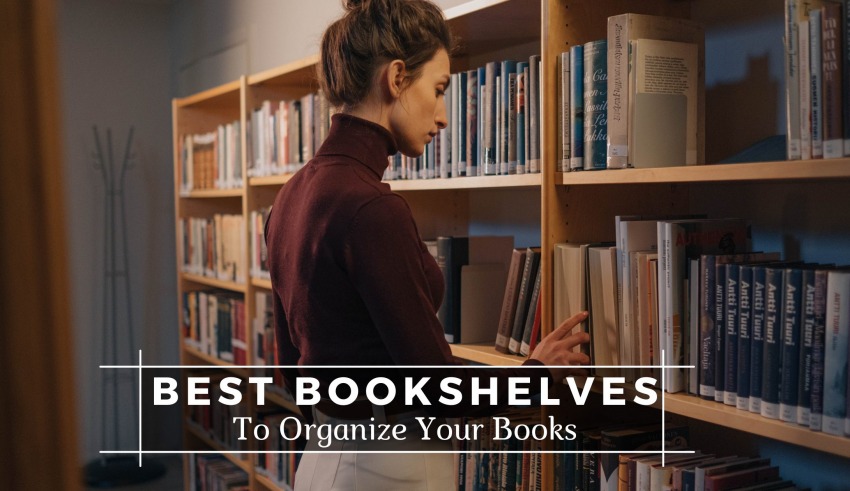 Bookshelves and bookcases are some of the products which are high in demand. When people shift to a new house or are looking to remodel the interior, buying the best bookshelves is the first thing that comes to mind. Bookshelves are a great piece of furniture as they help you store a variety of products apart from just books. The best books cases available in the market have a variety of designs and patterns to choose from.
You can even choose between rustic, industrial, modern, and contemporary themes for the bookshelves. Since these bookshelves are great for storage and provide a lot of character to the room. The bookshelf industry is huge with many companies competing with each other. We have tried to perform a careful analysis of all the high rated and reputed companies in the market.
In this article we have listed the best bookshelves you should consider when deciding to purchase a new bookshelf.
Numenn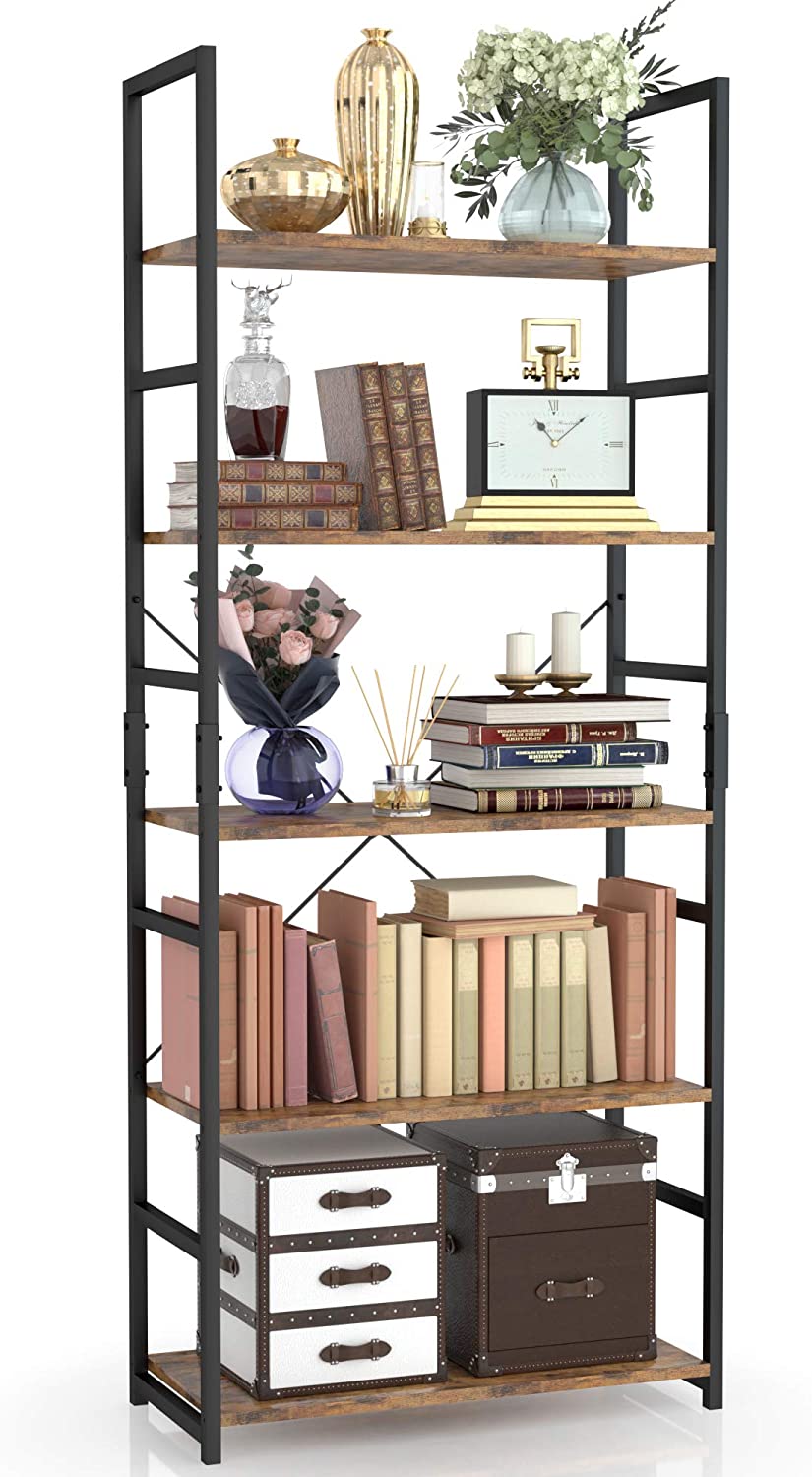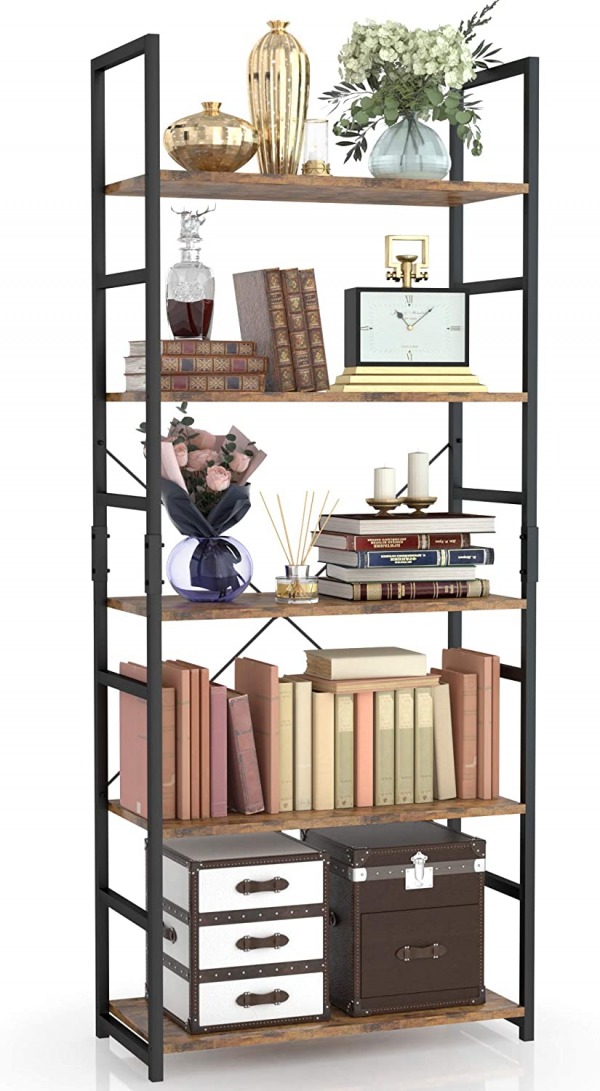 Numenn has one of the best bookshelves on Amazon. This is a tall bookshelf that has become immensely popular. They have received positive ratings and reviews from the majority of their customers. The bookshelf has an open design. This helps to improve the aesthetics of the shelf. The bookshelf is made from premium materials. They use top-quality particle-board along with premium metal rods.
The rods are coated with anti-rust which helps to improve the durability of the product. They have been able to craft one of the best bookcases which can hold up to 30 lbs of weight. They have crafted the product to have a sturdy nature. This bookshelf will help you to add style and class to your house while acting as an excellent place to store books.
The product is easy to assemble. They have provided the assembly instructions and it takes only 8 steps to assemble it by yourself. Numenn have different variants of this product. They differ in the number of shelves that they have. This bookshelf costs $119.99 but you can get it for $99.99 on Amazon.
---
Tribesigns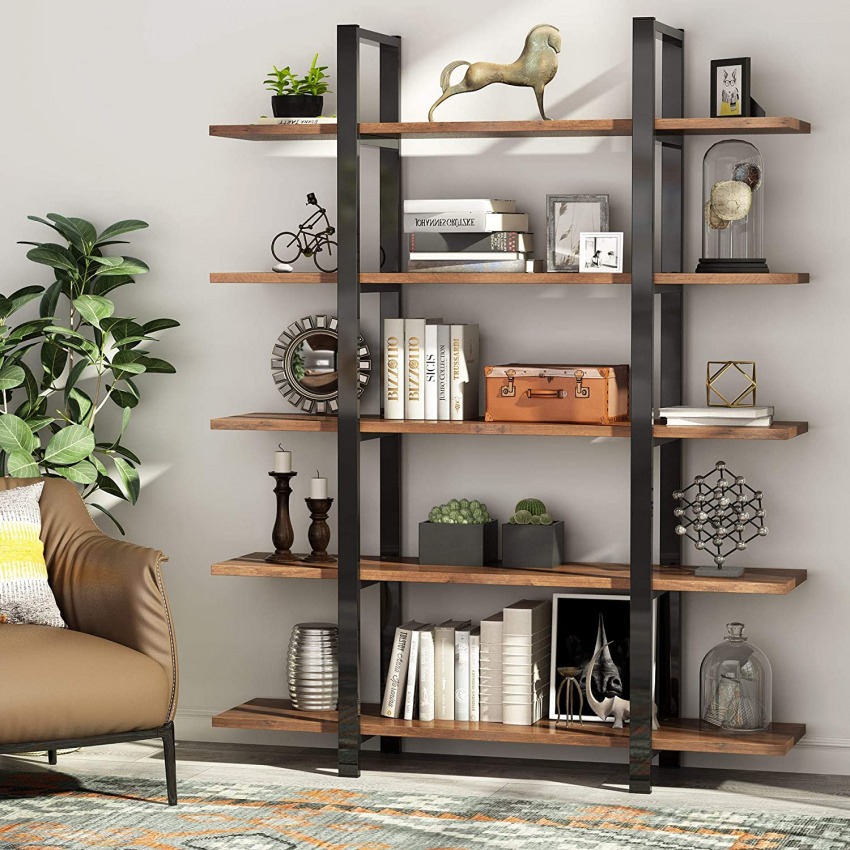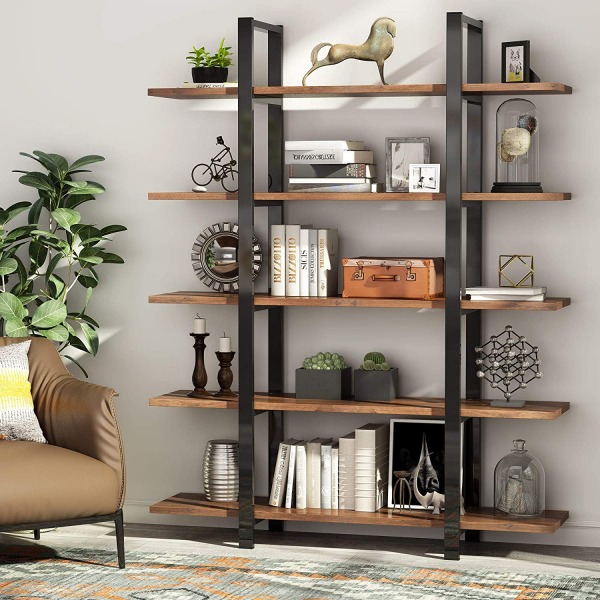 Tribesigns is a company that specializes in manufacturing some of the best bookcases. Their products excel in the quality they promise. They have been consistent in meeting the demands and the expectations of their clients. This has led to them being trusted by many as the top place to buy the best bookshelves. They have a 5-tier bookshelf. This product is crafted to give off a vintage and retro look. They use good materials to construct their products.
Engineered wood is the primary material used to build this bookshelf. The stands and rods are made out of alloy steel and metal. The bookshelf is rectangular. All 5 levels of their bookshelf have wide shelves. This helps you to keep books neatly organized. They have added non-slip pads to the legs of the bookshelf. This protects your floor from any scratches and keeps the whole structure stable. The product is easy to put together and will be a conversation piece for your house.
---
Rolanstar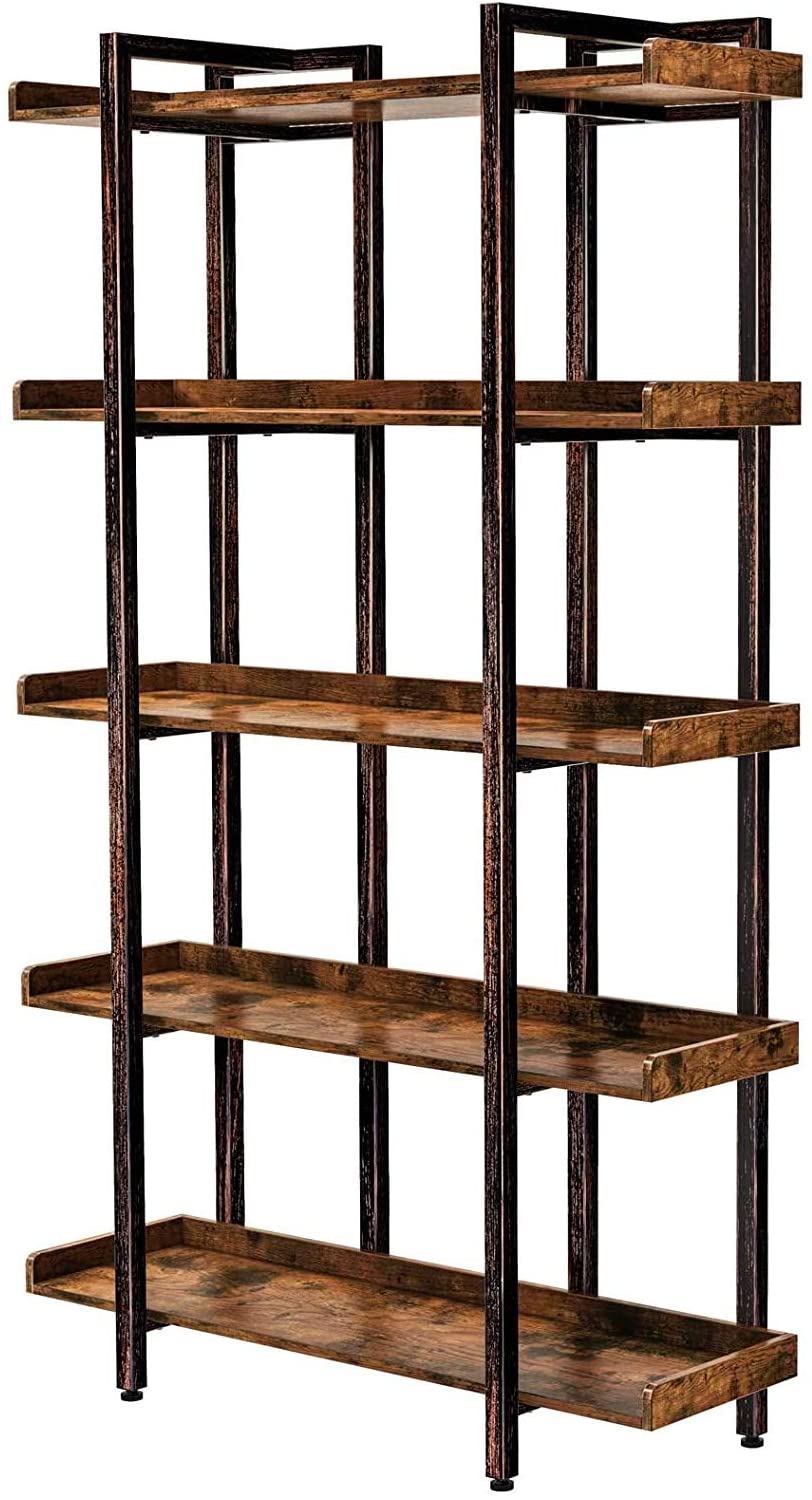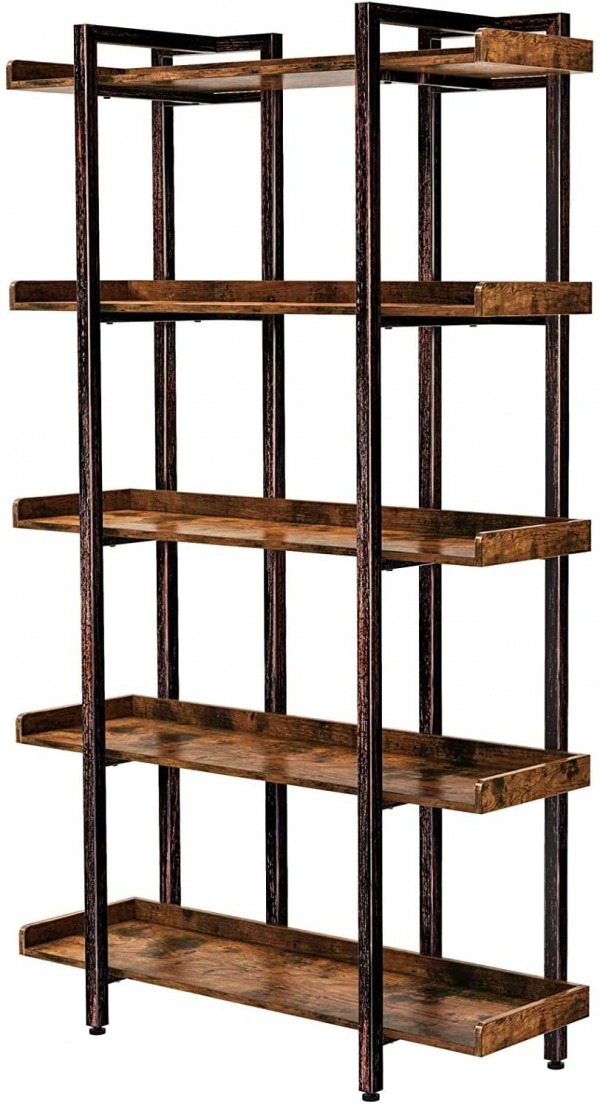 Rolanstar has an elegant bookshelf collection. Some have dubbed it as one of the best bookcases collections available in the market. One of their best bookshelves is the open Etagere 5-tier bookshelf. They have 5 beautifully made shelves that are supported by two metal rods. These metal rods are sturdy and help to provide a stable base to the entire structure. This is an open design that helps you to display all of the items that you store on these shelves.
They have made it look rustic and have used metal rods to add a contemporary character to it. Rolanstar have ensured that they select only the best raw materials for their products. They have used medium-density fibreboard. This material does not rust or get any scratches. They have got certifications for these materials which proves the high quality that they aim to provide. The product can be assembled in just 20 minutes and adds character to your home. The base of the product stays 6 inches above the ground to prevent any objects in your house from getting stuck underneath it.
---
Amazon Basics

Amazon Basics has a simple yet elegant bookshelf. It is shaped like a ladder and this unique shape makes it one of the best bookcases. When looking at user reviews it is one of the best bookshelves on Amazon. It has a 4.5/5 rating with over 3000 individuals rating the product. While trying to implement such a unique design they have worked to ensure that usability is not affected. This product is made to be kept against a wall.
The straight back of the product allows you to stack books against the wall. Each shelf is made from rubberwood. This allows each shelf to hold a maximum weight of 25 pounds. They have chosen this modern design as it compliments most of the interior designs that houses have. This will be a great piece that will add value to the interior of your house. They have provided this bookshelf in 3 different colors- Expresso, Walnut, and White. You can buy this bookshelf on Amazon for $64.74
---
Dofurnilim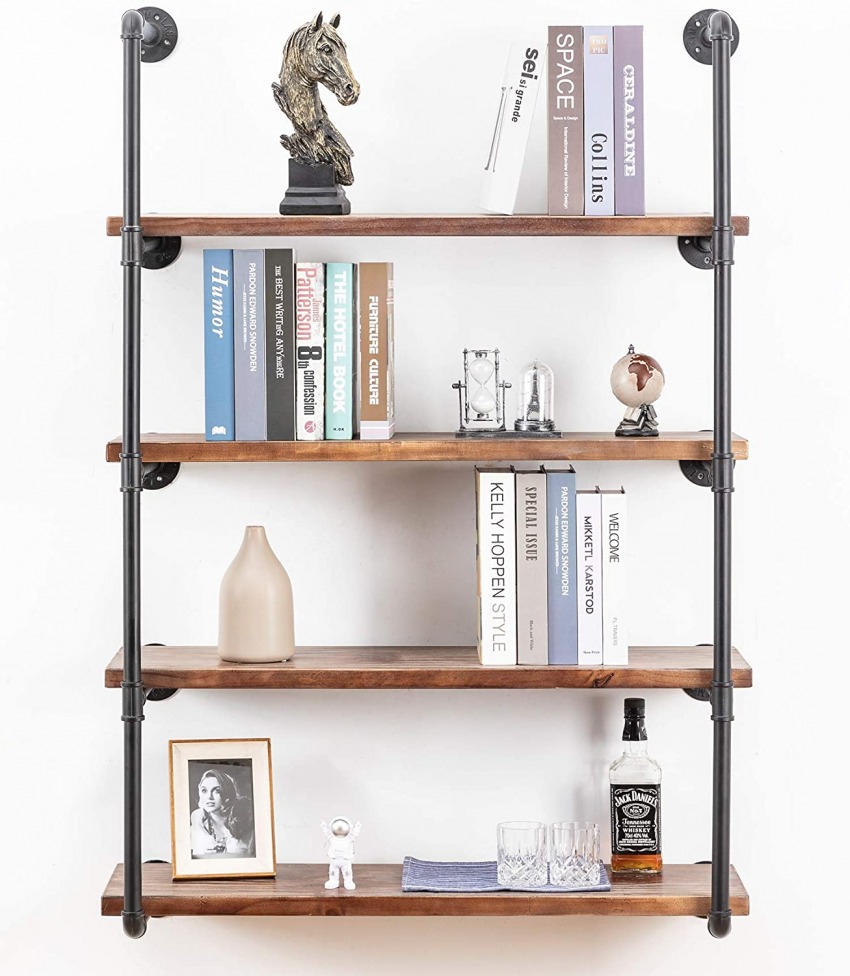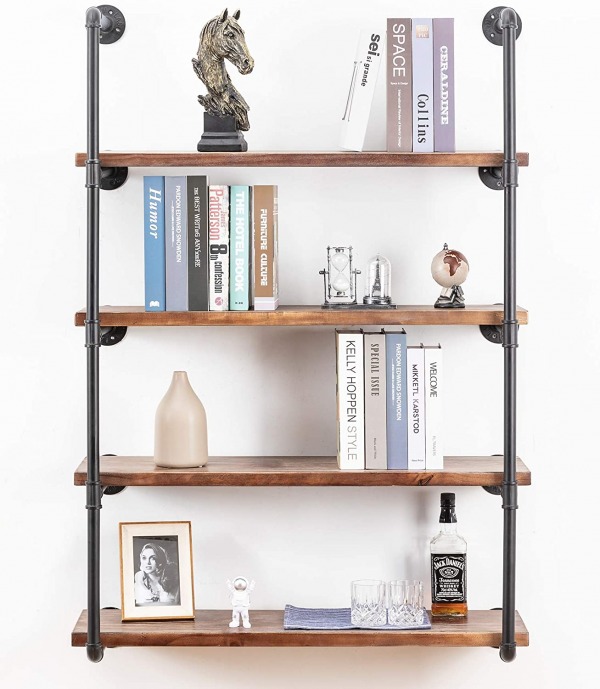 Dofurnilim is an underdog when it comes to making some of the best bookcases. They are not particularly well known but they do make some of the best bookshelves on Amazon. One of their most popular bookshelves is the wall-mounted bookshelf. This product differs from others as it is wall mounted. They have been able to make the product look like it is floating. They have used solid wooden planks to make the shelves.
these shelves are sturdy and can take a lot of load without bending. The support rods are made out of iron pipes. These are strong pipes that have been strengthened at the joint for better stability. The product is beautifully built which allows it to adapt to any wall. You will be able to keeps books and other products without any worry of them collapsing. They have a variety of options for this product. This depends on the number of boards you want and the size of each board. Their most popular variant is the 5-tier with 4 boards and 36 inches per board. This costs $135.99.
---
Modrine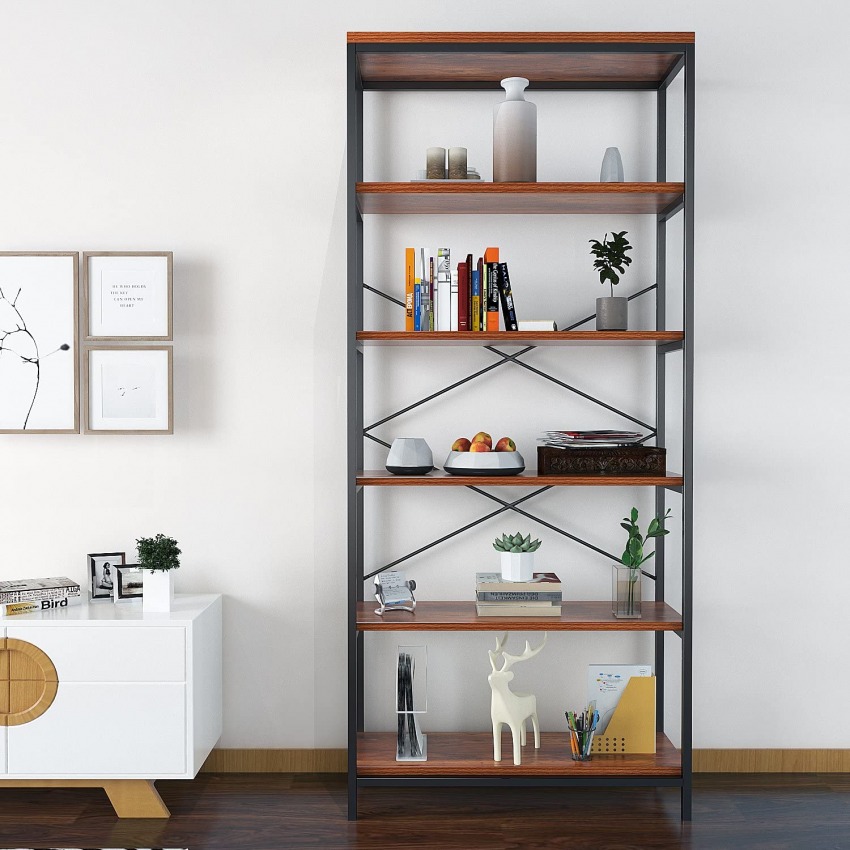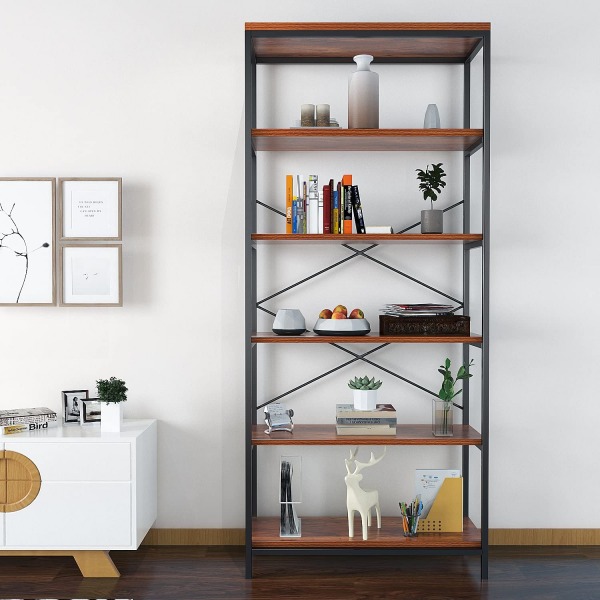 Modrine is a renowned brand in the furniture segment. They have been known as the manufacturers of some of the best bookshelves available in the market. Modrine have received positive feedback for their products which they claim to be some of the best bookcases that you have seen. They have averaged a rating of 4.7 on Amazon. The product is made out of MDF. This is a material that is strong and durable making it ideal for your bookshelf.
These shelves are supported by steel tubes. Each of their shelves can hold up to 75lbs of weight which is one of the highest capacities among its competitors. They have an X-shaped design on the back of the bookshelf which makes it look attractive to the eye. The product has an open design with a covered top. They say that the full assembly process for the product only takes a couple of minutes. You can purchase this from Amazon for $134.99.
---
Oiahomy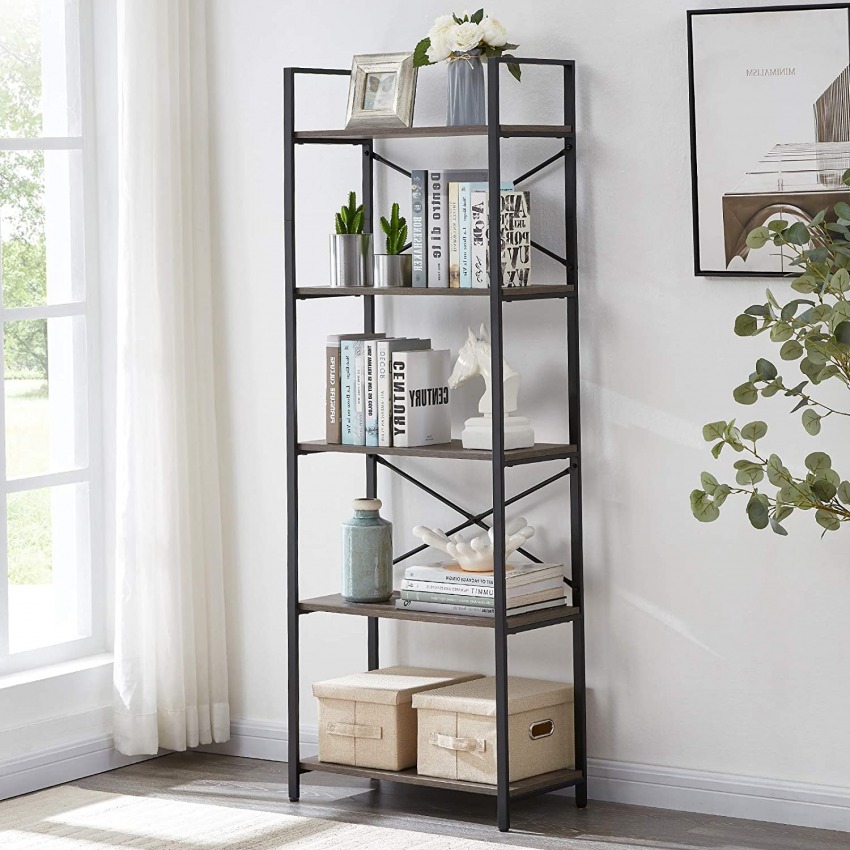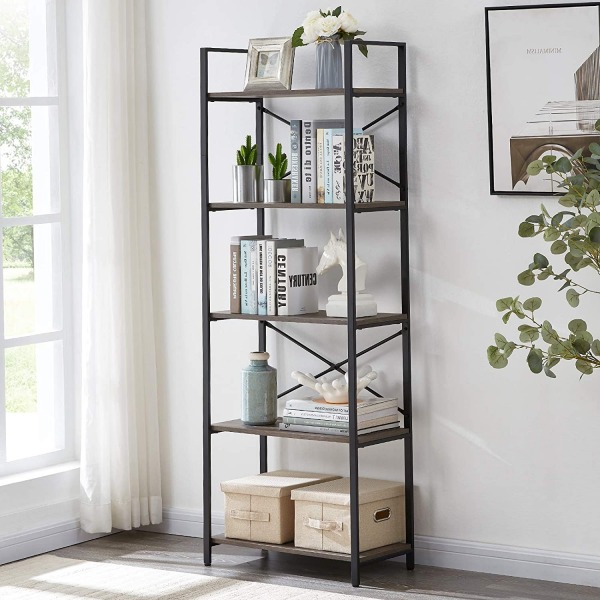 Oiahomy's products are known for their great finishing and rustic look. They have been labeled as manufacturers of the best bookshelves in America. Their industrial bookshelf is regarded by many as one of the best bookcases. It is available in 4-tier and 5-tier variants with the 5-tier variant being more popular. The shelves are made out of a combination of wood and engineered wood and are supported by a black metal frame.
This frame is thick and has been specially constructed to hold heavy loads. The product manages to give off a vintage look which helps improve the decor of the house. Each shelf has a capacity of 50 lbs. The color scheme on the product helps it to stand out. With such a good build quality in terms of the shelves and the metal rods. The 5-tier bookshelf costs $109.99.
---
Rolanstar Bookshelf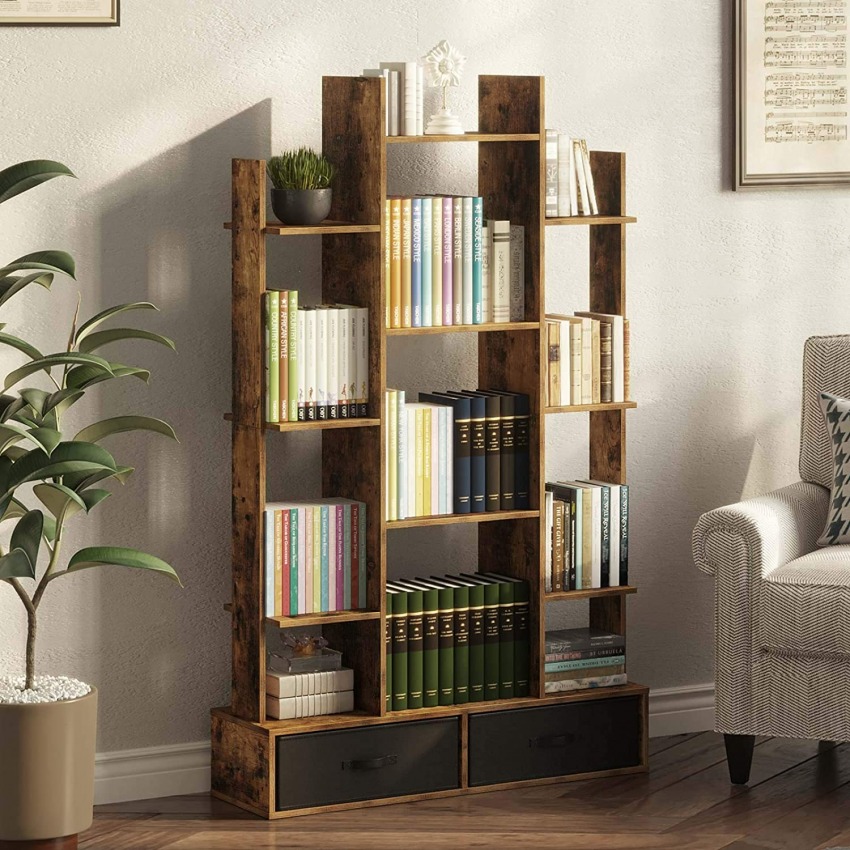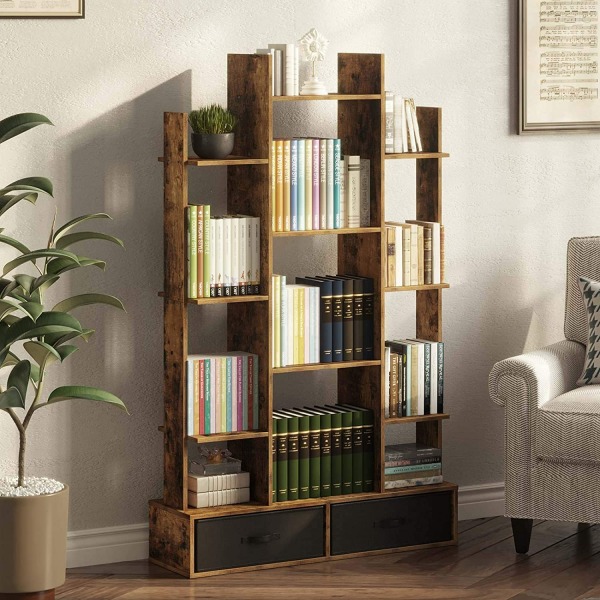 Rolanstar makes its appearance on our list once again with one of their best bookshelves that have 2 additional drawers. This bookshelf is one of the best bookcases which has additional storage facilities. The bookshelf is divided into 3 vertical sections with each section having 3 shelves. The middle section is bigger than the side sections this provides the bookshelf with an attractive design.
At the bottom of the shelf, the 2 horizontal drawers that provide you with additional storage space. The drawers have been made to have a different color than the rest of the structure and it enhances the beauty of the entire structure.
They have used non-slip pads at the foot of the bookshelf to prevent it from moving around in your house. They have implemented anti-falling technology which helps to prevent your bookshelf from tipping over. Rolanstar Bookshelf provide you with all of the tools and accessories you will need to assemble the product. They say that by following the manual the product can be assembled in 20 minutes. The product is priced at $109.99 on Amazon.
---
SuperJare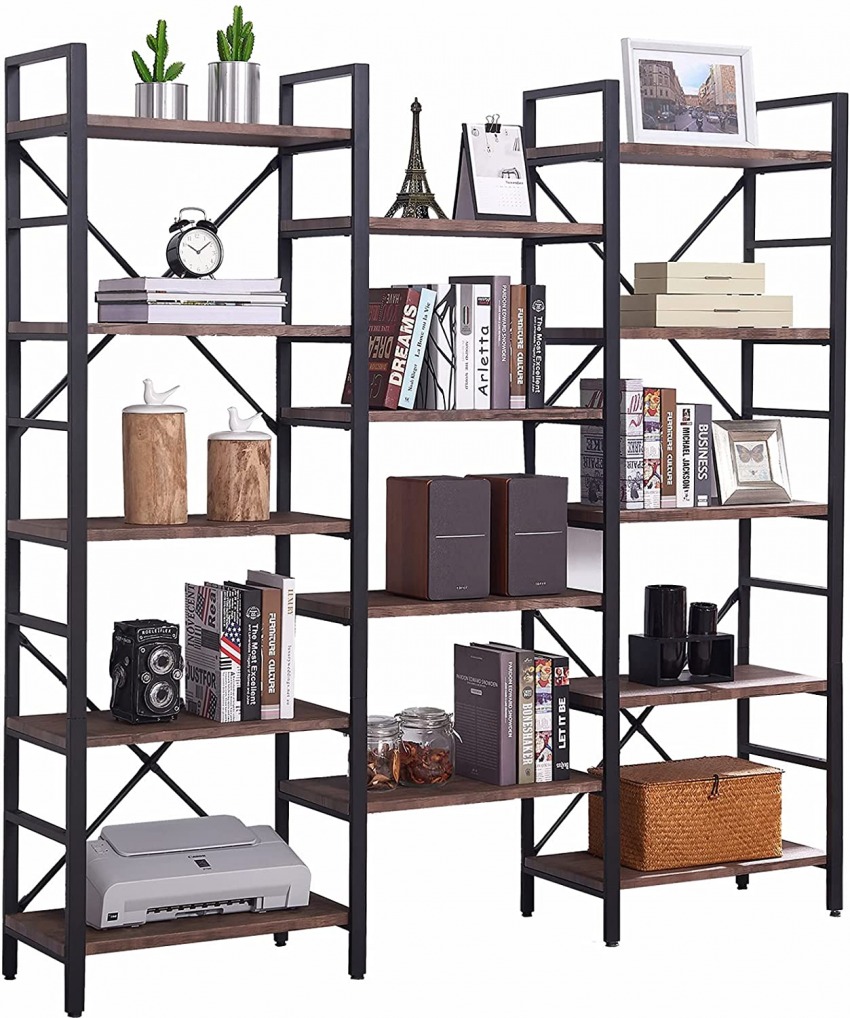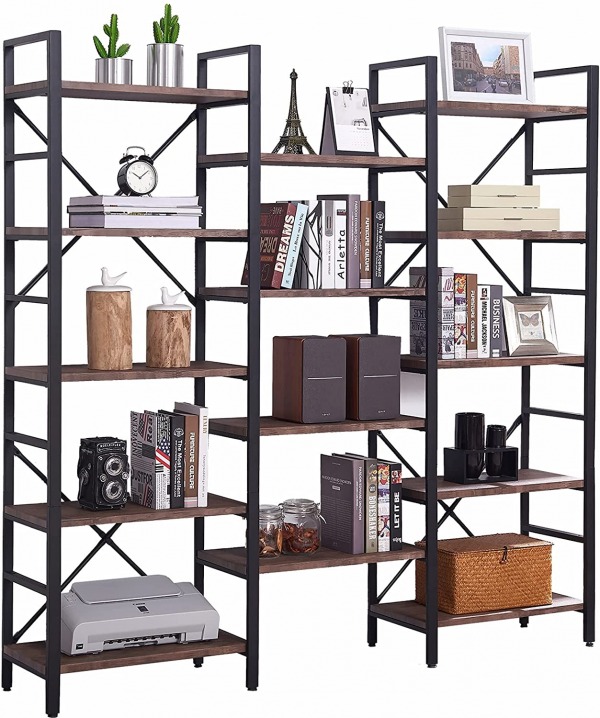 SuperJare has one of the largest bookshelves on this list. They are considered to have some of the best bookshelves. This is a result of extensive research into the needs of their clients. Providing such a large storage space puts them into contention as one of the best bookcases on Amazon.
The product can be purchased in three different colors- Black, Rustic Brown, and Vintage Brown. SuperJare product has a total of 14 shelves. The product can be modified according to your specifications. You have the luxury of rearranging the boards to alter the storage spaces to your needs. SuperJare stand is made from metal which is arranged in an X shape for better support to the shelves.
---
Hommisue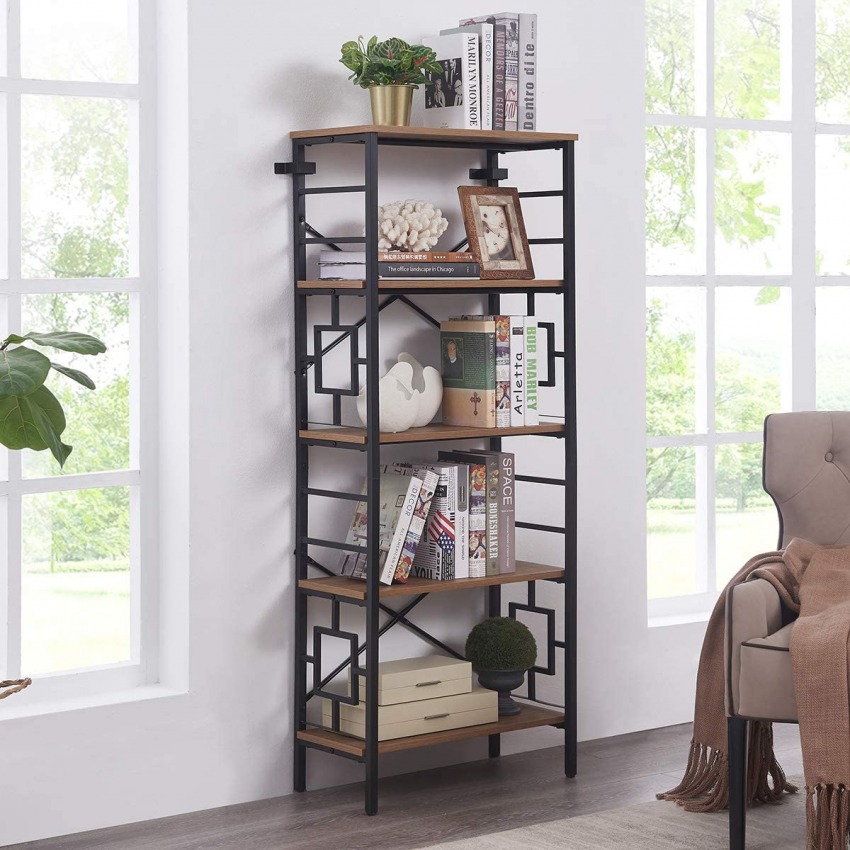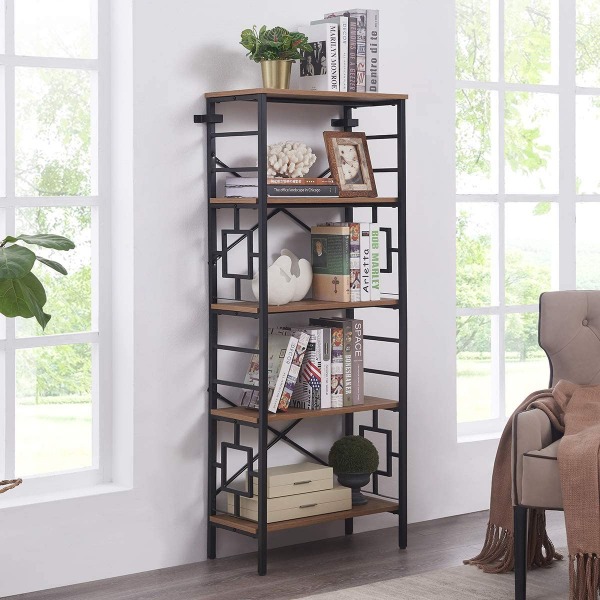 Hommisue has a tall 7-tier bookshelf that is becoming increasingly popular among consumers. This bookshelf is constructed with geometric patterns. This gives the entire bookshelf a unique look. This is made in an industrial pattern to add more style to your decor.
The product is made from some of the best materials which helps it to withstand the course of time. The boards are made from top-quality MDF. These boards are enclosed in strong steel tubes. These tubes add style to the product while improving its stability and durability. They provide anti-tipping clamps which you can attach to the bookshelf to prevent them from causing accidents. Each shelf can hold around 32 kg of weight.
---
Rolanstar Organizer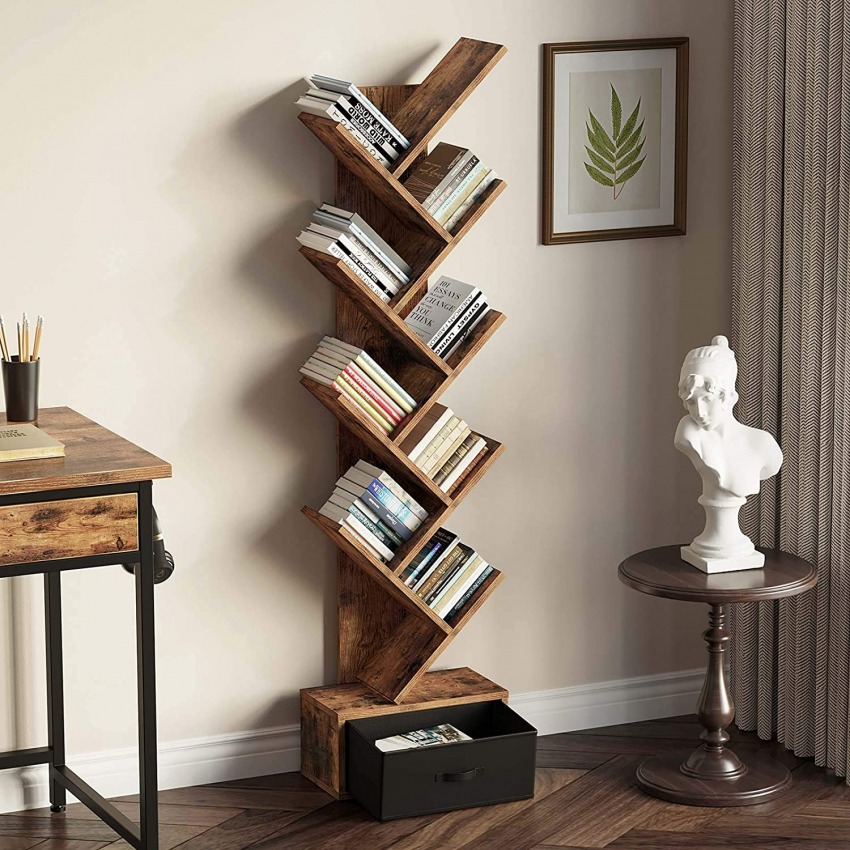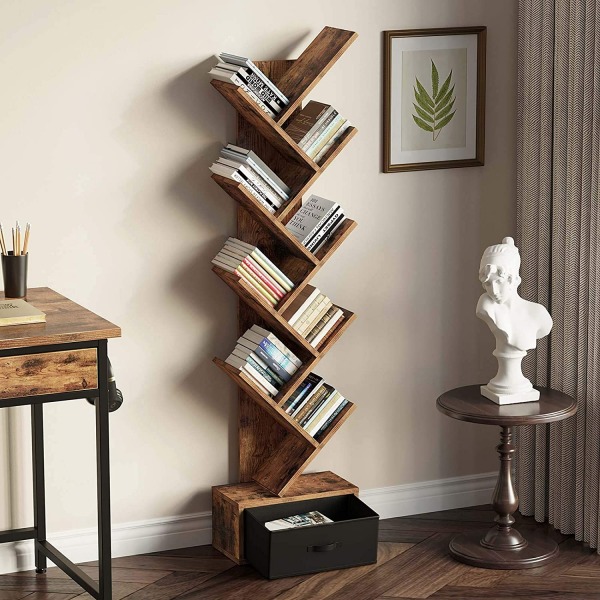 Rolanstar makes its appearance on our list for the third time and rightly so. Their tree-shaped organizer deserves all of the positive reviews it has been gathering. It is an 8 shelf rustic bookcase which is in the shape of a tree. The shelves intersect with each other making a tree-like pattern.
There is a drawer at the bottom that provides additional space for storage. This is the perfect solution to modern storage needs. The open design helps you to access the books easily. The bookshelf takes up a small space in your house but maximized the storage capacity. They only use certified raw materials to construct their products. The product can be purchased for $79.99 on Amazon.
---
Ellennice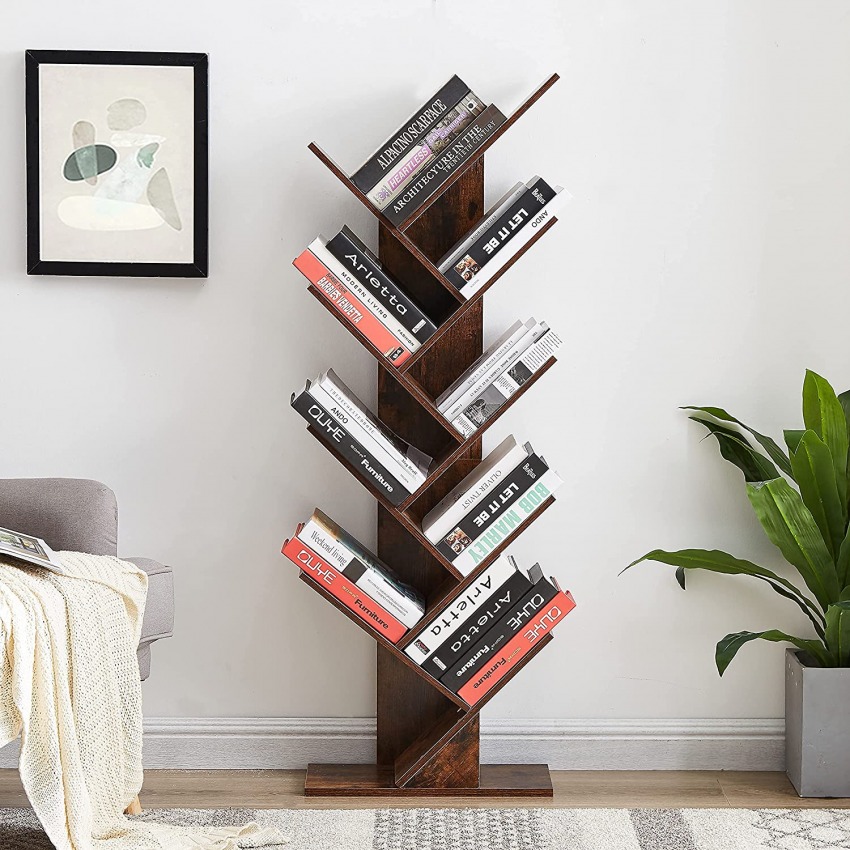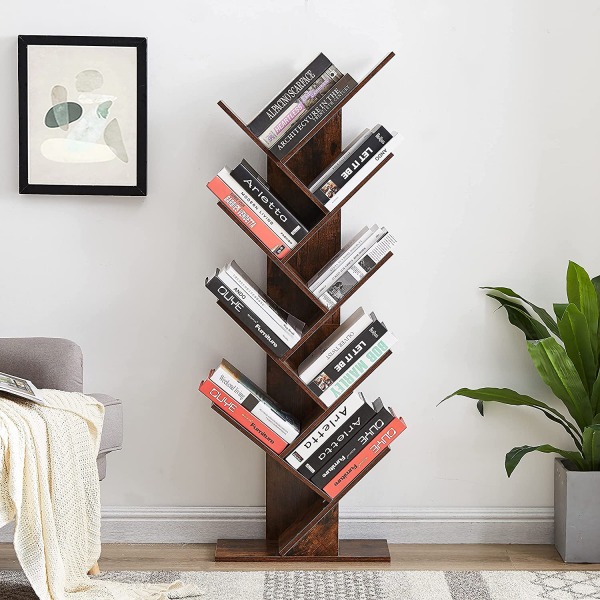 Ellennice has manufactured a multistoried bookshelf and organizer for their clients. Their product is made from high-quality fibreboard which is environmentally friendly. The structure is in a T shape and is meant to represent a tree.
The storage space is perfect for storing books and other miscellaneous. The assembly of the product is relatively simple and easy to do. They have app the parts properly labeled to save you time and effort. The company has gone to great extents to provide a responsive after-sales team. They get back to you very quickly with all of the information you need with your query.
---
Sauder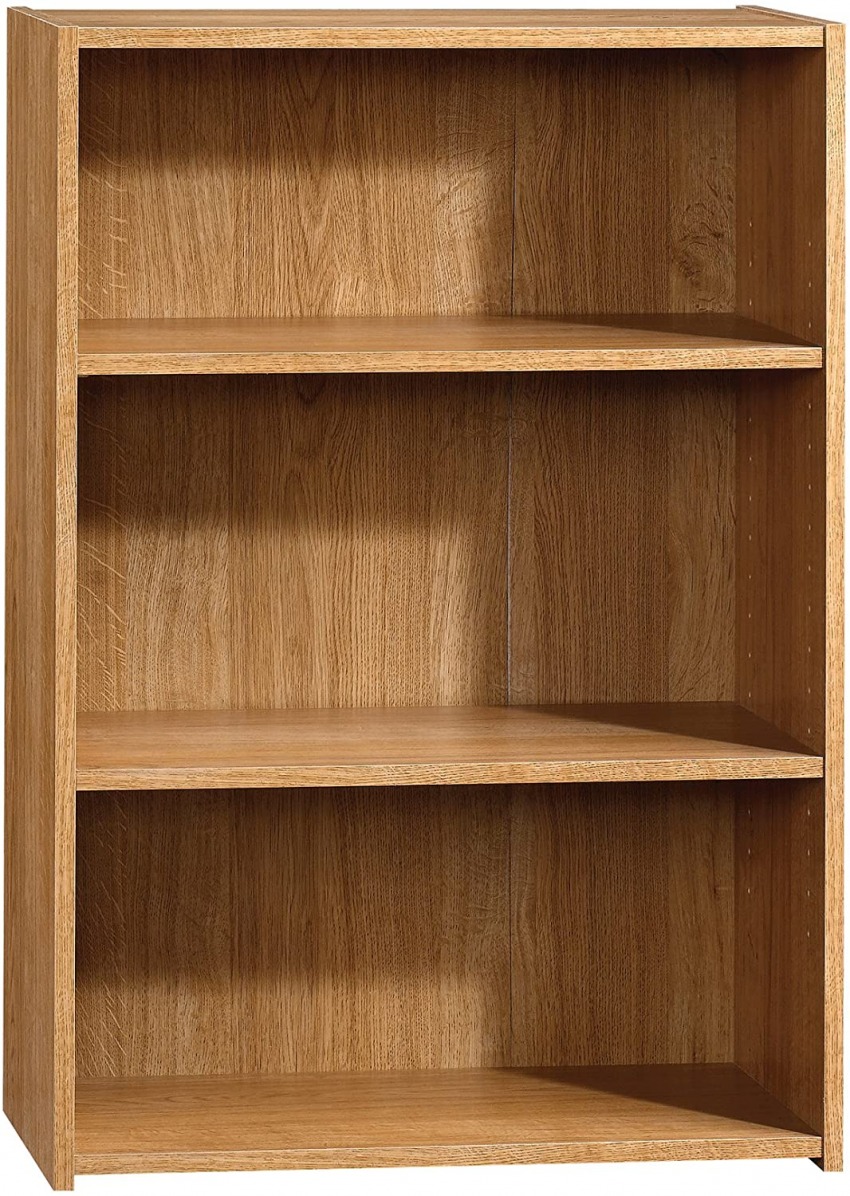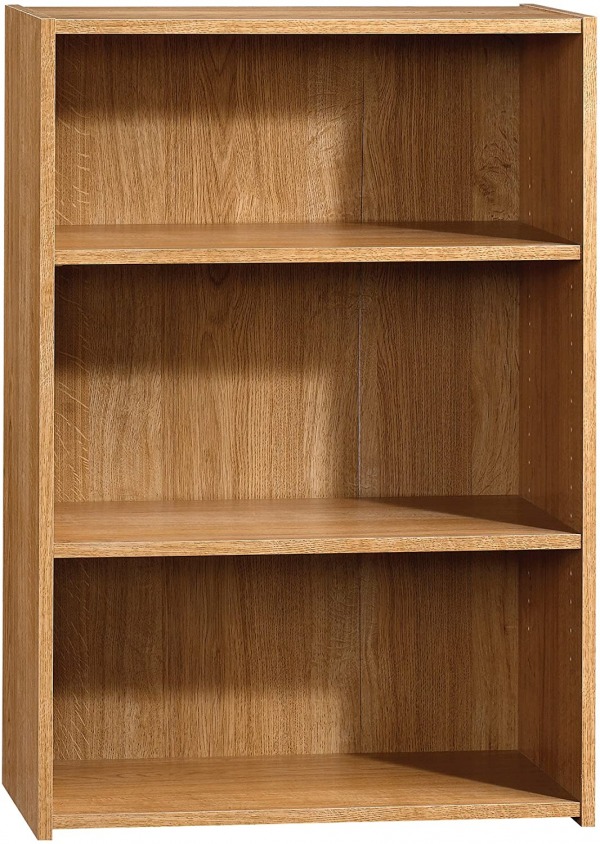 Sauder provides a small and simple storage solution with its three-tier bookshelf. It is made from engineered wood and other recycled material. The product is rectangular and has a Highland Oak finish. The shelf has a closed design. This helps to minimize the damage that the products that might face. Two of the boards can be adjusted according to your needs.
While it may seem simple it provides an elegant look to your entire interior. They are made from environmentally friendly materials keeping in mind the social responsibility of their company. This is the ideal product for people who do not have much space for a larger bookshelf but are unwilling to compromise on the design and style aspect of the bookshelves.
---
Hodedah

Hodedah has created a tall bookshelf that has a back panel. This is different from many of the products in this list due to the back panel. This back panel allows you to store books without the support of a wall. Thie product provides you flexibility in terms of where you want to place the product as it does not need wall support.
They have interesting color options to choose from. The 5 color options they have included are Beech, Black, Cherry, Mahogany, White, and Rainbow. You can combine their bookshelves by lacing them together and forming a rack of bookshelves. They have great ratings on Amazon and should be a top contender in the bookcase category.
---
Furinno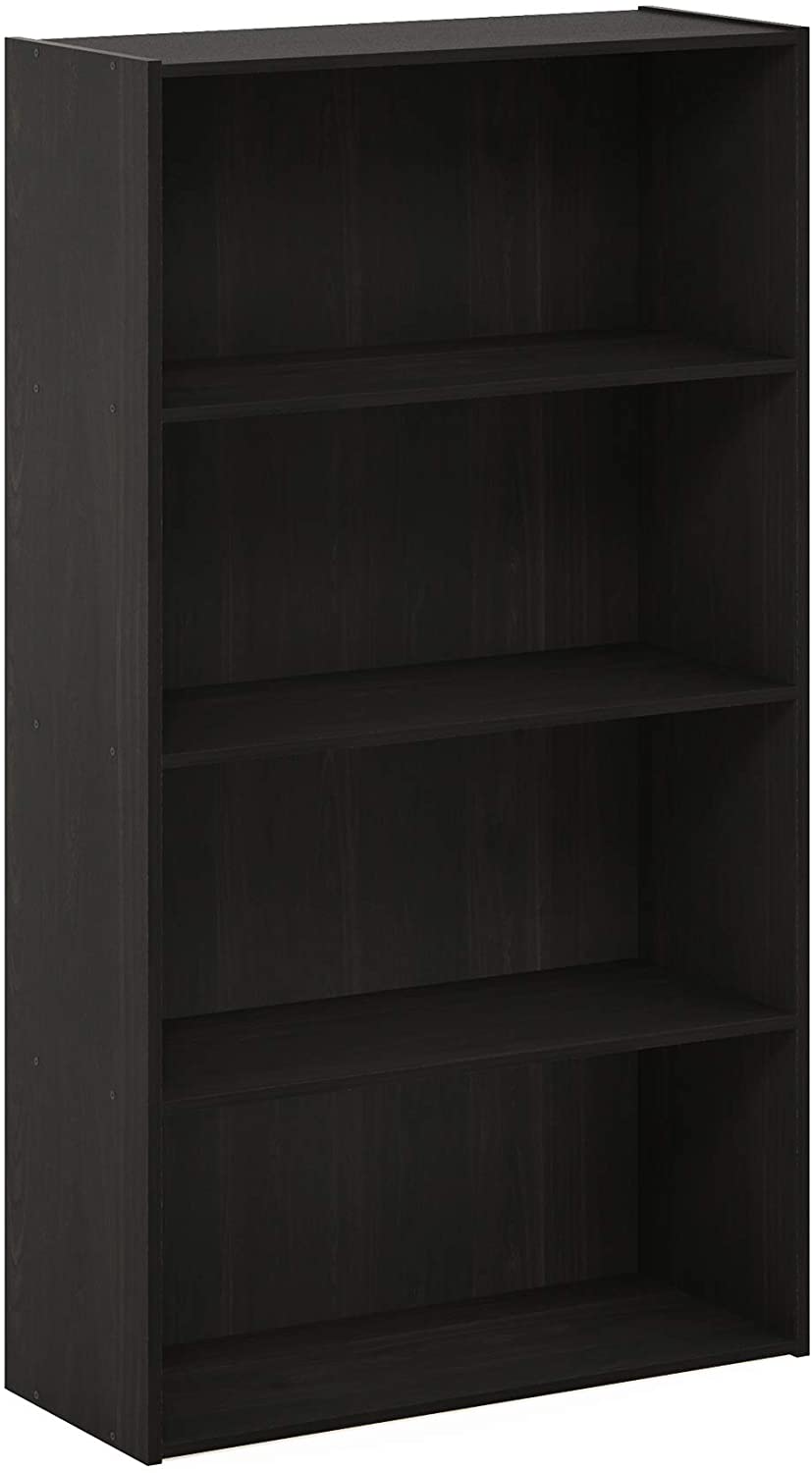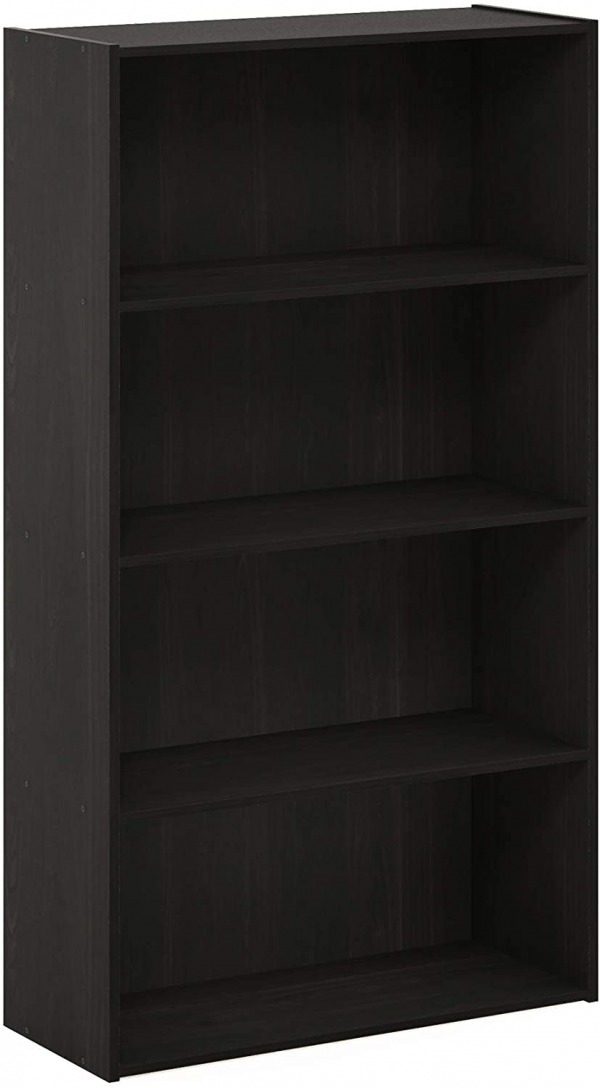 Furinno has adopted the method of simplicity is the best. They have a 4 tier open bookshelf which is identical to all the older generation of bookshelves. With these, you are adding a traditional design to your house with the modern build quality.
You can store a variety of products on the shelves. They have used the best quality materials to construct this bookshelf. It is made from engineered particleboard which makes it light but sturdy. Each shelf can withstand about 25 pounds of weight. The bookshelf is available in the Espresso color. You can combine smaller versions of this product to make a large bookcase.
---
Conclusion
Bookshelves often become statement pieces in your house. If you invest in purchasing a good bookshelf you will have a conversation starter sitting right in your living room. All of the bookshelves listed above are extremely durable. They have been made from some of the best quality materials available. When purchasing a bookshelf keep in mind the design and the color. The design will the part of the bookshelf that will pull the attention of people to it.
The color has to complement the rest of your decor. If you have a great bookshelf but it does not fit the color scheme of your house, it sticks out like a sore thumb. Ths keep in mind that the product you purchase should be complementary to the rest of your house. The bookshelves listed here are available in a variety of colors. When going through the list you should be able to find products that meet your requirements and color schemes.