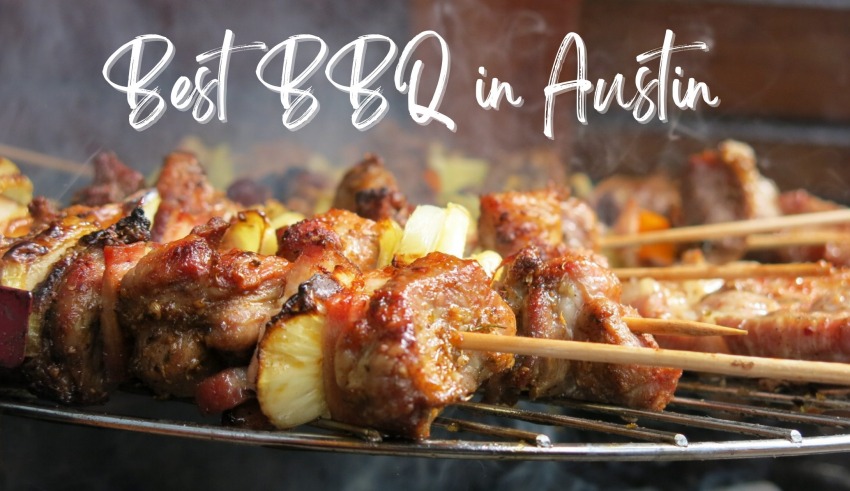 As they say, a night spent in Austin is incomplete without relishing the famous barbeque dining experience. Barbecuing is a way of life in Austin and is a must-have on every traveler's itinerary. From mouth-watering smoked meat to spicy sausages to old-school succulent briskets – the best barbeque in Austin have this and a whole lot of other smoked treats to offer. The BBQ scene in Austin is a complete appetizing as well as a sensory experience. As such, the diners and barbeque joints in the city offer the finest dining ambiance in backyards and patios with the crisp smell of fiery smoked pits.
So, if you are traveling to Austin for your next trip, then do not forget to savor the delectable experience of the finest BBQ in the city. The following are some of our handpicked recommendations of the best BBQ in Austin that are sure to satiate your appetite and leave you drooling for more smoked supper.
Where to Get the Best BBQ in Austin – 10 Best BBQ Diners in Austin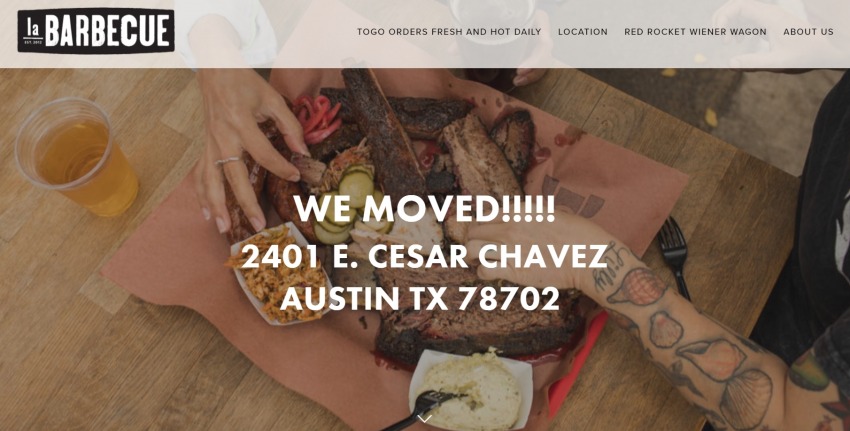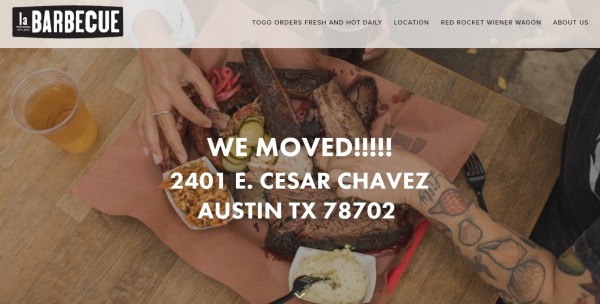 La Barbecue is a complete magnet when it comes to the best BBQ in Austin. Offering sizzling barbeque in the heart of Austin, this BBQ restaurant celebrates the legacy of Bobby Mueller – the James Beard awardee who mastered the art of barbeque before it became fancy. This Central Texas barbeque specializes in giving a modern twist to traditional barbeque dishes. It is precisely this that makes it difficult to find the same authentic flavor and taste anywhere else in the city.
With unique recipes featuring blends of savory salty rubs, slow cooked briskets and melt-in-the-mouth beef. La Barbecue serves smoked delicacies with tangy sides that will leave you tempting for more. Their menu features the good old pork, sausages, giant ribs, turkey complemented with wine or sake. You can roll up your briskets in a juicy El Sancho sandwich with pickles and onion on the side. Savor this ultimate experience with your friends or partner in a striking indoor dining or patio seating while listening to live music.
---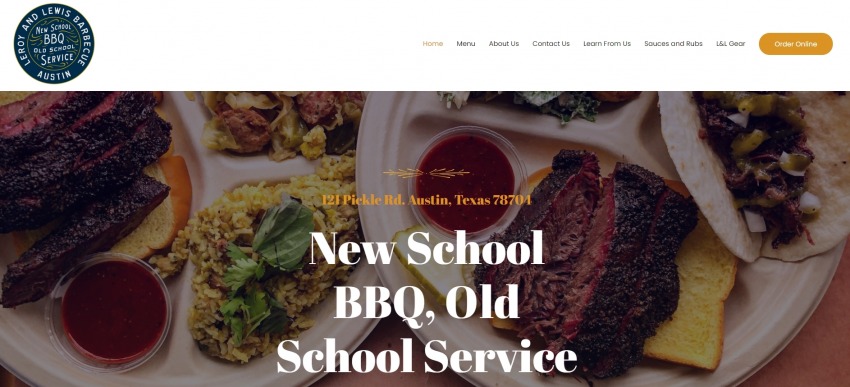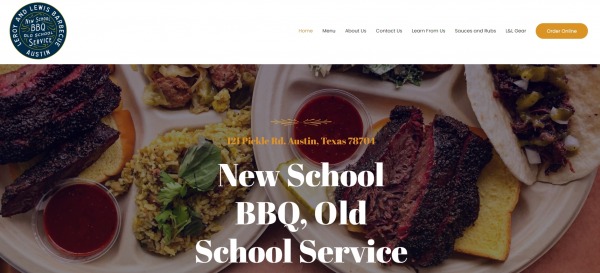 One of the best BBQ in Austin, LeRoy and Lewis Barbeque describe themselves as 'New School BBQ, Old School Service.' Indeed, they bring together locally sourced meats, inventive barbeque techniques and old school hospitality to deliver the finest barbeque experience. Serving this unique smoked scene in a blue truck in South Austin, this BBQ joint offers world class  smoked delicacies in a casual ambiance near the fence of Cosmic Coffee + Beer Garden.
From smoked brisket burger with American cheese and pulled whole hog to smoked beef cheeks and loaded pork hash and rice, LeRoy and Lewis serves some of the most toothsome flavors in Austin. When here, do not forget to try their classic cheddar cheesecake and no-beans Texas Frito pie topped with onions and jalapeno. Please note  that their menu changes frequently depending on availability from local ranchers. So, each time you visit this joint, you might be up for a surprise. Giving off a backyard barbeque vibe, this food truck is just where you need to stop off for your mid-touring food cravings.
---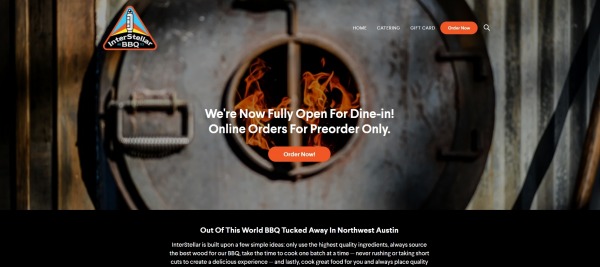 One of the most coveted BBQ joints in Austin, Interstellar BBQ is tucked away in the Northwestern part of Austin. Renowned for its high quality standards, Inter Stellar sources high quality wood and fresh ingredients that are cooked low and slow. Further, the barbeque is done on clean smoke produced from Post Oak so that you can cherish the most authentic flavors. Creating a delicious experience, one dish at a time, this BBQ restaurant in Austin offers dine-in, online food delivery as well as order pickups.
When at Inter Stellar BBQ, you can never run out of options to appetize on. From lip smacking sides and delicious smoked meats to beverages and desserts that you cannot resist. This BBQ joint features classic treats including chopped briskets, pork spare ribs, jalapeno popper sausage, pulled pork shoulder and more. You can also opt to savor a variety of ready to eat sandwich wraps. Complement your meals with jalapeno slaw, pickles and onions, tomato zucchini salad and more. Finally, get your hands dirty on the ultimate Butterscotch Chocolate Blondie that is a one of a kind sugary treat to die for.
---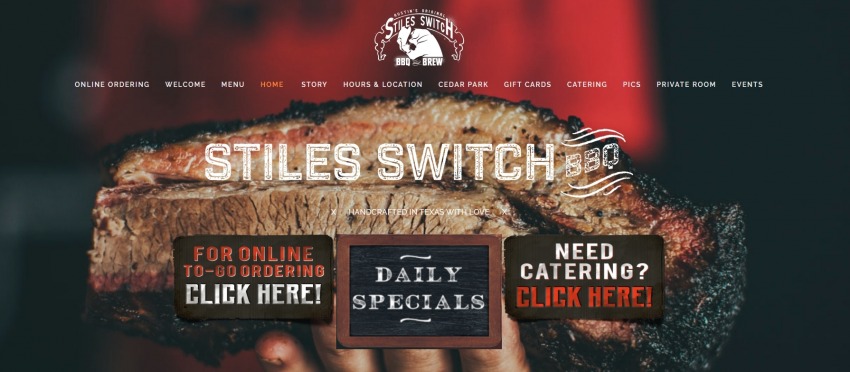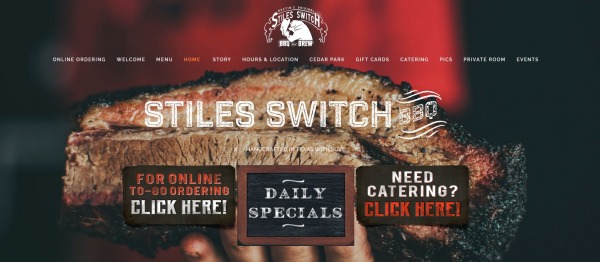 This neighborhood style eatery is one of the best BBQ in Austin serving old style Texas barbeque and craft beer. Specializing in slow smoked meats and homemade sides, this BBQ destination is based in North Lamar and Cedar Park. It takes on a funky setting of a joint with the walls covered in photographs and graffiti art. As such, here, you can experience the combined vibe of a barbeque hall and bar.
Stiles Switch BBQ and Brew serves a choice of smoked meats – from briskets and pulled pork to turkey breast, spicy sausages and smoked chicken among others. The beef ribs from this BBQ joint are the Cadillac of the menu and are one of its kind in Austin. Complete your dining experience at Stiles Switch with delectable sandwiches made available with a choice of sides and a bottle or can of beer. Finally, give the perfect end to your meals with tempting desserts that will satiate you for the day.
---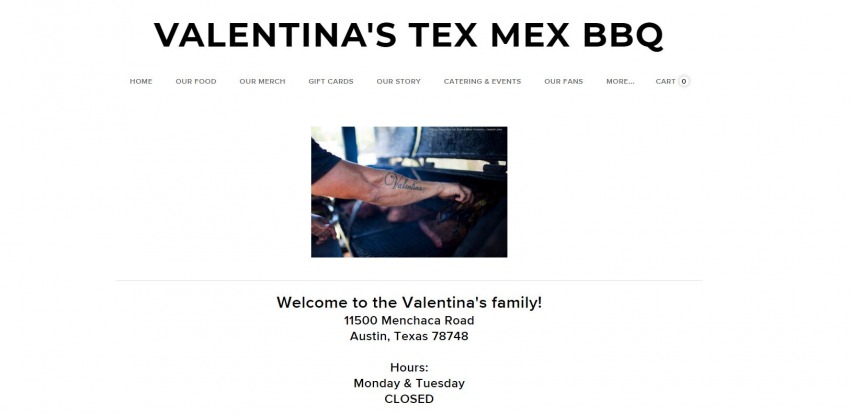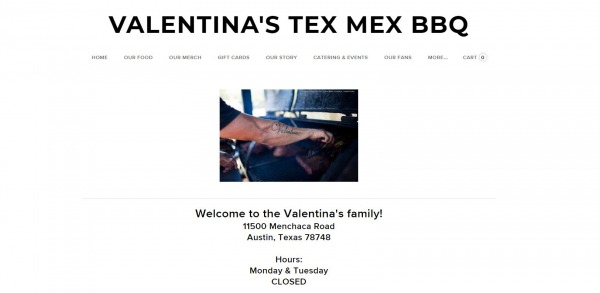 Going out with friends for a casual rendezvous? Then, this food trailer serving flavorsome barbeque in an outdoor setting with umbrella-shaded benches, is just the right spot for you. It serves traditional Texas smoked meat with a Mexican twist. All the dishes on their menu are prepared by outsourcing top of the line ingredients. Their beef and pork for instance, comes from the family-run Hartley Ranch. Always boasting crowds, this BBQ joint is ideal for visiting for breakfast or lunch.
Valentina's Tex Mex barbeque serves up the mouth-watering delicacies with familial hospitality that will leave you coming for more. Their specialties include smoked carnitas with a choice of sides including caramelized onions, cilantro, tomatillo salsa and more. Also, the pulled pork sandwich with a tangy coleslaw and barbeque sauce, Real Deal Holyfield breakfast taco and the smoked brisket taco are must-try specials from their menu. If you are looking for the vibrant blend of Mexican spices and seasonings in the heart of Austin, then Valentina's Tex Mex is your ultimate spot for sizzling barbecue.
---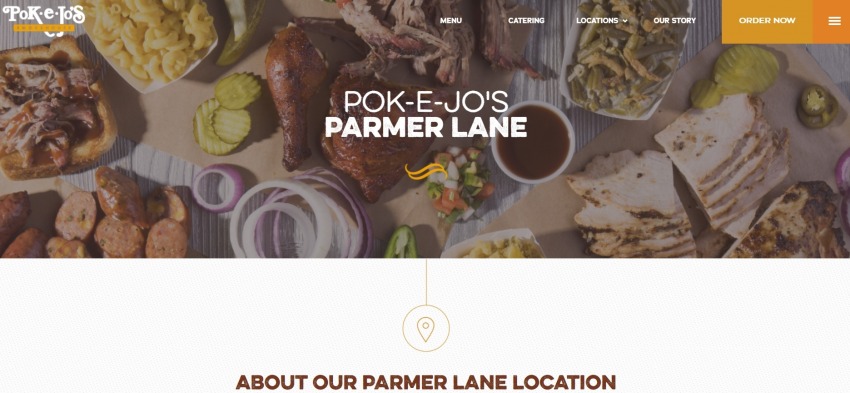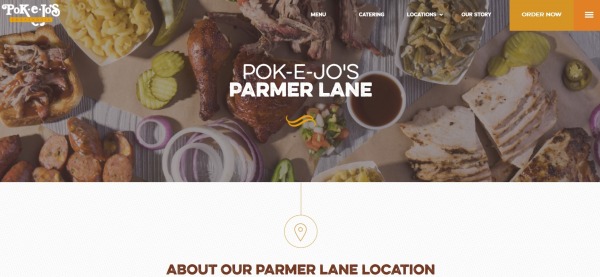 Experience the sizzling joy of live barbeque with the smokey aroma of firing meats cooking up to arrive fresh on your plate. This restaurant is one of the best BBQ joints in Austin that carry forward the local Austin barbecuing tradition. It specializes in serving tender, melt-in-the-mouth barbeque with fresh sides brought into your palate with signature Texas hospitality. Ideal for a family outing, friends get-together or a romantic rendezvous. Pok-e-Jo's Smokehouse is the just the perfect barbeque destination for binging on the city's smoked meats scene.
At this restaurant, you can order generous barbeque plates including choicest smoked meats, choice of two sides, Texas toast complemented with their inhouse barbeque sauce. Also, you get a trip to the condiment bar. Looking for gluten-free barbeque appetizers? They have you covered with equally flavorful meats including spicy Texas pulled pork, beef briskets, sausages and more that are health-freak barbeque options to die for. Choose from hot or cold sides, BBQ sandwiches and tempting desserts to complete your meal. Find this one-of-a-kind barbeque house at multiple locales in the heart of Austin.
---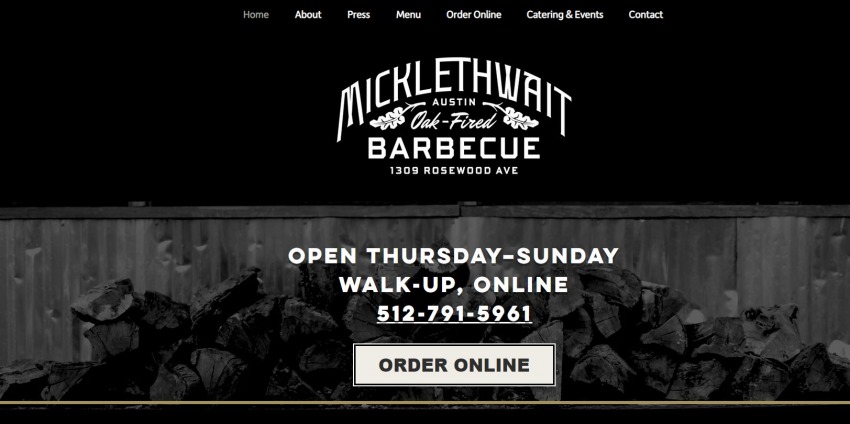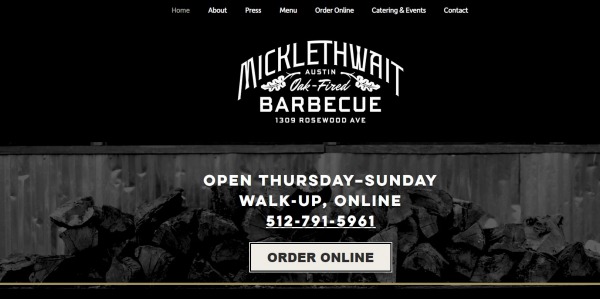 This award winning, full service food truck is one of the best BBQ in Austin offering oak fired Central Texas barbeque in the heart of East Austin. Nestled in the secluded outdoor setting with the smokey fragrance of fiery barbeque pits and the somber shade of lush Texas trees, this backyard BBQ joint takes the smoked meat scene to the next level. As such, the joint has bagged features in top Texas dailies, including the Texas Monthly's list of the best BBQ joints in Texas.
At Micklethwait Craft Meats, you can find the traditional classics such as briskets, pulled pork, ribs, chicken and sausages. Besides, here you also get toothsome sides made from scratch. These include the Jalapeno Cheese Grits, Lemon Poppy Slaw, Chili Beans, Mac and Cheese and many more must-have accompaniments with every meal. You can also get your smoked meats wrapped as a sandwich. Finally, get a perfect end to your meals with the classic inhouse Banana Cream Pie. So, if you are looking for lip smacking flavors to savor the city's barbecuing experience, Micklethwait's is your ultimate destination.
---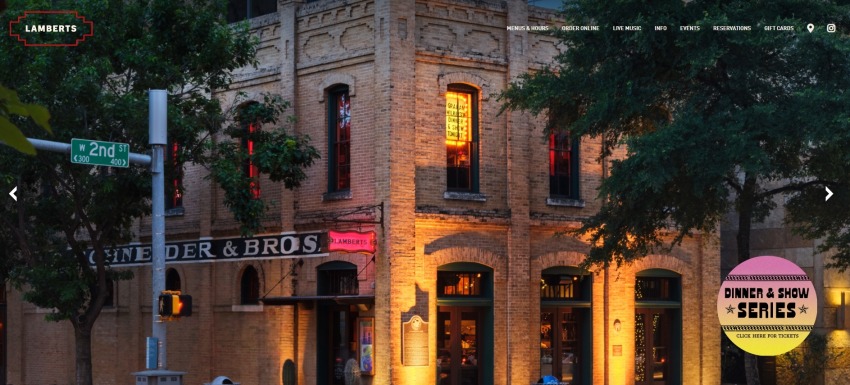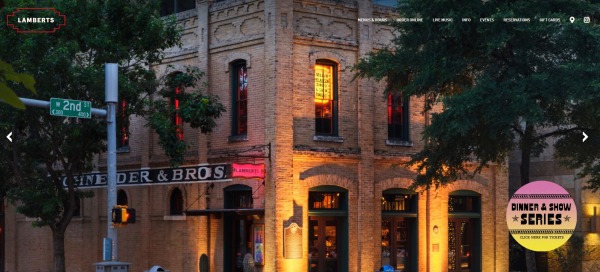 Dine in class with this upscale barbeque destination situated in the heart of downtown Austin. It is tastefully situated in a restored historic building called the Schneider Brother's Building with brick walls. As such, its ambiance diffuses an old-world charm that perfectly complements the posh atmosphere. Lamberts serves up slow smoked BBQ prepared with modern Texas cooking. These are brought to your table with local beers, classic cocktails and new world wines. You can also dine in the upstairs bar and lounge that features live music.
While at Lamberts, you can get your taste buds the flavor of fennel and coriander crusted pork ribs, homemade jalapeno and cheddar sausage, lime rubbed natural chicken and more. Couple your main course with house made sides and choicest selection of beer, wine or cocktails. Perfect for your romantic date, business lunches or family dinner, this upscale barbeque is right where you get authentic flavors in a lush ambiance.
---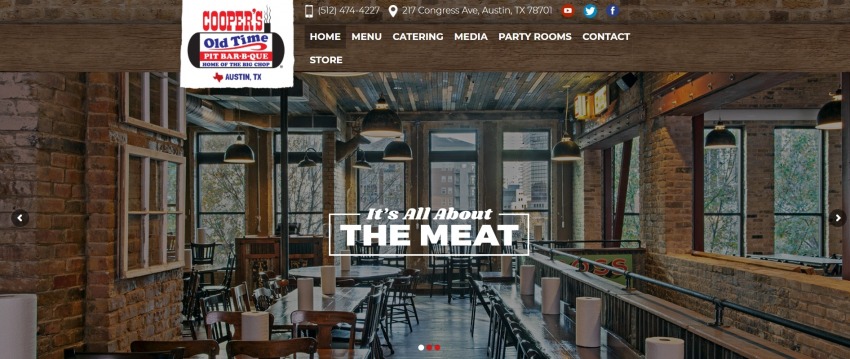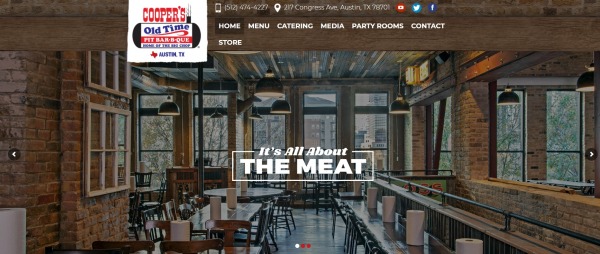 Are you looking for original authentic barbeque flavors with a local flare in downtown Austin? Then, your smoked meat is cooking right here at the famous Cooper's Old Time Pit Bar-B-Que. It is set in a beautiful oak shaded back patio with a rooftop garden featuring live music. Popularly known as the 'Home of the Big Chop' this joint brings the taste of Texas Hill Country BBQ, specializing in smoking your favorite meats over direct coals.
At Cooper's, order anything from beef ribs to briskets to pork chops to sausages, turkey, whole chicken and more. Nestled in a crunchy, seasoned crust, these melt in the mouth smoked meats are crisped to perfection. Their range of delectable sides make the barbeque meats a complete satiating meal. Further, give your taste buds their ultimate sugar treat by ending your meals with their select desserts such as peach cobbler, pecan cobbler, ice cream among others. So, treat yourself with the ultimate taste of Austin barbeque at this family owned joint.
---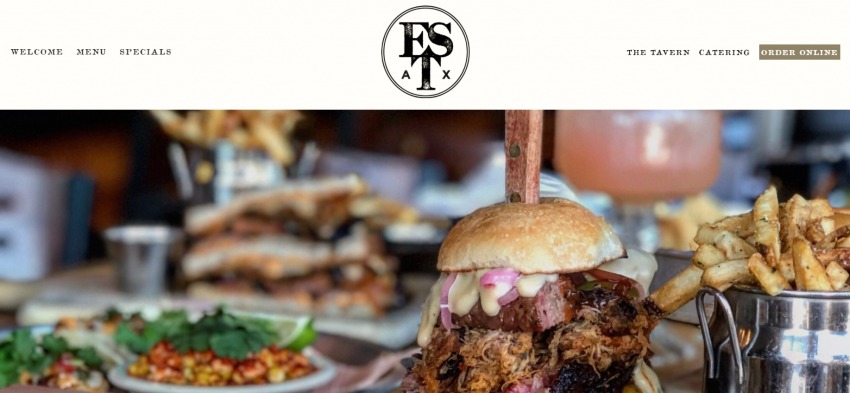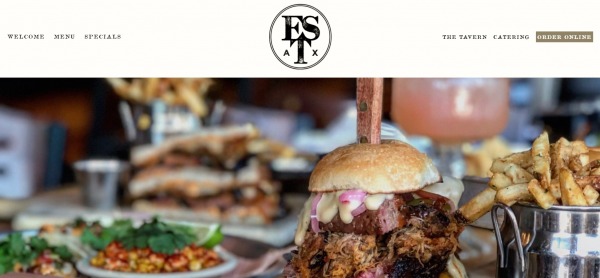 Located in Cesar Chavez, Austin, East Side Tavern is truly one of the best BBQ in Austin. Serving up the best delicacies in the city, this barbeque restaurant doles the perfect vibe for authentic Texas barbeque. Beautifully located on a spacious rooftop with sweeping downtown views of Austin, East Side Tavern features a BBQ inspired menu with a generous dose of booze and bar food. The restaurant, which is open for breakfast, lunch and dinner, serves exclusive mouthwatering delights that will have you coming for more.
When visiting East Side Tavern, order anything from Briskets + Cheddar tater tots and chicken fried steak to turkey avocado toast and brisket patty melt. Sate your appetite with their heartstopper burger generously topped with brisket, pulled pork, sausage, bacon, jalapeno, onion and queso. Further, their barbeque inspired menu features delectable sides including fried pickles, BBQ nachos, chips and queso. Complement your meals with the choicest cocktails in entire Austin. So, awaken your taste buds with the-spot for your next weekend barbeque brunch.
---
Conclusion
While finding barbeque eateries in Austin is no challenge, finding the best BBQ in Austin definitely is. Serving authentic flavors in an ambiance giving off the perfect barbequing vibe, these barbeque restaurants and joints offer the best-sourced meats in the city smoked and crisped to perfection which you can savor with choicest cocktails, beer and wine. Sounds like the gastronomic pleasure to die for, does it?
So, what are you waiting for? Get your hands on the Austin smoked meat scene with our exclusive recommendations of the best BBQ in Austin.