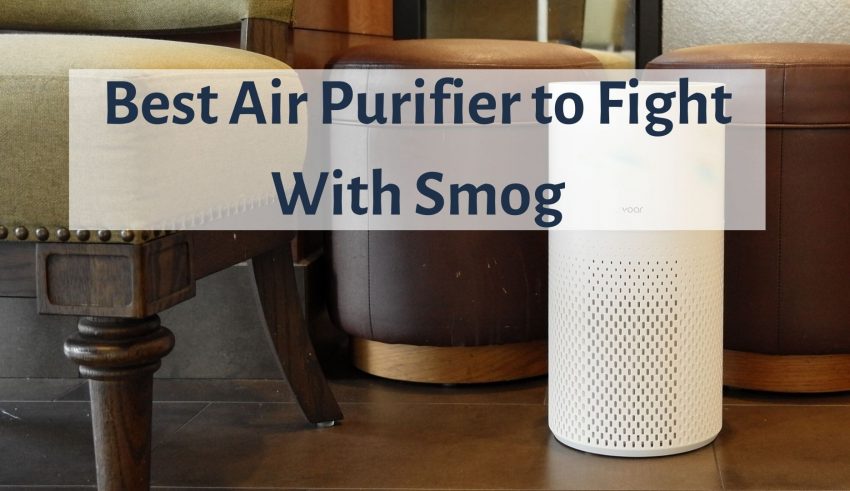 It is hard to deny the reality of climate change when you can see it happening right out of your windows. It becomes difficult to breathe especially during the month of November when air pollution experiences a spike in its percentage.
Children and people with respiratory diseases suffer the most during this time, and it's extremely important to take extra care of your and your family's well being.
While the air outside is not something you can change immediately, you can take steps to ensure that you breathe clean air at least while you're at home or at the office. We have curated a list of some of the best air purifiers in the market to make your life a little bit easier.
Here are the 10 Best Air Purifiers to save your Health from Smog or Dust:
Philips is one of the most trusted brands when it comes to electronic appliances, and the AC1215/20 Air Purifier is yet another amazing product this brand has to offer. This intelligent air purifier is loaded with features like VitaShield IPS, which automatically senses the air quality, and its powerful filters clean the air in the room in just 12 minutes.
It is equipped with a TRUE HEPA filter, and the air goes through a 4-stage filtration process. Moreover, it wipes away over 99% of bacteria, viruses, pollen, house dust mites, and has even been tested to remove the H1N1 virus.
An air quality indicator shows you the quality of air in real-time, while its dim lights and low sound ensure that you do not experience any disturbances while you work or sleep.
---
Equipped with extensive features, the Mi AC-M4-AA Portable Room Air Purifier will give you pretty much everything you can ask from an air purifier.
It has an OLED display that is sensitive to ambient light and adjusts its brightness accordingly, and its filtration process is noise-free to ensure that you have sound sleep. Its classic Tower Structure design features 943 intake holes, which significantly increase the air intake area.
This appliance has a 3 layer filtration system, and each layer specializes in filtering out dust, hair, micron-sized particles, harmful bacteria, formaldehyde, and odor from the air. A high-precision laser sensor allows it to detect even the smallest of bacteria. It can also be paired with Mi's mobile app so you can check the functioning of your purifier on the go. 
---
Designed especially for large spaces, the Philips AC2887/20 High-Efficiency Air Purifier is the perfect match for your master bedroom, living room, or office because it has an extensive coverage area of 851 sq ft. It has various modes that specialize in eradicating pollution, allergens, bacteria, and viruses from the air, and it filters the air in just 10 minutes.
The Aerasense Technology detects air quality in real-time and the VitaShield IPS with TRUE HEPA filter removes 99.97% of airborne pollutants.
Features like dim light and low sound allow you to sleep or work without any disturbances. Its simple white design will fit snugly in any room without taking too much space or looking out of place. With a clean air delivery rate of 333 m3/h, this device is all you need to escape the polluted air.
---
Style and efficiency amalgamate in this one of a kind air purifier from the house of Dyson. This device does not only look uber cool, but it also performs extremely well.
Its Intelligent Purification technology automatically destroys 99.95% of pollutants and allergens and even gets rid of other nasty substances like dust, pollen, mold spores, bacteria, pet dander, and harmful gases and odors.
Its Air Multiplier feature ensures that purified air is circulated all across the room, and it has been designed to suit the needs of large spaces, therefore, making it suitable for your living room or master bedroom. It is equipped with a Glass HEPA filter and can also be connected with the Dyson Link app so that you can get real-time air quality updates and control the machine with your phone.
---
Most of us spend a considerable number of hours in a car every day. Whether it's for work, chores, or social life, cars are an integral part of the urban lifestyle. It may have never occurred to you that air quality inside a car is 5 times worse than outside, but the good folks at Honeywell designed this air purifier especially to tackle this problem.
It is loaded with a High-Grade HEPA filter which filters out dust and pollution, while the advance double-layer active carbon filter removes formaldehyde, cigarette smoke, bacteria, virus, toxic gases, and odor.
It is equipped with velcro, making it very easy to install the product by yourself, and has one-button operation to control multiple operations. It is small and sleek, and will be right at home in your car, and will provide an in-car air purification cycle up to 4 times per hour.
---
The KENT Aura Room Air Purifier boasts an array of features that can give many expensive air purifiers a run for their money. It has a HEPA Purification technology that helps in eradicating 99% of indoor air pollutants.
Its primary filter removes large particles, secondary specially treated carbon filter eliminates odor, and the third antibacterial HEPA filter removes bacteria and PM 2.5 particulates. Additionally, it is equipped with an Ionizer that improves the quality of air and refreshes the air in the room.
It also has a child lock to protect naughty children, and its pedestal mode of installation makes it very user-friendly. Moreover, it has a timer function so you can control the product as per your convenience. Lastly, it has a minimal white design that will fit into any room without looking out of place.
---
If you're all about ultra-modern designs, this air purifier might be the perfect match for you. Yet another product by Philips, this device features a sturdy NanoProtect HEPA and AC filter to offer you superior air filtration. Its activated carbon filter eliminates unpleasant odor and gases.
It also has an Allergen Mode which can detect even the slightest change in air quality and further enhance the purifying abilities of this product, making it possible to avoid cold and cough. The supremely intelligent AeraSense technology adjusts the fan speed according to the air quality, while a sensor touch panel makes it very convenient to operate this air purifier.
It is also not noisy, and features dim lights, making it perfect for houses with small children. The eye-catching design it the cherry on top, and will only add to your home's stylish quotient.
---
Samsung is a brand you can blindly trust for high-quality electronic products. The AX3000 air purifier takes the legacy of Samsung further with its excellent performance.
It is loaded with a 3 step purification system that captures harmful substances like dust, bacteria, and ultrafine particles, and its activated charcoal filter gets rid of odor-causing substances like ammonia. Its S-plasma ionizer eradicates up to 99.7% of contaminants, ensuring that you and your family breathe fresh and clean air.
It has a child lock to prevent children from misusing the product and has a built-in reminder system so you know when the filters require cleaning or replacement. This air purifier has a very minimal design that doesn't look bulky or awkward, and the plain white color goes well with every color theme.
---
Honeywell is a brand that has become a household name from the last few years because of its good quality, reasonably priced products. This air purifier has a fantastic three stages advanced filtration system that eliminates nasty substances from the air with over 99% efficiency.
Its Pre Filter adds to the life of the HEPA and HiSiv filter by eradicating large-sized pollutants, thereby enhancing the life of the filters.
It also has an activated carbon filter, which removes formaldehyde and other microscopic allergens. Moreover, this air purifier does not emit any ozone as a byproduct of filtration, therefore ensuring that you don't breathe in any harmful substances. It is available in two variants- White and Champagne Gold, so you can decide what fits the vibe of your home.
---
If you want an air purifier that occupies minimum space, looks pretty, and is super affordable, this one will be right up your alley. Like polluted air, dry air is also harmful and can cause problems like inflammation and allergies.
This humidifier will reduce dryness in the air and purify the air, therefore reducing the risk of airborne infections. You can also add your favorite essential oils to the water and create a pleasant ambiance in your room with this product.
Moreover, it is very quiet and has a color-changing the light that you can adjust as per your preference. It holds 200 mL of water which will last for up to 6 hours. It's small size and unique features make it very suitable for smaller rooms, and using it with essential oils will certainly help in reducing stress, anxiety, and sleeplessness. Don't believe us? Read the Flipkart reviews and you definitely will!
---
No matter how often or how well you clean your home, dangerous microscopic substances will always find a way inside and will pose a risk to the health of your family. The naked eye cannot spot these substances, but a good air purifier will enhance the steps you take for the health of your loved ones.
Therefore, we highly recommend investing in an air purifier. This list includes some of the best air purifiers in the market for every budget, and we hope that it helped you decide what fits your requirements the most.