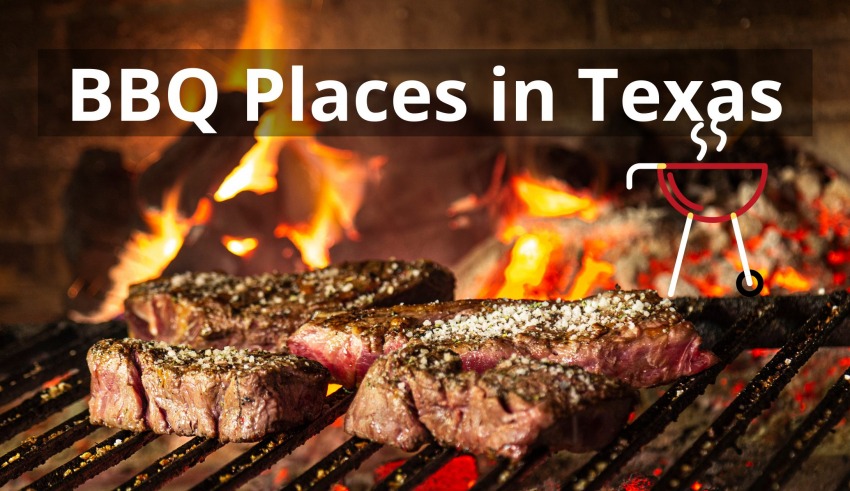 If you're in Texas and you haven't tried their famous Bbq Places, then you are missing out on the very essence of the southern region of the country. From butter tender briskets to greasy pulled porks, from juicy chicken legs to smoked turkey, barbecue has gained immense popularity today. Here are some of the Best BBQ Places in Texas.
Whether you like to tuck your meat in a sandwich or take them as a meal with a side of mac-n-cheese or coleslaw, barbecue joints are an all-time favorite for Texans. In this article, we have prepared a list of the 10 best bbq in Texas for you. From meat with simple salt and pepper seasoning or with sweet sauce, you will find everything in the barbecue joints on the list.
Here is the list of the 10 Most Popular BBQ Places in Texas.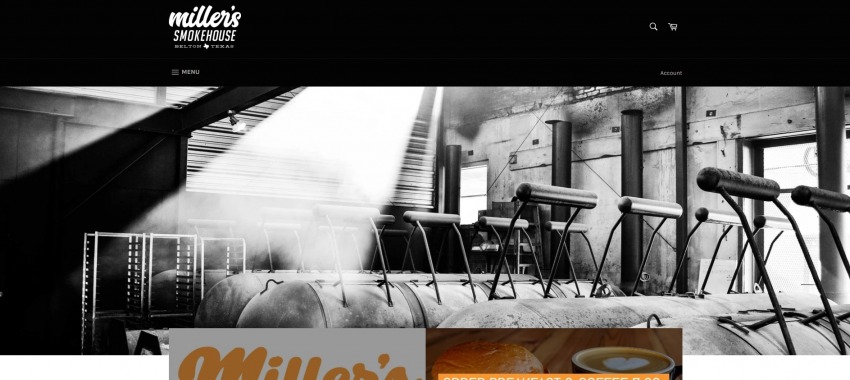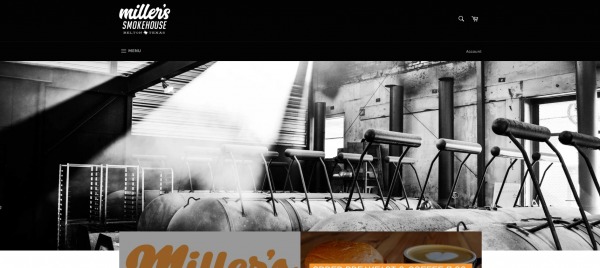 Dirk Miller started the smokehouse in 2008 when he opened a barbeque in the front room of his meat-processing and taxidermy business. Miller's SmokeHouse is famous for its delicious brisket. They serve juicy, fatty brisket slices seasoned with the best spices. The owner converted the eatery into a full-fledged restaurant in 2011. He even launched a roadhouse-styled dining area to accommodate the increasing number of customers.
The SmokeHouse serves over 500 pounds of his special pork and beef sausage every week. You can also try its jalapeno cheese and pre-smoked hotlink with fresh white bread. Its smoked, crumbly well-seasoned delicacies can brighten up your dinner time. Their brisket is served with sweet and tangy accompaniments. Their in-house beans prepared with pepper are loved by all. The eatery has a casual ambiance, which makes it one of the best bbq in Texas if you want to eat out with your friends.
Miller's Smokehouse turns up the barbeque twice a day, one starts at 3:00  A.M. and another at 8:00 P.M, so you can be sure that you will be served fresh meat any time you plan to visit. If you want to try their Pork Ribs, keep in mind to pay a visit on Fridays and Saturdays. On Saturdays, Miller's Wife, Lisa, makes her special lip-smacking cornbreads. You should also taste their Coconut-Pecan pie.
---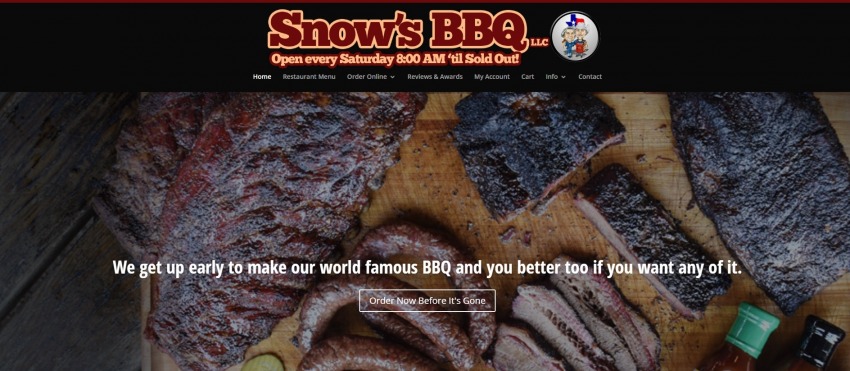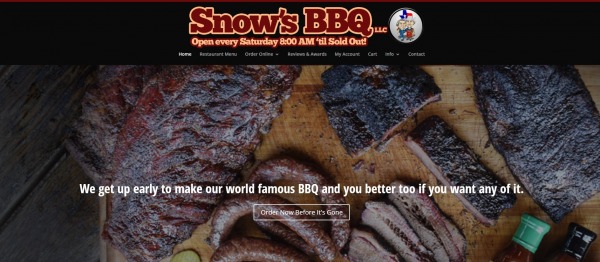 If you are in the mood for fine dining with barbecued meat, Snow's Bbq can be the best place to go for dinner. This eatery was launched in 2003 and sells one of the most expensive yet top-quality briskets. It is managed by veteran pitmasters Tootsie Tomanetz and Kerry Bexley. The restaurant is located on farmland in the metropolis of Lexington.
Turn your car from the highways towards the farm and thirty minutes later you will be able to easily spot a small red building: Snow's Bbq. If you are taking a big party there, you should try going a hit early to get the best seats under the shade. You will find wonderful buttery chicken and salty pork steaks that will make you come back for more. It is One of the Best BBQ Places in Texas.
Or, you can get yourself a slice of their juicy brisket slathered with thin, mildly sweet sauce. The aroma around the place will automatically make you close your eyes and breathe deep to take in all the flavors. If you ask us, we suggest you visit the store on early Saturday mornings to have a full brunch. They are usually open from 8:00 A.M. to 1:30 P.M. or till they run out of meat.
---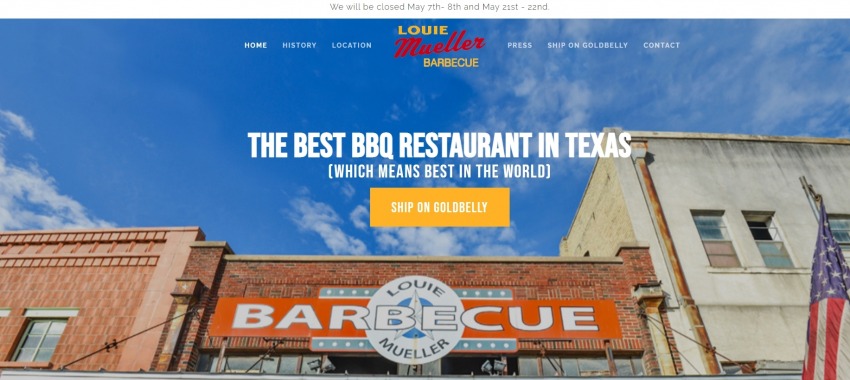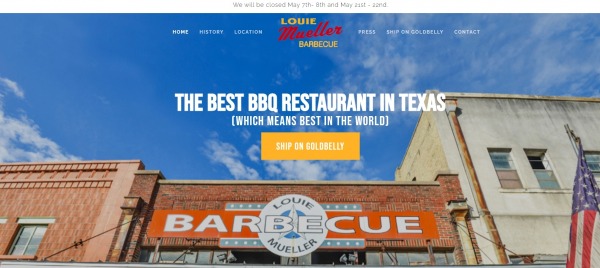 Probably one of the oldest Bbq places in Texas, Louie Mueller Bbq was established in 1949. Louie Mueller, the founder, converted a basketball court/ gymnasium into a barbeque pit and eatery. He later passed it down to his son, Bobby in 1974. Bobby's son, Wayne Mueller assumed the business in 2008 and is currently the head pitmaster.
Carrying the legacy for three generations, the folks at Louie Mueller have become experts in preparing delicious finger-licking brisket and pork ribs. We recommend you try the lavishly prepared beef ribs with salt and pepper seasoning. They serve homemade jalapeno sausage. The Louie Mueller pork dishes are made with equal care. A step inside the restaurant will fill your heart with an amazing smoked okay aroma.
The restaurant has large rooms with oak-wood walls, wooden tables, and chairs, giving a much-loved rustic look. You can visit this place any day of the week except Sunday. They remain open from 11:00 A.M. to 6:00 P.M. from Monday to Friday. They open an hour early on Saturday to suffice the demand on weekends.
---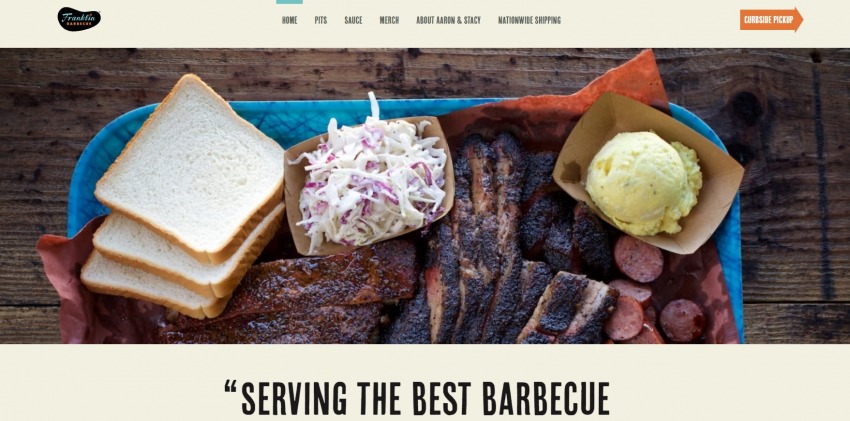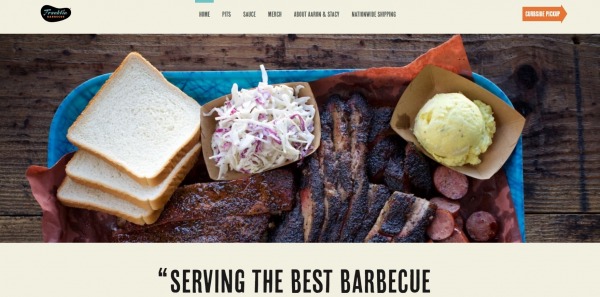 If you are new to Texas and want to taste the classic brisket that you have always heard of, Franklin's Bbq is exactly the place you want to be. This eatery was opened in 2009 and has never looked back since then. It is managed by owner-cum-pitmaster Aaron Franklin and his partner Braun Hughes. Aaron Franklin has a best-selling cookbook to his name and is undoubtedly the most famous pitmaster in the country.
He has also co-founded a new Austin food blowout, the "The Hot Luck Festival". They sell the most delicious, juicy, and moist brisket seasoned with nothing but salt and pepper. Though you would probably have to stand in line for a couple of hours to get this brisket, a bite of it will make you forget everything. It is so soft and buttery, you would not even need a fork.
If you are planning to visit this place, Aaron suggests opting for Wednesdays and Thursdays. Try getting there by 8 in the morning as there is a high chance they will run out of meat if you reach late. Their beef ribs are available on Saturday only. You can get a beer, locally needed by Jester King to wash down your food.
---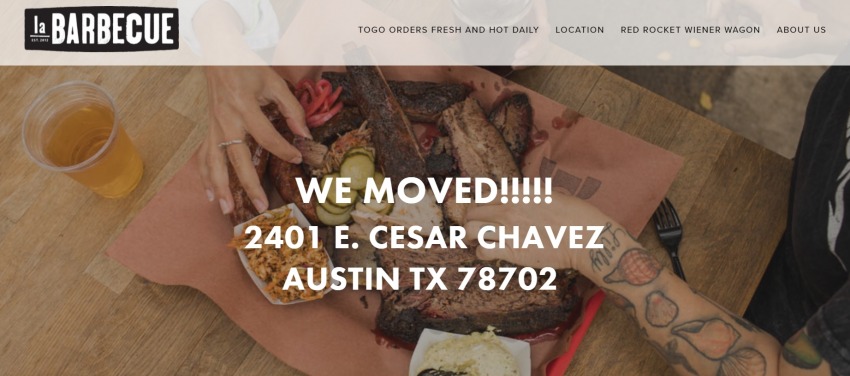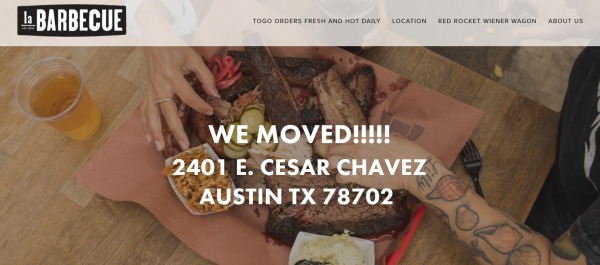 Established in 2012, La Barbeque is one of the best bbq in Texas. A female-owned business, this eatery is the brainchild of LeAnn Mueller and Ali Clem. Since its launch, La Barbecue has moved around a bit and now has settled in Aztec Food park. The place has a covered patio with communal tables and is decorated with light strings.
La Barbeque attracts a fine crowd every day of the year. You can even find numerous Instagram influencers and food bloggers blocking there. Even "Texas Monthly" suggests placing an order at least five days before to avoid standing in a long line. However, if you are craving the "La Barbecue" specials on a busy day, canopy tents outside the main dining area will provide you a shady place to enjoy your food.
La Barbecue offers the classic Central Texas-style barbeque, where they slather meats with salty and savory rubs. You can enjoy grass-fed, hormone-free brisket, pulled pork, turkey, beef, and pork ribs. You can either order by the pound or buy them sandwich-style with pickle and onions and get a side of chipotle slaw to make it a complete meal. They also offer drinks like Topo Chico, Big Red, and Rambler sparkling water to wet your food.
---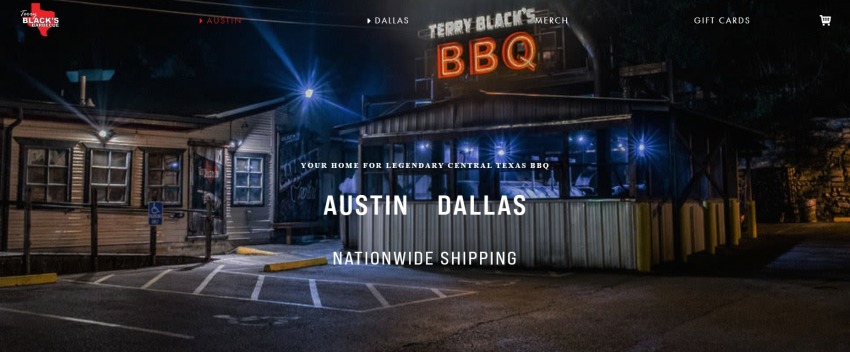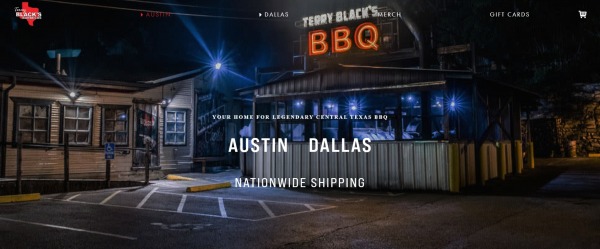 If you want a taste of the traditional Texas Barbeque, Terry Black's Barbeque is exactly what you are looking for. It was launched in 2014 by Terry Black, south of downtown Austin. It is currently managed by his twin sons Michael Black and Mark Black. They are also the pitmasters of the barbeque. They use an indirect heat-pit and post-oak wood to make their delicious pork ribs and briskets.
Terry Black's Bbq is known for its meat-market-style service. You will find a chopping block worked by experienced meat-cutters who will cut up the portion you need. If you wish to get a side dish or dessert, you would have to line up. This barbeque joint has a casual outdoor sitting arrangement too. You can get yourself a locally brewed beer, or a glass of wine and sit in the open and enjoy your dinner.
They often display their delicacies at their store-front which makes them even more irresistible. Be it peppery pork ribs or beef sausages in a sandwich, Terry Black's Bbq will never leave you short of satisfaction. Their bestseller is the luscious, fatty brisket that will leave you wanting more. If we talk about the sides, you simply cannot miss out on their creamy potato salad and mac-n-cheese.
---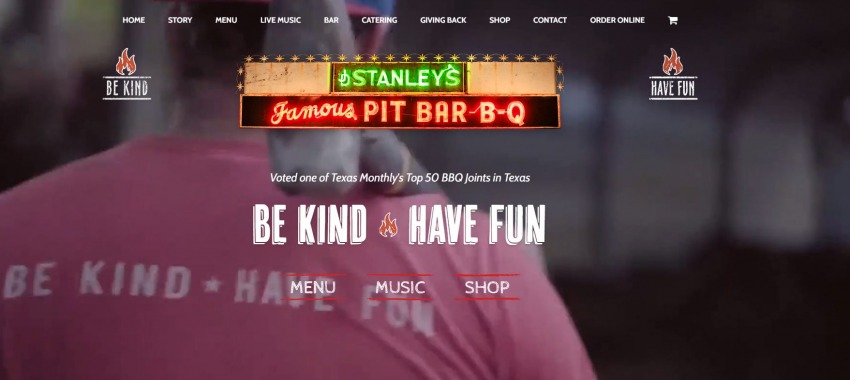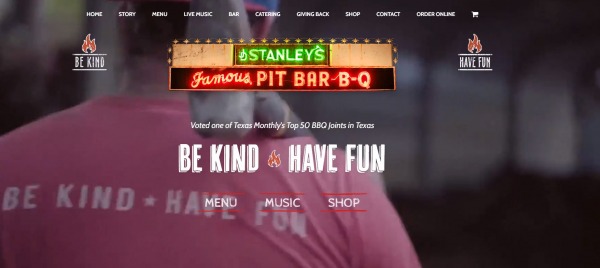 Another legendary BBQ Places in Texas is Stanley's Famous Barbecue Pit. It was first established in 1959. Pitmasters Nick Pencils and Jonathan Shaw currently manage this popular eatery. They use a different barbecue technique, using pecan wood and gas-fired smoke to make their pork and beef ribs. However, for preparing other dishes they use the conventional indirect heat pit with pecan and oak wood.
Their buttery meat with a thick crunchy crust seasoned with salt and pepper is their bestseller. The restaurant received a thorough makeover in 2012. They added a new bar and patio along with a large pit room. Their menu saw a bit of renovation too. Texas Monthly has rated them 4.5 out of 5. Besides lunch and dinner, the eatery serves breakfast too. So, if you have some time in the morning, drop by to try their special breakfast bowl.
If you have gotten tired of eating store-bought sausage, you must visit Stanley's Bbq to get a taste of their special recipe pork sausage made from fresh meat procured from a local butcher. They prepare their meat dishes with a mixture of eleven spices, and a sweet sauce. What stands out in their recipe is Stanley's smoked turkey. We also recommend you to try their pulled pork, prepared with a vinegary sauce and sprinkled with crispy bits of the bark.
---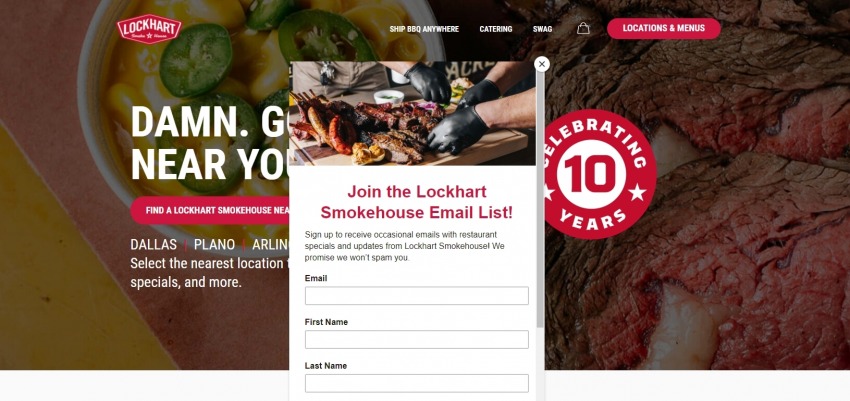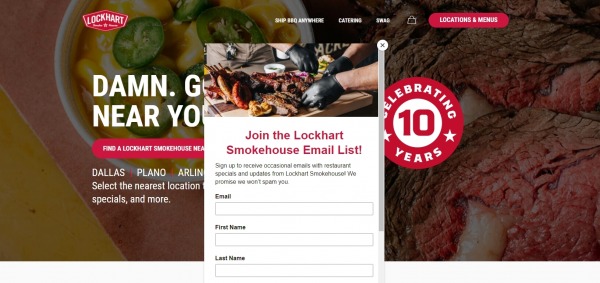 A family-owned business, the Lockhart Smokehouse was established in the heart of Texas city. The restaurant boasts of its young Pitmasters Damian Anila and Carolina Maldonado who have taken this restaurant to great heights. They use a post-oak wood pit and indirect heat to cook the most delicious barbeque.
Lockhart's specialties include brisket with a wonderfully crusted edge. But to get that you have to visit the store early to get the slicer cut up a tender and smoky piece of brisket with a layer of salty fat and crunchy crust for you. The folks at Lockhart's Smokehouse choose to savor the food without using knives and forks. They feel it enhances the taste of the food and your eating experience.
They specialize in a unique meat cut known as Shoulder cold. You will also find great sausages on their menu. They serve especially salted and peppered beef ribs on Wednesdays. They also serve delicious pulled pork ribs with a magnificent bark. As for the drinks to go with your food, there is a full bar for you to choose from.
---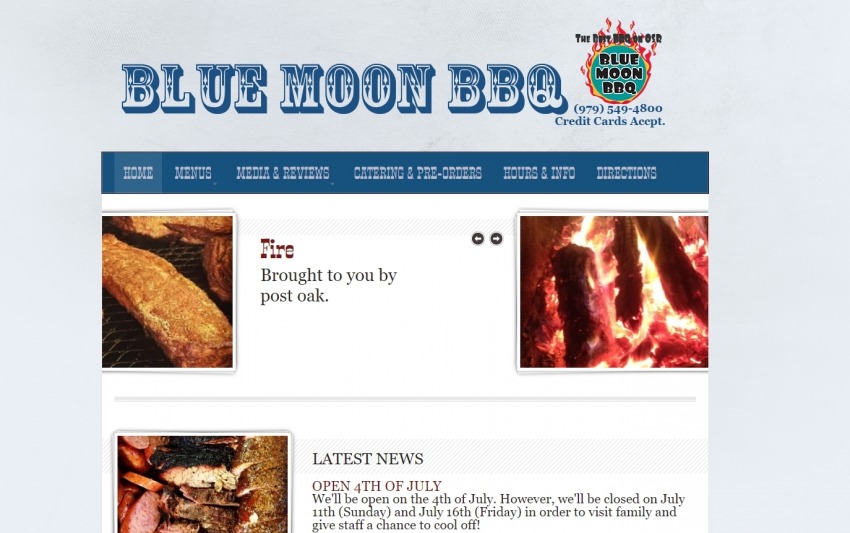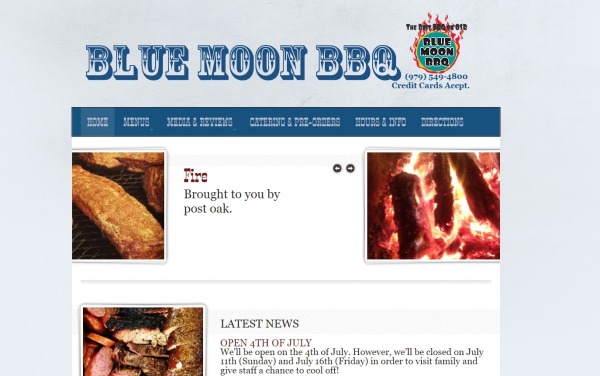 Blue Moon Bbq was opened in 2007. It is a family-owned business, managed by pitmasters Rick Moon, Toni Moon, and Matt Moon. You can reach the restaurant by driving down Old San Antonio Road. Though it looks like a tiny wooden building, Blue Moon Bbq has made quite a name for itself among meat lovers in Texas and places around.
If you want to move far from the chaos of the city and enjoy a peaceful dinner, Blue Moon Barbecue can be the best bbq in Texas. You will be able to enjoy the countryside's scenic beauty and enjoy the freshly charred, juicy meats. People especially love their perfectly done briskets with okay smoke flavor. You would also enjoy their pork ribs seasoned with the right amount of pepper.
Their dishes are so good, that you might want to order an extra plate of ribs to satiate yourself. However, people do not seem to like the chicken dishes much. But when you have so many other options, it would not matter much. The restaurant stays open every weekend (Saturday and Sunday) from 11:00 A.M. to 2:00 P.M. or till their stocks last.
---
Vera's Backyard Bar-B-Que
Opened in 1955, Vera's Backyard Bar-B-Que is another popular barbeque joint loved by Texas folks. They are famous for barbacoa, a dish that originally hailed from Mexico and has now become a classic food in South Texas ranches. This preparation was popularized by Texan cowboys who used cow heads to make this delicious barbacoa. At Vera's, they wrap the heads in foils and cook them in the earthen pit for long hours.
If you have some time in the morning, visit Vera's Backyard Bar-B-Que and make sure to ask them to show you the massive pits where they cook the barbacoa. At Vera's, you will find meat from nose to tail turned into amazing delicacies. A family business, run by three generations of pitmasters, the eatery boasts of its barbacoa tacos.
The restaurant is currently managed by 56 years old Mando Vera. He uses Mesquite coals in a subterranean pit to make their famous delicacies. They also serve Lengua (tongue), Mixto ( a dish prepared from the meat of every part of the body), and Cachete (cheek, the latest meat). They tuck their preparations into freshly baked corn tortillas. These tacos are served with Vera's special tangy avocado jalapeno salsa.
---
Conclusion
When you are in Texas, finding the best barbecue is a daunting task. Every barbecue pit you find in the backyard of every house arguably produces the most delicious brisket and beef ribs. So, we spoke to the meat lovers of the state and found the 10 best bbq in Texas which serves you the best dishes that will make you drool. A visit to each of these joints will force you to come back for more. So, if you are in Texas, make sure you try out these joints.