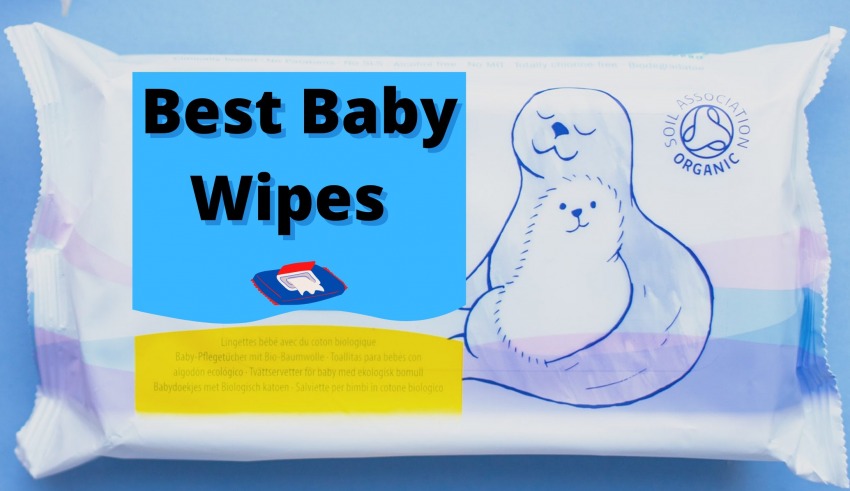 Parents want to take the best care of their children. They want to provide them with the best facilities and help them have good growth. Young babies require a lot of attention and care for proper growth and development. You have to carefully select the products which they use. Especially when they are young parents have to be aware of all the products being used and the effect they may have on their children. Finding the best baby wipes is important.
Natural wipes and baby wipes are some of the essential commodities which are needed when taking care of children. When shopping for baby wipes you have to ensure that they meet certain standards to be suitable for your baby. Finding the best wipes is a tough process but we have tried to help you out. In this article,
We have provided you with the top 10 baby wipes which are suitable for your children. 
Amazon Elements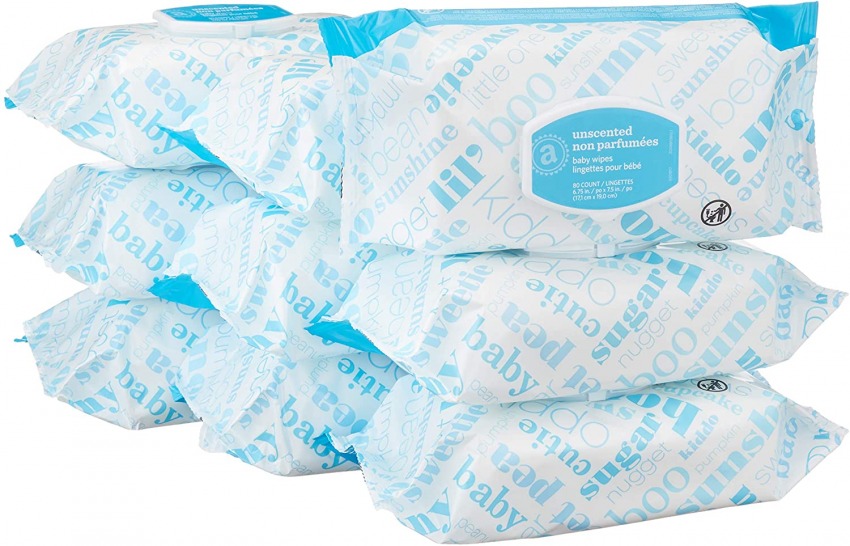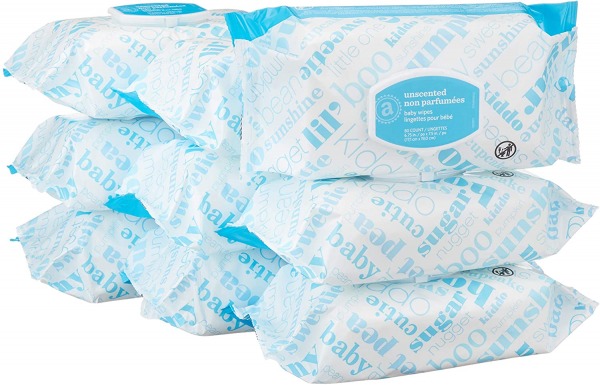 Amazon Elements is a subsidiary of Amazon. They have made great products. Amazon has tried to enter into the consumer market with the introduction of Amazon Elements. They have been able to create a range of products that have been well received by the consumers. This is due to the number of resources they have spent on researching materials and crafting some of the best products. Amazon Elements have been known to provide quality alternatives to regular brands.
You are always assured of the quality you receive when purchasing their products. Amazon Elements manufactures some of the best baby wipes. They manufacture baby wipes that are unscented and do not have any unnecessary chemicals. Amazon Elements want to provide all of their customers with the best product for their babies. They make natural wipes. They use only the best water to make these wipes. All of their wipes are made from 100% pharmaceutical-grade purified water. By using some of the best materials available they ensure that the wipes are soft and suitable to be used for your babies.
These wipes are made for sensitive skin types which makes them suitable for all babies. There are no additional fragrances added to the product as it may irritate the baby. The wipes have been tested by pediatricians and passed many regulatory tests before being sold by them.
Amazon Elements sells these wipes on Amazon as a pack of 9 with 80 wipes in each pack. These wipes are sold in flip-top packaging. This allows you to access the wipes easily. You get to store them with ease as well. They are a popular alternative and their popularity is reflected in their Amazon ratings. They have received a rating of 4.7/5 with over 37,000 ratings from people who have bought their product.
---
Pampers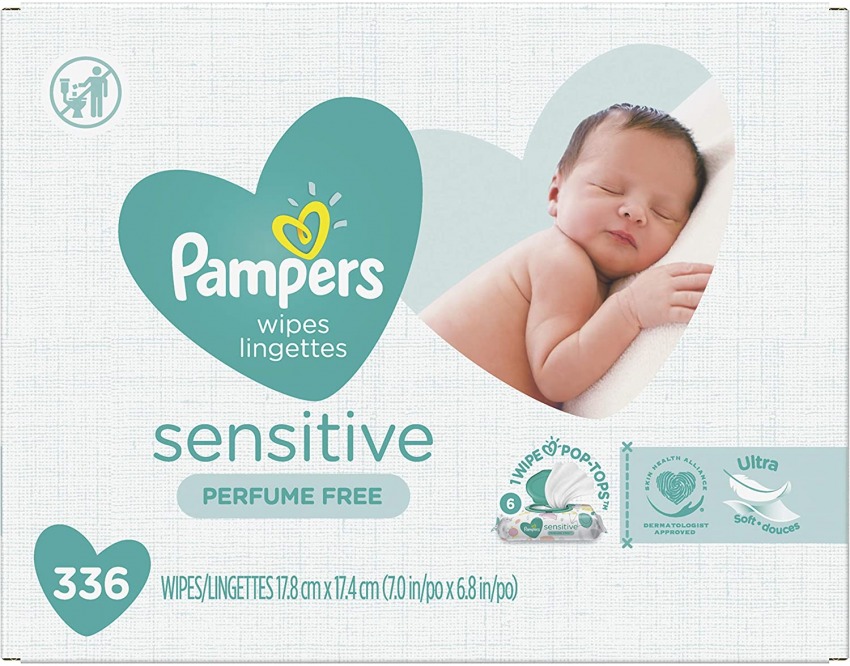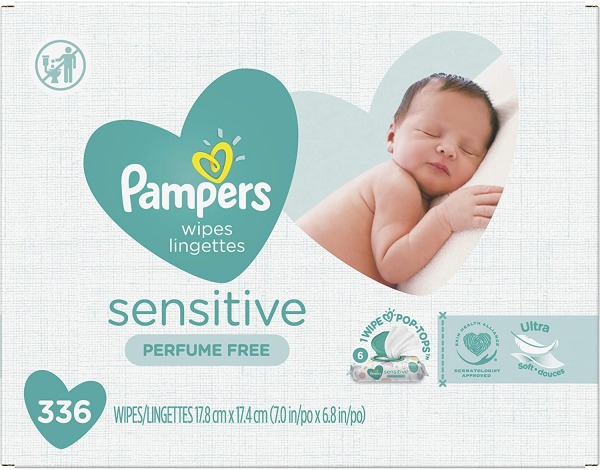 Pampers is one of the biggest names in the baby care industry. They are Considered by many as the leader in the child care industry. They have gained tons of experience due to the long time they have been involved in this industry. Huggies have used this experience to provide their consumers with products that outshone the competition. They are known as the best brand for babies. They have been able to gain this reputation due to the years of quality products they have sold in this market.
Pampers keep improving their products each year to continue to hold the top spot in this market. One of the best baby wipes made by them is the Pampers sensitive water-based wipes. These wipes are unscented. They do not contain any perfume which might lead to rashes on the baby's skin. They have tried to provide natural wipes which are the best suited for your babies. These wipes are alcohol-free and paraben-free. This has been done to make these wipes are as child-friendly as possible. These wipes are the top choice among all US Hospitals.
This is a testament to the superior quality they have. They have utilized a PH balancing formula in these wipes. This has allowed them to protect sensitive skin while using their wipes. They claim that their wipes are 20% thicker than some of the regular alternatives out there. All of their wipes have been dermatologically tested to provide the best results and be soft on the skin when in use. All of their packaging has a pop-top. This allows you to get access to wipes and store them easily. They have great ratings on Amazon which have been left by their customers. This costs $9.97 on Amazon and is shipped across America.
---
Huggies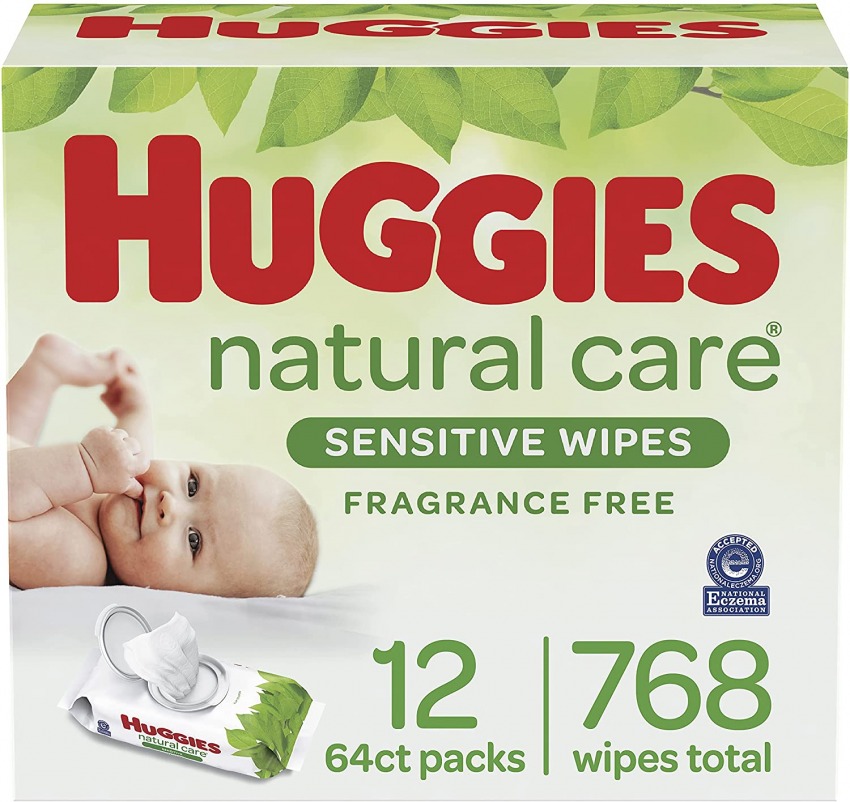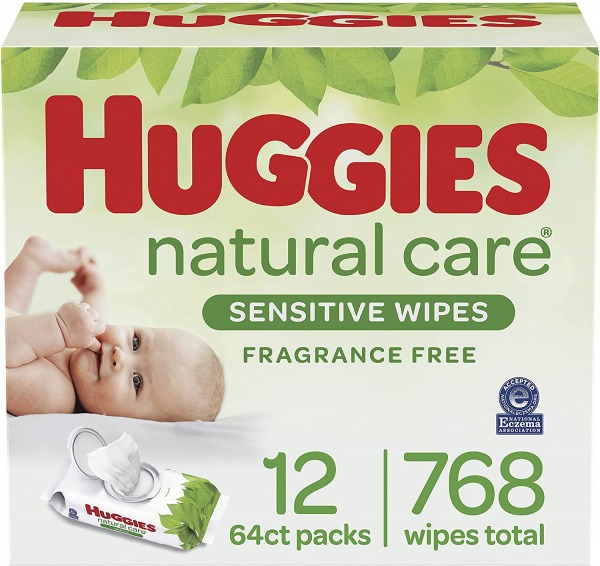 Huggies have the highest rating on Amazon. They have also been in this industry for a long time. The brand is focused on baby wipes and the child care industry. They have ensured that all of their child-oriented products have supreme quality. Huggies have always aimed to make their products the first choice for all parents. They ensure that their products do not have any chemicals which might lead to an allergic reaction from the baby. They have been plant-based since 1990. Huggies were one of the first companies which had switched to the plant-based formula.
They use this formula as it is soothing for the baby. They use water that has purification of 99% or more. Huggies have made sure that their product is gentle on the skin. They have removed any harsh materials which may cause discomfort to the baby. All of their wipes have been infused with Vitamin E and aloe vera. This is to ensure that the natural wipes can maintain healthy skin. They have a hand dispensing technology used in their packaging. This helps you to take out the wipes with a single hand. This improves the efficiency of the product.
Their product has been approved by the National Eczema Association They are the highest-rated baby wipes on Amazon. They have got a rating of 4.9 stars out of 5 with ratings from more than 55,000 individuals. They sell the product as a package containing 12 packets. Each packet containing 64 wipes. This makes a total of 768 wipes in the package. The entire package is sold on Amazon and costs $19.99. They have created one of the best baby wipes which is affordable.
---
Honest Company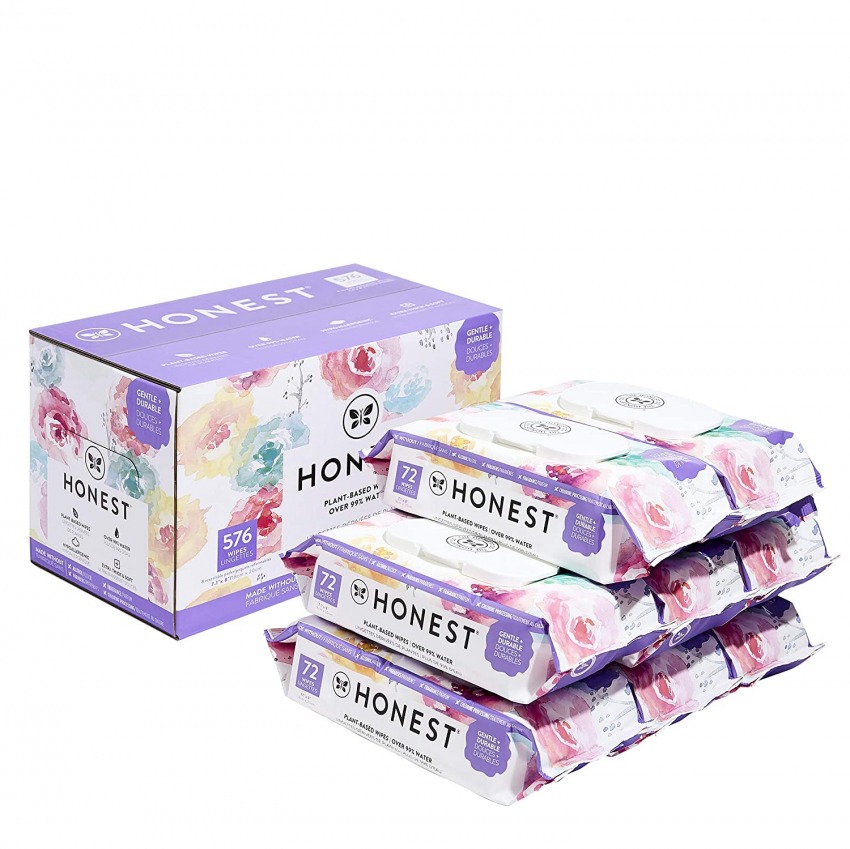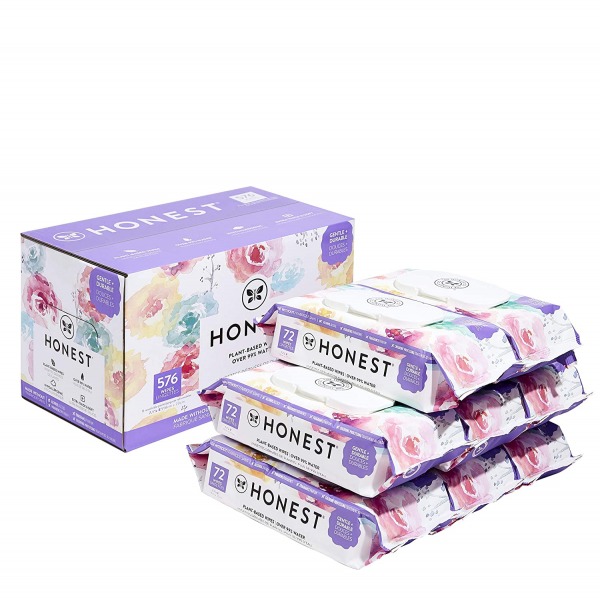 The Honest Company is known for making designer baby wipes. They make some of the best baby wipes which are gentle on the skin. They saw that the market is filled with the same old designs when it comes to baby wipes. The products were white and did not have any designs on them. They have tried to create a unique product that differs from the majority of the products out there. The baby wipes made by them are available in many designs. These designs have made them attractive to many buyers who were bored with the plain wipes sold by many top companies.
They make natural wipes that are plant-based. This helps you to clean any mess which your baby might have. Be it sticky fingers or wet bottoms, their product can clean it all. They have manufactured these wipes to be durable and skin-friendly. Honest Company have used interlocking techniques to make them more absorbent. They claim that their wipes are much thicker than the other wipes in the industry. Their wipes have gone through quality checks and they contain 99% water making them soothing on the skin.
The wipes are fragrance-free and do not contain chemicals. The company wants to create a safe experience for all of its customers. They sell these wipes in a pack of 8 with 72 wipes per packet. The product is a bit more premium in terms of its pricing. It costs $33.99 on Amazon. If you are looking for attractive designs on your baby wipes they are the top choice. These wipes are available in 4 designs- the Classic, Blue Ikat, Pattern Play, and Rose Blossom.
---
Nice N' Clean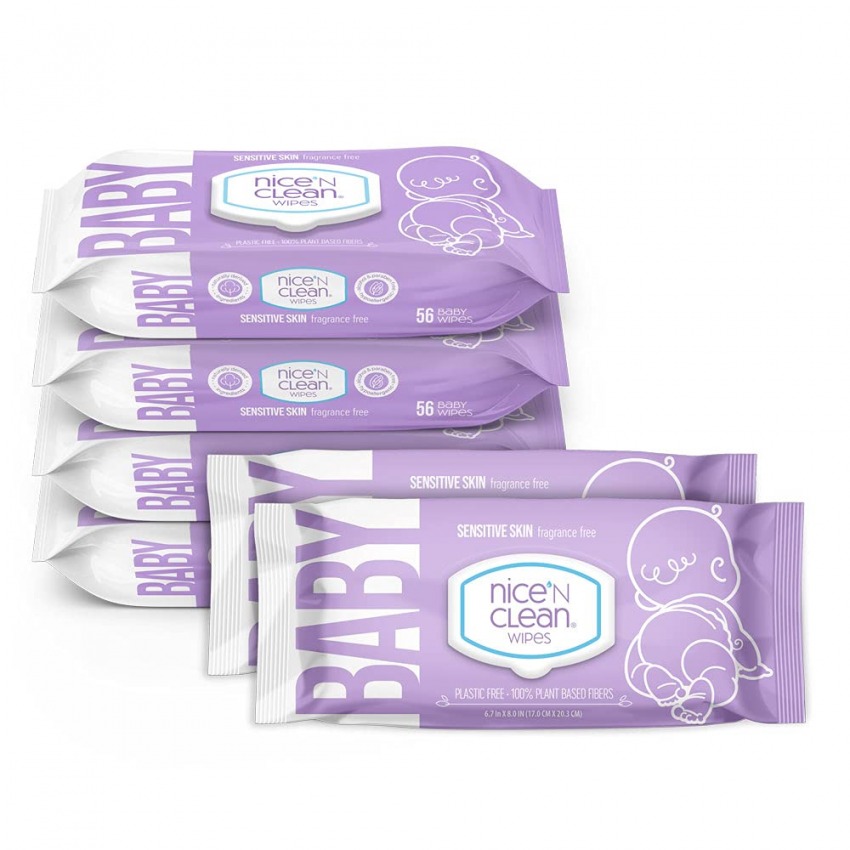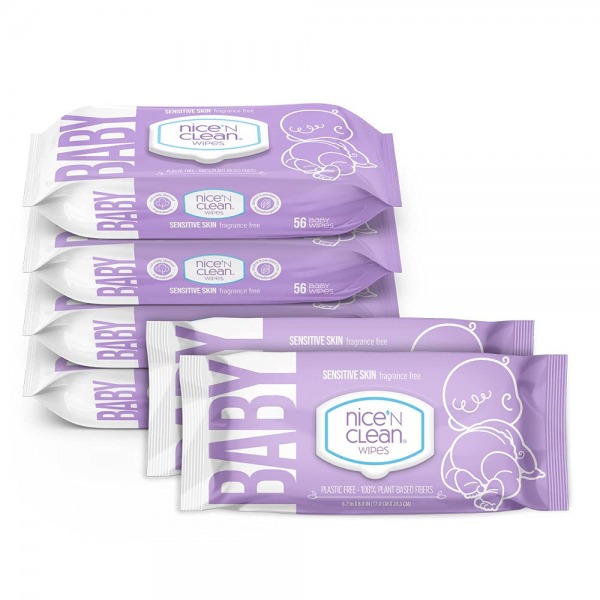 Nice N' Clean manufacture natural wipes. They have created a place for themselves in this market by manufacturing good baby wipes. Their baby wipe range is claimed to be ultra-soft. They have used plant fibers to make the wipes soft and gentle on the skin. Nice N' Clean have minimized the use of chemicals to prevent any rases or allergies from developing. They want their wipes to be the top contenders in this segment. Many claims that they have some of the best baby wipes.
They have implemented technology that helps you keep the baby moisturized when using their wipes. Their wipes have been infused with great natural ingredients such as aloe vera, chamomile, cucumber, and others. This allows their wipes to keep the baby's skin hydrated and well moisturized. This helps the baby to have healthy skin. Their baby wipes can retain moisture for very long.
They have a moisture lock lid. This lid helps to prevent reductions in the level of moisture each wipe contains. This allows you to use the wipes for a long time and prevents them from drying out. These wipes will not only help you to clean the mess of your baby but protect their skin as well. The product is sold on Amazon. They sell a pack of 6 packets with each packet containing 56 wipes. This entire bundle is sold for $13.94 making it an economical choice.
---
Kirkland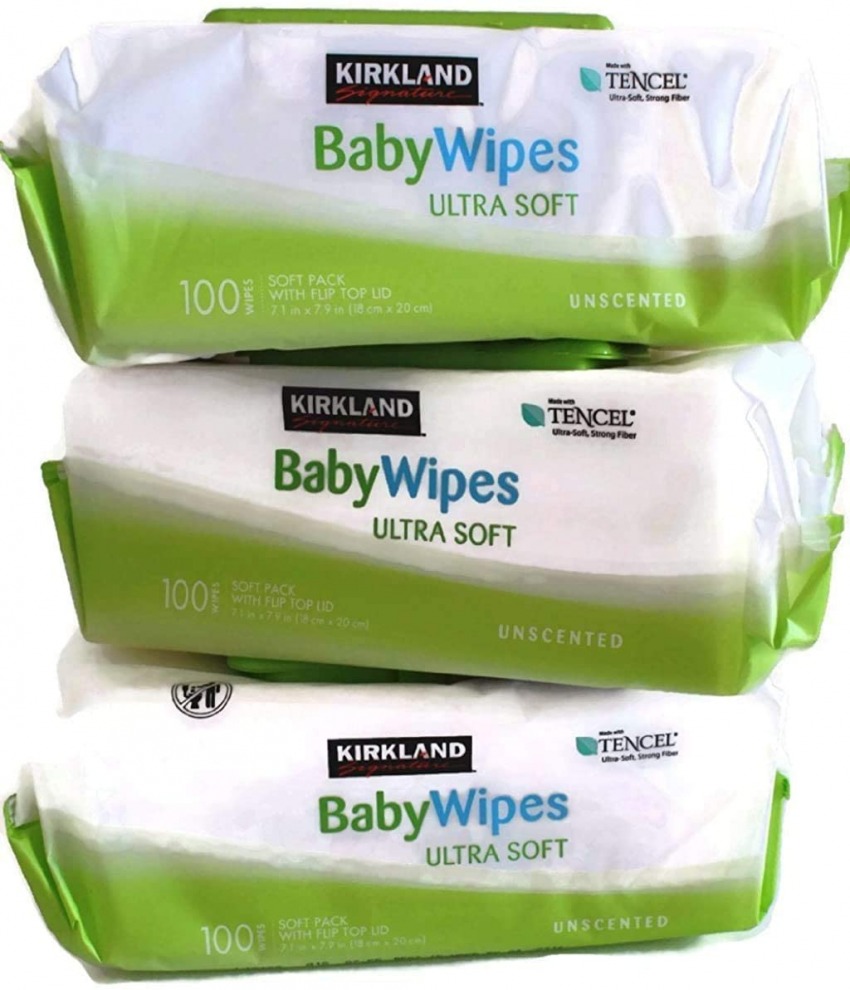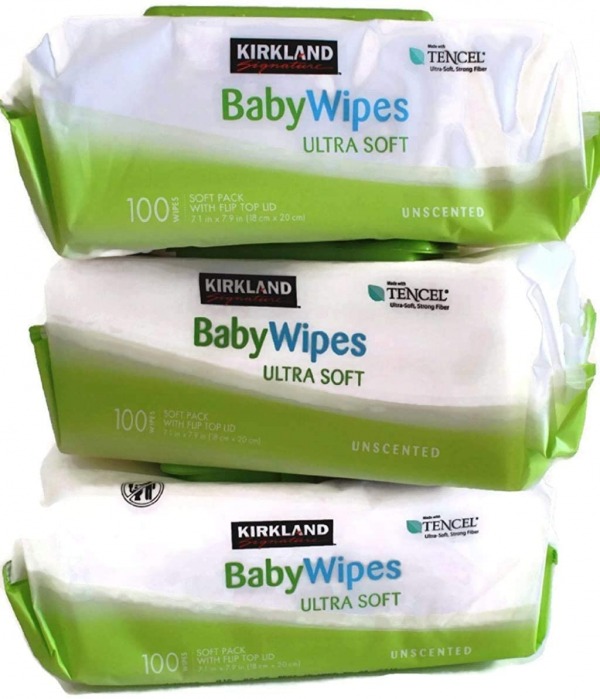 Kirkland manufacture ultra-soft baby wipes. This is a part of their signature collection. This is a hypoallergenic product. They manufacture these products following all of the guidelines that have been laid down. They focus on making great products and selling them at competitive prices. Kirkland claim that they have one of the best baby wipes. These are natural wipes that have been left unscented. This helps prevent any kind of breakout or rash that is caused by fragrances.
Their baby wipes are a universal product that can be used for many types of skin. In short, their baby wipes are suitable for all types of babies. They provide 100 wipes in each packet. Kirkland refrain from using alcohol and other dissolvents in their wipes as they are not suitable materials for a baby. They use only those materials which have been dermatologically tested to be suitable for a baby. The wipes are sold as a bundle of 6 packs. Each pack contains 100 wipes. This costs a total of $26.67 on Amazon.
---
Dove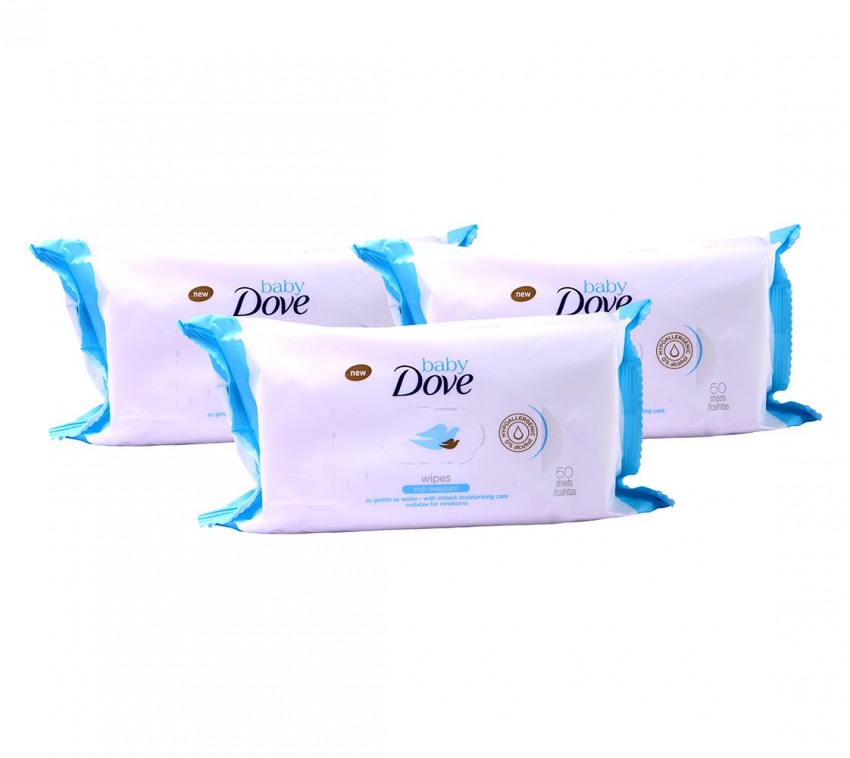 Dove is a well-known brand in the skincare industry. They make skincare products for adults as well as kids. Dove makes some of the best baby wipes that are high in moisture content. Good amounts of moisture are very important for baby wipes. Baby wipes need to be soft and gentle on the skin. Having a high moisture content helps them to be soothing on the skin as well as help clean up the mess. Their baby wipes use a well-tested formula. This formula is one of the best in the industry as it has gone through rigorous testing.
Their natural wipes are as gentle as water. They do not use any chemicals. All of their wipes are packages in resealable packets. This helps them to keep the wipes fresh and prevent them from becoming ineffective. The instant moisturizing that their wipes provide helps you to keep your baby's skin soft and hydrated. Their baby wipes can be purchased on Amazon for $11.23. This comprises a pack of three. Each pack contains 50 wipes.
---
WaterWipes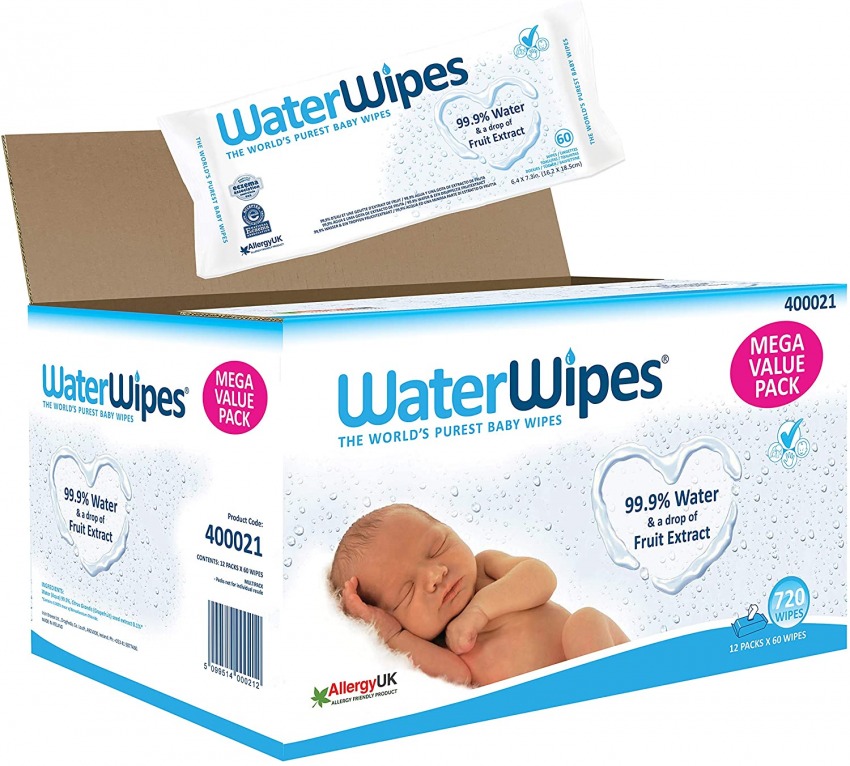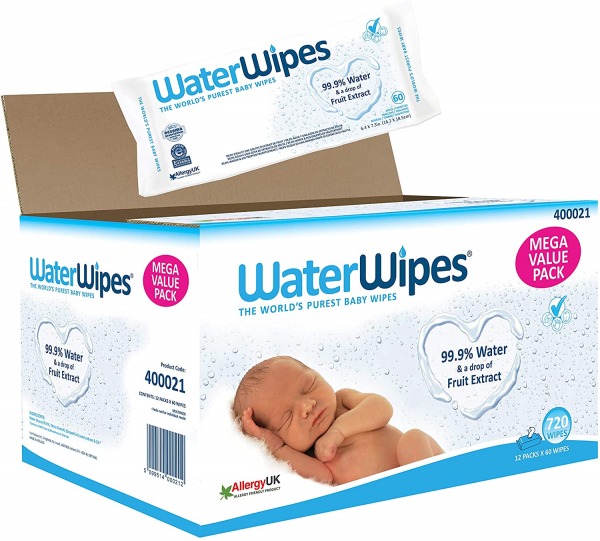 WaterWipes sell some of the best wipes in bulk quantities. They have made sensitive wipes. These wipes are some of the best baby wipes for sensitive skin. All babies deserve the best care and the company has ensured they provide that. These natural wipes have water as the main ingredient. This makes them soft on the skin and is caring for any baby that it is used on. The wipes are great for cleaning any wet or dry mess and are a multi-use wipe for all situations.
They come in a well-packed box that contains individual packets of baby wipes. These wipes are sold by the company in a pack of 12. Each packet comes with 60 singular wipes. This gives you a total of 720 wipes. Buying the wipes in a bulk package helps them be cost-effective and keeps you prepared for emergency needs. These baby wipes have a great rating on Amazon of 4.9/5 with more than 18,000 ratings. The wipes can be purchased for $38.25 for the box of 12.
---
Aveeno

Aveeno makes natural wipes that are made from child-friendly materials. The use of natural materials makes them suitable for children. They are made using top-quality natural materials which are carefully chosen for best results. They use a mixture of materials such as water, Aloe Vera, Oat kernels, and other materials.
These are unscented wipes that are gentle on the baby while helping you properly clean the child. Aveeno makes some of the largest and thickest wipes. This helps you to properly clean the mess using a single wipe. The lip on each packet helps you to get the wipes out quickly and even with a single hand. They have ensured that any ingredient that might cause irritation or rash on the child had been removed.
---
Eco by Naty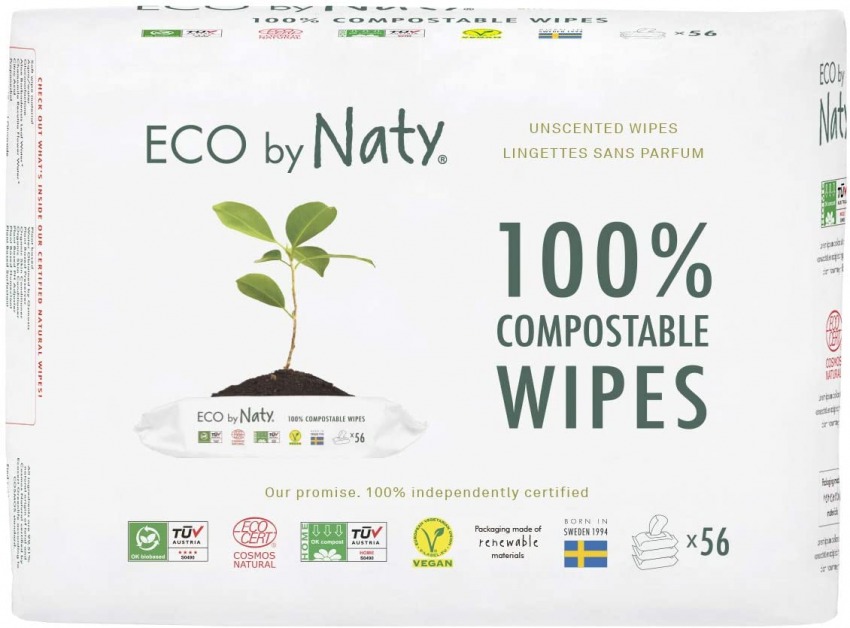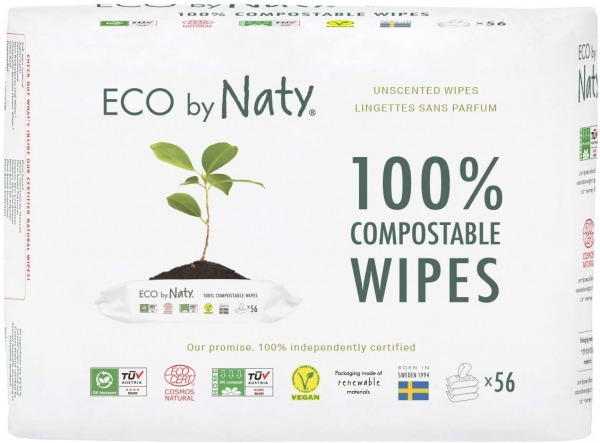 Eco by Naty is a set of natural wipes that are 100% biodegradable. The entire wipes and the packaging does not contain plastic or any other harmful materials. They use eco-friendly materials in all aspects of their product and packaging. Within just 12 weeks of disposing of the wipes, they turn into soil. The product is a great alternative that is safe for the planet as well as for your baby. The wipes have been labeled as vegan.
The product is completely made up of plant-based materials which have provided them with the Ecocert COSMOS certification. The company was founded in Sweden and has 27 years of experience. They have been able to get all major approvals carried out to showcase their product as a truly environmentally friendly option. All of their products are cruelty-free. They do not conduct animal testing or any other sort of cruel practice.
The wipes are predominantly made out of water. They are very soft and contain no chemicals. This has been done to make these wipes suitable for all babies. As all-natural materials are used the chance of irritation or reaction to these materials is very rare. Using their product allows you to take great care of your baby while helping the planet. On Amazon, they sell 3 packs of 56 wipes each.
---
Conclusion
There are a variety of baby wipes available. We would recommend you to opt for natural wipes as they are much healthier for your baby's skin. They contain no chemicals which makes them one of the ideal candidates. Choose wipes that have a high water content along with a good selection of natural ingredients.