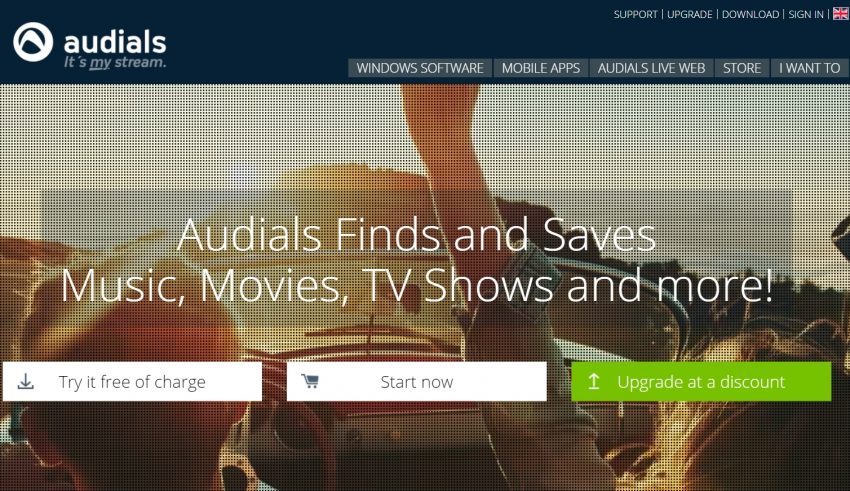 What is Audials One 2021 ?
Audials One is great digital entertainment software launched in 2006 by a well-established company named Audials AG. This company with the true tagline it's my stream is creating the future and has been successful in maintaining the 100%-owned subsidiary in Temeschburg, Romania which provides it a center of development and company's technological department. Since 2003, Audials AG is ruling the marketplace with its renowned products and is still working on enhancement of services offered by Audials AG.
Its ultimate aim is to provide users with a suite of Top-Notch entertainment programs and Audials One is one of them. If you desire to acquire further information on Audials One then read this article because here we have provided a detailed review of Audials One 2021.
Tangible Features of Audials One 2021
Audials One was the magic released by the company but its new version of 2021 is really a masterstroke. It has some of the most amazing features which highlight one's capability and make it tops the list of the must try software. Some of these features have been discussed below:
 

Potentially-Viable:

This point tells about the capabilities of Audials. It basically allows you to record, capture, download save both audio and video streaming because Audicals One says that it's your stream now. It is referred to as an All-in-One entertainment solution by its millions of subscribers. The Audials team works hard to ensure that you get high quality and trendy content in all major formats.

Stream Music with Audials Music Machine:

For all music lovers it is a music hub where you can discover your favorite music with music charts on

 

Audials Open. It collects music from all legal streaming sources such as Amazon Music, Spotify, You-Tube Deezer, Soundcloud, Apple music, etc. Listen to the latest tracks in top quality that is MP3, AAC, or WMA in up to 320 kBit/s. Create your own music library on any device whether its a PC or mobile phone as it has apps for all three popular operating systems Windows, Android, and iOS. One important feature is that lyrics and tags are also available on its own.

With Audials One no need to search for trendy albums and categories because you candidly manage your all music files even in SD cards and USB sticks. It enables to transfer music from computers to smartphones all you need to have is a proper internet connection. Recorded audios and tags can also be edited. If you wish to hear music tracks of a particular artist then it is possible by simply clicking on artist's name and you can instantly download their entire discography as Audials One automatically arranges music based on Artists preferences. Get the real and powerful experience of music with this software.

     Stream Video with Audials Video Recorder:

Enjoy the latest collection of movies and non-stop recording with this software. It's super easy to find your style movie by just typing perfect keyboards with correct tags and names and then Audials Open automatically saves them with the movies and series recordings in best HD quality and as an HVEC, MP4, WMV

 

or H.264 as it follows DRM mechanisms.Record and download movies from all lawful sources like Amazon, Netflix, YouTube, CNN, BBC, Hulu, etc. It is known for its amazing downloading speed. You would have never seen such a massive variety of stocks before it makes Audials more entertaining and exciting.

     Television Streaming

: What's the need for TV when you have handy Audials One in your pockets. Stream TV shows from 333 live international sorted channels anytime and anywhere all around the globe. It allows you to record shows in just one simple click so that you can watch them later. It has a vast range of programs in the country, category, and language. With search option easily find your described shows from more than 100,000 video podcasts.

     Audials One as Handy Radio Recorder:

Listen and record

 

Radio music as an MP3 on your computer and smartphones without any hitch. It handles more than 100,000 radio stations in an organized manner so that you don't waste your time in searching to find the right music for yourself. Give your passion a new way with super box entertainment Audials One.
Pricing Information of Audials One
Now, this part of the article will definitely bring a smile on your face because with such amazing features Audials One comes up with appealing prices. A free demo option is available but you need to buy its full-featured and upgraded version too. You can freely choose a suitable plan according to your needs. To satisfy all its valuable customers including small buyers also it offers plans monthly and annually. Subscribe to Audials Gold to become a VIP customer and grab some unique advantages. Don't worry, because even after purchasing a particular plan later, you don't feel like using it then cancellation option with full money back guarantee is also available.
So if you desire for a monthly subscription plan then you need to pay only $3.49 per month and if you are willing to take full year subscription plan then you need to pay $39.90 per year. In addition to this, you will get a reduction of some amount per year. With this, be updated all the time of all next coming pro apps for Audials One Plus.
Conclusion
Life is busy for most of us. Hectic schedule leads to norms of hypertension and people are always under a cloud of dullness. Before things get out of control here's the urgent need to find some super cool but also an inexpensive solution to this increasing rage.
Besides, all corporate commercial apps you also need to have at least one entertainment software like Audials One in your preference list. Don't think that it is a waste of time instead, it is going to pick-you-up in raising your productivity. No other software can do all this as good as this one.