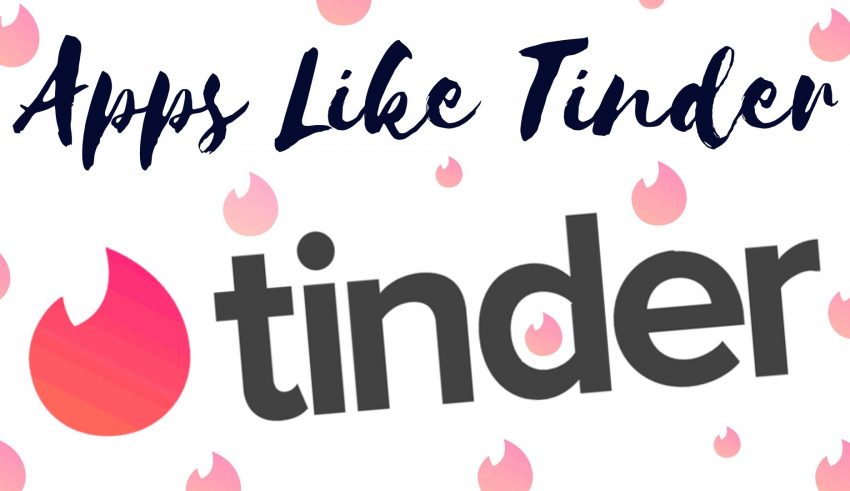 Whoever said "Love can be found in any corner of the world" must've said it as a prank because even though there are  7.8 billion people in the world, most of us are still leading miserable single lives. As for why we're seeking companionship in the form of a lover is easy to explain–We simply want someone we can grow old with (sure some just want hookups…), share laughs with, and there's also the whole kinky, dirty universe of sex to explore. But thanks to modern technology, we can now find ourselves a date while sitting at home or office.
Tinder is one of the best dating apps with millions of users worldwide and has helped people find their soulmates or hookup buddies (Boss might boot my ass if I use the F-word.) (Dang! That felt like a Canadian!). While Tinder has helped many find their love, many people've had worth luck with the app like myself.
A few years ago I tried it due to friend's pestering, so I fired it up and started swiping right (right for accepting, right?) On girls looking like Monica Bellucci… and a week passed without any luck, so I tried it on girls looking opposite of Monica Bellucci, and still no luck… I swear I felt myself cracking… after that, I deleted that account and threw out tinder from my life. I'm quite sure that many others've gone through the same thing as I. Which is why I'm writing this article, to help my Bros and sistas find some love, yeah the other wild naughty things too, so let's get started.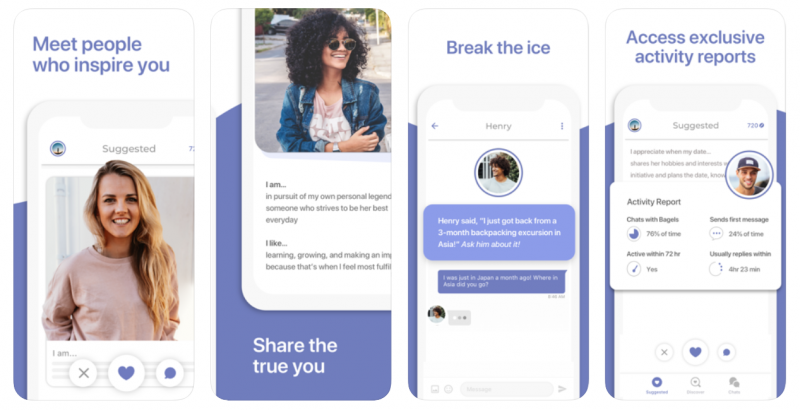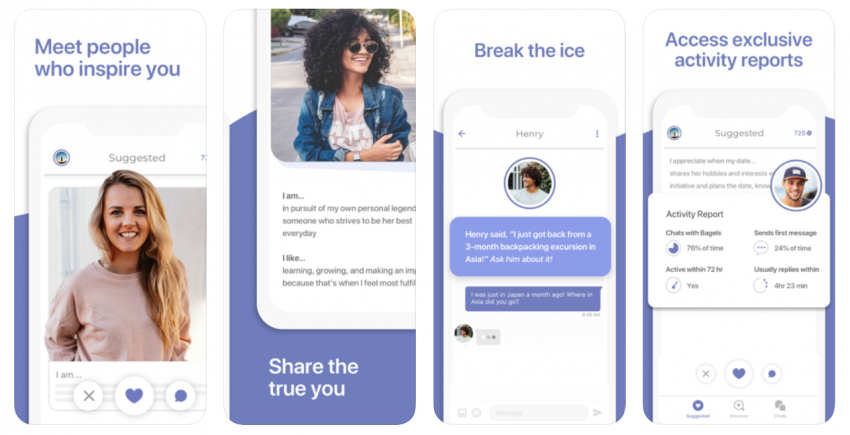 Coffee and bagel, 2 things that can make our mornings nearly perfect, it might be even better if it was made for us by someone special or enjoyed with someone special. Coffee meets bagel is one of the best Tinder alternatives and offers features that are on par with Tinder.
Coffee and Bagels is all about beans and beans and bagels, bagels are what they call suggested matches, and you get 21 bagels every day which you can either like, pass, or priority like; priority like is quite like Tinder super like (okay, that's a bit too much of likes) and promises to get you noticed 6× faster for just 540 beans (every single time), now if you're wondering what on Earth these beans are! The answer is simple, it's the in-app currency, don't worry you don't have to pay for it, you start with 1400 beans and they keep adding up the more you're active, there plenty of ways to spend these beans apart from priority like, for example, you can send your date flower and best of all, the discovery tab.
Discovery tab makes up for the limited bagels per day, you can spend 350 beans and pick 1 bagel of your liking from the discovery tab. There are many other interesting features but writing everything will take an entire article so I'll directly get to how it works.
As usual, your first step is to download the app, then set it up by connecting to your Fb (that's how it gives you matches, through Fb mutual friends.) And location, so it'll show you bagels from your area, answer a few questions related to your education, height, and other things and you're set. After that send those likes and to bagels, but do know that you can chat for only 8 days, so you've got 8 days to impress your bagel and get her/his contact.
Now time for the million-dollar question; Is Coffee meets Bagel free? The answer to that is, Yes! It is free, but you can also get a premium subscription for 35$/ month, you can also buy beans for 1.99$ (100 beans), 23.99$ (2000 beans), just in case you empty your beans. All in all, Coffee meets Bagel is quite a fun and a great place for singles looking for long term relationships.
---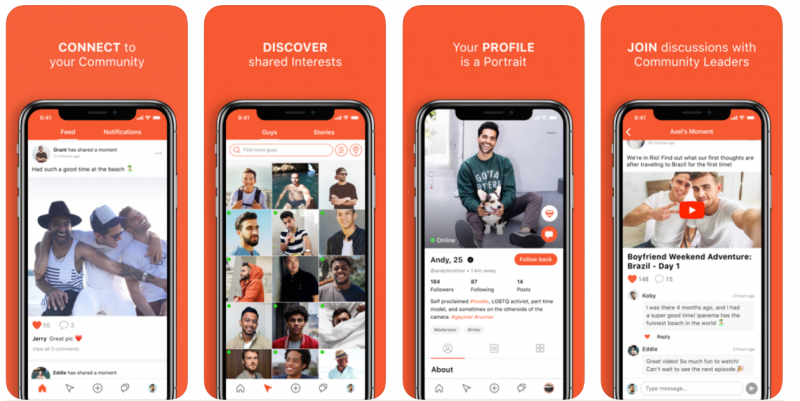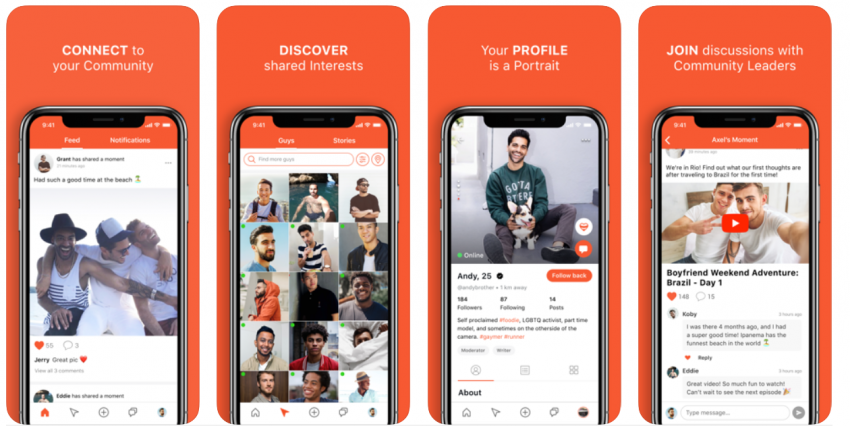 Hornet claims to be #1 Gay network but we all know that it's just one of them, the main thing which sets Hornet apart from other dating apps is that it is much more than just dating and hookups, it's a community where you can share your experiences, interests, and spicy content especially tailored for Gay and bi men.
Hornet is one of the most active apps with over 4 million active users per month and boasts 324,000 users just within the US! Setting up an account in Hornet is too easy,  all you need to do is install the app, and sign-in with your FB account or Google account and viola! You're in. Hornet has plenty of features for free, for example, unlimited messages, but it is riddled with ads so it can get a bit annoying.
---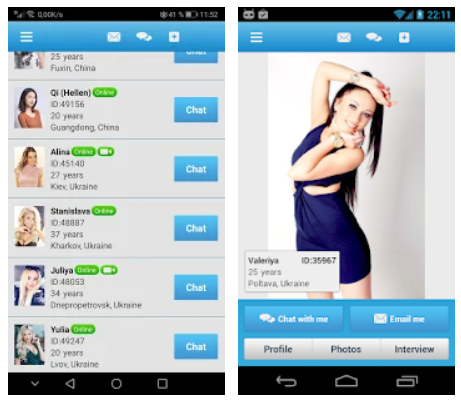 Happiness is a thing that everyone strives for! Would you like to find it, too? If yes, the dating apps by Be, Happy International are what you definitely need to use.
Be Happy International dating network includes several websites and two apps – one for Android and one for iOS. They promise their users to find their matches no matter where they live.
They're keen for international connections to happen; believing that your soul mate could be living anywhere & that distance shouldn't stop you from finding one another.
Thanks to the app a language barrier no longer an issue as the apps include automatic and manual translation of users' communication in live chat or by the internal email system.
Be Happy International offers a nice range of other services, from virtual gifts to real meetings. The apps are free to download and easy to use. You can download the app on both Apple and Google Play and start your journey to love! So what are you waiting for?
---
Pure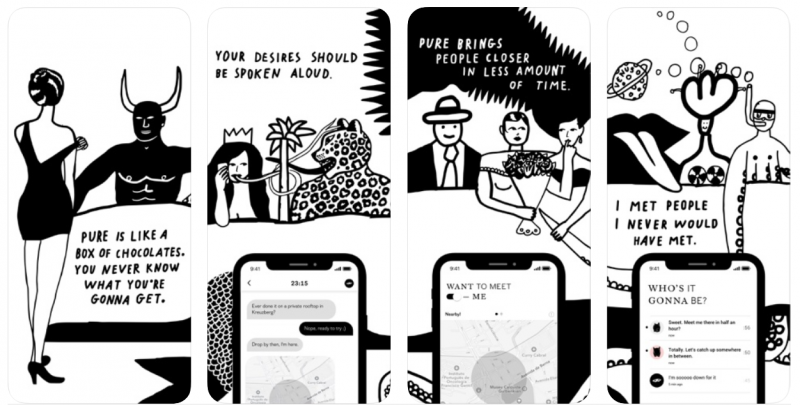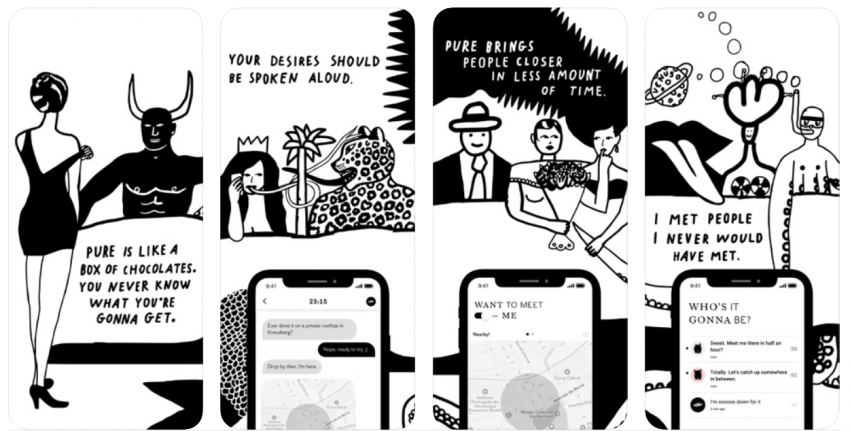 Pure is too pure if you want discrete, instant, and casual hookups. Pure is possibly the result of secret mingling between Uber and Snapchat due to its ability to deliver dates on demand… and unlike other apps, Pure is just about casual hookup, sure you can make a relationship out of it but most go for hookups over long term relationships.
Ever Since it's launch, Pure has been one of the top competitors of Tinder as it made locating casual sex partners too quick and easy. Pure is also vigorously enforced above ordinary data security standards and discretion that you have only 1-hour chat limit to talk and get the contact of the other before your profile disappears into nothingness, also your profile is kept so minimalistic that only your Picture is visible (yeah impressing with just a picture).
Pure is completely free for women, but men have to pay up (Yeah Inequality!). It's subscription ranges from 14.99$/ week, 19.66$/month for 3 months, to 6.50$/month for 12 months. And it also asks for your credit card details immediately after signing up, yes even if there's a free trial. If you live in a region with low pure user or activity, then it's best to avoid it.
---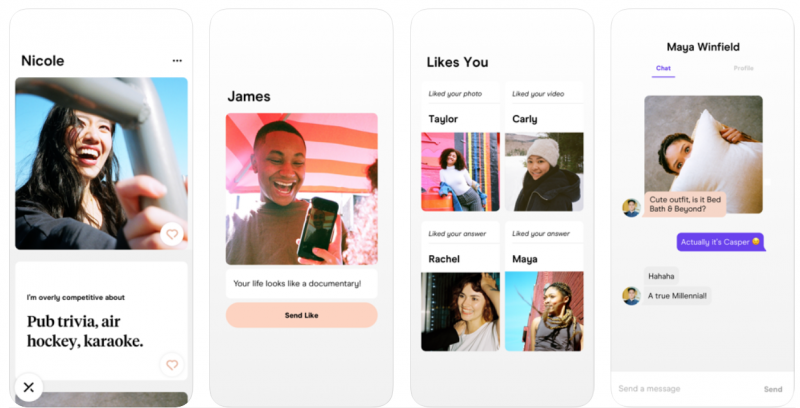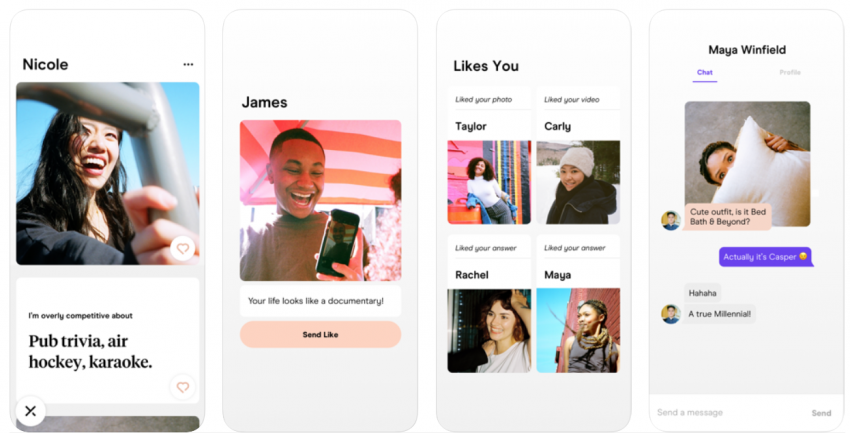 Swipe! swipe! swipe! Where the swipe at? Oh, wait! Hinge doesn't have a swipe! That's right, unlike its competitors, Hinge doesn't have the famed swipe feature.
No swipe isn't the only feature that sets Hinge apart from other, it also focuses more on quality instead of quantity so you can only view a small number of profiles, it also focuses more on serious relationships over casual hookups, so if you're looking for casual hookups, it's not for you.
Hinge comes in 2 formats, Free and premium (obviously.) In the free version, you can like just 10 profiles a day. You can like, and drop a comment to express your interest. If you desire to go premium then you'll have to pay a subscription fee of 7$/Month.
---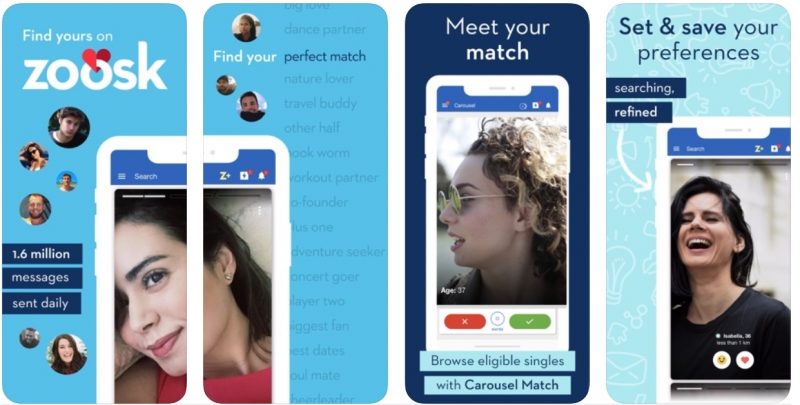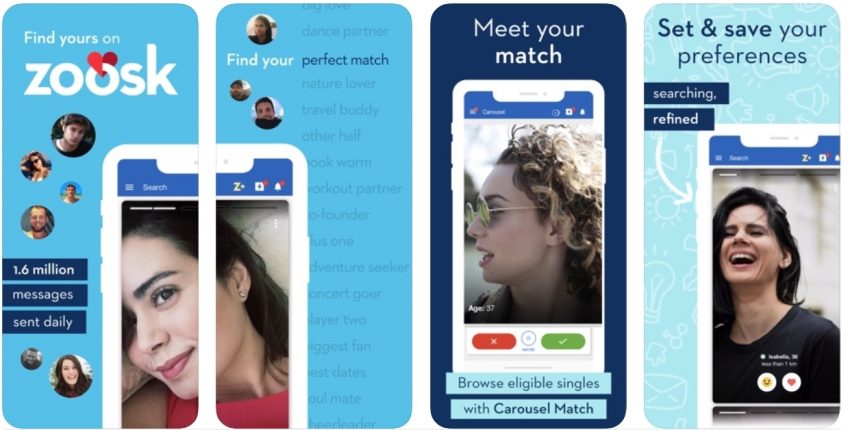 Zoosk is one of the most preferred dating sites after Tinder and CMB. Zoosk offers you a flexible dating experience between the short and long term. Zoosk boasts a user base of 40 million across 80 countries.
Zoosk offers you "smart pick" and "Dating insight" which is just the app checking your behavioral pattern and displaying It on Dating insight, this way of Zoosk is way different from what it's rivals. The Sign-up process takes up to 3 to 5 mins and you can log in via your Fb or Google account, Zoosk detects VPN so you have to sign-up with the zip code of the country you reside in.
The Biggest drawback of Zoosk is its chat feature, which can be only available for premium members, and the subscription costs 29.95$/ month for 1 month, to 15.00$/ month for 6 months.
---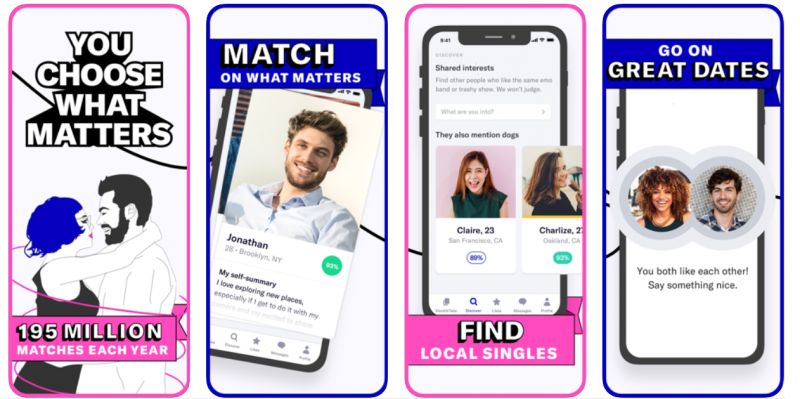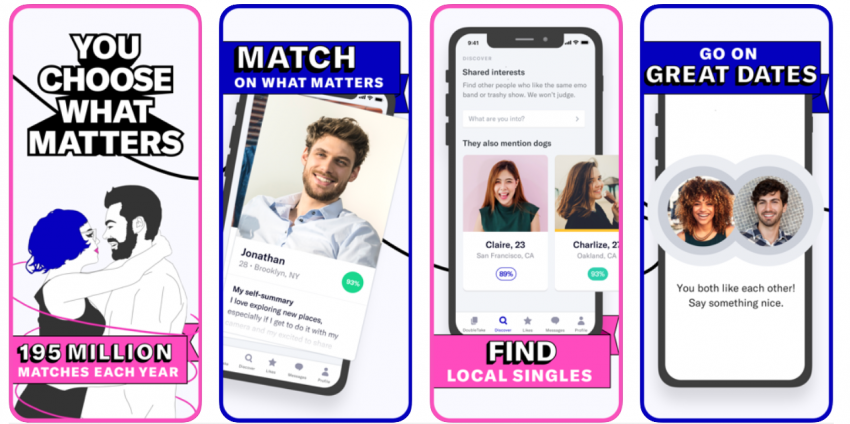 OkCupid is a unique and most logical dating site. OkCupid uses analytical ways to find compatible partners for you, rather than useless swiping left and right. With OkCupid you don't have to do all the hard work, you just need to talk, flirt and meet up. Okay, so how does it work? OkCupid has a matching algorithm based on which they generate a percentage.
And for that algorithm, they have a set of multiple-choice questions that are answered by you while forming your profile. Their questions might be intense. They break their algorithm in 3 parts: your answers, what answers you want from others, and how important that is for you. And let me tell you filling their questionnaire won't feel like a chore, It's fun. OkCupid is what you'll call user-friendly.
It's best for you if you are looking for something serious. And isn't it nice to know you aren't getting a match not just because of your perfect nose or perfect lips? OkCupid has tons of people, you can find someone of your type.
OkCupid is free forever, but if you want more attention they have some premium features too. You can search, message, view full profile, see mutual likes for free.
---
Elite Singles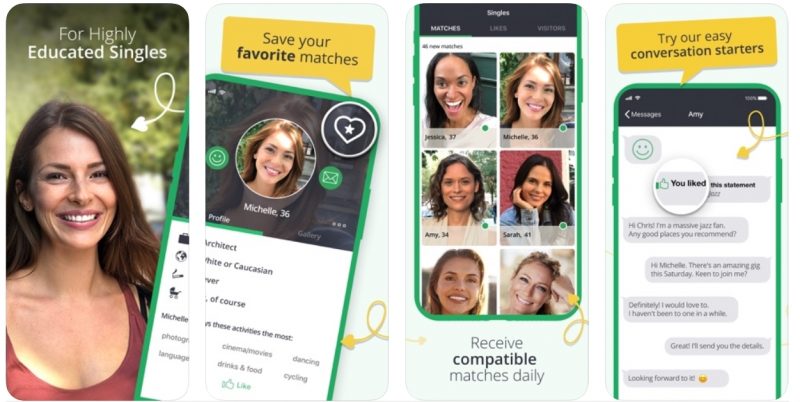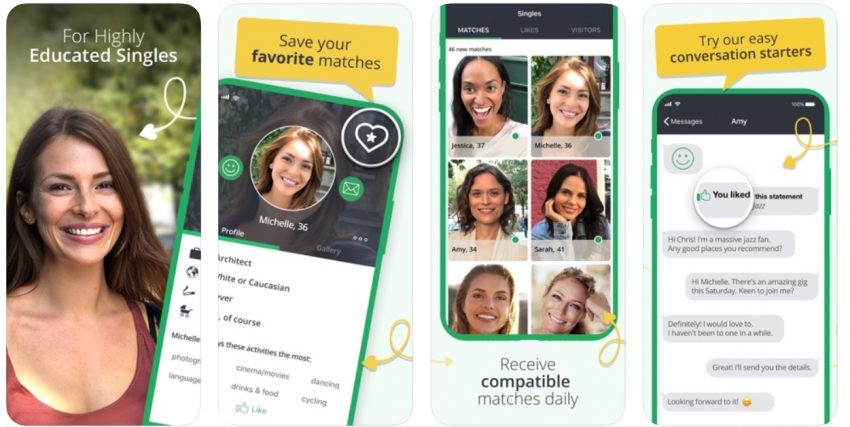 As the name suggests, it's Elite and made for only the elite singles of the society, Here you'll find rich and educated people who're looking for a partner who understands the 9-5 lifestyle. Elite singles boast an active user base of 170,000, so if you're a Graduate Topper, or a businessman or businesswoman and looking for a partner and some romance–Elite Singles is where you head.
As good as it sounds, there are big flaws with the app, to begin with, it's more focused on the percentage of degrees and connections made on the site. Secondly, the sign-up process takes over 30-50 mins (Had me going Wow…). You'll also need to disclose everything about yourself on this app (for the better experience they say).
As you might've been wondering, you have to pay for it, Monthly subscription starts at 57$ and 179.99$ for 6 months. Which I sincerely think isn't worth it…
---
Bumble
Bumble is your app for networking. It's not just a dating app anymore. Online dating does take time, effort and Patience and Bumble proves it. Bumble is very much similar to Tinder as one can show interest by swiping left or right and it allows you to search for matches as per age, gender, and range.
But there is a catch if there is a match only women can initiate the conversation and she also has only 24 hours to message, Bumble empowers female users and it's the most female-friendly dating site. There are very fewer chances of fake profiles, because of their verification process as they ask for a selfie in a particular gesture. It might be frustrating for male users as they can have only photos and bio to make them seem interesting but who don't like to be pursued.
It's not just a dating app anymore, they started offering other features like Bumble BFF – if dating isn't your thing, or you just want a best friend you can switch to Bumble BFF. Bumble Bizz – if you want a business connection for collaboration or to increase your knowledge.
Bumble is a free app but they provide an option to purchase a membership for more features.
---
Grindr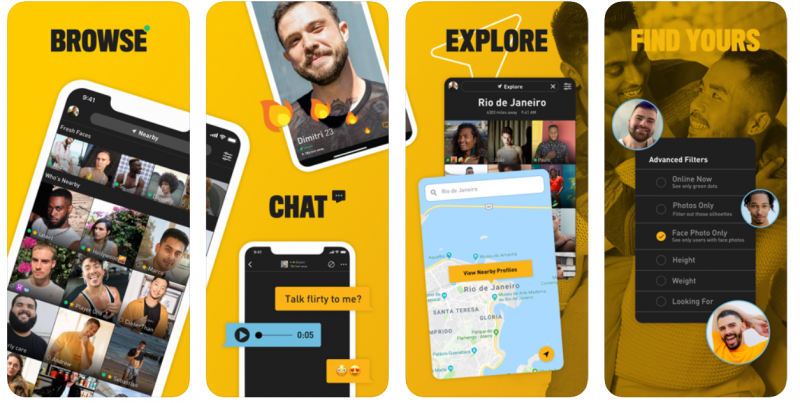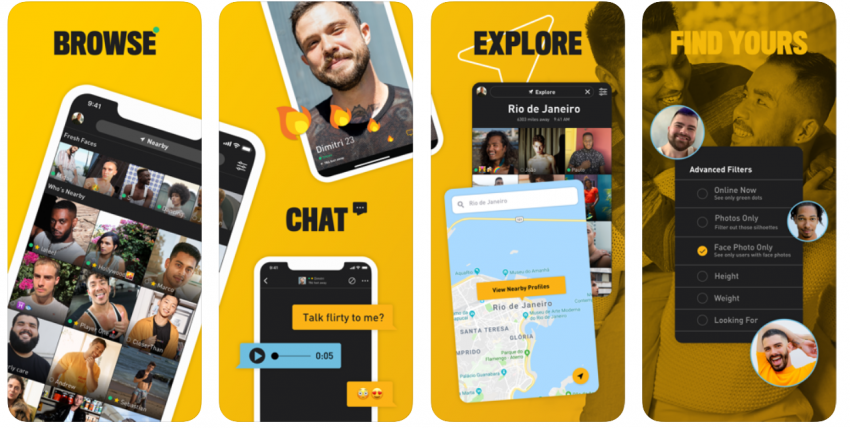 Grindr is the most famous dating and hookup app for men interested in other men and is embedded with the gay culture. As everyone is running for their career, money, social life and whatnot, You must be running too. And one day you come out of your closet and realize that your love life doesn't exist.
Grindr will help you in networking because let's be honest it's just hard to find people sometimes (and you might not be able to relate it with your straight friends here). Grindr shows the list of men as per your vicinity, you can turn your location off too. It has tons of people on the app.
Grindr is free as well as subscription-based (Grindr Xtra). Grindr Xtra will provide you more benefits like you can view more guys on the app interface, and you can search for guys all over the world too, it doesn't matter if they are within your proximity.
Grindr received a lot of criticism too, as they promote sexual activity (of course, not everyone gonna like it). But yeah on Grindr predominant things that happen are hookups, but it is much more than that.
---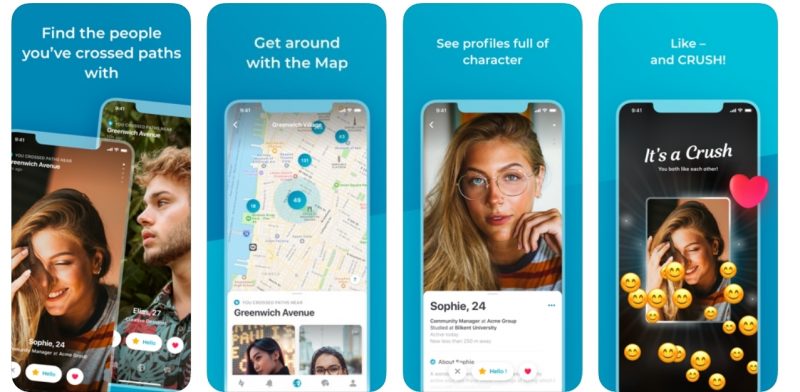 How many times, you crossed paths with a cute guy or a girl and felt like this is it. What will you do? Will you be okay with not seeing them ever again? Or keep on staring (creepy!), Because you don't have the guts to go talk? I believe none of them if you are true except maybe guts. And that's where Happn comes.
When you cross paths with someone and of course if they have Happn in their phones, their profile will pop up on your app. You can like a profile too (no notifications will be sent) and Happn will notify you when they cross paths with you. If the profile is liked mutually by each other it becomes a Crush and you can chat!
The cherry on the top, it's a free app but you can buy a premium subscription if you want to see the people who liked your profile (ego boost) and for many other advantages.
Happn profiles are based on your geographical area, your location will not be visible to members, it will show only the places you crossed paths.
---
Conclusion
As someone who found their soulmate on social media, I gotta say that social media has made it quite easy to find our soulmates, but I can't understand why people go for casual hookups… Is casual sex better than being unconditionally Loved? I don't think so.
What do you think about it? I'd like to know your answer, so be generous and drop them below in the comments.